If you want to ensure that your car is always working properly, the best automotive oscilloscope is a crucial gadget to go for. Commonly used for troubleshooting sensors, data stream, primary ignition, actuators, and many more, automotive oscilloscopes will maintain the healthy functioning of your vehicle's electrical equipment.
That being said, finding this kind of oscilloscope might not be that easy as it seems, as there are several factors that you should consider first. With that in mind, we are here to help you pick out a model that is appropriate for your needs.
See The Quick Comparison Chart
What Is an Automotive Oscilloscope?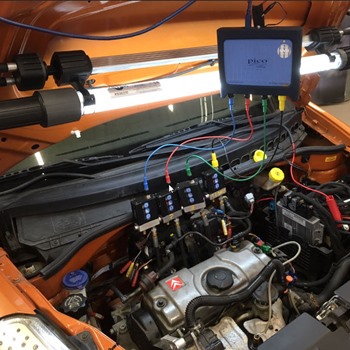 An automotive oscilloscope is a tool that you use for diagnosing circuits and sensors from your car. Most of the time, the power that is drawn from these components changes too fast in order for the digital multimeter to measure it efficiently. However, an oscilloscope may detect these issues from your electric components even before the trouble code diagnostics is triggered.
Once signals pass through the oscilloscope in the probe, the unit will make a graphic of the signal based on the change rate over time. This should give you a more accurate picture of how well those components are performing – in a much better manner compared to multimeters. They are also perfect for detecting any intermittent issues that regular diagnosis tools usually cannot catch.
There are many oscilloscopes out there meant for different applications, but the automotive one will handle most efficiently the components of your car. These oscilloscopes often have pre-set data and the capacity needed to run diagnostics on your vehicle.
How to Use an Automotive Oscilloscope
Each automotive oscilloscope is usually used differently, depending on the brand that you have. That being said, some steps will remain the same. In most cases, as long as you follow your user manual and carefully go through the following steps, you should be able to use the automotive oscilloscope without a single hitch.
1. Turn It On
We know, this might seem obvious, but some people might not know the unit has to be turned on – mostly because it has no on and off buttons. Instead, it should have a "Power" or "Line" switch that you are supposed to turn on. An indicator light will turn itself on and tell you that power is being applied to your device
2. Wait for the Oscilloscope Display
Depending on the oscilloscope that you are using, it may take a little more time for the display to appear. For some of them, the action is instant – but in other circumstances, it might be necessary for the oscilloscope to warm up first. Plus, a digital semiconductor oscilloscope might need more time until the electronics are all booted up. Most of the time, you will have to wait about a minute or so until you are able to use the oscilloscope.
3. Trace Location
Before everything else, you will have to locate the trace. Before you detect any other waveform, the chances are that this will be the first visible thing. The trigger is generally set to the oscilloscope's center, and the hold-off is often rotated counter-clockwise. Also, you need to center the horizontal and vertical positions control. In most cases, you should be able to see the trace once everything is centered. If it's not, all you have to do is press the button "Beam Finder," and it should automatically help you find the trace.
4. Set Timebase Speed
In order to use an automotive oscilloscope, you also need to set the timebase speed. This setting will often depend on what exactly is needed to be seen, as well as the display. For instance, if you have a 12 cm widescreen and a 10 ms period waveform, then you will have to set a timebase speed of 1 ms cm/division.
5. Fine Tune the Trigger
Fine-tuning the trigger is also a very important step that you may not skip. Depending on the trigger level, you should know exactly where on the waveform you'll be triggering the timebase. You need to have a stable timebase, and you can't have the trigger shifting from negative to positive if you wish to get a clearer image.
Best Automotive Oscilloscopes Comparison Chart
PRODUCT
DETAILS

Siglent Technologies SDS1202X-E 200 MHz Digital Oscilloscope

Price: $$
Customer Rating: 4.7
Bandwidth: 200 MHz
Max Sampling Rate: 1 Gsa/s
Style: PC
Channels: 2

View On Amazon

HANMATEK 110mhz Bandwidth DOS1102 Digital Oscilloscope

Price: $
Customer Rating: 4.5
Bandwidth: 110 MHz
Max Sampling Rate: 1 Gsa/s
Style: PC
Channels: 2

View On Amazon

Autel MaxiIM IM608 Professional Key Programming Tool

Price: $$$$
Customer Rating: 4.2
Bandwidth: 200 MHz
Max Sampling Rate: 1 Gsa/s
Style: PC
Channels: 2

View On Amazon

Rigol DS1054Z Digital Oscilloscopes

Price: $$
Customer Rating: 4.8
Bandwidth: 50 MHz
Max Sampling Rate: 1 Gsa/s
Style: PC
Channels: 4

View On Amazon

Siglent SDS1104X-E 100Mhz Digital Oscilloscope

Price: $$
Customer Rating: 4.8
Bandwidth: 100 MHz
Max Sampling Rate: 1 Gsa/s
Style: PC
Channels: 4

View On Amazon

ALLOSUN 3 In1 Digital Oscilloscope

Price: $
Customer Rating: 4.3
Bandwidth: 50 MHz
Max Sampling Rate: 200 MS/s
Style: Handheld
Channels: 1

View On Amazon

Siglent SHS806 Handheld Oscilloscope

Price: $$
Customer Rating: 3.9
Bandwidth: 60 MHz
Max Sampling Rate: 1 Gsa/s
Style: Handheld
Channels: 2

View On Amazon
Best Automotive Oscilloscopes Reviews
1. Siglent Technologies SDS1202X-E 200 MHz Digital Oscilloscope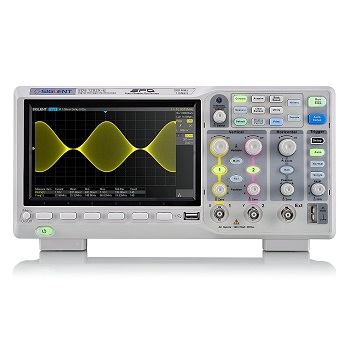 Professionals love this oscilloscope, as it has many useful features. Its broad functionality and sophisticated display make it a highly versatile product – able to measure every component of a vehicle. With a 200 MHz bandwidth, this one has an accuracy that you will not want to miss.
This Siglent has a high sampling rate, as well as a high waveform capture rate. Because of this, you may capture fluctuations that other oscilloscopes might miss – preventing any issues from occurring to your electric devices.
Pros
Very silent functioning
It consumes very little energy
User-friendly interface
Durable casing
It can capture 400K waveforms per second
Cons
It does not have touchscreen technology
It features a small number of channels
2. HANMATEK 110mhz Bandwidth DOS1102 Digital Oscilloscope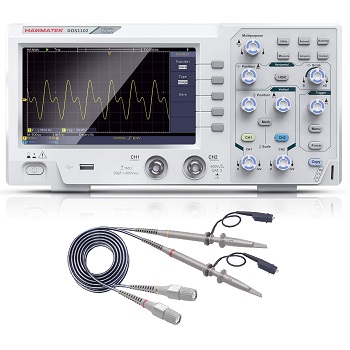 If you are looking for something easier to use, then you might want to search for this model. With one click, you may get the measurements and its 7-inch True Color LCD screen shows you the data clearly – even when you are at a distance from the device. The learning curve is also small, making it a great choice for beginners.
This unit is portable and lightweight, which makes it great when you are on the move. Plus, thanks to its 110 MHz bandwidth, you can rest assured that the information you gather is accurate. It has two channels to be set on, and you have more than 10K storage depth to work with – making it a highly efficient automotive oscilloscope.
Pros
It features various useful features
Reliable and accurate functioning
It is very quiet
Small learning curve
Cons
It does not have a warranty
3. Autel MaxiIM IM608 Professional Key Programming Tool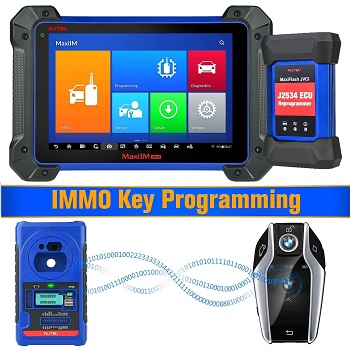 Those interesting in advanced system diagnosis might want to try out this product. Android-based and working on a touchscreen design, this oscilloscope is very easy to use – kind of like you are using a tablet. It is one of the easiest types of oscilloscopes that you may connect to a computer, and thanks to its advanced key programming, you can permanently set it to work on your vehicle.
Featuring Advanced IMMO, this unit can be set into a smart mode so that you may run diagnostics even when you are away from the car. This immobilizer will recognize the vehicle key directly as well, allowing you easy control without any further difficulties.
Pros
Reliable programming and settings
It can scan and troubleshoot even from a distance
It provides fast and accurate data
Cons
It may take a bit of a learning curve
4. Rigol DS1054Z Digital Oscilloscopes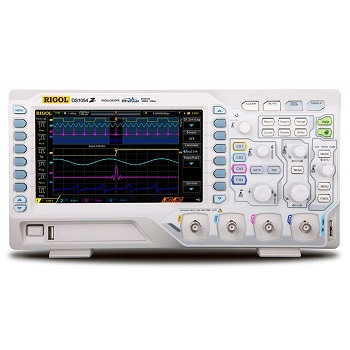 No matter if you are a beginner or a pro in vehicles and troubleshooting, this digital automotive oscilloscope can offer everything that you might need. It has a deep memory, an easy-to-read full-color display, a wide capture rate of the waveform, and a lot of other convenient features.
Even though the product is considered high-tech and has a generous number of functions, it is still very easy to use. The results it displays are highly accurate across all 4 channels, and the display is speedier in comparison to other similar products. Although it is on the pricier side, many users appreciate this product for its efficiency.
Pros
Generous deep memory
Readings across the 4 channels are given simultaneously
Very intuitive to use and user-friendly
Cons
More expensive compared to similar units
Some of the functions require a paid upgrade
5. Siglent SDS1104X-E 100Mhz Digital Oscilloscope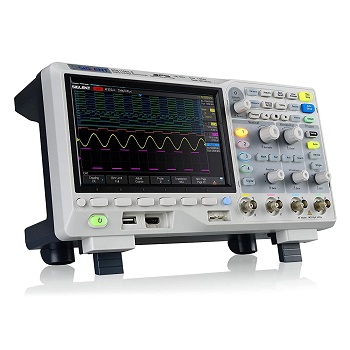 If you are looking for a good automotive oscilloscope with a generous bandwidth, then you might want to consider this 100 MHz model. It is affordable enough, but still capable of providing a high number of features. The screen is very big and bright, allowing you to easily see everything that is displayed on it.
The user interface of this unit is clean and very easy to use, making it a great choice for those that haven't used an automotive oscilloscope before. Moreover, calibrating the unit is a simple task – even for those that haven't done this before. It can be controlled by Wi-Fi, making it a very user-friendly product.
Pros
Powerful performance considering the price level
It has a low signal noise level
It can go through 4 channels
It has dedicated buttons that make it easy to use
Cons
It has a rather noisy built-in fan
6. ALLOSUN 3 In1 Digital Oscilloscope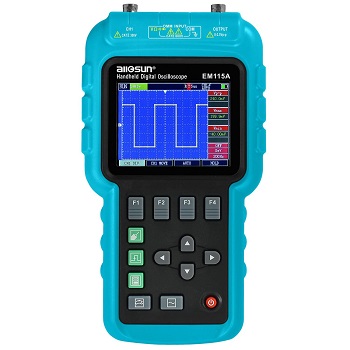 If you are looking for a budget-friendly digital oscilloscope for your vehicle, then you might want to go for the Allosun 3 in 1 digital oscilloscope. It may have only one channel, but it is very efficient in doing its job. Plus, it comes with a few accessories so that you may couple a high number of electric elements.
This oscilloscope has both scope and multimeter functions. This means that if you want to test capacitors in a circuit, then you may easily use this product. It also has high battery power, meaning that even if you are nowhere close to a power source, you may still use this product.
Pros
Budget-friendly solution
It is compact and lightweight
It is very easy to program and to use
Cons
It is rather difficult to read if you're not in a shaded area
7. Siglent SHS806 Handheld Oscilloscope
Once more, if you are a technician looking for something a bit handier and more portable, you may give this one a try. With a bandwidth of 60 MH2 and 2 channels, you can get some very accurate readings – despite the product being so small. Plus, you have an advanced trigger option that allows you to view more complicated signals.
The battery is rechargeable – and unlike other similar automotive oscilloscopes, you may use it while it is charging. It is very easy and intuitive to use, and the 5.7-inch LCD clearly shows you the data. Once pulled out, the information goes within the 2mpts of memory depth. The kit comes with several useful accessories, including two matching probes, so that you may easily run diagnostics on the sensors and connections of your car.
Pros
Its accuracy is on-point
Very compact and perfect for fieldwork
It is user-friendly and perfect for beginners
Cons
The battery does not last too much
The On/Off switch is difficult to get accustomed with
Things to Consider When Buying an Automotive Oscilloscope – Buying Guide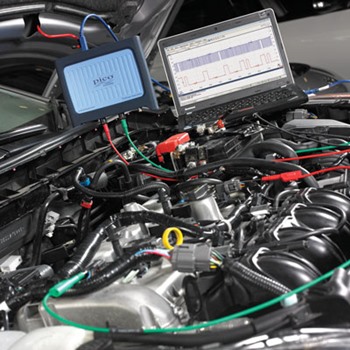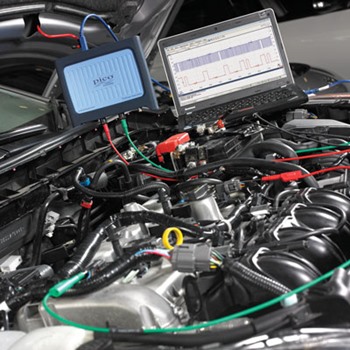 Getting the best automotive oscilloscope comes with a number of decisions. How many channels should it have? Should you invest in a digital oscilloscope instead of an analog one? Every factor is important here, so you need to pick your car oscilloscope very carefully.
1. Ease of Use
You may be purchasing a nice and expensive automotive oscilloscope, with a lot of fancy features – but if you have difficulties in setting it, you will not use it very often. It might even become a bother to you.
Instead, you should look for an oscilloscope that has memorized setup configurations, so that you will not have to manually set it up every time you intend to use it. Look for as many helpful features that you can, focusing on the things that make the oscilloscope easier to use.
Bear in mind that downloading the oscilloscope's user manual could considerably help you when you are making your decision. Most of these manuals can be accessed online before you even purchase the product, so you can figure out whether it is user-friendly or not.
2. Digital vs. Analog
When choosing the best automotive oscilloscope, you also have to determine whether you want a digital model or an analog one. Right now, digital oscilloscopes are the most common option, due to the fact that they have bigger storage data and likely more features. The choice for analog scopes is fairly limited, with most of them being discontinued – but there are still a few places where you can find such a model. Bear in mind that if you go for these oscilloscopes, you might not be able to get as many benefits from them.
3. Bandwidth
The bandwidth is the maximum signal frequency that may go through the front-end amplifying attachments. Therefore, the analog bandwidth of your scope has to be bigger than the frequency that you wish to measure. If you are planning to couple it with a car power inverter, for example, you need to match the bandwidth accordingly.
When shopping for an oscilloscope, make sure that you know how to determine the bandwidth specifications that you need. Typically, the bandwidth has to be around five times higher as compared to the maximum frequency of the signal. In the end, the correct bandwidth will lead to an accurate representation of the waveform.
4. Probes and Input Ranges
When you are searching for a good automotive oscilloscope, you might want to look for a manufacturer that offers all the necessary probes and input ranges. This way, you may increase the application gadgets used, allowing you to do a much better job at making a diagnosis. For instance, if you wish to check the voltage on the ignitions, then you will have to increase the input range of the oscilloscope with the right probes.
Depending on the product, you may receive a variety of accessories. Capacitive and inductive pick-up clamps, current lamps, AC coupling adapters, 10:1 and 20:1 attenuators – all of these may come in the package. Bear in mind that these input probes should be higher or at least equal to the scope's bandwidth.
5. Sampling Rate
The sample rate is the number of times each oscilloscope takes a sample of a circuit during a test per second. The typical oscilloscope will have two distinct rates or sampling modes – most of the time, expressed in Mega or Giga samples per second. When you are choosing an automotive oscilloscope, you need to be aware of the type of sampling that you are intending to do. For example, if you have a 100 MHz bandwidth, a rule of thumb says that you should have around 1 GSa/s (Giga samples per second).
6. Functional Triggering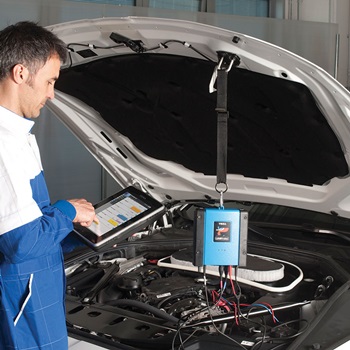 Functional triggering is also very important to consider when you are buying an automotive oscilloscope. This option will allow you to manage the signal that you may view with the naked eye. Go for an oscilloscope that provides exceptional visibility, as well as broad boundaries. This should provide a much better triggering response.
7. Resolution
The resolution of the automotive oscilloscope is also very important to consider. Quite a number of parameters rely on it, and the proper resolution has the ability to rectify any of the small voltages that may be occurring.
8. Memory Depth
The memory depth is the buffer memory size where the oscilloscope stores the gathered data. A device that has a higher memory depth is usually a great choice, as it allows you to maintain high sample rates for extended periods. If the memory depth is limited, then it might prevent the oscilloscope from correctly collecting waveform – all because the sample points have been placed quite far apart.
9. Style
When it comes to style, you have PC oscilloscopes, and then you have handheld models. A handheld oscilloscope will usually be much easier to install and set up in comparison to a PC scope. Also, these scopes do not usually have operating systems, so you are less likely to come across any problems. However, PC oscilloscopes have bigger screens and better visibility in comparison to handheld models.
Frequently Asked Questions about the Best Automotive Oscilloscopes
1. What makes an automotive oscilloscope different from a universal model?
All oscilloscopes are usable on cars, but an oscilloscope that has been set for automotive use will be much easier for you to use. This is because these units already have the input settings to run diagnostics on your car, allowing you to find the problem much faster.
2. Can automotive oscilloscopes be used to measure current?
Yes, you may use an automotive oscilloscope in order to measure current. However, for that to happen, you will need the correct attachments. If you want to measure current, make sure that the kit you purchase also includes current clamps.
3. Can an automotive oscilloscope also measure the DC voltage of my car?
It is possible, but this will likely depend on the model that you are purchasing. For example, while a digital oscilloscope may have the feature to measure DC voltage, this may not be done with an analog oscilloscope.
4. How may I test the car sensor by using an oscilloscope?
If you wish to put your car sensor to the test, you might want to get a digital automotive oscilloscope. Connect the oscilloscope with the receptor, and then turn the sensor on. At that point, you should be able to properly see the readings.
The Bottom Line
The best automotive oscilloscope is a worthy investment that can save you from all kinds of car troubles, which is why you need to be very careful about which one you choose. In the end, you need to consider your requirements – and once you have that down, you should be able to make an informed decision. What you need to remember is that cheaper is not always the best deal – and while budget options are very useful, they may not have all the features that you are looking for.
All of the automotive oscilloscopes that we reviewed have proven to be very useful for their purpose. Think about what you intend to diagnose with these units, and how many features you need – and based on that, go for something that should give you a correct diagnosis.