Installing the best car stereo with backup camera should on your vehicle upgrade list. Every now and again, the surge in technological improvements allows us to modernize and upgrade our cars without breaking the bank. Since smart devices became mainstream a decade ago, car stereos became smarter as well. In fact, most of them come with some sort of operating system and a whole range of features to make your rides comfier and safer.
In the following guide, I would like to take you on a short journey that covers all the essentials – what stereos are, which features you can expect, and what kind of small things to have in mind. Let's dig into this complex topic and make it simple!
Car Stereos with Bluetooth, GPS, and Backup Camera – Who Should Get One?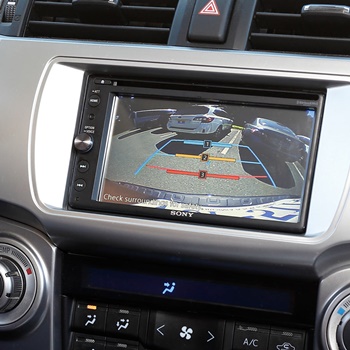 The real question should be – who shouldn't? If you ask me, there is no bad timing when it comes to vehicle upgrading. It is true that drivers often overlook the non-essential gear inside their cars, but I'd like to talk to you about the many upsides this upgrade brings.
I am not insisting on these upgrades to be urgent, but – if you can spare some budget to get a better stereo unit, I don't see why not. Before we dive in any deeper, let's just clear one thing out – when I say "car stereo" that doesn't refer to the music part of the device only. Nowadays, a car stereo is a gadget similar to a tablet computer – it has all sorts of features to enhance your rides.
So, to answer the question of "who should get a car stereo with all sorts of features" – everyone should (at one point). I find that a lot of people invest in a stereo with GPS right before they start traveling. On the other hand, some people invest in a car stereo with Bluetooth to use the handsfree features. All in all, car stereos with Bluetooth and GPS are becoming a standard, so why not learn a thing or two beforehand?
The Benefits of Installing a Multi-Purpose Car Stereo
The benefits mostly depend on the model you get. So, allow me to propose another way to look at this whole ordeal. Firstly, it would be best to write down the features you use the most. Think about it like this:
GPS – full support with navigation and travel statistics
A big screen – a single place to overview car statistics and control them (to an extent)
Music control – Play music from a CD, USB thumb drive, via Bluetooth, or directly from a radio station
Backup camera overview – a nice way to take a look through the rear backup camera. Usually comes with parking assistance
Bluetooth support – connect your phone and play the music via the car's sound system. Phone calls are also fair game
Of course, these are the essentials only. There are all sorts of quality-of-life features that car stereos deliver. These, however, strictly depends on the particular model you want to get. Multi-touch screen, music equalizers, Google suite, etc. these are all variations of the essentials. They will add to the price, sure, but the enhanced functionality is there if you need it.
Best Car Stereos Comparison Chart
PRODUCT
DETAILS

Kenwood DDX26BT+XCTM380 Audio 6.2"

Price:

$$$$

Customer Rating:

4.4

Screen Size:

6.2 inches

Backup Camera Included:

Yes

View On Amazon

ATOTO A6 Double Din Car Navigation Stereo with Bluetooth

Price:

$$

Customer Rating:

4.3

Screen Size:

7 inches

Backup Camera Included:

No

View On Amazon

BOSS Audio BVCP9685A Auto Car Multimedia Player

Price:

$$

Customer Rating:

4.1

Screen Size:

6.75 inches

Backup Camera Included:

No

View On Amazon

Pioneer MVH-1400NEX 6.2″

Price:

$$$

Customer Rating:

4.4

Screen Size:

6.2 inches

Backup Camera Included:

Yes

View On Amazon

7″ Car Stereo Touch Screen Car Audio Receive

Price:

$

Customer Rating:

3.7

Screen Size:

7 inches

Backup Camera Included:

Yes

View On Amazon
Best Car Stereos with Backup Camera Reviews
1. Kenwood DDX26BT+XCTM380 Audio 6.2"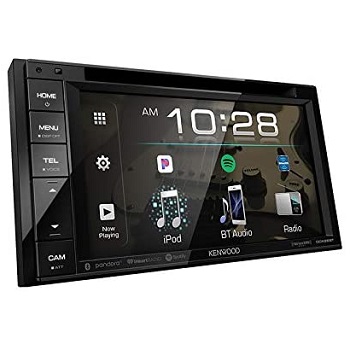 If you are looking for a long-term car stereo solution, this Kenwood might just be the one for you. It comes with a large 6.2 touchscreen and a whole arrange of versatile features. The overall design is black, making this stereo fit into any car interior.
This stereo comes with a backup camera, so you don't have to buy one separately. Of course, the OS on the stereo supports Bluetooth devices, so hands-free phone use is fair game. The stereo gives you the option to adjust the interface, connect your phone, or even put a CD/DVD in. The backup camera has a 170° angle, making it a great assistant in parking. This whole set comes with in-depth instruction an installation manual as well.
Pros
A full set that includes the car stereo and the backup camera
The stereo comes with a Bluetooth module and a CD/DVD receiver
The OS is highly-customizable, allowing you to personalize the look of the interface
Cons
This particular car stereo model comes with a higher-than-average price, but it is a long-term solution after all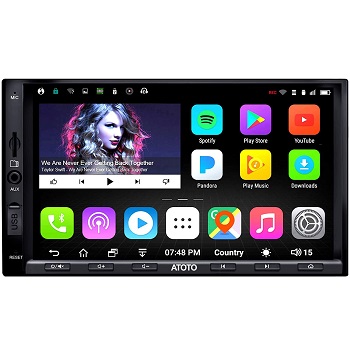 The ATOTO A6 is a pleasant and refreshing surprise when it comes to car stereo software. Above all, the engineers prioritized that every app has a stable base to work on. The stereo unit comes with a 7-inch screen, which is more than enough to utilize the features it has. And, visually speaking, I'm sure that this stereo will fit any car interior design out there.
Now, this Android-powered car stereo supports both Bluetooth and Wi-fi technology. Essentially, this means that you can tether your internet connection to the car stereo which in return gives you a better GPS experience. The built-in microphone does wonders with catching the driver's voice, so the need for yelling is eliminated. Even though the stereo doesn't come with a camera, it fully supports backup cams with proximity sensors.
Pros
A solid all-around car stereo with Bluetooth, GPS, backup camera support, and much more
The comes with Wi-fi support, as well as USB connectivity support (to charge your devices)
The GPS module works great on its own, though you still have the option to connect it to your smartphone via Bluetooth
Cons
The stereo comes without a backup camera included in the set, but you can connect the camera you already own
3. BOSS Audio BVCP9685A Auto Car Multimedia Player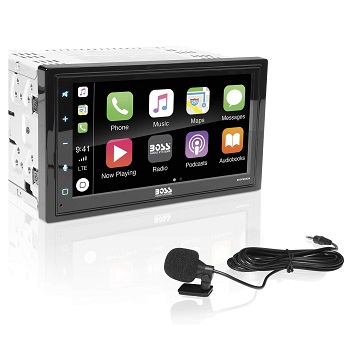 BOSS has been a player in the car stereo game for quite some time now. They decided to design this android-powered stereo as a reliable companion to all types of drivers out there. This particular model comes with a twist, though – it has full Apple CarPlay support, as well as sync for Siri. So, if you are a fan of the Apple ecosystem, you should consider this Boss car stereo model. The design is plain black, so fitting it in shouldn't be an issue (aesthetically speaking).
When it comes to features this model brings to the table, the standard set is already there. You have your GPS support, backup camera support (not included in the set), and even a microphone to help you with the voice commands. Now, the stereo does support Apple apps, but it does go well with Android and Google as well.
Pros
The stereo has a dedicated microphone that detects the voice better
Supports Apple CarPlay and Siri. You can talk, send texts, and make Siri read texts aloud for you while you drive
The stereo support multimedia A/V players as well. A great thing to have if you are road tripping
Cons
The touch screen takes a bit to master – it can feel a little slow in the beginning
4. Pioneer MVH-1400NEX 6.2″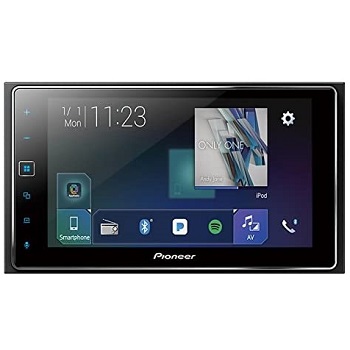 Regardless of your experience with stereos and audio gear in general, you have certainly heard of Pioneer. Their car stereos have conquered the world, and this particular model surely has a lot to offer too. The overall black design will fit nicely in any car, and the features that come along are not to be underestimated.
First off, the screen is about average in size – 6.2 inches. The operating system works well with both Android and Apple, though the stereo has Apple CarPlay support. You can switch icons and adapt the look of the screen to your needs. The on-board computer also supports backup cameras and proximity sensors, besides the standard Bluetooth and GPS support. On top of everything, you get a discreet backup camera.
Pros
A car stereo that works well with smartphones (android and Apple) to help you utilize handsfree and GPS features
The screen has a video input, so you can stream media to it
Comes with a license plate-style backup camera with CrimeStopper
Cons
The GPS module works only in a combination with a smartphone – no standalone GPS module
5. 7″ Car Stereo Touch Screen Car Audio Receive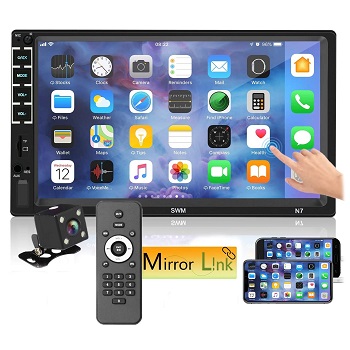 If you are looking for a budget car stereo model, I got you covered. This basic car stereo set is an excellent entry point for people that are new to the concept. The whole unit looks quite neutral, and the installation process is provided and described in the manual.
Now, don't let the low price confuse you – this stereo model comes with everything you might need on the road. The screen is 7-inches big, making it bigger than average. You get to connect your smartphone with the stereo and control music, calls, GPS, etc. through it. The stereo also comes with a backup camera and full support for it, so you can park easier and avoid unnecessary scratches.
Pros
An affordable, budget-tier car stereo with Bluetooth support and a backup camera (comes with the set)
A large 7-inch screen that can play video as well
Handsfree support for Android and iPhone, so you can call, text and control the music all in one place
Cons
The GPS does not work on its own, so you have to connect your smartphone to use maps and navigation in general
Car Stereos With Backup Camera – Buying Guide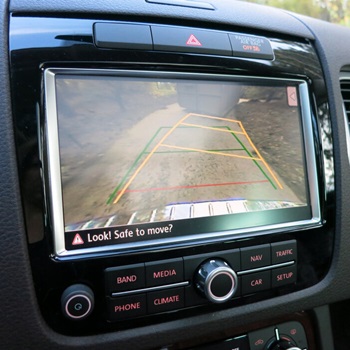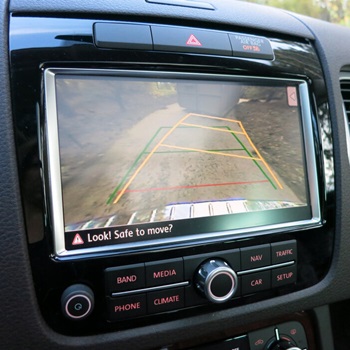 Ok, now that we have the basics covered, it is time to get into the finer details that can help you pick a stereo model that can cover all your needs. Keep in mind, each and every car stereo with GPS, Bluetooth, and all sorts of features is different to a degree. I'd like to talk about the essentials since stuff like color quality is not exactly important. At least not to a majority of drivers. So, what kind of features should you keep your eyes on?
If you are looking for car upgrades or a place to learn about upgrading your vehicle, I encourage you to check our articles on various car-related topics.
1. GPS
First and foremost, let's talk about utilizing that big screen. A car stereo with a GPS module can do a lot more than you might think. For example, if the stereo has its own, independent GPS system, you get a clear insight into road statistics. Speed, mileage, average commute time, route-planning, road data, etc.
The display can even show you destination directions, live.
Some stereo models give you the option to use your phone's GPS module as well. This is a valid option as well. Smartphones often have finely-tuned GPS locators, so you get to experience all of it on the screen of your new stereo. This brings us to the next important topic – car stereo connectivity.
2. Connectivity
Since technology is getting more wireless each day, it is only logical that it came with the car stereos as well. Almost every modern car stereo has Bluetooth, among other connection types. Bluetooth connectivity allows for so much:
Control the music queue and volume via your phone, or even better let anyone control it with their phone.
Connect your smartphone and use your car's audio system as a hands-free module.
Bluetooth connectivity also allows you to sync your phone with the onboard stereo, making it easier to use GPS, read notifications, etc.
There are other ways to connect your car stereo to a media-playing device. Most stereo models support the use of AUX cable. Essentially, this cable allows you to play the music from your phone directly through the car's audio system.
Lastly, cutting-edge stereo models support Wi-fi connections. If you spend a lot of time on the road and you have a portable wi-fi hotspot, you can connect your stereo as well. However, these Wi-fi car stereo models are quite rare, since the use of portable Wi-fi isn't mainstream yet.
3. Compatibility
In terms of compatibility, most car stereo models are 2 DIN or double-DIN stereos. This tells us that the stereo takes up two slots on the board. This makes sense if you account for the big screen that needs the double-DIN space. But on the other hand, you get to compile almost everything into a single central unit lie the car stereo with GPS, backup camera, Bluetooth, etc.
You should also check whether the wiring is still in good condition, before you install your new radio, of course. After all, this new centra unit needs to be connected to sensors, antennas, speakers, yes – but also cameras. This brings us to our next point of interest…
4. Camera Support
Let's face it – no matter how experienced of a driver you are, having a backup camera with a screen to optimize it is priceless. Use the camera to help you park anywhere, even in low light conditions. Connecting a backup camera to a car stereo is easy. The slightly trickier part is positioning it – everyone likes a different angle, which is ok as long as you spend a few moments to discover that position.
Usually, a car stereo can give you either a direct feed from the backup camera (shown on the screen) or a proximity sensor animation. The sensors work wonders when you can't quite see through the camera.
Lastly, if you have more than one camera on your car, e.g., a mirror dash cam, you can connect it to the stereo to form a complete 360° view. Some stereos even come with a split-screen feature.
5. Screen Size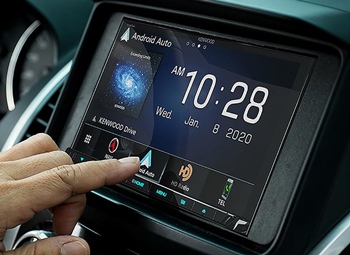 Speaking of screens, there is that famous question – Does size matter? Well, the answer is – it depends! Typically, a 2-DIN stereo will provide you with just enough screen space to allow you to see the cameras, maps, and all the regular features. But, if you have troubles seeing the screen clearly and you want t bigger car stereo with Bluetooth and GPS, I say – go for it!
Car stereo with a larger-than-average screen usually comes with a USB or a CD/DVD player, or both. This way, people who spend a lot of their time on the road can enjoy a movie while resting in their vehicles.
6. Operating system and remote control
Since these car stereos are practically computers, you should be aware that they come with some sort of operating system (OS for short). In most cases, we are talking about Android or some form of it. But, worry not, since almost every popular app out there can be connected and synced with the stereo's OS.
This means that you don't have to worry about compatibility if you own an iPhone. As long as the stereo supports the app, you can sync it (e.g. Spotify).
Lastly, some stereo models come with a remote controller of their own. This small remote controls the music in most cases, or in some – the remote control the LED lighting on the stereo dashboard. While this is not an essential feature, campers, trucks, and vans can certainly benefit from it.
FAQ About Car Stereos with Backup Camera
1. How to install a car stereo with a backup camera?
Creating a single, universal tutorial that explains the whole car stereo installation process is virtually impossible. Every car model out there is unique in its own way, and that brings us a unique set of issues along the way. So, if you are not confident in your skills, consulting a professional is a legit option. There will be a lot of meddling with the cables, and, if you are not careful, you could severely damage the car's electronics.
Now, what I can do is give you some general advice on installing a new double-DIN car stereo.
Always disconnect the car battery first! You don't want to tinker around with car electronics while everything is live. Technically, keeping the car off could work as well, but an ounce of prevention is worth a pound of cure.
Before you disconnect the old stereo, make sure to take photos of the dash and everything you plan to move or disassemble.
Once you unpack your new car stereo, recount the parts, screws, and everything that's accounted for on the box. A lost screw can sometimes screw the whole operation.
Google your car model and year and you will surely find a step-by-step guide somewhere. If there aren't any helpful tutorials, visit the town mechanics, and he will point you to the solution.
2. Can I connect my phone to a car stereo and use it as a hands-free system?
Of course you can! One of the biggest benefits of car stereos with Bluetooth is that you can connect your smartphone and use the car's stereo system to talk hands-free. Also, if your phone allows it, voice commands are fair game as well.
I encourage you to learn how to use the car stereo handsfree before everything else. Talking on the phone while driving is unsafe, and it is one of the biggest causes of car accidents.
3. What does "double din" mean?
A double DIN, two-DIN, or 2-DIN is a mark that tells us how much space the new car stereo is going to take. A regular DIN is a single slot in your dash, just like old car radios used to take up. Most modern car stereos with Bluetooth and GPS are double-DIN, meaning that they take up two regular spaces. This, of course, mostly gets taken up by the big touchscreen.
Wrap Up
Now you have the knowledge needed to get the best car stereo with a backup camera for your vehicle. Every stereo out there will have at least a couple of features you'll find helpful, and the truth is – having the option to connect your phone to the stereo is great. Not only will you be able to blast music, use GPS maps, and control the functions of the stereo, you will also be able to the phone hands-free, thus increasing the overall safety.
Lastly, if you are unsure about how to approach the installation process, don't hesitate to go to a professional – it's a routine process. Now, pick a model that has the features you like and want, and level up your car today!