If you invest in the best car wax for your vehicle, you invest in its future. There are many car owners who wonder why their car's paintwork lost its shine after only a year or two. The truth is, these people only had their cars washed, and that's the extent of the maintenance they do on their car's exterior. However, if you wish to keep your car looking brand new for a longer time, or you hope to renew dull paint, you're in luck. In this article, we'll tell you everything you need to know about returning and maintaining the shine on your ride, without wasting hundreds on professional detailing service.
Whether you just got your first car, or you're a seasoned driver, our car wax reviews can help you choose the ideal weapon to ward stains, scratches, and lifeless color off your vehicle. Let's get right into the business!
See The Quick Comparison Chart
Benefits of Car Waxing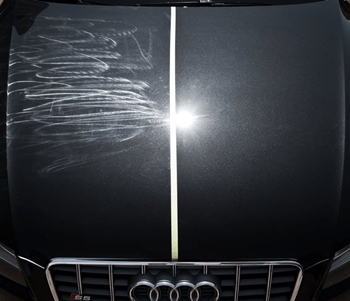 Many people realize the importance and the benefits that come with waxing your car on a regular basis. Still, many others don't quite understand why they should do it. From the perspective of someone who never felt the difference that waxing makes, it may seem redundant, or even like a waste of time. However, that's really not the case. If done correctly, there are absolutely no downsides to waxing your car on a regular basis – 2 or 3 times a year. Let's take a look at the most convincing reasons to wax your car.
1. Waxing Protects Your Car from Scratches
One of the most direct advantages of car waxing is that it provides a protective layer that blocks scratches. When you apply wax to your car paint, you literally add another clear yet tough layer on top of it. Any common surface scratches that would normally leave a shallow but still visible mark will not pierce through the wax. That means that your paint stays intact – even though you didn't prevent the scratch from happening, the wax did prevent it from reaching the expensive paint coating of your car. Instead, the mark is made on the wax, which you can easily remove and renew for a fraction of the price it takes to fix your paint. Wax can help protect your car from any surface scratches that may be caused by pebbles, stones, twigs, and other things, whether they happen while parked, during driving, or even while washing your car.
2. Wax Protects Car Paint
Scratches are not the only enemy of a beautiful car, and every experienced car owner knows this. When you're driving and even when you're simply parked outside, there are many factors that can make your car look less than pleasant to look at. Among these are simple things like tree sap, bird droppings, and rain, but also more complex problems you may not know about, such as the sun's ultraviolet rays, and road salt. All of these can have a negative influence on the state of your car's paintwork. If you don't address this problem, you might end up with a car that looks old and worn-down after only a year of use. You can prevent most of these factors form influencing the looks of your car by using car wax. As a protective layer, the wax will make it easier to clean sap and droppings from the surface without having to scratch or peel them off. On the other hand, as the wax is a hydrophobic surface, it will ward off rain, snow, and hail marks, making water stains a thing from the past. Finally, most car waxes are formulated so they can protect your car paint from ultraviolet rays, ensuring the color of your car stays bright and shiny for a long time. In fact, making sure that your car stays scratch and stain free will earn you some money as well. That's because the resale value of cars maintained with regular waxing is much higher in general, mainly due to the fact they look great for a longer time.
3. Waxing Reduces the Maintenance Costs
If you've ever ended up with a scratch that you wanted to get covered, you know how surprisingly costly the paint-over is. It doesn't matter how small the area, painting over the chipped part can easily end up costing thousands of dollars, especially if you want it done well. Color mismatch and visible, distracting transitions from the original paint to the covered part are the biggest enemies of your car's beauty (and resale value). So why waste so much money on repairing problems you can easily prevent? Waxing saves you money by hampering stains, scratches, and chipping. The best strategy is using wax on your car from day one – that way you can make sure you never have to polish or repaint your car at all.
4. Waxing Is Simple and Quick
All of the previously mentioned benefits reflect the fact that the main task of car wax is to protect your vehicle from unavoidable scratches, chipping, and stains. However, there is one more thing that you should consider. Waxing your car is easy to do, and it only takes a little bit of extra time, even when done at home. So why not do it? Waxing is only done once every 3 to 6 months, and most people do it as a short extra step after washing their car. While the exact time it takes to wax your car depends both on the particular wax you're using, and the size of your vehicle, it generally shouldn't take more than 20 minutes. If you do it three times a year, you spend a total of one hour waxing your vehicle on a yearly basis. That amount of time is ridiculously low compared to the benefits you get from doing it. Besides, car wax is very affordable these days. We simply don't see a reason not to do it!
Best Car Waxes Comparison Chart
PRODUCT
DETAILS

Aero Wet or Waterless Car Wash Wax Kit

Price: $$$
Customer Rating: 4.8
Volume: 144 ounces
Type: Spray
Dimensions: 9 x 5 x 11 inches

View On Amazon

Meguiar's G18216 Ultimate Liquid Wax

Price: $$
Customer Rating: 4.6
Volume: 16 ounces
Type: Liquid
Dimensions: 5.5 x 5.5 x 3.5 inches

View On Amazon

Collinite 845 Insulator Wax

Price: $$
Customer Rating: 4.8
Volume: 16 ounces
Type: Liquid
Dimensions: 2.5 x 2.5 x 8 inches

View On Amazon

CarGuys Liquid Wax

Price: $$
Customer Rating: 4.7
Volume: 8 ounces
Type: Liquid
Dimensions: 7.2 x 7.1 x 2.6 inches

View On Amazon

P21S 12700W Carnauba Wax

Price: $$$
Customer Rating: 4.6
Volume: 6.2 ounces
Type: Paste
Dimensions: 3.5 x 3.5 x 3 inches

View On Amazon

Turtle Wax T-223 Super Hard Shell Paste Wax

Price: $
Customer Rating: 4.2
Volume: 9.5 ounces
Type: Paste
Dimensions: 4 x 4 x 3 inches

View On Amazon

Griot's Garage 11171 Best of Show Wax

Price: $$
Customer Rating: 4.7
Volume: 16 ounces
Type: Liquid
Dimensions: 2.6 x 2.6 x 7.6 inches

View On Amazon
Best Car Wax Reviews
1. Aero Wet or Waterless Car Wash Wax Kit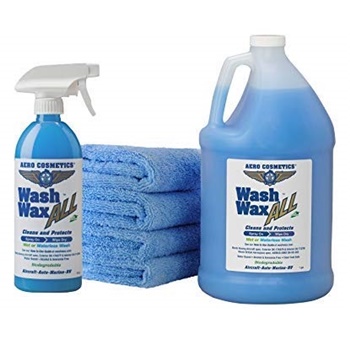 This set of products is unique, and a bit different from the other products on our list. Aero Cosmetics Wash Wax All is a liquid cleaner wax. This product is used for washing your car without water, or for additional touchups after a typical car wash. The product also provides protection and shine to your car, so it's comparable to other non-cleaner car waxes.
The best thing about this product is that it has a dual-use. You can clean your car completely without water if you have this product and a few microfiber towels. On the other hand, you can use it to protect your car paint by applying it right after washing, while your car is still wet. This product is suitable for all outer car parts, including glass and plastics.
It comes in a jumbo package for an outstandingly affordable price. You get a full gallon container of the product, a full 16-ounce spray bottle, and 4 microfiber towels. We do recommend getting more towels if you plan to wash your entire car waterless with this product. You can expect to get around 2 months' worth of protection with this cleaner wax. This product has a long tradition, and it has been used for aircraft, cars, and boats for over 30 years. It's made in the USA.
Pros
A large package for an affordable price
It can both wax and wash your car, with or without water
Cons
It isn't a specialized wax, so it doesn't give you as much shine or protection as non-cleaning waxes
2. Meguiar's G18216 Ultimate Liquid Wax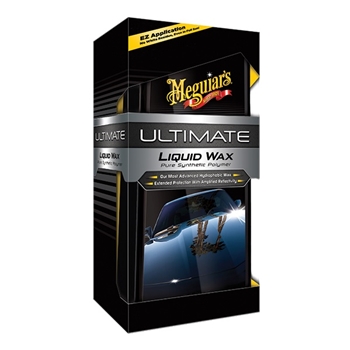 Our next product comes from the household name Meguiar's, which has been taking care of cars across the States since 1901. This liquid wax is a part of their Ultimate series, which are known for their ThinFilm technology. ThinFilm technology ensures your application will go smoothly.
Meguiar's recommends using a thin layer of this product since it will provide you full protection, and easy application and wipe off. ThinFilm technology also ensures you don't waste any product, so this 16-ounce bottle can easily cover 5 uses on a medium-sized car. This synthetic polymer wax can last for a long time, so you won't need to reapply often. Though the manufacturer doesn't provide an official estimate, our experience is that this product protects your car for roughly 8 weeks. Even after 2 months, the surface of a waxed car is still hydrophobic, though it starts to lose its shine.
This model comes with a foam applicator and a soft microfiber cloth which will be perfect for applying this synthetic liquid car wax. The downside of this wax is that it leaves your car slightly less glossy than some other waxes, though it does definitely make the surface slick and smooth.
Pros
ThinFilm technology lets you spend less product with each use – making it very effective
This product is very affordable
Comes with an applicator and a good-quality microfiber towel
Cons
This wax leaves your car looking slightly less glossy than some other products
3. Collinite 845 Insulator Wax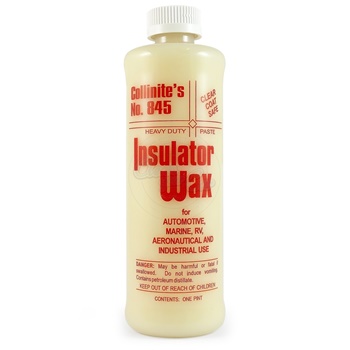 Our next recommendation comes from Collinite, a famous producer of automotive, marine and industrial waxes that have been operating since 1936. Their products are made in the USA. Coming in a 16-ounce packaging, this wax is a mix of all-natural carnauba wax and synthetic polymers. This combination leaves you with both a premium shine and long-lasting protection.
Collinite's no. 845 is a popular choice among car enthusiasts because it's very affordable, but it does an amazing job keeping your car looking slick and protecting it from the elements. It's very long-lasting and it can provide you with up to 5 months of hydrophobic car surface.
Though it isn't designed for plastic and rubber parts, this wax doesn't typically stain or discolor trims. It's very easy to spread across the car surface as it's quite runny. The manufacturer recommends using very thin layers of this wax for the best results. However, the container is not very good for such a runny wax, so it's easy to pour too much.
Pros
Very long-lasting results – water will bead up even after the 4-month mark
Made in the USA
Carnauba and synthetic polymers mix result in superior shine and great durability
Cons
The dispenser is not great, and it's easy to pour too much
It takes some elbow grease to buff out and remove excess wax
4. CarGuys Liquid Wax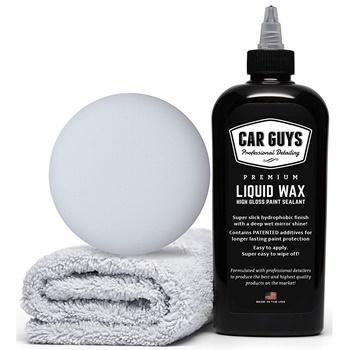 Our next pick comes from CarGuys and it's a high-quality product that any car enthusiast should have. It's made and packaged in the States. Though it's used as car wax, this product is, in fact, a car paint sealant. That means that you can get around half a year's worth of protection and shine out of this product, and some claim it can even last a full year. Thus, even though this product comes for a higher price for a small packaging compared to other products on our list, CarGuys' sealant is more cost-effective because you don't need to apply it as often.
This sealant is a completely synthetic polymer product, and the manufacturer has developed and patented unique additives to make it last as long as it does. It's not only suitable for use on car paint. In fact, this product can help you keep your wheel rims, glass, and metal parts in pristine condition as well.
However, be careful not to get it on plastic and rubber parts, as it can discolor them and even damage them. It provides good protection against ultraviolet rays and water, and other contaminants like mud and bird droppings. With this product, you can achieve great shine with amazing durability, without breaking a sweat during application.
Pros
Very durable, with protection lasting 5 or 6 months on average
Great shine with an easy application
Cons
Very unforgiving on plastic and rubber parts, so be careful when applying
5. P21S 12700W Carnauba Wax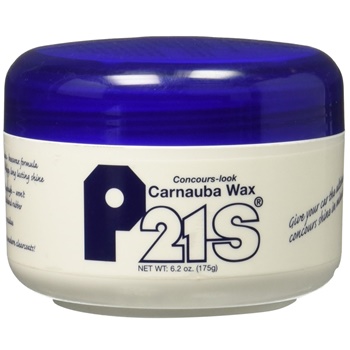 If you're looking for a good, reliable can of carnauba wax, P21S may be a great choice for you. In fact, this is a mix of Brazilian yellow carnauba and beeswax, so this is a perfect pick if you're looking for a natural wax for your car.
It doesn't include additives, dyes or perfumes that may damage your car's plastic and rubber parts. Even if you do get some wax onto these parts, it's very easy to remove without any repercussions. This paste wax is very easy to apply and remove, and it comes with a high-quality foam applicator.
This wax is very long-lasting, and it can protect your car from rain, sun, salt, and dirt for as long as 5 months in ideal circumstances. However, on average, you can expect to get around 3 months of solid paint protection from this natural wax. This wax is quite good, and it will leave your car looking shiny and slick without too much elbow grease.
Pros
Solid protection against the elements
Great shine with easy application
Cons
Somewhat more expensive, but comes without any practical downsides
6. Turtle Wax T-223 Super Hard Shell Paste Wax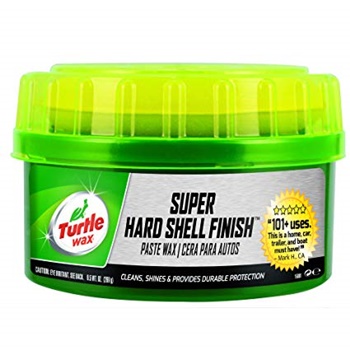 Turtle Wax has always been a household favorite, and that title is well deserved. With a good combination of price and quality, Turtle wax is a great, solid choice for anyone.
In fact, this is undeniably the most affordable product on our list, and it only costs a third of the price of the next cheapest option. The little 9.5-ounce container is quite convenient. It contains paste wax that is made out of carnauba and silicone. This car wax can give you great results when it comes to shining. However, more importantly, it will protect your car from ultraviolet rays and the elements. The label claims it can last up to 1 year. However, from our experience, you should expect to get about 2 months' worth of water and dirt protection. This is still quite good, especially as it's comparable to other, more expensive products than this one.
The wax is quite easy to spread across the surface of your car. However, it takes a bit more effort to wipe it off and buff it. There are many fans and sworn users of this product, and that's thanks to its solid performance and amazing price.
Pros
Very affordable – this is the lowest-priced product on our list
Good performance in terms of shine and protection, up to par with other, more expensive products
Cons
Somewhat tougher to wipe off and buff
7. Griot's Garage 11171 Best of Show Wax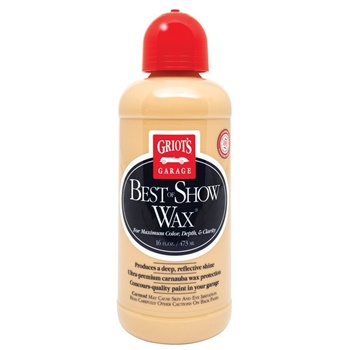 Griot's Garage created their Best of Show wax for shows – just as the name suggests. What this means is that this liquid wax gives you unprecedented shine, and color depth and clarity. In fact, when it comes to ingredients, this car wax is very high on carnauba content.
It is water-based and free of silicone, so it results in superior, long-lasting shine. This product is a great pick for anyone who strives for perfection when it comes to the visual appeal of their ride. If you're always looking for ways to make your car even more dazzling, Best of Show is a product that will leave you with a car worth showing.
However, it doesn't leave you hanging when it comes to protection, either. This wax will provide sufficient protection against the elements. It can last around 2 or 3 months, which is average. The main complaint of users is that this wax is hard to remove, and we agree. It's quite tough to wipe off, even when only a little bit is used.
Pros
Amazing results in terms of shine – this wax is used on showing cars for a reason
Silicone-free formula
Cons
Very hard to wipe off or buff after applying
Car Wax Types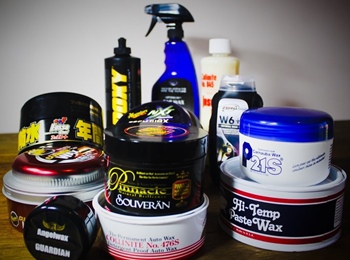 The very first choice you'll have to make when picking car wax is whether to invest a bit more into natural wax or to go with a synthetic alternative. Both have their pros and cons, so there's no easy answer to that question. We will cover the most important things you need to know about the natural carnauba wax, and the synthetic wax that's sometimes also called a sealant.
1. Natural Carnauba Wax
Most of the natural car waxes are derived from a special type of palm tree that only grows in one place on earth – Northeastern Brazil. Titled 'the tree of life' due to its many uses, the carnauba palm is the only known source of this unique, yellow wax. Carnauba wax has been used for decades in the car industry, and to this day, the deep, rich shine it leaves on cars is unmatched by any natural or synthetic alternative. It provides a reliable level of protection against scratches, water spots, and ultraviolet rays, around the same level as synthetic waxes do. Even though it's loved by car enthusiasts around the world for its extraordinary results in terms of looks and good results in terms of protection, the downside of carnauba car wax is that its effects last for a very short time compared to synthetic ones. Carnauba wax can only keep your car scratch-free for 6-8 weeks (up to two months), which means it requires very frequent application, and hence costs much more in the long run. However, if you're going for the show, there's no better choice than carnauba.
2. Synthetic Car Wax
Unlike the natural carnauba wax, synthetic waxes became widely used only recently, with the development of the technology behind them. Synthetic waxes are polymer-based, and they are made to closely emulate the functions of natural carnauba wax. They're very good at protecting your car from the adverse effects of pollution, the elements and ultraviolet rays. Since the tech behind them is constantly developing, there are already some specialty waxes that can outperform carnauba wax when it comes to protecting your car paint. However, for the most part, the two kinds achieve comparable results, with synthetic waxes being somewhat more resilient to the effects of sunlight. However, synthetic waxes strongly surpass carnauba when it comes to durability. Most consumer-grade waxes can last around 4-6 months, while there are already models that may offer protection lasting almost 2 years. Compared to carnauba wax, they are somewhat easier to apply, and last much longer, saving you quite a bit of money. On the other hand, synthetic waxes still cannot achieve the rich, deep gloss that carnauba does, so if you're looking for the best visual results, go with carnauba. However, if you care more about convenience and durability, we recommend synthetic waxes.
Car Wax Application Methods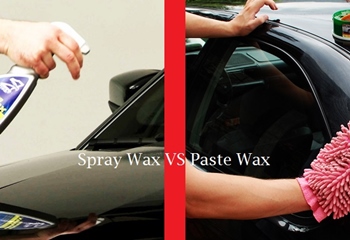 After opting for either a natural or synthetic car wax, your next choice will be about the form in which your wax comes. The main three types, for both natural and synthetic waxes, are paste, liquid, and spray forms. These don't differ much in the effectiveness of protection or gloss, but their methods of application and therefore ease of use do differ greatly. Let's take a look.
1. Paste Waxes
This is the traditional form of wax that many generations have used and loved and still do. Paste waxes come in sealed cans in the form of a hard chunk of wax. To apply them, you need a microfiber sponge and a microfiber rag. This form of wax is tougher, and it requires more elbow grease to apply because spreading the paste evenly across the surface can be challenging. Applying a paste wax also takes a longer time, as they are applied in two stages, in between which you might have to wait a couple of minutes before the paste is ready for further treatment. However, this type of paste also does a better job filling up the tiny crevices and bumps of older and duller paint. In fact, when compared with other types of wax on fresh and well-maintained paint, there isn't much difference in the final gloss, but the difference truly shows on older and worn-down paint. Choose a paste wax if you have an older vehicle or one that has already damaged paint, but only if you're ready to go the extra mile when applying.
2. Liquid Waxes
Liquid waxes come in different levels of viscosity, but they are always easier to apply than paste wax. You need both the microfiber sponge and the rag to apply this form of wax, but there's no need to wait in between the two steps. We recommend liquid wax to owners of new and freshly painted cars, as these can be gentler on the surface of the vehicle than paste. That is because they require less effort to apply, so there's less opportunity for scratches and swirls to appear. However, liquid wax doesn't fill up the crevices of damaged paint as well as paste does, though you will end up with a shiny car in either case.
3. Spray Waxes
Spray wax is the newest form of wax available on the market. It is particularly easy and quick to apply, as you don't need to spread the wax over the surface with an applicator, but simply spray it on directly from the bottle instead. This form of application is much simpler, but it still results in good, even coverage, and great shine. Spray waxes are not only the easiest to apply but to remove as well. However, many doubt their effectiveness in filling up crevices and scratches. Still, spray waxes provide good protection, just like other wax forms do.
Waxing vs. Polishing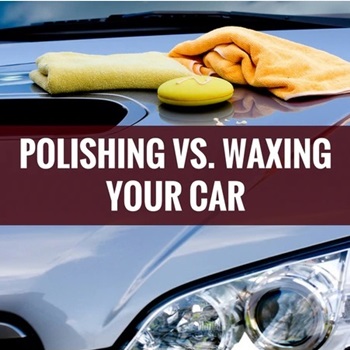 Before you get to applying wax on your car, there are some important distinctions we must establish. The most important one is the difference between car wax and car polish, and when you should use which.
1. Polishing
It's not rare for us to hear from a car owner that they polish their car every month or so. However, this is very wrong. In fact, you can easily ruin your car's paintwork if you polish more often than absolutely necessary. So, what is car polish anyway?
As you already know, polishing is a process of refining and shining a surface through rubbing, or by using chemicals. Essentially, the process of polishing smooths out a surface, and it achieves that by removing the higher points of an uneven surface. So, when your car has a scratch visible, you can see it because the surface of the paint is no longer smooth. And when you polish the paint, you smooth out the area around the scratch, making it less visible. In essence, car polish is an abrasive chemical which takes away bits of paint coat, in order to make it smoother overall. The result is a shiny look, but the protective layer of clear paint gets slightly thinner every time you polish. As you can imagine, this can end up with a disaster if you do it one too many times.
2. Waxing
On the flip side, car waxing doesn't remove or eliminate in any way. On the contrary, it adds a layer on top of the paint coating. Car wax is made in a special way, and its job is to smooth out the microscopically uneven surface by filling up the crevices. As it fills the holes resulting in an even, glossy finish, it makes your car paint look shinier. This effect is achieved by making the light bounce off a sleek surface.
However, making your vehicle look slick is not the only purpose of waxing. As it adds an additional layer on top of your paint, it serves as a supplementary level of protection of your paint. So, while polishing leaves your car paint vulnerable to scratches and stains, car waxing gives you an additional layer of safety against these very things.
3. Which Should I Choose?
As you can see, both of these processes are useful, albeit for different purposes. Polishing is the best way to get rid of already existing scratches, while waxing does a great job preventing new ones from forming. So, which one you choose depends on the current state of your car, as both processes provide useful treatment.
In fact, in many detailing treatments, the two are combined to result in your car looking as good as new. Still, whenever these processes are combined, polishing comes first and waxing second. That is so for a simple reason – polish is strong enough to dissolve and remove wax as well, so there's no point in using polish after the wax. That is unless you purposefully want to remove wax, due to improper application or for another reason.
How Often Should I Wax My Car?
Waxing protects your car from the effects of many different elements from its environment. Starting with the sun's ultraviolet rays, through sand, dust, bird droppings, twigs, and other unavoidable particles, and finally water, rain, snow and road salt. There are many things in your environment that can leave a mark on your car, and each season comes with some that are particular to it.
Because every season brings new challenges, detailing experts claim that you should wax your car with the start of each season. That means that you should have 4 waxing treatments, every 3 months.
However, if you use a wax which generally lasts less than 3 months, you should follow the manufacturer's recommendation for waxing frequency. These are not so rare, as the effects of many waxes start to wane off after only one month. On the other hand, if you invest in an extra-durable wax, there's no need to repeat the process while the effects are still going strong. However, the environment can greatly impact the durability of wax. Starting with whether you mostly park indoors or in sunlight, and whether your car comes in touch with a lot of sand, salt or snow. All of these can influence the durability of applied wax.
The best way to know if your car is ready for a new layer of wax is by doing the water test. Pour some water over your car. If the water slides down and beads up quickly, you don't have to worry about waxing yet. On the other hand, if the surface of your car isn't hydrophobic enough, you need a new layer to protect your car!
How to Wax A Car Properly?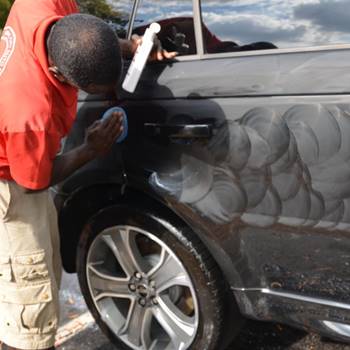 Waxing your vehicle comes with many advantages. The biggest one of them all, though, is that waxing is simple and effective. It doesn't take more than 15 minutes, and once you're finished, your vehicle will stay protected for months. However, to reach these incredible results, you need to apply wax correctly. To help you achieve the best results, we'll walk you through the process of waxing your car with different types of wax.
1. Before Waxing
The most important factor for the durability and effectiveness of a car wax treatment is not really about the technique of waxing. The single most influential thing that can make or break your detailing is the car wash.
A clean car is necessary for the wax to set in properly. We recommend car pressure washing because that's the quickest and the most reliable way to get your car completely clean. Use an appropriate detergent, and you'll have to trouble to get your car washed.
Once the water dries, use a clay bar to ensure great results. A clay bar is used to remove contamination further. In most cases, this contamination is impossible to remove with water and soap, so a clay bar is irreplaceable when it comes to getting your car squeaky clean. Compared to polishing, clay is better because it doesn't damage the clear coat of paint that every car made after the year 2000.
However, if you have tough stains, scratches and swirl marks, you may want to polish your car before waxing. However, if you don't have any major blemishes to fix, a clay bar will sufficiently clean all the contamination that may prevent wax from sticking well. If you don't have a clay bar at hand, you may proceed to wax your car after a good wash. However, the wax you apply without claying may stay effective for a shorter time. Make sure you repeat the process sooner than you normally would and make sure to include a clay treatment next time!
Make sure your car is completely dry before you start waxing.
2. Applying the Wax
2.1 Applying Spray Wax
A spray bottle is the single most convenient way to apply wax to your car. Once your car is dry, get a large, clean microfiber buffing towel. Spray a segment of the car, and spread the wax evenly across a small area. Some professionals swear by circular motion, while others vouch for straight lines – you can choose the one you believe is better. We recommend getting a buffing machine if you want to achieve amazing results. Once you cover your car with wax, get a new microfiber towel, or flip your waxing towel to its clean side for one final wipe. This will additionally buff your car and remove excess wax. You can use most spray waxes in direct sunlight. However, for best results, always apply wax in the shade.
2.2 Applying Liquid and Paste Waxes
If you opt for liquid or paste wax, you will need a foam applicator and a microfiber towel for buffing. Applying these types of wax should usually be done inside or in the shade, though there are some waxes that can be applied in direct sunlight. When your car is washed and dried, you can apply a dab of wax to your applicator and distribute it evenly over a small area of about 3 square feet. While some detailers recommend a circular application, others believe straight lines are better. You can choose whichever method you prefer. A buffing machine makes this job much easier, so we recommend getting one. Read the wax label to see if you need to let it dry (haze) before buffing.
After the wax is dry, buff it with a clean microfiber towel by gently wiping. It's also important to buff the wax off once it's dry, after a couple of minutes. If you wait for too long, it may set in and become very hard to buff. Because of this, we recommend waxing and buffing your car part by part. If you end up with a rough spot, let your car rest in the sun or warm it up by turning on the engine. The heat will soften the wax, so you can buff the affected area again. If the problem persists, we recommend trying a car paint sealant, which will fill and cover the scratch.
Car Wax Buying Guide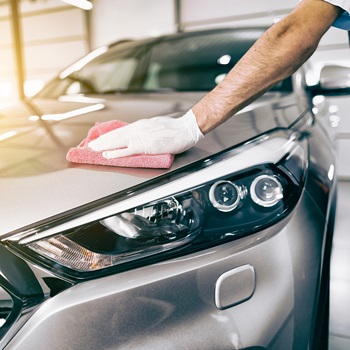 As you can see, there are many things you need to consider before making your final pick of great car wax that will suit all of your needs. You need to consider your priorities and make a balance between protection, shine, and price that suits you best. To help you understand what you should look for when scrolling through reviews, feel free to consult our short and concise buying guide. Let's dive straight into it!
1. Car Wax Formula and Paint Must Match
Most professional dealers agree that there's no need to get a special wax determined by your car color. However, the type of your car's paint and its chemical structure do play a role. You can get good results regarding both protection and shine whichever wax you get, regardless of your car's paint. But if you want to achieve truly extraordinary results, and you want to bring the best out of your car's paint, you need to use suitable wax. Newer cars that were manufactured after the year 2000 typically have a transparent layer of acrylic paint over the layer of pigmented color. This means that whichever color your car is, the wax actually bonds with the clear coat (f.e. black car wax). Today, this is the default, and you can use any car wax on a newer car unless specified otherwise.
Older cars may not have this clear coat over their colored layers. If this is the case with your vehicle, make sure the wax you get is free of color pigment and abrasives that may damage your paint. Waxes with abrasives are typically (but not always) labeled 'cleaner wax', 'washer wax' or something along those lines. Older cars may benefit the most from the good, old natural yellow carnauba wax, though any synthetic wax will also work well.
2. The Level of Protection
The protection level will wary depending on the type of wax you use. In the past, spray waxes were considered the weakest, but with today's technology, this is not always the case. All three forms of car waxes – paste, liquid, and spray – provide you with sufficient protection. However, when it comes to protection you may need to choose between durability and strength. That is unless you're ready to invest in an expensive wax. In general, synthetic waxes provide more durable protection, but they don't ward off the water as well as carnauba wax does. They typically last between three and six months. On the other hand, natural carnauba wax is very hydrophobic, making it more resistant to various weather conditions. However, natural carnauba rarely exceeds two months of reliable coverage.
3. Ease of Application and Removal
If you hope to start detailing your car by yourself, you should consider the ease with which car wax is applied. This rings especially true if you don't own a reliable, handheld buffer machine. We won't lie – car waxing requires a bit of effort to do right. To save yourself some trouble, make sure the product you're getting is easy to rub into your car and to buff and wipe off later. The difference between easy and hard application can be quite dramatic – applying user-friendly wax can last as little as 10 minutes while applying wax that's tough to spread and remove can take many hours of hard physical work. In general, liquid waxes are easy and soft, so applying them is a breeze. The same goes for spray wax, though you must make sure that ease doesn't come at the expense of protection. Paste waxes are traditionally the toughest to apply, but provide fantastic protection, and it's easier to control how much you're applying. All three are good choices with their own advantages and disadvantages. We'd recommend trying all of them before bringing your final decision!
FAQ About Car Wax
1. Can car wax fix scratches and blemishes on my car's paint?
Car wax is a helpful tool for making your car look smoother and shinier. However, it does not permanently fix the scratches you have on your paint. Instead, car wax fills them up and covers them with an additional layer. This smooth layer of wax reflects light, making your car look flawless and completely scratch-free. However, with time, car wax will wear off, and the scratches are going to start showing. After a while, your car will be protected as well as it was before, but the wax layer will have taken some bruises, so it won't be as shiny.
If you're looking for a way to smooth out scratches, swirl marks and blemishes on your car, the wax is not the product you should look for. You need to smoothen out your car's paint, and this is done with abrasive formulas called car polish. Polish should only be used to buff and flatten the surface of your car paint, making scratches less noticeable permanently. However, polish does remove a portion of your paint's clear coating, so it shouldn't be done often – only when there are major blemishes and marks you want to go from your vehicle. Always apply wax after polishing, as the wax will prevent future scratch marks!
2. Do I need to do anything after waxing?
Most people end their detailing routines with wax. There are some professionals that do use additional products for after wax care, especially when preparing vehicles for car shows, where mirror-like shine is of utmost importance. But for most people, the wax is the last step of detailing. If you're not happy with the amount of shine your wax provides, there are some steps you can take before waxing. You can polish your car to smooth out your car's paint, you can use a clay bar to make sure your car is completely cleaned from all contaminants, or you could use a car paint sealant before waxing to make your car even more protected and shiny.
Wrap Up
Everybody loves a shiny car. However, most car owners know how big of an expense it can be to take your car for a professional treatment on a regular basis. Luckily, you can achieve that enchanting glossy look on your own. Waxing your car is effective, affordable, and simple. Even more importantly, it protects your car and gives you the satisfaction of a slick, lustrous ride.
We, in The Car Picks, believe every car owner deserves a beautiful car, so we compiled our list of the best car wax on the market. We hope you found everything you wanted to know about this part of detailing in our buying guide and learned about specific products in our car wax reviews. If you have any questions, feel free to get in touch by leaving a comment in the section below. We'll try to get back to you as soon as possible. By then… Stay shiny!