When it comes to truck repairs and maintenance, you have to expand your tool arsenal and get your hands on the best floor jack for lifted trucks to aid you. Owning a truck comes with a lot of benefits. A lifted truck or an SUV can help you get around, especially if you are surrounded by challenging terrain. People who push their lifted trucks to their limits know the true value of regular servicing.
After all, there is no better feeling than learning how to fix and repair minor (and in due time major) vehicle problems. So, let's see what these jacks are all about with all the benefits they bring to the table, or rather, to the garage. The hardest thing about getting such a powerful tool is – where to start. And in the following guide, I am offering you just that. Let's dig in!
See The Quick Comparison Chart
How Big of a Jack Do I Need to Lift My Truck?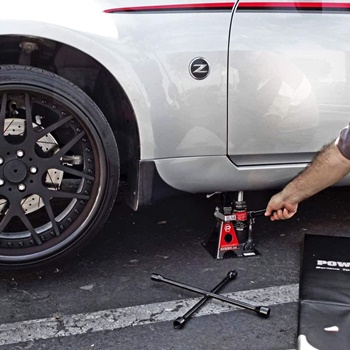 Ah yes, the ultimate question – how strong does the service jack need to be to help me with my truck? Well, while it may seem logical to get a jack that has the lifting power to match the weight of your vehicle, that is not exactly the truth. So, what gives?
First of all, I'd like to encourage you to get comfy with the term "ton". This is a unit used to express weight. Before you even delve further into this whole jack ordeal, let's set the measurement ground rules:
1 US ton = 2000 pounds
So, when you see a 3-ton floor jack for lifted trucks, it means that it has a maximum weight capacity of 6,000 pounds.
But, as I mentioned, the jack's capacity doesn't have to match the weight of your truck. As a matter of fact, that could be considered overkill in some cases. We must keep in mind that service jacks are actually quite hefty themselves.
The unwritten rule is:
The service jack for your truck needs to be rated for at least 75% of the vehicle's gross weight.
To put things into perspective, if your truck weighs 10,000 pounds, the jack needs to be rated for at least 7,500 lbs, or at least 3.75 tons. Any stronger jack will do, but this is the bare minimum it should deliver.
If you are unsure of your truck's total weight, you can always go online and check the model, or simply take a peek into the owner's book. Just remember to account for all the added weight coming from the stuff you added into the truck. Needless to say, unload any cargo before you decide it's time to lift the truck.
Types of Floor Jacks for Lifted Trucks
Now that we went through the basics of weight units used for jacks of all kinds, let's see what you can expect from the main four types of floor jacks for lifted trucks. No matter the experience you had with these service jacks, I think it's always great to have the options in front of you. This way you can select the adequate jack according to your needs, and the most common situations you find yourself in while working on your truck. I always say that the best ally in the garage (besides a set of proper tools) is knowledge, and that is what we are delving into.
1. Hi-lift Jack
If you have a lifted truck and need to get an adequate jack for it, a hi-lift jack is a way to go. As the name suggests, the hi-lift jack for lifted trucks (duh) provides you with that extra length. Believe it or not, most hi-lift jacks don't go below 3 feet at full range. This means that you can rely on this type of service jack to help you lift the already lifted truck. Also, these jacks come with all sorts of purposes, and they are the standard part of the rescue gear in several parts of the world.
Additionally, hi-lift jacks often offer at least 3 tons of weight-lifting capacity, but a lot of models have it way higher. So, for all of you out there looking for a specialized tool to help you with a super-lifter truck, the hi-lift jack is the safest route. Though, they can come with a heftier price as well, so make sure you do need it first.
2. Standard Jack
The standard jack (aka the floor lift) is one of the most famous lifting tools out there. Its popularity derives from the golden ratio of price, functionality, and ease of use. If you ever changed a tire, the chances are you used a standard jack. These jacks use the combination of hydraulics and a lever to help you lift your vehicle quickly and (almost) effortlessly. To make things easier, almost every jack of this type comes with a wheel system to help you hit the lifting spot of your truck precisely.
One of the best features of these jacks is the variety of choices. Due to their popularity and convenience, these jacks come in all shapes and sizes. So, if you do opt for a jack like this, make sure to read the description and see the length of the extended jack, as well as its weight limit.
3. Bottle Jack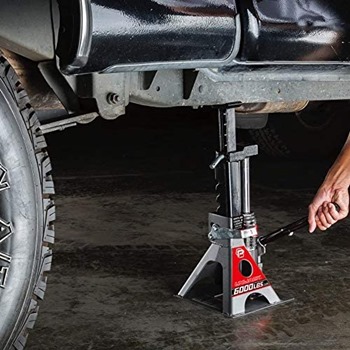 With the name coming from the bottle-shaped look, bottle jacks are somewhat heftier than the standard floor jacks for lifted trucks. Similarly, bottle jacks use the hydraulics-lever system as well, but there is a caveat – they need a sturdy, leveled surface to operate on.
But, once you master the bottle jack, you get to enjoy the above-average weight limit they bring. Most models will be more than enough for your truck, and the bottle jack design allows you to use it, upside down. Yes, you've read that right – with a proper setup, experienced mechanics know how to execute this complex, yet useful, maneuver. However, I will have to urge you not to try this if you are new to this whole ordeal because it can be a dangerous task that results in injuries, or worse.
4. Scissor Jack
Scissors jacks are the most basics lifting jacks out there. A scissor jack does not utilize hydraulics as the main moving force. Instead, a lever and a screwing mechanism help you lift the jack which in turn lifts the car. These jacks don't have a lot to offer in terms of power, but they do come with a convenient feature – they fit nicely. Let me explain.
Vehicle manufacturers, as you probably know, designate so-called "lifting spots" on the models they produce. These lifting spots actually represent the best place to push the jack against. Now, the scissor jack is a standard piece of gear that comes with the vehicle in most cases, always fitting the model it came with. A scissor jack is the most portable type of jack out there, but all that convenience comes with lower than average lifting power, and overall, not many more features. They do, however, come in as super handy in emergency situations.
5. Electric jacks
Last, but not least, we have the electric jacks. With the advent of strong portable electronics, the electric jack started gaining traction, especially among the owners of smaller trucks and SUVs. While these jacks usually don't come with a super-impressive weight capacity, they do offer the convenience of not doing anything to lift the car. All you have to do is set the jack under the lifting spot of your vehicle and press the button.
In terms of lifting power, electric jacks are a great first aid with changing a flat tire on the road or a similar smaller fix. They draw power from the 12V cigarette lighter socket in your truck, or to be direct – from the car battery. So, be careful not to empty the car battery while you are preoccupied with that flat tire.
Best Floor Jacks For Lifted Trucks Comparison Chart
PRODUCT
DETAILS

Blackhawk B6350 Fast Lift Service Jack – 3.5 Ton Capacity

Price:

$$$$

Customer Rating:

4.5

Type:

Floor Jack

Weight Rating:

3.5 ton

View On Amazon

Powerbuilt 620471 Unijack

Price:

$$

Customer Rating:

4.6

Type:

Combo Bottle Jack

Weight Rating:

3 ton

View On Amazon

Pittsburgh Automotive 3 Ton Heavy Duty Floor Jack with Quick Lift

Price:

$$$

Customer Rating:

4.6

Type:

Floor Jack

Weight Rating:

3 ton

View On Amazon

ABN 3 Ton Electric Hydraulic Jack – Automatic Emergency Lift

Price:

$$$

Customer Rating:

4.3

Type:

Electric Jack

Weight Rating:

3 ton

View On Amazon

TCE Torin Hydraulic Welded Bottle Jack

Price:

$

Customer Rating:

3.8

Type:

Bottle Jack

Weight Rating:

4 ton

View On Amazon

Alltrade 640912 Black 3 Ton All-In-One Bottle Jack

Price:

$$

Customer Rating:

4.5

Type:

Combo Bottle Jack

Weight Rating:

3 ton

View On Amazon
Best Floor Jacks for Lifted Trucks Reviews
Once you go through the guide and all the essentials in this article, I invite you to check out these jack models and hopefully find the one that suits your needs.
1. Blackhawk B6350 Fast Lift Service Jack – 3.5 Ton Capacity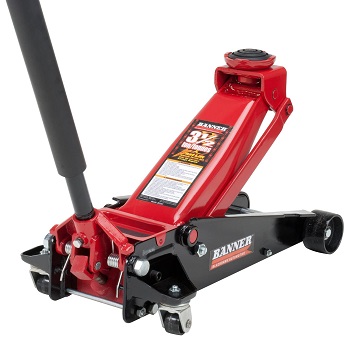 For lifted trucks of up to 9,000 pounds, this floor jack can get the job done, with some good old elbow grease, of course. The overall design is red and black, and the lever handle has a rubber coating on top, so you don't get calluses easily.
The saddle is padded, and it spans 4 inches in diameter, which is more than enough for any modern lifted truck. When it comes to the lift capacity, it is rated 3.5 tons, or 7,000 pounds, meaning that the gross weight of your truck shouldn't be over 9,000 pounds. To make everything better, this particular service jack has a safety valve, which prolongs the lifespan of the hydraulics system.
Pros
A sturdy service jack for lifted trucks and cars with parts of steel
Super-convenient rubberized handle and a large 4-inch swivel saddle
The safety valve gives an extra layer of protection
Cons
Some car owners reported that this particular jack can't fit under some lower-profile cars. If you wanted to dedicate this jack to a versatile role, this could be a problem. There's shouldn't be an issue with lifted trucks.
2. Powerbuilt 620471 Unijack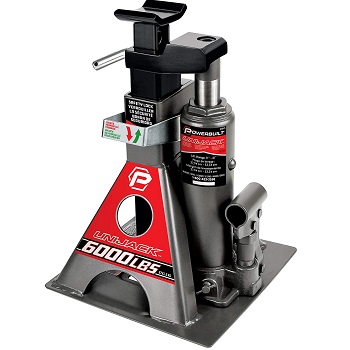 For people that don't want to spend a lot on additional gear for truck lifting, this combo jack may be the way to go. The industrial design and heavy-duty materials used proved a great help in the garage. Even though the shape of the jack is not exactly friendly in emergencies, the features it brings to the table will fit right in when it comes to garages and leveled surfaces.
The "combo" part of this jack comes from the fact that it can double down both as a jack and a stand. Next to the standard hydraulics, there are locking systems that enable you to use the jack as a stand-in multiple heights and positions. People also use it as a quick-fix for trailers. The rated weight capacity is 3 tons, i.e. 6,000 pounds. When combined, the long jack and the locking system enable you to use this unit to jack up the lifted trucks as well.
Pros
A combo 2-in-1 jack that can also act as a jack stand
Multiple levels of jacking the weight up, with the option to lock it in several different heights
The total weight of this versatile unit makes it portable and easy to carry
Cons
Even though people use this jack on off-road trips, it does require a leveled and sturdy surface to work properly
3. Pittsburgh Automotive 3 Ton Heavy Duty Floor Jack with Quick Lift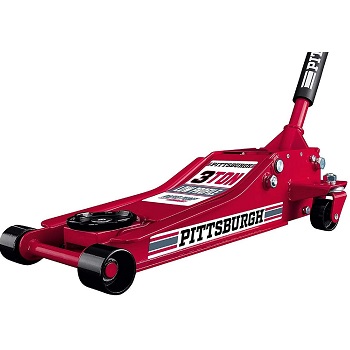 The 3-ton Pittsburgh is one of the most versatile service jacks out there. It is strong enough to service an average-sized lifted truck, but it is also able to jack up low-profile vehicles. Don't let the old-fashioned design fool you, because this jack can deliver results fast, thanks to the rapid pump quick lift system.
Maneuvering the jack is made easy via the 4-wheel system, with the back wheels having the feature to pivot. However, the front pair is locked tight.
In terms of power, we are talking about a 3-ton weight lift capacity, meaning that the gross weight of your truck must not exceed 8,000 pounds. If you intend to use the jack for cars, even low-profile models, there should be no weight limits.
Pros
Industrial grade service jack that can also be used for low-profile vehicles
The model comes with a rapid pump, a feature that requires fewer pumps to jack the vehicle up
The 4-wheel system is designed for optimized maneuvering
Cons
The carrying capacity of this jack model is rated at 3 tons, i.e. 6,000 pounds, so you shouldn't try to lift trucks that weigh over 8,000 pounds
4. ABN 3 Ton Electric Hydraulic Jack – Automatic Emergency Lift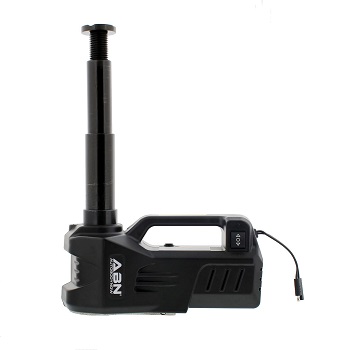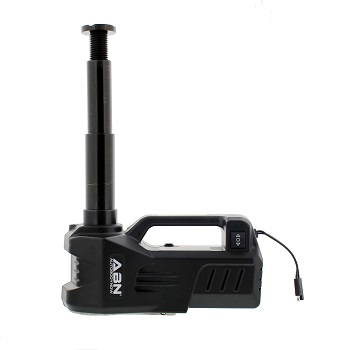 For people that want to have an emergency on-site jack, this electric model might just be the solution. Even though it may not be the mightiest of jacks out there, it can be a great first aid on the road. The design is all black, and the body of the jack is compact, allowing you to keep it stored in your truck.
The jack draws power from a 12V DC source, i.e. the cigarette lighter socket. Additionally, this model has an LED light to help you see in low-light environments out there on the road. The weight rating of this jack is rated at 3 tons, or 6,000 pounds, meaning that it supports vehicles with a gross weight of up to 8,000. And, if the battery fails while the jack is lifted, the safety will keep it there even with the power cut out.
Pros
Electric jack that requires no pumping. All it takes is a 12V DC cigarette lighter socket
Even if the battery fails the jack will stay extended
The jack has an added LED light to help you with jacking your vehicle on the road.
Cons
Electric jack can drain your battery if you are stuck on the road, so plan accordingly.
5. TCE Torin Hydraulic Welded Bottle Jack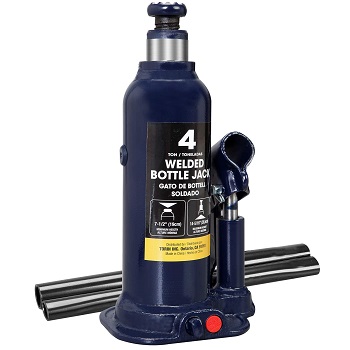 If you are looking for a budget bottle jack that gets the job done, you might want to consider this TCE model. Besides it being stronger than average (we'll get to that in a moment) it also has some quality of life features on-board. The finish is dark blue, making it fit into any garage or workshop.
The hydraulics system this bottle jack has is rated for four tons, or 8,000 pounds total. This means that the gross weight of your vehicle should not go over 10,000 pounds, which is more than enough to cover for regular and lifted trucks (with some heavy-duty exceptions). The pump on this jack is easy to operate, it does not require a lot of muscle to lift it. Additionally, to ensure a secure grip under the vehicle, the saddle is serrated and heat treated.
Pros
A budget-friendly bottle jack, suitable for newbies and experienced drivers
The saddle is serrated, thus increasing the overall grip of the jack
The rated weight lifting capacity is 4 tons, i.e. 8,000 pounds, which is above average
Cons
This bottle jack requires a stable and leveled ground so it may not be the best choice for emergencies
6. Alltrade 640912 Black 3 Ton All-In-One Bottle Jack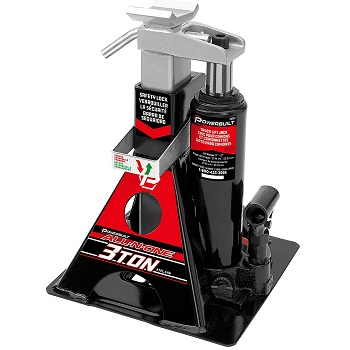 The all-in-one option is there to help you with more than just jacking up your truck. It doubles down as a jack stand as well. The industrial red and black design makes the jack visible and easy to spot in case you decide to use it as a trailer jack stand. So, besides using it for vehicles and trailers, you can also use it as a helping hand in construction jobs and home renovation tasks.
When it comes to the rated weight carrying capacity, we are talking about the standard 3-ton power, or 6,000 pounds to make things easier. The lock works with three height adjustments so virtually all cars and trucks are fair game. To make things better, this particular bottle jack is easy on the wallet as well.
Pros
An affordable all-in-one jack that acts as a jack stand as well
The rated weight capacity is 3 tons or 6,000 pounds
The steel base of the jack is extra-wide, making it stable and safe to use even outside of your garage
Cons
The lever is a bit shorter than average, so, until you get the hang of it, some extra elbow grease is needed.
Floor Jacks for Lifted Trucks Buying Guide
As you probably already know, using a floor jack for lifted trucks is not an overly complicated task. A little bit of patience and some good old elbow grease can go a long way. However, every jack comes with its own specs, and these specs pretty much dictate how you use the jack. I've decided to stress out the most important features you should keep your eye on before you make the final decision on the model of the jack to add to your garage (or car storage).
1. Weight Rating
What good is a jack if it does jack…? So, in my opinion, the most important thing, when it comes to floor jacks for lifted trucks, is the weight rating. To eliminate any further confusion, weight rating is also known as rated weight, weight capacity, max weight, weight limit, lifting power, etc. – you get the idea.
So, before you make up your mind about the type of jack you want to get, first you need to find out how much your vehicle actually weighs. The owner's manual and the internet are enough to get that piece of info. After you find the gross weight of your vehicle, do the calculation we talked about above. The weight rating of the jack should surpass 75% of the vehicle's gross weight.
2. Type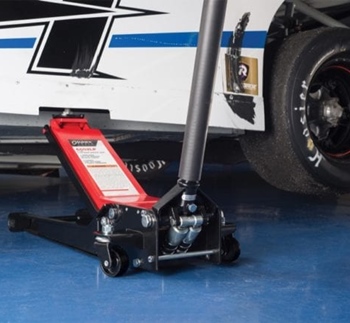 We talked about types, yes, but which one is the right one for your particular needs? Well, to get the answer to this question quickly I recommend assessing your vehicle maintenance habits. If you work on your truck in the garage a lot – the bottle jack can be the solution since it can do a lot if you provide a flat and stable surface for it.
On the other hand, if you do outdoor maintenance a lot, a floor jack for lifted trucks is a better choice. This way you can utilize the wheels and the hydraulics to approach the car's lifting spot no matter where you are. People with lifted trucks spend a lot of time riding off-road, so better be ready.
Lastly, if you need a lifting jack not that often, and you don't want to rely on the scissor jack you own, an electric jack can be a good addition since it needs 12V DC to operate. All in all, after you assess the weight rating, picking the ideal type is something you should spend some time to decide upon.
3. Extended Height
Here comes the tricky part. Lifted trucks, due to the drivers' needs for more clearance on the rougher roads, require a jack that can extend a bit further than average. Find the lifting spot on your truck and measure how high of the ground it is. After that, all you have to do is make sure that the jack you got your eye on goes beyond that height, enough to help you lift it.
On the other hand, if by any chance you want to get a more versatile jack that can you can use to aid others, keep in mind that floor jacks for lifted trucks don't necessarily go under low-profile cars. Truck drivers don't have to sweat on this, though.
4. Portability
Since these mighty devices are made to lift objects as heavy as lifted trucks are, it is only logical that they are made of industrial materials. The materials are sturdy, yes, but with that kind of resilience comes a price – weight and size. Floor jacks for lifted trucks have wheels that weigh a few pounds, and almost every jack out there needs some kind of lever to operate.
If you are ok with putting some muscle into all of this and don't mind the robust shapes of some jacks, I say go for the strongest one. But if you have limited storage space in your vehicle, or can't afford to haul heavy equipment, consider going with lighter models. My point is – do not underestimate the sole weight and size of the jack itself.
5. Jacking Speed and Convenience
Lastly, we should touch upon the subject of the action of jacking itself. The range of convenience starts with electric jacks for lifted trucks that require no muscle but are limited when it comes to power. These jacks are also not as fast as people think. On the other side of this spectrum, we have bigger, more robust jacks that operate on force transfer, through a hydraulic system and a lever.
Lever operated jacks for lifted trucks are efficient, but they require you to put some back into it. All in all, the speed depends on how fast and strong you are pumping the hydraulic system using the lever.
FAQ About Floor Jacks for Lifted Trucks
We covered all sorts of general topics about floor jacks for lifted trucks, so it would only be fair to finish with some specifics. Here's a short recap of frequently asked questions regarding floor jacks for lifted trucks.
1. Where do you put the jack on a lifted truck?
First of all, let me remind you that jacking up a truck is a potentially dangerous task. Now, jacking up a lifted truck isn't that much different, however, there is a catch. A lifted truck is not much higher than its "non lifted" counterpart. But, even if the lift is a few inches up, the factory provided jack may prove obsolete in this situation.
The best way to get the info is to consult the owner's manual, or, even better, ask around and go to a local town mechanic. The reason I'm insisting you double-check is simple – a lifted truck still has the same lift spots, but since they're lifted, you might have to adapt the jack to the new height.
Additionally, I urge you to use jack stands, no matter what kind of work you are doing on the truck. Lifted trucks are no joke, they weigh a lot, and all that weight falling, even on your foot can be dangerous. So, double-check the lift spots, and use jack stands, always.
2. Can you jack a truck up by the axle?
The short answer is – yes, you can jack up your lifted truck by the axle. However, depending on the way it was lifted, you may have to experiment a little. If you decide to find out by yourself, use the jack stands near the jack itself. This is way safer and you get to see the balance of the jacking process.
If the jack isn't long enough when fully extended, you should consider getting a more adequate jack for the job. Now, there is the option of using bricks under the jack to add to the overall height, but this is dangerous since trucks weigh A LOT, and bricks are not exactly the perfect tool for the job. But you won't damage the axle if you use it as a lift point.
3. Will a 3-ton floor jack lift a truck?
There is no straight answer to this – it all depends on the truck. If you use a floor jack for lifted trucks that can lift 3 tons, that roughly translates to:
Three tons equates to 6000 pounds. Since this number needs to cover at least 75% of the gross weight of the vehicle, your truck must not weigh over 8000 pounds if you want to use a 3-ton jack.
I would like to take this opportunity to once again stress out that the weight in the owner's manual and the real gross weight of your truck don't always match. After all, we put all sorts of stuff into our trucks, and it all adds up. My advice would be to get a stronger jack, no matter what the original gross weight is.
Wrap Up
And there you have it, and in-detail guide to help you get your hands on the best floor jack for lifted trucks and secure that spot in the toolbox. If you are new to this tool, take it slow. This is no easy task for a beginner, and if rushed you won't only damage the truck, but you risk serious injuries to yourself. So, assess your specs – truck weight, lifted height, the type of jack that suits your needs and requirement, etc.
This guide has all it takes for you to make a valuable decision. After all, you don't buy a jack for your truck every day. A tool like this should last you for years, if not decades, so arms yourself with knowledge and treat your car to a new maintenance tool. Stay safe and enjoy working on your vehicle!