To help you pick a model from the best mirror dash cams out there, we need to go through the basics first. But, worry not- I won't be bothering you with the technical details (a lot). Instead, in the next couple of sections, I would like to address all the benefits that a mirror dash cam can bring to the table. Despite the popular opinion, anyone can use a mirror dash cam since the technology is quite simple, besides being intuitive to use.
So, let's dig in and see which features you can expect from a mirror dash cam. To ease the search process, I also included some of the most-valuable picks, ranging from budget ones to more high-end models. A little bit of knowledge won't hurt, and, in the end, your wallet will thank you as well. Let's begin!
What Is a Mirror Dash Cam?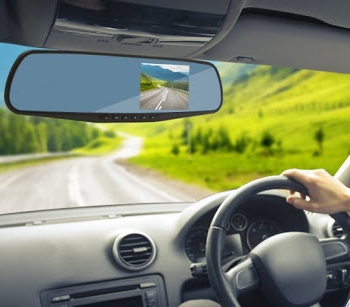 As the name suggests, first off, all this is a rearview mirror. If you take a look at any of the models below, you can clearly see that they all look similar. This is because the mirror needs to work at all times, so there was no point in putting a camera on the driver's side – although there are models with 360° cameras, and dual cameras for each side.
But you wouldn't be here if you wanted a lecture on rearview mirrors, right? The cameras that come with these mirrors are more than just a simple road-recording tool. They come with all sorts of extra features, like night vision, GPS, touchscreen, HDR and wide lenses, and many more.
The biggest thing about mirror dash cameras is that they are finally affordable. People tend to forget that recording technology became mainstream, meaning that the prices aren't sky-high anymore. You can get a full HD mirror dash cam for less than a hundred bucks.
Of course, every model comes with a recording system and a memory system. This allows you to record longer drives. It also alleviates the stress of thinking about memory and turning the camera on or off. Yes, a lot of these gadgets come with a recording loop option – more on that below.
Who Needs a Mirror Dash Cam?
If you ask me – anyone who drives at least a few times a week should get a mirror dash cam. Why? Well, there's plenty of reasons, so let's talk about the biggest ones.
Firstly, if you invest in a road recording system, you get to record any potential car accidents and crashes. Sounds dark, I know, but let's not ignore the fact that accidents happen on the road all the time. So, if you start recording the road while you drive, you essentially get a testimonial video to see what happened, if an unfortunate mishap occurs. Not only will you be able to determine what happened, but you will also be able to use the recordings at court or to show them to the police. However, this doesn't apply to every state, so make sure to double-check the road recording laws in your area first.
Another useful aspect of having a mirror dash cam is none other than – safety. Most rearview mirror camera models have a "safety mode" – basically the camera stays on standby even when the car is off and you are not inside. Later on, let's say during the night, the camera catches movement and starts recording. This could be a lifesaver if someone damages your car, or even worse – tries to steal it.
Besides, you might just end up with a couple of YouTube-worthy video clips of animals hanging out on your hood. I absolutely don't see the downside to this.
Best Mirror Dash Cams Comparison Chart
PRODUCT
DETAILS

VanTop H612 12″ 2.5K Mirror Dash Cam

Price: $$
Customer Rating: 4.7
Mirror Size: 12 inches

View On Amazon

AKASO DL12 2.5K Mirror Dash Cam 12″

Price: $$
Customer Rating: 4.6
Mirror Size: 12 inches

View On Amazon

WOLFBOX G840H 12″ 2.5K Mirror Dash Cam

Price: $$$
Customer Rating: 4.2
Mirror Size: 12 inches

View On Amazon

TOGUARD 12″ 2.5K Mirror Dash Cam

Price: $$
Customer Rating: 4.6
Mirror Size: 12 inches

View On Amazon

AUTO-VOX V5PRO Anti-Glare Rear View Mirror Dash Cam

Price: $$$$
Customer Rating: 4.3
Mirror Size: 9.35 inches

View On Amazon

DuDuBell 10″ Mirror Dash Cam

Price: $
Customer Rating: 3.9
Mirror Size: 10 inches

View On Amazon

Campark 2.5K Mirror Dash Cam

Price: $$
Customer Rating: 4.6
Mirror Size: 12 inches

View On Amazon
Best Mirror Dash Cam Reviews
To get the bigger picture and fully understand these devices, I suggest you take a look at the mirror dash cam models from various tiers.
1. VanTop H612 12″ 2.5K Mirror Dash Cam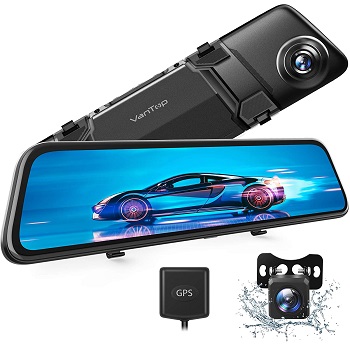 This VanTop mirror dash cam model is one of the most popular out there for a reason. It has all the things you need in a mirror such as this, all for a reasonable price. The design is the standard trapezoid, and the screen diagonal is 12 inches – leaving you more than enough space for both the mirror and for using the features.
Speaking of – This mirror dash cam comes with the capability to record in 2.5K Ultra HD resolution. This crystal-clear picture is made by the SONY IXM335 camera sensor. Additionally, you get a rear camera that connects to the main screen in the mirror. Both cameras offer a continuous recording mode, and the loop recording allows the camera to record virtually forever. On top of everything, this device has GPS and smart voice control, meaning that you cover 3 things in one product.
Pros
A set of both a mirror dash camera and a rear backup camera all connected to a single screen
The GPS support allows you to navigate better, observing the map on the screen under the mirror
Camera records in 2.5K and comes with a night vision mode
Cons
The screen is a bit harder to see during sunny days
2. AKASO DL12 2.5K Mirror Dash Cam 12″
The AKASO LD12 certainly has a lot to offer, besides its classic rectangular look. But don't let the old-school aesthetics fool you, this mirror dash cam has all the features needed, and the price range is around average. You also get a rear camera that is connected to the same screen for obvious convenient reasons.
When it comes to the picture quality of both of these cameras, we are talking about a 2.5K main, and 1080p for the rear camera resolution. Additionally, both lenses are adjustable with 170° and 150° angles for both front and rear cameras, respectively. The camera is equipped with night vision, allowing you to record even during the darkest night hours. You will also be happy to hear that this model also has GPS support and a loop recording system.
Pros
A set of two cameras that record in UHD and HD
The dash camera can be adjusted in the range of 170°, allowing you to adapt it to your needs better
The camera starts recording automatically on every sudden move as well, even when you are not driving
Cons
The night vision recordings can be a little too bright, but you can still watch them with ease
3. WOLFBOX G840H 12″ 2.5K Mirror Dash Cam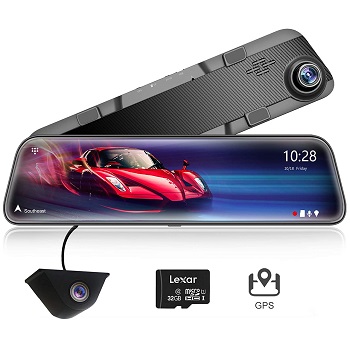 This WOLFBOX is a mirror dash cam that brings a lot to the table with its functionality and number of features. This set also contains a rear backup camera that connects to the main screen in the mirror. The front camera records in 2.5 K resolution, and the upgraded Sony sensor allows it to take magnificent recordings, even during the night.
The rear camera records in 1080p resolution. The Sony Stavis sensor delivers crystal clear recordings, even during moist and rainy weather. The device comes with a GSP system that allows you to record precise direction, coordinates, and speed while driving. Once you install the cameras using the provided tools, everything is accessible from the touchscreen on the mirror.
Pros
A set of cameras equipped with upgraded Sony sensors that deliver crystal-clear recordings
The touch screen is intuitive to use and control the features
Next to standard mirror dash cam options, you can use the double-tap motion to save and lock important recordings
Cons
This mirror dash cam model comes with a heftier price, but the Sony sensors are worth it
4. TOGUARD 12″ 2.5K Mirror Dash Cam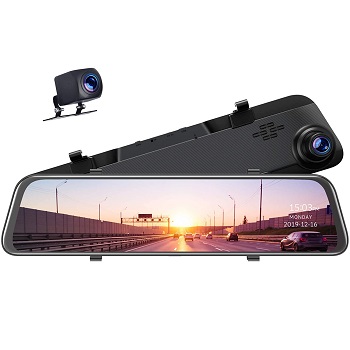 If you are looking for an overall good mirror dash cam, this TOGRUARD model might just be the one for you. With its trapezoid, sporty-looking shape, and a touchscreen to help you utilize all the features, this model has the bang-for-buck ratio quite high.
The camera set actually includes the main camera built into the central unit with the mirror and the screen. This main cam records in 2.5K resolution, while the rear camera does it in 1080p. The central unit comes with a GPS module that can help you track your traveling statistics. Everything is loop recorded onto an SD card of up to 128 GB of space. The parking monitor activates emergency recording in case of collision detection as well.
Pros
The whole camera system can be operated both by voice and via the touchscreen
The GPS module is easily seen under the mirror, so you can use both
The parking assistance is accurate and pretty intuitive to learn
Cons
The internal battery capacity is quite small, so count on using the mirror dash cam via a 12V cigarette lighter port
5. AUTO-VOX V5PRO Anti-Glare Rear View Mirror Dash Cam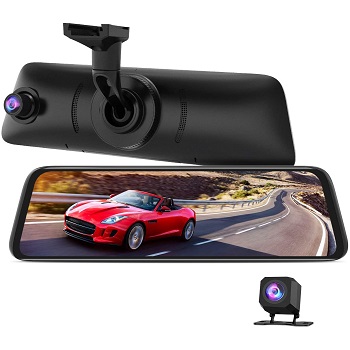 The V5PRO from AUTO-VOX is one of their finest premium versions out there. While smaller in diagonal size, this 9.35-inch mirror dash cam comes with premium features. Both front and rear cameras are in 1080p, but the sensors and the quality of recordings are extraordinary! Additionally, the screen comes with a split-screen mode, allowing you to watch both the front and rear stream at the same time.
The strong suit of this camera kit is its sensitivity and angle coverage. If you pair the excellent angles with the fact that this whole system doesn't require the car charger to use, you get top-notch performance. The mirror dash cam is hardwired to the car's fuse box, allowing it to record anytime without interruptions. When it comes to using the screen during the day, you'll be happy to hear that the screen s cover with an anti-glare layer.
Pros
The whole system is hard-wired directly to the car's fuse box, allow the cameras to record at any time
This model has a split-screen option that lets you stream both cameras at the same time
The night vision has a great exposure adaptation system, making night recordings crystal-clear
Cons
Thanks to all the features this mirror dash cam model has, it comes with a hefty price
6. DuDuBell 10″ Mirror Dash Cam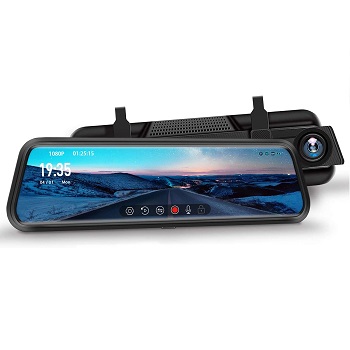 If you are looking for a mirror dash cam in the budget price range, This DuDuBell will be able to deliver just that – necessary features that help with everyday car rides. The screen diagonal is slightly smaller than average, a total of 10 inches. The Sony sensors allow the cameras to record in 1080p, both front and rear. Additionally, both cameras come with an HDR+ feature.
The screen, and the system as a whole, is controlled via touch gestures. When it comes to safety features, the cameras come with motion detection, so you can park more easily, and potentially avoid collisions while parking. The interface supports GPS, which allows you to measure travel data, like speed and coordinates.
Pros
A budget-friendly mirror dash cam that comes all the with necessary features
The cameras have a motion detector and HDR+ recording feature
The screen brightness is easily adjusted by swiping left and right
Cons
The mirror diagonal is a bit smaller than average
7. Campark 2.5K Mirror Dash Cam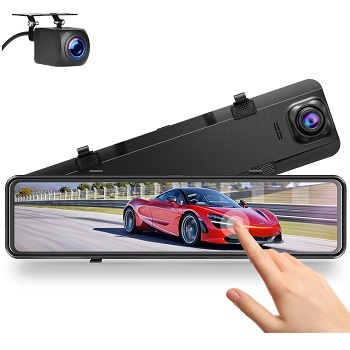 This Campark mirror dash camera is one of the most affordable models out there that delivers solid results. The overall mirror/screen design is old-school rectangular, but everything is crystal-clear thanks to its 12-inch diagonal. When it comes to recording, we are talking about two cameras – the frontal main cam that records in 2.5K, and the rear camera that shoots in 1080p. No matter both are clearly streamed to the mirror screen.
To make your traveling easier, the GPS module can be reached through the screen, and you can even record travel data. Additionally, you can control the whole device using voice commands, which takes a few moments to set up.
Pros
An overall solid, budget-friendly mirror dash cam
The main camera and the rear camera rotate by 170° and 140° respectively
Everything can be accessed through voice commands
Cons
The screen/mirror is a bit narrower than average
Mirror Dash Cams Buying Guide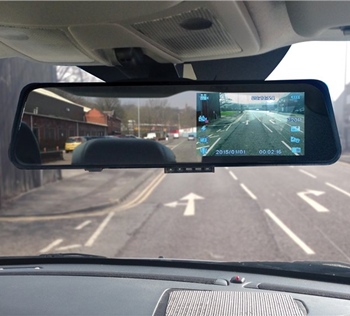 Now that we've covered the basics and went through the models, it's time to talk about the details. Each model has somethings it's good and something it's bad at – so I'd like to encourage you to use this knowledge and make a checklist of your own.
1. Image Quality
When it comes to image quality, it depends on two factors – camera quality and screen resolution. The latter is optional, since not every mirror dash cam has a screen. However, the former is more important, no matter if the mirror has a screen or not. Allow me to explain:
A higher-quality camera will provide you with better video files, meaning that you will be able to see more details once you decide to watch the recordings.
A high-resolution screen (if there is one), will give you the option to watch the recordings on the mirror's screen, right there in your car.
Even if you decide to get a mirror dash cam with a screen on the front, keep in mind that the videos will always look better on a larger computer screen.
2. Memory and Video Saving
Most mirror dash cams out there support microSD memory card standards. The reason behind this is the sole accessibility of the whole system – if you want to take your recordings with you, all you have to do is pop the small memory card out and you are done. Now, you can load the card into a home computer or a smartphone. Once you are done, pop the card right back in, and the mirror dash cam will start using it again.
On the other hand, with an accessible microSD slot, if you so wish, you can use multiple cards once the card inside is full. Even though anyone can do that, I'd only recommend it to truck drivers and people who drive at least 5 hours a day.
The memory card maximum capacity has a rating, though. Most cards are either rated to support microSD cards of up to 128 GB, which is more than enough for hours of recordings.
However, cam manufacturers decided to apply a simple system called – loop recording.
3. Loop Recording
Loop recording is a video saving regime that the mirror dash cams usually come with. Loop recording virtually gives you the opportunity to never run out of memory. Here's how it works.
An empty card starts filling up with video recordings
The video clips reach the card's capacity
The camera then rewrites over the oldest video file on the card, and it continues to do so until you free up some space.
This way, if nothing of interest happens, you don't have to remove the card or clean the memory yourself.
4. Camera Rotation
If you are an owner of a bigger vehicle, or you simply think that you can angle the camera shot better, think about getting a cam with rotation. Most cars have the rearview mirror designated spot. But, since it's you, the driver's, point of view that matters, it's only reasonable you want the camera angle to be a little different.
Additionally, some cams give you the option to record from the mirror's point of view, thus overlooking the car interior and through the rear glass.
However, if you get a mirror dash cam with multiple cameras, there might not be a need for camera rotation anyway.
5. GPS Features
Speaking of different cameras, if you opt for a mirror dash cam with a screen, you might as well think about getting a model with a GPS module. Models with GPS come with a simple operating system, usually based on android, which is similar to the OS of newer car stereos.
So, if you do decide to get a mirror dash cam with a screen and GPS, you can see the map and the direction of the mirror directly. Keep in mind that this can somewhat lower the visibility of the mirror itself.
The glare can be a problem during the day because the surface doubles down as a mirror and as a screen. So, most manufacturers took the safer route prioritizing the mirror side of the gadget. In layman's terms, during a sunny day, it is a bit harder to see the screen under the mirror due to glare.
6. Camera Visibility and Anti-Glare
Speaking of glare, we need to mention sunny areas. If your area, or at least the area you drive through the most, has a lot of sunny days – consider getting a mirror dash cam with an anti-glare layer. Not only will you be able to see the screen easier, but you also get to see behind your car without the risk of getting blinded by reflections.
Lastly, there's the matter of privacy, or secrecy if you will. Some mirror dash cams are hidden on the rearview mirror. By hidden, I mean – only people who use these cams can recognize them. The camera works the same, but some people like it hidden for their personal reasons.
How to install a mirror dash cam?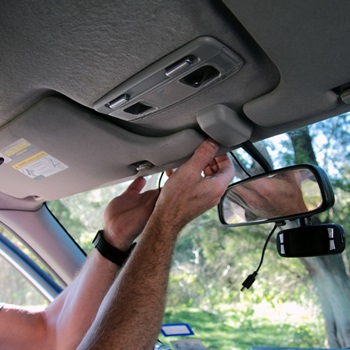 The installation process is actually quite simple. Mirror dash cams are, in most cases, installed over the stock rearview mirror you get with your car. Some models can be placed instead, but if you decide to go down that route, you will have to find an exact fit.
So, once you unpack all the parts, place the mirror dash came so the camera faces the road. Usually, the camera will be positioned in such a way to fit as much of the road into the frame as possible.
Hold the camera with your left hand and fix the right side of the mirror with the provided holders (usually made of rubber). Repeat on the other side and the body is mounted.
Now, the last part is connecting the mirror dash cam to the car's electric system, or in some cases with the other cameras as well. The process is simple – you get to connect a 12 V adapter to the car lighter port in your vehicle. This will be the main power source for the camera and the screen if there is any.
Lastly, if the camera you get supports the rear camera as well, you need to bring the cables to the mirror. I know it sounds tough, but a little patience can go a long way. If you find it too complex or tiring, a car mechanic can do it in no time. This way you get to see the rearview camera on the mirror, making it control two cameras at the same time.
FAQ About Mirror Dash Cams
1. Are mirror dash cams legal?
Yes, as a matter of fact, mirror dash cameras are legal in all states. Recording your road activity can actually be useful in some cases, to the police or the insurance representatives.
However, you should consider the fact that some states have special laws on objects that can obstruct the driver's vision. So, there may be a chance that it is illegal to mount an extra-large mirror dash cam. The chances are slim, yes, but not exactly zero. So, it wouldn't hurt if you double-checked the laws in your state before you decide on a model.
2. How do I use my mirror dash cam at night?
Most mirror dash cameras come with something called night vision (in some cases it is called night mode, low-visibility mode, or something along those lines). This particular model adapts the camera sensor to low-visibility conditions, making it possible to record even night rides.
While most mirror dash models turn this mode on automatically, check whether your model has a manual switch. All in all, most models can record at night time.
3. Can a mirror dash cam drain the car's battery?
Most mirror dash cameras get the necessary electricity through the cigarette lighter port (12 V DC). So, while the engine is on, the camera could virtually record forever (with loop recording on). But, once you turn off the engine, the camera either draws the power from a battery or it shuts down due to lack of it.
So, if you let your camera record even after the engine is off, let's say overnight, the camera may drain the car's battery significantly.
4. Can a mirror dash cam record while the engine is off?
Most mirror camera models have a built-in battery, but it is not designed for longer recording sessions. So, technically you can leave the camera connected to the car battery (through the cigarette lighter port) – but you risk draining the battery completely.
Wrap Up
There you go – now you have the knowledge to pick the best mirror dash cam for your vehicle. If you read the guide carefully, you are prepared to make the most valuable decision, both feature and price-wise. Even though there's a lot of similar models, dash cams come with various features, so it would only be smart to look for a model that suits your driving needs in the best possible way.
I hope I covered everything in the guide and the FAQ. But if that is not the case, feel free to leave a comment or ask a question, and I will be back with answers ASAP. Now, go out there and treat your car to a nice mirror dash cam. Stay safe!