You can rest assured your road trips are completely safe when you have the best brake pads for your car. In the following article, we are going to talk about all the aspects of brake pads and how to pick the right ones for your car. Many factors influence safety on the road, but one of the most important components of any safe drive is a well-functioning stopping mechanism. Your braking mechanism must work reliably and flawlessly every time you go for a drive – without exceptions. It's simply necessary for a car to be able to go from high speeds to a full stop within seconds. Because of that, you need to keep your braking mechanism in a tip-top condition.
Because navigating the market isn't easy at all, we decided to compile a comprehensive buying guide and our brake pad reviews. Hopefully, it helps you find the best option for your vehicle with ease. Let's begin!
See The Quick Comparison Chart
Benefits of Brake Pads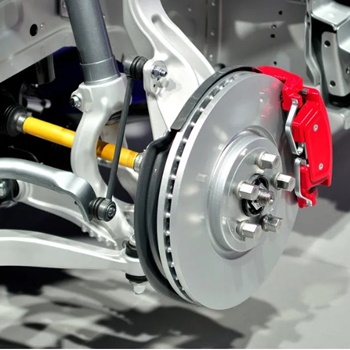 It's safe to say that a good set of brake pads is an absolute necessity. However, even though brake pads are a car essential, a good pair can also bring various benefits. Ultimately, good brake pads ensure your safety and make your overall driving experience smoother and more pleasant.
1. Safer Braking
Brake pads play an essential role in stopping your vehicle. The moving brake rotor gets clenched between the two pads, and they stop the rotation, drawing your car to a halt. On the other hand, they get worn out with time and use, because of the sheer force and heat made during braking. Because of that, the newer the brake pads are, the easier it is for them to stop the rotating disc. Brand new brake pads also positively influence braking time, sometimes playing a life-saving role in tricky situations on the road.
2. Reliable Performances
Brake pads need to withstand a lot. They squeeze the quickly rotating metal disc until it stops spinning, and the force results in a lot of friction and heat that a good brake pad needs to pull through. High-quality materials help your brakes resist tough conditions without a mark, ensuring your brakes last longer and provide consistently high performance. A benefit of a new set of brake pads is smooth braking which you can rely on.
3. No More Noise
Worn-out brake pads come with an audio cue. In most cases, the first sign that your brake pads need replacing is a piercing squeaking sound during braking. This sound can be quite annoying, and it can be distracting as well. A set of brand-new brake pads ensures there's no more noise when you brake.
4. Lower Insurance Premiums
Driving with tip-top brake pads is simply safer. Insurance companies recognize this, and they take this into account when calculating the monthly premium which you need to pay for your insurance. If you show up with your car's brake pads brand new, it's likely you'll end up paying a lower price on a monthly basis.
Best Brake Pads Comparison Chart
PRODUCT
DETAILS

Bosch BC905 QuietCast Premium Ceramic Disc Brake Pad

Price: $
Customer Rating: 4.3
Position: Rear
Material: Ceramic
Dimensions: 4.9 x 4.1 x 3.4 inches

View On Amazon

Wagner ThermoQuiet QC465A Ceramic Disc Pad Set

Price: $
Customer Rating: 3.9
Position: Front
Material: Ceramic
Dimensions: 8.5 x 5.3 x 2 inches

View On Amazon

Akebono ACT787 ProACT Ultra-Premium Ceramic Brake Pad Set

Price: $$
Customer Rating: 4.5
Position: Front
Material: Ceramic
Dimensions: 6.4 x 3.7 x 3.2 inches

View On Amazon

ACDelco 17D785CH Professional Ceramic Disc Brake Pad Set

Price: $$
Customer Rating: 4.2
Position: Front
Material: Ceramic
Dimensions: 8.2 x 6.2 x 2.8 inches

View On Amazon

Wagner ThermoQuiet QC1324 Ceramic Disc Pad Set

Price: $
Customer Rating: 4.5
Position: Front
Material: Ceramic
Dimensions: 8.5 x 5.5 x 2.5 inches

View On Amazon

ACDelco 14D506M Advantage Semi-Metallic Brake Pad Set

Price: $
Customer Rating: 4.2
Position: Front
Material: Semi-Metallic
Dimensions: 9.5 x 6.3 x 2.5 inches

View On Amazon

Toyota Genuine Parts 446506100 Front Brake Pad Set

Price: $$$
Customer Rating: 4.1
Position: Front
Material: Semi-Metallic
Dimensions: 6.9 x 3.5 x 3.1 inches

View On Amazon
Best Brake Pad Reviews
1. Bosch BC905 QuietCast Premium Ceramic Disc Brake Pad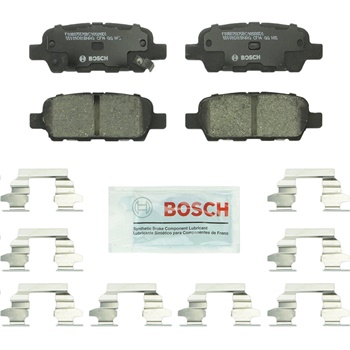 Established in 1886, Bosch is one of the most reputable manufacturers worldwide. Our pick from Bosch's brake pad product line is their rear wheelset QuietCast. This model is made as an all-round solid product with remarkably low noise levels. In fact, this ceramic pad comes equipped with a rubber core multilayer shim, which not only increases strength but also prevents excessive screeching and squealing while braking. The other materials used for this model are top-notch as well. The ceramic formula is designed for low brake dust production, which also ensures a long lifespan. The formula is also copper-free, making this product eco-friendly. Rotor damage is a common problem with ceramic pads, but this model comes with a protective layer which extends rotor life. The model also comes with a synthetic lubricant included in the box and the tools you need for installation. The pads are individually wrapped inside the box, which makes shipping easier and safer.
Pros
These produce very little brake dust, indicating high durability
Completely copper-free, making them eco-friendly
Cons
Some users reported noises despite the rubber shims
2. Wagner ThermoQuiet QC465A Ceramic Disc Pad Set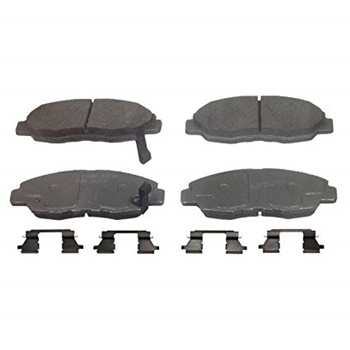 Our next pick is a set of affordable ceramic brake pads made by Wagner. We picked a set of front brake pads from their ThermoQuiet series. This set of front brake pads is made out of ceramics, and it has low copper contents which are in accordance with the US Environmental Protection Agency initiative. The ceramic material still offers good performances, with quick and easy stopping. The pad is resistant to heat. However, they do grind and wear off a bit more compared to other ceramic pads, by creating slightly more brake dust. Sadly, they are also somewhat thinner than other models, at 8 millimeters. Still, this set comes at an affordable price point. These pads are designed to be one piece. That means that they don't come with shims. Potentially, the absence of shims may add a bit to the noise levels of the pads, but this model is quiet most of the time. Overall, this is a fair quality set for the price.
Pros
Ceramic pads with very low copper contents
Cons
These pads are thinner than similar models
They don't come with shims
3. Akebono ACT787 ProACT Ultra-Premium Ceramic Brake Pad Set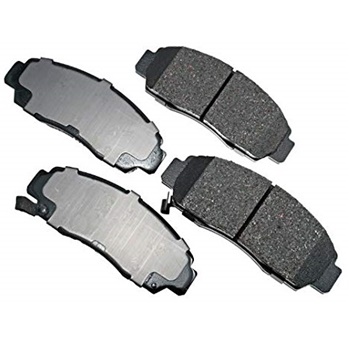 Our next pick is Pro-ACT, a model made by Akebono, a popular Japanese auto component manufacturer with 90 years of tradition behind them. This set of front ceramic brake pads comes at a mid-range price, and in exchange, it delivers great performances. First of all, these ceramic pads are made out of good quality material. The formula is designed to improve resistance to wear and tear, so braking with these brake pads doesn't result in a lot of dust. Along with the intrinsic heat resistance of the ceramic material, this ensures that the pads are quite durable, and can last for a long time. Their braking performances are high, and they create good friction and consistent braking experience. The pads do come with pre-installed shims. However, the shims are rather thick, which may cause problems during installation. These pads are not loud, and they rarely squeal, even in the rain. Overall, they offer great performance for a moderate price.
Pros
Very low brake dust production ensures high durability
A quiet set of brake pads that don't squeal
Cons
The shims are quite thick, making installation harder
4. ACDelco 17D785CH Professional Ceramic Disc Brake Pad Set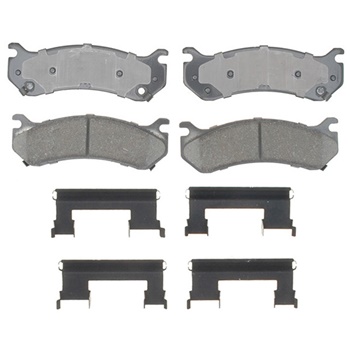 ACDelco manufactures the next model we chose for our list. This company is a known original equipment manufacturer, so you can rest assured that their products follow certain standards. This set of ceramic disc brake pads for your front wheels is a good pick if you're looking for a mid-priced product with fair performance. This ceramic set doesn't wear out quickly, and it doesn't produce too much brake dust. You can expect fair durability from these brake pads. They do come with chamfers and steel shims, which ensure there is no vibration, rattling, or squealing while you brake. These pads provide a consistent braking quality you can rely on, without sudden or harsh movements. The ceramic friction pad is molded right into the backing plate. That means that there's no need for rivets, but also that the two have a consistently strong bond that doesn't leave room for misalignment or looseness. Also, the stamped backing plate ensures good pad mobility within the caliper assembly, which helps reduce noise, but also saves brake pads and rotors life. Overall, these pads are a good value for the money.
Pros
Good quality ceramic material is rather durable
The pad is molded into the backing for improved stability
Cons
The set doesn't come with the tools needed for the installation
5. Wagner ThermoQuiet QC1324 Ceramic Disc Pad Set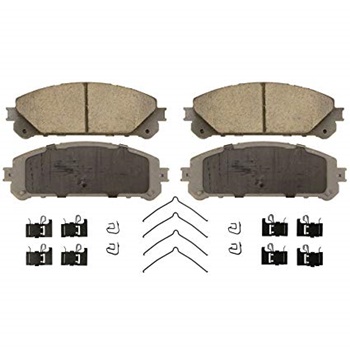 Our next recommendation is a brake pad set made by Wagner, from their ThermoQuiet product line. These ceramic pads will fit your front wheels perfectly, helping you achieve reliable braking, no matter how sudden. These pads are primarily made for Toyota vehicles. These ceramic pads do not shed much, so they are quite durable. Because they resist wear and tear, they don't leave a lot of brake dust on your wheels. The dust that they do shed is rather light and unnoticeable, and it can be wiped off easily. The material has a low amount of copper, which makes it compliant with the US Environmental Protection Agency initiative to remove copper from brake pads by 2025. These brake pads come with shims, which ensure that they aren't loud when braking. This brake pad set comes with all the necessary hardware for installation, so you don't have to worry about spending a lot of money to have a mechanic install them.
Pros
These come with all of the hardware you need to install them
Very low brake dust residue
Cons
These are specifically made for Toyota cars
6. ACDelco 14D506M Advantage Semi-Metallic Brake Pad Set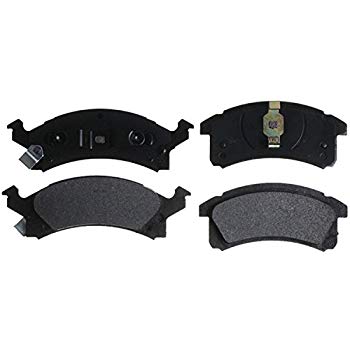 Our next pick is a set of semi-metallic brake pads named Advantage by ACDelco. This manufacturer is an original equipment manufacturer, so their products are reliable and hold up to certain standards. This basic model of front disc brake pads is a good choice for any driver with moderate needs. It's great for city driving or even long highway cruises. This semi-metallic set is made out of a blend of steel, so these pads are very durable. However, they do create brake dust, like most semi-metallic models. These pads come equipped with a set of steel shims, but also chamfers and slots, all of which reduce the noise, shaking, and vibrations. However, the shim is basic and made of metal, so there's still some squealing while braking, especially in sudden braking or while driving in the rain. This pad set comes with visual cues that can help you determine how much of the pad is gone, letting you know in advance when it's time for a break pad replacement.
Pros
A very affordable set of semi-metallic brake pads
The wear sensor lets you see exactly how much of the pad you have left
Cons
These semi-metallic pads can be somewhat noisy
7. Toyota Genuine Parts 446506100 Front Brake Pad Set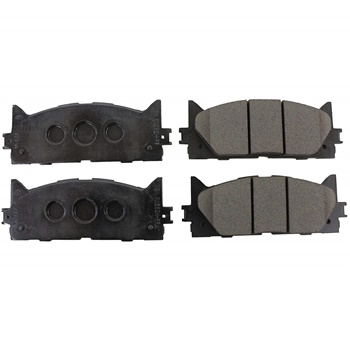 Our next pick is made by the legendary Japanese car and automotive parts manufacturer Toyota. This front pad set is designed to keep dynamic Toyota braking systems working flawlessly and without hiccups. However, these great brake pads will only fit Toyota's sedan models Avalon, Avalon Hybrid, Camry, and Camry Hybrid, so owners of different car models should look for something else. If you are a proud owner of one of these models, you'll be happy to know that this genuine original equipment is a direct, perfect fit for your vehicle. These semi-metallic brakes offer great performances. The metallic material comes attached to precision backing plates which ensure perfect mobility and smooth operation inside the caliper frame. They don't produce noise, so they're a great choice for drivers who love listening to the soft purr of their vehicle. Overall, these replacement brake pads for Toyota vehicles are great, but they also come at a higher price.
Pros
High-quality semi-metallic material provides good performances
The original equipment replacement is a perfect fit for your car
Cons
This model only fits Toyota's Avalon and Camry models
How Do Brake Pads Work?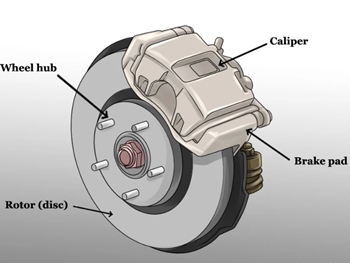 Brake pads are an essential component in giving you control over your vehicle. These pads let you draw your car to a halt – as their name suggests, they're a part of the braking mechanism of any wheeled vehicle.
The way they work is fairly simple, yet completely integral for safe driving. Simply said, brake pads are responsible for slowing and stopping the brake rotors. Essentially, the brake rotors are a part of your wheels, and together with the braking mechanism, they make your spinning car wheels stop. Every wheel on your car comes equipped with a brake rotor, and two brake pads are located on both sides of the rotor. The role of brake pads in this process is to clasp and squeeze the quickly spinning brake rotor. The friction created by their grasp makes the rotor stop moving.
The fact that this rotor spins along with your wheels makes it easy to imagine how quickly they actually spin during an everyday car ride. Hence, the job of brake pads is not easy at all – they need to grasp the fast-spinning metal disc and draw it to a halt within a couple of seconds.
Because of the extreme heat created on contact with the quickly spinning rotor, but also because of the necessary grasping power, brake pads need to be made out of durable, heat-resistant material. There are different types of materials used, including metals, ceramics, and organic materials like rubber. Due to the nature of the job, brake pads are susceptible to wear and tear, and after a while, they require replacing. Luckily, good quality brake pads can be found for low prices.
Brake Pad Types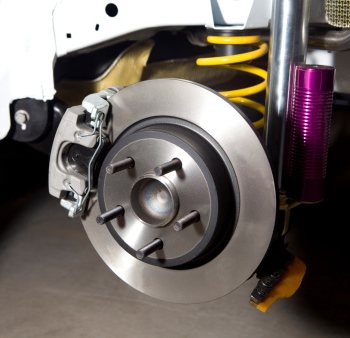 There are many different brake pads available on the market. Aside from quality, the main way these pads differ is by the material they are made of. The most commonly used materials to make brake pads are metals like iron and steel, high-quality ceramics, or organic materials. Each of these come with their own sets of pros and cons, so the material is something you should consider before you find yourself picking up brake pads from a shelf.
1. Semi-metallic
The most widely used material of brake pads is metal. These pads are created with metal fibers inside of their compounds. In general, consumer-ready brake pads have between 30 and 60 percent of metal by weight in them, so they're called semi-metallic.
1.1. Resilience
The most commonly used types of metal in this popular type of brake pads are iron, steel, graphite, and copper. The blend of these materials creates a resilient, durable pad that can withstand a lot of heat and friction. Semi-metallic brake pads are very popular because they're both strong, durable, and inexpensive. They can be used in daily drives, but also in heavy towing trucks, and racing vehicles as well.
1.2. Damage to rotor
Compared to their ceramic counterparts, semi-metallic pads don't do as much damage to the braking rotor during braking. While the hard metal does leave its mark on the spinning rotor, it's somewhat easier on the disc than ceramic pads.
1.3. Brake dust
As they do their job, brake pads suffer wear and tear. One of the results of this process is a black residue alike to dust on your wheels. This is a regular effect of the hard job brake pads need to do in order to stop your vehicle. In general, semi-metallic brake pads create more brake dust than ceramic, but less than organic pads.
1.4. Price and life span
When it comes to the price, semi-metallic brake pads are on the middle ground between the cheaper organic ones and the more expensive ceramic pads. Durability cannot be precisely determined, but most consumer brake pads fall in the ballpark between 25,000 to 65,000 miles. The prices reflect their longevity as well, with the semi-metallic pads falling somewhere in between. You can expect to cross around 40,000 miles before you need to replace your semi-metallic brake pads.
2. Ceramics
Ceramic brake pads are considered a top of the line product. They have good performances, resist heat very well, and don't wear out quickly. The ceramic material is mixed with filler materials, bonding agents, and copper.
2.1. Resilience
Ceramic brake pads are very resilient, and the material is famously heat resistant. On the other hand, the ceramic material doesn't rub off of the spinning disc while braking. That feature makes the overall resilience of ceramic brake pads very high. Additionally, this makes the life span of a ceramic pad longer as well.
2.2. Damage to rotor
Ceramic brake pads are a well-known enemy of the brake rotor. They cause more wear and tear on the spinning disc than a semi-metallic pad does.
2.3. Brake dust
In general, ceramic pads leave your wheels looking much better than metallic ones do. While they do leave some residue, there is no black brake dust that sticks to your wheel. In fact, the little bit of dust that a ceramic pad does create is very fine, light-colored, and doesn't stick to wheels at all.
2.4. Price and life span
As we mentioned earlier, ceramic brake pads are very durable. Some of them may even last as much as 70,000 miles, which is much higher than metallic pads. However, the ceramic option also comes with a much higher price point. So, while they're a great investment in terms of how often you'll need to replace your pads, some people choose semi-metallic pads because they cost less upfront.
3. Organic Materials
Organic brake pads are a widespread, eco-friendly, and cheap option that still provides fair performances. The main compromise of organic pads is their low durability. Organic fibers from glass, rubber, carbon, and Kevlar are mixed with resins to create a suitable material for braking.
3.1. Resilience
Brake pads made out of organic materials are not very resilient, and they can't handle a lot of exposure to heat. Overheating sometimes leads to lower friction in this type of pads, so they're not suitable for heavy towing or high-performance driving. Still, they're completely suitable for an everyday ride around the city.
3.2. Damage to rotor
Organic brake pads are generally softer than other types of pads. This means that they aren't likely to damage your brake rotor very much, if at all. Because of that, an organic set is a suitable choice if you're worried about the state of your brake rotors. Additionally, the softer pad also means quieter braking, so you might want to opt for the organic pad if the braking sound bothers you.
3.3. Brake dust
Because of the soft material, organic brake pads wear out quickly, slowly grinding on the brake rotor. This process creates a lot of brake dust as well, about as much as softer semi-metallic pads do. How much the dust sticks to your wheels depends on the particular formula of your brake pads.
3.4. Price and life span
The eco-friendly organic option is the most affordable choice of brake pads. However, they're also more susceptible to wear and tear, so their life span is shorter compared to the other options. Luckily, because they are made out of non-polluting eco-friendly materials, they are easy to dispose of as well.
When Should You Change Your Brake Pads?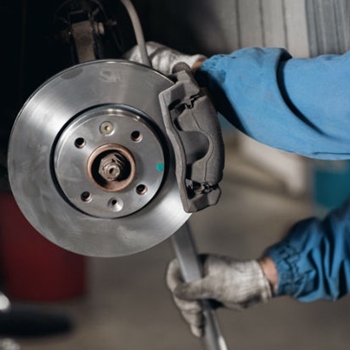 Naturally, how long your brake pads last depends on how much you use them. If you live in a congested area like a large city, you probably need to brake more often, whenever you hit a red light. In such cases, even durable brake pads only last for about 30,000 miles. On the other hand, if your driving is mainly based on smooth sailing on a highway, you can get up to 70,000 miles on an average set of brake pads.
Regardless of how many miles you drove with your brake pads, there are other ways to know when it's time for a replacement.
1. If You See an Indicator Warning
The simplest way to know if your car needs new brake pads is if you have an indicator light or a control pad which shows the state of your braking system. On some systems, you can monitor the brake fluid level to find out if your pads are worn out. As the brake pads thin out, the caliper shifts positions to make up for it, using more liquid in the process.
2. If You Hear a Screeching Sound
A screech or a squeak is not a good sound to hear when braking. Usually, it means that a pad replacement is in order. Generally, the brakes that have metal shims can make a screeching sound when the padding gets thin. If in addition to the sound, you feel some shaking on your steering wheel while you're drawing to a halt, it's possible that one of your brake rotors is warped, and should be replaced, along with the pads.
However, these sounds do not necessarily mean that you need to change your pads. Sometimes, a speck of dust or dirt stuck inside the system, causing screeching, but being otherwise harmless. If the sound goes away after a couple of stops, that was most likely the cause, and there's no need to worry.
3. If the Pads Got Thin
If you can't determine whether it's time to replace your brake pads or not, taking a look is the best way to make sure. You may need some mechanical skill to do this, or simply visit a repairman to have a professional do it for you. If your brake pads have less than 0.2 inches left on them, it's time for a replacement.
Brake Pad Buying Guide
Choosing a good set of brake pads is important because picking the wrong pair can negatively influence your safety on the road. On the other hand, the market is full of various models that differ in many little details. In order to help you make the best choice, we compiled a comprehensive buying guide for brake pads. Check out what you should pay attention to when getting your new set of brake pads, and you'll be able to bring an informed decision quickly and effortlessly.
1. Thickness
Brake pads inevitably wear out over time, getting thinner in the process. Because of that, it's essential to get a pad that has enough material to handle wear and tear. Along with the choice of materials, the thickness of the pad directly influences the durability of your brake pads.
In general, new brake pads should be a bit under 0.5 inches (12 millimeters) thick. However, the same thickness ceramic pad will last much longer than an organic pad. That is also something you should consider. We wrote more extensively about the different types of brake pads and the materials they are made of. You can find more information above, in the Brake Pad Types section.
2. Position and Size
Brake pads are designed to fit in one of two positions on your car – the front or the back wheels. Because of the slight differences between the two, they can't be used interchangeably. Before you decide for a set of pads, make sure you know which position you need them in.
On the other hand, you should also confirm that the brake pad size and shape fit your vehicle's calipers. There are many different sizes of brake pads, so the best approach is to check whether a particular pad you're interested in comes in a version for your car's model and make.
3. Longevity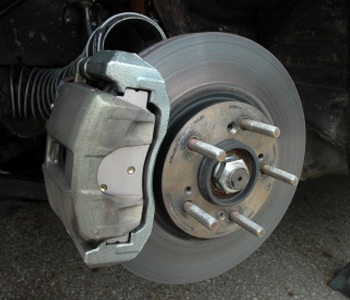 The lifespan of a set of brake pads is very important. Not only in order to get your money's worth, but also because you should be able to anticipate when they need replacing next. However, the durability of a set of brake pads mostly depends on your driving habits and circumstances. Because of that, it's very hard to determine the durability of a set of brake pads confidently.
Still, there are some factors that influence brake durability that you can pay attention to when choosing a pair for your car. The most important one is the material. As we mentioned before, ceramic brake pads are the most resilient and durable, and they're followed by semi-metallic pads. Organic pads are the least durable, but they also damage your brake rotor the least. The other factor to consider is thickness, which we addressed separately above.
4. Brake Dust
As brake pads squeeze the quickly spinning rotor, the pressure causes friction which doesn't only stop the vehicle but also grinds the pads a little bit. Every time that this happens, the pad creates a bit of dust which falls over your wheels. The exact amount and color of the dust depend on the particular formula that the manufacturer uses, but there are some general rules.
Semi-metallic brake pads are known to create the most dust, which is dark and sticks to the wheel. This dust needs to be cleaned regularly. That's not only because it dims the shine of your wheels, but also because, if left long enough, the dust can corrode your wheel's clear coat and damage the aluminum wheel surface.
On the other hand, ceramic brake pads create the least amount of brake dust. The dust that these pads do create is light-colored, and it can be easily wiped from the wheel.
5. Noise levels
Braking results in a unique sound that is made worse or better by particular qualities of brake pads. While the material the pad is made of influences the sound, the most common source of screeching in brake pads are metal shims or the absence of shims whatsoever. Today, many manufacturers offer their products with rubber shims, which are popular because they create less noise. If you find the braking sound annoying, it's a good idea to check out products labeled with tags like low noise and noise-free.
6. Copper levels
Copper is one of the traditionally used materials in brake pads. However, though it's a useful material, copper is a known pollutant. As brake pads wear out, they leave brake dust not only on your wheels but on the road as well. This material is frequently picked up by wind and rain, running off into streams, rivers, and lakes. The copper that ends up in these bodies of water affects wildlife, including fish, amphibians, and plants. In 2015, the United States Environmental Protection Agency proposed an initiative to reduce the amount of copper in brake pads to less than 0.5 percent by weight by 2025. Many manufacturers are actively working towards reducing the amount of copper present in their products, offering models that are compliant with EPA's initiative.
How to Remove and Install Brake Pads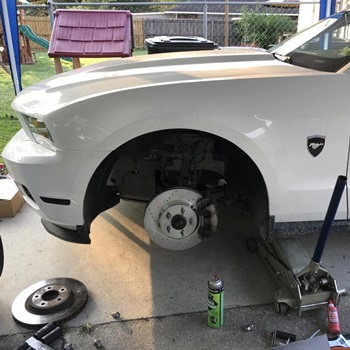 Installing brake pads is not too difficult if you follow instructions, and if you have a little bit of skill around mechanics. If you're not confident in your understanding of the structure of the wheel, or you don't have all of the recommended tools, we suggest opting for professional service. In this guide, we'll only give a brief outline of the basic steps to remove, install, or replace your brake pads. If you need more information, refer to your car's user manual, or find detailed instructions for your car model online.
1. Preparation for Brake Pad Removal/Installation
There are several pieces of equipment you'll need in order to remove and/or install brake pads successfully. The most commonly used tools are:
3/8-inch ratchet
1/2-inch ratchet
3/8-inch breaker bar
Hydraulic jack
Once you gather your tools, it's time to prepare your wheels and lift your car.
First, you'll need to loosen your wheel lugs. This will make the wheel easier to remove. The lugs are very tight, so you may need to use WD-40 to loosen them.
Once you're done, lift your car using the hydraulic jack. Lift your car so that the wheels you'll be working on are up. Once your car is safely lifted, remove the wheels, exposing the braking system.
2. Brake Pad Removal
With your braking system accessible, you can start with loosening the calipers. Typically, the caliper is tightened with a par of either 12- or 14-millimeter bolts.
Once the bolts are out, the caliper will be loosened, and you'll be able to slide it out sideways. If you can't slide it out, you can tap it gently with a hammer.
The caliper carrier's rear side should contain one more pair of bolts. This time, they'll either be 17 or 19 millimeters. Remove these bolts, and once you remove the caliper carrier, you'll finally expose the brake pads. Now, you can easily remove the old brake pads.
3. Brake Pad Installation
Once you've removed the old brake pads from the slot, you can use the same method to insert your new set. Secure the pads with rivets if your pad model has them. Once it falls into place, you should go back and reinstall the caliper. Tighten the caliper carrier and the caliper with the bolts you've removed.
Attach your wheels back, and tighten it with its lugs. You may descend your car now.
However, the installation is not done yet. Now, you need to press on the brake pedal to ensure everything's set in place.
Put your car in neutral, and press your brake pedal. Repeatedly press the brake pedal in order to help the brake pads align to the rotor. Finally, once it feels like everything's set, it's time for a test drive.
If you hear screeching or squealing, something's not right. You may need to remove the wheel again to check what's gone awry.
FAQ About Brake Pads
1. Is there a difference between semi-metallic and ceramic brake pads?
Yes. In fact, there are many differences between the two major types of brake pads. Both of these materials are very popular, and in fact, these are the two most commonly used brake pad types. Let's take a look at a couple of differences between the two.
First of all, ceramic pads come for a somewhat higher price. They are very durable and last longer because they get worn out harder. That also means ceramic pads create less brake dust. However, they're not a good choice for towing or race driving, which semi-metallic pads handle with ease. In summary, ceramic pads are a bigger investment designed to last a long time, while semi-metallic pads offer a good balance of performance and price.
2. How many brake pads do cars have?
While there are different models and makes of cars, a typical sedan vehicle requires 8 brake pads – 2 for each wheel. Since most brake pads are sold in sets of 4, you should get two sets if you need to replace all of the brake pads in your vehicle. However, pay attention to the fact that front and rear wheel pads are different. In most cases, you should get a set of 4 pads for your front wheels, and another set of 4 for your rear wheels.
3. Should I replace all of the brake pads in my car at the same time?
No, there's no need to change all of the brake pads in your car unless they are all due for a replacement. You should only change the pads that are worn out. Typically, front wheels handle most of the braking, so normally front brake pads wear out much quicker than rear ones. Because of that, you may find yourself replacing your front brake pads twice as much as you do your rear ones. If you're not sure which brake pads are due for a change, and which you can just let be, visit your local mechanic.
4. How long should a set of brake pads last?
The durability of brake pads is quite hard to determine. A general estimation for a normal quality consumer set of brake pads is between 25,000 and 65,000 miles.
To some extent, durability depends on the material the pads are made of. Refer to our Brake Pad Types section for more information on how the material affects durability. However, that's not the decisive factor that influences the durability of your pads. That's mostly because the pads get worn out only while you're actually braking, and they don't deteriorate passively while you're driving. In reality, that means that a person who mostly spends their time smooth sailing across a highway uses their brake pads far less than a person who drives inside a congested city. Even though you cross many more miles on a highway, you don't need to brake as often as you do in the city. In situations like this, a standard set of brake pads may last even more than 70,000 miles.
Wrap Up
So, there you have it, our comprehensive buying guide and brake pad reviews of our favorite models that you can find on the market today. As you can see, choosing the best brake pad set is not an easy task – there are so many things to consider. Starting with the choice of sturdy material, through noise levels, to shim type, buying brake pads requires more thought than you'd think at first glance.
Still, you can't go anywhere without a fair set of brake pads, so it's essential to consider many factors if you're looking to find an ideal pair. We hope our buying guide and reviews covered everything you wanted to know, and that they help you bring an informed decision. If you have any questions left for us, feel free to leave us a comment down below, and we'll get back to you as soon as we can!