There is no doubt about it – your car needs to use the best brake fluid there is to work correctly. Every braking system comes with its own finesse and quirks, so we are not saying that there is a single braking fluid that can cover every brake type out there, but there are several types and multiple brands to choose from.
So, before you go out on a shopping spree, let's take a look at the facts on why brake fluid is essential. Once you are done with the reading, we encourage you to hop onto the brake fluid reviews section that we made and apply the newly-acquired knowledge. After all, no one wants to have their car checked by a professional often, and we think that every driver should be a small-time mechanic.
See The Quick Comparison Chart
Why Are Brake Fluids Important?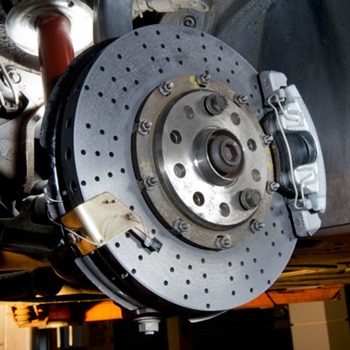 There are several practical reasons why every car should have a source of fresh brake fluid, including, of course, maintenance. As you probably concluded from the previous section (even in the simple version of the brake system), there is a lot going on once you press that brake pedal.
First and foremost, the brake fluid must always be active and mechanically effective. Why? Well, imagine driving for 5 minutes without brakes. Yes, that is how vital brake fluid is. Luckily, engineers around the world found a solution to the overheating/evaporating problem by evolving the brake fluid with modern compounds. The brakes must always be available to the driver, and that is a fact no matter where you live.
Another important reason for having fresh and working brake fluid inside the brake system is material longevity. By this, we mean every other part of the brake system will deteriorate less if the brake fluid works appropriately. So, in the long run, you would want to invest a small sum of money now to save more substantial brake system expenses.
Lastly, brake fluids enable you better control of the braking system by transferring that mechanical force quicker and with better accuracy. You don't always want the car to stop completely, and with a fresh batch of adequate brake fluid, you get to control how much pressure the brake pads exert on the moving parts.
Brake Fluid Types And Uses
In terms of variety, there aren't many brake fluid types. And, more importantly, the DOT (Department of Transport) tier list and rankings need to be respected, as they are regulated by law for a reason. So, what is DOT, and why does it matter to my car?
The DOT rating refers to the regulated number of degrees a brake fluid can withstand before starting to boil. As we mentioned above, it is crucial for hydraulic liquids and fluids to maintain their liquid state, so evaporating is a big no. That is why engineers and scientists decided to create a standard for the brake fluids, which every brake car brake system obeys and works under.
In order to prevent confusion in the following section, we would like to establish a couple of terms beforehand. When it comes to different DOT ratings, we recognize two separate boiling points:
Dry Boiling Point – This is the moment when the brake fluid is at its pure form, with no water contamination
Wet Boiling Point – When the brake fluid gets contaminated by water (usually form lousy weather), its heat-resisting properties diminish, and the boiling point depresses significantly
1. DOT 3
Coming up as the simplest type, we have a poly glycol-based brake fluid called DOT 3.  Mainly, DOT 3 brake fluids are designed to service around-the-town vehicles that do not need any special protection, nor a specific mix of protective chemicals. However, that does not mean that the chemical compounds inside are easy on the car paint, so be extra careful while using the brake fluid. Protective gear is also strongly advised.
When it comes to mixing with other brake fluids, DOT 3 can be combined with DOT 4 and DOT 5.1. DO NOT mix it with DOT 5.
Dry Boiling Point – 401° Fahrenheit
Wet Boiling Point – 284° Fahrenheit
2. DOT 4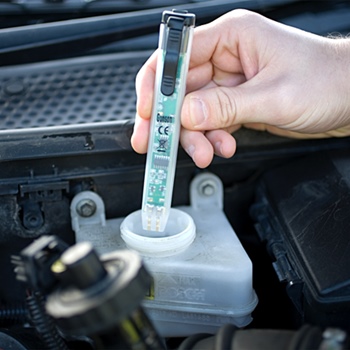 Similar to DOT 3, DOT 4 is a glycol-based brake fluid as well. This organic compound is furtherly enriched to service vehicles with more powerful engines, like terrain vehicles and some semis. The boiling points, both dry and wet, are pushed over the limits of DOT 3, so it is safe to say that DOT 4 can endure larger stress temperature and heat-wise.
This particular type can be mixed with DOT 3 and DOT 5.1 if necessary, but it is NOT TO BE MIXED with dot 5. Like with its predecessor, DOT 4 also has the ability to damage your car's paint, so extra caution is advised.
Dry Boiling Point – 446° Fahrenheit
Wet Boiling Point – 311° Fahrenheit
3. DOT 5
Here we have a brake fluid type that differs from the others, both chemically and performance-wise. Because of its non-organic nature, the silicone-based structure blocks water absorption completely. However, there is a catch. The reason why DOT 5 isn't used in every vehicle out is the ability to form moisture pockets. Because the water that enters the fluid does not get absorbed, it can find its way through this hydrophobic fluid, and eventually, reach the braking system. And, we all know what happens when water gets inside – corrosion. That is why DOT 5 is used only inside high-performance vehicles, like race cars and some show cars.
Dot 5 is SHOULD NOT BE MIXED with any other brake fluid type, especially not with glycol-based formulas. Severe damages to the brake system may occur, and that can bare disastrous results.
Dry Boiling Point – 500° Fahrenheit
Wet Boiling Point – 356° Fahrenheit (if there even comes to water dispersion)
4. DOT 5.1
If you have a more powerful, high-performing vehicle, and you do not want to meddle with synthetic silicone-based brake fluid formulas, DOT 5.1 might be the solution. It is a high-end poly glycol formula that has the endurance similar to DOT 5 but still retains some water inside over time. This does decrease the effectiveness, but it removes the risks of water bubbles reaching the brake system. Among the poly glycol brake fluid formulas, this one has the highest heat resistance, so it is recommended for high-performance vehicles and race cars.
DOT 5.1, due to its organic nature, can be mixed with DOT 3 and DOT 4. You should NEVER MIX IT WITH DOT 5 because serious problems may occur with the brake system.
Dry Boiling Point – 500° Fahrenheit
Wet Boiling Point – 356° Fahrenheit
Best Brake Fluids Comparison Chart
PRODUCT
DETAILS

ATE 706202 Original TYP 200 Racing Quality DOT 4 Brake Fluid – 1 Liter

Price: $
Customer Rating: 4.8
Type: DOT 4
Container Size: 33 fl. oz.

View On Amazon

Motul std color MTL100949 Racing Brake Fluid

Price: $$
Customer Rating: 4.8
Type: DOT 4
Container Size: 16 fl. oz.

View On Amazon

Castrol SRF Racing Brake Fluid – 1 Liter 12512

Price: $$$
Customer Rating: 4.9
Type: DOT 3 and DOT 4
Container Size: 33 fl. oz.

View On Amazon

Prestone 32 Ounce AS401 DOT 3 Synthetic Brake Fluid-32 oz

Price: $
Customer Rating: 4.7
Type: DOT 3
Container Size: 32 fl. oz.

View On Amazon

Wilwood 290-6209 auto part brake fluid

Price: $$
Customer Rating: 4.3
Type: DOT 4
Container Size: 16 fl. oz.

View On Amazon

Castrol 12509 Dot 4 Brake Fluid (12 Oz)

Price: $
Customer Rating: 4.4
Type: DOT 4
Container Size: 12 fl. oz.

View On Amazon

Pentosin 1204116 Super Dot 4 Brake Fluid, 1 Liter

Price: $$
Customer Rating: 4.7
Type: DOT 4
Container Size: 33 fl. oz.

View On Amazon
Best Brake Fluid Reviews
1. ATE 706202 Original TYP 200 Racing Quality DOT 4 Brake Fluid – 1 Liter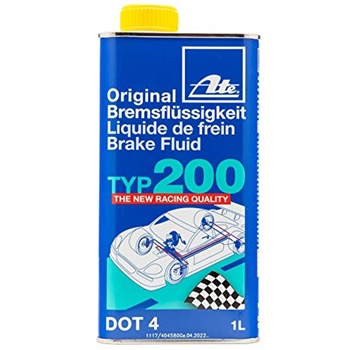 A formula coming from a famous manufacturer of car fluids, this ATE braking fluid is made to lat. The 1-liter (33.3 fl oz) package should be more than enough to replace the old brake fluid in your car's braking system. The container is made of metal and is built to last longer if you do not spend all of it. On top, there is a plastic cap that allows fine pouring into the brake fluid reservoir.
This is a DOT 4 brake fluid, which makes it mixable with DOT 3 and DOT 5.1 if need be. Being that it is a poly glycol formula, it does allow water inside the fluid. However, the boiling points of this particular formula are quite high:
Dry Boiling Point: 536° F
Wet Boiling Point: 388° F
Additionally, this specific formula offers quite a lot in terms of safety. The additives inside guarantee a non-corrosive effect on painted surfaces.
Pros
A higher than average boiling point, both dry and wet
Non-corrosive additives used inside the formula
High safety against steam bubbles
Cons
The packaging may be too large for some users
The formula cannot fit all older car models. Make sure you double-check with the owner's manual
2. Motul std color MTL100949 Racing Brake Fluid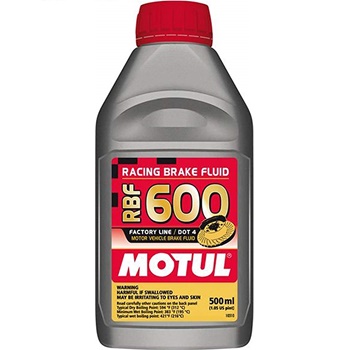 If you are looking for high-performing brake fluid, this synthetic formula from Motul might just fit the requirements. Not only does it fulfill the role of brake fluid, but it also lubricates the braking system. Even though the formula inside this 16 fl oz (plastic) bottle is synthetic, it does not contain any silicates. This means that the brake fluid absorbs water and humidity over time.
This is a DOT 4 type brake fluid, meaning that it can be mixed with DOT 3 and DOT 5.1, however, due to this formula's potency, there might not be a need for that. This Motul brake fluid is able to withstand extremely high temperatures:
Dry Boiling Point: 594° F
Wet Boiling Point: 383° F
The manufacturer also promises higher stability when it comes to fluid pressure, which significantly helps with pedal sensitivity.
Pros
The extremely high dry boiling point of 594° F
The packaging is made of plastic, and the shell life of the brake fluid is not limited
This brake fluid helps with brake system lubrication
Cons
The formula is corrosive, so extra caution around the fluid is advised
The total amount of fluid is not enough for larger cars, so two bottles are needed at least
3. Castrol SRF Racing Brake Fluid – 1 Liter 12512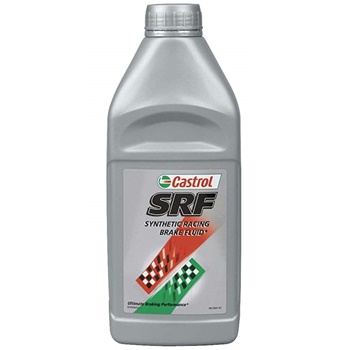 Here we have a formula from Castrol that is kind of a hybrid. Packed in a 33 fl oz plastic bottle, this brake fluid is designed both for sports cars and form regular around-the-town vehicles. The boiling points allow the braking system to withstand a lot of heat, and the amount you get is more than enough for one pouring.
The reason we said this formula is a hybrid lies in its chemical type and DOT type. Even though this formula contains silicates in the form of silicone esters, it is still compatible with DOT 3, DOT 4 and DOT 5.1 brake fluids. The high-temperature resilience is enough to handle the fastest of race cars.
Dry Boiling Point: 590° F
Wet Boiling Point: 518° F
With this kind of high performance which is able to support almost all vehicles out there, the price is not a typical budget-friendly one.
Pros
One of the highest wet and dry boiling points out there
Goes along well with DOT 3, DOT 4 and DOT 5.1
Superior anti-vapor lock features
Cons
Not a budget-friendly option
Even though it is compatible with other types, users suggest that it should not be mixed
4. Prestone 32 Ounce AS401 DOT 3 Synthetic Brake Fluid-32 oz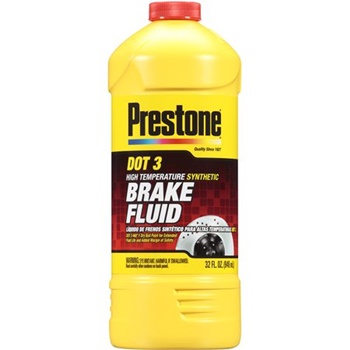 This particular Prestone brake fluid covers older vehicle types, as well as small and medium around-the-town cars. The formula is kept in a large, 32 fl oz bottle, which is enough to cover at least one full bleeding and brake fluid replacement.
The main reason why this brake fluid formula is recommended for older cars is the fact that it is a DOT 3 fluid. It is based on polyglycol ether, but it still can be mixed with DOT4 and DOT 5.1. Additionally, the fluid goes great with ABS braking systems.
Dry Boiling Point: 460° F
Wet Boiling Point: 284° F
As you can probably see from the temperature ratings, more powerful vehicles are not in the range of this braking fluid formula.
Pros
DOT 3 rated formula than can be mixed with DOT 4 and DOT 5.1
Comes in a large, convenient package which contains enough fluid for a bleed and a replacement
Compatible with ABS braking systems
Cons
Not designed for more powerful vehicles
The cap on the bottle is somewhat clunky, so be extra careful with it
5. Wilwood 290-6209 auto part brake fluid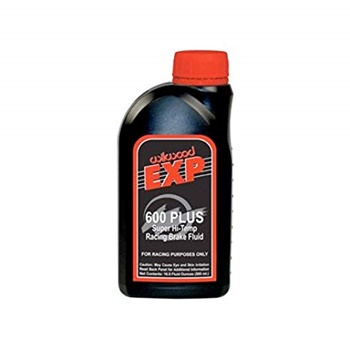 This Wilwood brake fluid formula comes with quite a high-temperature resistance, and it can withstand the requirements of sports cars. Packed in a 16 fl oz container, this amount of brake fluid is enough for a total change and even a bleeding process.
It is a DOT 4 brake fluid that can be mixed with other DOT3 and DOT 5.1 formulas, though it is not recommended by the manufacturer. The brake fluid is viscous enough to guard the system against vapor lock, and the boiling points are quite high:
Dry Boiling Point: 626° F
Wet Boiling Point: 417° F
As you can see, the difference between the dry and the wet boiling points is pretty big, so it is best to check on the brake fluid if it is your first time using it. Although, with this formula, you should be good for at least a year.
Pros
A DOT 4 formula which is mixable with DOT 3 and DOT 5.1
Extremely high heat resistance with a dry boiling point of 626° F
The packaging is enough for a bleed and a total replacement of the brake fluid
Cons
The difference between the dry and the wet boiling point is higher than average, so the fluid might last a bit shorter, depending on the vehicle
This particular formula might be a bit too strong for an average vehicle
6. Castrol 12509 Dot 4 Brake Fluid (12 Oz)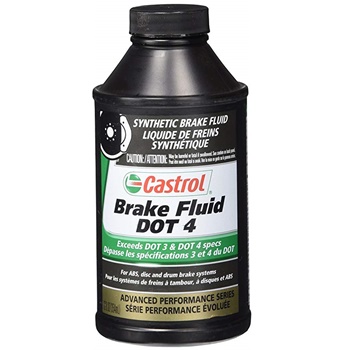 If you are looking for a quick refill of a reliable brake fluid pack, this Castrol bottle might be the answer. Even though it comes in smaller, 12 fl oz bottles, it is compatible with every type of vehicle brakes out there. The small bottle is convenient and easy to use.
The formula of this brake fluid is synthetic, and it falls into a DOT 4 category, making it compatible with DOT 3 and DOT 5.1. Additionally, if you do end up liking this brake fluid, there is a possibility of getting a twelve-pack. Both dry and wet boiling points of this DOT 4 formula are around average:
Dry Boiling Point: 446° F
Wet Boiling Point: 311° F
So, if you are looking for an affordable DOT 4 that can also be ordered in a twelve-pack, his Castrol is an excellent choice.
Pros
Cheap and affordable for a DOT 4
Compatible with all mainstream braking systems
Can be mixed with DOT 3 and DOT 5.1
Cons
The original bottle can be a bit small, depending on the model. Although twelve-packs are available
The bottle cap is a bit clunky
7. Pentosin 1204116 Super Dot 4 Brake Fluid, 1 Liter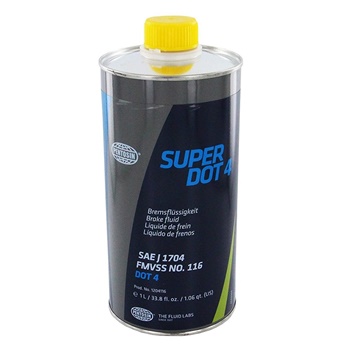 This Pentosin brake fluid formula is designed for mainstream brake systems, with a particular focus on ABS brakes. The bottle contains around 33 fl oz of DOT 4 formula, which is enough for at least one bleeding and one total brake fluid exchange.
Being a DOT 4, this brake fluid can be mixed with DOT 3 and DOT 5.1, but it also means that water shortens the longevity of the formula. However, the manufacturer had this in mind and added some ingredients to protect the brake fluid from water penetrating it as long as possible. The boiling points of this DOT 4 brake fluid is a bit larger than average:
Dry Boiling Point: 509° F
Wet Boiling Point: 392° F
When it comes to the corrosiveness of the fluid, take extra careful steps while using the formula, since it will damage car paint.
Pros
Larger container that can be used multiple times
Compatible with mainstream brake systems, including ABS
DOT 4 that can be mixed with DOT 3 and DOT 5.1
Cons
This fluid will damage car paint due to its corrosiveness
The container can be a bit soft and prone to denting
How Do Brake Fluids Work?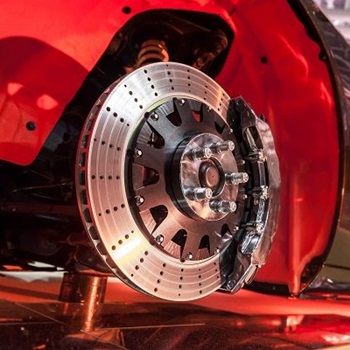 Most of the time, if we are not talking about combustion or burning, when it comes to fluids in cars, the phrase HYDRAULICS appears. Now, in order to not get too technical, let's say that hydraulics are all mechanical devices that utilize the power of liquid (hence the word hydro) to work. In vehicles, hydraulic modules are the main force behind brakes and braking systems in general.
When you need to stop the moving wheels of your car as fast as possible, you step on the brake pedal, and the vehicle decelerates until it comes to a halt. The mechanical force that you exert on that pedal is transferred through the brake fluid mechanically "tells" the brake system that it is time to contract and stop the moving wheels.
Fluids are an excellent way of transporting that force, but they come at a cost, from a physical point of view. They tend to evaporate.
You see when the brake fluid eventually hits the brake pads, and the braking system starts applying stopping force on the wheels, a lot of kinetic energy is transformed into heat. This heat, naturally, raises the temperature of the fluid, making it boil, and when things boil, they turn into gas and go away. Brake fluids are designed to endure that heat without evaporating, thus providing a trustworthy medium for the mechanical force that starts at your foot and ends on the moving wheel.
Now, this process is much, much more complicated than the explanation in our crash course. However, you do not need to be an expert in hydraulics and thermodynamics to apply fresh brake fluid and enjoy driving your vehicle without worries.
What Is the Difference Between Dot3 & Dot4 Brake Fluids?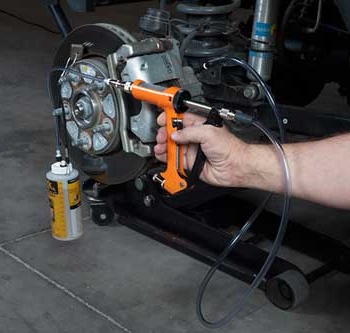 If you are a regular driver, with a vehicle that is not too small and not too big, the chances are that your car uses either a DOT 3 or a DOT4. The performance of these fluid formulas is stable and trustworthy, and, contrary to popular belief, you do not need to force-feed the brake system with high-end stuff for it to work.
However, despite the fact that they are chemically similar, DOT 3 and DOT 4 do have slight differences. These two formulas differ in density and their physical aspects, with the boiling point being the most important one to us. DOT 4 resists more heat and makes the brake system stay stable on higher temperatures for longer. So, to better understand the difference, it would be best to look at the size of brakes and brake systems inside the cars that use each of these formulas. If you did that, you would notice that vehicles that use DOT 4 have larger brakes and larger brake pads. In this case, a bigger size means higher heat, so having a more heat-resistant formula is logical.
Other than those these features, DOT 3 and DOT 4 are pretty much doing the same thing, in different vehicles.
Brake Fluid Tips and Tricks
1. How to choose the correct DOT rating?
There are no strict rules when it comes to DOT rating, except not to mix DOT 5 with any other brake fluid formula. But, as with any other car-related fluid, there are some tips and tricks to help you out in making the correct decision.
Most cars can benefit from any type of brake fluid — however, the difference we need to watch out for leis in the size of the braking system. As mentioned above, the bigger the brakes, the larger the heat generated, and that means that your car needs a brake fluid that can resist the temperature.
The safest bet would be to look inside the car's manual and see what kind of brake fluid does the manufacturer recommend. High-end race cars will undoubtedly need to use DOT 5 or DOT 5.1, but those cases are rare, generally speaking.
The truth is more straightforward, though. You can use both DOT 3 and DOT 4 unless the manual specifically asks for a particular type, which is also rare.
If you live in a colder climate, you should watch out for brake fluid viscosity. Some brands make the viscosity adjustment with colder climates in mind. Just as cars need the top-rated antifreeze, having a brake fluid that can endure lower temperatures is important as well.
If you have a high-performance car, avoiding DOT 3 and DOT 4 is a good idea. While these formulas will perform well, they will lose the primary function of heat-retention fast, because sports cars tend to generate a lot of heat while braking.
2. When Should You Change Your Brake Fluid?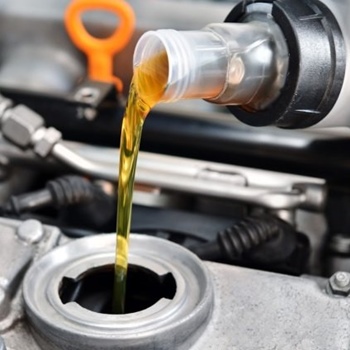 While the mileage does vary from brand to brand, the general rule is to change the brake fluid every year or two, or 10 to 20 thousand miles. We do not find this enough, so we thought it would be useful to provide you a general guide on how to check brake fluid before you change it. Without further ado, here are the general steps you should take before deciding if it is time to change brake fluid or not.
Open the hood of your car. In almost all cases, the brake fluid reservoir will be under the hood.
Locate the reservoir under the hood. Usually, it is located closer to the windshield, but if you are not sure, check the user manual.
Unscrew and open the lid. Older cars used to have an extra screw, so be careful not to damage it. Brake fluids have corrosive properties, and it would be best not to leave the lid or cap on the car. It can permanently damage the pain.
Take a white cloth or a stack of white toilet paper and make it into a soft "shiv." Now, put the paper through the surface and dig it into the brake fluid about one inch deep.
If the fluid is brownish or dark yellow, it is probably time to consider changing. If it is clear, it is still fine, and you still have some mileage in it.
Some brands are designed to change color if the brake fluid expires, for convenience's sake. In such cases, always read the label and follow the instructions, since there isn't a universal rule for brake fluid colors.
Another clear sign that you should at least make a check we described in these steps is the pedal stiffness. If you need to really step on the brake pedal for the car to start decelerating, there might be an issue of old brake fluid.
3. How to Change Brake Fluids?
Completely changing the brake fluid is called "bleeding" among the professionals. While you should be able to have full control over how this process goes on, we strongly advise that, if you do not have the mechanical experience, you leave this to a professional. But, fear not, this doesn't mean that you need to stay away from the brake system.  Brake fluid change is required only in the case the whole batch turned bad, which is quite rare.
What you can do to make your brake system function better is replacing the old brake fluid, or most of it, with the new formula. You will need a tool similar to a meat injector to drain out the old brake fluid. Take as much as you can out and dispose of it properly, without saving anything for later use. Stale brake fluid should not be saved, not only because it is not useful anymore to the car, but because it is corrosive and dangerous for the environment.
After you have disposed of as much of the old brake fluid as possible, pour the fresh fluid in. You should fill the brake fluid reservoir and top it off. There are usually marks on the side, but if there aren't any, fill the reservoir up to the cap twist part. If you are not sure if the fluid is clear enough, and that there is old fluid left, repeat this process a couple of times, between car ride. If you decide to do this, bear in mind that it may cost a bit more, because you will need more fresh brake fluid.
Once again, if you intend to bleed the brake system, always consult a professional car mechanic. The whole bleeding process requires wheel removal and is not to be taken lightly.
Brake Fluid Buying Guide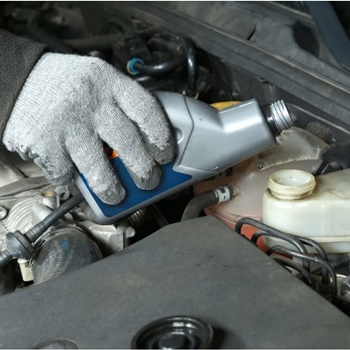 Knowing the facts is the best way to get around a worthy purchase. We talked about the role of braking fluid, and the types you can encounter, but now it's time to see what kind of features you can expect. If you decided that you want to take control of the brake system of your car, we are going to provide you with the necessary knowledge to rely on and to use to make the best estimation. Additionally, after this section, you can find some FAQs that can help with some things people are more likely to ask.
Keep in mind that there is not much you can actually do while applying the braking fluid. Besides pouring the bottle into the system, you get to decide what brand and type you want to buy. So, what kind of features can you find, and what kind of requirements can you fulfill with today's markets brake fluids?
1. DOT Rating
The very first thing you need to determine is what kind of DOT rating the vehicle needs. The rule of thumb is – the bigger the vehicle, the larger the brake system. As the brake system grows, so does the DOT number. However, this is not a 100% accurate method, so we suggest double-checking.
Consult the user manual you got with the car. The manufacturer of the brake system usually specifies what kind of DOT rating the braking system needs.
Look under the cap of the brake fluid reservoir. Sometimes, the maker of the system leaves a reminder and writes it there.
Either way, if the car manufacturer says that the car needs a DOT 4 brake fluid, it would be the safest route to follow that instruction.
We already talked about the DOT number, so here is a convenient, quick recap of their features:
| | | | |
| --- | --- | --- | --- |
| DOT Number | DRY Boiling Point (F °) | Wet Boiling Point (F °) | Can be mixed with: |
| DOT 3 | 401 | 284 | DOT 4, DOT 5.1 |
| DOT 4 | 446 | 311 | DOT 3, DOT 5.1 |
| DOT 5 | 500 | 356 | / |
| DOT 5.1 | 500 | 356 | DOT 3, DOT 4 |
2. Container Size
Another thing that we shouldn't forget when deciding upon the brake fluid wee want to get is the size of the package. If you are riding an SUV, or a larger vehicle in general, the chances are that you need to buy more fluid. So, try to find out how much fluid can the pipes of the brake system hold, add 10-15% and look for a brake fluid bottle that has that much actual fluid inside the bottle. Or more.
This fluid is highly corrosive, so buying a large bulk with storage in mind, may not be a smart idea. Some people think that the shelf life of brake fluids is longer than it says on the box. But we think that it is best to leave speculations aside and respect the label. After all, you do not want to risk your safety over a few extra bucks, right?
3. Mixability
While mixing is not a recommended method, you still need to do it sometimes (e.g., emergency maintenance). Sometimes, if you want to upgrade to another type, the chances are that you will mix some amount of the old and the new brake fluid. Essentially, knowing if the current and the new brake fluids are mixable is more than welcome. Usually, the manufacturer will leave some sort of diagram that tells you whether the fluid is mixable or not. For example, DOT 3 and DOT 4 are almost always mixable with each other, while DOT 5 is not to be mixed with any other type.
Mixable brake fluids are generally more wanted because of their convenience. In some emergencies, you will have to use whatever you can find, and stumbling upon a non-mixable brake fluid is as bad as not finding any. For more details considering the general mixability, refer to the table in the previous section.
4. Corrosion
Whether a brake fluid formula is corrosive or not should be the biggest concern of people who have ABS systems in their cars. This also counts for older cars with rubber parts inside. Non-corrosive formulas are recommended, though you should consult the manual and make sure.
5. Color as an Indicator
Color doesn't make any changes to the overall performance of brake fluids. Instead, the color is there for a practical reason. Some brands and types use color to warn you if the brake system is damaged or leaking. If you notice a specific puddle under the car, you get the indicator of whether it is brake fluid based on the color.
This feature is not necessary, but it is a welcomed bonus, especially if you are new to the concept of changing the brake fluid by yourself.
FAQ About Brake Fluids
1. Why Should I Change Brake Fluid, Since It Is Not a Fluid That Burns or Goes Away?
People often get confused when the topic of brake fluids comes up. Why? Well, the fluid does not burn, and it is not a fuel additive like a top-rated octane booster. You do not see the fluid anywhere unless there is a brake fluid leak, and generally speaking, a lot of people do not even know there even is a brake fluid reservoir under the hood of their car.
The brake fluid needs to be changed because of one reason only: water! Water, both from the air moisture and from humid weather, dissolves in brake fluid (unless we are talking about DOT 5) and lowers the boiling point, thus decreasing its thermal properties. Once enough water gets into the fluid, it loses its features, and a replacement is in order.
So, to put some myths behind us, the brake fluid will not evaporate, it will not burn, nor will it disappear through the car's pipes. It will remain inside the brake system, but the key features will slowly disappear over time.
2. What DOT Ratings Are Compatible, and What Does That Mean?
Essentially, you are able to mix some types of brake fluids. This feature is put in because there is no safe way to replace 100% of the old fluid without mixing some parts with the new one. So, a lot of people decide to upgrade to a higher DOT rating, or they simply want to save some money by adding a new bottle of different DOT-rated brake fluid to the mix.
When it comes to compatibility, the rule is quite simple:
DOT 3 can be mixed with DOT 4 and DOT 5.1
DOT 4 can be mixed with DOT 3 and DOT 5.1
DOT 5 is NOT TO BE MIXED with any other type of brake fluid
DOT 5.1 can be mixed with DOT 3 and DOT 4
However, we do not recommend you to mix the brake fluids if you do not have to. Upgrading to a higher DOT rating is fine, but in such cases bleeding the brake system would guarantee the best performance. And, once again, we cannot stress this enough: DO NOT MIX DOT 5 with any other brake fluid.
3. Can a Car Run Out of Brake Fluid?
In normal conditions, the answer is no. The brake fluid is not consumed, but it goes bad with water dissolving in it instead. But, if you do notice that the brake fluid amount goes down significantly in a short period of time, something must be wrong with the brake system.
In this case, the most common problem is leaking tubes or pipes somewhere down the brake system. Check under your car, and if you see a clear or light amber-colored liquid, it means that the pipe broke somewhere. Even though this issue is easily solved (usually), do not ignore it and go to a town mechanic as soon as possible. Driving without fully functional brakes is extremely dangerous and irresponsible!
Wrap Up
And there we have it. A library of knowledge regarding the best brake fluid you can get for your own vehicle. Hopefully, we did not bore you with the details of hydraulics too much, and we would like to think that the function of brake fluids is now more familiar to you. Everyone can go to a car professional and ask for fluid changes, but, we think that every driver deserves to know how and when to do it himself or herself. The more you know about your car, the more control over it you have.
You can test your fresh knowledge by going through our picks, in the brake fluid reviews section, and see if there is a fluid that matches your car's requirements. Finally, if you want to ask or add something, feel free to contacts us, and we will gladly provide an answer.
See also: best garage floor paints