Buy treating your car with the best octane booster you can easily get that "extra kick" out of the engine. Not only that, but you will also reap the rewards of better fuel in general. Keeping your car in a healthy state requires a lot of maintenance, inside and out. Moreover, since there is no one single magical fluid or solution that can provide everything your car needs, there are several things you should do to help the engine stay functional as long as possible. One of those solutions is octane boosting.
A lot of people go for the octane boosting systems without knowing what exactly goes on inside the engine, and often, they get disappointed. We are going to address the actual functionality of octane boosters and, in the end, provide you with multiple octane booster reviews to consider. Let's dive into it.
See The Quick Comparison Chart
Benefits of Octane Boosters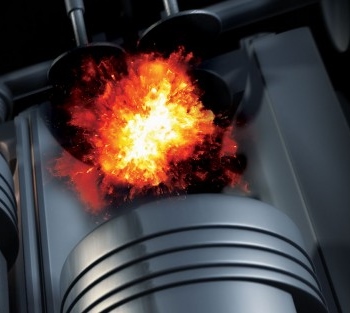 There are several benefits you can reap by brining the octane rating of the fuel your car uses up. Some are visible immediately, yet some will show themselves over time. However, we have yet to see the downsides of octane boosting, when necessary, of course. Let's see what kind of benefits this fluid brings to the table (or rather to the engine).
1. Horsepower boost
The main thing you will immediately feel after applying an octane boosting agent is the rise in horsepower. Internal combustion engines, though loud and powerful, rely on a set of very intricate actions. For an engine to work, these actions need to go as smoothly as possible. With the right number of octanes in the fuel, the combustion process happens just right, according to the engine build and specifications. Remember: car manufacturers make the engines with a certain fuel standard in mind, and octane boosters help out in reaching that standard.
While you will not be able to go much faster or accelerate better, the engine will provide better service. If the fuel is treated well, there will be no engine knocks or drops in horsepower. So, in a way, by applying octane boosters, you return the engine to a better, newer state. We would like to remind you that there might be other factors affecting horsepower. But, if everything else is in check, boosting up the octane number in the fuel your car uses is a great start towards a healthier engine.
2. Fuel Economy
For people that spend a lot of time on the road, fuel economy is more than important. Low-octane fuels can directly hinder the car's ability to utilize the fuel correctly, thus demanding more fuel, which means more money out of the pocket. So, what better way to boost the fuel economy than by enhancing the fuel itself.
By allowing the engine to burn the fuel at a better rate, without knocks and desynchronizations, you also prevent it from wasting gasoline. Not only that the engine will use the fuel more efficiently, but it will also use less of it. Getting the right number of octanes into the combustion chamber makes the engine work as intended, no more no less, which is always the best scenario.
This way of operation will save you a lot of money long-term, especially if the fuel in the area you live in is not that good when it comes to RON rating.
3. Engine Health and Maintenance
Remember when we talked about the octane sensor? Well, if that sensor tells the engine that there simply isn't enough octanes in the gas mix, the engine adapts and enters a low state of operation. This is not intended to be a default, which is the case if you use low-octane gasoline often. By spending a lot of driving time in this mode, the engine becomes prone to choking.
So, if you value your vehicle's engine, and want to invest in its longevity and overall performance, providing it the right number of octanes is the way to go.
Best Octane Boosters Comparison Chart
PRODUCT
DETAILS

Royal Purple ROY11757 MAX BOOST, 16 fl oz

Price: $
Customer Rating: 4.1
Container Size: 16 fluid ounces

View On Amazon

104+ 10406 Octane Boost, 16 Fl. oz.

Price: $
Customer Rating: 4.1
Volume: 16 fluid ounces

View On Amazon

Torco F500010TE Unleaded Fuel Accelerator

Price: $$
Customer Rating: 4.4
Container Size: 32 fluid ounces

View On Amazon

Star Tron Enzyme Fuel Treatment Concentrate

Price: $$$
Customer Rating: 4.5
Container Size: 128 fluid ounces

View On Amazon

Lucas Oil 10026-PK12 Octane Booster – 15 oz (Pack of 12)

Price: $$$
Customer Rating: 4.5
Container Size: 12 x 15 fluid ounces

View On Amazon

STP Octane Booster (5.25 fluid ounces) (Case of 12)

Price: $$
Customer Rating: 4.3
Container Size: 12 x 5.25 fluid ounces

View On Amazon

Klotz Higher Octane Booster, 128 Ounce Gallon

Price: $$
Customer Rating: 4.5
Container Size: 128 fluid ounces

View On Amazon
Best Octane Booster Reviews
1. Royal Purple ROY11757 MAX BOOST, 16 fl oz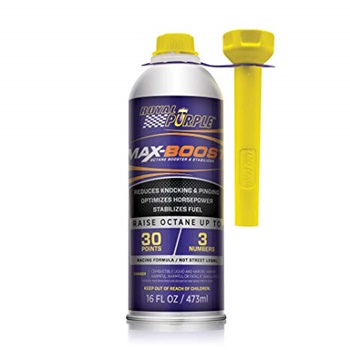 The Royal Purple Max Boost is more than just an octane boosting fluid. It is also a mix of several liquids and chemical agents designed to keep your engine purring. Mainly made for carburetor engines, this particular mix contains a chemical that protects the catalytic converters from excessive phosphorus deposits as well.
Packed in a 16 fl oz container, this octane booster will help you raise the total octane rating of the fuel your car is using by 30 points, or 3 numbers total. This will directly boost fuel efficiency while preventing the engine from knocking and pinging. The fuel-stabilizing component will keep the gasoline fresh for a longer time, which, combined with the other two mentioned features brings the whole gasoline treatment to the table.
Pros
Comes with a measuring/dosing extension
Play a 3-in-1 role, treating the gasoline for better performance and longer-lasting potency
It raises octane rating by 30 points or 3 numbers in total
Cons
The container is rather small, so you might need to order more
The formula needs to be kept in a dark and a dry place due to its extreme sensitivity
2. 104+ 10406 Octane Boost, 16 Fl. oz.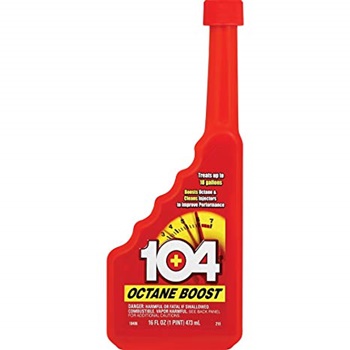 The Gold Eagle has been around for more than 40 years. This particular 104+ formula is known for increasing the octane rating, as well as guarding the fuel injecting system, and the fuel system behind it. As the name indicates, the formula is designed to boost the octane rating up to 104+, depending on the amount of gasoline your car uses and the amount of booster you apply.
The liquid is packed tightly within an ergonomically designed plastic bottle, which is shaped in a way that allows pouring without the need for a measuring cup. Inside, there is a total of 16 fl oz of octane booster fluid, which is enough to cover up to 18 gallons of fuel. The formula is friendly towards catalytic converters and oxygen sensors, and it is safe to use with all gasoline blends including ethanol-based mixes.
Pros
Ergonomic packaging that is designed to help you pour the formula
The fluid enables better gas mileage once it enters the system
Inside the formula, there are chemicals that participate in cleaning the fuel injecting system
Cons
The packaging contains enough fluid for a single-use
The formula may be strong for some older, weaker engines
3. Torco F500010TE Unleaded Fuel Accelerator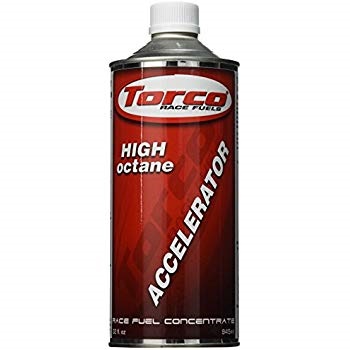 The Torco is known for its racing fuel blends and high-performance fuel additives. This formula can be used on non-racing cars, bringing better engine performance and preventing engine knocking. The container is larger than average, with a total of 32 fl oz of fluid inside, which is meant to be used in more than one gas refills.
Because the formula is so potent, the manufacturer left detailed instructions on how much to apply, depending on the octane boost you want to achieve. The liquid itself is safe towards oxygen sensors, and will not cause them to measure incorrectly, before nor after the booster goes through the system. This octane booster is also friendly towards catalytic converters and is applicable in motorcycles, ATVs, watercrafts, and snowmobiles.
Pros
A highly versatile and potent formula that can be used in more than just cars
You will get a larger-than-average amount of fluid inside the container
The manufacturer left detailed instructions on how to use, and how much of the booster to apply based on the car you have and the fuel it uses
Cons
The formula is a bit pricier than an average octane booster, but it comes in a larger container
The container needs to be kept in strict conditions – no sunlight and no humidity
4. Star Tron Enzyme Fuel Treatment Concentrate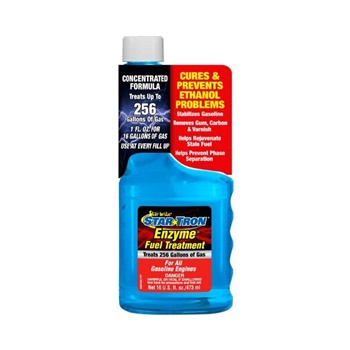 Here we have a solution that is used to treat gasoline and its flaws and boost the octane rating retroactively. This Star Tron mixture is actually a fuel conditioner and a gasoline stabilizer. It does not have active octane boosters, but by conditioning the gasoline, it will help the fuel keep its octane rating and its original qualities for longer.
The amount of fluid you get inside this package is 128 fl oz, which is quite a lot since the manufacturer suggests that 1 fl oz of this formula can treat 16 gallons of gas. So, if you spend a lot on gas, or you like to have your own private home reserve, having a stabilizer like this will enhance future uses. The formula tackles standard stale fuel problems and issues with ethanol. It also reduces gas emissions and enhances overall engine horsepower rating.
Pros
Comes in a large container of 128 fl oz that can stay around for long
It takes only 1 fl oz of the formula to treat a total of 16 gallons of gasoline
The stabilizer works with all types of fuels and engines
Cons
Does not come with an active octane boosting compound
The initial price is a bit hefty, but it pays off down the road
5. Lucas Oil 10026-PK12 Octane Booster – 15 oz (Pack of 12)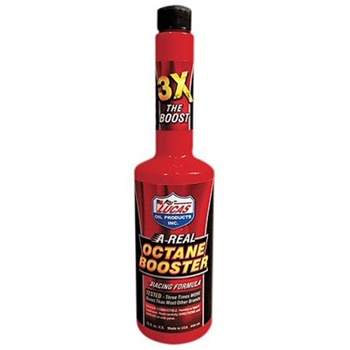 Lucas Oil made this twelve-pack of octane boosters to help your car's engine reach peak performance. The formula not only gives a boost to the octane rating, but it also reduces the total gas emissions from the internal combustion process. One bottle contains a total of 15 fl oz of the formula. The twelve bottles are tightly packed inside a solid box, for convenience reasons.
A single bottle of this potent mix is enough to treat around 25 gallons off gasoline, which is more than an average octane booster mix provides. Besides being safe for carbureted engines and engines with fuel injections, it is also friendly towards cars with turbo modules. This particular formula fits any gasoline engine model out there.
Pros
Comes in a convenient twelve-pack of 15 fl oz bottles
The formula is friendly towards carbureted and fuel injection engines and fits any gasoline engine model
A single bottle is enough to cover 25 gallons of gasoline
Cons
It cannot be bought separately in case you want to test it out. You need to buy 12
The formula can be a bit too potent for older vehicles
6. STP Octane Booster (5.25 fluid ounces) (Case of 12)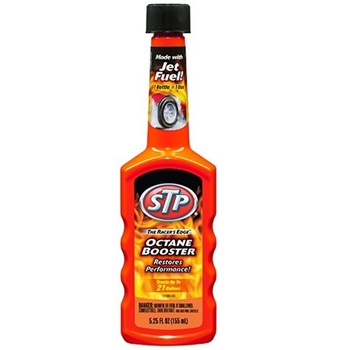 For those of you that like to prepare in advance, and like to control the dosage of octane boosters in smaller increments, STP made a twelve-pack consisting of 5.25 fl oz bottles. However, do not be fooled by the smaller packages, because this formula is as potent, or even more potent than the average octane booster. This particular formula will bring the octane ratings up, as well as clean the fuel intake system of your car's engine.
With a single bottle of this 2-in-1 solution, you will be able to treat up to 21 gallons of gasoline fuel. The fuel injector cleaning effect will always work at full power, while the octane boosting effect depends on the original condition of the gasoline. The formula helps in reducing the engine knocking, or it even completely eliminates it. It is recommended to use all twelve bottles in succession for the full effect.
Pros
A potent formula that acts as an octane booster and as a fuel system cleaner
This twelve-pack is cost-efficient, with a lower than average price
A single 5.25 fl oz bottle treats up to 21 gallons of gasoline
Cons
Not designed for large vehicles
You will have to buy the whole twelve-pack if you decide to get this particular 2-in-1 formula
7. Klotz Higher Octane Booster, 128 Ounce Gallon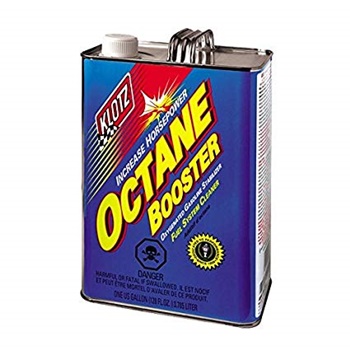 This large container of Klotz octane booster formula is more than just a booster. At its core, this mixture has designated features that provide engine maintenance and lubrication, besides raising the octane up to 10 numbers. The fluid is packed in a metal 128 fl oz container, and the manufacturer provided detailed instructions for dosing the formula, depending on the fuel quality and engine type.
The octane booster works with any type of gasoline engine and is friendly towards carburetors. Additionally, it provides cleaning and lubrication to the fuel injecting system while working on stabilization.
Pros
A large container that is designed for multiple uses, totaling at 128 fl oz
The formula contains an agent that take part in preserving the fuel injecting system and is friendly towards carburetors
Raises the total number of octanes by 10
Cons
The formula needs to be handled with extreme caution because it can discolor various materials
Some users report that you need to use more than the manufacturer recommends, but that depends a lot on the engine itself
What Are Octane Boosters?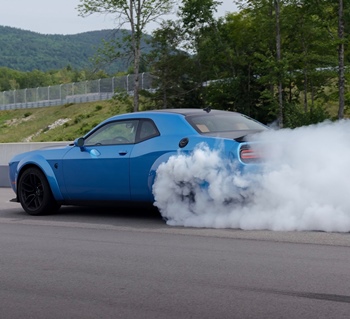 So, before we get into the subject too deeply, we suggest that it would be best to take a moment and explain what 'octanes' are, and why do they need boosting at all. There are many myths out there, so it is best to be careful around these potent fluids. By getting the wrong idea, or even worse – the wrong fluid, you risk a lot when it comes to engine longevity and overall performance.
Octane is a chemical compound found in potent car fuels. The number of octanes the fuel contains is directly connected to the combustion process inside the engine, hence the name – internal combustion engine. Every type of gasoline out there has a certain RON rating, with RON standing for "Research Octane Number." As you might already know for your driver's experience, the standard RON ratings are 91, 95, and 98. However, this rating is not always exact, and it can vary.
On the other hand, some vehicles like sports cars require a RON higher than 98, and you would get a solid "no" if you asked for such fuel on a standard gas station. Truth be told, some gas stations offer 100 octane gasoline fuel, but that is a rarity nowadays.
Car engine manufacturers have adapted to the 91-95-98 standard when it comes to engineering and manufacturing of car parts. But that is not the issue here. The real need for octane boosters comes because of lower fuel quality, or a similar problem in general. There can be issues with the town's main gasoline supply, or you happened to keep gasoline in a somewhat filthy container (including your old gas tank). No matter the source, the result is the same – octane number goes bellow 91, and that is not satisfactory.
How Do Octane Boosters Work?
If we wanted to put things into a simpler perspective, we could say that the main role of octane boosters is to get that RON rating up. This is done through careful engineered chemical agents that affect the gasoline from the moment they enter the gas tank, all the way to gas-air combustion. But, if the octane number falls below a certain margin, there can be serious trouble.
One of the most infamous things that happen due to insufficient octane percentage is engine knocking. If you have an older vehicle, you have probably experienced engine knocking at least once. The knocking happens gradually until it becomes a chronic thing thanks to the low RON rating of the gasoline you are pouring into the car's tank. However,  there is a reason why we've mentioned an older car in particular.
Low octane fuel will manifest differently, depending on the car make. Newer vehicles have a certain type of octane sensor inside the engine, connected to the car's electronics and the car computer. If this sensor reads low octane presence, it will adapt the engine's combustion, and lower the performance of the vehicle in order to avoid damages.
Older cars, on the other hand, do not have this, and low octane rating directly results in bad combustion, which leads to lower horsepower, and you can see where this is going. Additionally, serious damage to the spark plugs can occur if the fuel is extra-low in octane.
By injecting octane boosters into the system, you ensure that none of these unwanted actions happen. The agents inside these boosters raise the total octane level by up to 5%, which maybe does not seem like a lot. But your car does not need a super-high octane rating. The boosters are there to up the octane number just enough so that the combustion can go smoothly. Older fuel can be reinvigorated as well, though time deterioration is solved via a similar, yet different, solution.
Octane Booster vs. Fuel Stabilizer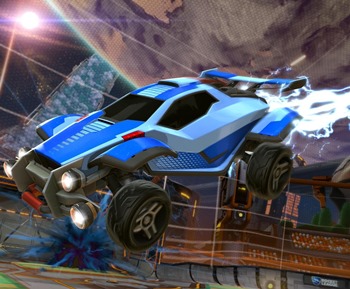 Although you might have heard that they're the same thing, octane boosters and stabilizers have a lot of differences. While they are both technically stabilizing fuel, they both do it in a unique and specific way. The main purpose of these agents is to raise fuel quality, thus providing better performance and engine maintenance.
As we mentioned above, octane boosters tackle the issue of low-potency gasoline. Octane is helping the air-fuel mix reach the acceptable combustion levels by making the mixture fire back in a more stable way. Low octanes cause the engine to misfire, and then your car gets engine knock, which leads to a decrease of horsepower. So, the main purpose of an octane booster is to enhance the fuel itself by raising the number of octanes to an acceptable level.
On the other hand, we have fuel stabilizer reviews which also play an important role in raising the fuel's performance, though through a different system. As you might already know, gasoline fuel has a relatively short life span. Gasoline is essentially a mix of a bunch of organic compounds we have learned to utilize by making it combust. Some of those compounds are octanes, yes, but stabilizers do not affect the octane number.
Stabilizers are there to help old and stale fuel become combustible again. Now, we are not saying old fuel cannot burn, but it certainly does not provide enough 'explosiveness' to get eh engine moving. Stale gasoline often chokes the engine, and through a cumulative effect makes it shut down.
So, a stabilizer will introduce a strain of antioxidants to the mix. These compounds help the fuel break down and ignite better, even if the gasoline sat down in the garage for some time.
To recap: octane boosters bring the RON up and help the fuel reach a certain standard, and stabilizers help revitalize old and stale fuel by making it combustible again (and not affecting the octane number). If the fuel is low in octanes, adding stabilizers will not bring the RON number up, no matter how much you pour in.
Octane Booster & Fuel Stabilizer Combo Mix
There are some mixes out there that offer octane booster and stabilizers in a single solution. These mixes are more potent than boosters singled out and will bring up the horsepower of the engine, all the while keeping it from choking. However, these mixes might not always be necessary. They are used to solve the problem of fuel that is both low in octanes and is stale and/or old.
Keep in mind that these mixes come with a heftier price, but they do solve the somewhat tricky combination of problems. If your regular source of gasoline requires you to buy these combo mixes often, we recommend seriously rethink where you are getting your fuel.
Octane Booster Buying Guide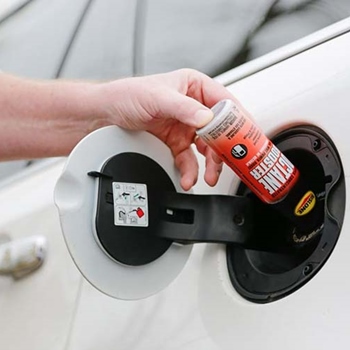 Now that we have seen the benefits and some of the intricate details regarding octane boosters, we would like to step into the section designed to help you pick the correct formula. While there are many competitors on this scene, it is important to remember that not every octane booster is going to fit your car and engine type. Besides, who wants to pay a lot and get minimal results in return.
So, let us jump in into the factors, features and notable things there are about octane boosters. We will also address some caution points regarding these fluids because we value the "better safe than sorry" principle above all. After you are done with the reading and studying about all there is to know, we encourage you to take a look at our top picks in the octane booster reviews section.
1. Compatibility
As fuel additives and car-related chemicals go, you must always be careful about compatibility. There are a lot of booster types, but not a lot of engine types out there. So, before you decide on the type of booster you want, make sure that the formula fits your car's engine.
To find this info, you should always read the full description, or take a closer look at the label.
In case you use the wrong octane booster, technically there are two things that can happen:
You use a booster that is not strong enough. The weak fuel you are trying to enhance will not respond well enough, and the overall performance of the engine will not go up. The booster solution will go through the system alongside gasoline, and essentially will do nothing, except taking the money out of your wallet.
The formula you use is too strong, and it gets the number of octanes too high. In this case, some awkward symptoms may occur, and you will most likely need to drain and throw away the whole gasoline batch from the tank.
As you can see, getting the adequate type of octane booster is paramount, which takes us to our next point directly.
2. Budgeting
Everyone wants a good buy, and want to get the best performance for the money spent. However, when it comes to octane boosters, we would advise against going cheap. This market is saturated with a broad range of prices and formula types. But one thing is for certain, and that is that cheap formulas turn out to cause more damage than they bring to the table.
Low-end formulas, especially if they do not fit the engine type, are known to cause damage from within the combustion system. While these damages can be repaired quickly, no one wants to go through the hassle and pay the extra money down the road.
So, besides finding out which formula suits your car's engine, when getting an octane booster, we think it's important to not primarily guided by price. After all, you decided to invest in your car's performance and maintenance, and taking the cheap path is not the correct way to go.
3. The Package Size
This may also be a part of the budgeting factor. Nowadays, when you look for an octane booster solution, you may find different types of packaging. Ranging from a few fl. oz. to a few gallons, the size directly correlates to the frequency of usage. If you drive a lot and need to have access to high octane fuel all the time, then a large 1-gallon+ package will be enough to suit your needs.
However, some formulas require you to put a lot more fluid in a single batch of gasoline. So, in order to avoid unpleasant surprises, inspect the label and find out how much of the octane booster formula goes in. Calculate the rest based on your driving time.
4. Compatibility with Other Additives
You may or may not use fuel additives on a regular basis, but since you are here, we reckon that you care about your vehicle more than an average driver. We scratched the surface with stabilizers, but there are many more additives out there.
If you happen to add these formulas to the gasoline, you should always double-check how well do they match with the octane booster you want to add in as well. Some boosters are designed to go into the gasoline without mixing with any other additive, and some octane boosters come pre-mixed with a stabilizer. Either way, if you use, or plan to use other fuel additives, makes sure that the octane booster formula you are eying is mixable with them.
How to Use Octane Boosters?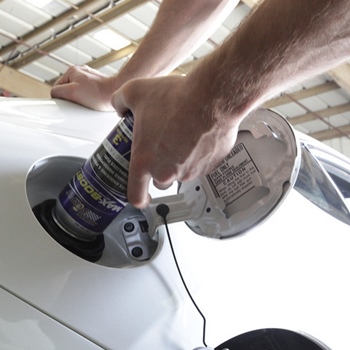 Using the booster requires you only to pour it into the gas tank, which is not a helpful instruction. That is why we have decided to make a checklist of all the things you need to check beforehand while pouring, and after starting the engine. There is no single rule to using octane boosters because once you get a booster into the system, the rest is on your engine and you cannot do much. Here's the checklist of things to look out for when you decide to use octane boosters.
Always make sure that you are getting the right octane booster for your car. If you are unsure of the octane number you need to reach, either look at the car's instruction manual or under the gasoline cap.
Once you get the bottle, read the instructions on the label just in case the manufacturer put on some special steps for you to follow.
Find out the right dosage and measure it in an adequate measuring container. Never use more or less fluid than the manufacturer advises.
Pour the octane booster liquid into the gas tank before you start pouring the gasoline.
Once you are done filling up the gasoline, go for a test drive to see if the engine is responding well.
Use octane booster fluid whenever you doubt the gasoline you buy, or when you need to knock up the octane number for a bit.
Do not keep the container for over a year, because the active particles tend to lose their potency and deteriorate. Keep the bottle someplace dry and out of direct sunlight.
How Often Should You Use Octane Boosters?
There is no strict rule on when and how often you should pour a can of octane booster down the gas tank. The frequency usually depends on your driving habits and the number of places you are getting the gasoline from. If that sounded strange, let us explain.
Drivers that move a lot, and happen to stumble upon more different gas stations, are more likely to pour different quality gasoline into their cars. Gasoline quality varies from station to station, and if your car has an octane sensor, you will be able to notice if the fuel is good enough or not.
Essentially, if you happened to buy gasoline from a lot of different gas stations, you should use octane boosters every time the octane sensor tells you that the fuel is under the wanted standard bar. From there on, it is either – continue to use an octane booster formula or get a better, steady supply of high-octane fuel.
Now, if you are worried that your regular supplier sells low-octane fuel, you can test it out with a single dose of octane booster formula. Take notice of your car's behavior, and see if the engine knocking went away.
Contrary to popular belief, it is not good to pour excessive amounts of octane booster fluid into the gas tank. When it comes to gasoline, more is better, but when it comes to fuel additives, you need to find out the correct dosage. This is the safest way to avoid damages and to save money as well.
Do Octane Boosters Really Work?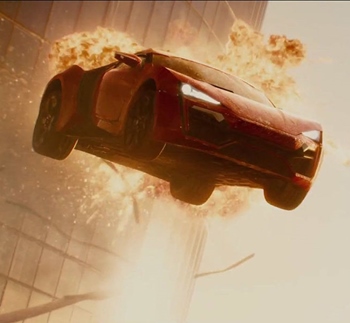 The short and straight answer is yes! Among other additives and maintenance agents, like the best antifreeze or top-rated brake fluids, octane boosters are considered a great help. This goes out especially in the areas that are known for having low-quality gasoline. However, we would like to address this question from another perspective, because it is not there for nothing.
People often question whether octane boosters are legitimately helping or not. They are, but not in a way that you might initially think. People usually get a bottle of octane boosters and think that the car will go faster, or that it will make a drastic change to the engine. So, what's the deal?
Octane boosters will bring up the quality of gasoline up, which in turn affects a large number of other performance stats, though not drastically. You will not be able to go 20 mph using octane boosters only, but you will feel the car working better through other, equally important factors, like:
Bump in horsepower and a slight increase in overall acceleration
Way better fuel economy and a more equal gasoline utilization
Fixing of engine knocking, which saves gas and preserves the engine
Spark plugs will last slightly longer
So, it is important to remember that an octane booster formula is not a magical fluid, but it is there to help enhance the fuel so the engine can use it better during the combustion process. Running a car on low-octane gasoline will eventually start a lot of other serious problems inside the engine. No matter if your car can or cannot adapt to low-octane numbers, you should always aim to match the gasoline octane number which is recommended by engine manufacturer.
FAQ About Octane Boosters
1. What happens if the octane rating gets too high?
We covered what happens when the octane rating is under the norm, but most people do not know what happens when the booster do their job a bit too well. Octanes help the fuel engine combust more slowly and with more overall control. However, if the number of octanes gets too high, the ignition process may get stalled, no matter how strong the spark plugs are.
Firstly, if you want to avoid engine stall and choking of the combustion process, you have to read the label on the octane booster bottle. Find the right amount that should be used with your car's engine type and follow through accordingly. However, if you do happen to raise the octane level too high by adding excess amounts of octanes, you should either drain the gas tank completely and pour a new batch or dilute the existing gasoline by topping off the tank to full.
That is why it is important to use the proper amount of octane boosters, so always be mindful when measuring the dosage.
2. Can I use octane boosters if my car has oxygen sensors?
Oxygen sensors are installed inside the engine, and they measure the levels of gas needed to make the air-gasoline mix that combusts, thus providing movement. The truth is, you never know how the oxygen sensors are going to behave after you use octane boosters because the air-gasoline mix is going to get enhanced artificially, through octane boosting of course.
If you are worried that the sensors might show wrong readings, or send wrong data to the car computer, there is a precaution you can apply. All you have to do is invest in an octane boosting formula that is lab-tested and checked for octane-boosting inconsistencies. More reliable formulas will always have a seal of approval or some form of lab testing verification.
3. Are octane boosters used for race and sports cars only?
It is true that race cars benefit from a high-octane fuel mix. But that doesn't necessarily mean that an average city vehicle must operate on low octane. As a matter of fact, every car can benefit from a little octane bump up. The engine needs to combust in a controlled way, and octane numbers are directly connected to combustion control.
There is also an old myth going around that octane boosting is an illegal upgrade method in some parts of the world. This is untrue, because every gasoline mix in the world has a certain number of octanes, and all you are doing is getting that number a slight boost to help the engine work smoother.
Wrap Up
And there we go. Everything there is to know about octane boosters, without getting way too much into chemistry and engineering. After all, if you care about your car, and we believe that you do, you want to have the best octane booster to help it reach the intended performance. There is always something new you can learn that will enhance your driving experience and overall vehicle functionality.
If you are sure that you understand what kind of octane booster your car needs, feel free to browse our picks in the octane booster reviews section and see which pack could suit your vehicle. There is plenty of choices, so make sure that you understand what you're looking for beforehand. We hope that we managed to shed some light on this subject, and some octane booster myths as well. Feel free to contact us if you have additional questions.
Bonus guide: oil filter reviews