To make sure everything runs smoothly, your oil needs to be as pure as possible, and to achieve that, your car needs the best oil filter. The engine is the heart of your car. But for the engine to work well, it needs some help from lubricating agents, primarily oil.  If you neglect your oil filter, you will end up with particles of dirt and stones grinding on the surfaces of your engine. Soon enough, this will cause leakage, overheating, and finally damage your engine enough for it to stop working altogether.
To prevent this from happening, you need to change your oil filter on a regular basis. To help you with your purchase, we did a lot of research, and finally compiled our oil filter reviews of the best models on the market, and our buying guide to help you make the right pick. Let's get to it, then!
See The Quick Comparison Chart
Benefits of Oil Filters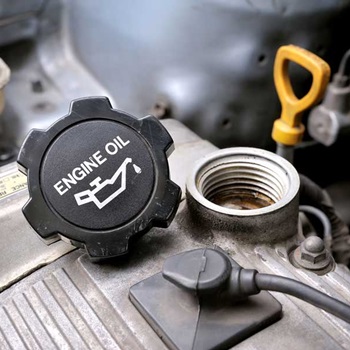 Of course, having a functioning oil filter is necessary and unavoidable. But why should you invest in a higher quality oil filter? Let's take a look at the different benefits that having a good oil filter will bring.
1. Helps Your Engine Live Longer
It's simple – a good oil filter protects your engine from harm. Whether that's oxidation, overheating, or physical damage from particles, the filter is there to make sure the worst of it never reaches the moving components of your car's engine. A filter doesn't only make the lifespan of your engine longer, but it also helps the components move seamlessly throughout its lifetime, giving you more raw power.
2. Slows Oil Oxidation
One of the things that naturally happens to the motor oil in your engine is oxidation. When it oxidizes, oil is an ugly sight. It becomes very viscose, so it flows through the engine at a slower rate, reducing effectiveness. Furthermore, oxidized oil forms sludge and deposits, and it degrades much quicker. All of this makes the oil you use far less effective at its job. That's why regular oil changes are important.
While an oil filter can't completely stop oxidation (truth be told – nothing can), it definitely helps slow the process down. If you feel you're changing your oil way too often, it's likely you simply need a higher quality filter.
3. Prevents Overheating
The purpose of oil in the engine is to keep moving parts lubricated while they're at work. If the liquid doing the job doesn't have sufficient quality, or it has debris and dirt, heat spikes are more likely to happen. An oil filter helps keep your oil in pristine condition before it ever reaches the crucial spots on its path.
Types and Uses of Oil Filters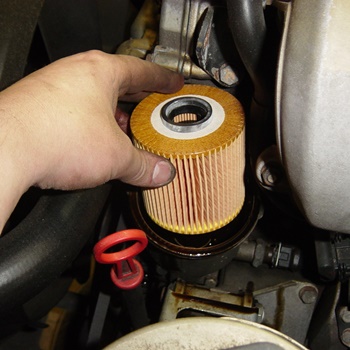 Not all oil filters are created equal. In fact, there are three different types of filters. While they're all made with the same purpose, they have completely different properties and prices. Let's go through some of the most important types of oil filters.
Located inside the usually metal can of the filter, the filter material is what gets the job done. Your oil flows through different types of media, which catches and clears out the contaminants from the oil.
1. Cellulose
Cellulose filter material is the most affordable, so it's widely used, even though it's not as effective at clearing out oil as the more expensive media. Cellulose filters are always disposable, and they can't be washed or reused. These can block the way through to any particle between 8 and 10 microns in size, and they can purify at most 40% of the oil. Cellulose filters are not very durable, so they're ready to be replaced after about 3000 miles.
2. Synthetic
Synthetic filter media is the most commonly used type in today's daily drives across the world. They can trap as much as 50% of the particles in the 20 to 40-micron range, and around 25% of those ranging from 8 to 10 microns. They are much more durable compared to cellulose filters, and they can last between 5000 and 7000 miles.
3. Micro-glass
If you're looking for a product you can leave alone for as long as 5 years, you should look into micro-glass oil filters. These filters use very fine fiberglass mesh to trap impurities. And they're very successful at it since the fibers in a typical micro-glass filter can be as much as 10 times finer than a regular cellulose filter. These rate at 10000 miles, so you don't need to worry about getting a replacement for years on end. Of course, this convenience comes at a higher price.
4. Reusable
Finally, some people opt for a reusable filter instead of a single-use one. These are generally made of stainless steel, and they generally have a rather good micron rating without sacrificing the flow intensity. While they are far more expensive at first, they pay off after a couple of oil changes, and you can keep on using them for much longer than that. The big upside of these is that they are reusable, so you can simply wash them occasionally and reinsert them into your vehicle. Because of that, these don't generally have a common mileage rating, but instead, they last until a part is damaged or worn-out.
Best Oil Filters Comparison Chart
PRODUCT
DETAILS

Mobil 1 M1-110 / M1-110A Extended Performance Oil Filter

Price: $$$
Customer Rating: 4.5
Recommended Mileage: 15000

View On Amazon

ACDelco PF48E Professional Engine Oil Filter

Price: $
Customer Rating: 4.7
Recommended Mileage: 5000

View On Amazon

Royal Purple 10-2835 Extended Life Premium Oil Filter

Price: $$$
Customer Rating: 4.4
Recommended Mileage: 15000

View On Amazon

FRAM XG7317 Ultra Synthetic Spin-On Oil Filter with SureGrip

Price: $$
Customer Rating: 4.5
Recommended Mileage: 20000

View On Amazon

Mann-Filter HU 816 X Metal-Free Oil Filter

Price: $$
Customer Rating: 4.7
Recommended Mileage: 10000

View On Amazon

Subaru 15208AA15A Oil Filter

Price: $$
Customer Rating: 4.7
Recommended Mileage: 6000

View On Amazon

Purolator PL14610 PurolatorONE Oil Filter

Price: $
Customer Rating: 4.5
Recommended Mileage: 10000

View On Amazon
Best Oil Filter Reviews
1. Mobil 1 M1-110 / M1-110A Extended Performance Oil Filter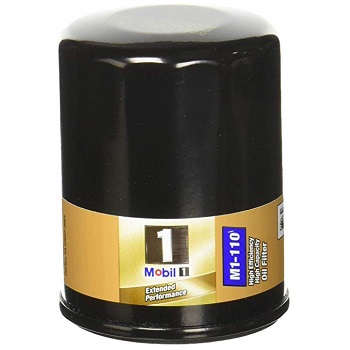 We're sure you've heard about Mobil 1 – the legendary producer of top-notch synthetic oil that's even commonly used in racing vehicles. This company also makes all things lubrication, so for sure, we had to include one of their oil filters on our list. The fantastic M1-110 is a high-quality synthetic fiber oil filter. It is said to remove as much as 99.6 percent of contamination in your oil, keeping your engine safe and sound for a long time. In fact, you won't have to worry about changing this filter with every oil change because it can keep you running for as much as 15000 miles.
You can also opt for the manufacturer's revised and revamped model of the same filter, M1-110A, which is identical to the 110 in dimensions and filtering material but comes at improved durability. In fact, the 110A can last as much as 20000 miles. In fact, this oil filter can hold as much as 28 grams of debris and particles inside of it, making sure your oil is always pristine when it reaches the moving parts of your engine. As a part of the filter, it has a silicone anti-drain back valve, which will help you avoid internal leakage during a shutdown, which can cause dry starts. The best part is that this great oil filter isn't overpriced, and it comes at a rather reasonable price tag for the quality.
Pros
Can last as much as 20000 miles
Premium synthetic fiber material
Cons
Some customers received models with faulty gaskets
2. ACDelco PF48E Professional Engine Oil Filter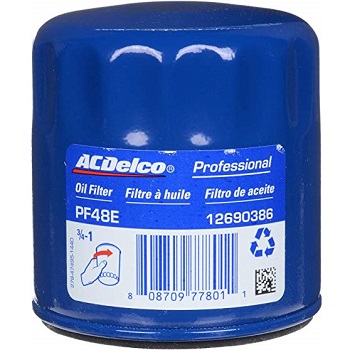 If you're looking for an aftermarket oil filter replacement which comes at the original equipment quality, ACDelco is the way to go. We agree you should go with a reputable brand, and we recommend General Motors' original equipment parts brand ACDelco. The best part is, despite this being OEM, the price for the filter is quite reasonable and even very affordable! This oil filter is filled with high-quality cellulose filtering material, and as such, it can last you about 5000 and up to 7000 miles of carefree driving.
The engineers at ACDelco really put all of their ingenuity into designing this filter. With their main goal to improve the rate at which oil flows and is processed through the filtering material. As such, the filter as 10 times more open area in the core to maximize flow rated at 660 gph, even though the filter itself is around 22% smaller in size. The height of the filter is about 3 inches, the inside diameter is 2.4, and the outside diameter 2.7 inches, with the thread diameter being 0.86 inches. It does have a bypass relief valve, which will help you start your car without worrying about the state of your engine and the flow of cold oil.
Pros
Original Equipment
Rather affordable
Cons
3. Royal Purple 10-2835 Extended Life Premium Oil Filter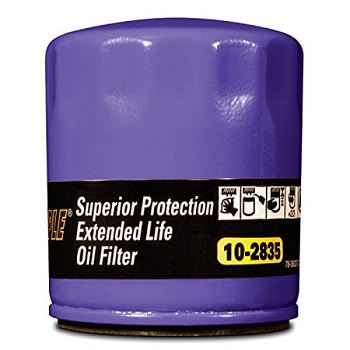 You will recognize the company that makes our next pick as soon as you see the famous Royal Purple color of the oil filter casing. This time, we bring you their 10-2835 Extended Life Oil Filter. And the manufacturer really did go all out to extend the lifespan of this model. When paired with high-quality synthetic oil, you can expect this filter to last as much as 15000 miles. That's because the insides of this oil filter are filled with a synthetic micro-glass filtering medium, which can trap as much as 99% of the particles, which are 25 microns or larger.
You don't need to worry about the smaller particles either since the filter can catch 80% of the particles, which are as small as 10 microns. The filter also comes with rather good flow characteristics, which will supply your engine with ample purified oil at all times. You don't need to worry about dry starts either since the filter includes a high-quality silicone anti-drain bypass valve, which will help your engine stay lubricated even in extreme cold. Finally, the filter has a rather strong metal housing, which will endure almost any burst and crack. However, it is one of the more expensive models we came across, but at the mileage rating, we deem it worth it.
Pros
Great mileage at 15000 when used with synthetic oil
Synthetic micro-glass filter media
Cons
4. FRAM XG7317 Ultra Synthetic Spin-On Oil Filter with SureGrip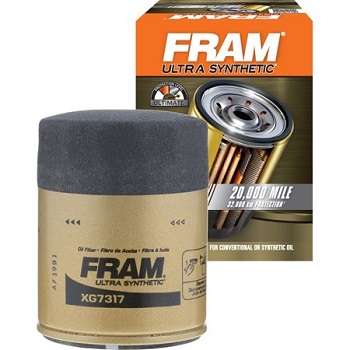 Our next pick comes from Fram, a reputable American manufacturer of high-quality synthetic oil and parts. While Fram oil filters offer a couple of rather good options when it comes to oil filters, we strongly recommend investing a bit more and getting their ultimate protection Ultra Synthetic oil filter. That's because the synthetic media of this filter comes with an additional layer – a metal reinforcement mesh which prolongs the life of your filter for outstanding engine protection.
This type of filtering material can purify as much as 99% of any particles bigger than 20 microns, which will help keep your engine running smoothly for years to come. And in fact, a single Ultra Synthetic filter can last you more than a year, since it's designed to handle as much as 20000 miles. You can use this filter with both conventional and synthetic oil, but the manufacturer recommends using a synthetic type for best performance and durability. The filter also has a handy cap design, which makes it easier to grip, making filter change a breeze. Combined with a very reasonable price, this model is quite hard to beat when it comes to high-performance, durable oil filters.
Pros
Lasts up to 20000 miles
Metal reinforced synthetic filtering material
Cons
The casing is somewhat soft
5. Mann-Filter HU 816 X Metal-Free Oil Filter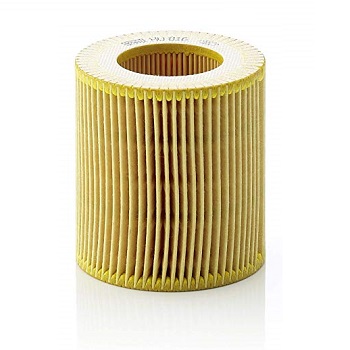 If you ride a BMW, you'll surely want to get an original equipment manufacturer model. In that case, a Mann filter is the best pick. This OE oil filter is made out of the mixed fiber, which will catch and hold any impurities that would otherwise hurt your engine. If you're worried about how this type of filter can affect the environment, you don't need to fret, as the material is fully recyclable. The material is not weak, though, and it will prevent any particle larger than 38 microns from reaching the moving parts of your engine. This mixed fiber filter can get you through quite a long use since the manufacturer rates its mileage at up to 10000 miles.
This cartridge type of a filter is perfect for any BMW engine, and it comes in a high-quality metal casing with rubber gaskets. However, due to the fact that BMW models can have somewhat difficult to reach filter positioning, you may want to take your car to a mechanic for oil filter replacement. The dimensions of this filter are made perfectly for many BMW vehicles, with the height at 79 mm, the inside diameter at 41 mm, and the outside diameter is 74 mm. Considering the longevity and the quality make of the filter, it's not expensive at all.
Pros
Can last as much as 10000 miles
Original equipment for BMW
Cons
You may need a mechanic to replace your filter
6. Subaru 15208AA15A Oil Filter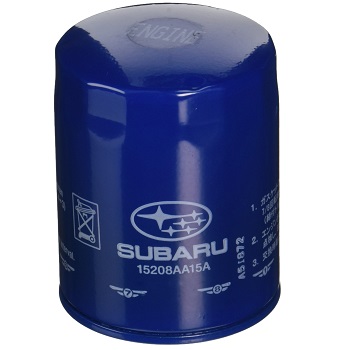 If you're a proud owner of a Subaru vehicle, we have a piece of original equipment for you. This Japanese company makes the parts themselves, so considering the famous Japanese diligence, precision, and attention to detail, this Subaru OE oil filter will surely help you keep your peace of mind while driving.
Your engine will be perfectly safe with this filter, especially if you drive an XV Crosstrek, Outback, Legacy, Impreza, Forester, or a 2019 Subaru Ascent. The filter itself is quite good. It has a good bypass valve system, which will keep your car engine lubricated even in cold winter mornings when your oil gets very viscose due to the low temperature. The manufacturer recommends changing the oil filter after you cross about 6000 miles with it.
Pros
Made with Japanese precision and attention to detail
Original Equipment
Cons
It only fits select Subaru models. Check if your car model is on the list
7. Purolator PL14610 PurolatorONE Oil Filter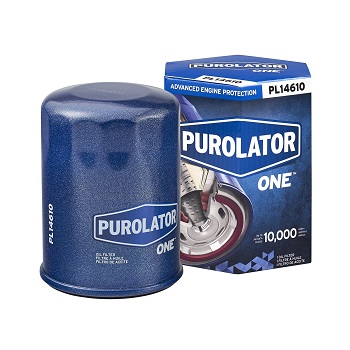 Our next pick is a high-quality oil filter made and distributed by Purolator. The spin on the PurolatorOne filter provides advanced protection for up to 10000 miles. That makes this filter quite durable, letting it protect both your engine and your wallet from untimely harm. The filter material is made out of high-density synthetic blend media, which will catch up to 99% of particles and dirt at 20 microns or bigger, which would otherwise hurt your engine. The filtering material can hold up to 15 grams of debris inside of it before you need to change the filter.
But it won't keep your oil from flowing quickly and effectively – the engineers at Purolator designed a metal center tube shaped like a double helix, which can optimize oil flow and continuously feed your engine with purified lubrication. Even though the model comes with a PTFE coated gasket, some customers experienced leaks. If you need to start your car on a cold winter morning, you don't need to worry about the lack of lubrication since this model comes with a silicone bypass valve, which will prevent any dry starts. The manufacturer recommends using synthetic oil designed for high mileage. The best thing is, this model is reasonably priced, so you can rest assured your vehicle will keep on working at full capacity without draining your savings for it.
Pros
Can last up to 10000 miles and hold 15 grams of debris
Optimized oil flow
Cons
Some models have a faulty gasket
What Is An Oil Filter?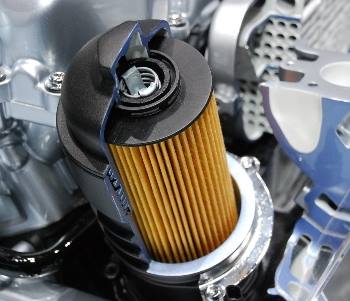 Your engine requires oil to work properly. Oil travels around the engine, lubricating nearly every part of it, and ensuring everything works just as well as it should. Over its work-life, a batch of oil accumulates particles of dust and debris. If these come in touch with the engine, they can stir trouble. That's where the oil filter comes in.
The main purpose of the oil filter is to make sure that the oil exiting the car sump (the oil container) doesn't have any contaminants in it. If it weren't for the oil filter, large pieces of debris may get lodged along the way, blocking a piston or a valve from working as they should.
Since it would be unrealistic to expect a 100% cleanse from a filter in real-time, the filters generally have a threshold for the size of the speck. These are measured in microns. The smaller the micron rating, the smaller the particles that the filter passes through. That is also the reason why your car still requires periodic oil changes. But don't forget about the filter either. As you can imagine, all of those particles have to stay somewhere. Of course, that place is within the filter. Your oil filter can get too clogged if it accumulates too much dirt, and that's when it requires changing.
How Do Oil Filters Work?
We can easily compare the job of an oil filter with the kidney in the human body. Just as the kidneys cleanse your blood, the filter purifies the oil. Of course, the technology is quite different.
The first thing you'll notice about an oil filter is that it most likely has a metal body. With the help of a gasket, it's mounted on the mating surface of your engine. The base plate has a few holes around the bigger, central hole, which should be aligned with the engine block. On the inside, the oil filter is filled with filter material. The most popular choice of filter material is synthetic fiber, but it can also be made of cellulose or micro-glass.
A pump is responsible for circulating oil from the car sump, through the filter, around the engine, and back to the sump. Therefore, the oil filter is the first stop for every single drop of oil. The oil travels through the filter material under pressure, where it's being purified and cleansed by the oil filter.
But there's only so many impurities that can get purified by the filter. After a while, the filter material can get clogged, and that's when your filter needs changing.
Oil Filter Buying Guide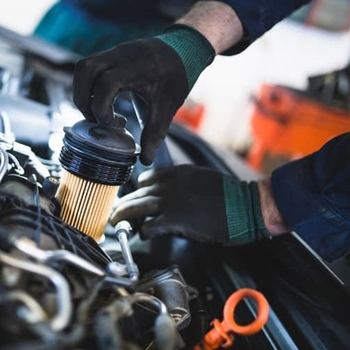 Getting the right filter is not easy. The most important thing to do when searching for the right model is to get one with a good price to quality ratio, but one that matches the dimensions and the type of oil your car uses. All of these and more are important when making your pick. Because of that, let's go through the most important features you should be on the lookout for when getting a new oil filter.
1. Oil Type
Let's get something out of the way straight away – in most cases, all oil types work well with all filter types. However, the two are not always matched up well. If your car's manufacturer specifically recommends a particular type of filter for your vehicle, you should, by all means, follow the advice. The same goes for recommendations of filter manufacturers for pairing with either natural or synthetic oil. Even though it's not a rule, it's definitely best practice to try and match up the quality levels of oil and filter. While all types of filters will be able to work with all types of oil, it's not always recommended to pair up, for example, the more expensive synthetic oil with a low-quality cellulose filter.
2. Filter Size
Oil filters come in different sizes, and it's a must to match the size of your new filter to the filter slot on your engine. The best way to find out exactly what you need is to consult your car's instruction manual.
2.1. Searching online
If you don't have the physical copy on you, your first order of business should be trying to find the PDF version of the manual online. The best way to search for the manual is with keywords, including the model of your car, make the year, and "manual."  So, if you, for example, own a Honda Civic made in 2012, your search should look like this: "Honda Civic 2012 manual", and you will surely find a copy of the manual within the first couple of results.
2.1. Measuring the filter
If you still couldn't access the user manual of your car, or it by some chance doesn't state the dimensions of the required oil filter, don't fret. You can measure the filter yourself. Even though this takes a bit of work and greasy hands, you can do it yourself quite easily if you have all of the required assembly tools.
First of all, you will need to take the filter out. We explained this process in detail in the section "How to Change an Oil Filter" down below. Once you get your filter out, you will need a tape measure or a ruler to make all the measurements you need. Make sure to write them down.
You should measure the diameter of the screw hole, the thread (the most common sizes are 3/4-16, and 13/16-16), the diameter of the filter itself with the sealing area, and the height of the filter.
3. Recommended Mileage
Whichever oil filter you get, it can only last so much. If you're looking to invest in a piece of equipment that will last as much as possible, you should look into the mileage rating of the filter you're interested in.
The most important determiner of oil filters is the filtering material, but the quality of build and make play a part as well. Most cellulose-based filters will serve you well for around 3000 miles, the synthetic ones can go a bit longer at 5000 and up to 7000 miles, while micro-glass filters rate best with their mileages going up to 10,000, and even 20,000 in some high-performance models.
As with anything, the choice of mileage truly depends on your preferred balance of price and quality. However, you can help your filter last longer if you change your oil regularly.
4. Quality Materials
Speaking of durability, the filtering material is not the only thing that counts when it comes to the possible lifespan of your filter. The rest of the materials do as well.
First of all, you should look into getting a filter that has a steel or aluminum can. Some filters are made with plastic parts, and more often than not, these can wear off even before you reach the mileage the filter is rated for. Furthermore, you want the rubber seals to be made of high-quality, high-density rubber to avoid possible leakage and similar problems.
How to Clean an Oil Filter?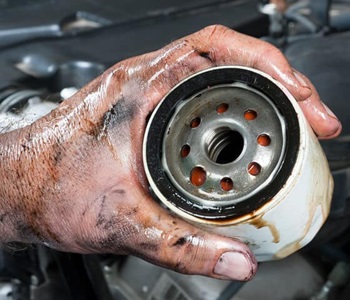 Instead of a regular single-use oil filter, some people opt for reusable models. Typically made of stainless steel, these are a bit pricey upfront, but they come with advantages that are unmatched by other kinds of filters. First of all, you don't need to worry about buying a new filter for quite a long time, and after a few uses, the higher price tag is paid off. They are of very high quality, so you don't need to worry about their durability. Finally, they are much more eco-friendly than other types of filters.
However, when you get a reusable oil filter, you also commit yourself to wash the filter with each oil change. Luckily, the process is not difficult at all. Let's go through everything you need to know about cleaning and regular maintenance of your reusable oil filter.
1. Prepare Your Equipment
Here's all of the equipment you'll need to clean your reusable oil filter:
A floor jack and jack stands
A pan to drain the oil
A multi-purpose wrench (non-threaded)
A top-rated engine degreaser, brake cleaner, or solvent
A bowl, or a surface you don't mind getting dirty
2. Removing the Filter
The first thing you should do in order to remove the filter is to raise your car with the help of a floor jack. You should be able to get access to the undercarriage.
Now, drain your oil. We explained exactly how to do it in the "How to Change an Oil Filter" section down below.
Place your oil drain pan so it can catch any oil that could drip from the inside of your oil filter. Take your wrench and loosen the bolt holding the filter in place. Open the access area and slide the filter out.
3. Washing the Filter
If you have an automobile parts washer, you should follow standard procedures and wash your filter at a low setting.
If you don't have an automated parts washer, you can wash the filter by hand just as well.
Remove the rubber ring and set it aside. Pull out the filter from its can. You can clean the can with warm water or with the same product as the filter, just remove any rubber elements.
Place an empty bowl on your work surface, or work over a surface you don't mind getting dirty. Wear rubber gloves or hold the parts with tongs.
Pour or spray your degreasing product all over the filter. Make sure to also pour it through the hole running through the length of the filter. If you're not sure you got everything out, you can use a pressure washer or a pneumatic tool to force the stuck pieces of debris out.
Make sure your filter is entirely clean and totally dry before you reinsert it into the can, and back into your vehicle.
When and Why Should You Change Your Oil Filter?
1. The Why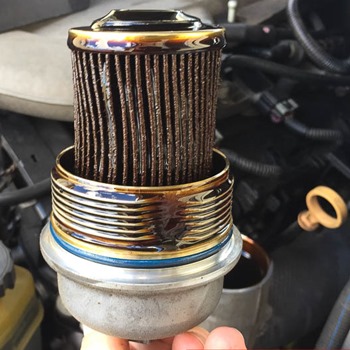 Your oil filter does an amazing job of keeping your engine safe from harm. By filtering the oil that flows around and lubricates the engine, the filter makes sure that no particles of debris or dirt get in touch with the moving parts of the engine, where they could otherwise wreak havoc.
But over time, as the filter purifies the oil, the particles that it catches and traps inside accumulate, and your filter becomes clogged. As a result, the quality of the oil protecting your engine gets lower. As the filtering material gets over-encumbered, the pressure at which your oil flows through the filter gets lower, and also more particles pollute the oil as more and more oil needs to skip the filter entirely in order to keep your engine from overheating. This can turn into a nightmare if it gets out of hand. From oil leaks to engine overheating and engine damage, when an oil filter is overdue for a change, the adverse effects get worse by the day.
In order to protect your engine from damage and keep it running smoothly for the years to come, regular oil filter changes are not only recommended but truly necessary.
2. When
So how do you know when it's the time for a change? There are several ways to make sure you're keeping your engine in the best shape without overspending on unnecessary changes.
2.1. The mileage
The recommended mileage is the first and foremost indicator when your filter might be nearing its due date. It's an important factor to consider when purchasing a filter as well since the differences between different filter types can be immense.
While some may recommend that you change the filter with every oil change you do, this may not always be necessary. If you invest in a high-quality filter that can last over 10.000 miles, there's truly no need to change it once you change your oil at around 5000 miles. While you should definitely have your mechanic check the state of your oil and the filter itself, when it comes to high-quality micro-glass or metal filters, there's rarely the need for a replacement. On the other hand, if you have a cellulose filter, you should definitely change it with every oil change, and it may even make an earlier oil change necessary.
Check the label on your oil filter to find the mileage that the manufacturer recommends. According to your driving habits, this will give you a fairly accurate picture of when you'll likely need to invest in a new one.
2.2. The oil
The most direct way to know whether your oil filter is still doing its job well is to inspect the very product of its work – the oil. To oil filter lookup, you should drain it into a clear, see-through container like a glass tray or bottle and let it cool down and settle. Once the oil settles, you should inspect the bottom of the container to see if there's a lot of sediment-like buildups. If there's a lot of pollution in your oil, or the oil seems darker or thicker than it should be, your filter is due for a change.
2.3. Noticeable problems
The most common effects of an oil filter being overdue for a change are oil leaks and engine overheating. While both can happen for different reasons as well, they do, in many cases, occur due to a clogged filter. Hopefully, you never make it to this stage, but if you do, it's definitely the time to check the state of your filter and get a replacement as soon as possible.
How to Change an Oil Filter?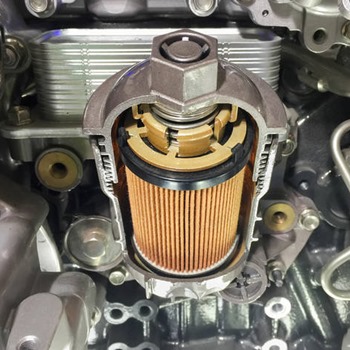 While it may seem incredibly difficult at first, changing your oil filter in your own garage is possible and not that difficult if you have all of the tools. Of course, if you're not apt at mechanic work, you should definitely take your car to a professional. However, if you know some detail about the inner workings of a car, there's really no reason not to attempt the change yourself.
1. Getting Ready
Of course, the first thing you need to do is find out where exactly your filter is located. Some cars have easy access to the filter when lifted on a jack stand, while others require you to take off your wheel, or some other part in order to gain access. Check your car model's official user manual provided by the car manufacturer to find this information.
So, what do you need?
A floor jack and jack stands
A multi-purpose wrench (non-threaded)
A container to catch the oil
A funnel
The new filter
Fresh oil
A clean rag
A set of latex gloves
2. Drain the Oil
Set up your car so that you have access to the oil filter. This may require lifting your car up on a floor jack, or removing a wheel.
Before you can start draining, you should turn on your engine and leave it on for a couple of minutes. This way, your oil will warm-up, which will allow it to drain easily. Don't leave it on for more than 5 minutes, though, since you may risk getting a burn.
Turn off the engine. Get in a position close to the oil cap, and have your container ready. Locate the oil cap. Position the container under the oil cap, but consider that it will flow out at an angle.
You will need a wrench to unscrew the cap, but make sure to only loosen it with the tool and remove it by hand, since this will let you hold onto the cap as the oil starts pouring out.
Let all of the oil come out. To help make the process faster, you can open the oil cap under your hood to let some air into the oil pan.
Before you close the oil cap, take a clean rag, and wipe both the hole and the cap. Close it tightly.
3. Removing the Old Oil Filter
Make sure you know exactly where your oil filter should go, and get in a position where you can easily access it along with your replacements and tools.
Set up your oil container under the filer so it can catch any oil that is stuck inside the filter itself. While the stream probably won't be too strong, the spilling oil can still create a mess if you're not ready to drain the filter as soon as you take it off.
Once you find the filter, you simply need to unscrew it and remove it from its position.
Once you've removed the old filter, you should check whether the old gasket or rubber ring came off with it. Make sure to check the position of the oil filter to see if there's a rubber ring still left. Remove it. If you leave it on, you may not be able to fit the new filter into place properly.
4. Installing the New Oil Filter
Finally, you can get on to installing your new oil filter. Open the box and take the filter out.
Take a bit of oil on your finger. Apply it around the top of the filter and the gasket ring. This way, you can make sure that the new filter will get a good seal and won't leak.
Before you install the new filter, take a rag, and thoroughly wipe the area where your filter goes. You don't want oil residue to build up, or your filter won't be able to work properly.
Now all you need to do is screw the filter into position. In many cases, you only need to screw the filter hand-tight. But in other cases, you should screw it on hand-tight and then screw it another quarter a turn with a wrench. Refer to the label of the filter to make sure how tight you need to seal the filter.
Finally, it's time to fill your car with fresh oil. After you're sure that you've got the right amount in, start your engine and let it run for a couple of minutes. Then, turn it off and check all the vulnerable spots for leaks. If there aren't any leaks, and your car indicator shows everything's ok, you're good to go! Good job!
FAQ About Oil Filters
1. How much effect do road conditions have on my oil filter?
The source of most of the pollutants in your engine oil is the engine itself. However, the outside world has some influence as well. Some of the dirt and particles that pollute your oil actually come from the road. So yes, the dirtier the roads you drive on, the more frequently you'll need to change your oil and filter! But that's not everything that affects how your driving conditions affect the oil. Frequent stopping and starting again, and short drives can get your oil oxidized quicker. Extremely low or high temperatures can affect the viscosity, and so can hauling a lot of cargo behind you on a top-rated hitch cargo carrier. Essentially, there are a lot of aspects that may influence your oil, and thus, your oil filter. If you're not sure if you're due for a change, drain a bit of your oil to check its color, debris, and viscosity, or have a mechanic do that for you!
2. What kind of debris pollutes engine oil?
In most cases, the most common type of debris in oil is metal debris that comes from the working of the engine's moving parts. However, a lot of dirt comes from the bypass valve as well. But most of the dirt appears as a side-effect of the combustion processes that happens when fuel is converted into energy. Even the oil itself can introduce some debris into the engine, especially as it gets older.
3. Is there an oil filter that doesn't require changing?
Sadly, the answer to this question is no. Even though there are reusable engine oil filters available on the market, the reusable filters are quite good, and since they're usually made of sturdy, resistant materials such as stainless steel, they can last for a very long time. However, after a while, even that material will become too brittle to handle the oil flow, or too thinned out to properly filter the oil. So, even with the amazing, groundbreaking durability the reusable models have, we still haven't gotten to the point where we have oil filters that will never require a replacement. Luckily, oil filters aren't really that expensive, and they're a worthy investment since they keep your engine at its peak performance.
Wrap Up
If you feel a decline in your car's performance, you're worried about leaks, or it's simply been a while since you changed your equipment, it's time to change your oil filter. Over time, these filters get clogged up, and they can't supply your engine with the purified, impeccable oil that it needs to run smoothly and seamlessly. But you don't need to go to a mechanic every time you need to get your oil changed and filter replaced. If you make a smart purchase and buy the best oil filter for your car, you can rest assured your car will work like a charm, even if you DIY the replacement.
We hope our oil filter reviews and buying guide answered all of the questions you had about this piece of automotive equipment. If you still feel confused about something, feel free to ask us in the comment box below!
See also: OBD2 scanner reviews