Owning and knowing how to use the best engine degreaser should be considered basic vehicle maintenance. Did you ever find yourself in a situation where you need to pop your hood open to fix or tinker with something, but didn't even want to get your hands near the components because they were so greasy and disgusting? Well, it is time to learn how to properly tackle this issue.
To help you tackle this task, we compiled a list of honest engine degreaser reviews, so you can find the one that meets your needs!
See The Quick Comparison Chart
Benefits of Engine Degreasers
There are many things you need to take care of as a car owner. Especially if you're enthusiastic about having an immaculate ride, there are so many little details to pay attention to, and so many unsightly nitty-gritty parts that may ruin the overall impression your vehicle leaves. Regular engine bay maintenance is one of them. Here are some of the most important reasons why.
1. Higher Resale Value
A shiny, spotless engine bay is one of the telltale signs of superb car maintenance. Think of all the things people inspect and pay attention to when choosing a used car to purchase. Every smart customer will take a peek under the engine bay. The state of the bay shows how much care the original owner took of their vehicle. Showing off a clean bay will leave a strong impression of good, regular maintenance and gentle handling. It may even make the potential customer think the car was used much less than it actually was. On the other hand, there's no better way to deter a customer than a grimy engine bay!
2. Longer Engine Life and Smoother Operation
In fact, regular degreasing and care will ensure longevity and durability of the essential parts of your vehicle. We like to say that the engine bay is the torso of a car – holding all of its vital organs. Because of that, it's important to take regular maintenance of this part of your vehicle. When dirt, grime, and oil build up around your ride's vital organs, they can get in the way of proper functions. Loose muck may find its way into filters and cooling systems, and the oily layer atop of your engine can make it warmer, harder too cool down and more likely to overheat. And while it's not as essential as cleaning the inside of the engine with an octane booster, the outside of the working components of your car should be grime and slime free as well. This will ensure a smooth and unobstructed operation. Longer engine life is the most important objective of any engine degreaser, and our favorites are very effective at fulfilling that mission.
3. It's Ready for Showing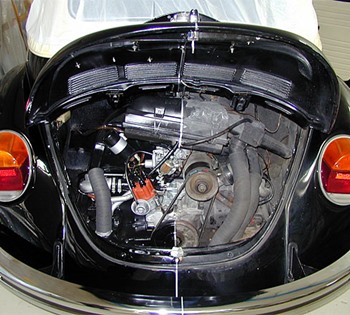 Finally, using an engine degreaser does not only have practical benefits. We know you love your car, and honestly, we do too. Many people consider their daily rides the extensions of their homes, and we couldn't agree more – after all, we do spend an hour or two inside our cars every single day. Being completely honest, this is more than we spend in some rooms in our homes. You maintain your home clean and dirt-free, so why shouldn't you do the same for your car as well? Not only will it run more smoothly, but your car will also look, feel and smell much better. After all, if the situation demands it, you should be able to pop your hood open in front of your relatives and friends without feeling embarrassed about what's in there. Instead, you can flaunt your show-ready car.
Best Engine Degreasers Comparison Chart
PRODUCT
DETAILS

MEGUIAR'S D10801 Super Degreaser – 1 Gallon

Price: $
Customer Rating: 4.5
Volume: 128 fluid ounces
Base Type: Water
Dimensions: 4.4 x 11.4 x 7 inches

View On Amazon

Chemical Guys CLD_201 Signature Series Orange Degreaser (1 Gal)

Price: $$
Customer Rating: 4.6
Volume: 128 fluid ounces
Base Type: Water
Dimensions: 11.8 x 6.4 x 4 inches

View On Amazon

SuperClean Multi-Surface All Purpose Cleaner Degreaser

Price: $$$
Customer Rating: 4.4
Volume: 32 fluid ounces
Base Type: Water
Dimensions: 3 x 4.5 x 11.2 inches

View On Amazon

Simple Green 19128 Crystal Industrial Degreaser 1 Gallon Bottle

Price: $
Customer Rating: 4.6
Volume: 128 fluid ounces
Base Type: Water
Dimensions: 1.2 x 1.2 x 1.2 inches

View On Amazon

WD-40 Specialist Machine & Engine Degreaser Foaming Spray

Price: $$
Customer Rating: 3.9
Volume: 72 fluid ounces
Base Type: Water/Foam
Dimensions: 310.1 x 5.6 x 5.5 inches

View On Amazon

POR-15 40104 Cleaner Degreaser – 1 quart

Price: $$$
Customer Rating: 4.5
Volume: 32 fluid ounces
Base Type: Water
Dimensions: 4 x 2.5 x 9.5 inches

View On Amazon

Oil Eater Original 1 Gallon Cleaner/Degreaser

Price: $
Customer Rating: 4.1
Volume: 128 fluid ounces
Base Type: Water
Dimensions: 7.5 x 3.25 x 12 inches

View On Amazon
Best Engine Degreaser Reviews
1. MEGUIAR'S D10801 Super Degreaser – 1 Gallon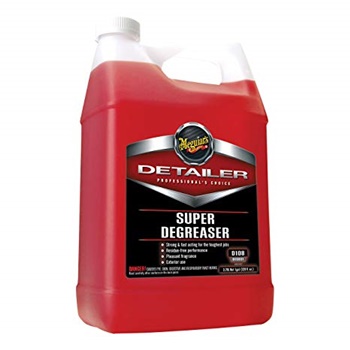 One of the most popular degreasing products comes from the famous car detailing producer Meguiar's. Their Super Degreaser comes in a large 1-gallon bottle, which can last for years because the product is used diluted.
This water-based degreaser is great at tackling a plethora of different car cleaning needs, and you can use it on many different surfaces. You should dilute 1 fluid ounce of the product in 10 ounces of water for lightly dirty surfaces, and 1 ounce of product in 4 ounces of water for very greasy, oily, or grimy surfaces. Because this product is water-based, it dries quickly, so you should wait less than a minute before you start brushing, not letting it dry.
This Meguiar's degreaser does wonders on most parts of your car, and it doesn't leave any marks or tough white residue on the more sensitive parts of your vehicle, like plastic and rubber trims. Even though this degreaser has a rather pleasant smell, we recommend using it with a respiratory or a dust mask, especially if you're washing your engine bay indoors. Overall, this product provides very good performances for a medium-range price.
Pros
The water-based formula can be used to clean any greasy part of your car
This product doesn't leave unsightly white stains on vulnerable parts
Cons
It's essential to use personal protective equipment when using this product
2. Chemical Guys CLD_201 Signature Series Orange Degreaser (1 Gal)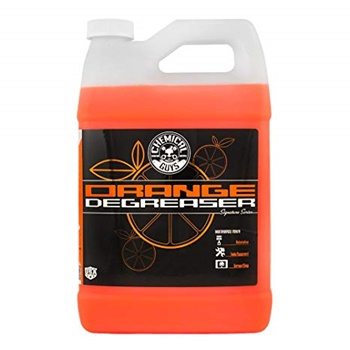 Our next pick comes from the car detailing superstars Chemical Guys. Their Signature Series Orange Degreaser is a popular choice, and for a good reason. Coming in a gallon-size container, this formula is very strong.
The manufacturer recommends diluting it with water at a ratio of at least 6:1 for heavy-duty jobs – 6 ounces of water per every 1 ounce of product. The ratio goes up the less power you need, so it's recommended to dilute the product to a ratio of 20:1 for light-duty jobs. However, for a very tough grease build-up, you may have to use a more concentrated dilution ratio of about 4:1 if you want to remove old layers of grease without brushing.
As the name suggests, the degreasing strength of this product is based on citrus acid, which is rather efficient when it comes to working through oils, grease, and gunk. You can use this water-based formula on many different surfaces, including both the greasy parts of your car or truck such as the engine bay, tires and tire rims, and the undercarriage, but you can also achieve great results cleaning the garage floor or your tools.
Pros
Strong, concentrated formula that can last for a long time
It can be used on many different surfaces
Cons
The smell of this product is somewhat unpleasant
3. SuperClean Multi-Surface All Purpose Cleaner Degreaser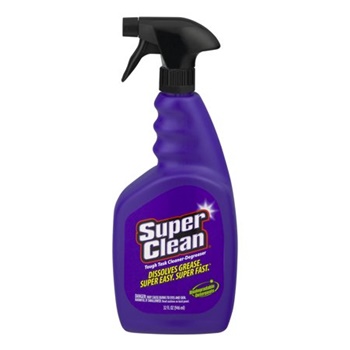 SuperClean is another powerful multi-purpose degreaser that you can use to clean your greasy engine bay without breaking a sweat. This cleaner is rather strong, so for most purposes, it should be diluted.
Coming in a 32-fluid ounce spray bottle, you can use the product as-is for very tough cleaning jobs on your engine bay, and it will quickly cut through grease, oil, and gunk build-up without the need for too much scrubbing. The manufacturer recommends a ratio of 16 ounces water for each 1 ounce of product for light cleaning jobs on vulnerable surfaces like chrome, stainless steel, and plastics. In fact, SuperClean is a rather versatile product that you can use on many different surfaces, even including wood and fabrics.
However, we don't recommend using this engine degreaser spray on your car paint, at least not in solutions with less than 8 parts water to 1 part of the product. Finally, the product does have a strong chemical smell, so use protective gear like dust masks and gloves, especially if you're working with high concentrations of the product. Overall this is a very strong, versatile product that we recommend if you have a lot of gunk and grease build-up that needs cleaning.
Pros
A very strong product that can remove tough grease and gunk build-up without much elbow grease
Comes in a handy spray bottle
Cons
This product may damage your car's paint if not diluted at least 8:1
4. Simple Green 19128 Crystal Industrial Degreaser 1 Gallon Bottle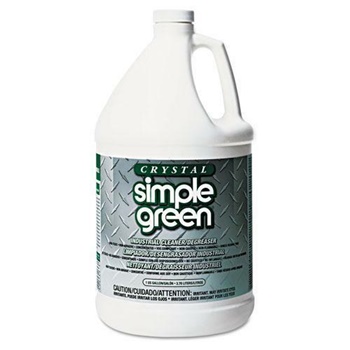 If you're looking for an eco-friendly degreaser that will help you clean your engine bay without ever damaging your health or the environment, Simple Green's Crystal degreaser might be a great choice for you. Coming in a gallon bottle, this degreaser is suitable for nearly any cleaning job.
This gunk engine degreaser is entirely non-toxic, non-hazardous, non-flammable, and fully biodegradable, Simple Green is truly a good pick for those who'd like to go green. There's nothing to fear when using this product, so you can also feel free to clean any surface in your kitchen with this product as well. It is based on water, and the concentrate does not include artificial color or perfume. If you only need to do light, maintenance cleaning, we recommend diluting this product 10:1 with water.
However, for caked grease and gunk on a car engine, you may want to use 1:1, or even undiluted product. The downside of this product is that it isn't very powerful, so tougher grease may require a second application or more elbow grease when scrubbing and brushing. However, if you're looking for a product that won't have you worrying about the adverse effects it may have on different surfaces, your health, or the environment, this is a good choice for you.
Pros
An environmentally friendly product that's biodegradable and non-flammable
Won't damage your vehicle or your health, as it's entirely non-toxic and non-hazardous
Cons
Not as strong as other degreasers, may require a second application
5. WD-40 Specialist Machine & Engine Degreaser Foaming Spray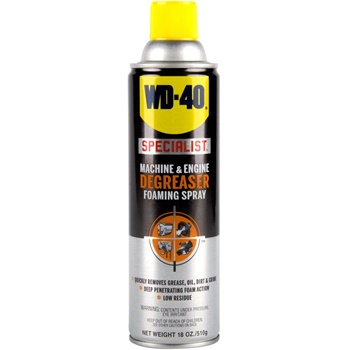 The legendary WD-40 is a household name that has brand recognition and is known for its high-quality, heavy-duty products. This engine degreaser from their Specialist series isn't an exception either. In this package, you will get 4 cans that contain 18 ounces of product each, making it a total of 72 ounces.
The WD-40 degreaser is somewhat different than other products on our list. Coming in a special spray can, this product is applied directly onto the greasy surface. The nozzle sprays the foaming product directly onto the surface, and it can reach up to 5 feet away.
Unlike liquid counterparts, this engine cleaner degreaser doesn't slide down but sticks to the surface instead. This makes it very handy for vertical surfaces, but also for cleaning the nooks and crannies of your engine bay. However, getting the entire surface covered is somewhat tedious. The formula of this product is based on water, but it's still a rather strong degreaser. It may take some scrubbing to get tough grease and gunk build-up off. This product is perfect for you if you don't want to deal with diluting and runny liquids.
Pros
The foaming product that sprays in a stream and sticks to the surface makes it easy to clean vertical surfaces and cavities
The product doesn't have an unpleasant smell
Cons
This product is used as-is, so the four cans don't last a very long time
6. POR-15 40104 Cleaner Degreaser – 1 quart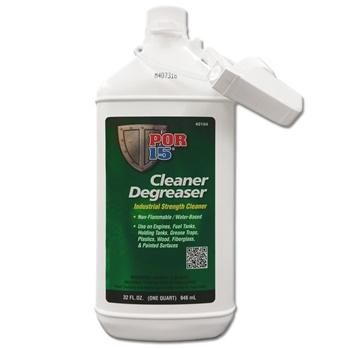 Our next pick comes from POR-15, and their cleaner degreaser (formerly known as Marine Clean) is one of the most powerful ones on our list. In fact, this 32-fluid ounce bottle will be enough for many uses, as the liquid shouldn't be used as it is – you should always dilute it with water.
For engine degreasing, you should dilute it in a ratio of about 1:1, even for tough grease build-up. An interesting tip for cleaning with this formula is to warm it up before use. The manufacturer claims that it is more effective when heated up. We recommend either diluting with warm water or letting the dilution heat up in a bowl of hot water.
The product is suitable for use on many different surfaces, including metals, wood, plastics, fiberglass, and painted surfaces. However, we'd recommend using a dilution with a lot of water for anything other than a very greasy car engine bay and undercarriage cleaning. In general, this formula is very strong, so we highly discourage you from using it without protective equipment. The best way to stay safe is to use it with a lot of water, protected with gloves, eyewear, and a respirator or dust mask.
Pros
Very powerful degreaser that can tackle any grease, oil, or gunk buildup
The multi-purpose formula that can tackle many greasy stains
Cons
The formula is very harsh so it's essential to use personal protective equipment during use
7. Oil Eater Original 1 Gallon Cleaner/Degreaser
Our next pick is one with a witty name – Oil Eater. This gallon bottle of degreaser is by far the most affordable one on our list. This product can be used on almost any surface you need to clean from oil and grease, with a few notable exceptions including glass, soft leather, some sensitive fabrics, and hot aluminum.
When it comes to eating up engine bay grease, this product will, with the help of some scrubbing, successfully degrease diluted with water at a 1:1 ratio. However, it isn't the strongest product on our list. The water-based formula can be used on a plethora of surfaces, and it won't damage your car paint if you rinse it off quickly, not allowing it to dry.
As it doesn't contain any acids, abrasives, or petroleum, it's non-toxic and non-hazardous. It is also completely biodegradable, so it's an eco-friendly option that's good for anybody who needs degreaser but wants to keep the environment safe. Despite its non-hazardous formula, we recommend using protective gear like eyewear and safety gloves when using this product, especially in high concentrations. Overall, this is a decent product with good performances, which is both eco and wallet-friendly.
Pros
The most affordable degreaser on our list
Non-hazardous, non-toxic, and eco-friendly
Cons
Not a very strong degreaser, requires some elbow grease to remove tough grease build-up
What Is an Engine Degreaser?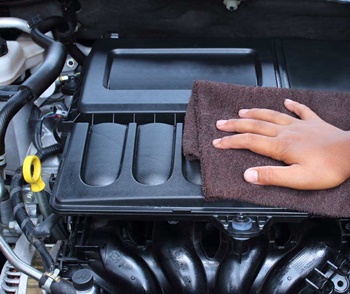 Keeping your car clean requires more than just meets the eye – quite literally. Getting your car washed on the outside is important, but no matter how often you do it, its effects are only skin deep. Your car is a beautifully complex machine of many parts that work together in synchronicity – but in order to be truly clean, you need to wash your car from the inside as well. And we don't only mean the control panel and the seating (though that's important as well).
Of course, what we're referring to is your engine bay. The more often you drive your vehicle, and the older it gets, the more gunk, grease, and dirt accumulate on the vital organs of your car. This is not only unsightly, but it can also cause quite an inconvenience if your engine bay is dirty at the wrong moment. For example, if something goes wrong while you're on the road, you will have to tinker a bit on the spot. And there's nothing quite as exciting as meddling around an oily engine bay and getting black, greasy muck all over your business suit. Luckily, there are ways to prevent situations like this one.
Engine degreasers come to the rescue. These incredible concoctions are liquids which do exactly as their name suggests – they degrease your engine and the elements around it. Based on either water or petroleum, these solutions break down the layers of muck, grime, and oil, and they let you rinse them off your car's insides without putting in any elbow grease, or getting any grease on your elbows at all. Most of these liquids are used in a very simple way – diluted with water and simply sprayed onto the dirty surfaces, brushed up a bit and rinsed with water.
Types of Engine Degreasers
There are many different engine degreasers available on the market. They come at very different prices, and there is also a lot of variety when it comes to the formula. We will discuss some of the differences between the many distinctive degreaser types that you can choose from.
1. Multipurpose VS Specialized Engine Degreasers
The first choice you'll need to make when getting an engine degreaser is between a multipurpose formula and a specialized formula that can only be used to clean your car's engine bay. The type you choose mainly depends on your own needs, and there's no definitive right or wrong choice between the two.
1.1. Multipurpose degreasers
In general, multipurpose cleaners are milder because they need to be suitable for a variety of surfaces. You might need to use a bit more of the product to tackle tough jobs, but on the other hand, you also receive good value because you don't need to purchase separate products for every degreasing job you need to do around your home.
1.2. Specialized engine degreasers
On the other hand, if you already have your preferred cleaning products for your kitchen and yard, or you own one or several vehicles that require frequent cleaning, getting a specialized engine degreaser might be the right choice for you.
2. Petroleum VS Water-based Degreasers
When it comes to their formulas, there are two major types of engine degreasers available on the market – those based on petroleum, and the others that are based on water. The two come with many differences, and both have their respective benefits and drawbacks. In the end, your choice should depend on both your needs and your confidence when it comes to degreasing your car by yourself.
2.1. Petroleum-based engine degreasers
This type of cleaner is based on natural oils – and the first time you use this type of a degreaser, you'll know right away that what you're holding is an extremely powerful substance. They have a distinctive smell and superior degreasing prowess. However, being that this type of cleaner is very abrasive, it can be risky for newbies to use them without the help of a professional. A petroleum-based degreaser does its main task impeccably, without the need for excessive scrubbing. However, this type of solution is very mighty, so it may damage your car paint or surfaces made out of plastic, aluminum, and chrome. Luckily, there are also petroleum-based degreasers that are safe to use on some or all of these surfaces, so you can still reap the benefits of the powerful formula without the typical risks that come along with traditional petroleum degreasers.
2.2. Water-based engine degreasers
If you don't want to take the risk of a petroleum-based degreaser, you can opt for a much milder water-based solution. As you can imagine, water-based cleaners are not always as powerful as their petroleum-based counterparts, so they may require a bit more elbow grease when it comes to brushing the dirt off, though this is not always the case. This type is also much eco-friendlier, and easier to dispose of, and they don't have any adverse effects when rinsed off. You can also rest assured that this type of solvent will never damage your vehicle, no matter which surface it comes in contact with. However, water-based degreasers are generally more expensive than petroleum ones. That is because they have more sophisticated formulas, and it takes more different substances to make them effective.
How to Clean an Engine Using Degreasers?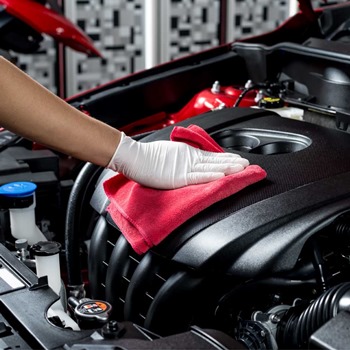 No matter which type of a degreaser you opt for, when it comes to actually do the deed, you'll realize it isn't nearly as hard as it may sound. In fact, making your car's engine bay spick and span is remarkably simple and easy. We'll walk you through the steps.
Things you need:
Engine degreaser
Empty spray bottle (if you're using a soluble kind of a degreaser)
Plastic bags or plastic wrap, and rubber bands or tape
Large, firm bristle brush
Smaller, firm bristle brush
A pressure washer or a garden hose
Protective gloves
Optional gear:
Microfiber towel
A leaf blower or an air blower
Dust mask (if you're using a petroleum-based degreaser)
1. Before You Start
1.1. The location
We recommend cleaning your engine bay under a shelter or, ideally, indoors, in a garage. If that's not possible, choose a cloudy day. This is important because direct exposure to the sun can cause the products on your engine to dry up prematurely. This will do more harm than good.
1.2. Prepare your car
Make sure your car engine is cool. If you were driving, or it's too warm outside, we recommend waiting until the engine has cooled down.
Once you have everything you need ready, you can start. If your plan is to do the entire car maintenance routine the same day, it's a good idea to wash your engine bay first, before you wash your car.
1.3. Cover vulnerable parts
Take plastic bags or plastic wrap. Cover all parts that may get damaged by water or the abrasive substance. The parts you should cover include electronic parts, filters, alternator, fuse boxes, battery, and the distributor cap. Cover these with plastic bags or wrap, and secure with rubber bands or sticky tape.
2. Pre-wash Rinse Off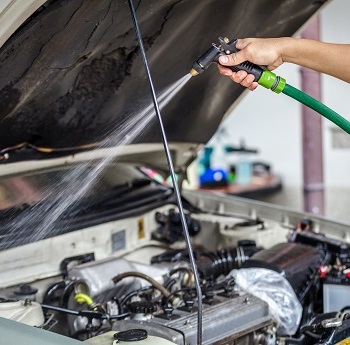 Get your garden hose or a pressure washer for cars. Pop the hood open and gently spray the hood and the engine bay with clean water. This part of the process removes loose dirt and grime. If you do this before using any degreasing products, it will be easier to properly clean your car.
2.1. Work from top to bottom
Whenever you wash any part of your car, it's important to work from the top towards the bottom. In this case, it means washing the hood first and then moving downwards toward the engine bay. Following this rule is important because of the direction in which dirty water falls. If you do otherwise, and for instance wash the engine first and then move to the hood, you can get dirty water falling over your freshly washed engine. This will result in more work for you. Always work from top to bottom!
When working on your engine bay, complete all steps on the hood first. After you're done rinsing and have a squeaky-clean hood, repeat the process on the engine and the other components in the engine bay.
3. Apply Degreaser
Prepare your degreaser. Spray it all over, and use it as much as the manufacturer of the specific product recommends. If there's no specification on how much to use, keep on spraying until the entire area is covered and wet. Let the degreaser dwell for a couple of minutes.
4. Brushing
Once your degreaser had some time to work through the grease, it's time to help break it down with a brush.
Make sure you wear protective gloves, especially during this part of the process. Wearing protective gloves will not only protect your skin and nails from damage that may occur when you come in touch with these harsh chemicals, but it will also ensure you don't accidentally get some of the product in touch with your eyes and mouth afterward.
First, take a large brush with hard bristles. We recommend the kind with a long handle, because of the way components are positioned in the engine bay. Brush over everything well, until you feel that all accumulated grease and filth is loose and ready for rinsing. When working around the components, you can use a smaller, firm bristled brush to reach all the nooks and crannies that you couldn't reach with the large brush.
When brushing, both with a large and a small brush, you should apply light pressure. Don't push too hard, because you can scratch, dislocate or otherwise damage some of the more sensitive components. Instead of putting in heavy pressure, it'd be better if you brushed the same area in several strokes.
5. Rinse-Off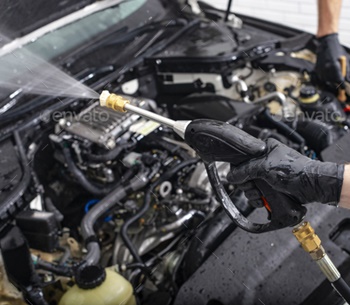 After all the filth is brushed loose, it's time to rinse it off. For this step, you can either use a garden hose or a pressure washer for cars. We recommend using a pressure washer because they use far less water for more effective rinsing, though a hose can do the job sufficiently as well.
If you use a pressure washer, set it to the lowest pressure setting, and use a wide-angle nozzle. We recommend spraying your engine bay at an angle, not pointing the water straight down. This way you can avoid accidental damage.
It's time to get your engine bay dry. You can accomplish this in three different ways: you can wait until it dries on its own, you can blow it dry with an air dryer (a leaf blower will also suffice), or you can pat it dry with a microfiber towel. It's important to get rid of all residual water before you proceed to the next step, or turn on your engine.
6. Detailing
Once your engine bay is as clean as a whistle, it's time to go a step further and make it beautiful, shiny, and well protected.
Many engine degreaser manufacturers offer after-wash treatments as well. These solutions are used for detailing. They will not only add a layer of shine onto your engine bay, but they will also offer additional protection from discoloration, fading, and fraying. Very often, these chemicals have dust and filth repelling properties, which is very useful and it will prolong the life of your engine. This will also put off the next time your engine needs a wash.
Detailing is also quite simple. There are different kinds of detailing solutions, so check the label of your product for specific instructions. However, most of these products are also applied by spraying directly onto the surface, and them buffing them off with a microfiber towel.
When it comes to buffing, professionals disagree on the best practice. Some claim that circular motion is the best way to achieve maximum shine, while others believe that straight lines work better and help you avoid creating swirl marks. Choose the way you think is best.
Difference Between All-Purpose Cleaners and Engine Degreasers
On your search for a great engine degreaser, you will encounter an important choice. You will need to bring a decision between an all-purpose cleaner and a specialized engine degreaser. There's no right or wrong answer when it comes to this dilemma. It really only depends on your specific needs and requirements. So, what is the difference between the two?
1. All-purpose Cleaners
As you can imagine, all-purpose cleaners are made suitable for many different surfaces and kinds of dirt. This means that they must also be somewhat milder. And that's usually the case. However, that doesn't necessarily mean that they're too weak for engine cleaning – you just need to use a bit more elbow grease, and more of the product in the solution you prepare for your engine bay.
These products are suitable for many surfaces. In fact, you can probably use the same product not only for your entire car but also for your kitchen and bathroom as well. Anything that gets greasy or filthy – all-purpose cleaners can tackle it. With this in mind, this type of product is very economical. However, if you already have products you prefer for other uses, or you have the need for a heavy-duty engine degreaser, we recommend a specialized product.
2. Specialty Engine Degreasers
On the other hand, we have a specialized engine degreaser. These products are either petroleum or water-based, and in general, they're much more powerful than all-purpose cleaners. They are designed to successfully cut through tough layers of grease, oil, and gunk. These are specialized products that shouldn't be used on other surfaces, as they may damage them. This rings especially true for petroleum-based degreasers, which also have special requirements for disposal because they're too strong.
Engine Degreasers Buying Guide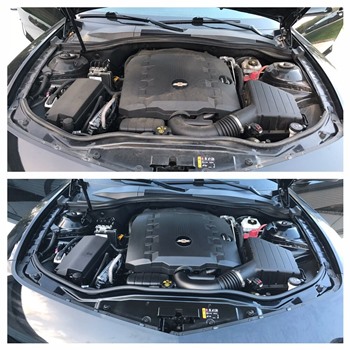 Everybody encounters some oily and greasy spots that need cleaning sooner or later. However, car owners know best how important it is to have a good degreaser at hand. This is especially true if you expect you'll have the need to pop your engine bay hood open, or if your vehicle is in need of repairs around the undercarriage. Not just any degreaser can tackle the task of cleaning oil, gunk, and grease that builds up around the components of a car, so it's important to know what to look for when getting a degreaser for these needs. Let's take a look at some of the essential factors you should take into consideration when choosing the right engine degreaser.
1. Eco-friendly
Being eco-friendly is a huge bonus when it comes to engine degreasers. This type of degreaser is typically made from natural substances, and they include vinegar, castile soap, borax, citrus acids, and similar natural elements. The eco-friendly versions are not only better for nature, but they're usually non-toxic and non-hazardous, so they're also easier to use. That's because degreasers are typically very harsh chemicals that can damage the environment a lot, so they require special disposal methods. Eco-friendly degreasers don't have any special disposal procedures because they're not as dangerous for the environment or the infrastructure.
2. Health Risks
As we already mentioned, engine degreasers can be quite harsh chemicals. That means that they can cause adverse effects on the environment, but on the user also. No matter how much experience you have with using such chemicals, it's important to stay safe. Always wear protective gear when dealing with these chemicals, especially protective gloves, and dust or a respiratory mask. If you're dealing with a particularly harsh formula, or you have generally sensitive eyes, wear protective eyewear as well. Always spray the formula along with the wind, and be careful as to not have the wind spray the chemicals back onto yourself. We'd recommend choosing a degreaser formula that is mild and non-hazardous.
3. Compatible with Various Surfaces
Some degreasers are harsh and they can only be used on resilient surfaces like metal, while others are milder and can be used on various surfaces such as plastic, paint, wood, and even fabric. The multi-purpose degreasers are not necessarily weaker than the specialty ones. They are simply used diluted with water in different ratios suitable for specific surfaces. The dilution ratio your task requires also depends on the toughness of the job you're tackling and the specific product you have. The good side of the concentrated products that get diluted with water is that they typically last longer – because less of the product gets used. However, if you have a very tough build-up, or you expect to use the degreaser only for car engines, you may choose to get a specialized degreaser. However, you should be careful not to get any harsh specialized degreaser on your car's paintwork, as that may result in damage.
4. Doesn't Leave Residue
Depending on the formula, some degreasers will leave white residue on surfaces like plastic and paint. This residue is generally easy to clean, and it typically appears when the product is left to dry for too long or isn't rinsed off completely. In general, the residue isn't a big problem, but you can avoid it entirely by choosing a formula that specifically says it doesn't leave any.
FAQ About Engine Degreasers
1. Can I damage my engine bay using an engine degreaser?
With proper use, you won't damage your car's engine bay or its components. It's important to follow the directions that the manufacturer provided on the label of the product or on its website. The directions usually concern the surface materials the product is suitable for, and the correct dilution of the product. If you use too strong of a solution, you may damage your car. On the other hand, using a mixture that's too diluted won't be sufficient for proper cleaning. Make sure to read the instructions before using a new product, no matter how much experience you have.
2. Can I damage my car's paint with an engine degreaser?
The answer to this question depends on the specific degreaser you choose. In general, water-based degreasers won't do any damage to car paint, while petroleum-based ones have the power to discolor or stain paint. Read the label of your product to see if it's suitable for surfaces like paint.
If the degreaser comes in touch with your car paint, it's important to know what to do. We recommend rinsing the affected area with clean water as soon as possible. Make sure you rinse off all of the products. Once the area is dry, inspect it for any damage. If a problem appeared, you should use a stain remover or car paint polish. The best way to prevent accidents like this is to always have a layer of car wax or car paint sealant on your vehicle. These act as a sort of a sacrificial layer that takes damage instead of your car's own paint.
3. How should I store an engine degreaser?
Just like with most chemical products, it's important to store an engine degreaser in proper conditions to ensure the best performance. Your product should have some details and directions regarding storage, but there are general guidelines you can follow for any product. Keep the degreaser in its original packaging. Close the lid tightly when storing the product away. Store degreaser on room temperature, and keep it away from direct sunlight and sources of heat. We recommend storing it closed inside a cupboard. Keep the packaging in an upright position. Once you're done cleaning your car's engine bay, you should throw away any already diluted degreaser. Never use a product after its expiry date.
Wrap Up
Keeping your car in top shape is not only about taking it for a wash. Cleaning your paint is important, but that is only the exterior of your car. It's important to take care of your vehicle's vital organs as well – so cleaning the engine bay is a must for any car enthusiast. Luckily, keeping these components clean is not rocket science. The best engine degreasers for removing grease, gunk, and filth are readily available, and they're more affordable than ever. On the other hand, they're also very easy to use, so you can also degrease your engine at home (even using a homemade engine degreaser), all by yourself.
We hope we covered everything you wanted to know about this type of a product, and that our engine degreasers reviews helped you find the perfect choice that suits all your needs. If you have any questions for us, feel free to leave a comment below!