Getting the best pressure washer for cars today will help you sport a spotless ride for years to come because – everybody loves a clean, shiny car that glistens in the sun. To achieve that, most people either have to spend hundreds of dollars per month on professional car washes or waste hours upon hours spraying their car with a garden hose. If neither of these options seems attractive, it's time to step up your game and get a pressure washer for your car.
These powerful machines are made to do the job of a garden hose in a fraction of the time, requiring astonishingly lower amounts of both water and effort. With most of the models costing less than a couple of months' worth of car wash treatments, they are also a smart investment for anybody looking to save a buck. Let's see what these washers are all about!
See The Quick Comparison Chart
Car Pressure Washer Types and Uses
Let's take a closer look into the different types of pressure washers, and how they can meet your needs in terms of cleaning power, and the power source they require.
1. By Power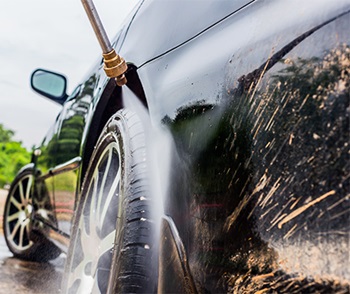 The most important distinction among pressure washers is their power. When it comes to these machines, we measure power in a unit we call PSI, which is short for pounds per square inch. This unit essentially signifies the force with which the washer sprays water. On the other hand, the volume of water used is also important, and it's measured in GPM – gallons per minute.
You can find a large variety of pressure washers on the market, and along with the power source and price, they significantly differ in PSI. The power of available models ranges from barely 1200 PSI to over 4000. And while the range is vast, it's hard to find a pressure washer you can call weak. For comparison, an average garden hose has an output of 40 PSI. As you can imagine, even the weakest among pressure washers are a huge step up if you used a hose to clean your car in the past. Still, considering the vast range of both power and prices, you should consider your requirements before making a final decision. The PSI power you need depends on the surface you want to clean.
1.1. How to look at it
If you're looking for a pressure washer to clean your car with, you won't need one with more than 1500 PSI to do the job well. On the other hand, jobs like driveway cleaning and paint stripping require a powerful washer with pressure upwards of 3000 PSI. However, this is too much for car washing. In fact, you shouldn't go above 2000 PSI when cleaning vehicles, as pressure that high may damage the paint on your car. However, you don't need to purchase separate pressure washers even if you have the need for higher power, as most pressure washers come with a dial for adjusting the pressure.
When it comes to water usage, car owners can settle for anything ranging from 1.4 to 2 GPM. Though 1.4 gallons of water per minute might sound very little, the pressure makes up for the volume. In fact, the 1.4 gallons of water from a pressure washer is used far more effectively than the 10 GPM of an average garden hose. Plus, it's both eco-friendly and great for your water bill!
2. By Power Source
The strong force of a pressure washer has to come from somewhere. You can choose between two types of washers when it comes to the power source. The two big categories are electricity and gas-powered machines.
2.1 Electric
Electricity-powered pressure washers are a good choice for anyone with domestic needs. You can easily do any type of power washing around your backyard, patio, or driveway with one of these units. The only requirement is a power outlet somewhere nearby. In general, electric pressure washers come with long power cords, typically somewhere around 35 feet, so you don't have to worry about reaching the nearest outlet. However, this type of pressure washer is dependent on a power outlet, so you can't use it in remote areas and construction sites.
The weakness of electric pressure washers is that they are generally weaker compared to their gas-powered counterparts. However, most domestic-use pressure washers are electric, since they're suitable for light and medium-duty tasks. Additionally, they're far more lightweight compared to gas pressure washers, due to their lack of a gas tank and combustion engine. This makes them much more portable and easier to maneuver, while simultaneously allowing for more special features and accessories. Finally, electric pressure washers are usually quite affordable.
2.2 Gas-powered
The second kind of pressure washers is the gas-powered workhorses. These powerful machines are generally tougher, bigger, heavier, and more powerful than their electricity-powered counterparts. These heavy machines owe their heavyweight to the gas tank and combustion engine they have on board. Because of this, these bulky washers come with a set of heavy-duty wheels to help you move them around. On the other hand, they don't come with all the bells and whistles of electric models, mainly because they need space for their own powering system.
As you can imagine, the most significant advantage of these machines is the possibility to use them anytime, anywhere, no matter if you're in the city or in the middle of nowhere with no power outlet nearby. Along with their remarkable PSI power and heavy-duty build, that's the main reason professionals prefer the gas-powered models.
However, the greater power comes with an increase in the price tag. These machines are on the more expensive side compared to the electric models.
Advantages of Pressure Washing Your Car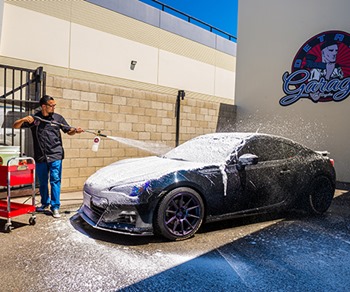 Whether you clean your car every week or only once a month, you'll feel the advantages of getting a pressure washer after the first use. Not only that, but the more you use it, the more apparent the benefits of that investment become.
First of all, you'll save a lot of money. Investing in a decent pressure washer will pay off after less than 10 washes, especially compared to average prices at car wash facilities.
If you're used to washing your car by yourself, but you used a garden hose, you'll additionally save a lot of money, since a pressure washer will slash your water bill. As we mentioned, a typical garden hose uses 10 gallons of water per minute, while an average pressure washer only uses 1.4 gallons. If you only spend 20 minutes spraying your car, you save a staggering 172 gallons of water if you use a pressure washer instead of a garden hose. Not only is this amazing for your budget, but it also counts towards preserving the environment, as using as little water as possible is very eco-friendly.
Convenience all around
Saving all that water sounds too good to be true? You don't compromise the quality of the wash either. On the contrary! Pressure washing leaves your car spotless as it makes full use of the water. Spraying water in a fan-shaped stream is easy to control, yet it has a lot of force to clean even the smallest details. Little pieces of twigs, leaves and other debris are easy to spray off, without the hassle of picking them out by hand. Additionally, most pressure washers come with a system for mixing with detergent, so you don't have to waste time and energy applying soap with a rag and a bucket.
In fact, you'll find it hard to believe how little time you'll need for squeaky clean results. With a pressure washer, you can spray, soap, and rinse in as little as 10 minutes.
Best Pressure Washer For Cars Comparison Chart
PRODUCT
DETAILS

Sun Joe SPX3000

Price: $$
Customer Rating: 4.1
Weight: 31 pounds
Pressure: 2030 psi
Dimensions: 15.6 x 13.5 x 33.9 inches
Warranty: 2 years

View On Amazon

AR Annovi Reverberi AR390SS

Price: $$
Customer Rating: 3.8
Weight: 35 pounds
Pressure: 2000 psi
Dimensions: 16 x 38 x 17 inches
Warranty: 1 year

View On Amazon

Sun Joe SPX3001

Price: $
Customer Rating: 4.1
Weight: 36 pounds
Pressure: 2030 psi
Dimensions: 14.4 x 16.5 x 33.5 inches
Warranty: 2 years

View On Amazon

Karcher K5 Premium

Price: $$$
Customer Rating: 3.6
Weight: 32 pounds
Pressure: 2000 psi
Dimensions: 34.33 x 13.07 x 16.77 inches
Warranty: 2 years

View On Amazon

Greenworks GPW1501

Price: $
Customer Rating: 4.1
Weight: 17 pounds
Pressure: 1500 psi
Dimensions: 11.4 x 17.1 x 9.4 inches
Warranty: 1 year

View On Amazon

Karcher K3 Follow-Me

Price: $$
Customer Rating: 3.5
Weight: 16 pounds
Pressure: 1800 psi
Dimensions: 21.7 x 12 x 12.8 inches
Warranty: 2 years

View On Amazon

SIMPSON Cleaning MSH3125 MegaShot

Price: $$$$
Customer Rating: 3.8
Weight: 55 pounds
Pressure: 3200 psi
Dimensions: 34.75 x 21 x 23.25 inches
Warranty: 5 years

View On Amazon
Best Pressure Washer for Cars Reviews
1. Sun Joe SPX3000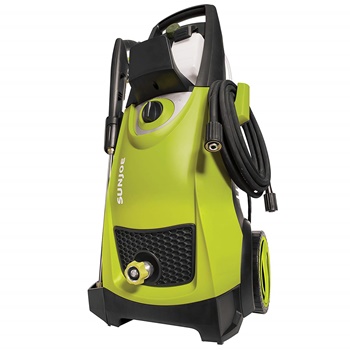 If you're looking for an affordable model that can handle any light or medium-duty job, Sun Joe's got you covered. This popular model is an electric pressure washer that is run by a 14.5-amp, 1800-watt motor. It can output up to 2030 PSI of pressurized water, using only 1.7 GPM. You can easily wash your car with such power. Sun Joe's widely used model comes with a special feature – dual detergent tanks. The two 30-ounce tanks let you use different detergent types simultaneously or one after another, without the hassle of changing the tanks. The model comes with a 34-inch extension wand to help you tackle difficult-to-reach places.
You won't have trouble using it on the far end of your driveway, as it comes with a 20-foot hose, and a 35-foot power cord, giving you a total of 55 feet of length to stretch over from your power outlet to your car. You can use this model for various jobs, as it comes with a standard set of 5 easy to connect nozzle tips, all stored away neatly in slots within the machine. The tips span from 0 to 40 degrees, with an additional foam tip.
This model is covered with 2 years of full warranty.
Pros
It comes with a 20-feet long hose and a 35-feet long electric cord, making it possible to use far away from your power outlet

Quite strong for such an affordable machine

Dual detergent tanks are very useful
Cons
Some users say that the hose connector leaks a bit
2. AR Annovi Reverberi AR390SS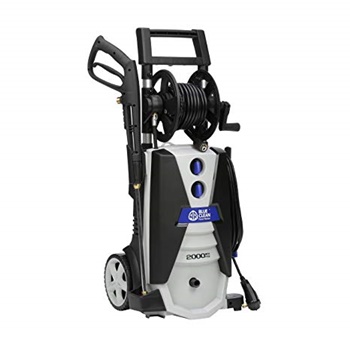 Tough the next model on our list comes from a lesser-known manufacturer, AR, it's one of the most reliable pressure washers we tested. This company is, in fact, a very popular producer of agricultural and industrial washing and diaphragm pumps, but this model is a great addition to any car owner's arsenal. At 2000 PSI, this unit is perfect for efficiently washing your car without fearing you'll damage it. The pressure is created by the powerful 14 Amp motor and a tri-axial pump.
This model requires very little water for impressive results – it only needs 1.4 GPM. You don't have to worry about getting this pressure washer to your car, even if you need to stretch the cords across a large yard. That's because this model comes with a 35-feet power cord and a 30 feet long hose. You don't have to get any equipment on the side as this pressure washer has a very large, 45-ounce detergent tank on board. You will need a little bit more patience when rinsing the detergent off your car, though – this model doesn't come with a 40-degree wide fan nozzle tip. Instead, it has a unique rotary/turbo nozzle which is very useful for cleaning concrete, but we don't recommend using it on your car. In addition, the other nozzle tips this model comes with are the 0-degree, 25-degree, and a foam nozzle tip.
The model is covered with a 1-year-long warranty.
Pros
With a total of 65 feet, the power cord and the hose are very long
This model uses very little water at 1.4 GPM
It's powerful enough to clean a car without damaging it
Cons
It doesn't come with a 40-degree fan nozzle tip which is useful for rinsing
3. Sun Joe SPX3001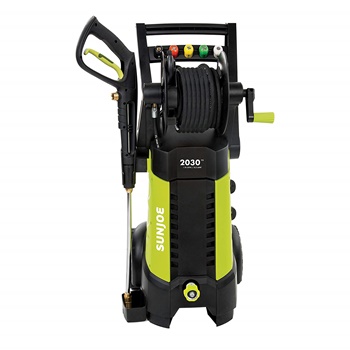 Sun Joe is definitely everybody's favorite when it comes to lightweight pressure washers. So, here we have another model by this manufacturer on our list. At 2030 PSI, this model is a great choice for car washing, but it can tackle tougher tasks as well. This is achieved by a 14.5-amp motor. It comes with a set of five quick-attach nozzle tips, including a 0, 15, 25, and 40-degree ones, along with a soap tip. These let you tackle virtually every power washing task around the house.
Additionally, these are neatly stored above the hose reel. You can count on saving a little bit of water as this machine only uses 1.7 GPM, without compromising the washing quality. You can take this power washer across the yard as it comes with a 20-foot hose, along with a 35-foot power cord. If you still can't reach some hard-to-approach parts, you can use the 34-inch extension wand. This model comes with a 40-ounce detergent tank, so you can jump straight to washing your car once you get this model.
Sun Joe covers their pressure washers with 2 years of full warranty.
Pros
The model is very versatile as it comes with a full set of 5 nozzle tips
With a total of 55 feet of power cord and hose length, you can get this unit far from the power outlet
It's covered with a 2-year warranty
Cons
The hose reel is not very sturdy, but the machine can be used even if this part breaks
4. Karcher K5 Premium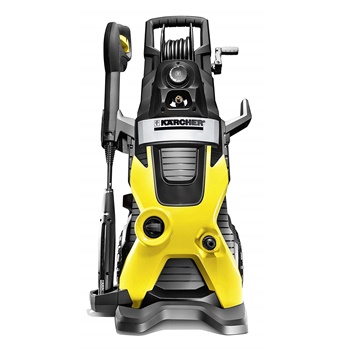 The next model on our list comes from the renown Karcher. This company came forth with a moderate-power pressure washer that's packed full of features. Even though it doesn't come with a standard set of nozzle tips, this model can handle a variety of cleaning jobs around your yard. Instead of standard nozzle tips, it comes with two different spray wands. The Dirtblaster wand is there to tackle tough stains, while the Vario Power lets you control spray pressure at your fingertips. You no longer have to get all the way back to the unit to adjust pressure, although that function is still there.
This pressure washer can produce up to 2000 PSI, and it only uses 1.4 gallons of water per minute. The water serves an additional purpose, as it circles around the motor, cooling it down. This helps the machine endure prolonged use, and it generally extends motor life up to 5 times. This model comes with an onboard detergent tank, which is automatically engaged when used at a low-pressure setting of the Vario Power spray wand. You can drag this model across the yard, as it comes with a 35-feet long power cord and a 25-foot hose.
This model is covered with a 2-year warranty.
Pros
This model is remarkably quiet compared to competitors, even at top PSI
The motor is cooled by water, which gives the machine both an extended work time, and a longer life
It comes with two unique spray wands instead of nozzle tips
Cons
The water connection feels somewhat feeble
5. Greenworks GPW1501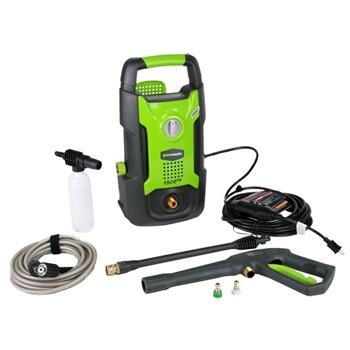 If you're looking for an affordable pressure washer, our next model is a great choice for you. At 1500 PSI, this small model by Greenworks may not be able to clean 10 years' worth of muck from your backyard pavement, but it can do a great job on your car. Compared to other models, this model is eco-friendlier as it uses less water per minute – only 1.2 gallons. This small model is very portable at only 17 pounds. To complement the small frame, you can put this model either vertically or horizontally, depending on your particular environment.
You can stretch the power cord 35 feet from your power outlet, and the water hose is 20 feet long, allowing you to wash anywhere in your yard, no matter how far away. This model comes with only two nozzle tips – the 25 and the 40-degree tip. As it doesn't have a built-in detergent tank, these tips are all you need for car washing. Instead of a tank, this unit comes with a soap dispenser.
Even at such a low price, this model comes covered with a 1-year-long warranty.
Pros
Very portable, weighing only 17 pounds this model is easy to carry
Even at such small size, it has a total of 55 feet in cord and hose length
One of the most affordable models on the market
Cons
The hose connector and the soap dispenser can be a bit leaky
6. Karcher K3 Follow-Me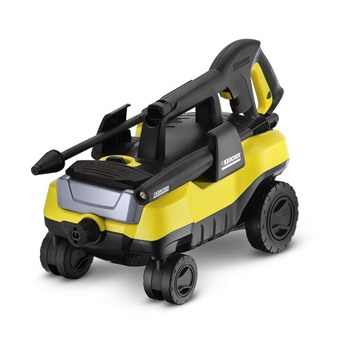 If you're sick and tired of hauling 30-something pound machines, Karcher has a lovely, super-portable unit for you. At only 16 pounds, this four-wheeler will roll behind you wherever you go – and that's why this unit is named Follow-Me. It will follow you anywhere within reach of its 35 feet power cord. The four wheels not only make transport very easy, but it provides additional stability and prevents tipping over which can be a problem with tall-standing units. However, this small machine is anything but weak. With a rating of 1800 PSI, this unit can handle most residential cleaning work. It also uses its water very efficiently, and only needs 1.3 GPM. As with other Karcher units, this pressure washer doesn't come with your standard set of nozzle tips. Instead, this manufacturer provides two unique spray wands.
The first one is the Vario Power spray wand, which lets you adjust water pressure by simply turning the wand. No more hassle of walking back to the unit to change pressure! The other unique wand is the Dirtblaster, which produces a narrow, high-pressure stream that easily handles the toughest stains. The Dirtblaster is quite heavy-duty, so we don't recommend using it for car washing. This model comes with a built-in detergent tank.
Karcher covers their pressure washers with 2 years of warranty.
Pros
The unique 4-wheel system provides easy transport and additional stability
Comes with two innovative spray wands instead of nozzle tips
The efficient 1800 PSI model is very portable
Cons
Some users found the unit's wheel system somewhat hard to assemble
7. SIMPSON Cleaning MSH3125 MegaShot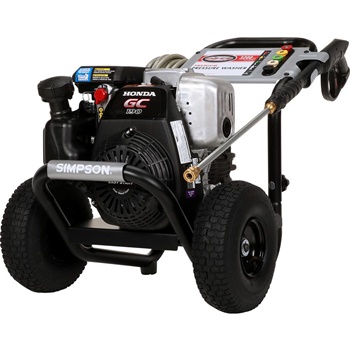 If you don't want to be restricted by power cords, a gas-powered pressure washer might be a good choice for you. It only needs a bit of gasoline and a pull of a string to start running, wherever you are. You can easily haul this model, as it comes mounted on 10-inch pneumatic tires, which are well-equipped to handle its hefty, 55-pound body. It comes with a 25 feet long hose. At 3200 PSI, this powerful model can help you tackle any cleaning job – from a delicate furniture brush-up, through getting your car sparkly, to cleaning tough pavement stains. You can also achieve this with the set of 5 quick connect nozzle tips, including the 0, 15, 25, and 40-degree fan nozzles, and a soap spraying tip.
A prestigious Honda GC190 engine runs this model, so you can expect this model to last for a long time – which is fortunate as it's not the cheapest model on our list. At 2.5 GPM, this model also requires plenty of water, but it pays off in incredible cleaning capabilities.
Simpson covers this model with a warranty lasting 1 year for the pump, 2 years for the engine, and 5 years for the frame.
Pros
This machine is very powerful, using 2.5 GPM of water and creating 3200 PSI
It's gas-powered which means you can use it anywhere, even without electricity
It comes with the full set of 5 nozzle tips
Cons
This model is very heavy at 55 pounds, but it's mounted on heavy-duty wheels for increased portability
What Is a Car Pressure Washer?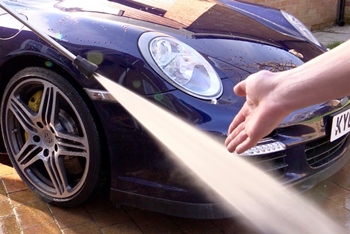 Many people consider their cars an extension of their homes. And just as you'd keep your house clean, keeping your car looking its best should be a priority. However, everybody knows that washing a car takes a lot of time and money, so it's understandable if you don't wash your car as often as you would like to. This is where car pressure washers step in.
To put it simply, a pressure washer is the best friend of anyone who loves having a squeaky clean, shiny car. These machines help you keep your car spick and span for a fraction of the time (and the price) it takes to either hose-wash at home, or take your car for a professional scrub.
Understanding how do pressure washers work can be good before having one of them for washing your beloved car. Pressure washers, sometimes called power washers, are machines that spray water at high pressure. The strong stream lets you remove even the toughest stains from any surface, from concrete, through walls, to vehicles. While pressure washers are not made to clean a particular surface, different models are suitable for different uses, and that mostly depends on the power of the washer, and the accessories you get with it.
The two main measurements you should get acquainted with before you choose a perfect pressure washer for your car are PSI and GPM. These units represent the pressure at which the water is sprayed, and the amount of water sprayed respectfully. We will cover these in-depth in the following sections.
For now, the most important thing to know is that going for the pressure washer with the most force is not an ideal strategy if you're getting one to wash your car. As you already know, car paint can be quite delicate, and along with it, very expensive to touch up. In order to avoid damaging your car paint, you shouldn't wash your car with pressures intended for concrete. Read on to learn more about the ideal pressure washers, and how to use them on your vehicle.
How Do I Choose A Pressure Washer for My Car?
Choosing the perfect pressure washer can be a daunting task. That's because there are so many different choices available on the market, but also because there are many various criteria to consider. We will cover some of the most important things you should take into account when making your pick!
1. What You Need the Pressure Washer for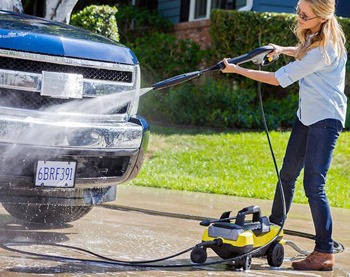 Even if your primary reason for getting a model for yourself is washing your car, don't forget that pressure washers can be put to many uses. If you own a paved driveway, a pool, or another vehicle, you might find that using a pressure washer makes maintenance a lot easier. Don't disregard other possible uses, even if you mainly wish to invest in a quick and easy way to keep your car spick and span. It would be best if you got a pressure washer that is versatile enough to take care of any of your needs.
For example, if you hope to get a machine that can wash both your car and your front porch, it's important to get a model that has adjustable PSI. That's because cars require lower pressure of up to 2000 PSI, while you'll need something more powerful to wash off the long-overdue sludge from the pavement. On the other hand, if you only need to wash your car, but you're also eco-conscious so you'd prefer to go green and save some water, you should look for a model that has a low GPM (gallons per minute) rating. Consider the various needs or preferences you might have before you make your final decision. That's the only way to be truly satisfied with your purchase for the years to come!
2. Where You'll Use the Pressure Washer
We won't lie – pressure washers can be hefty, powerful and loud. They are, after all, made to spray water out at high speeds and remove the toughest of stains. You should consider the location you'll mostly be using the machine for several reasons. First of all, gas-powered models should under no circumstances be used inside, because breathing in the fumes they emit can cause serious damage to your health if used without heavy-duty air ventilation. So, if besides washing your car you also wish to clean your garage floor from time to time, it's much safer to opt for an electricity-powered model. These can safely be used inside.
However, if you want to wash your car in your driveway or even out in the street, you need to make sure the location isn't too far away from an electrical outlet and your water supply. Make sure that the model you choose comes with sufficiently long cords, or that it can be plugged into an extension cord. You should also get a wheeled model if your usage location is far away from the place where you'll store your washer, so you don't have to trouble yourself with carrying the hefty machine. Furthermore, power washers can be quite loud, so it's important to get a quieter model if you have irritable neighbors or you plan to use the washer inside. In general, electric pressure washers create less noise compared to gas-powered ones.
Car Pressure Washer Buying Guide
Choosing the right pressure washer for your car is not an easy task. There are so many factors to consider, and the market is saturated with feature-rich models. In order to help you navigate this complex task, we compiled a list of the most important features to look for.
1. Power Source
As we mentioned earlier, the most important difference among pressure washers is the source of power it utilizes to run. The main division is to electricity-powered and gas-powered models. Of course, the main difference between them is that electric models require an electric outlet nearby, while you can use the gas models practically anywhere, from urban areas to the wilderness. But that is not the only difference.
In general, gas-powered pressure washers are stronger, and they are capable of outputting a higher pressure. However, they're also much louder, so they might not be suitable for use at home if you have irritable neighbors. Furthermore, you should never use a gas model inside, as they emit carbon monoxide. Finally, gas-powered units frequently weigh more, as they need to have a combustion engine on board. Electric pressure washers are quieter, safe to use indoors, and very portable, though they're encumbered with a power cord. Even though they're weaker, electric units typically reach a higher pressure than needed for a car wash.
2. PSI – Pounds per Square Inch
The main measurement unit you'll come across when researching pressure washers is PSI – pounds per square inch. PSI tells you how powerful the machine is – the higher the number, the stronger the water pressure. However, it's not a good idea to simply get the machine with the highest PSI rating. In fact, it's quite easy to damage your car if you spray it with a pressure that's too high. The ideal range for car washing is between 1500 and 2000 PSI.
3. GPM – Gallons per Minute
Another unit you should look out for is the GPM rating of a pressure washer. This unit tells you about the amount of water the model uses, and the abbreviation stands for 'gallons per minute'. Of course, this unit is tightly related to the pressure at which the water is sprayed. In general, you can expect a 2000 PSI pressure washer to use between 1.3 and 1.8 gallons of water per minute. In the case of pressure washers, more water doesn't necessarily mean better cleaning, although it does play a part. However, if you've been using your garden hose to wash your car until now, you'll notice the dramatic difference that using a pressure washer will have on your water bill. That is because an average garden hose uses approximately 10 GPM. In comparison, pressure washers are remarkably eco-friendly, while also leaving you with better results.
4. Detergent Tank
As with many cleaning jobs, a car wash can be divided into three basic steps: get the car wet, apply soap, and rinse. Pressure washers typically come equipped to do all of these tasks, albeit in two different forms: with a detergent tank, or with a soap dispenser. A detergent tank is a built-in part, situated somewhere on the main body of the machine. Soap dispensers and foam cannons are accessory pieces attached to the end of the hose, and they can also be attached to pressure washers with detergent tanks. Typically, soap dispensers are smaller than detergent tanks, so they can hold less liquid. However, it's not very likely that you'll need to refill an average soap dispenser when washing a medium-size car.
5. Nozzle Tips
Nozzle tips change the way the water comes out of the hose. These small attachments adjust the shape of the stream coming out, letting you adapt your pressure washer to the task at hand. There are many kinds of nozzle tips, but many manufacturers stick to a set of 5 specific ones, which are also labeled with a standard set of colors. These are:
5.1 Red for a 0-degree opening
This nozzle tip lets out a direct, straight jet of water. This stream is very powerful, and the pressure of water is not dispersed at all because it doesn't fan out or spread at all. This nozzle tip is used for very tough tasks, like removing paint or rust from strong surfaces like concrete. Since this nozzle tip blasts water in a straight line, the impact area is very small, making cleaning with this tip very time-consuming. The red nozzle tip is rarely used and should be used with caution. The powerful stream of water it lets out may damage your car paint, or end up in injury if you're not careful.
5.2 Yellow for a 15-degree opening
The yellow nozzle tip lets the water out in a narrow fan shape, with angles at 15 degrees. When water is sprayed in this shape, the pressure disperses. That means that the further away you are from the surface you're cleaning, the less pressure you're hitting it with, but you're covering a wider surface. The 15-degree tip is usually used for detailed cleaning of tougher stains like you'd do to prepare a surface for painting.
5.3 Green for a 25-degree opening
This is the most commonly used nozzle tip for household chores, like driveway and patio cleaning, and car washing. This nozzle tip creates a moderately wide fan shape, which lets you clean a greater area while retaining high pressure. When washing a car, we'd use this nozzle tip for a pre-detergent rinse.
5.4 White for a 40-degree opening
This wide fan shape is a good choice if you need to cover a great area that's only lightly or moderately dirty, as it lets out a gentle stream of water. This nozzle tip is a great choice for rinsing the detergent off your car.
5.5 Black for applying soap
The black nozzle tip is somewhat different and generally larger than other tips. Its exact size varies, but it's most commonly 65 degrees. This nozzle lets you spray detergent from the detergent tank directly onto your car.
How to Clean Your Car with a Pressure Washer?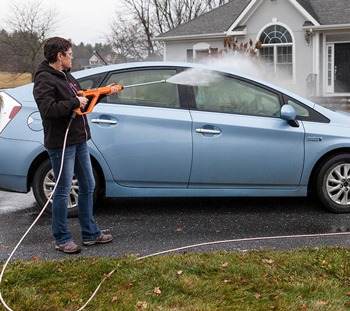 Once you have your pressure washer on hand, you can follow these simple instructions, and make your car sparkle in a jiffy!
Let's make you ready for washing your with a pressure washer.
1. Setting Up
Pressure washers are not difficult to set up. The first order of business is getting the washer outside, somewhere near the spot where you're going to wash. We recommend choosing an open space with a hard surface like pavement. If you wash your car on gravel or soil, you could get stones or dirt sticking right back onto your car after the wash. Connect your pressure washer to the water and power supplies.
2. Pre-wash Rinse
The first step of a successful wash is a good rinse. The goal is to spray off any debris and to get your car wet. Make sure that the car trunk and doors are well closed, and your windows rolled up. Set yourself up around 5 feet away from your car, and come closer to it as needed. Set your washer to spray at 2000 PSI or less. Choose a wide, 25-degree nozzle tip (this tip is usually green colored) for a strong stream that can remove bits like stones, insects, and mud. You should do this as thoroughly as possible, as any leftover stone or twig may scratch your car paint while brushing later on. Start spraying at the roof, working your way down, towards the trunk and the bumper. Finally, rinse around your tires and hubcaps thoroughly, making sure you don't spray the dirty water upwards.
3. Soaping
Once you've rinsed the debris like stones and twigs from your car, it's time to bring back shine to your car. The form of detergent you use mainly depends on the type of pressure washer you have – some models have special detergent compartments, while others require a foam cannon. You should get a designated pressure washer detergent, as these are designed to work well when sprayed at high pressures. Make sure to dilute the detergent with water, in accordance with the manufacturer's instructions you can find on the detergent label. If you're using a model with a detergent compartment, once you fill it with the soapy solution, simply attach the foam nozzle tip (usually black colored), and start spraying.
If you're using a foam cannon, fill the canister with the diluted detergent, snap it onto the washer, and you're ready to go. Start spraying your car with foam from the top, moving downwards. Allow the detergent to work for a couple of minutes, but don't leave it to dry. You can, then, use a soft brush or cloth to manually clean any especially dirty areas, or brush your car to perfection.
4. Rinsing
After the detergent has done its work, it's time to rinse your car to reveal its new shine. For rinsing, you can either use the green, 25-degree nozzle tip, or the white, 40-degree one. Switchback from the detergent program to using plain water on your power washer. Rinse your car from the top downwards. If possible, do this at a 45-degree angle, so that soapy water slides off smoothly. Keep on spraying until you don't see any foam left on your vehicle. Once you're done, you can use a soft towel to dry your car, or simply leave it to dry in the sun. After it's completely dry, you may apply car wax for that extra glitz. Finally, you can show off your shiny car.
Safety Tips for Car Pressure Washing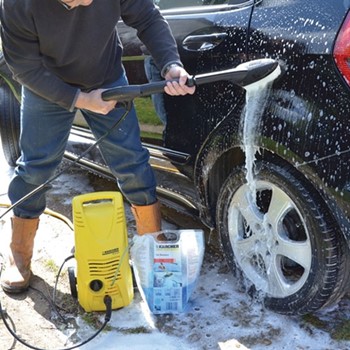 Pressure washers are powerful tools, and they're made to do tough washing that a simple hose cannot do, like peeling boat paint and cleaning years-old dirt from concrete. Because of this, it's important to beware of improper use. If you're not careful when handling a pressure washer, you may damage your car and your surroundings, or even injure yourself or somebody else. However, injuries, damages, and accidents are entirely preventable, if you follow the manufacturer's user manual and pressure washer safety tips.
1. Aim down when turning the machine on
Keep the pressure washer wand pointing downwards until you're sure you feel comfortable handling the pressure. Make sure you're not standing around anything you don't want to get wet, or that's easily breakable.
2. Gas-powered washers are for outside use only
Don't use any gas-powered pressure washers in an enclosed space, especially if it isn't well ventilated. Gas-powered models need to have a combustion engine in order to run, and these engines emit large amounts of carbon monoxide. When inhaled, carbon monoxide can result in headaches, dizziness, and nausea. Electric pressure washers are safe to use inside, but make sure that around you there aren't breakable items or things that shouldn't get wet.
3. Avoid using a pressure washer at heights or on a ladder
It's easy to forget how powerful pressure washers can be – but we also call them power washers for a reason. The force of a washer can easily kick you back, making you lose your balance and fall from a ladder. If you need to clean a hard-to-reach area, you can use an extension lance or similar attachments.
4. Ensure your electricity is safely contained
Combining water and electricity is always risky since water is a great electricity conductor. To avoid electric shock, make sure any of the electrical cords are in good condition without exposed wires before use. Under no circumstances should you spray an electrical outlet. Consult your user's manual to check if it's safe to plug your pressure washer into an extension cord.
5. Select the correct nozzle tip and PSI
In order to keep both yourself and your car from damage, make sure to start from a lower PSI and raise slowly. Cars should not be sprayed with a setting higher than 2000 PSI, and you should never use the 0-degree, red tip on a car. These narrow nozzle tips create straight, powerful streams that are used to peel adamant stains from concrete. Just like with PSI, it's safest to go from the widest and narrow down the stream when you need to. Remember – white is the widest, then green, followed by yellow and red.
Following these tips, and making sure you read and obey the use guidelines provided by the pressure washer manufacturer will ensure safe and happy use of the machine for years to come.
FAQ about Car Pressure Washers
1. How should I take care of my pressure washer?
The exact maintenance needs differ among manufacturers and specific pressure washer models. Usually, you can find the maintenance details for your specific model in the user manual provided by the manufacturer.
However, there are some general guidelines to follow for electric washers. After every use, rinse the detergent tank. It would be good to let the water run through the unit for a minute or two. Then, unplug the washer and set it to low pressure for the next use. Disconnect and drain water from all external components, the pump, and the hose. Remove any debris you can see, especially around the cooling vents. Store the machine in a dry area, protected from extreme weather and temperatures. If you notice unusual sounds and smells, or otherwise think the machine is behaving strangely, turn off and unplug the machine. Contact an authorized repair shop or the manufacturer's customer support.
2. Can I damage my car with a pressure washer?
Pressure washers are powerful machines, so there's always a chance to do some damage with it. If used improperly, you can damage your car's paint, break a glass, or even leave a dent in the vehicle. And while accidents can always happen, there are steps you can take to prevent damaging your vehicle, or even worse, injuring yourself or another person.
First of all, always start running your pressure washer with your spray wand pointing towards the ground, facing away from any nearby object or person. If your model has adjustable pressure settings, always start running it on the lowest setting, and gradually increase as you go. Don't get very close to the surface you're cleaning – in general, stand around 5 feet away from the object you're washing to avoid damaging it. Finally, make sure you're always using the correct nozzle tip for the task at hand. For more specific information, read the user manual that the manufacturer provided to make sure you get the best out of your pressure washer.
3. How much water does a pressure washer use?
It's very intuitive to think that pressure washers use up a large amount of water. It seems like that because these machines leave you with impeccable results in a short amount of time, even without detergents and chemicals. However, compared with the everyday garden hose, a pressure washer is a great investment that will help you cut down your water bill.
In fact, a typical garden hose uses up to 20 gallons of water per minute of spraying. On the other hand, a pressure washer uses only 2 gallons. But this is not even the only important thing to take into account. In fact, pressure washers clean surfaces much faster due to the power at which the water is blasted. What would be a 20-minute job with a garden hose can be done in only about 5 minutes with a pressure washer. Because of this, you'll not only save a fortune on your water bill, but you'll also contribute to saving water and preserving the planet.
Wrap Up
If you drive frequently, you know that your car can become a part of your home, as much as any room in your house is. Because of that, keeping your car clean and presentable is imperative if you want to feel good spending a good chunk of your day in it. However, every car owner knows that washing your car every week is not only a hassle, but it can get quite expensive with the time. Investing in the best pressure washer for cars can be a lifesaver, but it also helps you save both money and time.
We hope you found out everything you were wondering in our pressure washer reviews and guide. Our goal was to create a comprehensive, reliable cheat sheet about this type of a machine that anyone can refer to. However, if you still have something to ask, feel free to do so in the comment section!