Let's be real for a moment – only the best car paint sealants can help you keep your car looking its best for a long time. On a daily basis, there are many things that can damage your car's exterior, both on the road and while your car is parked. Sooner than you think, your new car can start looking old and worn-out. So, what can you do? There is a way to prevent the effect that scratches, rain, UV rays, road salt, bird droppings, and many other contaminants can have on your ride – applying an additional layer of protection.
Read on to learn everything you need to know about these products and pick the perfect one for your car from the car paint sealant reviews. It's time to learn the basics of car maintenance and take control of your vehicle!
See The Quick Comparison Chart
Do You Need A Car Paint Sealant?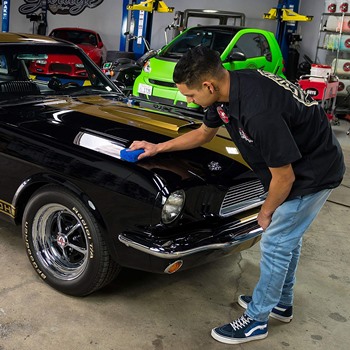 Some people are fortunate enough to own cars that are intended for shows, and not for riding. These cars can stay in a garage, sheltered from damage, most of their lifetimes. That's exactly why they stay in pristine condition for decades on end.
However, most people have cars for their practical purpose. These vehicles are there to take you wherever you need to go. In the meantime, they wait for you, parked in many different places, inside or outside. Both parked and while in use, daily rides get damaged, and that's simply a fact of life. Unless you keep your car inside a garage, under strictly controlled conditions, your car will eventually get damaged. The first to go is the outermost layer, the metaphorical skin of your car – its paint.
Both during a ride and while parked, your car is exposed to a plethora of pollutants and contaminants. These range from the obvious ones, like bird droppings and rain, to some that you may not notice, like UV rays and road salt. All of these factors, along with many others, result in your car looking damaged, worn out, and old much sooner than you would think it would happen.
More Common Than You Think
It's a story that we've heard a thousand times – after only half a year, sometimes less, a brand-new car has already lost its shine, and the owners can't figure out why. The truth is very straightforward and simple – these people didn't take the necessary steps to prevent the car paint from getting damaged. Young drivers are especially susceptible to this – they know they need to wash their vehicles, but they don't know that they must take additional steps to protect their new ride, or it will soon seem a lot less shiny.
The remedy for this problem is, of course, using a car paint/auto sealant. This product is designed to provide an additional, sacrificial layer to your car's exterior. It won't ward off twigs and insects, but it will prevent them from affecting your car's paint.
So, if you never take your car out of the garage, or you like the worn-out, rustic look of a scratched car, you don't need a car paint sealant. However, if you'd prefer to have a ride that stays shiny and slick for a long, long time, you most definitely do!
Benefits of Paint Sealants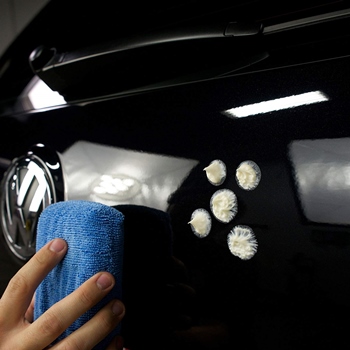 Whether you want to have your car washing and detailing done by a professional, or you'd prefer to do the job yourself at home, you should consider getting treatment with a paint sealant. There are several reasons for this, and virtually no drawbacks, except for the small amount of money and time it takes to get it done. In this article, we will mention only the most important benefits of getting your car paint treated with a sealant.
1. Serves as a Protective Layer
The most direct benefit and the main purpose of having your car treated with a sealant are that it provides your ride with protection. When you apply a sealant and let it cure, it sits on top of your car's paint in a thin, but powerful layer. This layer is there to take all the afflictions of day-to-day wear and tear that every car experiences. In a way, the sealant is a sacrificial layer that takes all of the scratches, smudges, stains, and bruises that would otherwise end up damaging the car's paint. This includes many things that affect your car both while driving and when it's parked.
For example, the factors that may damage your paint include the elements like rain and snow, sun's UV rays, road salt, insects and bird droppings, oxidation, and scratches from various sources like twigs, rocks, and even rough car washes. All of these (and many more) can affect the way your car looks and feels, especially in the long run. Always having a layer of a car paint sealant is the most successful way to ward off and protect your car from these factors. With a car sealant, you can rest assured your car's paint will stay in pristine condition for years to come.
2. Returns Shine to Your Car
No matter how well you take care of your car, after a while it simply won't be as shiny as it was when you first set your eyes upon it through the dealership display window. Even a short ride will get dust, water, mud, and twigs all over the paintwork. After a while, your car will not be as shiny as new, even right out of a car wash.
Car paint sealants help bring out the shine in two ways. First of all, they will protect your paint, so that it can stay slick for a longer time. However, it will also smooth out the surface of the paint when it's applied. A sealant helps reduce the visibility of existing scratches by making their edges softer, thus making the exterior of your car seem glossier. Sealants have this effect because the additional layer makes light bounce off of the surface smoother, without getting redirected by sharp edges of scratches and swirl marks. This way, a sealant not only preserves your car's original beauty, but it also adds a bit of shine.
3. Reduces Maintenance Costs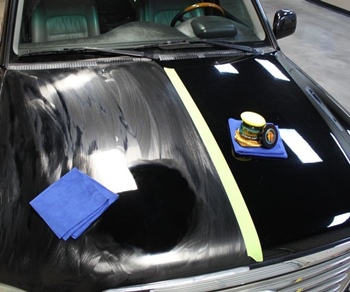 If you've ever had to get a car paint job fixed, you know how easy it becomes expensive. Even if the area you want to touch up is very small, the price of well-done paint correction can quickly skyrocket into thousands of dollars. On the other hand, if you opt for a cheaper cover-up, you'll likely end up with non-matching color and obvious transitions. This will not only make your car look unpleasant, but it will also greatly reduce the eventual resale value of the vehicle. Keeping your paint looking spotless will ensure a high price if you decide to sell your car later on. Using a paint sealant is the best, and frankly the only viable way of keeping your paint intact for longer. With the layer of protection that paint sealants provide, you can avoid unnecessary damage, and save hundreds if not thousands on paint correction and touch-ups.
4. It's Quick, yet Long-lasting
Finally, there's not really a reason not to do it. Car paint sealants are inexpensive, and they're easy to use. We'll give you a detailed explanation of how to apply paint sealant at home later on. This process only lasts about 20 minutes, or up to an hour if you take your time. But the best thing is that once you do it, you can feel free to put away your bottle of sealant. That's because average car paint sealants offer protection lasting between 6 months and a full year. Because of this, a single bottle of good paint sealant can last several years. After you apply sealant, your car will be protected for a long time, so you can store the bottle away. Just don't forget where you put it!
Best Car Paint Sealants Comparison Chart
PRODUCT
DETAILS

Meguiar's M2164 Mirror Glaze Synthetic Sealant 2.0

Price: $
Customer Rating: 4.6
Volume: 64 fluid ounces
Dimensions: 3.2 x 9 x 6 inches

View On Amazon

Wolfgang Concours Series WG-5500 Deep Gloss Sealant 3.0

Price: $$
Customer Rating: 4.7
Volume: 16 fluid ounces
Dimensions: 2 x 2 x 8 inches

View On Amazon

Chemical Guys WAC_118_16 JetSeal Anti-Corrosion Sealant

Price: $$
Customer Rating: 4.4
Volume: 16 fluid ounces
Dimensions: 7.9 x 2.8 x 2.8 inches

View On Amazon

CAR-SHOW 1 Polymer Paint Sealant

Price: $$
Customer Rating: 4.3
Volume: 8 fluid ounces
Dimensions: 7.4 x 1.9 x 1.9 inches

View On Amazon

TriNova Paint Sealant for Car Long-Lasting Protection

Price: $
Customer Rating: 4.6
Volume: 18 fluid ounces
Dimensions: 7.9 x 4 x 1.7 inches

View On Amazon

Klasse High Gloss Sealant Glaze

Price: $
Customer Rating: 4.2
Volume: 33 fluid ounces
Dimensions: N/A inches

View On Amazon

Adam's Polishes Polymer Protection Paint Sealant

Price: $$$
Customer Rating: 4.4
Volume: 8 fluid ounces
Dimensions: 6.1 x 2.3 x 2.3 inches

View On Amazon
Best Car Paint Sealant Reviews
1. Meguiar's M2164 Mirror Glaze Synthetic Sealant 2.0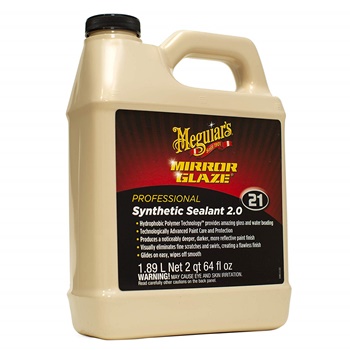 Meguiar's is a well-established name in the car paint sealant industry, and that's for a reason. They are known for high-quality products that are easy and safe to use at home.
This time, they gave us yet another reason to choose their product over others – their Mirror Glaze sealant 2.0 comes in a huge packaging of whopping 64 fluid ounces. With occasional use, this can give you a couple of years' worth of protection. In fact, this sealant typically lasts around 6 months in mild weather, and around 3 months in very hot, cold, or humid weather. Before you apply this product, make sure your car is well cleaned, because this model by Meguiar's has no cleaners or abrasives. Though you must apply it to a perfectly clean car, there's no danger of damaging your paint with abrasive substances.
In fact, this product is very easy to apply, and it wipes off smoothly without a powdery residue. It does have the power to make your vehicle very shiny, and most people find it so good at covering scratches and blemishes that they don't use wax at all. You should not apply this product to plastic or rubber parts of your car.
Pros
Very good hydrophobic polymer technology that protects your vehicle from water damage
Extraordinary shine that covers scratches and blemishes, no need to use wax
Large packaging that can last for a long time for an affordable price
Cons
It contains no cleaning substances, so your car must be perfectly clean before application. We recommend claying
Shouldn't be applied to rubber and plastic parts
2. Wolfgang Concours Series WG-5500 Deep Gloss Sealant 3.0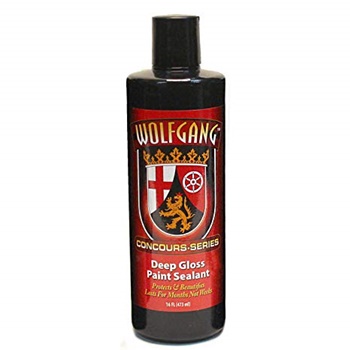 Our next pick is the cool-looking sealant from Wolfgang Concours series. This paint sealant is the right choice for anybody who wants to achieve a superior shine on their daily vehicle. The so-called German Super Polymers are used to both protect and beautify your vehicle.
This sealant is designed to result in extraordinary shine, and the manufacturer likes to point out that the shine is not just mere surface gloss, but deep, vivid shine that turns heads. However, the shine wanes after a couple of months, so we recommend more frequent application with this product. A single 16 fluid ounces bottle can be used approximately 8 times. The formula of this sealant is non-abrasive, which means you must apply it to a well-cleaned car.
The bad side of this product is that it requires 12 hours of curing time, hidden away from sun and moisture. In general, this product provides a good level of protection, but we wholeheartedly recommend it to those enthusiastic for a beautiful, glossy finish.
Pros
Superior results when it comes to shining – this product covers up scratches and blemishes easily
Safe to use on rubber and plastic trims
Cons
Somewhat short-lasting protection of around 3 months
3. Chemical Guys WAC_118_16 JetSeal Anti-Corrosion Sealant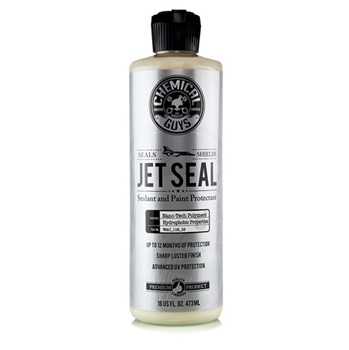 Chemical Guys are absolute superstars when it comes to the detailing industry, so they are a widely trusted producer of sealants and waxes. As such, their JetSeal paint sealant is a well-loved best seller. Even though it's a popular product, it isn't overpriced and is in fact affordable.
Coming in a 16-fluid ounce bottle, this sealant should be sufficient for 7 to 10 uses, depending on the size of your car and the thickness of the layer you use. JetSeal gives you great results in terms of shine, and good protection from the elements. It's somewhat less effective against water compared to competitors. However, it provides great UV ray protection – keeping your car's paint from getting discolored or faded.
This product is an all-in-one protectant, and you can use it on your entire car exterior. It works well on paint, glass, plastics, and metal, providing optimal protection against scratches and environmental afflictions. This product can also last quite long. It can protect your car for almost a full year. However, due to its lower water resistance, you should check how well water beads up after washing your car. If water doesn't create large beads or it doesn't glide off the surface of your car easily, it might be time for a re-do.
Pros
Great results in terms of glossiness – it covers scratches and blemishes well
Long-lasting results, this sealant may provide up to a year's worth of protection
Cons
Some reviewers report sub-par water protection, though we didn't get the same impression
4. CAR-SHOW 1 Polymer Paint Sealant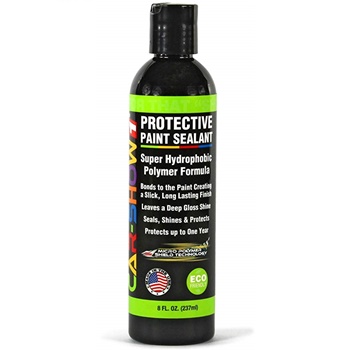 Our next pick, Car-show's protective polymer paint sealant will get your car ready to show. Not only does it provide a mirror-like shiny finish, but it also protects your car from the effects of the elements. If you're tired of water spots on your car's painted panels and windshield, this product will help you get rid of those with great hydrophobic results.
While this product comes in a rather small container of only 8 fluid ounces, a rather thin layer is sufficient for optimal protection against scratches, UV rays, and the elements. Bearing that in mind, you can use this product for at least 5 layers. The manufacturer claims the results to last up to 12 months, though in our experience, we got around 4 months of solid protection on our daily rides that are frequently parked outdoors.
When it comes to shine, this product does have the power to make your vehicle truly shiny. However, it doesn't give fully cover somewhat deep scratches, so we recommend using it in a combination with a wax if you're aiming at a flawless look on an unpolished vehicle. This product can be used on most surfaces, but it's not recommended for plastics and rubber. The best part – this sealant is very affordable. In fact, it's the most inexpensive product on our list.
Pros
Very affordable – this is the most economical product on our list
Solid protection and good shine – optimal performance
Cons
Shouldn't be used on plastics and rubber
5. TriNova Paint Sealant for Car Long-Lasting Protection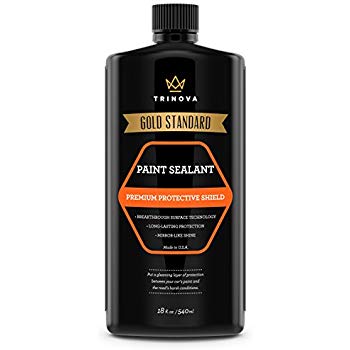 Though the brand name isn't as recognized as some of the other ones on our list, TriNova's paint sealant works just as well. In fact, this paint sealer results in a deep gloss that covers all scratches quite well and truly does result in a mirror-like shine. In fact, we think the gloss it results in is comparable with carnauba wax shine. The pink liquid is very easy to apply and to wipe off as well.
This product is not abrasive, so it won't damage your vehicle's paint clear coat at all. However, you do need to wash your car thoroughly before applying this sealant. The protection it gives is quite solid as well. The hydrophobic coat of this sealant has above average water-repelling properties, so we highly recommend it if you live in rainy or snowy areas. When it comes to UV rays, it provides solid effects as well. You may use this product on plastics and rubber, though you may experience some easy-to-remove white residue on black components.
The manufacturer claims a full year's worth of protection, but in our experience, you can expect around 6 months of optimal performance. The 18-fluid ounce bottle comes at a very affordable price, especially considering the quality of the product. All TriNova products are made in the USA.
Pros
A high-quality product that comes at an affordable price
Long protection – this sealant keeps your car in top shape up to a year
Cons
The formula separates after a while, so shake well before use
6. Klasse High Gloss Sealant Glaze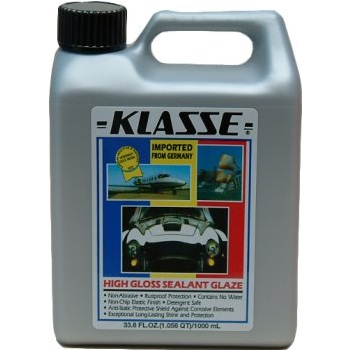 Everybody has heard of the famous German ingenuity when it comes to creating reliable products. Klasse high gloss paint sealant is no exception. This solid product can provide up to 12 months of protection. This acrylic car paint sealant provides great protection against the elements, discoloration, scratches, and blemishes, no matter how often and how roughly you handle your car. It also results in good mirror-like shine. However, it doesn't cover existing scratches all too well.
It's rather easy to apply this sealant, though it doesn't have the simplest application on the market. This product hardens quickly so you must work fast. Alternatively, use a dab of water to soften the surface if it seems too hard to buff. Remember that a little goes a long way, so don't apply too much, though you may feel that the formula is watery.
You can use this product on almost any surface, ranging from paint, glass, plastics, enamel, metal, and rubber. Effectively, you can protect your entire car exterior with this single product. It comes in a 33-fluid ounce bottle, so there's plenty to use as well. The product is completely non-abrasive, so it'll never damage your paint. However, you must also wash and clay your vehicle before you apply sealant.
Pros
Very large packaging for a rather affordable price
Long-lasting solid protection and shine
Cons
Somewhat more difficult application as the product hardens quickly
7. Adam's Polishes Polymer Protection Paint Sealant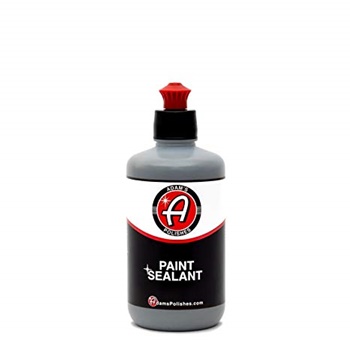 If you're looking for a reliable acrylic polymer formula, Adam's Polishes has got you covered. With their paint sealant, you won't have to worry for 6 months on end, no matter where you're parked.
Even though it only comes in an 8-fluid ounce bottle, a single bottle can cover around 5 uses. That's because a little goes a long way with this sealant. This sealant is very easy to apply, as it spreads easily and evenly, and doesn't cure too quickly. This product is not intended for use on plastics and rubber, but even if you get some on, it's easy to remove. On the other hand, this product can offer sufficient windshield and headlight protection, and it's easy to apply to the glass.
The sealant not only protects your glass but also metalwork and paint perfectly. It stays very hydrophobic for a while, so we highly recommend it to people living in rainy areas. When it comes to the shine it provides, this sealant does make your vehicle glossy, but it's not too good at covering scratches. In our opinion, this product is best paired with carnauba wax if you're looking for impressive visual results. This product is made in the USA.
Pros
Good, reliable protection with high durability
The 8-fluid ounce bottle can cover 5 uses
Cons
Unimpressive results in terms of shine and scratch coverage
Paint Sealant Types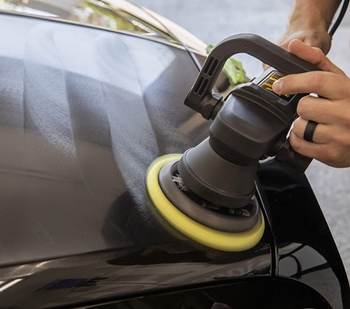 Car paint sealants are a relatively new invention. Because of that, they are the center of attention of many car equipment manufacturers and their research and development branches. With car paint sealants in such high demand, manufacturers work tirelessly to create sub-types of the product that will suit everyone's needs and desires. Let's take a look at the different types of paint sealants.
The most important distinction between sealants come in the form of optional cleaning prowess. Just like the best car waxes, sealants come in both versions – cleaner sealant and regular.
1. Cleaner Sealant
Products labeled with 'cleaner', 'abrasive', or something along those lines contain abrasives and solvents that have the power to remove existing mild oxidation or to polish minor scratches. These cleaner sealants are not as strong as car polish, but they are powerful enough to smoothen out the surface of the paint by abrading it. As you can imagine, this does remove bits of your paint's clear coat. Even though very slowly, abrasive sealants can end up damaging your paint if overused. On the other hand, cleaner sealants do give you impeccable results when it comes to both shine and protection.
2. Pure Sealant
Pure sealants don't have abrasive properties, so they can't have any adverse effects even if you use them too much or too often. However, considering that they don't have any cleaning power, it's mandatory to apply them to a perfectly clean surface. Before you apply pure sealant, you should not only wash your car but also compound and/or polish it with a clay bar and polish. This is the only way to know you're applying the pure sealant properly, which will ensure it creates proper and strong chemical bonds with the surface of your car.
As you can see, there's no right or wrong choice between these two. The right pick depends on your own process, and the time and effort you can invest in cleaning and protecting your vehicle.
Sealant vs. Wax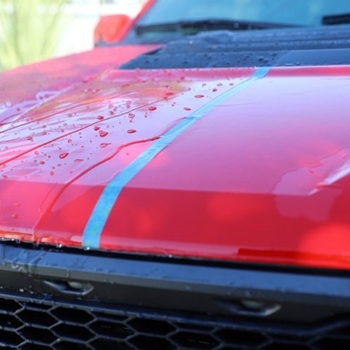 Many people consider car paint sealant and wax the same product. And understandably so – only a decade back, there wasn't that much difference at all. Sealants were a new product on the market, and it was marketed as simply a synthetic alternative to the ages-old natural carnauba wax. However, these days, there's more to the distinction between the two products than you may think.
First of all, the most famous type of wax comes from nature – it's a product of the Brazilian carnauba tree. It was the most common type of wax used several decades ago, along with beeswax, and lignite or coal-based montan wax. Little by little, technology developed, and these waxes were first enriched by synthetic enhancements. The priority of these synthetic components was making the feeble natural waxes last longer and provide more durable protection. With time, entirely synthetic waxes took their place on the market shelves.
Working on the formulas of these synthetic waxes, research and development teams created the first sealants. These new products didn't differ from waxes much, and at first, a sealant was a synonym for synthetic wax. However, with time, these two developed into two different products with a similar purpose.
In general, you can consider this to be the main distinction between the two:
Wax – higher shine, lower durability
Sealant – lower shine, higher durability
However, this doesn't paint the full picture.
Waxes and sealants work in different ways, and that's why the results often differ. Let's take a closer look.
1. Scratch Treatment
When applied, waxes stick to the surface by melting, and as it hardens it forms a film over the entire area of the car. The wax fills up both tiny and bigger scratches, making the entire surface smoother.
On the other hand, sealants stick to paint by creating chemical bonds. Unless they're applied in extremely thick layers, sealants don't fill up scratches. However, they conform to the scratch, softening its sharp edges, making them less noticeable, but still present.
Because of this distinction, your car may seem glossier after a wax treatment.
2. Endurance
As we mentioned, sealants bond chemically, while waxes mainly form a film over the surface of the paint. Both of these products perform their functions by repelling water. In fact, you can perform the same test to ensure the product provides sufficient protection for both wax and sealant – spill some water over your car, and see how quickly it rolls off and how well it beads up. However, due to the difference in bonding, and considering that sealants are specifically designed for higher durability, sealants show a much higher endurance to the effects of UV rays, snow, and water.
In fact, waxes most commonly have far shorter expected durability. Natural carnauba-based wax typically provides protection between 6 and 8 weeks, making it mandatory to reapply every two months or so. Synthetic waxes have somewhat higher durability, lasting at most 6 months. Finally, sealants have the longest expected durability, providing anywhere between 6 months to a full year of protection.
How Often Should I Apply a Sealant?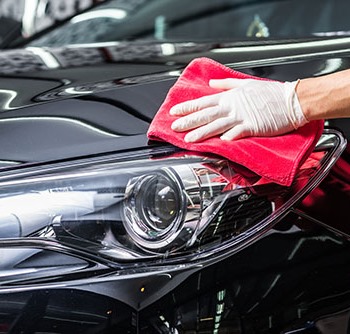 You know that car paint sealants typically last longer than waxes, but how long exactly? While most manufacturers give a rough estimate for each specific product, the truth is – it mostly depends on your driving and parking habits.
The majority of commercial paint sealants have an expected duration of between 6 months and 1 year. Compared to waxes, this is a huge step-up. Manufacturers make these measurements based on what they consider average daily use. But in reality, every car owner has their own dynamic, which is mainly responsible for the vast individual differences in durability among sealant users. In fact, it's hard to even make a ballpark estimation without considering some important factors.
1. Weather Conditions
How long your sealant endures to a large extent depends on the weather conditions. If you leave your car inside a garage or under a covering, your car is less exposed to the elements, making the sealant last longer. If you live in arid, sunny areas, your car is exposed to UV rays more. On the other hand, vehicles that often sustain freezing, snow, rain, and road salts, often require more hydrophobic protection. Weather affects the durability of paint sealant the most of all factors, so it's recommended to either park your car inside, or use chemical protection in the form of a sealant or wax more frequently.
2. Cleaning Routine
Another important factor in the durability of your paint wax is your cleaning habits. Gentle washes will ensure the longevity of your sealant, but sometimes these are not sufficient for proper car hygiene. If you keep your vehicle clean with a car pressure washer, you might have to apply sealant more frequently. The detergent, top-rated car wash soaps or other cleaning liquid you pick also matters, as these affect the sealant to varying degrees. Finally, applying wax on top of a car paint sealant can help your car stay protected longer (and stay extra shiny as well).
How to Properly Apply a Sealant?
In order to achieve optimal results, you also need to apply a sealant to your car the right way. Proper application is not hard or complex, but it does take a bit of patience.
You can apply a sealant either with an orbital (buffer) machine or by hand. We recommend investing in an orbital machine if you plan to regularly detail at home. But even without one, you can successfully apply sealant, though with a bit more elbow grease.
1. Wash Before Application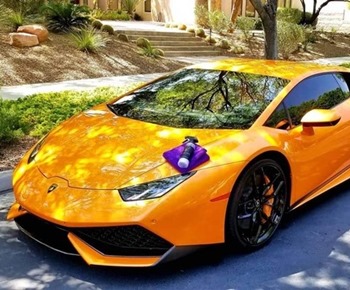 It's absolutely necessary to wash your car before applying a car paint sealant. This is important because sealants need to chemically bond with the car paint. This process can be hindered or made impossible if there are contaminants like dust, oil, twigs, and mud on the surface of your car.
To achieve the best results with the least effort, we recommend car pressure washing instead of washing with a hose. Pressure washers give much better results using less water, and they're strong enough to physically remove stuff that may make sealant application difficult.
We also recommend getting your car treated with a clay bar, especially if you're using a non-abrasive sealant. If you have major scratches that you want to get fixed, consider getting your car polished. Make sure you don't polish too frequently as it may damage the paint. Don't put any other products onto your car before sealing, especially not wax.
Let your clean car dry, and you're ready to apply sealant.
Apply sealant in the shade or indoors, unless the manufacturer specified your particular product may be applied in sunlight.
When using inside a garage, make sure you have proper ventilation installed, or leave your garage door open. This is important because breathing in the fumes too much may cause dizziness and nausea.
2. Applying Sealant by Hand
Apply a few drops of your sealant to a microfiber or foam applicator pad. With gentle patting or stroking, dab the product across the surface of a panel.
Pressing lightly, work the sealant throughout the panel. Spread it using straight, crosshatch or circular motions. Work it in evenly across the panel, in a thin layer.
Leave the sealant and let it set. You'll find the optimal time written on the bottle, but in general, you should let it settle around 10 to 20 minutes.
Use a clean, soft microfiber towel to buff off the excess. We recommend getting a special edgeless towel to avoid scratching your paint while buffing. Some sealants don't require buffing, but many do.
3. Applying with a Buffing Machine
Choose a soft finishing pad, and attach it to your buffer machine. Apply a few drops of sealant onto the pad. With gentle dabbing motion, apply the sealant across the panel with the machine off.
Turn the machine on to its lowest speed setting. Then, spread the product across the panel. Work it in across the panel in a thin, even layer. Make sure you're not pressing the machine too much.
Turn up the speed setting to medium speed. Work the product in, making sure it's spread evenly across the panel. Work panel by panel, don't try to apply the product everywhere at the same time.
Leave the sealant to settle. This typically takes around 15 minutes, but you should check your bottle for the exact waiting time.
Buff your vehicle and remove excess paint with a clean, soft microfiber towel. We recommend getting a microfiber orbital bonnet, so you can use your buffing machine for this task as well. If your sealant says it requires no excess removal, skip this step.
Car Paint Sealant Buying Guide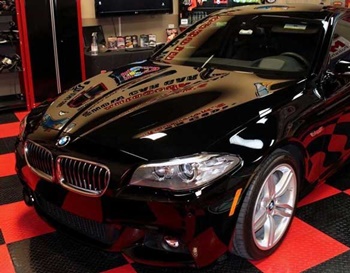 if you're determined to keep your car in top condition for as long as possible, along with a top-rated pressure washer for car, wax, and engine degreaser, you should consider getting a car paint sealant that you can use at home. Doing your own maintenance and detailing, or even having it professionally done with your own products are both good ideas because that way you control what goes onto your vehicle. You want only the best products on your car paint, especially if you care about how your car looks and feels, but you don't want to pay for expensive repaints. In order to get the paint sealant that best suits your needs, you should consider a couple of factors. Let's dive right in.
1. Ease of Application
If you're going to apply sealant by yourself at home, it's important to choose a product that is suitable for home use. Most car paint sealants can be applied with a rotary buffer machine (also called orbital or DA polisher). However, only some of them can be applied by hand. Of course, you can get your own buffer, and we highly recommend doing so if you wish to delve into detailing your own car. However, for most purposes, applying sealant and buffing your car paint is effective by hand as well. Make sure you get a sealant that best suits your preferred application method.
2. Durability
How long a sealant protects your car paint depends on three things: the sealant itself, how you apply it, and, most importantly, the environment your car is in. The durability of sealants varies vastly – from only a few weeks to an entire year's worth of protection. However, it's impossible to predict exactly how long a sealant will last, because that, for the most part, depends on the environment of every individual vehicle.
For example, cars that are used in very sunny areas suffer from higher exposure to the sun's UV rays. This rings especially true if the car is parked outside most of the time. In such conditions, sealants generally last a shorter time, because the solution quickly becomes frail from excessive sun exposure. On the other hand, cars in rainy and snowy areas suffer more from damage caused by water and road salts. In cases like this, any sealant wears off quickly.
Consider manufacturers' estimation as ballpark numbers, and check if your sealant is still in place every once in a while. You can do this by pouring some water over your vehicle – if the water beads up into large droplets, your sealant is still good to go. If the droplets are very small and water lingers on your car, it's time for a re-do. When you apply sealant properly, following the manufacturer's directions, you have the best chances of ensuring maximum protection.
3. Protection
In general, car paint sealants all provide protection from the same set of environmental influences. Their main purpose is to keep your vehicle safe from water damage, and they achieve this by having hydrophobic features. This also makes it easier to rinse off any mud, dirt, bird droppings, and insects off of your car's surface. Apart from water, sealants also prevent other substances from damaging your car paint, including but not limited to road salt, UV rays, tree sap, and various objects that could induce scratches. Sealants achieve this by adding an additional sacrificial layer over your paint's surface. While all sealants perform these basic functions, they don't all perform them all equally well. Make sure to get a sealant that best suits your particular environment and afflictions your car is most likely to struggle with.
4. Shine
As a secondary function, sealants also make your vehicle more pleasing to the eye. You can achieve a good amount of shine with any sealant, as it naturally occurs when you add a slick, transparent layer atop your car's paint. However, sealants generally do not provide as much shine as a wax does, so you shouldn't plan to get your car show-ready with a sealant alone. If you're simply looking for something that will make your daily drive more pleasing to the eye, a sealant will suffice. But if you hope to make your neighbor green with envy, apply some carnauba wax over your sealant for maximum performance in both protection and shine.
FAQ About Paint Sealants
1. On which surfaces can I use a sealant?
There are many different formulas of sealant, so there's no one size fits all answer to this question. To be safe, check the packaging of your sealant or the manufacturer's website for accurate information about the specific product you want to use. However, there are some general guidelines that you can follow. In general, all paint sealants can be applied to paint-covered panels. But most can also be used on all glass. Finally, you can use many modern paint sealants on your car's plastic and rubber parts as well. However, there's a possibility your sealant shouldn't be applied to plastic and rubber parts as some sealants have a formula that isn't compatible with these materials. In the worst case, it may irreparably damage these parts by discoloring them and making them brittle and frail. Check the manufacturer's specifications to find out if you should apply your particular product to your car's plastic and rubber parts.
2. Can I combine a sealant with wax?
Yes. In fact, we highly recommend doing so. By combining sealant and wax, you get the best from both worlds – durable protection from sealant, and thorough, deep shine from wax. However, you must be careful to apply sealant first. There are a couple of reasons for this.
As wax generally stays on for a shorter time, if you apply wax as a base layer, your sealant will deteriorate as soon as your wax does.
A sealant is designed to bond chemically with car paint, and it can not do that if the surface of the paint is dirty, oily, or waxy.
So, to achieve the best results, wash your car, apply sealant, let it settle, and then apply wax. Follow the standard procedure when applying both sealant and wax.
3. Can a car paint sealant damage my car?
Car paint sealant won't damage your car, except in cases where you don't follow the manufacturer's directions and warnings. There are three common mistakes that can end up in some damage:
Applying to an unclean surface – Sealant should only be applied to a thoroughly cleaned surface. If there are any contaminants like leftover oils, wax, mud, or dust, sealant won't bond with your car's paint properly. This will leave parts of your vehicle unprotected. On the other hand, if there are twigs, stones, rocks or similar hard substances, you may accidentally drag these across the surface of the paint while buffing sealant. This will result in scratches and swirl marks. For the best results, we recommend pressure washing and using a clay bar before applying sealant.
Applying overly thick layers – Sealants should be applied in very thin, transparent layers. The most common mistake people make is overusing sealant. Doing this does not really damage your car, but the thick layers of the product are very difficult to remove. Sometimes it's possible to damage your car while removing these thick layers.
Applying non-compatible sealant to rubber and plastic parts – This is an application mistake that can have the worst repercussions. Read the label and the user manual of the product you choose thoroughly. Search for information on whether you should or shouldn't apply the specific product to rubber and plastic trims and other parts of your car. You can also look for this info on the manufacturer's or the retailer's website.
Wrap Up
Inexperienced drivers soon learn that washing your car only is not sufficient to keep it looking its best. If your vehicle is not protected, after only a couple of months, your car will start looking dull and scratched. However, that is easy to avoid if you use the best car paint sealant. If you apply this product to your car only twice a year, it's easy to ward off scratches, blemishes, discoloring, water damage, and other unfortunate events.
We hope we covered everything you need to know about this amazing product in our article. Also, there is a section including the car paint sealant reviews. We assembled a comprehensive knowledge base that we hope you find useful. If you have any other questions regarding car paint sealants, please feel free to ask us in the comment section below.