Once your check engine light comes off it is time to consider getting the best OBD2 scanner to help you root out the issues. If you have all of the tools on hand, why wouldn't you save a bit of cash and figure out what's wrong with your vehicle on your own? The only thing you need is to figure out what exactly made the light come off, and that is where the scanner kicks in.
But the market is full of various scanner models. They differ in price, quality, and various features, so making the right choice isn't easy at all. That's why we prepared OBD2 scanner reviews of our favorite models, along with a handy buying guide.
See The Quick Comparison Chart
Benefits of Using an OBD2 Scanner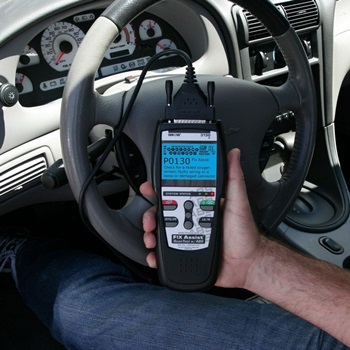 You probably already understand why the OBD2 standard is beneficial and how it made the jobs of hundreds of mechanics around the globe easier. These people no longer need to waste hours on end on checking all of the possible issues with your vehicle to find out that the problem is as simple as tightening a cap. But why should you care about getting an OBD2 scanner of your own? Here are the various ways this device can make your life easier and simple.
1. Eliminate Guesswork
The worst thing about the Check Engine light is that you simply don't know what the issue is, or how serious it is. The best way to be sure your vehicle won't just give up on you in the middle of the road is to head to the mechanics shop straight away. Over time, this can add up to a lot of wasted time and money. Going to the mechanic for a scan, or even worse, trying to figure out what the issue might be manually is very inefficient. Instead, you can simply take out your OBD2 scanner and know exactly whether the issue warrants a visit to a professional, or you can solve the problem in your own garage.
2. Save on Repair Costs
When the malfunction light is alerting you of a problem, naturally, you need to go to a mechanics shop or invite the mechanic to come to your location. Once the professional takes out his OBD2 scanner to figure out what the trouble is and how to fix it, they will insist on fixing it for you, even if it's something you really could do yourself. Maybe your top-rated brake pads need a replacement, or you simply need to change the air filter. There are many simple tasks that you could do yourself, but the mechanic may persuade you to pay for the job since they already started on your car. An OBD2 scanner will let you know exactly what the issue is, and whether it warrants a mechanic's intervention, or you could do the job yourself, saving the money that would unnecessarily be wasted on the overpriced professional service.
3. Always Be In the Know
An OBD2 scanner doesn't only give you a single code number. Instead, with some higher-tier scanners, you can access various parameters to check the exact condition of your car. An OBD2 scanner can give you various information about your car, from fuel pressure, over intake air temperature, to the absolute throttle position, and many other component performance indicators. If you want to be in the know and aware of exactly how your car is doing at any given moment, an OBD2 sensor will be a great help.
Types and Uses of OBD2 Scanners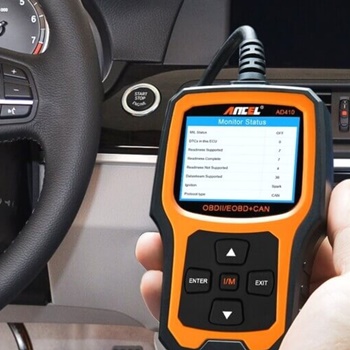 However you look at it, an OBD2 code scanner is made to retrieve OBD2 data from a standardized data link connector. But the main difference between these machines comes in how they output the data they read from the OBD2 adapter. This gives you an opportunity to choose the most convenient device for yourself and your personal habits. Let's take a look at the various possibilities you can choose from.
1. Handheld
The most common, and a very popular type of OBD2 scanner is a separate handheld device. These devices connect to the data link connector via a cable, and once you turn on and attach the device to the cable, it reads the error code. There are different models of handheld scanners, and some of them are black-and-white, button-operated devices, while others come equipped with a full-color touch screen. The most important distinction, however, is whether the device gives you more information or only reads the code as-is. This will make the difference between getting clear instructions on the spot, and having to take a break for scouring the internet for info. We focus on this type of device here.
2. Bluetooth
The best OBD2 Bluetooth adapters connect to the data link connector and send out the information via Bluetooth signal. That means that you can use your mobile phone or PC to read the information. You don't need any additional devices, apart from the phone you always have with you anyway, and the adapter that attaches to the data link connector. This can be very handy since these adapters don't take up a lot of space, so you can always have it in your glove compartment. However, these are small, so they can easily get lost.
3. Computer-based
Finally, some scanners come with a USB cable that connects directly to your computer. Needless to say, a laptop PC is the best device choice, since you need to connect the computer to the car, and USB cables come in limited lengths. This is a good option if you use your computer wherever you go, or you need advanced troubleshooting options and internet connectivity.
Best OBD2 Scanners Comparison Chart
PRODUCT
DETAILS

Juta JT600 Universal EOBD OBD2 Scanner

Price: $$$
Customer Rating: 4.9
Color Screen: Yes
Freeze Frame: Yes
Warranty: 1 year

View On Amazon

TT Topdon AL200 OBD2 Scanner

Price: $$
Customer Rating: 4.8
Color Screen: No
Freeze Frame: Yes
Warranty: 1 year

View On Amazon

Autel AutoLink AL519 OBD2 Scanner

Price: $$$
Customer Rating: 4.4
Color Screen: Yes
Freeze Frame: Yes
Warranty: 1 year

View On Amazon

Launch CR319 OBD2 Scanner

Price: $
Customer Rating: 4.6
Color Screen: Yes
Freeze Frame: Yes
Warranty: N/A

View On Amazon

OxGord MS300 OBD2 Scanner

Price: $
Customer Rating: 4.0
Color Screen: No
Freeze Frame: No
Warranty: N/A

View On Amazon

OTC Tools 3208 OBD II and ABS Scan Tool

Price: $$
Customer Rating: 3.9
Color Screen: No
Freeze Frame: Yes
Warranty: N/A

View On Amazon

Veepeak OBDCheck VP30 OBD2 Scanner

Price: $
Customer Rating: 3.9
Color Screen: No
Freeze Frame: No
Warranty: 1 year

View On Amazon
Best OBD2 Scanner Reviews
1.  Juta JT600 Universal EOBD OBD2 Scanner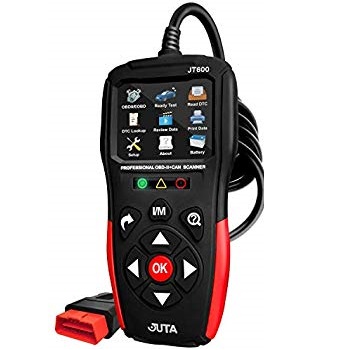 If you're looking to invest in a solid, reliable, high-performance model, Juta has got you covered. Their OBD2 scanner JT600 does have a somewhat higher price point than others in its category, but the extra features and quality are definitely worth it. The entire case of the device is rubberized, so you don't need to worry about damage from dropping or hitting the device. But it's not only sturdy but full of various useful features as well. You can not only read OBD2 codes, but get additional info right from the device library, do a CO2 smog check, use freeze-frame, and monitor your vehicle's status and performance live.
This scanner is broadly compatible and diverse, and it can even be used to check the battery status of hybrid vehicles. It comes with a colored LED screen that can show plenty of easy-to-read information. The model has its own battery, so you don't need to rely on the car's power to consult your scanner. Sadly, the user manual isn't well written, so you may need some time to figure out how to use your device to its full potential. It's equipped with a 2.5-foot cord. The model is covered with a 1-year warranty.
Pros
Comes with a battery to use when unplugged
Very feature-full model
Cons
The user manual is poorly written
2. TT Topdon AL200 OBD2 Scanner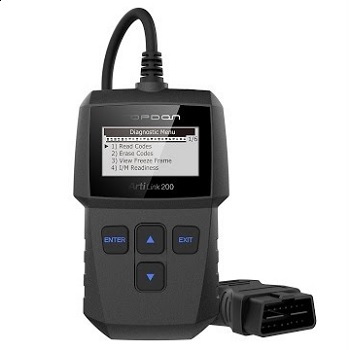 If your goal is to find a device with a great price and quality balance, TT Topdon's model AL200 may be the perfect choice for you. Just like any OBD2 scanner, this unit has a broad application, and it can be used on any car manufactured in the US after 1996 and 2001 for the cars sold in the EU. This plastic model does not come with the bells and whistles of other higher-tier models, but it does a great job at being a reliable device to hold ready in your glove compartment for when you need it. It comes with a simple yet effective black-and-white screen and four buttons. Even though it's built like a basic model, it can do many things for you.
The various features span from simply shutting your Check Engine light, over freeze-framing, retrieving information from the inner library to doing the CO2 check. It also comes equipped with a 3.4-foot cord, so you won't have to crouch to read the results. However, the device doesn't have its own battery, so it shuts off when you disconnect it. You can set this model up in four languages: English, French, German, and Spanish. This OBD2 scanner is covered with 12 months of limited warranty.
Pros
Cons
doesn't have its own battery
3. Autel AutoLink AL519 OBD2 Scanner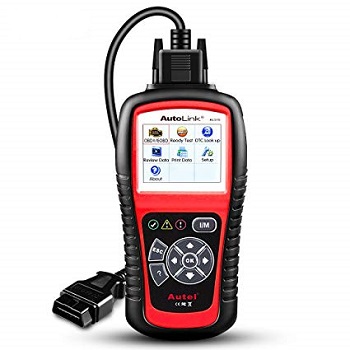 Our next pick is AutoLink AL519, and it's made by Autel. This OBD2 scanner comes with a plethora of features, all packaged up in a convenient device. It will let you look up and get information about the diagnostic trouble codes, do the O2 monitoring test, reset your Check Engine Light, and its memory card allows it to freeze frames and create a live feed of the data. It even lets you access the I/M readiness check with a single touch of a button. The model is comfortable to hold, and it comes with rubber-reinforced corners, so you don't need to worry about bumping or dropping the device as you work.
This OBD2 scanner comes equipped with a rather intricate, color screen, which shows every bit of information you need for easy problem diagnosis. This model is covered with a 45-day money-back guarantee and a 12 month US seller warranty.
Pros
Separate I/M readiness check button
Feature-full
Cons
4. Launch CR319 OBD2 Scanner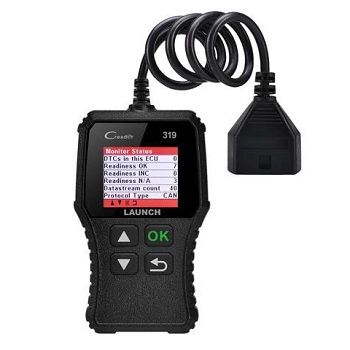 If you're looking for an affordable model that comes with many features of the more advanced scanners, the CR319 by Launch is the way to go. This little black, plastic device offers a great quality to price ratio, and we're sure you'll be happy with the value you get with this OBD2 scanner. This device comes with a limited-color TFT screen, which has enough space to show the information clearly and concisely. The model comes with its own code library and a memory card, so you can freeze-frame the info you need. You can also do your own I/M readiness test before heading to your inspection.
However, the device doesn't have its own battery. Instead, it takes the power it needs from the car when it's connected. That means that you can't use the device unless it's plugged. When it comes to compatibility, it has a wide range of protocols, so you can use it on almost any modern vehicle. You can use this device in English, French, Spanish, German, Russian, Italian, or Portuguese.
Pros
Very affordable
Feature-full
Cons
Doesn't have its own battery
5. OxGord MS300 OBD2 Scanner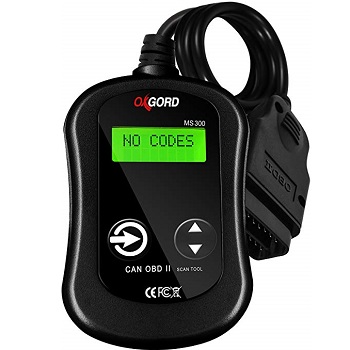 If you're looking for something truly cheap, OxGord's OBD2 scanner MS300 might be the model for you. This device comes without the bells and whistles of the more expensive models, yet it's effective and very simple to use. This model comes with a simple, two-color LCD screen that can only display the code and a couple of options. In essence, you will only be able to read the code, clear your Check Engine Light, and clear the trouble code from your car's computer. It's as simple as that – it does the basic operations you need an OBD2 scanner for, not more and not less.
The device is equipped with all of the necessary protocols to be useful for any car built after 1996. It can also recognize vehicle identification numbers on any newer vehicle that supports mode 9. However, it doesn't work for ABS or airbags. Overall, this model is a handy OBD2 scanner that anybody can afford.
Pros
Very affordable
Simple to use
Cons
Doesn't have many features
6. OTC Tools 3208 OBD II and ABS Scan Tool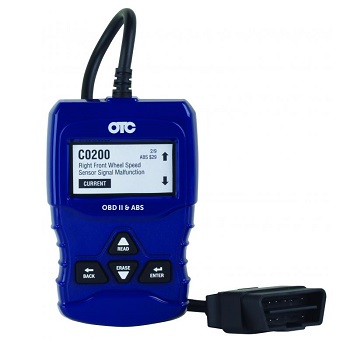 Our next pick is a solid, mid-range model that can be used on any car or light truck made after 1996. Made by OTC Tools, the 3208 OBD2 scanners can be useful to a professional as well as to a shade-tree mechanic. It's rich in features, but it isn't impressive look-wise. For example, this model doesn't have a color screen, and it just shows info on a large, old-fashioned screen without backlight. However, besides reading OBD2 protocols, it can also give you the ABS codes for vehicles made by GM, Ford, Chrysler, Toyota, Honda, Nissan, and Hyundai between 1996 and 2013.
This model comes with a variety of useful features and special settings. Since it has its internal memory card, you can use this model to get a live data stream as you work or to view a freeze-frame. You can also use it to check your I/M readiness or to clear the Check Engine light. The model uses the power from the car, which means it doesn't have a battery of its own.
Pros
Reads ABS codes
Supports freeze frame and live data stream
Cons
7. Veepeak OBDCheck VP30 OBD2 Scanner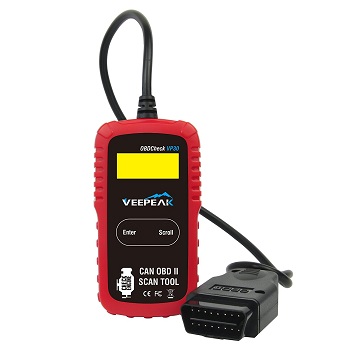 Our next pick is perfect if you're looking for a simple, reliable model that also comes at a very affordable price. Made by Veepeak, this OBD2 scanner is a great pick if you only need the basic functions. Design-wise, this model was made for convenience. It only has a small, black-and-white backlit LCD screen, which can give the code and not much else.
The entire unit is very small, which means you can easily store it in your glove compartment. It has a rubberized edge, which keeps it scratch and damage-free while you drive or bump it around. This device is powered up only when it's connected to your vehicle, which means that you can't revisit the results while you're away from your driver's seat. When it comes to the features of this scanner, you can read any OBD2 codes, I/M readiness check, retrieve your vehicle identification number, and it can clear your Check Engine light. As an affordable model, it doesn't have a memory card for advanced features like freeze-frame.
Pros
Very affordable
Backlit screen
Cons
What is an OBD2 Scanner?
It's no fun at all when the red malfunction indicator lamp goes off. The Check Engine light, a little red engine pictogram on your dashboard, comes off whenever there may be a malfunction. Whether it's something dramatic, like a big failure in the engine, or a minor issue, like a gas cap going loose, there is a huge number of things that could go wrong and set off the Check Engine light.
In fact, there are several thousand individual issues defined by the OBD2 that might be causing your Check Engine light to come off. So, how do you find out exactly what's wrong with your car at that particular moment? What you need is an OBD2 scanner.
Once your car's computer detects an issue with the vehicle, it alerts you by turning on the malfunction indicator lamp, and it stores the fault code of the problem. You can retrieve this code to find out exactly what has gone wrong. But to do that, you'll need an OBD2 scanner.
How Does an OBD2 Scanner Work?
Back in 1982, the California Air Resources Board (ARB) started working on developing a system, OBD, which will track various parameters within the vehicle, with the main goal being to track emissions. Over time, the project was developed and expanded. The result was OBD2 – On-Board Diagnostics 2nd generation – which is a universally accessible system.
From 1996, all manufactured vehicles have the OBD2 system implemented in their electronics. Utilizing a 16-pin data link connector (DLC), any mechanic would be able to use their own reader device to retrieve the fault code. They would also be able to understand the code, with no differences among manufacturers and equipment. The cars and the scanners all use the same language, OBD2, which is a long list of over 1200 possible fault codes with specific issue descriptions.
From loose caps to misfires in one of the engine cylinders, the OBD2 standard and your car computer can let you know exactly what needs fixing in your vehicle.
OBD2 Scanner Buying Guide
Getting the right OBD2 scanner is not easy. There are many factors that could make or break your user experience, so you want to make an informed decision and get a model that truly suits your needs. In order to help you do that, we compiled a short buying guide that covers some of the most important factors and features you should consider before making your pick.
1. Build
If you're getting a handheld OBD2 scanner, you need to pay attention to the build quality of the device. While most of the scanners are made out of plastic, you should look for high-quality, thick plastic which can handle bumps and drops. Ideally, you can get a model with rubberized corners for safe use.
Unless you're getting an OBD2 scanner Bluetooth model, you should also pay attention to the cord length and quality. Cords are usually the first to go on this type of device since they have a tendency to bend and get damaged on the inside. Look for a thick, reinforced cord that will last for a long time. Additionally, you should be comfortable when doing your readings, so getting a long cord is a must.
2. Display Quality
There's a huge difference between the best and the worst display quality in handheld OBD2 scanners. On the one hand, you can get a scanner with an old-school, backlit black-and-white screen, which is operated with as little as two buttons. On the other hand, you have the option to get a tablet-like device with a big full-color LCD touch screen.
The most important difference between the two is actually in how much information they can display on the screen. While they may show the exact same amount of information, it may be easy to read on the advanced screen, and very hard to navigate on the simple screen with large letters. However, you may also prefer the power-efficient screen which stays turned on and shows information in big letters which you can read from afar.
In general, if you're not a professional with many years of experience, and don't need the best professional OBD2 scanner, you should always look for a model that shows additional information about the error codes. Some may even give you a brief outline of the different ways to fix the problem.
3. Controls
While a touch screen sounds like a very handy feature, it may not be the best choice for an OBD2 scanner. That's because you won't be able to operate the device while your hands are oily or dirty from garage work, or while you're wearing your working gloves. On the other hand, you will usually use the scanner at the beginning of your day at the garage, so it may not be much of an issue. However, we still recommend getting a model with large, sturdy buttons, because you'll be able to operate one of these without worry.
4. Freeze Frame
The freeze-frame is one of the most useful features of an OBD2 scanner. This feature lets you save the data from your reading on the device's internal memory. That way, you can revisit the information later, to compare your vehicle's condition, or to remind yourself of what needs doing. A big benefit of the freeze frame function is that you can clear the Check Engine light without losing the information you need in order to solve the issue. Freeze frames are similar to screenshots, and typically, OBD2 scanners store them until you manually clean your history.
5. Live Diagnostics
On the other hand, you may also want to get a model with a live feed function. This feature lets you track the relevant diagnostic data as you work. While this is not very important to experienced mechanics, a car enthusiast may prefer a device that also provides simple, readily available information about the data it displays.
6. Memory Card
A memory card lets you save your diagnostic data on the OBD2 scanner itself. Therefore, there's no need to write down every single code that the scanner displays, or the additional information that goes along with the codes. Instead, you can simply save and load them on the scanner itself. This allows you to track the overall health and issues you had with your vehicle, and even compare the performances of the various cars you worked on overtime. Finally, this may give you proper insight into the condition of your car, and give you the opportunity to prevent fatal errors and damage.
How to Use an OBD2 Scanner?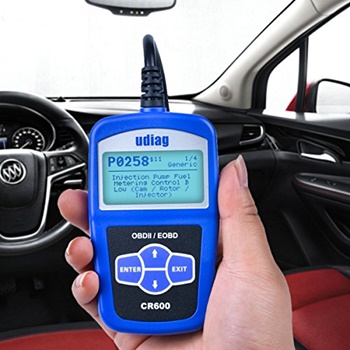 Once your Check Engine lights go off, you need to know what the issue is before you can go on driving. That's why we recommend always having your OBD2 scanner in your glove compartment, top-rated backseat organizer, or another handy place in your car.
So, how do you use an OBD2 scanner? You'll be surprised at how simple it actually is. Just keep in mind the things you should and shouldn't do while using OBD2 scanners.
1. Locate the OBD2 connector
The very first step is to locate where the data link connector (DLC) is. The general requirement for this piece is that it has to be located within 2 feet of the steering wheel. That's why you'll usually find the data connector somewhere under your steering wheel, by your feet, or close to your dashboard. You'll recognize it easily – it's the female triangular connector with 16 pins.
2. Connect
Once you find the connector, it's time to attach your scanner to it. This will make a connection between your scanner and the car's computer, allowing you to read the stored OBD2 error codes. If your scanner connects via a cord, attach the cord and turn on your device. Turn on your vehicle. Your ignition should be turned on, but your engine should stay turned off.
3. Read the Codes
Finally, once your car is turned on and your scanner connected, you can read the codes. You may need to navigate through a menu before you can reach the error codes. Depending on whether your scanner has an internal memory or not, you should freeze-frame or write down the codes that appear.
If you got an advanced model, you might be able to read what the issue is right on the device. However, if the scanner doesn't give you additional info, you can simply search the error codes online.
FAQ About OBD2 Scanners
1. How do I read the codes on my OBD2 scanner?
The simplest way to find out the meanings of OBD2 codes you get as a result is to get a device that gives an error description along with the code. Your second-best bet is searching online. But if you want to know how to recognize the meanings of these codes manually, we have a good starting point for you.
The first thing you see on the code is the starting letter. It can be P, B, C, or U. They represent the different basic systems of your vehicle, denoting where the issue is located.
P stands for the powertrain. This system includes the engine and the fuel system, ignition, transmission, emission, and so on.
B stands for the body. The name refers to the parts of your cabin, including power seating, airbags, and seatbelts.
C is anything related to your chassis. That includes ABS, axles, brake fluid, and so on.
U stands for undefined, and this is an umbrella category for anything that doesn't fall under the three basic systems.
After the letter, you will see a sequence of numbers.
The first digit will be either 0, 1, 2, or 3. If the digit is 1, that means that you're looking at a manufacturer-specific code. 0, 2, and 3, on the other hand, refer to codes that are universal across different car manufacturers. If you got a result with the digit 1, you should search the internet for your error code along with your car's model and make.
1.1. The universal code
The 3-digit code that follows is the actual code to what's wrong with the vehicle. It will start with one of the eight numbers, which refer to a particular system, and the latter two digits specify the exact problem and its severity.
So, after the number which lets you know whether the code is universal, you will see a third character, which gives you insight into the particular part of your car that's affected.
0 – Fuel and air metering and auxiliary emission controls
1 – Fuel and air metering
2 – Fuel and air metering (injector circuit)
3 – Ignition systems or misfires
4 – Auxiliary emission controls
5 – Vehicle speed control and idle control systems
6 – Computer and output circuit
7 – Transmission
You can know exactly what's wrong with your vehicle if you learn how to decode the message that you get on your scanner.
2. Will the OBD2 code tell me everything about the issue?
Essentially, the OBD2 code will give you all of the information about the errors that the car computer detects. However, learning to recognize exactly what needs to be done takes practice and patience. That's because a single issue may cause a couple of different OBD2 messages because a common issue, for example, a worn-out alternator is causing trouble with several systems that are otherwise working properly. We recommend searching for the exact error codes that your scanner is showing online. You may find more detailed answers or experiences of others. However, if you have a particularly difficult issue, we recommend going to a professional instead of relying on the internet to solve the problem.
3. Can an OBD2 scanner reset my Check Engine light?
Most scanning tools allow you to clear the Check Engine light even if the issue is not actually resolved. However, if you don't make the necessary repairs, the light will come off again after a while. Check the product description of the scanner you're interested in to make sure that it has the option to clear the Check Engine light.
Wrap Up
If you're done with wasting time and money on the numerous visits to the mechanic, getting the best OBD2 scanner might just be the solution you've been looking for. Instead of having to go for a paid diagnostic every time a Check Engine light pops up on your dashboard, you can simply take out your scanner. With it, you can check out what the issue is by yourself, for free, and without the obligation to pay for the repair straight away. This will help you save a lot of money and nerves over time as you fix the various minor issues that naturally come up.
We hope our OBD2 scanner reviews helped you find the ideal model for yourself. If you're still not sure what to get, check out our buying guide for answers. If that doesn't help, feel free to shoot us a message!
Bonus guide: top-rated multimeters