These days, you can get the best OBD2 Bluetooth adapter for a low price, and save yourself the nerve-racking chaos that going to the mechanics can be. It's a downer to step into your car only to notice that something went wrong overnight, and now you're stuck with a Check Engine light. Luckily, there is a way to find out exactly what's wrong with your car and clear the light, all from your phone.
We compiled our buying guide and OBD2 Bluetooth adapter reviews, where we discuss our favorite models on the market today. Let's take a look.
See The Quick Comparison Chart
Benefits of Using an OBD2 Bluetooth Adapter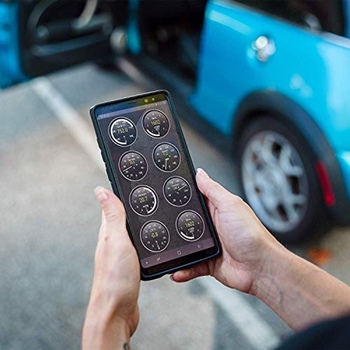 The usefulness of the OBD2 system is obvious from the first glance – it gives mechanics a simple, hassle-free way to diagnose problems in vehicles. But do why you need one? Take a look at the benefits these devices bring and decide for yourself.
1. Be Sure
The number one benefit of having an OBD2 adapter of your own is that you will always know exactly what's wrong with your car. OBD2 scanners and adapters made car problem diagnosis incredibly simple, eliminating all guesswork that was previously a part of the job. With one of these devices, you can find out what's wrong with your vehicle the moment you notice the Check Engine light. Because of that, you will never again have to spend the morning worried and wondering if you'll need to tap into your savings for this repair. With an OBD2 Bluetooth adapter you know whether it's a big deal or not, right away
2. Save Money
One of the things you will surely notice within a couple of months of owning your own OBD2 adapter is that you'll save some money. That's because you'll be able to do your own small repairs. Even if you're not particularly handy around the garage, with a good scanner or Bluetooth adapter, you will realize that fixing the issue is often simpler than you may think. Namely, most OBD2 readers come with their own libraries of codes. The code meanings are easy to understand, and you may even get simple instructions along with them. With this convenient feature, you can start doing car maintenance on your own, and as a result, spend money at the mechanic shops far less often.
3. Use Your Phone
If you're not sure whether you should get an OBD2 Bluetooth adapter or a handheld scanner, we will put the pros and cons down for you. With a Bluetooth adapter, you get to use your smartphone to use the reader, and we're sure that you almost always have your phone on you. Handheld scanners are rarely portable, meaning they often need to stay attached under your driver's seat. With an adapter, you can carry your smartphone around your garage without getting disconnected. Finally, handheld scanners take more space to store than a Bluetooth adapter. So, if you like using your glove compartment for something else, a Bluetooth adapter is the way to go.
Types and Uses of OBD2 Readers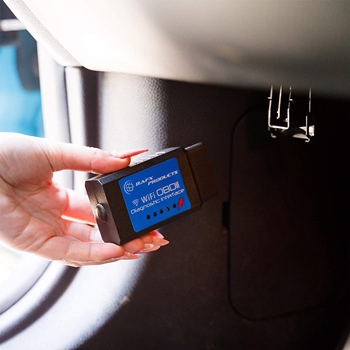 If you want to be able to check what the issue is from your own garage, you need an OBD2 reader. There are a couple of choices, and the main difference between them is how they output information.
1. Handheld Scanners
As the name suggests, handheld OBD2 scanners are handy, separate devices that can read and clear OBD2 errors. In most cases, the scanners come with a cord that attaches them to your car's data link connector (DLC). In many cases, the scanners need to stay connected to work, because they're powered up by the cord connected to the car. However, you can also find models with a battery that lets you carry the scanner with you as you work. Overall, handheld scanners are very convenient, and they're a popular choice among car enthusiasts.
2. Bluetooth Adapters
We focus on this type of OBD2 reader today. This device is much smaller than any given handheld OBD2 scanner, mostly because you use your phone to navigate and control the adapter. The procedure is quite easy – you simply plug in your Bluetooth adapter into the car's data link connector, connect to the device via Bluetooth with your phone, and use an app to do everything you need to do. Bluetooth has a rather wide range, so you can freely walk around your garage with your phone in your hands without getting disconnected. It's always convenient because you can live-stream the data and check it even when you're working on the undercarriage of your car with the help of a top-rated floor jack. A Bluetooth adapter gives you all the options of a handheld scanner, with the added convenience of an operation via your smartphone.
3. PC based
A computer-based adapter is either quite similar to a Bluetooth adapter, or it's simply a long USB cord with a matching program to read the issue. The cord is handy for mechanics who work in the garage and always have the shop computer on hand, but we don't recommend this type to an enthusiast, simply because you may not always have your laptop on you, charged and ready to go. In fact, some Bluetooth adapters are capable of working with both your phone and your PC, which is quite handy.
Best OBD2 Bluetooth Adapters Comparison Chart
PRODUCT
DETAILS

Ancel BD310 Bluetooth OBDII Scanner

Price: $$$
Customer Rating: 4.8
Manufacturer's App: Yes
IOS Support: Yes
Android Support: Yes
Windows Support: No

View On Amazon

Jethax OBD2 Scanner Bluetooth 4.0

Price: $$
Customer Rating: 4.8
Manufacturer's App: No
IOS Support: Yes
Android Support: Yes
Windows Support: Yes

View On Amazon

Veepeak OBDCheck BLE OBD2 Bluetooth Scanner

Price: $$
Customer Rating: 4.3
Manufacturer's App: No
IOS Support: Yes
Android Support: Yes
Windows Support: Yes

View On Amazon

BAFX Products Wireless Bluetooth OBD2 Scanner

Price: $
Customer Rating: 4.4
Manufacturer's App: No
IOS Support: No
Android Support: Yes
Windows Support: Yes

View On Amazon

Beswill OBD2 Scanner Bluetooth and Music Player

Price: $$
Customer Rating: 4.7
Manufacturer's App: No
IOS Support: Yes
Android Support: Yes
Windows Support: Yes

View On Amazon

BAFX Products Wireless WiFi OBD2 Code Reader

Price: $
Customer Rating: 4.5
Manufacturer's App: No
IOS Support: Yes
Android Support: Yes
Windows Support: No

View On Amazon

PLX Devices Kiwi 2+ Bluetooth OBD Scan Tool

Price: $$$
Customer Rating: 4.1
Manufacturer's App: No
IOS Support: No
Android Support: Yes
Windows Support: Yes

View On Amazon
Best OBD2 Bluetooth Adapter Reviews
1.  Ancel BD310 Bluetooth OBDII Scanner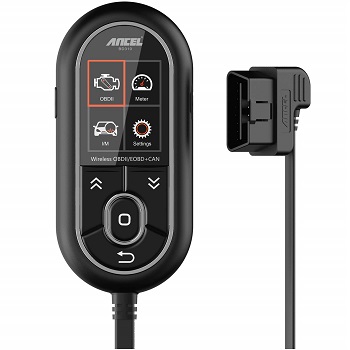 Ancel BD310 is one of those all-in-one devices which do cost a bit more, but that is worth every penny. This OBD2 reader is the perfect choice for those who can't make their decision between a Bluetooth adapter and a handheld scanner – because this device has both. The manufacturer went the whole nine yards and installed all of the features you can ask for in an OBD2 scanner/adapter. Apart from reading and erasing codes, you can do your I/M readiness test, make freeze frames, and receive live data. Additionally, with the help of the manufacturer's own exclusive app, you can make an analysis of your entire drive, with time, distance, speed, RPM, coolant temperature, and many other factors to track. Additionally, you can even set up an alarm to alert you that you're driving too fast or that you've been driving for too long and need a break. If you want to track your stats as you drive, use the magnetic clip to attach the device to your dashboard. Sadly, the device doesn't have its own code library, but the app makes it easy to search the issue online with only a click. You can connect this model to both Android and IOS devices.
Pros
Can be used both as a handheld scanner and Bluetooth adapter
Comes with an exclusive app with many features
Cons
Doesn't have code library
2. Jethax OBD2 Scanner Bluetooth 4.0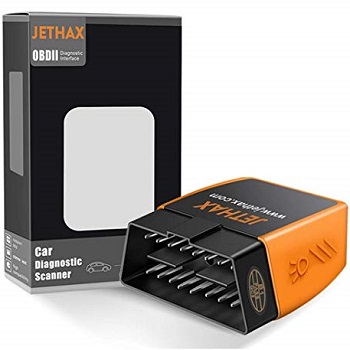 Our next pick is a popular basic model. Made by Jeethax, this small orange device comes at a reasonable price. The device has Bluetooth 4.0 installed, and it can communicate with both Android and IOS devices. However, the manufacturer doesn't have its own application. Instead, they recommend third-party apps OBD Fusion or AutoDoctor to Apple users, and DashCommand or Torque to those who own an Android device. The box of the device comes with a QR code, which will lead you to a page with great app recommendations. This device can read many OBD2 protocols, so it's compatible with most cars made after 1996. This device can do anything that your preferred app can do – from freeze-framing to reading live stats as you drive. Since this is an OBD2 Bluetooth adapter, you may have a library on hand, or you may need to search for each code online, it depends on the phone app that you choose.
Pros
Supports both IOS and Android
Comes with good app recommendations
Cons
3. Veepeak OBDCheck BLE OBD2 Bluetooth Scanner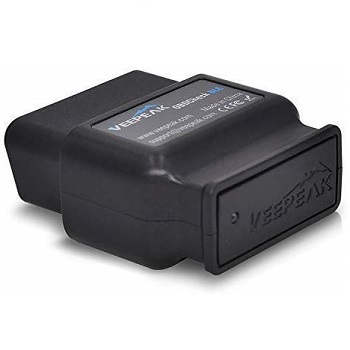 Veepeak's OBDCheck is another OBD2 Bluetooth adapter that we liked, along with many other happy customers. This device comes at a reasonable price. It can connect to virtually any device, including IOS, Android, Windows, and Mac. The device runs Bluetooth 4.0, and it utilizes Bluetooth LE (Bluetooth Low Energy) to connect to Apple devices. That's why the manufacturer points out that if you use an iPhone or iPad, you shouldn't pair with the adapter through Bluetooth settings, but instead, pair the devices through your chosen app's connections setting. That being said, the manufacturer Veepeak doesn't have their own OBD2 smartphone app, but instead, they have an exhaustive list of recommendations for many devices. Veepeak's OBDCheck Bluetooth adapter can work with all five of the OBD2 protocols, which means you can use it on any car sold in the US after 1996.
Pros
Can connect to various devices
Good app recommendations
Cons
Connecting to IOS devices can be difficult, depending on the app
4. BAFX Products Wireless Bluetooth OBD2 Scanner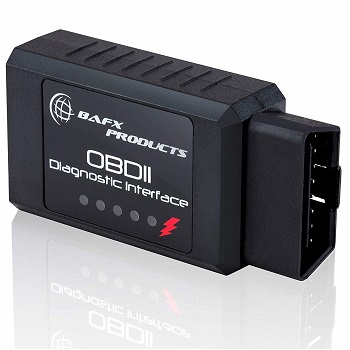 If you're looking for an affordable OBD2 Bluetooth adapter, and you own an Android or a Windows device, Bafx has got you covered. If you only need an OBD2 adapter for an occasional scan and clearing your Check Engine light when it comes up, you'll be more than happy with this device. The good thing about this particular adapter is that it's not large, but also not so small as to get lost frequently. At 3.5 inches long and 1.5 inches wide, this adapter is both easy to store and to find when you need it. This model supports all of the necessary OBD2 protocols, but it won't read issues with unrelated lights, such as ABS, SRS, and TPMS. The manufacturer doesn't have its own app, so you can use whichever third-party app you prefer with this model. We'd recommend Apple users to search further since this adapter doesn't support IOS devices.
Pros
Very affordable
Not too small, so you won't lose it
Cons
Doesn't support IOS devices
5. Beswill OBD2 Scanner Bluetooth and Music Player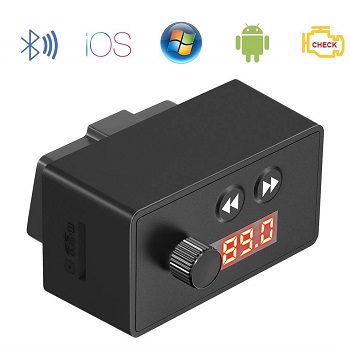 Here we have another reasonably priced device that can do all of the basic OBD2 functions and some more. Beswill's Bluetooth adapter is unique on the market since it has a special feature that we haven't come across in OBD2 scanners – it can play music. Specifically, you can use this device to stream music from your phone to your car radio via Bluetooth and a blank FM frequency. This interesting little feature can be a lifesaver if you're bored with the music played on the radio. When it comes to this device's functionality as an OBD2 scanner and Bluetooth adapter, you will be quite happy with it. First of all, you can use this adapter with IOS, Android, and Windows devices. However, it doesn't come with the manufacturer's own app. Instead, you can download one of the manufacturers recommended apps to use with your adapter. When it comes to what the adapter can do, you can do all of the checks you may need, from I/M readiness to O2 sensor checks, with the possibility for a live data stream and real-time battery voltage. However, this model can't read ABS, Airbag, TPMS, or Oil Change lights.
Pros
Supports IOS, Android, and Windows devices
Can play music on your car radio
Cons
Can't clear ABS, Airbag, and TPMS lights
6. BAFX Products Wireless WiFi OBD2 Code Reader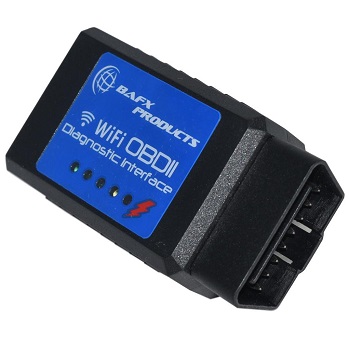 If you're looking for an affordable solution that will work with any Apple device, we recommend Bafx's WiFi OBD2 reader. Unlike other models we chose, this one does not utilize the Bluetooth technology to send data to your phone. Instead, it uses your WiFi internet network. The manufacturer chose this method for the device since some Apple devices have trouble with their Bluetooth connectivity. The WiFi network is a great workaround for this problem. The only issue with this type of connectivity is that you can't use your WiFi internet on your phone while you're connected to the device, but you can use the internet as usual on any other device. While the WiFi model can be used with an Android device, we'd recommend going with a Bluetooth adapter if you own an Android smartphone. When it comes to what you can do, this affordable OBD2 scanner is just that – it can read and clear your OBD2 issues, but not other systems like the ABS, SRS, or TPMS. However, you can do your I/M readiness and O2 sensor tests, and track your stats live.
Pros
WiFi operated device supports all IOS devices
Very affordable
Cons
Doesn't read ABS, SRS, or TPMS
7. PLX Devices Kiwi 2+ Bluetooth OBD Scan Tool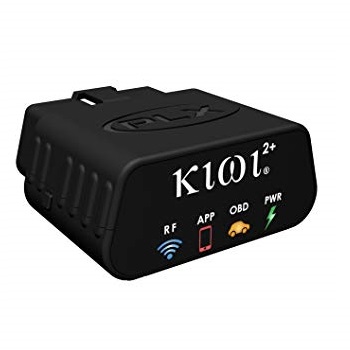 Our next pick is made by PLX, and it's called Kiwi 2+. This is a high-end OBD2 Bluetooth adapter for any Android device. Kiwi 2+ is a sturdy, reliable device that you can use to read your OBD2 codes, wherever you are. The adapter can read all standard OBD2 protocols, also including CAN, and Ford MS-CAN. It comes with gold-plated terminals, so your connectivity is fast and flawless. The model uses Bluetooth 2.1, which is quite old, but compatible with all Android, Windows, and Linux devices. While your reader is active, it uses 1.24 Watts, and only 0.1 Watts in sleep mode, so you don't need to worry that it will drain your car battery overnight if you forget to unplug it after you're done working on your car. It has LED indicator lights so you can be sure, just by looking at it, that it's powered on and connected to your phone. The manufacturer doesn't have their own app, but they do give a list of recommendations for apps that should work flawlessly paired with the device.
Pros
Sturdy, automotive-grade plastic case
Includes all OBS2 protocols, including CAN and Ford MS-CAN
Cons
Doesn't support IOS devices
What is an OBD2 Bluetooth Adapter?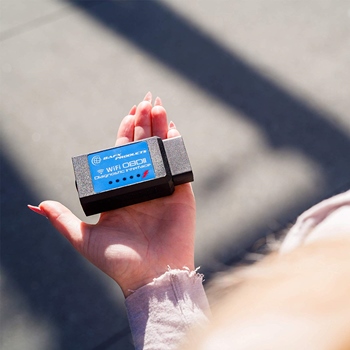 This situation might seem familiar. You're up for work, and just as you get into and start your car, you notice it – the bright orange Check Engine light. Its job is to warn you that something has gone wrong with your vehicle. But the issue is that this same malfunction indicator can light up for both a loose fuel cap and a failing engine. In this situation, you naturally panic and go to the mechanic's shop straight away, ditching your previous appointments and commitments. What a relief it is to find out that the only thing that needs to be done is a simple cap tightening that you could've done by yourself, parked in the front yard. But, now you're already late for work and owing money to the mechanic for this ridiculously simple task.
What is OBD2?
An OBD2 reader lets you skip the trip to the mechanic's, and find out exactly what the issue is. You don't need to go anywhere, just stay parked where you are, plug in the OBD2 reader, and find out whether you should head to a mechanic's for a repair, or simply fix the problem yourself and go on with your day. This device will let you check what's wrong and clear the malfunction light from your dashboard, all from your mobile phone.
So, what is OBD2? Sometimes written as OBD-II, the abbreviation stands for "On-Board Diagnostics," and the number 2 was added to signify that this is the second generation of the protocol. The OBD2 is a universal set of codes that all car manufacturers implemented in models made after 1996 in the US, 2001 in Europe, and 2005 for models made in Asia. That means that most modern cars use this same protocol.
The OBD2 codes (also referred to as DTC – Diagnostic Trouble Codes) are used to define and diagnose a wide variety of issues that can occur in a lifetime of a car. When something goes wrong, the car saves the diagnosis in its computer. That's where an OBD2 reader steps in. You just need to plug it into the 16-pin data link connector (DLC), which is usually located under the steering wheel or somewhere close to the driver's seat.
OBD2 Bluetooth Adapter Buying Guide
There are many things that you need to consider before you can make the pick you'll be completely satisfied with. There are many different models out there, and we want to help you make an informed choice. That's why we will go through some of the most important factors and additional features to consider.
1. Material quality
Bluetooth adapters are small and usually plastic. There isn't a lot the company can do to make them more durable. However, casing made out of high-quality plastic can make sure your Bluetooth device keeps on working properly for a long time.
If you want to keep the Bluetooth adapter in your car (for example, the glove compartment), we recommend getting a large or a brightly-colored model. This will help you locate the small piece of tech quickly and easily, even if your car is cramped or messy.
2. Compatibility with Devices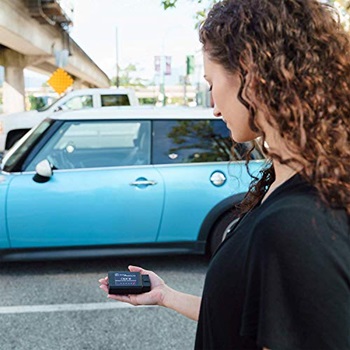 Not all OBD2 Bluetooth adapters work with all phones. That's because you need to download and use an app to connect to your OBD2 data. Sadly, the limitations in the app development industry have made even popular phone models incompatible with many of the OBD2 Bluetooth adapters. Before you make your purchase, you should make sure that the device is compatible with your phone type.
2.1. Android
The majority of OBD2 Bluetooth adapters are used with an app that you can get for Android-based smartphones. Some manufacturers use their own applications, while others make their devices compatible with existing third-party apps.
2.2. IOS
Even though Apple phones are a popular choice anywhere in the world, many OBD2 Bluetooth adapters aren't able to connect to IOS – the operating system on all Apple devices. There are two reasons for this. One is that developing and launching IOS apps takes more time and resources. On the other hand, Apple products have limited Bluetooth functionalities (for example, Bluetooth file transfer is not possible with an iPhone).
If you have an iPhone or iPad, you should keep that in mind when choosing an OBD2 Bluetooth adapter. Even though there are many models that don't support IOS, you still have a lot of options since many manufacturers understand that many people use Apple products. Sometimes, manufacturers choose to make WiFi operated adapters, which are equal in functionality to their Bluetooth counterparts. You can download the apps your adapter is compatible with on App Store or iTunes.
2.3. Windows OS
There aren't a lot of OBD2 Bluetooth adapters that are made for use with a PC. However, you will encounter corded adapters with USB connection for your laptop. Unless you carry a laptop with you everywhere you go, this type of diagnostic tool may not be too useful. Windows-based diagnostic tools are made with a professional mechanic's garage in mind.
3. The App
If you choose to use your OBD2 Bluetooth adapter paired with your smartphone or tablet, you will need to get a fitting app to run your scans. However, not all apps are made the same, and you should find out what the manufacturer of your preferred model says about the app.
3.1. Manufacturer's VS a third-party app
The first thing you should check about the OBD2 Bluetooth adapter you like is whether it comes with a special app, or the manufacturer simply refers you to a third-party application. Even though you may instinctively think that using the manufacturer's own app should be the best of the options, the choice is actually not that simple.
When it comes to the price, the manufacturer's own app will not generally bring any additional charge – you already paid for the app together with the device. However, third-party tools come in all shapes and sizes, and accordingly, price ranges. Some of these third-party apps even come for both free and premium use of the app, with some restrictions on the free versions.
However, sometimes, the bad side of the manufacturer's own app is that they aren't well designed or user-friendly. That's because the company that made it doesn't specialize in software at all. Sadly, when you get a device that connects directly to the manufacturer's app, it's unlikely you can pick another app that you may like more.
3.2. Free and paid apps
We already mentioned that if your OBD2 Bluetooth adapter comes with the manufacturer-developed app, you probably won't need to pay anything to use it. However, that's not true for third-party apps.
Of course, there are free options among third-party apps too. They usually come with advertisements. Others may give you limited access to features in the free version, with the possibility to unlock all features if you purchase the app. If the app has a free version, it will allow you to do your OBD2 readings. Some may also give you the option to clear your Check Engine light but are unlikely to give you access to more advanced features.
OBD2 Bluetooth adapter apps come at a large variety of prices. You can find a great one for just $5, or you may have to pay $50 for a decent piece of software. That truly depends on your own needs and requirements, and how much of the functions of these apps you need. If you only want to read what the issue is, you can probably get away with a free app.
How to Use an OBD2 Bluetooth Adapter?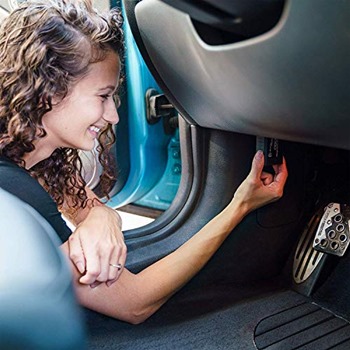 Even if you're not used to Bluetooth technology, you will find most OBD2 Bluetooth adapters simple and straightforward to use. Let's go through everything you need to know in order to get the most out of your OBD2 Bluetooth device.
1. Plug-In
The very first thing you need to do is locate your DLC – Data link connector. This is a male connector, which has 16 pins. It's usually located somewhere under or close to the driver's seat.
Once you find the connector, plug in your OBD2 adapter. Do this while your car is still off. Remember to always turn off your engine before you plug or unplug your OBD2 reader, no matter if it's Bluetooth or a handheld device.
2. Connect to Bluetooth
Now it's time to get your phone and connect to your OBD2 Bluetooth adapter.
First of all, you should download an appropriate app to connect to your adapter. Check your user manual, or the manufacturer's online shop or website, to see whether they have any recommended apps or even their own app that's compatible with the device. Then, go to the App Store (Apple), or Play Store (Android), and download the app you chose. Depending on your needs, you may need to pay for the premium version of the app, since they usually have more features and functions.
Once you have your app ready, it's time to connect to the app. For both an Android and an IOS smartphone, you should go to your phone settings and find your Bluetooth connections. Then, scan for devices, and tap the name of your adapter. Your phone may ask you for a password to pair with the device. Most frequently, it's one of the following: 1234, 1000, or 0000. Check your user manual or manufacturer's website for the password if you can't connect.
Sometimes, manufacturers don't recommend pairing your device through phone Bluetooth settings. Instead, you should open your OBD2 app and look for settings within the app. There, you will find a way to choose your OBD2 Bluetooth adapter.
3. Read the Code
And that's it! Now, you can read OBD2 trouble codes, track your car performances live, or clear your Check Engine light from within the app. Take some time to familiarize yourself with the app, and you will be using your Bluetooth adapter like a pro in no time!
Also – remember to shut down your engine before you unplug the adapter!
FAQ About OBD2 Bluetooth Adapters
1. How do I read the codes on my OBD2 Bluetooth adapter?
While you should always take a look at the provided definition of the problem, you can also learn to recognize and decode the meanings of OBD2 codes manually. The code is, in fact, a combination of 3 pieces of information: the locale of the problem, the first digit tells you whether it's a generic or manufacturer-specific code, and the last three digits tell you about the particular affected system.
The locale is described with a letter – P for powertrain, B for body, C for chassis, and U for undefined.
If the number coming after the letter is 0, 2, or 3, you're looking at a generic code that applies to all vehicles. However, if the number is 1, the code you're dealing with is specific to the car's manufacturer.
The last three digits represent the particular details of the problem. The first of these three will tell you which system is affected – the transmission, fuel and air metering, auxiliary emission, and so on. The other two digits will give you details about the fault.
2. Will the OBD2 code tell me everything about the issue?
OBD2 codes will tell you everything you need to know about the issues with your car, but it takes time, patience, and practice to learn to understand the codes correctly. Remember that the codes come from the car computer. Sometimes they may get jumbled up, and other times you may get several codes, and your job would be to figure out which points to the root of the problem. In any case, sometimes the codes can be confusing, and it can take quite a bit of reading and practice to become completely independent of the internet and your local mechanic. We recommend doing your car maintenance yourself but leaving the repairs to your certified mechanic.
3. Can an OBD2 Bluetooth adapter reset my Check Engine light?
Yes. Even if you don't repair the actual issue that the Check Engine light is warning you of, you can still use your OBD2 Bluetooth adapter to clear the alert. However, this may depend on the app you use paired with your device. Furthermore, if you clear the light but don't fix the problem, the light will reappear after a while.
4. Should I choose a Bluetooth model or a scanner to read OBD2 codes?
This depends entirely on you and what you prefer and find important when it comes to convenience. An OBD2 Bluetooth adapter lets you use your phone to read codes and control the device. This has both good and bad sides. For example, the good thing is that your phone is entirely portable, so your device is not stuck under the driver's seat. On the other hand, if you use grease or oil when fixing the car, you may have to wash your hands before you can use your phone again. Finally, you can find the middle-ground and go with a device that has both options. Consider your personal habits and the different pros and cons of each type. We're sure you won't go wrong, whichever you choose.
5. Can I leave my OBD2 Bluetooth adapter plugged in overnight?
You can, but we wouldn't recommend it. Leaving your adapter plugged in after you turn off your engine is not good for one big reason. While Bluetooth adapters aren't very power-hungry, they can drain your car battery if you leave one in for too long. It definitely won't happen as quickly as if you left your headlights on overnight, but it will drain the battery eventually.
Wrap Up
Not everybody is a professional mechanic, but the OBD2 standard has made diagnosis simple and convenient for everybody. With the best OBD2 Bluetooth adapter, you don't need to waste yours (and your mechanics) time only to find out that it's an easy-to-fix minor issue such as a loose fuel cap. Simply get your adapter from the glove compartment, attach it, and use it to get the error codes and their explanations right on your own mobile phone. Of course, if the issue is serious, you should proceed to the repair shop, but in many cases, you'll be able to fix the issue yourself and go on with your day without major delays.
We hope we managed to summarize everything you need to know when getting yourself one of these devices. We made honest OBD2 Bluetooth adapter reviews, and hopefully, you will find them helpful when choosing a model for yourself.
See also: best multimeters