Whether you want to check the voltage on an outlet, or you want to make sure that the car light works properly, you need the best multimeter you can get. Fixing around the house is a special kind of independence, and a trustworthy multimeter is a must-have when it comes to any type of toolbox.
We also prepared an arrangement of models that we think are worthy of your attention. You can find those in the multimeter reviews section. To get to a worthy decision, we think that it is important to know what kinds of features to look for, just so you do not overdo it. Let's see what these devices have to offer!
See The Quick Comparison Chart
Who Needs a Digital Multimeter?
Generally speaking, anyone who wants to learn how to fix stuff around the house, car, or garage can use a multimeter. Multimeters, at least the regular types, are best fitted to work on devices that use direct current. And those devices are usually electronic gadgets, car batteries, and phones. Because electronics became an integral part of our lives, we need multimeters more and more by the day. Here is a general list of people who might benefit from a multimeter.
1. DIYers
Nowadays, a vast majority of DIYers include some sort of gadget or a mechanism into their creations. Most of these rely on some sort of a battery or accumulator, which always include direct current. So, as you can see, the versatility of the instruments depends on your skills and requirements.
Following the popularity of LED lighting, more and more people need a multimeter to install the illumination systems in their homes properly. Often times, people need to make sudden changes in the blueprints, and a handy multimeter can get you there quicker and more accurate.
2. Hobbyists
The trend of meddling with small electronics is on the rise. People are learning delicate electronics in their free time, with a huge focus on programming smaller computers. Now, delicate electronics include a lot of low-voltage channels and wires, a bunch of resistors, and much more. Multimeters excel in working with such electronics, especially if they have a live feed check of the current.
Another hobby on the rise is drone piloting. We all know that, for the sake of buoyancy, the drone parts are made of frail material, which translates to more tunings and fixes. Work like this usually includes some sort of delicate electronics, meaning that you need a micrometer to make sure everything is in order.
The number of hobbies which include technology and electronics has only started to grow.
3. Car Owners
No matter if you are with your first car, or you are a skilled driver, the chances are – you will have to do some small electronic work around your car. Connecting a new pair of LED headlights requires some wire works. Installing a new radio or a new sound system most certainly involves some wiring. Wherever you have wires and a battery, a multimer comes in handy.
Some people like to have a multimeter alongside a pair of top-rated jumper cables. This way, when the battery fails, you can do better diagnostics on the spot. After all, all car electronics have something to do with that 12 V car battery, meaning that with a multimeter, you get a better insight into your vehicle's overall wellbeing.
Advantages of Having a Multimeter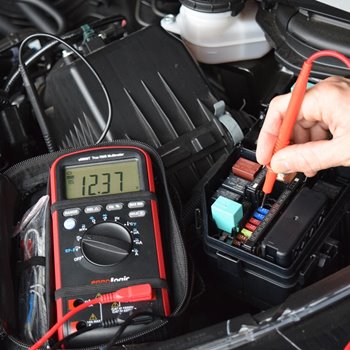 When it comes to the benefits a trustworthy multimeter can bring to the table, it all depends on how frequent and how advanced the user is. However, without getting too much into detail and individual habits of various electricians, we can safely say that two advantages stand out. The two main advantages of having a micrometer are – independence and safety.
1. Independence
There is no bigger hassle than having to stop whatever you were working on just because you do not have a voltage or an amperage reading. As we mentioned, people got accustomed to technology, and DIY workshops are more and more common.
For example, installing a new set of headlights, especially halogen headlights, is not that hard of a job. However, it does include a lot of wiring. If you have a multimeter, you can doublecheck the installation every step of the way. Some multimeters even have the feature of continuous measuring for stability reasons. All in all, the point is, you do not have to leave your car at the workshop just for a pair of headlights.
Additionally, car owners can also check on the state of the car battery more precisely. You can even check each and every individual part of car electronics. Just make sure to consult the owner's manual. Some multimeters are calibrated to show more precise results on a 12 V DC current. Devices like these are made with car and vehicle owners in mind.
2. Safety
Electricity is dangerous, at least most of the time. A lot of accidents are caused by bad wiring, bad insulation, or any kind of small, preventable problem. We think that by developing the habit of checking and measuring, you invest in overall safety. Think about it – by having the option to measure and check the system, you actively work on preventing mishaps, which translates to a safer environment and fewer expenses.
We would like to emphasize that measuring AC (alternating current) can be dangerous. The most common source of AC is regular house outlets. They have a voltage of 115 V on average and represent a life threat, if not handled correctly. So, if you do have to measure AC, please wear adequate protective gear and practice extra caution.
Moreover, multimeter manufacturers invested a lot of thought and ingenuity in making these instruments insulated and damage-resistant.
Best Multimeters Comparison Chart
PRODUCT
DETAILS

INNOVA 3320 Auto-Ranging Digital Multimeter

Price: $
Customer Rating: 4.3
Measuring Unit: Ω/V/A

View On Amazon

Etekcity Digital Multimeter

Price: $
Customer Rating: 4.5
Measuring Unit: Ω/V/A

View On Amazon

DROK 180038 Digital Voltage 10-170 ℉ Temperature Monitor Tester Multimeter

Price: $
Customer Rating: 4.6
Measuring Unit: V/F°

View On Amazon

Extech MN36 Digital Mini MultiMeter

Price: $$
Customer Rating: 3.8
Measuring Unit: Ω/V/A/°F/°C/Hz

View On Amazon

INNOVA 3340 Automotive Digital Multimeter (10 MegOhm/UL)

Price: $$$
Customer Rating: 4.2
Measuring Unit: Ω/V/A/°F/°C/Hz

View On Amazon

Fieldpiece HS33 Expandable Manual Ranging Stick Multimeter

Price: $$$
Customer Rating: 4.6
Measuring Unit: Ω/V/A/°F/°C/Hz/MFD

View On Amazon

Fluke 116/323 KIT HVAC Multimeter and Clamp Meter Combo Kit

Price: $$$$
Customer Rating: 4.6
Measuring Unit: Ω/V/A/°F/°C/Hz

View On Amazon
Best Multimeter Reviews
The following section is dedicated to various multimeters we found worthy of your time. If you are interested in other car gear, make sure to visit our main page filled with all sorts of car equipment, from all-season car tires to top-rated dent pullers, etc. So, let's see what interesting devices are there in today's market.
1. INNOVA 3320 Auto-Ranging Digital Multimeter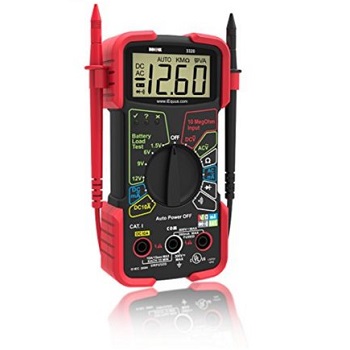 The INNOVA 3320 is a multimeter designed for beginners and advanced tool users. It offers the main three-unit measuring Ω, V, and A. However, do not think for a second that this multimeter doesn't deserve your attention, because the simple things it does, it does them accurately and within normal limits.
So, the very first things you can see are the bumper edges and probe holders. Believe it or not, having a place to safely store the probes is often an underrated commodity. This way, you will never lose the probes, and you are making sure they are not getting tangled a lot. When it comes to measuring, this particular multimeter goes after current, resistance, and voltage. It has an auto-ranging and a continuous measuring mode, which makes a lot of repetitive tasks a lot easier. The display is digital with enough space for a sign and four large digits.
Pros
Anti-shock edges with bumpers and probe holders make this multimeter safe and easy to store
Has an auto-ranging mode, as well as a mode for continuous measuring
It comes with standard probes and a separate high-amperage red port, next to the ground and standard red port.
Cons
The digital display is not backlit, so make sure you bring a flashlight
Some users report that the markings on the selector knob edge are too dark
2. Etekcity Digital Multimeter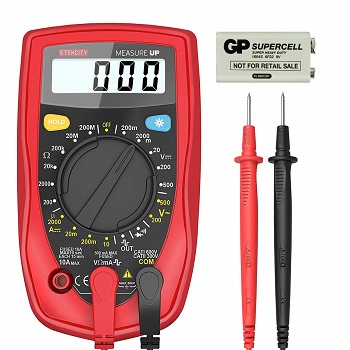 Etekcity decided to go all out and make a budget-friendly multimeter model that can satisfy the basic needs of car owners and DIYers all around the world. The biggest impression of this particular unit is that it is smaller and generally more compact than the other models in its class. The whole outer rim of the device's body is layered with a protective rubber sleeve for extra protection and stability.
The screen on this multimeter is digital, and it comes with a backlight which is controlled through a button located under the display. When it comes to measuring, it covers the basic three units – current, voltage, and resistance. It does not cover alternating current, and you will have to do the ranging yourself. The device has a nice kickstand, which helps with the reading of multimeter symbols. On the bottom side, there are three standard probe ports for ground, standard test, and high-amperage probe socket.
Pros
A great budget-to-performance ration, with the emphasis on affordability
The multimeter has a nice kickstand and a backlit digital display
The manufacturer added an extra rubber layer around the whole unit to help with safety and stability
Cons
The device isn't suitable for testing alternating current
There is no automatic ranging mode, meaning that you will have to range the dial by yourself
3. DROK 180038 Digital Voltage 10-170 ℉ Temperature Monitor Tester Multimeter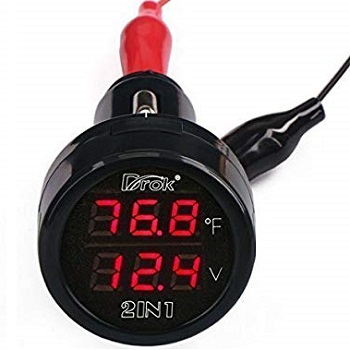 Here we have a sort of a special multimeter from DROK. This extremely compact multimeter is designed to fit the car lighter socket of your car. It does not have regular probes, and all you have to do is plug it in, and it will start working automatically. It is made for continuous measuring inside the car.
So, what kind of special measuring can you expect from a multimeter model like this one? The basic idea behind this multimeter is giving the driver continuous and precise values for car battery voltage and for the car's interior temperature. Voltage is expressed in Vs, while the temperature is measured in degrees Fahrenheit by default. Both values are written on the small backlit LCD screen on the multimeter's front side. The voltmeter inside has a fuse built inside, so there is no risk of short-circuiting the battery.
Pros
Easy to use with the plug and play system. Just plug it in the car lighter socket
Gives accurate voltage readings for the car battery
The multimeter has a super-visible backlit LCD screen that continuously gives you battery voltage and interior car temperature readings
Cons
Not a tool you can use for probing. You cannot use it besides with a car lighter port
If you use any kind of other 12 V device that goes directly into the same socket, you will have to choose one
4. Extech MN36 Digital Mini MultiMeter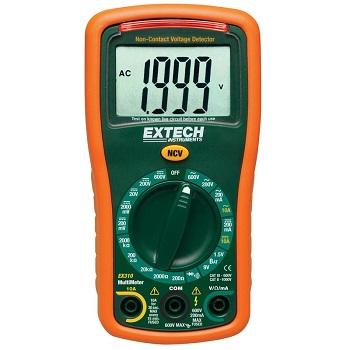 Extech made this particular multimeter with one thing in mind – automation. Even though it looks and feels like a standard multimeter, there is a somewhat strange catch – the dial does not have ranges on it, and generally looks smaller. When it comes to the build of the device, nothing special to expect, except an additional thick rubber layer around the multimeter for safety reasons.
The selection knob only has values on one half of the circle. This is due to this multimeter's ability to automatically find and range the value you want to measure. Not only that, but you will also find some extra units on the dial. Besides having the option to measure resistance, voltage, and current, this multimeter can also give you readings on the temperature and frequency. The temperature is, of course, available in both °F and °C. You will find the standard three probe sockets on the bottom side.
Pros
An excellent all-around multimeter that measures more than just the standard three electrical values
A kickstand on the backside and a large digital display make it easy to read at various angles
Every type of measuring is fully automated
Cons
The display has no backlight, so make sure you have a flashlight close by
Some DIYers do not like the lack of manual ranging
5. INNOVA 3340 Automotive Digital Multimeter (10 MegOhm/UL)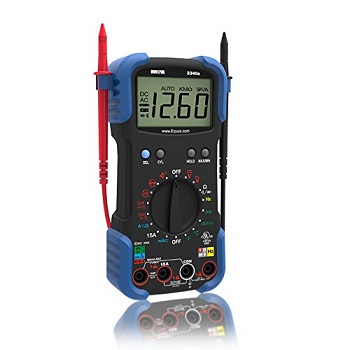 If you are a driver that likes fixing stuff around your car, this INNOVA multimeter might be the right choice for you. We are talking about a multimeter model that is directed towards automotive diagnostics, and all sorts of vehicle-related measurements. The body is fully insulated and has a double layer of rubber and anti-shock protection.
Make no mistake – this is a professional tool. Situations in which this multimeter excels are alternator diode testing, solenoid checkups, duty cycle tests, circuit breakers, car electronics, and many, many more. The large display is easy to read, and the selector knob makes it clear that this multimeter has automatic ranging for frequency, temperature, resistance, voltage, and current. On the bottom side you can find the three regular probe sockets, and an additional 15 A socket.
Pros
Professional multimeter tool aimed towards vehicle diagnostics and car electronics
Sturdy and secured with a double layer of rubber and isolation
Measures more than regular multimeters, with everything being auto-ranged
Cons
This particular multimeter is on the expensive side, but it delivers professional results
The device is a bit larger and heftier than standard multimeters
6. Fieldpiece HS33 Expandable Manual Ranging Stick Multimeter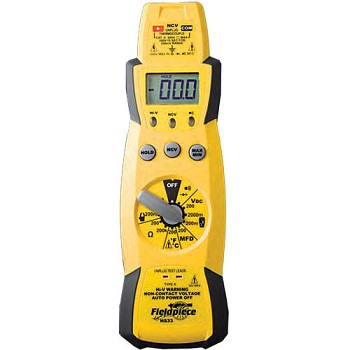 Some people like to settle and get a full measuring set with their multimeter. If you are one of those people, you might want to consider this Fieldpiece HS33 multimeter. One thing you will notice immediately is its somewhat strange design. While regular multimeters usually have a rectangular design, this particular model has a design that is, for the lack of a better term, lengthy.
Now, if you do decide to get one of these, expect to get a lot more than just a multimeter. Alongside this unit, you will get three different sets of measuring probes: standard probes, alligator clamps, and a temperature probe. Not only that, but you also get a handy bag to pack it all up, and you get an amp clamp in the shape of a multimeter body extension. With this device, you can measure voltage, temperature, resistance, current, and capacitance. The ranging on this particular model is all set to manual.
Pros
Ergonomically designed. The multimeter's longer body allows for a better grip
Measures a wide arrange of different units, including AC and DC
With the multimeter, you get three different types of probes: standard, alligator clamps, and a heat probe
Cons
All these different settings and probes come with a heftier price
There is no automatic ranging on this multimeter
7. Fluke 116/323 KIT HVAC Multimeter and Clamp Meter Combo Kit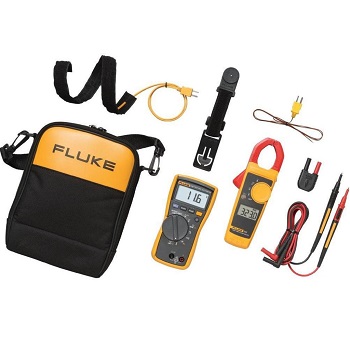 Here we have a professional diagnostic set from Fluke. This multimeter kit can provide excellent support, no matter what type of fixing and tinkering you do. Technically speaking, you get two multimeters, each with a specialty of its own, and a design that follows. Both units are isolated with a double layer of rubber for safety reasons.
The main unit of the set resembles a classic digital multimeter. It has a large, backlit digital display that fits four digits. Beneath the screen, there is a selection knob that allows you to measure voltage, temperature, amperage, and resistance. Every option is auto ranged, but if you so wish, you can set a manual ranging mode. The other piece of the set is a clamp meter that can continually measure voltage, amperage, and resistance. Alongside the two multimeters, you get a handy bag and all kinds of probes and clamps – a complete, professional set. Keep in mind that a diagnostic tool like this one comes with a hefty price.
Pros
A complete diagnostic set that comes with two different multimeters – standard and clamp meter.
Offers a whole set of different probes to help you adapt to the task at hand
Comes with a convenient handy bag to pack everything in for easier storage and safekeeping
Cons
This diagnostic set can be a bit of budget unfriendly. However, you get a complete diagnostic set
The multimeter can be a bit much for a novice user
What Is a Digital Multimeter?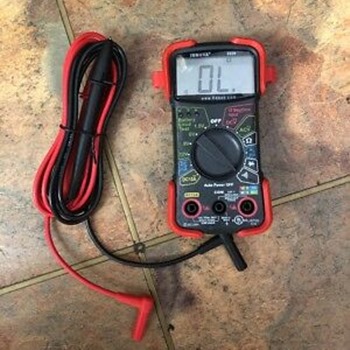 A lot of people who don't meddle with electronics do not know what a multimeter exactly is. That is absolutely fine because you do not need to be a professional electrician to use a multimeter. However, if you are new with this device, maybe you get to realize the true power of it.
So, a multimeter is a device that measures multiple values. Sounds simple? Well, it's a yes and a no. Let's get into it without getting too technical, because this website is too small to truly explain the benefits of a digital multimeter. The multimeter essentially measures the three main properties of electricity:
V – Voltage or potential
A or mA – Current
Ω or kΩ – Resistance
Now, a multitool like this brings a couple of things to the table: safety and utility. So, with a device to measure these three values, you can approach a DIY project with a completely fresh perspective, and certainly a lot more precision.
Most devices out there are operating on direct current or (DC), and whatever business you have with a device, the chances are you are going to need a multimeter by your side. Which brings us to the question – Who can benefit from adding a multimeter into their tool arsenal.
How Do Multimeters Work?
Every multimeter has the option of measuring three main things – current, voltage, and resistance. Measuring each unit requires a slightly different setup. To better explain ho a multimeter works, and to avoid being overtly technical, it is best to go through the main parts. Every multimeter consists of three integral parts:
Display – analog or digital
Selection knob
Testing (aka measuring) probes
By knowing how every part is used, and what are the limits, you ensure getting the max out of your multimeter, while staying save as a bonus. First, a quick word about the parts.
1. The display
This is an integral part of a multimeter responsible for translating the measured parameter into numbers that have value. In most cases, we are talking about a simple, black and white LCD display that shows 4 to 8 digits. However, there are multimeters that still utilize an analog screen. At the end of the day, it all comes to personal preference. Here are the main features and downsides of both digital and analog multimeter displays.
1.1. Digital display
The main advantage of a digital multimeter display is the ease of reading concrete values. Most of these displays come with enough room for 4 to 8 digits, which can express the value more accurately. Some digital displays have a backlight, and some even come with additional options or more room for data. All in all, the digital screen is the most common when it comes to these devices, even though analog screens still have a feature or two to offer.
Generally speaking, a multimeter digital tend to be more precise, and more consistent with the readings. Analog displays have moving parts that are influenced by the environment and can oscillate around the actual value measured.
1.2 Analog displays
Analog displays have been around for a longer time, and there is a reason why old school DIYers and electricians love them. The biggest advantage that an analog multimeter has over a digital multimeter is the visual effect of changing values. Your eye can get used to analog dial speed, and you eventually start measuring values faster.
One major setback of multimeters with analog displays is the limitation of measuring volts, ohms, and amperes only. The analog scale can only show so much, and an analog display is rarely backlit, due to the difficulty of building in a bulb. It is up to you to decide which one you like more.
2. Selection Knob
Also known as the mode picker, the selection knob is the adjustable circular dial in the middle of the multimeter. It allows you to set what kind of unit you are measuring and the range you suspect is the closest. A typical multimeter will have three major modes (V, A, and Ω), with each of those modes being separated into two sub-categories – one for AC and one for DC. Usually, the DC sections take up most of the full circle.
Here, on this knob's settings, you can also find other modes, like auto-detect mode or an auto range mode. There can even be a thermometer mode or other specialized features. All in all, the knob is a way for you to adapt the multimeter to the task at hand. This is usually done through the process of manual ranging (more about that later).
3. Measuring probes
Every multimeter relies on a pair of probes as the surface that will come in contact with the wires or devices you want to inspect. The probes even have a standardized color scheme – red for positive "+" polarity and black for negative "-," also known as the ground probe. Below the selection knob, you can see a number of slots that fit the other end of a probe. Usually, there are three standard probe slots – grounding slot, a ΩVA slot for the measuring probe, and a special high-amperage slot for the testing probe. The last one is usually marked with a 10A (or sometimes even higher) mark.
Now, you can also adapt the probe shape and functionality. There are all sorts of specialized probes out there, but the most common ones are:
Standard Test probes – the simplest to use and cheapest to replace. All you have to do is poke with the red probe to get a measurement.
Alligator probes – small clamps that are great for continual testing and longer tests in general
Hook probes – with these you have the option to firmly attach the probe by hooking it
Tweezer probes – a bit more uncommon than the other three. Typically used to test SMD components.
Multimeter Buying Guide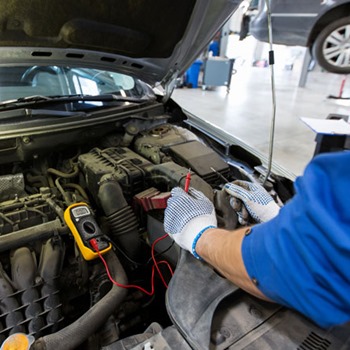 Now you know what multimeters are made of. We did not want to go deeper into the matter, because we would need a whole new day to even scratch the surface of how useful multimeters are, and what kind of components they have inside. So, it is time to talk about the practical factors that will help you decide what kind of multimeter you need. Who knows, maybe you discover some features that you will never need, and end up saving a dollar or two.
1. Auto-ranging
If you are a beginner DIYer, or you just want to take matters into your own hands when it comes to car repair, an auto-ranging multimeter is a way to go. As the name suggests, there is an automatic range selector. By making the device detect and register the range, you do not need to know much about the electric source. This feature is quite handy, especially when there are a whole bunch of resistors on the board, and you do not have time to estimate every range.
2. Versatility
Several functions can fall into the 'versatility' category of a multimeter. The most famous non-conventional unit you can measure is temperature. Some multimeters have a single mode that can tell you how hot or cold is it on the surface metal. Ideally, that kind of multimeter will allow you to swap between °F, °C, and K, each representing a different temperature unit.
A multimeter's versatility also depends on the range width. The wider the range of Ω, V, and A you can measure, the better the multimeter. It would be too much to ask of someone to know what values they want to measure in the future. That's why it is the safest bet to get the multimeter with the widest unit range.
3. Display Type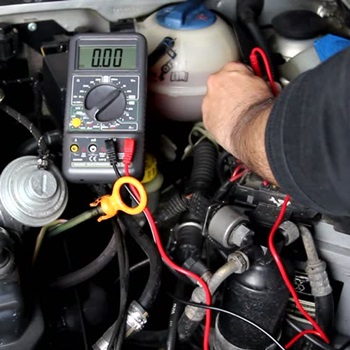 We mentioned the main differences between the analog and the digital display in one of the above sections. When it comes to regular, not specialized, multimeters, analog units will be harder and harder to find. There are traditional DIYers who insist on using an analog display due to the feedback it provides. If you do decide to get an analog display multimeter, it will probably mean that you need to sacrifice some versatility for it. However, do not think for a second that digital is somehow worse – it is just different.
4. Body and Durability
If you plan to go around the garage fixing stuff, you need to be sure that the multimeter doesn't break. Being that people need this device to be as accurate as possible for as long as possible, the manufacturers decided to put extra layers of material. Generally speaking, a vast majority of multimers today are made of plastic as the main material. Various sorts of synthetic materials are used, each one with a really important feature – not conducting electricity.
Due to the flexibility of such materials, engineers decided to make multimeters with softer polymers on the inner, and rougher polymers on the outer side. Most models have a strip or two made of anti-slip plastic.
5. Automatization
Besides having an auto-ranging mode that helps you determine the measurement range, there are other options for automating the process. Some multimeter models have an auto mode that predicts the unit you are measuring, or measures all basic units (resistance, voltage, and current). Some would argue that automatic modes do not provide enough accuracy, but there is no proof of that. This option is designed for more detailed, or simply quick, inspections.
An automatic detection mode is especially useful when working with sensitive electronics with a lot of resistors. You cannot always remember every ohm rating. This is where automatic modes come in handy.
6. Accuracy
Another somewhat old topic regarding multimeters. Up until recently, there used to be a live debate over whether digital multimeters show precise results. However, multimeter precision does not rely on the type of display. It is all a matter of preference.
If you are worried about multimeter precision, maybe you should keep in mind that multimeters are not scientific devices. This is true for al residential multimeters, which usually end up with car owners, DIYers, and hobbyists.
However, every multimeter will have some kind of precision rating, usually marked in the percentage of error. If you require absolute precision, maybe these regular multimeters are not for you.
7. Safety
Last but not least, we have the topic of safety. If you've been paying attention, we mentioned plastics and synthetics as the main building material, known for not conducting electricity. This is a safety feature on its own. Another important thing to bear in mind is the insulation of the test probes. No matter which type you are using, always make sure that the probes, and their respective cables, are in a healthy state, with no crack in the insulation. Measuring current is dangerous work, so you might as well practice extra caution, at least until you get the hang of it.
How to Use Multimeters Safely?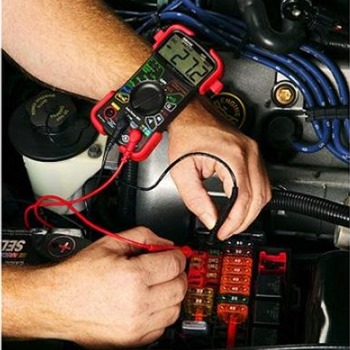 Ok, because we at The Car Picks put safety over everything else, we would like to dedicate a small section to safety while using multimeters. Some of the points we are going to mention are probably familiar to you, but there are people new to this, so a little repetition won't hurt.
Make sure your hands are dry – water conducts electricity and is not to be mixed with it. Make sure your hands are dry, as well as the testing probes and the multimeter itself
Whenever possible, hold the two probes with the same hand. If a mishap occurs, and a shock goes through the probes, it will not go through the vital organs in your body.
If the multimeter doesn't work properly, do not force it – sometimes, the fuse in the multimeter fries up. See warranty or go to a service to have it replaced.
Calibrate every once in a while. Get some steady sources of energy, like high-quality batteries, and calibrate the multimeter. This is done to make sure everything is being read as it is.
Be extra careful when measuring AC. The power from the outlets is way more dangerous to humans than battery power.
Other than a few of these general rules, every rule regarding working with electricity applies. Be mindful and patient, and do not be ashamed to wear protective gear if need be.
FAQ About Multimeters
1. Can I use the multimeter on the electronics of my car?
Not only that you can use the multimeter to install electronics on your car easily, but you can also use it to check up on your car regularly. People who delve into aftermarket modifications need a lot of electrical readings for everything to work correctly. For example, if you take up the challenge of installing a car alarm system all on your won, a multimeter can help you do it in a safe way.
Other situations where a multimeter can prove as a strong ally are:
Installing a new dashboard – dashboards tend to have a lot of wiring, and if you decide to have at it, a multimeter will be a lifesaver.
Installing a sound system – speakers rely on resistance and wattage. With a multimeter, you can check if the speakers are healthy, and you can install them properly.
Working on a new battery – car batteries operate with 12 V, as does the majority of car electronics. It just so happens that multimeters excel in a 12 V and 6 V environment.
We think that a trustworthy multimeter needs to be a part of every car owner's toolbox, no matter how often the car is being checked upon. You never know how precise measuring can save a "make it or break it situation."
2. How do I do manual ranging on a multimeter?
A skill that separates the newbies from the experienced is the ability to estimate the range of measuring. For the multimeter to work properly, you need to know the state of the node you are probing approximately. No matter if we are talking about resistance, current, or voltage, you need to assume the value and try to measure with it. You pick the value on the selection knob. First, you select the type of value (Ω, A, or V), and then you go for the ranging value. Always select one value above the value you assumed. If you underestimated the value, the multimeter would most-likely show a flat 1 or a 0.
Now, it is important for safety reasons to remember that current usually needs to be measured on a different probe port for the positive end. In most models, if the current range assumed in close to 10 A, you need to use the special port for the red probe.
Additionally, multimeters that have the ability to measure temperature do not need to be ranged when it comes to °F, °C, or K.
3. Can you get electrocuted while using a multimeter?
Well, if you doublecheck everything, the chances of safety hazards are minimal. However, there some safety issues that can happen to anyone, and they are usually including voltage measuring. The very first thing you should check is the ground probe, and if it is tightly plugged into the grounding slot of the multimeter. After that's settled, you can start measuring by making the correct turn on the selection knob. Make an estimate, and turn the dial on one value above your estimation.
Now, a really important safety tip is to prevent the probes from ever touching each other. This is the most common cause of mishaps. If the probes touch, especially during the measuring of AC, you can short circuit the current and cause a spark, or in some cases, fire. As long as you choose the correct mode and use the probes adequately, you should be safe.
Wrap Up
As you have probably noticed, a multimeter can be a lifesaver in various situations. We are not saying that you need to get cutting edge tools to get the job done, but having a solid, trustworthy multitool like this is a gamechanger. You can freely use our guide as a checklist, and decide which multimeter is the best multimeter for yourself. After all, you don't buy a digital multimeter every day, nor should you.
Now, when you do come close to a decision, we suggest taking a look at our picks in the multimeter reviews section. There you can find various multimeter types, so it's a good practice ground for testing the newly-acquired knowledge. If you have any questions, or you simply wanted to add something, feel free to contact us through the website. Now it's back to fixing stuff.
Bonus guides: obd2 BlueTooth adapter reviews – top-rated car power inverter