To ensure your car's safety, you need the best car alarm you can get, there's no putting it lightly.  For most people, getting their vehicles stolen would be a complete disaster. Luckily, there is a way to prevent getting your prized possession from getting stolen or broken into. There is plenty of choice of aftermarket devices that can protect your vehicle, so you should make sure you know how to navigate this saturated market.
To help you with that task, we tried to find the best car alarm system and wrote reviews for our favorite models. Hopefully, you will find the ideal one for you!
See The Quick Comparison Chart
Advantages of Car Alarms
Car alarms come with many benefits – some obvious, and some less apparent. To be completely honest, it's hard to imagine not having an alarm installed in our cars at this point. But if you still aren't convinced, consider these advantages that having a car alarm brings.
1. Car Alarms Keep Your Car Yours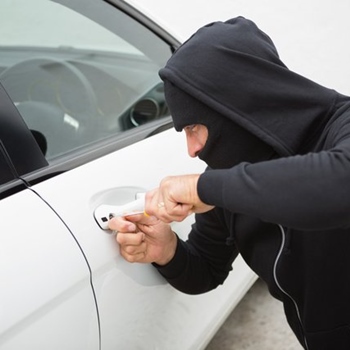 Of course, the most direct and obvious benefit of having a car alarm system installed in your vehicle is the fact that your car won't be stolen while you're snoozing away one Sunday evening. While there are other ways to deter thieves, like the best steering wheel locks or engine immobilizers, none of these alone are as effective as the good old car alarm.
Car alarms protect your vehicle in several ways. The most direct one is by letting you (or the police) know that something's amiss by sounding the alarm, flashing lights, or even sending a notification to your mobile phone or key fob. If someone does break into your vehicle, it's a great thing to have a GPS tracker installed, and many car alarm models have one. However, you can rest assured that most thieves won't even try to target a car that they clearly see is protected. Most alarms come with an LED light or a window sticker that will let the crooks know your vehicle is protected before they even attempt anything. In fact, thieves are far less likely to even make an attempt at your car once they see that it's alarm protected.
2. Quicker Theft Recovery With GPS
Many of the car alarm models you can find on the market today have a GPS tracker installed in them. This is an amazing feature you should get for your vehicle because it can stack the odds in your favor in the off chance a thief does manage to steal your vehicle. Having installed one of these models, you'll have peace of mind knowing that you and the police can still find where your car is with ease.
When it comes to most car thefts, it's a well-known fact that a stolen vehicle may already be taken apart for parts resale within the first five hours of the crime. That's why it's essential to act quickly if your car gets stolen. The police and you only get a few hours to recover your vehicle once it has been stolen, and having GPS installed drastically ups your chances of finding your valuable car.
3. Car Alarms Lower Insurance Premiums
Let's be real for a moment – car insurance premiums are unbelievably expensive. Yet you're legally obliged to purchase car insurance. When insurance companies calculate the premium you need to pay, they take various risk factors into account. Your driving experience, the area you live in, previous mishaps, and, you guessed it – how well your car is protected from theft. It makes perfect sense when you think from the standpoint of the insurance company. Lowering the liability factors the company ensures you against will lower the risk they make when signing a contract with you. Thus, they will appreciate a well-protected vehicle. So, do your wallet a favor, and invest in a car alarm before you call that insurance agent.
4. Additional Quality-of-life Features
Finally, car alarms come with some pretty great additional features as well. There are a bunch of little things that can enhance the experience of using your car. From keyless entry to remote locking and unlocking, quick and easy trunk opening, to little amenities like being able to locate your vehicle in a crowded parking lot by playing the chirping sound. All of these small additional features can make your overall car use much more convenient and pleasant.
Best Car Alarms Comparison Chart
PRODUCT
DETAILS

Avital 3100LX 3-Channel Keyless Entry Car Alarm

Price: $
Customer Rating: 4.1
Size: 7.2 x 4.8 x 5.4 inches
Number of Key Fobs: 2
Key Fob Paging: One way

View On Amazon

Viper 3400V 3-Channel 1-Way Car Alarm

Price: $
Customer Rating: 3.7
Size: 12 x 12 x 12 inches
Number of Key Fobs: 2
Key Fob Paging: One way

View On Amazon

Avital 4105L Avistart Remote Start & Two 4-Button Controls

Price: $
Customer Rating: 4.2
Size: 7.75 x 7.75 x 3 inches
Number of Key Fobs: 2
Key Fob Paging: One way

View On Amazon

EASYGUARD EC002-NS PKE Car Alarm System

Price: $$
Customer Rating: 4.1
Size: 9.7 x 7.3 x 4.2 inches
Number of Key Fobs: 2
Key Fob Paging: One way

View On Amazon

Python 5706P Responder LC3 SST 2-Way Security

Price: $$$
Customer Rating: 4.0
Size: 6.5 x 6.5 x 6 inches
Number of Key Fobs: 2
Key Fob Paging: Two Way

View On Amazon

Avital 5305L 2-Way LCD Remote Start with Security

Price: $$
Customer Rating: 4.1
Size: 6.5 x 6 x 6.5 inches
Number of Key Fobs: 2
Key Fob Paging: Two Way

View On Amazon

Viper 5706V 2-Way Car Security with Remote Start System

Price: $$$
Customer Rating: 3.9
Size: 4.7 x 3.8 x 1.2 inches
Number of Key Fobs: 2
Key Fob Paging: Two Way

View On Amazon
Best Car Alarm Reviews
1. Avital 3100LX 3-Channel Keyless Entry Car Alarm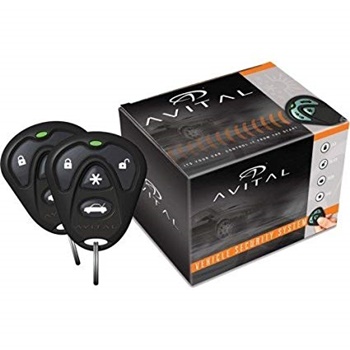 The most affordable model on our list comes from Avital, a well-known producer of car security systems. Their basic model comes with the most essential features for the best price.
This is a three-channel car alarm with a keyless entry system. It has all of the basic parts – most importantly, dual-zone shock sensors. However, it also comes with some additional features like dome light supervision, engine immobilization, and keyless entry. Dome light supervision automatically turns on the light above the front seats when you disarm the car.
Any crooks who'd eye your car will be automatically warded off by a bright red LED light, which will let thieves know your car is protected with a car alarm. This car alarm comes with two key fobs, both of which give you one-way control over your vehicle. You can find detailed installation instructions for this product, online and in the box. Our verdict is that this car alarm system is a great choice for those not willing to spend a lot of money on a car alarm, yet value reliable protection.
Pros
The most affordable car alarm model on our list
Comes with many basic features
Cons
Doesn't come with a remote start option
2. Viper 3400V 3-Channel 1-Way Car Alarm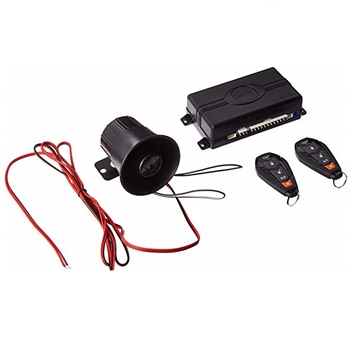 The next product on our list comes from the well-known safety system manufacturer Viper. Their 2018 car alarm is a great basic model that comes at a rather low price. This three-channel alarm has all of the basic features you need to protect your vehicle against theft.
It detects whether something's wrong with a Stinger Double Guard shock sensor. It won't have you getting out of bed at night when a cat jumps over your car either – the alarm chirps once when the sensors detect a bump and only sets off if it happens again. As responses to a potential threat, this alarm comes equipped with a Revenger six-tone soft-chirp siren, and you can hook up your parking lights to flash as well.
The thieves will likely leave your car alone before even making an attempt at it because they'll be aware of your alarm from the moment they eye your car. That's because it comes equipped with a bright blue status LED light. With this car alarm, you get two key fobs with four buttons. However, the one-way paging key fobs are sturdy, and quite stylish as well.
Pros
Affordable basic model
Siren wailing doesn't go off at the first offense, meaning you won't have to get out of bed because a cat set off your alarm
Cons
The basic set doesn't come with many additional features
3. Avital 4105L Avistart Remote Start & Two 4-Button Controls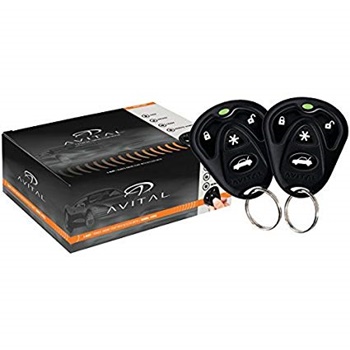 Our next pick is another affordable model by the famous Avital. Though this is not the single most affordable model on our list, it is definitely not far behind. However, for such a small difference in price, this model comes with a plethora of more advanced features that are worth investing in.
So, just like with most other models, you get a good set of basic security features like a dual-zone shock sensor and an engine immobilizer that protects you against hot-wiring thieves. However, for a slight increase in price, this model comes with many other useful features as well. For example, this car alarm eliminates the requirement of a tach wire in installations, with their Virtual Tach technology.
You can also start your car remotely, and have it warm up before you ever leave the comfort of your home. Another interesting feature you get with this model is its pit stop mode, which lets you program the amount of time you want your car to remain turned on but idle while you jump to the store. With this model, you get two 4-button key fobs that work for one-way control. In general, this affordable model is a great choice if you'd like to get more than just the basics but without paying twice the amount.
Pros
Quite affordable, especially considering the many features it comes with
Remote start is a great feature if you live in cold areas
Cons
This model is difficult to install, so it's better to invest in a professional installation
4. EASYGUARD EC002-NS PKE Car Alarm System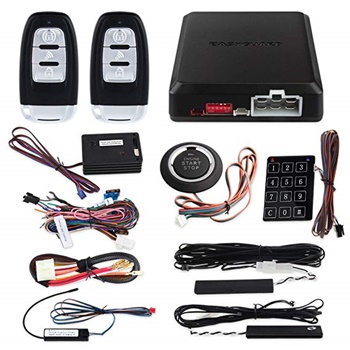 Our next pick is one of the most advanced models on the consumer market, and it comes from a reputable manufacturer Easyguard. This car alarm system comes at a higher price, but it also gives you many reliable features that don't come with lower-end models. Easyguard's model comes with all of the basic features, like a dual-zone shock sensor, engine immobilizer, and panic mode.
However, it also comes with a plethora of additional features. For example, you get an interesting feature which is a push-button start of your engine – after you unlock your vehicle with the key fob, you only need to press the button to start your car. You can also start it remotely by pressing a button on your key fob. This will let you continue sipping your coffee while your car warms up in cold winter months.
This car alarm system also comes with a password pad where you can simply use a numeric passcode to lock and unlock your car. If you have your key fob with you, your car will unlock when you come within 3-6 feet of it, and also lock once you leave its vicinity. This is very useful as you don't have to press the button every time, making bringing in groceries a breeze! This model comes with two one-way key fobs, which also have an extra key blade each.
Pros
A plethora of features like a passcode keypad
The keyless push-button start option is unique
Cons
This car alarm is on the expensive side, and the installation is too difficult to DIY
5. Python 5706P Responder LC3 SST 2-Way Security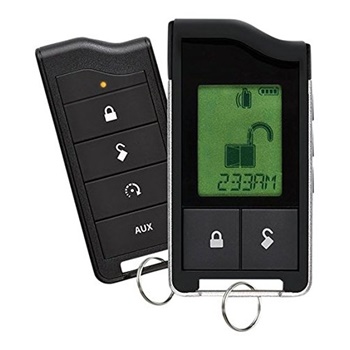 The next car alarm model we'd love to share with you is also a professional mechanic favorite. This car alarm by Python is far from the cheapest we have on our list, but it's well worth its price. It comes with all the basic features and some more.
This car alarm comes with a Stinger DoubleGuard shock sensor and a Revenger 6-tone siren. The alarm will make your life a bit more comfortable on cold winter mornings, as you can remotely start your vehicle and let it defrost and warm up while you're still drinking coffee at home. In fact, the key fobs can reach your vehicle from up to one mile away, but you can also connect your security system to your phone because this car alarm is compatible with the Directed SmartStart smartphone app.
With the alarm system, you get two key fobs – one two-way remote with an LCD screen, and one 5-button one-way backup fob. Both of these are slim, so they won't feel uncomfortable in your pockets, and they come with rechargeable batteries. Overall, this is a good choice of a high-quality car alarm, but its price tag is higher as well.
Pros
Two-way key fob with an LCD screen makes it easy to know the exact status of your car
Directed SmartStart phone app compatible
Cons
Some may feel the key fob buttons are too sensitive
6. Avital 5305L 2-Way LCD Remote Start with Security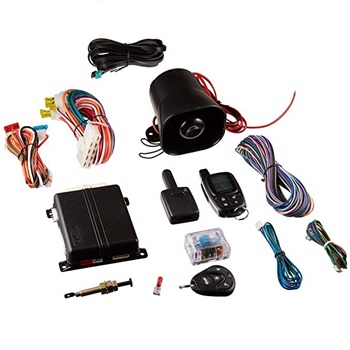 Our next model is another pick from the manufacturer Avital, this time a higher-end product that comes with a plethora of features and additions. This car alarm does cost quite a bit more than other Avital alarms we mentioned, but it comes with many additional features and overall better options.
First of all, this car alarm comes with a two-way key fob with a backlit LCD screen. The device will buzz or beep to let you know if your car requires your attention. Included in the box is also a 4-button one-way backup key fob. The alarm itself is quite feature-rich as well. It comes with a dual-zone shock sensor, and once a sensor detects someone standing nearby your vehicle, the Warn-Away feature will activate. It will chirp for a couple of seconds to let the thieves know your vehicle is protected.
The Nuisance Prevention feature ensures your car alarm won't bother you in cases of thunder, jackhammer vibrations, or if your door pin is faulty. It works by recognizing repetitive patterns and adapting the alarm settings to them. Other interesting features of this alarm are its pit stop mode, remote start, and passive arming of the alarm after 30 seconds after the ignition is turned off. Overall, this alarm provides great value at a fair price.
Pros
Comes with a two-way key fob which will buzz to let you know if anything is happening to your car
The Nuisance Prevention feature is very convenient if you worry about your alarm going off due to environmental triggers
Cons
Many users are unhappy with the actual range of the key fobs
7. Viper 5706V 2-Way Car Security with Remote Start System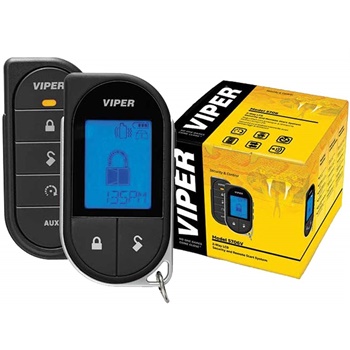 Our next pick is another Viper model. This car alarm is perhaps the most expensive device on our list, but it comes with many benefits and additional features.
This is our pick of a Viper two-way alarm, because of its slick, thin key fob. The fob comes with a backlit LCD screen, and it gives you many options and information about your car at any given moment. You can use it from up to one mile away. As the battery of the primary two-way key fob is somewhat weak, we recommend keeping the backup 4-button one-way fob with you.
The alarm itself comes with many features, and it's overall well-made from good materials. You can easily start your car remotely, and have it warm up before you hop into your car on cold winter mornings. The alarm comes with dome light supervision as well, so your car will be illuminated for 30 seconds after you disarm your alarm or unlock the doors. This Viper alarm will prevent thieves from hot-wiring your car with a failsafe immobilizer. It detects any fishy activity with a Stinger DoubleGuard shock sensor and sounds the Neo Revenger 6-tone siren if anything goes awry. Overall, this alarm is on the expensive side, but it's well worth the price!
Pros
Feature-rich car alarm with car immobilizer, keyless entry, remote start, and dome light supervision
Thin, slick key fobs are rechargeable with a micro-USB
Cons
The battery on the two-way key fob isn't the best
How Do Car Alarms Work?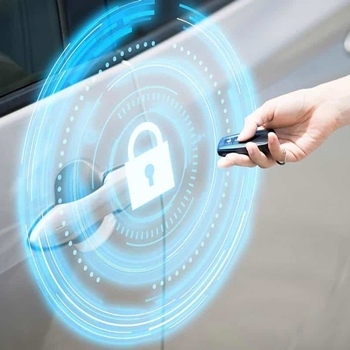 Car alarms are not a new product on the market – the separately purchased security units first became widespread in the 1970s. However, the technology behind car alarms has come a long way since that time, especially when it comes to intricacy, precision, communication, and features. That's why we have fewer and fewer car thieveries these days – the deed requires far more skill and experience with the modern alarm systems.
Car alarms that can be found on the market today are very intricate, yet they remain rather inexpensive. They are made out of many parts and complex connections between them, and they often come with a plethora of different features. However, all of these devices perform the same basic functions that make these diverse devices fall under the same category of car alarms.
1. Basic Parts of Car Alarms
The basic components of any given car alarm are a key fob, a computer, a receiver, a siren, and a variety of sensors. These basic components, along with some other, optional ones, work together to ensure you are immediately alarmed if something unusual is happening to your vehicle. When one of the sensors detects activity, the main computer unit turns on the sirens. If your car alarm has this feature, it sends a notification to your key fob or your mobile phone to alert you, while other models have the ability to notify the police immediately, without your intervention.
2. Sensors
In the meanwhile, when you're not using your vehicle, and it's simply parked with nothing out of the ordinary is happening to it, the car alarm may seem idle. In fact, this is when the alarm is very active, with all of its sensors operating.
There are many different types of sensors car alarms may have, and it's hard to determine which are more useful than others. In the past, cars only had one or two sensors – a door sensor that reacts to any of the vehicle's doors opening, and tilt or a shock sensor, which would sense unusual movements and tilting of the vehicle itself. Today, however, even the inexpensive car alarms have anywhere between two and ten different sensors, including the old-school door and shock/tilt sensors.
The new technology allowed us to monitor many subtle changes to the state of a parked vehicle. Because of that, the modern-day car alarms include sensors for sound, proximity, and pressure. Some of the more advanced car alarms also have a GPS unit installed, making it easy to detect where your vehicle is, no matter how far.
3. The Key Fob
Apart from the sensors, other technologies used in car alarm systems have greatly developed in recent years as well. This is particularly true when it comes to remote control of the device.
First of all, the range at which the device's computer and the key fob are able to communicate is much larger than before. The main unit and the key fob, which is typically worn as a keychain, communicate using radio-wave pulse modulation. These little devices are programmed to send an encrypted passcode towards the main unit, letting you control the alarm systems, lock and unlock your vehicle, turn on your lights, open the hood, or even immobilize the car's engine remotely.
Some of the modern car alarm key fobs have the ability to receive and display information when the alarm is set off – making them quite handy if your vehicle is parked out of your earshot.
Types of Car Alarms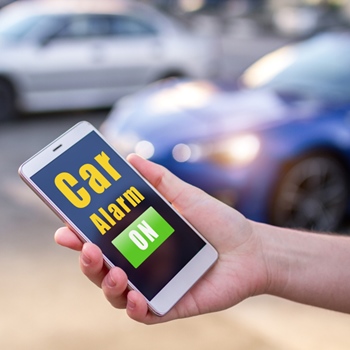 We have already mentioned how much car alarms have changed in recent decades. With that in mind, it's completely natural that there are a lot of different types of these devices, although they all still perform the same basic task of safeguarding your vehicle. In this section, we will take a closer look at the different types of car alarms. We won't focus on the various optional features in this section, but instead, give an overview of the most important functional differences between the car alarms available on the consumer market.
1. Active vs Passive
The first difference between types of car alarms we will tackle in this section is the very important distinction between active and passive devices. However, these days, most devices let you choose whether you'd prefer the passive or the active setting, but switching between these requires somewhat complex set up, so you will most likely need to make a choice between the two when you first have your alarm installed.
The main difference lies in whether you need to remind yourself to turn on the alarm until it becomes second nature. Active alarms require your immediate command to start safeguarding your vehicle. That means that if you forget to press the turn on the button of the alarm, and you're unfortunate enough that thieves target your car that night, your vehicle is defenseless. That may sound bleak, but active alarms have their upsides as well. The main advantage of active alarms is the convenience of opening and closing your car doors several times without setting the alarms off – for example, when making several trips to carry groceries from your trunk or going back for a forgotten jacket.
On the other hand, passive alarms get engaged automatically when your ignition shuts off or your door closes. This happens instantaneously, without any action required on your part. As you can imagine, this mode provides more security, but it can be quite a drag to shut the alarm down each time you need to go back to your car for a little something.
2. Audible vs Silent
The next important distinction is between audible and silent alarms, or in other words, those that sound a siren when triggered, and those that do not.
The car alarms with a siren are often the default. They are set up to sound a loud alarm, honk the horn repeatedly, or set off a noisy, annoying siren. They are widely believed to be the most effective, because thieves typically run away the moment the sound is set off, in an attempt to escape being seen by alerted passersby's or the owner of the vehicle. However, this is not necessarily the best approach to safeguarding your vehicle from theft, because some car owners hope to catch the crook or call the police on them.
If you'd prefer to have the criminal caught in the act, you may opt for a silent car alarm. These alarms are programmed to alert you that something unusual is happening to your vehicle by sending a notification to your key fob, or even your smartphone via an app. Additionally, some silent car alarms can be set up to automatically let the police know that car theft is happening at your location.
3. One Way vs Two Way Paging
Finally, one of the largest differences between car alarm types is the communication options you get with your key fob. Older key fobs give you simple control over your vehicle, letting you perform actions like locking and unlocking the door and opening your vehicle's trunk. These are one-way paging key fobs, called that because they only let you communicate commands one way – from your key fob towards the main computing unit of the car alarm system.
On the other hand, two-way paging systems allow the computing unit installed within your vehicle to send information and notifications to your key fob, or even to your smartphone through an app, along with the usual commands you can send from the fob towards the unit in your car. Of course, two-way paging technology is more advanced, so this is one of the main features that separate low cost from the more expensive car alarm systems.
Car Immobilizers vs Car Alarms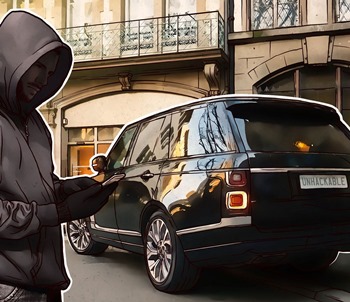 When searching for an ideal car alarm to protect your vehicle, you may encounter a device that's called a car immobilizer, engine immobilizer, or something along those lines. Don't confuse this device with a car alarm, as they are fundamentally different, although they are both effective approaches at keeping your car safe.
Car immobilizers are anti-theft systems that work in an entirely different way than car alarms, as they don't engage any type of a siren, or even shock or door sensors like car alarms do. Instead, car immobilizers keep the engine shut down until the unique key fob commands it to let the ignition switch turn on the engine. This way, car immobilizers literally immobilize the vehicle, making the engine unable to turn on until the transporter chip in the key fob unlocks it.
Car immobilizers are considered state-of-the-art technology, and they're rather good at preventing thieves drive your car away. This is their main purpose, and that's something a regular car alarm can't do – even though the siren is annoying and the police may be on their way, nothing is preventing the thief from hot-wiring the vehicle and simply driving away.
Differences Between Car Alarms and Immobilizers
However, car immobilizers can't prevent other types of theft, like a tow truck pulling your vehicle away, which is usually detected by car alarm tilt sensors. On the other hand, car immobilizers can't stop break-ins from happening either. If you have a backpack, a laptop, or a phone left on your car seat or in your trunk, thieves may target those valuables instead of aiming to take your entire vehicle. This is easily prevented by car alarms, as they have both door sensors, and shock sensors which can detect attempts at breaking the windows.
The good news is that some more advanced car alarm systems come with an additional car immobilizing feature. These devices are perhaps the most effective way of keeping your vehicle safe from any kind of theft, so we highly recommend getting one such device if you have the means.
Car Alarm Buying Guide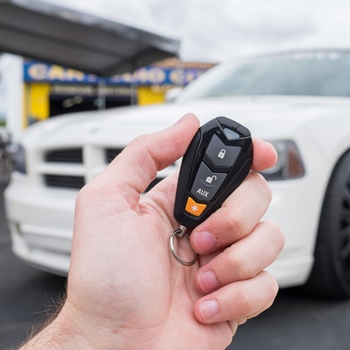 Choosing the right car alarm is not an easy task. The market is full of a variety of different models, and these high-tech devices can seem quite intimidating due to the sheer amount of the features they advertise. Because of that, it's important to know what you're looking for – which features you absolutely need, and which you can skip and save money on. In this buying guide, we will cover the most commonly advertised features you should consider before choosing the right car alarm for yourself.
1. Sensors
Sensors are the heart and soul of every car alarm. They are responsible for detecting what's going on with your vehicle and determining whether there is a need to sound the alarm or not. Most car alarms come with a similar set of sensors.
1.1. Door sensor
The most important ones are a door sensor and shock sensors. As you can imagine, a door sensor gets triggered when one of the vehicle's doors (typically including the hood and the trunk) is forced open. Some door alarms sound if the matching key fob isn't nearby, while others need to be shut off by unlocking the door. In any case, door sensors are an important part of keeping your car safe, although they don't protect from theft by breaking the window or towing the entire vehicle away.
1.2. Shock sensor
Shock sensors are there to make sure you know if any hits, bumps, or impacts occur. Newer dual stage shock sensors can detect different intensities of impact, and sound an appropriate alarm. High-intensity impact like the car window breaking will cause the main siren to sound, letting everybody around know something is happening. However, if there's only a slight, low-intensity impact, the alarm will let out a short warning chirp. This will let any thieves that may be eyeing your car that it's alarm protected.
1.3. Tilt sensor
A tilt sensor is another standard part of a car alarm. These sensors detect whether your car is normally parked, or its horizontal angle is somehow changing. As we mentioned, door and even shock sensors can't protect your car from tow-truck thefts which don't require the thieves to break into your vehicle. It's simple enough to simply tow the car away, but not if your car alarm is equipped with a tilt sensor.
1.4. Other sensors you can get
Apart from these common sensors, there are a plethora of other sensors that may be useful for keeping your vehicle safe and sound. One of them is a proximity sensor or a perimeter scanner. These sensors scan the immediate surroundings of your car and detect any activity. Alarms with these sensors will activate if an object gets extremely close to your vehicle.
Another popular choice of a sensor is a microphone sensor, which records sounds and monitors for sudden loud noises which could imply a window breaking or a crowbar forcing the locks open.
2. Engine Immobilization Systems
Also called engine kill-switches, engine immobilization systems can be found in some higher-end car alarms. These devices are designed to block the connection between your ignition and the starter, making the thief unable to jump-start or hot wire your system. Engine immobilization systems are a great addition to any car alarm, but it comes at a price, so alarms that have this feature can be quite pricey.
3. One Way or Two Way Paging
We already wrote about one way and two-way paging in greater detail. Essentially, one-way paging controllers only let you send commands to the alarm – lock and unlock the vehicle, open the trunk, turn on or off the alarm. However, two-way paging systems are more advanced, and apart from these basic functions, they also send you notifications and feedback on the status of your car. This is very useful, as you don't have to be within the earshot of your vehicle at all times to know if something is amiss. However, two-way paging systems are also somewhat more expensive compared to their simpler counterparts. Because of that, most car alarm systems come with one two way transmitter and one simpler one-way key fob. This is a great option because it isn't too costly, and you also get a backup key in case the main one gets broken, or you share your car with a family member.
4. Interior LED Light
An interior LED light is a simple, cheap addition to a car alarm system that can make all the difference. A simple shining diode will let a potential thief know without a doubt that a vehicle is car alarm protected. In most cases, this is enough to deter crooks, and your vehicle will be safe because of this simple visual cue. Some car alarms come with a light, while others come with a sticker. Both do a good job, although we recommend getting an LED because it's equally apparent at night as it is during the day.
5. GPS
Sometimes named anti-carjack locators, GPS systems are an incredibly useful feature to have installed with your car alarm. In the case that a thief manages to drive off or tow away your vehicle, a locator can easily stack the odds in your favor. You will be much more likely to find and retrieve your vehicle if there is a way to find out where it is. This way, you and the police can easily find your vehicle, before the thieves get the chance to have it taken apart and resold part by part.
6. Remote Start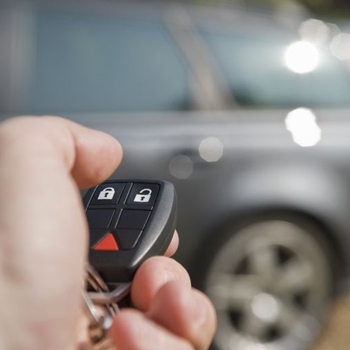 Some advanced car alarm models come with this very handy feature. Basically, the remote start feature allows you to turn on your car's engine before you even reach your car. That means that this feature lets you keep sipping your coffee at the comfort of your home, while your car defrosts and heats up in the cold winter mornings. The only limitation is the distance range at which your key fob reaches your vehicle. If you live in a cold area, a remote start feature can be that one feature that changes your life!
7. Smartphone App Compatibility
In this day and age, convenience is a concept most technology companies strive to develop. Because of that, with some car alarms, you also get the possibility to lock, unlock, start, and locate your car via a phone app. This extremely convenient feature eliminates the issues that come with losing, forgetting, or carrying your car keys around with you all the time. These problems are as old as the car industry itself, so it's a relief the matter finally got addressed by the car alarm companies.
8. Ease of Installation
Finally, the last factor to consider when buying a car alarm is its ease of installation, especially if your plan is to do it yourself. Installing a car alarm is not an easy task at all, so we'd always recommend getting it done professionally. However, if you're a handy person and you know your way around wires, you may attempt a DIY installation. In this case, you should make sure that the car alarm you opt for comes with a well-written, detailed installation manual, and that the installation itself isn't too complex for you. We advise you to search the internet for the installation manual of your chosen model before you make the purchase. This way, you will know if the installation process is within your capabilities.
How to Install Car Alarms
As we mentioned before, car alarms are electronic devices, and the installation of one such device requires a lot of tinkering around the wires of your car. As you can imagine, even a small mistake can cause the entire system to fail, and even mess up your vehicle. Because of that, we strongly advise against installing a car alarm yourself, unless you're confident you know what you're doing.
If you are the person people turn to for help with fixing electronics, you may decide to install your car alarm yourself. In that case, the best course of action is turning to your user manual and the installation directions you get there. If you've somehow lost or misplaced your user manual, don't fret – you can easily find a digital copy on the manufacturer's website, or by simply Googling the model name + installation manual.
In any case, we will give you a general outline of the basic steps a car alarm installation requires. Every device has its own quirks and requirements, but the general idea is always the same. Without further ado, let's just jump into it.
What you'll need
Installing a car alarm includes a lot of tinkering around the wiring of your vehicle. Because of that, you will need plenty of correct tools, along with the car alarm set.
In the set, you should get some basic parts, along with any additional features you opted for. In general, you should have:
Installation directions or user manual
The main unit of the alarm
Audio sounder like a siren
Engine immobilization or starter kill relay
Sensors, mainly the shock sensor
Wiring harnesses
Key fobs
Tools
Apart from these parts you get with your car alarm set, you should gather up the proper tools you'll need for the installation. Your installation manual should tell you exactly what you need, but standard requirements include:
Multimeter
Screwdrivers
Wire Strippers
Linesmen's Pliers
Hanging Light
Electrical Tape
Cable Ties
A wiring diagram for your particular car model
Once you have all of these rounded up and easily accessible, you're ready to go.
Installation Sum-up
There are many optional features car alarms offer. Of course, the more features, the more work the installation requires. Because of that, we'd highly recommend having your car alarm professionally installed if you have many optional features. Always follow your car alarm's own installation manual before any other resource.
With that said, we will mostly talk about the installation of the three most important parts of the car alarm – the main unit, the siren, and the shock sensor.
The main control unit should be installed under the steering wheel, close to the ignition wiring harness. The siren will be put under the hood. Finally, the shock sensor should be installed under the panel of the driver's side door.
1. Installation of The Main Unit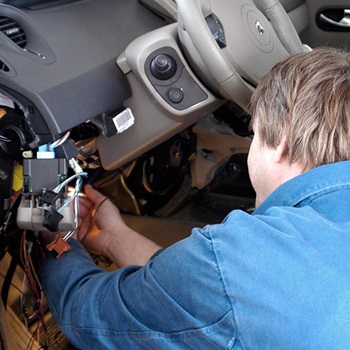 The main unit goes under the steering wheel, where it can be near the ignition wiring harness. Start by removing the front panel that covers the area. Plug the wiring harness that came with your alarm into the main control unit. While you're at it, get the wire you'll need for the siren, and run it through the firewall opening. To connect the main unit, get your installation manual, and find the directions on which color ignition wires you should connect the unit to. You should use T-tap wire connectors and secure the joints with electrical tape.
If you need to install an immobilizer, install it here before you return the covers.
2. Installation of The Siren
The siren should be mounted onto a flat surface under the hood. We recommend the firewall. When you mount it, simply connect it to the wire which you ran through in the previous step.
3. Installation of The Shock Sensor
The shock sensor should be placed behind the panel of the driver's side door frame. Remove the panel enough to access the wiring. Run the wire connection from the main unit to your desired position for the sensors, and attach. It'd be best to have the wire run under the floor carpeting and through the front edge of the driver's side door.
4. Test
After you've installed the entire car alarm set, you should test it to make sure everything works as intended. Testing a car alarm is quite easy. All you need to do is use your key fob and press buttons to try each function out. Apart from reacting, you should ensure the reactions are appropriate – that each button does what it should do.
If something goes wrong, consult your installation manual and try to find the problem by checking if everything is wired correctly. Do not drive your vehicle unless everything works properly.
If everything works as intended – good job! Your car is now safer than ever!
FAQ About Car Alarms
1. Do I need to get an aftermarket car alarm if my car came with a pre-installed anti-theft system?
In most cases, the answer is 'YES.' Unless your car came with a very advanced alarm system, the pre-installed systems are not sufficient for warding off thieves. In the majority of cases, factory security systems only include an engine immobilizer, and perhaps horn beeping when a door is opened. While engine immobilizers are quite useful, professional car thieves can easily play around them. On the other hand, a crucial downside of a typical pre-installed security system is that they don't usually include a shock or a tilt sensor, only a door switch sensor. That means that your vehicle is very vulnerable when it comes to thieves that break windows to get in or simply tow cars away. Furthermore, an aftermarket car alarm has a loud siren that easily scares thieves away, and gets yours or the attention of passerby's with ease.
2. Does the installation of an aftermarket car alarm system void the warranty of my car?
No. You're allowed to install any aftermarket parts, and the dealership can't void your warranty because of that. The Magnuson-Moss Warranty Improvement Act protects the consumer in these circumstances. However, if you damage your vehicle by improperly installing the car alarm, your dealership is not responsible for the damages. Because of that, we highly recommend getting a professional installation if you're not completely sure you know what you're doing.
3. What should I do if my key fob malfunctions or stops working?
When a key fob stops working, the problem is most commonly that the battery has run empty. The first thing you should do is recharge or change the battery in the device. If that doesn't fix your problem, check your user manual. In there, you should be able to find a key fob reprogramming or reset procedure. If the problem persists, you may have to replace your key fob entirely, so get in touch with the manufacturer or find replacement parts online.
4. Is there any way to stop a false alarm if my key fob doesn't work?
Yes. There are several ways for you to stop the car alarm even without your key fob. However, you must have your car keys. There are several ways to do this:
Lock and unlock your car
Start the car
Remove the fuse of the alarm (check your user manual to learn how to do this)
Disconnect the battery
Wrap Up
It's hard to imagine living without a car alarm. They do not only ward off thieves and crooks, but they also add to the convenience of using your car. There are so many things to consider before you can choose the best car alarm for yourself. The questions you need to ask yourself are which features are essential for you, which qualities are you looking for, and how much extra do you want to pay for small quality-of-life additions. Making the right choice is not an easy task, but it's possible, and the car security market has a lot to offer.
We hope our car alarm reviews helped you find the device that will keep your vehicle safe and sound for years to come. If you have any questions left about car alarms, feel free to leave a comment below, and we'll get back to you as soon as possible!