If you are looking for a way to increase the safety of your vehicle, getting the best steering wheel lock might be the right path to take. It doesn't matter where you are – car theft is surprisingly prevalent, both in high-density urban areas, and less populated rural parts of the country. That leaves car owners desperate for reliable ways to secure their belongings. Sure, there are many modern, digital devices on the market. But sometimes, old-fashioned solutions might be the right answer.
If you're looking for a good, old, steel club to incapacitate your vehicle when you're not around, look no further. We bring you the most honest steering wheel lock reviews, along with a buying guide to help you make the right choice.
See The Quick Comparison Chart
Benefits of Steering Wheel Locks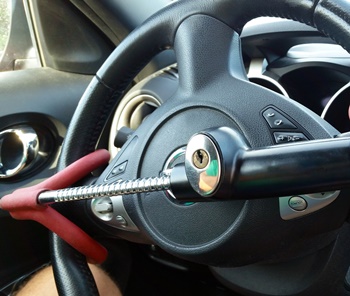 There are various methods for keeping your car safe when it's parked outside. While some are more, and some less reliable, the good news is that you can combine many of them to reach the level of security you feel comfortable with. Let's take a look at what a steering wheel lock brings to the table when it comes to making sure your car stays yours.
1. Incapacitates the Steering Wheel
A steering wheel lock is a physical barrier that doesn't allow the thief to drive off with your vehicle. That is unless the thief can just drive straight without making any turns at all, and they definitely can't if you're on a parking lot. The lock physically blocks making either left or right turn with the steering wheel, so the thief would have to try to pry the lock off. Considering that it's a solid chunk of metal, they won't be able to do that, especially not unnoticed.
2. Visually Repels Thieves
The primary function of the steering wheel lock is to make steering impossible, but the truth is, it rarely ever comes to that. When crooks eye your car, they assess how easy of a target it is – whether it has any visible signs of an alarm, immobilizers, or a steering wheel lock. If your car is highly protected, it's not an interesting target for a thief. It simply takes too much effort, noise, and time, all of which can be deciding factors to whether they get caught or manage to slip away with their loot. A noticeable steering wheel lock is a great investment that deters thieves, simply because it's too hard to deal with stealthily. Why would a crook deal with a bar of solid steel, when they can take the unprotected van parked next to yours?
3. Lower Car Insurance Premium
When you first talk to an insurance agent, their job is to assess how much of a risk your vehicle is under on a regular basis. With every layer of security, the monthly premium that you need to pay goes down. Security devices such as locks and alarms help lower the monthly, and ultimately the annual expense.
4. Keeps Your Peace of Mind
Ultimately, with every layer of security that you add to your car, you can feel more relaxed when leaving it parked outside of your own garage. Getting into the habit of installing your high-quality steering wheel lock whenever you leave your car will help put your mind at ease.
Types and Uses of Steering Wheel Locks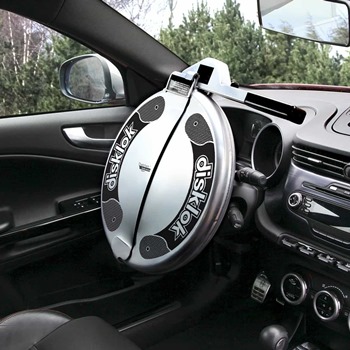 Even though the so-called crook locks look quite similar to one another, we can still make a difference between three main types of steering wheel locks. Let's take a look at the different options available on the market.
1. Bar Lock
This is the basic and the most commonly used type of lock. It comes in the shape of a bar with a hook on each end. The bar is typically extendable, and once you set the hooks in place, you only need to lock the bar, and it becomes impossible to remove. With one of the ends hitting your headliner or the side window, the steering wheel becomes impossible to turn.
2. Pedal Lock
The way the pedal lock works is somewhat different compared to a traditional bar lock, even though the two look similar at first glance. The pedal lock is hooked onto the bottom part of your steering wheel, with the other end fastened to one of the foot pedals, typically the brake pedal. This system incapacitates the car on two control points, making it virtually impossible to drive.
3. Enclosed Lock
The enclosed lock looks completely different than the bar and the pedal lock. This hefty contraption is made to cover your entire steering wheel in its steel shell. This makes them impossible to remove, and also the most noticeable lock type on the market. However, they're very large, making them difficult to store, and somewhat complicated to set up.
4. T-style Lock
Finally, a T-style lock is smaller and easier than store than the other types of steering wheel locks. Typically, it has a letter T shape, with the short part designed to wrap around a part of the steering wheel, and the long handle usually resting on the dashboard. This design protects your windows and windshield from possible damage, but it's also imperfect if your steering wheel can be pulled away or closer to the dash. If your dashboard isn't curved, this type of lock blocks even the slightest steering wheel turns, so it's a good choice for sensitive steering wheels that don't require an entire spin to rotate the wheels.
Best Steering Wheel Locks Comparison Chart
PRODUCT
DETAILS

Autolover T Style Steering Wheel Lock

Price: $
Customer Rating: 3.6
Size: Universal
Available Colors: Yellow
Lock Type: Key and lock

View On Amazon

LC Prime Steering Wheel Lock Universal Vehicle

Price: $$
Customer Rating: 4.4
Size: Up to 11.25 inches
Available Colors: Blue
Lock Type: Combination lock

View On Amazon

Blueshyhall Black Steering Wheel Lock with Safety Hammer

Price: $$
Customer Rating: 4.5
Size: Universal
Available Colors: Black
Lock Type: Key and lock

View On Amazon

Monojoy Adjustable Anti-Theft Locking Heavy Duty Safety

Price: $
Customer Rating: 4.2
Size: Up to 15 inches
Available Colors: Black
Lock Type: Key and lock

View On Amazon

Oklead Universal Car Steering Wheel Lock

Price: $$
Customer Rating: 4.2
Size: Up to 17 inches
Available Colors: Yellow
Lock Type: Key and lock

View On Amazon

Disklok Security Device – Steering Wheel Lock – Full Cover

Price: $$$
Customer Rating: 4.4
Size: Three sizes
Available Colors: Silver
Lock Type: Key and lock

View On Amazon

The Club 2100 Truck/SUV Club Steering Wheel Lock, Red

Price: $$
Customer Rating: 4.5
Size: Extra large
Available Colors: Red
Lock Type: Key and lock

View On Amazon
Best Steering Wheel Lock Reviews
1. Autolover T Style Steering Wheel Lock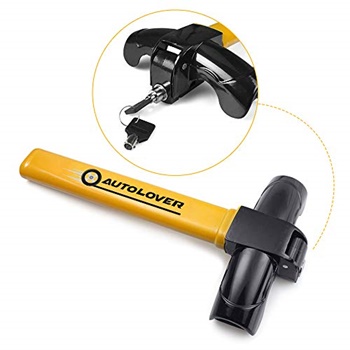 We chose Autolover's universal steering wheel lock for its good performances and low price. This small unit is very portable, and it's easy to carry and store anywhere in your car. It even fits in your glove compartment. This steering wheel lock doesn't come in the typical shape of a double hooked bar. Instead, you install the single hook of this T-shaped lock onto the top of your steering wheel, and the extended bar rests atop your dashboard.
This design doesn't allow even the slightest turn of the steering wheel. This makes the lock perfect for the cars with sensitive steering, which don't require an entire spin of the steering wheel to turn. Along with some plastic parts, the construction of the lock is made of steel and coated with a layer of vinyl. This device can be unlocked with a tubular key, and along with the original, you also get a spare. This is a universal fit, so it also fits on larger steering wheels. Sadly, the lock doesn't perform well on thin steering wheels, and it fits loosely on the thin handle. However, if you have a typical, thick steering wheel, this is a great product to get, especially for its very reasonable price.
Pros
Very affordable
Doesn't allow the slightest turn
Cons
Doesn't work well on thin steering wheels
2. LC Prime Steering Wheel Lock Universal Vehicle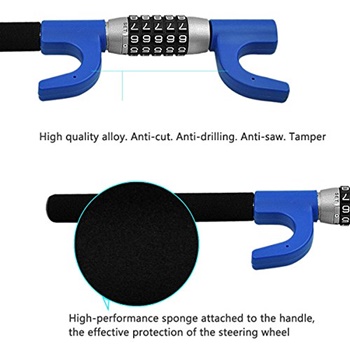 If you're prone to forgetting or losing your keys, our next pick is an excellent option for you. This steering wheel lock sold by LC Prime can be unlocked without a key – if you know the password. It's equipped with a five-digit combination lock. You can set up the password to any number combination that's easy for you to remember, arbitrary or meaningful. With five digits ranging from 0 to 9, that makes for 100 000 possible password combinations – it's pretty unlikely any thief will guess yours right. You don't have to worry about the thieves resetting your password either since they need to know the current combination to access the settings.
This bar type of a lock with dual hooks fits most standard size steering wheels, with the maximum inner diameter of the bar at 11.25 inches. If your steering wheel's outer diameter is smaller than 16 inches, this lock is a good fit. The construction is made of reinforced steel, with the extended handle covered with a soft sponge to protect your windshield, headliner, and other cabin components. Overall, this is a reliable thief repellent that doesn't require you to worry about the key – just make sure you remember the password. Our recommendation – write down the combination digits backward in a notepad on your phone.
Pros
Combination lock doesn't require a key to open
Secure and noticeable blue handles
Cons
Only fits up to 11.25 inner diameter steering wheels
3. Blueshyhall Black Steering Wheel Lock with Safety Hammer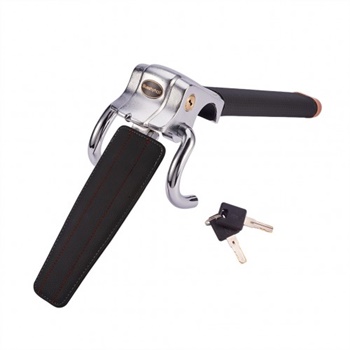 Our next pick is an elegant-looking Blueshyhall steering wheel lock with a safety hammer. This multi-tool looks great with its silver steel and black PU leather design, but the elegance compromises noticeability. At night, a thief may not notice you have a steering wheel lock installed, especially if your steering wheel and dashboard are black. That being said, the functionality of this lock is very good, and it has a clever design that sounds your center horn if something goes wrong.
This is a T-style lock, meaning it doesn't use the two hooks and a bar. Instead, you fix it onto your steering wheel and its extended armrests on your dashboard. This type is quite good at preventing even the smallest turns of the steering wheel if you have a flat top dashboard. Like with other T-style designs, this lock fits thick steering wheel handles but falls short on thin covers. The steel body incorporates a subtle safety hammer. That feature can be a lifesaver if you ever find yourself in danger where you need to break your window to escape your vehicle. This lock is small, foldable, and takes up very little space.
Pros
T-style lock
Has the capability to sound the horn
Cons
The elegant design isn't very noticeable
4. Monojoy Adjustable Anti-Theft Locking Heavy Duty Safety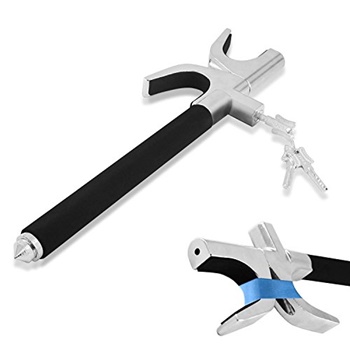 Our next pick is a solid Monojoy steering wheel lock. This lock is a universal fit, and the smallest width you can extend it to is 10 inches, with the maximum being around 15 inches. Consider that this is the inner diameter of your steering wheel, with most standard steering wheels being in the range of 12 inches inner diameter. The construction of this anti-theft steering wheel lock is made of aluminum and hardened steel, with the total weight of the item being 3.1 pounds.
The handles are made of metal, and they come with two sponge cover strips which you can stick onto the handles if you're worried about damaging the fabric of your steering wheel with the hard metal. The extended bar is covered with a soft sponge to prevent damage to your vehicle's inner cabin. At the end of the extended bar, the manufacturer included a safety hammer, which can help you escape your car if you ever find yourself in danger. However, you don't need to worry about accidentally damaging your windows, because the hammer comes with a protective cap. The lock mechanism can be unlocked with a snake grove key, and you get three copies, so you always have a backup even if you lose one of your spares.
Pros
Entirely made of steel and aluminum
Firs up to 15 inches inner diameter steering wheels
Cons
The lock construction isn't the best
5. Oklead Universal Car Steering Wheel Lock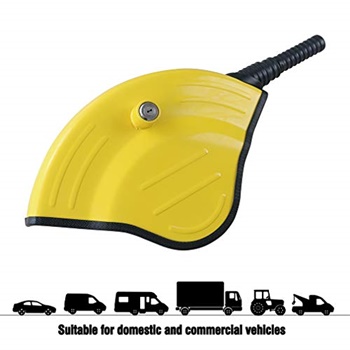 Oklead manufactures our next pick, and it's a unique design that does not only protect your steering wheel but keeps your airbag safe as well. This key-and-lock model is a semi encompassing device, that covers a quarter of your steering wheels. It fits any vehicle with a steering wheel up to 17 inches in diameter. Of course, in the case of an enclosing steering wheel lock, we're referring to the outer diameter instead of the inner one. When it comes to width, if your steering wheel is less than 1.7 inches thick (in diameter, not circumference), this device will fit nice and snug.
The inner side is layered with foam and rubber coating which protects your steering wheel from damage. The steering wheel lock bar is made of steel. The color of the device is bright yellow which is rather noticeable from the outside of your car, even if it's dark outside. This particular design is lighter and easier to store than the typical completely enclosed lock, but it does a good job keeping your airbag safe. We recommend this lock if you feel that there's a problem with airbag theft in your area.
Pros
Noticeable bright yellow color
Protects your airbag
Cons
6. Disklok Security Device – Steering Wheel Lock – Full Cover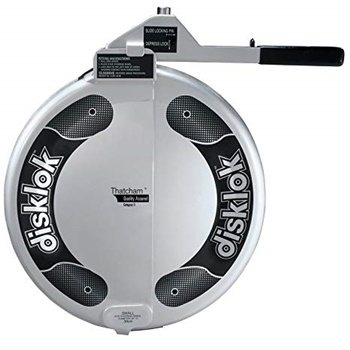 Disklok is an enclosed steering wheel lock superstar. This heavy-duty lock covers your steering wheel entirely, and spins on it, preventing steering. Along with spinning atop the steering wheel, it also comes with a bar that hits components of the dashboard and the driver side window, making steering impossible. The entire construction of this lock is made out of hardened steel, and the only way to unlock it without a key is with a blowtorch or explosives. However, because of the clunky, heavy-duty construction, it's also quite heavy – between 9 and 11 pounds depending on the size.
This lock comes in three sizes, so you can pick the perfect one for your vehicle's steering wheel. The smallest size is intended for steering wheels with the outer diameter between 13.7 and 15.3 inches. The medium size fits steering wheels which are between 15.4 and 16.3 in diameter, and the large size is for those with the outer diameter between 16.4 and 17.3 inches. Disklok comes with a set of three identical keys, so you have two spares. However, if you write down the serial number, you can also get a replacement from the company should you ever lose all your copies.
Pros
Completely encloses the steering wheel
Hardened steel construction
Cons
7. The Club 2100 Truck/SUV Club Steering Wheel Lock, Red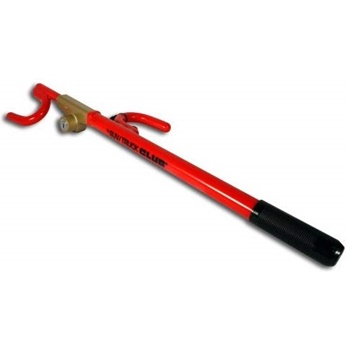 The Club is a well-known line of steering wheel locks. Winner International produces it, and we chose their 2100 model for trucks and SUVs for our list. This bright red bar offers great visibility from the outside, so it deters thieves before they even attempt anything. Your truck will be extra safe with this club because it's made out of high-quality chromoly steel. The hooks are also made of solid steel, making the entire club very tough.
No thief will want to wrestle with this product. The 2100 model is extra-long because it's designed for trucks and SUVs. The maximum opening inside the hooks is 19 inches, which will be sufficient even for the longest steering wheels on buses and large trucks. The club comes with a self-locking mechanism, so you don't need to take out your keys whenever you want to set it up. Once you're back in your vehicle, you can use one of the laser encrypted keys that you get with your product. You get three copies, so you can always have a spare or two stored safely at home. Overall, this is a great choice for anybody who needs an extra-long steering wheel lock.
Pros
Extra-long – for up to 19-inch inner diameter steering wheels
Highly noticeable bright red color
Cons
Might be too long for sedan car steering wheels
How Do Steering Wheel Locks Work?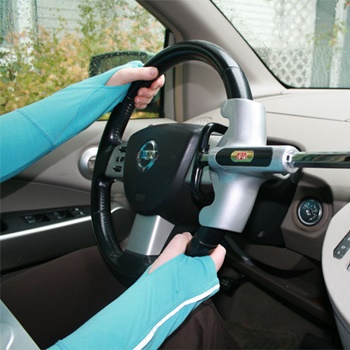 Steering wheel locks are not a novelty. The so-called crook locks have been around since the 1920s, yet they remain an effective anti-theft contraption to this day, a hundred years later. This well-established device might be old-fashioned, but who can win against a solid piece of steel?
1. The Incapacitating Factor
A steering wheel lock is a simple, but effective tool. Essentially, this device is a metal rod of adjustable length, which hooks onto your steering wheel. Once the lock is installed, the rod extends beyond the steering wheel, usually hitting the headliner or the door. This physically incapacitates the steering wheel. Anybody without the key for the steering wheel lock is unable to steer the car right or left. This is what makes steering wheel locks practical – their primary purpose is to make steering the vehicle impossible. As you can imagine, without the ability to steer, the thief can't get very far away from your car.
If your vehicle's steering wheel automatically locks in place if the key is not in the ignition, you may wonder if you need a steering wheel lock at all. But the answer is that you do need one – hot wiring is a basic technique present in any car thief's skillset. They know how to bypass the ignition assembly without the key, but they can't wrestle a steel rod as easily.
2. The Deterring Factor
Even though the main purpose of a steering wheel lock is to make steering impossible, this is not the only way in which these devices protect your car. In fact, thieves will rarely, if ever, even attempt to steal a car with a steering wheel lock in place. Essentially, it's simply too much of a hassle, and a huge liability for a thief to wrestle with a bar of solid steel. Breaking one of these devices requires either power tools or an impossible amount of time and skill to pick the ever-evolving locks. Just like most types of crooks, car thieves pick on an easy target – and they'll simply skip your vehicle as soon as they notice the lock.
Considering that working around the locked steering wheel requires a lot of time, effort, and noise, a lock works just like a thief repellent. That's why the primary way that steering wheel locks protect your car isn't the actual steering wheel incapacitation, but the fact that it deters thieves.
Steering Wheel Lock Buying Guide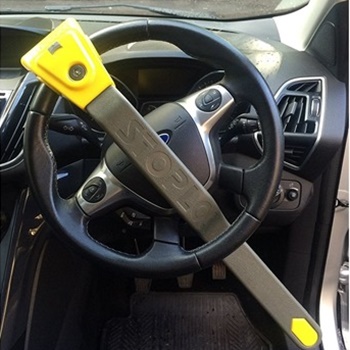 Even though steering wheel locks are generally considered simple devices, there are still some factors that are important for every car owner. When browsing the currently available models, you will notice that many kinds may seem similar in the beginning, but in fact, have very different properties. The different kinds are best suited for different needs, and our goal is to help you find the ideal one for your car. There are a few factors you should take into account when making your pick.
If you're interested in gearing up, check our homepage to find the best options for your vehicle.
1. Noticeability
We already mentioned that the most successful method of theft prevention isn't the actual inability to use the steering wheel, but the fact that working around the steering wheel lock takes too much time, patience, and noise. That's why steering wheel locks deter thieves before they even attempt to break into your vehicle. And the most successful at this are the locks that are the most noticeable. You want thieves to know to stay away from your car before they even get up close, so picking a brightly colored, easy to notice model is a great tactic. Many manufacturers offer brightly colored, in-your-face red and yellow locks, along with the elegant but less noticeable navy and black models. We recommend going for something that screams: "Stay away!"
2. Size
Size is a rather important factor, especially if you're getting an enclosed type of a lock or a bar that isn't adjustable. Most sedan, SUVs, and trucks have the standard size steering wheel, but vehicles like Jeeps may sport a larger diameter steering wheel. If you're not sure whether a steering wheel lock will fit your car, you should take a tape measure and get the dimensions of your car's steering wheel. Take the diameter measure by spreading the tape or a ruler from one end of your steering wheel to another, making sure your measuring device runs through the center of the wheel (where the car manufacturer or the airbag logo is, in most cases).
If you opt for an adjustable bar, you can rest assured that the product will fit onto your steering wheel perfectly. These models are typically labeled with "universal" or "one size fits all".
3. Resilience
When you get a steering wheel lock, you want to get a high-quality bar that truly can handle the attacks of even the most skilled thieves. To ensure that your lock stands the test of power tools, you should look for sturdy, resilient materials. Even though other metals are widely used as well, the most popular material in the industry is hardened steel. We highly recommend getting a lock made of hardened steel or steel alloys, because they're extremely reliable even when tackled with power tools.
4. Locking Mechanism
A great body material doesn't mean much if the locking mechanism of your steering wheel lock is easy to pick or break. That's why you should aim at getting the best possible locking mechanism. In general, we see three types of locks used in most commercially available steering wheel locks: the good, old key and lock, or a combination lock.
4.1. Key and lock
If you opt for a key and lock system, you should aim at getting a key that's not easily duplicated or picked. The most common type of key used for steering wheel locks is the common mechanically cut key. These are fairly easy to duplicate, and the locks are moderately challenging to pick. The good side of having a lock with this type of key is that a locksmith will be able to help you if you lose your own copy of the key, so we recommend this type to anybody who tends to lose or forget keys. Sometimes, manufacturers use something similar to a transponder key, which is combined with a chip, and very hard to duplicate. Finally, snake grove and dimple keys are becoming more common among lock manufacturers, because they're quite tricky and require special equipment to copy.
4.2. Combination lock
A combination lock is another popular type of locking mechanism. Similar to the traditional storage safe and password protected suitcase locks, these don't require a key to open. However, they do require you to remember the right password combination. As you can imagine, the longer the password, the harder it is to hack. That's why we advise you to look for combination locks with as many digits as possible. We recommend this type of locking mechanism to anybody who is prone to forgetting or losing their keys.
How to Install a Steering Wheel Lock?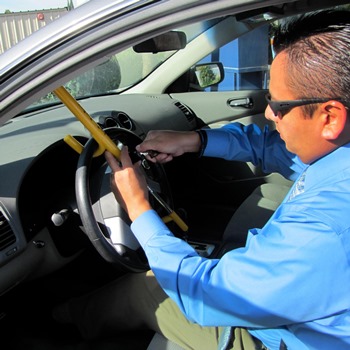 Steering wheel locks are simple devices, and as such, setting them up is not complex either. If you use your car on a daily basis, installing your steering wheel lock will very quickly become second nature. But the first and the second time you do it, it might seem confusing or complicated. Read our installation directions if you're not sure how to do it properly.
In this installation manual, we focus on the traditional bar lock, because this is the most widespread type of lock. If you opt for an enclosed or a pedal lock, refer to the product's packaging for the installation manual.
1. Insert
The first thing you need to do to install your steering wheel lock is to insert it into your steering wheel. You should install it horizontally, or slightly diagonally. You can set it up with the longer end turned either left or right. In either case, it will be blocked by the headliner of your vehicle. Some people prefer turning the device left because the door also acts as a barrier. On the other hand, others prefer turning the lock right, since it can be easily seen through the windshield, driving thieves away quickly.
2. Extend
Pull the ends of your steering wheel lock by holding it on the two ends. As you extend the bar, make sure that the hooks get attached to your steering wheel. Once the hooks nearly reach the steering wheel on both ends, you've extended enough. You shouldn't overextend, making the hooks grasp the steering wheel tightly, because that way you risk damaging the leather or vinyl of your car's steering device.
3. Lock
Now, you can lock the device with your key, or by turning the digits of the combination lock. Make sure the lock can't be pulled off the steering wheel. Give it a couple of hard tugs, and try to gently turn the steering wheel to ensure your car is completely safe.
Once you're ready to remove the steering wheel lock, use your key or passcode, and retract the length of the lock.
What Else Can Be Done to Prevent Car Theft?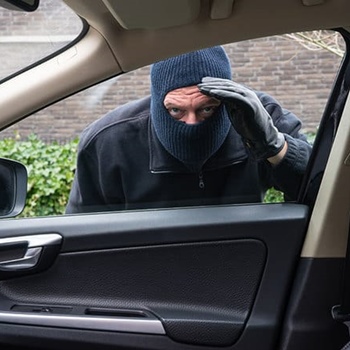 Car thieves are individuals who need to have many skills and creativity to get away with what they do. That's why car security companies and manufacturers need ingenious engineers to devise new and innovative ways to prevent car theft.
There are different precautions and security measures you can take if you fear to get your vehicle stolen. With a steering wheel lock, the thief is challenged by a physical barrier that doesn't allow them to drive off in your car. However, if you want to be sure you're on the safe side, we advise you to employ as many methods as you possibly can.
1. Car Alarm
The car alarm is not a new invention, but it's by far the one that the companies work the most on. Essentially, car alarms alert you and passers-by that something is up with the parked vehicles. They do that by letting out a sound of a loud siren, or in the case of two-way paging alarms, by sending a signal to a key fob which alerts you directly.
Many car security companies set their engineers on a mission to improve the already delicate gadgets. They have sensors that react to direct issues like the opening of the door or tilt and shocks to the body of the vehicle. The more intricate models can also detect smaller changes to the state of the car, such as sudden loud sounds, the pressure of the inner cabin, or close proximity of another object.
Some car alarms immobilize your vehicle by keeping the engine completely shut until the matching key fob activates the car. You can also find engine immobilizers sold separately from car alarms.
If you're interested in getting one installed, we have a couple of tips in our car alarm reviews.
2. Car Covers, Windshield Shades, and Window Tints
Frequently, the thieves are not actually interested in driving off with the car itself, but they're rather enticed by the prospect of stealing your small valuables from the car seats or the glove compartment. You should be aware that a laptop, tablet, purse, or a wallet left on your car seat is a true treat to any thief because breaking in through locked car doors isn't difficult. While never leaving valuables on your seats or dashboard surely is best practice, it's not always possible or practical to hide your stuff in the trunk.
Because of that, you may want to look into getting top-rated window tints installed. Tinted windows provide increased privacy, and they shield your car cabin from prying eyes. However, your valuables are still visible through your windshield, so getting into the habit of installing the best windshield sun shades whenever you leave your car (even if it's not sunny outside) can greatly reduce your chances of getting robbed. Finally, if you're leaving your car for a longer time, it might be a good idea to cover the entire vehicle with a top-rated car cover. These large pieces of cloth are somewhat difficult to set up, but no thief can be bothered to deal with them.
3. Windows Up, Car Shut Down and Locked
Many drivers overestimate the time it takes a professional thief to pry open and drive off with a stolen car. That's why they feel safe leaving their cars to go to the store or pick someone up. Even if you will only be five minutes, it's in your interest to always make sure the windows are rolled all the way up, your engine shut down, and your doors and trunk locked. If your window is only a tiny crack open, you make the thief's job much easier, and now they can be off with your car and everything you left in it in three minutes or less.
4. Choice of Parking Spot
Of course, where you park also matters. Dark, secluded parking spots are a treat to crooks because they're less likely to attract attention while tampering with your vehicle. If at all possible, park in a busy, well-lit area, even if that means paying a bit more for your spot.
5. GPS Locator
Sometimes, despite your best efforts, your car does end up getting stolen. If this happens, there's still a chance to retrieve it, especially if you installed a GPS locator. These systems track the location of your vehicle, making it easier for law enforcement to retrieve your car. Installing such a device in advance greatly increases your chances of getting your car back if it ever gets stolen.
FAQ About Steering Wheel Locks
1. Can a steering wheel lock damage my steering wheel?
Steering wheel locks are pieces of solid steel, and as such, they can, of course, damage anything in their way. However, with proper application, you don't need to worry about having your steering wheel damaged. When setting up your steering wheel lock, you should be careful not to overextend. If you extend the lock too far, getting the hooks stuck tightly onto your steering wheel, the pressure on the material of your steering wheel can result in damage over time. For as long as the lock can't be pulled off, it's okay for your steering wheel lock to rattle and move a little bit. This way, you won't have any marks on your steering wheel. If you're still worried about damage, we recommend reading our steering wheel cover reviews to protect the material.
2. What should I do if I lose my key?
In the unfortunate event that you lose the key, the first order of business should be that you try and find your spare. We recommend storing your spare key somewhere safe as soon as you get your new steering wheel lock.
If you can't locate your spare key, you should call a local locksmith. In the best-case scenario, the locksmith will arrive at your location. However, you may need to arrange a towing service to get your car closer to their office.
Finally, you can try to hack the lock with a hacksaw, a rotary saw, or an angle grinder. This will take a while, considering the fact that the locks are made to resist the tools. Try to find the weakest spot of the device, and be persistent. However, have proof of ownership with you while doing it, as law enforcement may understandably mistake you for a thief.
3. Is it possible to saw through a steering wheel lock?
Given enough time and persistence, it is. However, even determined thieves will avoid doing it if at all possible. Instead, they may try cutting through the steering wheel itself in order to remove the lock. But considering the effort required to do it, most crooks will simply choose an easier target.
Wrap Up
Getting your car stolen can be a nightmare – you lose your primary mode of transport, all of the money you spent on your vehicle, and everything you kept in your car. On top of that, the bureaucracy surrounding car theft is exhausting. Between the police, your insurance company, and the DMV, you may want to give up. But all of this can be avoided if you invest a little bit into the security of your vehicle in advance. Along with car alarms, and GPS locators, a good old device like one of the best steering wheel locks can be the decisive factor in whether the thief picks your car, or the truck parked next to you.
We hope our unbiased steering wheel lock reviews and buying guide helped you prepare in advance and prevent your car from getting stolen. If you have any questions left, feel free to get in touch!