Even though it is not an essential part of a vehicle, using the best windshield sun shade is a quality of life feature you should not miss out on. Driving in the summer is hard as it is, but it can become almost unbearable if your car has been sitting in the sun for a few hours. If you ever had to run some errands on an early afternoon in July with your car parked out on the street, you know how terrible getting back into the car can be.
However, even though these products are simple, there is more to choosing the right one than meets the eye. We've gathered up all the information and compiled a comprehensive buying guide. Furthermore, we've created our unbiased windshield sun shade reviews of our favorite models.
See The Quick Comparison Chart
Benefits of Using a Windshield Sun Shade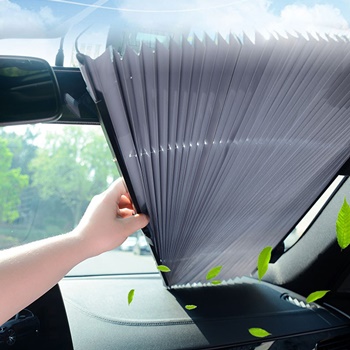 Coping with the summer sun can be very hard. Especially when you have to get into a car that had been sitting in the sun for a while.
There are different ways to tackle this problem, but neither is very convenient when running errands. We're talking about methods such as carport canopies (which are expensive), parking in a garage (which is not always available), or using a cloth car cover (which takes time to set up). Furthermore, you can also get your car windows tinted, which can be quite convenient. However, in the US, it's you can tint any car window except the windshield, which is the one that actually warms up the car interior the most.
There is one foolproof way to protect your car from excessive sun – windshield sun shades. There are many benefits to this product, and they're convenient wherever you park and no matter how much you need to rush. Let's take a look into the benefits of windshield sun shades.
1. Keep Your Car Interior Cool
The inside of your car can get unbearably hot if you leave it sitting in the sun. Auto windshield sun shades are made out of materials that either block or reflect the sun's rays. With a sun shade, your car's interior never gets too hot, because these reflective sheets prevent sun's rays from ever reaching the inside of your vehicle. In fact, high-quality windshield sun shades can keep your car at a temperature 40 degrees lower compared to a car without a shade. With a model that can do that, you can wave goodbye to sticky upholstery and a lava-hot steering wheel.
2. Protect Your Dashboard and Electronics
Many materials we use in everyday life get damaged by the sun's UV rays. This includes many textiles, rubbers, and various kinds of plastics. The most apparent degradation happens to the color of these objects, as it rapidly fades on the places where it's exposed to the sun. However, the most dramatic change occurs within the materials, with their inner structure deteriorating. After a while of being exposed to UV rays, rubbers and plastics become brittle, lose their flexibility, and easily crack.
This happens to your entire dashboard, and other components of your car cockpit as well. For example, your upholstery (faux leather or otherwise) and your steering wheel also suffer from UV damage, though the exact process depends on the material. A windshield sunshade can keep your entire dashboard and upholstery safe from the adverse effects of the sun.
Finally, your electronics suffer from sun's radiation, though in a somewhat different way. Most GPS devices, CD players, radars, and LED lights can only take so much heat before they start malfunctioning. With a front windshield sunshade, you protect your electronics from overheating.
3. Keep Your Passenger's Skin Safe
It is a widely known fact that excessive sun exposure can cause skin cancer, which is one of the diseases for which scientists still can't find a cure. Side window sunshades are convenient because they can help keep you and your passengers safe from the harmful UV rays. Along with a windshield sunshade, you can find 4-packs of side window shades. These will protect you, your children, and other passengers from UV rays, but also help them have a comfortable ride without the sun getting in their eyes.
4. They're Very Affordable
Finally, getting a windshield sunshade is a good idea simply because their benefits outweigh the cost by far. Investing that small amount will help you protect your passengers' skin and your car's interior for years to come.
Best Windshield Sun Shades Comparison Chart
PRODUCT
DETAILS

EcoNour Car Windshield Sun Shade

Price: $$
Customer Rating: 4.4
Type: Pop Up
Dimensions: 59 x 31 inches
Material: 210T Nylon

View On Amazon

Sun Via Solar Eclipse Windshield Sun Shade

Price: $$
Customer Rating: 4.1
Type: Pop Up
Dimensions: 63 x 34 inches
Material: 170T Nylon

View On Amazon

A1 Shades Windshield Sun Shade

Price: $
Customer Rating: 4.4
Type: Pop Up
Dimensions: 64 x 34 inches
Material: 210T Nylon

View On Amazon

Coveted Shade Car Windshield Sunshade Jumbo

Price: $
Customer Rating: 4.5
Type: Pop Up
Dimensions: 63 x 35 inches
Material: 170T Nylon

View On Amazon

Road Charms Windshield Sun Shade – Jumbo XL

Price: $$$
Customer Rating: 4.5
Type: Pop Up
Dimensions: 70 x 35 inches
Material: 190T Nylon

View On Amazon

EzyShade Windshield Sun Shade + Bonus Item, Medium

Price: $$
Customer Rating: 4.2
Type: 2-piece
Dimensions: 2*31 x 28 inches
Material: 170T Nylon

View On Amazon

Enovoe Car Window Shade – (4 Pack) – Cling Sunshade

Price: $
Customer Rating: 4.3
Type: 4-piece side
Dimensions: 4*21 x 14 inches
Material: Mesh

View On Amazon
Best Windshield Sun Shades Reviews
1. EcoNour Car Windshield Sun Shade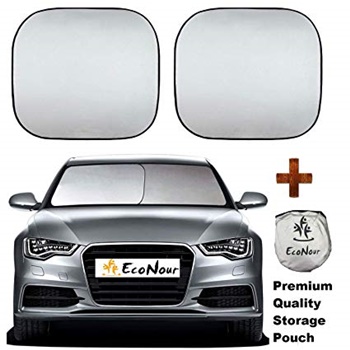 EcoNour makes this pop-up type windshield sunshade. The windshield sunshade is lightweight, easy to install, and it comes with its own storage bag. The material it's made of is 210T nylon, which is the highest density material used for products like windshield sun shades. The fabric is coated with a silver and a black layer. The silver side should face outside, as it's good at reflecting UV rays, while the black side helps detract the sun and keep your car cool. This high-quality shade will protect you from the summer heat, whether you have a small sedan or a large truck. That's because it comes in four sizes, including the classic 59 x 28 inches, standard 59 x 31, large size 63 x 35.4, and extra-large 67.7 x 37 inches.
When it comes to dimensions, the width of this model is adjustable. However, we'd recommend measuring your car's windshield or finding the measurements in your car user manual. While the manufacturer's sizing chart is useful, some people found it inaccurate for their vehicles. It's better to be safe than sorry, so get your own measurements.
Pros
Excellent material – 210T is the densest sun shade nylon
Comes in four different sizes
Cons
The info chart is partially inaccurate
2. Sun Via Solar Eclipse Windshield Sun Shade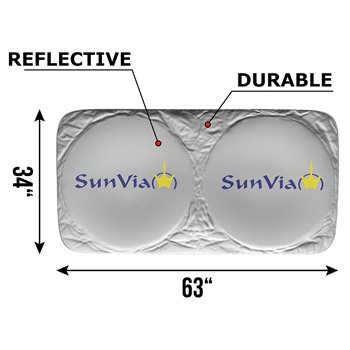 Sun Via makes our next pick – a pop-up windshield sunshade with UV protection. The size of this shade is 63 x 34 inches, the industry-standard dimensions. This windshield sun shade is a good pick for anyone who is looking for a shade for occasional use. It's lightweight and compact. The folding is simple because it's relatively easy to bend the wire. It comes with a handy pouch for storage. This windshield sun shade comes with an extra rubber holder mat, which you can stick to your dash. The material of this shade is 170T nylon, which is a standard quality of reasonable density polymer.
The material doesn't seem very durable, but it can handle routine use. This windshield sun shade is a simple design with two-wire circles as the main construction. It has a UV reflecting, silver outer layer. The design includes the company logo on each side of the windshield sun shade.
Pros
The size 63 x 34 inches fits many car models
Customer service is quite good
Cons
The material isn't durable
3. A1 Shades Windshield Sun Shade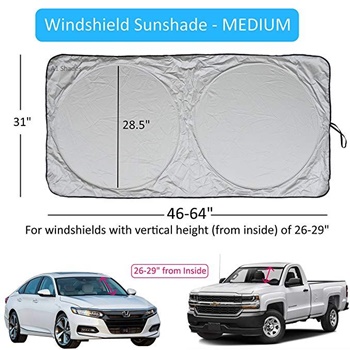 The next product in our reviews comes from A1 shades. This model comes at good quality for the price. It' a simple pop up style windshield sunshade, with a silver outer layer and a black inner side. It's made out of 210T nylon – the fabric is very dense, so it doesn't let the sun rays through into your car. Because of that, it provides good thermal insulation. This windshield sunshade has a simple design without noticeable logos.
The manufacturer offers many different sizes so that it can fit a variety of vehicles. From small 59 x 27 inch, medium 64 x 31 inch, over large 64 x 34, to the XL 68 x 32.5 inch, and even larger than that. There is also a size for Wranglers. However, the size recommended in the manufacturer's chart can be a tight fit, so we recommend measuring your car's windshield with a tape measure, and then choosing the right size.
Pros
High-density 210T nylon fabric
Comes in a large variety of sizes
Cons
The info chart is partially inaccurate
4. Coveted Shade Car Windshield Sunshade Jumbo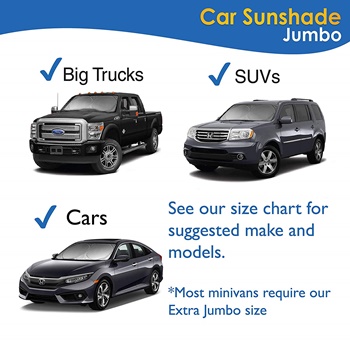 Coveted Shade is the manufacturer that makes our next pick. This pop-up windshield sunshade provides good UV protection and fair thermal insulation. It's made out of the industry standard 170T nylon fabric, which is silver on the outdoor side and black on the indoor side. The material is okay, but it's not of very high durability. Considering that this is a very affordable model, that' s not a big problem. It does offer good sun protection while it lasts.
When it comes to picking the right dimensions, the size names are exaggerated. The so-called jumbo size is the rather common 63 x 35-inch shade, with a 29.5-inch ring diameter. The extra jumbo size, on the other hand, is huge at 70.9 x 39.4 inches. The standard size, at 59 x 31.5, is a typical size for windshields on the smaller side. This windshield sunshade comes with a compact storage pouch, and it's not too hard to fold.
Pros
A very affordable pop-up sunshade
Comes in three different sizes
Cons
The material and the make aren't durable
5. Road Charms Windshield Sun Shade – Jumbo XL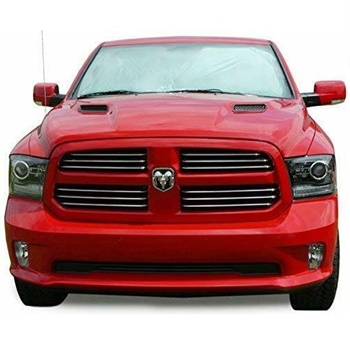 Our next pick is a jumbo size windshield sunshade by Road Charms. This big protector is a good fit for vans, SUVs, and trucks. It's large 70 x 35 inches, with the diameter of its inner reinforced circles being 31 inches. This size will let it stay securely propped up against the windscreens of larger vehicles. This is a standard pop up type of a windshield sunshade. That means that installation takes very little time, and it has a somewhat adjustable width. It's not too difficult to fold, and it comes in simple silver and black design without printed logos.
The material is of fair quality as well. It being a 190T nylon, the fabric is quite dense, and it doesn't let a lot of sunlight through. Because of that, your dashboard will be protected from UV lights. It provides mediocre heat insulation. Overall, his windshield sunshade is a good choice for owners of larger vehicles. It's a good quality item that's worth the higher price tag.
Pros
Large size at 70 x 35 inches
190T Nylon is a good, dense fabric
Cons
It's one of the pricier options
6. EzyShade Windshield Sun Shade + Bonus Item, Medium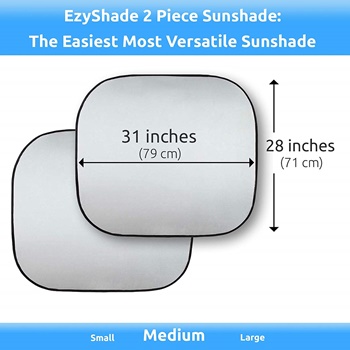 Our next pick comes from EzyShade. It is not a folding design, but instead, a two-piece unit. The two pieces are similar to the standard pop up style, though they are rectangular and come separated. However, the folding of this type of a windshield sunshade is quite similar to the standard pop up type. This model comes in three different sizes, including small, with each piece being 29 x 23.5 inches, medium at 31 x 28 inches each, and large at 36 x 32.5 inches large rectangles.
This type of windshield sunshade offers good size adaptability, as you can overlap the pieces for adjustable width, but you can also install the pieces either horizontally or vertically. This windshield sunshade is made out of 170T nylon, which is the industry standard. However, the material doesn't provide superb thermal insulation, so your car may still get somewhat warm. The design of the two pieces is a simple solid color, and the fabric has a silver and a black side. Along with the windshield sunshade, you get a storage pouch and a sticky dashboard mat.
Pros
The 2-piece design ensures good size adjustability
Comes with a sticky dashboard mat as an extra
Cons
It provides second-rate thermal insulation
7. Enovoe Car Window Shade – (4 Pack) – Cling Sunshade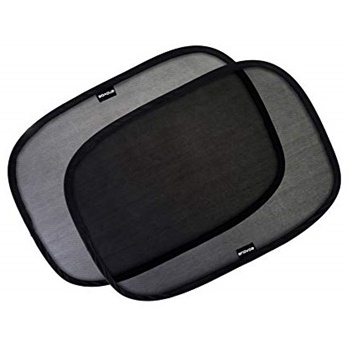 We also wanted to include our pick of a set for your other car windows. Our choice is this four-pack made by Enovoe. While protecting your dash while you're parked is important, you can also offer some lasting protection to your car. That's because you don't have to remove and install these side window sunshades every time you drive. These can stay installed on your side windows permanently, and help make your kids' and passengers' drive more comfortable.
This set of four car window sun shades is quite affordable. It fits side windows of most cars, especially the larger SUVs, minivans, and full-size cars. Each of the shades measures 21 x 14 inches. The material is made out of two layers – one inner mesh material, and the other is a plastic layer that adheres to the windows utilizing plastic. Because of that, there's no need for suction cups. These sun shades will protect your passengers' eyes from the sun, but it will offer limited heat protection. Still, with a side window cover, every ride is a bit more comfortable.
Pros
Comes in a four-pack
Two-layer material sticks with no need for suction cups
Cons
Doesn't offer great thermal insulation
Windshield Sun Shade Types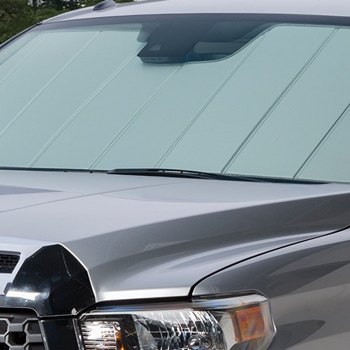 Windshield sun shades have the same basic construction – they are essentially a piece of fabric stretched across a wireframe or a thick fabric that can support its own weight. They are secured either by Velcro, suction cups or supported by your car's interior elements like the rear-view window and sun visors.
Even though most windshield sun shades have the same basic shape, there are still different types of constructions which are the most common on the market. These include the accordion, pop up, and 2-piece types of windshield sunshades, along with the smaller shades for the side windows.
1. Accordion
The accordion is the traditional style of a windshield sunshade. It's the well-known zig-zag folded piece of fabric, which typically has a layer of silver reflective material. An accordion windshield sunshade is rather easy to set up, and easy to remove and fold as well. However, they are very bulky, even when folded, so you may need more space to hold one when it's not in use. Accordion windshield sun shades must be purchased at the exact dimensions you need them in. While they allow some overlap, uneven weight distribution can cause them to flop down, reducing their effectivity.
2. Pop Up
You will understand why the pop-up type of windshield sunshade bears that name the first time that you unfold one. They literally pop up once you unfasten the ties because the entire wire construction is folded down. The typical structure of a pop-up windshield sunshade is a rectangular piece of fabric and within it two large circles of wire-reinforced material. These two circles allow overlap and a more flexible set up without the loss of stability due to weight distribution. Pop up style windshield sun shades are the most popular type today because they're easy to set up and stay in place for an indefinite period. However, they can be a bit awkward to fold down, at least until you learn the movement and get used to it. In fact, the construction allows for a pop-up shade to be folded down into an incredibly compact bag.
3. 2-Piece
Another type of windshield sun shades that you've probably seen is two-piece construction. Basically, the two oval or rectangle-shaped pieces are placed next to each other and let to overlap, covering the entire windshield area. This type allows the most flexibility in size, specifically the width of the windshield, as they can be set up to overlap as much as necessary. This type of windshield sunshade is folded and installed in a similar way as the pop-up type, but in this case, you need to unfold and install two pieces instead of one. These are also called jeep windshield sun shade, RV windshield sun shade, or suv windshield sun shades.
4. Side Window Sun Shades
In contrast to a typical windshield sunshade, side-window sunshades are made to stay on your windows while you drive. That's why they're made out of a semi-transparent material, usually, mesh. This material is used because it blocks some of the sun's rays but lets some of them through so your car interior isn't entirely black. It is also see-through so that the drive is comfortable for your passengers who can look through the window without eye strain or danger from UV rays. Furthermore, compared to windshield sunshades, side window shades are smaller, to fit onto the smaller windows. They typically don't cover the entire area of the window either but are instead placed in the center. This type of shade is typically secured with suction cups, so you can put them up and remove them multiple times. In most cases, they're sold in packs of four.
Windshield Sun Shade Buying Guide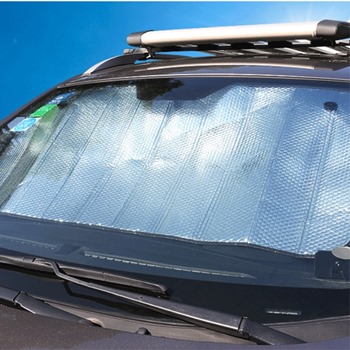 Indeed, windshield sun shades aren't that complicated. They're basically a piece of fabric stretched over a wire hoop, with some accessories and additional details. However, getting the wrong one usually means wasted money and time, and there are many things which you need to choose. Making your pick of a windshield sunshade requires a bit of time and attention to detail. That's why we've decided to compile this buying guide in which we'll cover everything you need to consider when choosing the right model for yourself.
1. Windshield or Side Window Sun Shades
When getting sun protection for your car, along with tints and the best car covers, you'll have a choice between different sun shades. In essence, you can get a shade for each window on your car, including the rear, the side windows, and your windshield. While the rear and the side window generally have suction cups for somewhat permanent attachment, a windshield sunshade is removed every time you need to drive. All of these shades are effective at reducing your car's sun exposure, and they cover different parts of the car. Before getting only one sunshade, consider whether you'd like to have some or even all of your windows covered in sunshades. It's simply cheaper and more effective to get them in a set, rather than buying each individually.
2. Size
Size is the most crucial property to choose when purchasing a windshield sunshade. In fact, your shade will be close to unusable if you get the wrong sized product. When getting a sunshade, you should get one that's the closest to your windshield dimensions, or only a little bit smaller. Don't get a larger one as you will not be able to fit it inside your windshield, and you risk damaging your rear-view window. If you can't find one with the exact measurements, get a horizontally flexible style like a pop-up or two-piece sunshade. The vertical dimension (the height) is far more important than the horizontal one in these models, as they can overlap to make the windshield sunshade narrower.
Measuring your windshield
Before you make your pick, you should either find windshield specifications in your car's manual or measure your windshield's width and height with a tape measure. We recommend a flexible tape measure instead of a rigid one because of the slight curvature of the windshield. When measuring your windshield, make sure you do it from the inside of your car, as that's where the sunshade needs to fit.
3. Material
Windshield sun shades available on the market are made out of different kinds of polymer materials. Most notably, different types of nylon are used, with or without an additional reflective layer for maximum UV protection.
3.1. Thread density
The main difference between the various nylon fabrics used for windshield sun shades is the density of the material fibers. The most commonly used types of material are 170T, 190T, and 210T Nylons. The numbers refer to the differing density of warp and weft in 1 square inch of the material, so 210T is somewhat thicker than 190T and much thicker than 170T. The density of the fabric is crucial because some sun rays still pierce through the material – and the denser the material, the less sun can pass.
3.2. Reflective layer
However, density is not the only relevant measurement. You should also consider the outside layer if your preferred model has one. Ideally, you should get a windshield sunshade that comes with a layer of silver, reflective material. These materials are the best at protecting your dashboard from UV rays, even if the fabric comes at a lower thread density. Still, the silver material can also get quite hot, so it can be hard to remove on sweltering days.
4. Ease of Installation and Removal
The driver's seat can be a tight space, especially when you need to unfold or fold a sunshade the size of your entire windshield on it. Because of that, getting a windshield sunshade which is easy to install can become the difference between protecting your car on a daily basis and it serving as a dust collector. Most windshield sun shades are quite easy to install but bothersome to remove and fold away. However, even though the folding movement seems confusing at first, it's one of those motions that you will get used to in no time. Folding windshield sun shades are always a good option.
5. The Design
Finally, if you're getting a windshield sunshade, there's no reason not to get something that looks elegant and nice. There are a variety of different designs, from simple and stylish, to cute and quirky out there, so you can also check out if they have the correct size of a sunshade with your favorite design.
How to Install Windshield Sun Shades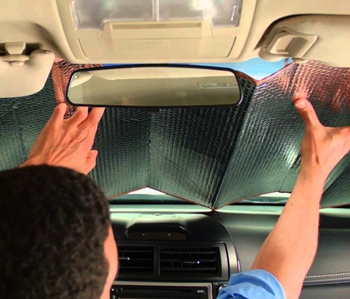 Installing windshield sun shades is not hard at all. The installation takes only a minute or two, and it's straightforward. With this easy installation, your car will be adequately protected from the sun, no matter how long it stays parked outside.
In our guide, we will tell you about the two most common types of windshield sun shades. If the shade you chose doesn't work exactly like one of these two basic types, check the manufacturer's installation guide for additional installation.
That being said, the installation of windshield sun shades is generally quite intuitive and simple. On the other hand, you may need to check the user manual when it comes to removing and folding the shade back into its compact form.
1. Installation
Open and unfold any windshield sunshade inside of your car. You shouldn't unfold them outside and then attempt to bring it in through the door, because that way it's bound to bend and lose its stability. Because of that, unfold it while sitting on your driver's seat.
Align the sunshade to your windshield. Place the lower side on your dashboard, tucking it in closer to the windscreen.
Once the lower end is stable, move to the upper part. If you've chosen the correct height, the windshield sunshade should be able to lean onto your rear-view mirror. Carefully bend the sunshade, so it goes behind the rear-view mirror, and pull both sun visors down, pressing them back to hold the windshield sunshade.
In order to make the sunshade as secure as possible, it also needs to have the correct width. Different types of windshield sun shades utilize different width adjustment methods.
1.1. Accordion Type
You can adjust the width of an accordion-type windshield sunshade by folding its zig-zag creases more or less. When doing this, try to distribute the folds evenly across the entire shade. If one end of the shade is more densely creased than the other, the weight may prevail, making the sunshade fall. Alternatively, back the shade up with large objects on both ends.
1.2. Pop Up Type
Pop up type windshield sun shades typically have two large circles of reinforced fabric and some space in between which you can overlap for width adjustment. However, not all pop-up models have this feature, so before you get this kind of a windshield sunshade, it'd be best to check whether it's adjustable. This typically depends on whether the shade has an outer frame or not (outside of the circles), though the ones without it are more common.
2. An Additional Tip
If you set everything up, but your windshield sunshade keeps on falling or tilting to one side, there's a simple and cheap way to fix it yourself. You can find sticky back Velcro or small suction cups. With Velcro, you only need to stick two pairs, one in the upper corners of your windshield, and another on your sunshade. If you opt for suction cups, get two pieces that you can easily stick or sew onto your sunshade.
How to Fold a Car Sun Shade Properly?
A windshield sunshade is generally a large piece of fabric with wires, so many people are surprised when they first receive a compact bag with the product. This is especially true for pop up kinds of sun shades. However, folding it back to that size can be challenging at first. But don't worry – you'll get used to it quickly, and it will be a breeze once you master the wrist movement!
Once you take the windshield sunshade off, get out of the car for more effortless movement
Fold the sunshade in half, so the two big circles overlap
Hold the folded shade with one hand holding each side
Twist your hands in opposite directions, so you create a figure-eight shape
Keep twisting while getting your hands closer together, creating a kind of a coil
Secure the folded shade while holding it tightly, before it pops right back open
If you own a 2-piece sunshade set, the folding process is the same as the pop-up type. You only need to stack your two rectangles one over another and bend them together.
If the explanation seems a bit too complicated, take a look at the below video for a visual demonstration. It's quite simple!
FAQ About Windshield Sun Shades
1. How do I maintain my windshield sun shade on a daily basis?
Typically, windshield sunshades don't require too much maintenance. The only essential step to take to prevent untimely damage is to store it away in its bag, or in your glove compartment, when not in use. To ensure durability, don't toss your windshield sunshade onto the back seat when you don't need it. Take the time to fold it and store it away properly, and your windshield sunshade should last for a long time.
2. Can I wash my windshield sun shade?
If your windshield sunshade gets dusty and requires cleaning, you can do that in a very simple way. Unfold it, and place it flat on a surface. Get a spray bottle filled with a light soap and water solution, and spray it all over the sunshade. Wipe it with a sponge or a soft cloth. Remove the excess soap with a wet sponge or cloth, or rinse it off with a garden hose on very low pressure. Make sure the sunshade is completely dry before you fold it and store it away. Otherwise, the moisture may cause mildew.
3. Can I damage my rear-view mirror with a sun shade?
Installing your windshield sunshade requires you to get it behind your rear-view mirror. Typically, sun shades aren't rigid enough to cause any damage to your sunshade. The only case in which it's possible to cause any damage to your mirror is if you accidentally bump it with your hand during installation. Make sure you're careful around it, and you should be fine!
Wrap Up
As you can see, choosing the best windshield sun shade for your car seems simple, but there's more to it than meets the eye at first glance. There are many things to consider – the material, the build type, the price, and the design. All of these are factors you should think of before you make a definitive choice if you want to make the best investment possible. That's why we've prepared this comprehensive buying guide and our unbiased windshield sun shade reviews. Once the sunshade you picked arrives, you'll never have to get into a scorching hot car again.
We hope that we answered all of your questions, and equipped you with all of the knowledge you need to make an informed decision. If you have any questions left, feel free to ask us in the comment box below!
Bonus articles: window tint reviews – top-rated bumper guards