When it comes to the best bumper guards on the market, an old saying comes to mind – an ounce of prevention is worth a pound of cure. Whenever you park your car in a public parking lot, you take a risk – a risk of someone accidentally scratching, scuffing, or even denting your car's bumpers. This is a very unpleasant situation, and it costs a lot to repaint even the smallest scruffs. Because of that, we think that prevention is better than cure, especially in this case.
However, choosing the right one is not simple. There are many kinds and various models available on the market today, and that can be confusing. Because of that, we prepared a comprehensive buying guide and our unbiased bumper guard reviews to help you find the best deal.
See The Quick Comparison Chart
Benefits of Bumper Guards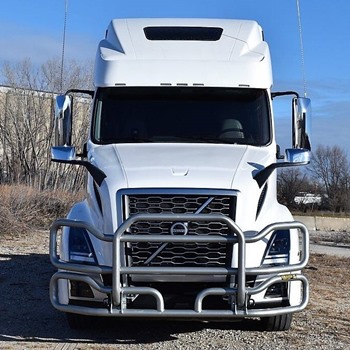 Installing a bumper guard is one of the things you can do to make your car stay safe from harm for a longer time. It can help you retain the beautiful look of a new car much longer than you'd expect it to. Let's take a closer look into what exactly the benefits of bumper guards are, and how they fit together into such a solid, important piece of equipment for your vehicle.
1. They Keep Your Bumpers Scratch-free
Bumpers are the most frequently damaged part of any car since it takes the most heat both in collisions and while simply parked – hence the name "bumpers." But, because they're the most commonly affected area of a car, you may require some additional help keeping them in a tip-top condition. Your bumpers are especially vulnerable while your car is parked in the street, and you're out running errands or visiting friends. With a bumper guard, you can park anywhere without worrying that someone who parks carelessly will incur thousands in damages to your car's paint. Bumper guards prevent scratches, scruffs, and dents from ever affecting your bumper.
2. They Keep the Resale Value High
Most car owners decide to replace their vehicles before their old cars suffer fatal damage. Reselling is a great option because it helps you collect funds for your new vehicle. Because of that, it's important to strike a good deal when reselling your used car – and you can't do that with visible scratches and dents on your bumpers. Having a bumper guard installed when the inevitable accidents happen will ensure your car leaves unharmed – and your resale profits remain high.
3. Good Design for an Amazing Appearance
Let's face it – a well-chosen bumper guard can make your car look phenomenal. Many bumper guards you can find on the market have great designs, and they're not only made to protect but to enhance the looks of your car as well. Most bumper guards come in black, and some come in metallic grey. These can complement almost any car color, and give a sleek accent to your vehicle. We particularly like the elegant thin strips and the snazzy models that cover the entire rear bumper. Bullbars can give off a very powerful vibe, while license plate guards can adorn your car.  With so many stylish choices, you only need to find the best fit.
4. Practical and Inexpensive
Finally, bumper guards are great because of one very simple and down to earth reason: they save you money. Even a small dent or scuff mark can make your car look much older and far less attractive. Yet, doing paint repairs is incredibly expensive – often reaching thousands of dollars, even for repaints of very small areas. The main reason for this is that car paint is hard to match, so experienced professionals often have to mix their own paint to match the hue and the clear coat finish with the rest of the car. And let's face it – it's somewhat better to drive a car with a scratch instead of a car with mismatching patches of paint. But a bumper guard takes this worry off your chest entirely. They completely prevent any damage to bumper paint from happening. The best thing is that bumper guards are very affordable, and good models can be found for a fraction of the repaint cost. So, instead of paying thousands for paint repairs, it's a sensible choice to invest in a good, inexpensive bumper guard.
Best Bumper Guards Comparison Chart
PRODUCT
DETAILS

Bumper Thumper Ultimate Complete Coverage Front Bumper Guard

Price: $
Customer Rating: 4.3
Size: 15 x 7 inches
Type of Guard: Licence Plate
Material: Rubber

View On Amazon

Luv-Tap BG001 – Complete Coverage Universal Fit Rear Bumper Guard

Price: $$$
Customer Rating: 4.1
Size: 105 x 10 inches
Type of Guard: Rear Bumper
Material: Fabric

View On Amazon

BumperBib Rear Bumper Protector

Price: $$
Customer Rating: 4.7
Size: 37 x 15 inches
Type of Guard: Trunk-mounted
Material: Fabric

View On Amazon

TAC Modular Bull Bar Fit

Price: $$$
Customer Rating: 4.7
Size: 39 x 18.5 inches
Type of Guard: Bull Bar
Material: Steel

View On Amazon

BumperX Bumper Protection & Guard

Price: $$
Customer Rating: 4.5
Size: 62 x 6 inches
Type of Guard: Stick-on
Material: Rubber

View On Amazon

Pacer Performance 25-502 Black Deluxe Bumper Guard Kit – 4 Piece

Price: $
Customer Rating: 3.8
Size: 20.5 x 1.5 inches – 4 pieces
Type of Guard: Stick-on
Material: PVC

View On Amazon

Pacer Performance 25-535 Black Bumper Protector Pad Kit – 2 Piece

Price: $
Customer Rating: 3.6
Size: 5 x 3.5 inches – 2 pieces
Type of Guard: Stick-on
Material: PVC

View On Amazon
Best Bumper Guards Reviews
1. Bumper Thumper Ultimate Complete Coverage Front Bumper Guard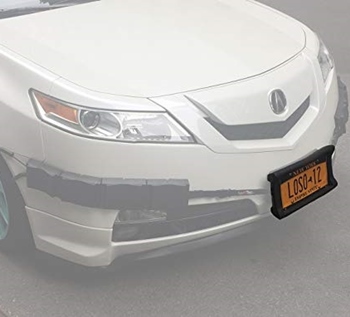 Bumper Thumper is a license plate bumper guard that offers optimal protection to your front bumper. This simple product is a rubber license plate casing. It's 15 inches wide and 7 inches tall, so it fits all US license plates. The thickness of this license plate bumper guard is 1.25 inches, which helps protect your car's front bumper from scratches and dents that other drivers' careless parallel parking may result in. The stainless-steel reinforced foam rubber frame can be secured in place with four screws, although you may only use two if that fits your car model better.
The product comes with two different sets of screws – long and short. The set of longer, 2-inch screws is used to secure the license plate frame onto your car, while the 0.75-inch screws don't penetrate through the structure. Instead, they are used to secure the plate itself into the frame, and they're specifically designed to prevent rattling in two-screw license plate systems. However, some people feel the 2-inch screws are too long, so you may need to get a separate set if these don't fit your car.
Pros
The license plate bumper guard can protect your front bumper
The foam rubber material is of high quality
Cons
The 2-inch set of screws may be too long for your vehicle
2. Luv-Tap BG001 – Complete Coverage Universal Fit Rear Bumper Guard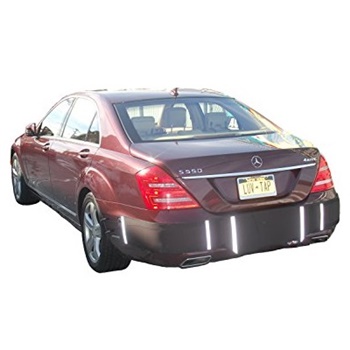 Our next pick is Luv-Tap's rear bumper guard. This waterproof fabric bumper guard covers the entire rear bumper of your car. You don't have to worry about finding the perfect fit with this model, because the choice of material lets it conform to the shape of your own vehicle. It's 105 inches long, and 10 inches tall. This bumper guard does not have a license plate cutout, so make sure your license plate is set up above the bumper.
The elegant, black fabric is of good quality, and it can be machine washed on a delicate cycle in cold water. However, the downside of the fabric is that it may quickly fade if it's exposed to direct sunlight for a long time. This rear bumper protector can be secured onto your car in several ways, and all of them are very simple and quick. It's secured with straps to the inside of your trunk. On the sides, you may use the provided suction cups to stick it to the car walls, or you can use the provided bungee cords to attach the guard to your wheel wells. In either case, the bumper guard stays on. In fact, it feels secure enough to drive with the bumper guard attached.
Pros
Can be attached to your car in different ways
The fabric conforms to the exact shape of your vehicle
Cons
The fabric may quickly fade under extensive sun exposure
3. BumperBib Rear Bumper Protector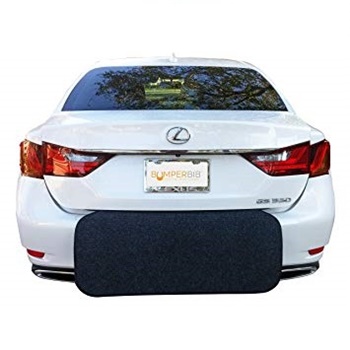 BumperBib is a witty but appropriate name for our next pick. This trunk-mounted bumper guard comes with a dual usage. It protects your trunk walls, carpet, and upholstery when you need to load or unload heavy and clunky cargo. On the other hand, it also protects your vehicle's bumper when you're not around. However, it's not intended to use while you're parked on the street. In fact, it covers quite a broad area – 37 inches in length and 15 inches in width when it comes to the outside chunk of the bib that covers your vehicle's rear bumper.
On the inside, you can get a large portion of your trunk covered as well, as it measures 45 inches long and 24 inches wide. The high-quality mildew-resistant polyester carpet-like fabric comes with a well-stitched on rubberized backing, which prevents sliding around. Make sure you don't drive with the bib flapped out, and you will have a useful product that helps keep your car beautiful.
Pros
Made out of a high-quality polyester carpet with rubberized backing
Covers a large area inside and outside the trunk
Cons
It doesn't protect your car's bumper from damage in parallel parking
4. TAC Modular Bull Bar Fit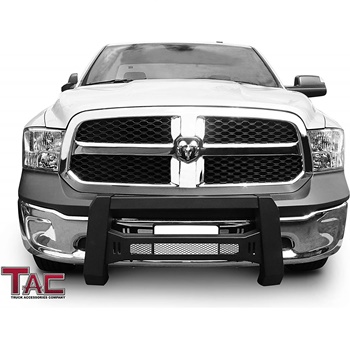 If you're looking for a bull bar, this TAC model may be the right pick for you. This bull bar is entirely made out of high-quality steel, which makes it durable and very tough. This material will make sure you stay safe on the road, even if you have a road accident or hit a wild animal on the road.
The textured black finish of the material ensures it stays rust-free for a long time. This bullbar comes in several parts that you need to assemble, but the assembly is quite simple and intuitive. The bolt-on mounting process is also quite simple, and all necessary hardware comes in the package with it. You can equip this bull bar with an LED light, which can help night-time visibility. The light bracket is covered in mesh, which helps heat dissipation. The bull bar also comes with mounting brackets for a license plate, so you don't have to worry about covered license plates. Overall, this is a great choice if you're looking for a heavy-duty bull bar.
Pros
Made out of rust-resistant, heavy-duty steel
Comes with mesh-covered LED brackets
Cons
Bullbars may not be a great choice for city driving
5. BumperX Bumper Protection & Guard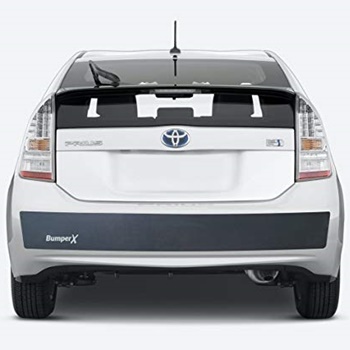 Our next pick is a stick-on bumper guard made by BumperX. This rubber design is perfect for anybody who is looking for reliable rear bumper protection. The black rubber looks great on almost any car, and it protects a very wide area of your rear bumper as it's 62 inches wide and 6 inches tall. The thick, reliable rubber will absorb shock and protect your bumper from scratches, scuffs, and dents. The stick-on strip will stay completely secure on your vehicle for a long time. That's because it comes with strong 3M adhesive, which easily resists difficult weather conditions and harsh UV rays from the sun.
This bumper guard is only suitable for flat bumpers, but it's also very DIY friendly, so you may modify it as you wish. For example, you can easily make a cutout for a license plate, if it's positioned on your bumper. This bumper guard will protect your car's bumpers from many light roadside and parking accidents.
Pros
The DIY friendly model which you can cut and tailor to fit your vehicle
Very long rear bumper coverage at 62 inches
Cons
It only fits completely flat rear bumpers
6. Pacer Performance 25-502 Black Deluxe Bumper Guard Kit – 4 Piece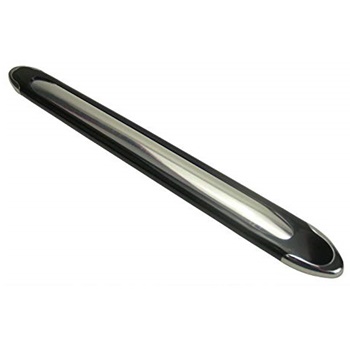 Our next pick is a four-pack of stylish Pacer Performance bumper guards. These stick-on guards are designed to fit any car's corners perfectly. The glossy black PVC strips are tough yet moldable, so they conform to the shape of any bumper's corner. Because of that, using this product, you can rest assured that the most vulnerable part of your car's bumpers is completely protected from harm. The plastic strip is very easy to install, as you only need to stick it in position.
Even though the mounting is simple, you don't have to worry about the bumper guards falling off – the adhesive is a UV ray and weather-resistant 3M self-stick tape. That makes it long-lasting and very durable even when faced with harsh sun and rain. These bumper guards are quite small – 1.5 inches tall and 20.5 inches wide, so you need to put them up strategically. You can protect all of your car's bumper corners because this product comes in a package in four pieces.
Pros
The stylish strips can completely blend in with your vehicle
Comes with heavy-duty 3M self-stick tape
Cons
The small size requires a strategic location for the guards
7. Pacer Performance 25-535 Black Bumper Protector Pad Kit – 2 Piece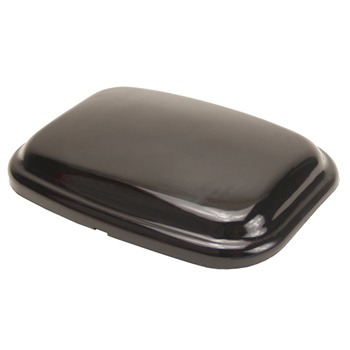 Our next pick is a two-piece package by Pacer Performance. These bumper guard pads are rectangular and quite stylish. They can be put on any flat surface on your bumpers, so they are very versatile. This product can help protect both your front and back bumpers from dents, scratches, and scuffs. You can easily prevent careless parallel parkers from leaving their marks on your vehicle with this simple, rectangular pad. It will block another vehicle from ever touching yours, and you can stick them on strategically wherever you want. In most cases, we saw them stuck one on each side of the license plate.
These glossy black PVC bumper guards can look amazing on any car, and they're not distracting because they're quite small – 5 inches long, and 4.5 inches wide. They're very easy to install, as you only need to stick them on. They're equipped with the popular 3M self-stick tape, which is resistant to harsh weather conditions and the sun's UV rays, so you don't have to worry about them falling off. This two-pack is the most affordable way to protect your vehicle's bumpers from unsightly scratches and marks.
Pros
Very affordable two-pack
Stylish, glossy black, rectangular design
Cons
At 5 inches long and 4.5 inches wide each, they're quite small
What Is a Bumper Guard?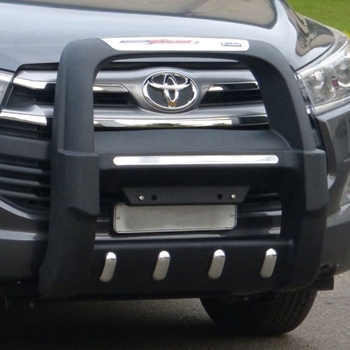 So, first things first, what is a bumper guard? Simply said, they're pieces of gear that protect your car's bumpers from dents, bumps, scuffs, and scratches. You'll know you need guards for your bumpers if you've ever parked downtown, and came back to your car only to find the paint on your bumpers completely ruined by an unidentified culprit. Paintwork is expensive and bothersome to patch, and products like car waxes and car paint sealants can help you keep your paint protected from the weather and salt, but they can't prevent marks of impact with another vehicle. That's why we have bumper guards, to both cover old spots, and to protect your car against new ones.
They are made from various materials, including fabric, plastic, rubber, and even steel. Bumper guards are either made to cover the entire area that frequently ends up affected, or they're made as small, inconspicuous pieces strategically placed on the most common points that get ruined while your car stands parked out in the street.
In essence, bumper guards work either as a cushion or as a shell. In both cases, the effects of the mishap may show up on the bumper guard, but they won't affect your car at all. The best thing is that the guards are very affordable, so you don't have to worry about getting a replacement if it receives unsightly damage. That's why we highly recommend bumper guards to anyone who frequently parks on streets or public parking lots, where bumper damage occurs most often.
Bumper Guard Types
When choosing a bumper guard, it's important to know what you're getting, and which type of a guard solves which problem area. There are several types of guards, and they are mounted differently, or used for varying types of possible bumper damage.
1. Front Bumper Guards
1.1. License Plate Guards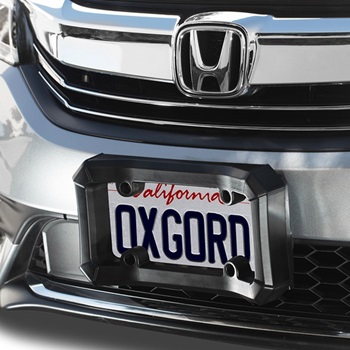 License plate bumper guards are the smallest, and the simplest guards to install. They are typically made out of rubber, and they hold your license plate rimmed with the tough material. License plate guards offer two-way protection. They prevent the front of your car from damaging the back bumper of the car in front of you when parallel parking. On the other hand, it stops another car from reaching your front bumper, because the license plate protrudes farther than usual, not allowing the other car to come near your bumpers. In fact, the license plate bumper guards are typically very thick, so they're rather effective at preventing damages to your, and to other cars.
1.2. Bull Bar Guards
Bullbar guards are well-known and widely used across the US, especially in rural areas where accidents with wild animals like deer on the road are quite common. A bull bar is typically heavy-duty and made out of steel. It's attached to the front of the vehicle, covering its lower middle part. It's typically used on pickup trucks, Jeeps, SUVs, and crossover vehicles. This type of guard does protect your car while you're parked, but it does not soften the blow your car leaves on another bumper as a license plate guard does. However, bull bars offer a lot of protection on the road, when it comes to collision with wild animals, or when driving off-road and pushing your way through bushes and near trees.
2. Rear Bumper Guards
2.1. Stick-on Guards
Stick-on bumper guards are made for both the front and the rear bumper of your vehicle. As the name suggests, mounting one of these guards is as simple as sticking it onto your car. They're made out of different materials, but most commonly, they're either made of waterproof fabric, plastic, or rubber. Stick-on guards come in various sizes and types, and they're very simple to install, yet they protect your car for a long time. Some stick-on guards are large enough to cover the entire rear of a vehicle, while others come in short, thin strips that are stuck onto any part of your bumper that you think is most affected. Most commonly, people stick this type of a strip guard to the edges of their bumpers, as they're flexible and easily conform to the shape of your vehicle, which is another upside of this type.
2.2. Trunk Mounted Guards
Trunk mounted guards require the most daily attention because they aren't permanently fixed in place. Instead, they are placed inside your trunk and flipped out every time you park your car. The large pieces of thick, rubberized fabric typically cover a very large area under your trunk, so their size is a big advantage. You also don't have to worry about specific dimensions, and there's no way one won't fit your vehicle. Trunk mounted guards also double as protection of your trunk walls whenever you need to get clunky or heavy things inside or out.
2.3. Hitch-Mounted Guards
If you don't use your hitch receiver for a trailer, or a best hitch cargo carrier, you should consider putting it to good use with a bumper guard. This type of bumper guards is very easy to mount and dismount, but they stay fixed onto your car for as long as you don't mind it being there. As hitches can carry a lot of weight, these guards are typically larger, cover a bigger portion of your car's rear, and they're made out of thick, heavy-duty materials. The only prerequisite is that your vehicle has a fitting sized hitch receiver, which is typically found on trucks and SUVs, or larger cars.
Bumper Guard Buying Guide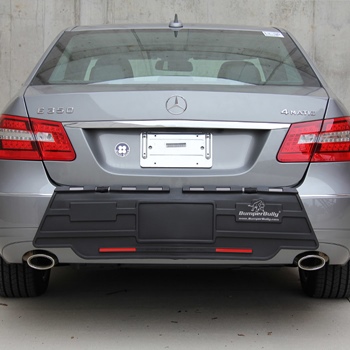 The bumper guard market is very saturated – there are plenty of different models and a lot of types of guards that serve varying purposes. Because of that, it may be difficult for you to navigate the market and make sure you brought the right decision when choosing a bumper guard for your car. To help you with this feat, we compiled a list of the most important factors you should consider when getting a bumper guard for yourself. Feel free to consult this buying guide when researching or choosing a bumper guard that will protect your particular vehicle as well as possible.
1. Material
Bumper guards are made out of a plethora of different materials, which differ in toughness, resilience, and durability. In many cases, there are a couple of choices of material for any given kind of a bumper guard, but there are more suitable and commonly used materials for every type. The material a bumper guard is made off determines how well, and how long the guard can protect your car from harm while parked. Here are some of the most commonly used materials for bumper guards and their basic properties:
1.1. Rubber
Rubber is a great choice of material for any kind of a bumper guard because it can withstand a lot of impacts. It has a good shock-absorbing ability, so it can offer a lot of protection. In most cases, rubber guards last for a rather long time, but the material can naturally stiffen over time, making it less shock absorbent. This sometimes happens in extreme weather conditions or after particularly intense exposure to the elements. If you feel the rubber of your bumper guard is getting stiff, it's probably the time for a change. Luckily, rubber bumper guards are also reasonably priced, so they're not a big investment.
1.2. Plastics
Plastic bumper guards are the single most common type of a bumper guard that you can see out on the street. That's because plastics are very versatile, and you can achieve great results for very little money with the right choice of a plastic material. Bumper guards are made out of a large variety of plastics, including thermoplastic olefins, polyesters, polycarbonates, polyamides, polyurethanes, polypropylene, mixtures of these, and more. In fact, plastics are not only popular for their protective capabilities, but also for their looks. Black plastic suits almost any car perfectly, so this is a popular choice among many drivers who wish to keep their cars looking amazing. In fact, many of the small stick-on guard strips are made out of plastics, and these are the most popular, and the most visually pleasing choice.
1.3. Fabrics
Some bumper guards are made out of waterproof fabrics. In fact, these fabrics are typically synthetic, and a type of plastic as well. However, they can be quite distinct from what you'd first imagine is a plastic guard. Fabric bumper guards are quite unique and successful bumper guards in their own rights. In fact, fabric bumper guards are the most versatile when it comes to the size of the guard. With other materials, you have to get a bumper guard that's tailored for the vehicle model you own, but a fabric bumper guard is soft enough to conform to any surface shape. However, fabric bumper guards are also the least durable.
1.4. Steel
Steel bumper guards are not very common, and they're most often found in the form of bull bars and similar front bumper attachments. These bumper guards are the biggest investment out of the different guard types, but they are also the most durable. This type of bumper guard is not made only to protect the vehicle while parked, and instead, it also offers more security while driving, especially on roads with roaming wild animals. Because of that, only people who live in rural areas and drive on such roads truly need a steel bumper guard.
2. Bumper Location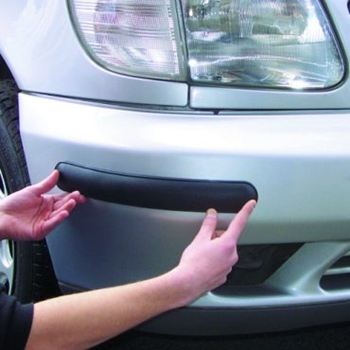 You will notice that you can get a huge variety of different bumper guards on the market. They don't only differ by material, but also the intended way of the use of the guard. Different models are designed to fit different parts of your car's bumpers. The most common types of bumper guards per location are rear, front, corner, and trunk bumper guards.
2.1. Rear
Rear bumper guards protect your vehicle's backside. The rear bumper is frequently affected while the car is parked, but also while getting the heavy cargo in and out of the trunk. Rear bumper guards typically cover a large area of your rear bumper, depending on the mounting method. Stick-on rear bumpers typically cover a rather large portion of the bumper, but they don't cover the corner and the sides. On the other hand, some rear bumper guards can cover the entire rear bumper. Some of these are nut and bolt mounted guards, hitch-mounted protectors, and the guards which you hook onto the wheel well.
2.2. Front
Front bumpers can come in the form of a bull bar, a license plate protector, or a corner guard. Big, steel bull bars have a unique use among bumper guards, as they also provide a layer of security when driving on roads with roaming wild animals. On the other hand, license plate guards protect others' cars by preventing your plate from scratching bumpers of parked cars. They also keep your front bumper safe by making the license plate protrude – thus not letting the culprits get near your front bumper corners.
2.3. Corner
Corner bumper guards are typically small, made of plastic, and they have a sticky tape that's used for quick, easy, and reliable mounting. Though corner bumper guards are the smallest, they are quite successful at warding off dents and scratches. That's because they are designed to protect the most vulnerable location on your bumpers – the corners. They are typically made out of resilient but somewhat flexible plastics, so they mold to the exact curve of your vehicle. That makes them universal, which is very useful as it can be hard to find guards for some of the less popular car models.
2.4. Trunk
Trunk mounted bumper guards are unique because they typically need to be mounted every time you park your car, but they also serve a dual purpose. They protect your bumper, typically covering a rather large area, but they also protect the walls around your trunk when loading and unloading cargo. This is very useful for people who have to carry large work or baby equipment with them on a regular basis. One side of trunk-mounted bumper guards is fitted inside of the trunk, with the other side hanging outside. They're typically made out of hard plastics or the rubbery fabric neoprene.
3. Dimensions
It's important to make sure that the bumper guard you choose fits your vehicle. Before you make your final choice, make sure to get accurate measurements of your bumpers. When measuring the bumpers, take both the length and the height, and check how far apart and how wide the corners are.
If you can't find a guard that fits the exact measurement, we recommend getting rubber or fabric guards which you can cut and tailor to fit your car. Alternatively, you can opt for the small, moldable corner guards which are a universal fit.
Make sure the bumper guard doesn't cover your license plate. While it isn't a problem for cars that have the license plate above the bumper, some vehicles have their license plates on the bumper itself. If that's the case, make sure to get a model that you can cut yourself. That way, you can make sure your plates are visible even with the bumper guard on.
How to Install a Bumper Guard?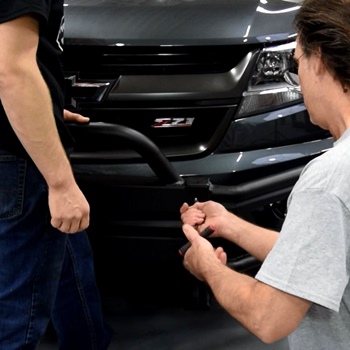 Bumper guards come with different mounting technologies. Installing stick-on guards is as simple as cleaning the surface and sticking the adhesive part onto your car. On the other hand, nut and bolt installations may require a bit more time and craftiness. Whichever the case, installation is never too hard if you follow the instructions closely. We will give you a brief outline of the installation processes of different bumper guard types, so you can know in advance how much skill is required to do it properly. When it comes to the installation itself, we'd recommend taking a look at the label or the user manual of your particular model.
1. Stick-on Bumper Guards
Stick-on bumper guards are simple to install, but they require quite a lot of precision and care. Even though the installation itself is easy and quick, don't rush it, because it's important to prepare the surface properly for longevity, and stick the model precisely if you don't want it to be crooked.
1.1. Prepare the Surface
Prepare the surface of your car by washing it with your usual car-wash liquid. You may also use rubbing alcohol to clean the bumper area if you had your car washed recently, but make sure it's diluted to less than 15% strength. Wait until it's completely dry, or pat the surface dry with a microfiber towel. Don't put any products such as car waxes or sealants on the place where your bumper guard will sit. It's important to thoroughly clean the surface to ensure the bumper guard stays in place for a while.
1.2. Measure and Line Up
Measure the bumper guard, and line it up with your bumper. Make sure it sits straight and neatly. If the bumper guard is long or wobbly, get someone to help you stick it on accurately. Remove the foil that sits over the adhesive strip, and push the bumper guard in place. Press it lightly with your hand and go over the entire length, applying moderate pressure. Once it feels secure in place, you're done!
If you notice that some part is crooked, check your product's label or user manual before tearing it off. Some products may not be designed to stick again once it's detached. If that's the case, it may be best to simply leave it as it is.
2. Trunk-mounted Bumper Guards
Trunk-mounted guards are generally easy to install. One part of them should be fastened inside the trunk, while the other hangs outside. Typically, you'll need to fasten the guard with straps inside of the trunk. Before you fasten the straps, make sure your bumper guard falls into place neatly.
3. License Plate Bumper Guards
License plate bumper guards are rather easy to install as well. You will only need a screwdriver. Unscrew and take off your license plate off your car. Put the plate inside of the guard, and then simply attach and screw to install the bumper guard in place.
4. Hitch-mounted Bumper Guards
Hitch-mounted bumper guards are perhaps the easiest to install. Before you get one, make sure your vehicle has a trailer hitch receiver, typically located at the bottom of your car's rear, and measure whether it's a 1.25″ or a 2″ hitch. Once you have an appropriately-sized hitch-mounted bumper guard, installation is as simple as inserting the hitch into the receiver and securing it inside with a hitch pin.
FAQ About Bumper Guards
1. Is it possible to remove a bumper guard?
Yes. All bumper guards are made to stay securely mounted on your car for as long as possible. But they are all also removable. The exact method of removal depends on the model, and some bumper guards are easier to remove than others. If you're careful and follow the manufacturer's directions for safe removal, it will never damage your vehicle.
Hitch and trunk-mounted rear bumper guards are the easiest to remove. Bolt and nut systems are also quite simple, but you must have a screwdriver to remove them without a hassle. Finally, the stick-on type of bumper guards is easy to remove, but these require a bit more care and patience. It's important to detach the glued side with care, in order to avoid damaging the bumper paint.
2. Does a bumper guard help me save money on a scratch repair?
Car paint repair is not an easy task – it's vital to create a perfect color match if you don't want to end up with an off-putting, mismatching, stain-like color patch. Because color mixing is the most difficult part of the process, the area you need to cover doesn't change the price very much. Even a small scratch can cost several hundred, maybe even thousands of dollars to repaint.
Because of the enormous price of car paint repairs, it seems logical that prevention is better than the cure in the case of car paint scratches. Bumper guards can keep the most vulnerable part of your vehicle safe from this type of harm. Additionally, a typical bumper guard costs very little compared to a car paint repair, so the investment definitely pays off in the end.
If you're interested in ways you can protect other parts of your car's paint you should consider waxes and the best car paint sealants.
3. Can a bull bar protect my car the same way a bumper guard does?
A bull bar is not the same as a bumper guard, but they do have somewhat matching purposes. While a bumper guard protects your car's own bumpers from getting scratched, a bull bar is a type of a bumper that owners of large vehicles choose to add. Just like bumpers, a bull bar's main job is to protect the vehicle's interior mechanism and the driver in the case of a collision. In fact, bull bars are most commonly found on vehicles that have a higher chance of hitting large animals roaming on the roads – a frequent cause of road accidents in rural areas. However, due to their rigid, heavy-duty steel construction, bull bars are considered dangerous in urban areas, as they can cause life-threatening injuries to pedestrians. So, while a bull bar does technically protect your car from getting scratched by other vehicles, that's not its main purpose. Consider your need when choosing between a bull bar and a bumper guard.
Wrap Up
It's hard to stay carefree when running errands, shopping, or visiting friends, especially when you know that your parked car just might get bumped or scratched. It happens more often than we'd like to think, and the statistics show that most people who park in urban areas on a regular basis have their cars' bumpers scratched within the first three months. Luckily, there is a way to prevent costly repair charges. When you have the best bumper guard for your car, you can rest assured that your vehicle is safely parked out there on the street.
However, choosing the right model is not an easy feat. We hope that our comprehensive buying guide and our unbiased bumper guard reviews helped you make a decision and find an ideal model for yourself. If you have any questions or concerns left, feel free to ask us down in the comment box!
Bonus article: top-rated car buffers