If you want your car looking amazing, and at the same time, cut down on time and energy required to get to that point, you should get yourself the best car buffer the market has to offer. Everybody loves it when their car looks amazing. But taking care of how your car looks like can be exhausting and very time consuming, and not many of us can take an entire afternoon off to take the best care of our vehicles.
However, with the market chockfull of great models, making the right decision is not easy. Go through the car buffer reviews for a fine selection of models and decide which one suits your wishes. Let's get into it!
See The Quick Comparison Chart
Benefits of Using a Car Buffer
1. Renew Car Paint
Taking care of your vehicle's paint is not something you should skim over or avoid if you want to be proud of your daily drive. A car that doesn't get its share of proper care quickly starts looking old and ugly, and your paint is the first to go.
There's no better and more efficient way to return life and beauty to your vehicle's paintwork than by using a buffer. After you invest a couple of hours into polishing your paint, and applying wax and sealant, you will hardly recognize your good, old car, or you might just remember what it is that won you over when you first got it.
2. Get Rid of Scratches
Whether your paint was damaged by a loose pebble or that nasty teenager from the neighborhood, a car buffer is your best shot at getting rid of the scratch. Paired up with a good selection of car paint polishing liquid, you can remove any surface scratch and mark, or make the deep ones less visible and noticeable. And that's without ever paying a penny for a new coat of paint, which can be extremely expensive even for a small area.
3. Save Money, Time, and Energy
An electric or pneumatic car buffer will help you take complete care of your car, and leave you with a shiny finish for no money at all after your initial investment. The process is quick, efficient, and very simple. That's not to say that you can't achieve these results by hand. However, working by hand takes a lot (and we mean A LOT) more time and physical effort. That takes a toll on your back and arms after a while.
4. Boost Resale Value
Finally, if you plan to sell your vehicle, you definitely want to get a good price for it. A lot of the resale value estimates are done judging by the looks of the vehicle along with general component health. That means that you need to bring your car back into its best shape before you attempt to get it sold, especially if you're hoping to get a fair price. A car buffer will help you bring your car's paint to a tip-top condition in no time and with very little effort. And after you sell your car, you can take great care of your new vehicle and have it looking as good as new for years to come!
Best Car Buffers Comparison Chart
PRODUCT
DETAILS

BLACK+DECKER 6-inch Random Orbit Polisher

Price: $
Customer Rating: 4.1
Movement Pattern: Random orbit
Max Rotation Speed: 4400 OPM

View On Amazon

PORTER-CABLE Variable Speed Polisher, 6-Inch

Price: $$
Customer Rating: 4.6
Movement Pattern: Random orbit
Max Rotation Speed: 6800 OPM

View On Amazon

DEWALT Buffer/Polisher, Variable Speed, Soft Start

Price: $$
Customer Rating: 4.8
Movement Pattern: Rotary
Max Rotation Speed: 3500 RPM

View On Amazon

Makita 9237CX3 Makita 7″ Polisher Kit

Price: $$$
Customer Rating: 4.7
Movement Pattern: Rotary
Max Rotation Speed: 3200 RPM

View On Amazon

Bosch Power Tools – 1250DEVS – Electric Orbital Polisher

Price: $$$
Customer Rating: 4.6
Movement Pattern: Random orbit
Max Rotation Speed: 6650 OPM

View On Amazon

AutoSpa 94001AS Random Orbital 10″ 120V Automotive Polisher

Price: $
Customer Rating: 3.8
Movement Pattern: Random orbit
Max Rotation Speed: 3600 OPM

View On Amazon

Griot's Garage 10813STDCRD 6″ Dual Action Random Orbital Polisher

Price: $$
Customer Rating: 4.3
Movement Pattern: Dual action
Max Rotation Speed: 6800 OPM

View On Amazon
Best Car Buffer Reviews
1. BLACK+DECKER 6-inch Random Orbit Polisher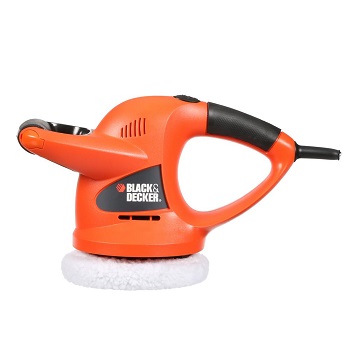 If you're looking for an affordable car buffer, Black & Decker has got you covered. This random orbit machine doesn't come with the bells and whistles of the higher-end models, but it gets your car buffed. It only has a one-speed setting – 4400 OPM. The high speed lets you use the machine for both waxing and polishing. That means you can't use different speeds, but you can adjust your pressure on the surface to have better control over the intensity of your buffing. In fact, adjusting pressure is quite easy, since the machine comes with an ergonomic design that includes two handles. The positioning of the handles helps you apply even pressure, but also reach inaccessible spots. Sadly, the pads included with the machine – one foam and two wool bonnets – aren't of very high quality, so we recommend getting aftermarket 6-inch bonnets for the machine. It's equipped with an electric cord which is 10-foot long, so you can reach your electrical outlet even if you're out in your front yard.
Pros
Affordable model
Runs at 4400 OPM
Cons
Doesn't have adjustable speed
2. PORTER-CABLE Variable Speed Polisher, 6-Inch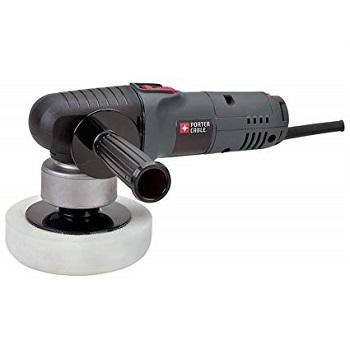 Next up, we have a popular model made by Porter-cable. Their random orbit buffer is made to last, but it comes at a reasonable price. This model comes with variable speeds, labeled 1 to 6, and ranging from 2500 to 6800 orbits per minute. This is gentle enough for waxing, but also powerful enough for polishing and paint correction, even if you have deep scratches and oxidation spots. The model comes with a very long cord, which is over 8 feet long. The cord is also thick and covered in a high-quality rubber. When it comes to ease of use, Porter-Cable went out of its way to engineer a machine that everyone will be happy with. Namely, the side handle can be fitted either left or right, so you can use it the way that feels most comfortable to you in particular. The machine is somewhat loud, but that's because it's rather powerful. Because the pads are attached to the spindle of the machine, they take a bit of effort to change. We recommend getting an aftermarket Velcro pad adapter for pads. The pad that it comes with is of rather low quality, so we recommend getting your aftermarket pads along with the machine. You should look for 6-inch pads, although the machine accepts any 5/16 – 24 spindle thread accessory.
Pros
High-quality model for a reasonable price
Ergonomic handle design
Cons
Comes with a low-quality pad
3. DEWALT Buffer/Polisher, Variable Speed, Soft Start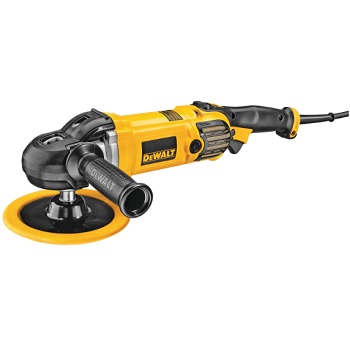 Our next pick comes straight from one of the most popular power tool manufacturers, Dewalt. Designed in their signature black and yellow color scheme, this car buffer is a powerful machine that satisfies even the needs of professional detailers. This rotary machine has variable speed, and it maxes out at 3500 RPM. You can attach any pad you like on it since its spindle thread fits 5/8″-11, and it includes a spindle locking system that allows you to change your pad quickly and easily without any additional tools. You should get aftermarket pads for this model. You can pick up any pads that will stick to a hook-and-loop Velcro backing plate, which is included. Even though the model looks chunky, it only weighs 6.7 pounds, and it includes two adjustable handles for maximum comfort. It comes with a 9 feet long cord. Furthermore, this buffer is not even expensive, considering its RPM, the 12-amp motor, and overall great performances.
Pros
Powerful rotary machine
Velcro pad included
Cons
You will need aftermarket pads
4. Makita 9237CX3 Makita 7″ Polisher Kit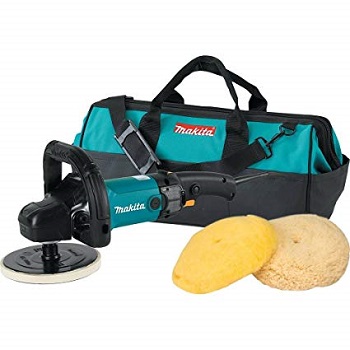 The Japanese are famous for their top-notch electrical tools. If you'd like to get a Japanese car buffer, we recommend Makita, a rather famous manufacturer of power tools. If you're looking for a sturdy machine with a solid build and high-quality materials, this is a good choice. With variable speed, this rotary buffer can help you complete any buffing and polishing job. Maxing out at 3200 RPM, this buffer won't damage your vehicle. The buffer comes with a soft start feature, which will reduce fling off of your polishes and waxes. The machine runs at 10 Amps, but the power cord is not very long. The biggest con of this machine is that it's very loud. Even though the machine may seem a bit pricy at first, in fact, it comes within a kit that includes many features. First of all, you get a 7-inch Velcro backing pad with two wool bonnets, two handles, a wrench, a loop handle, and a centering sleeve. You get everything packed in a large Cordura bag. Quite worth the price!
Pros
Large kit includes many accessories
Powerful rotary machine
Cons
5. Bosch Power Tools – 1250DEVS – Electric Orbital Polisher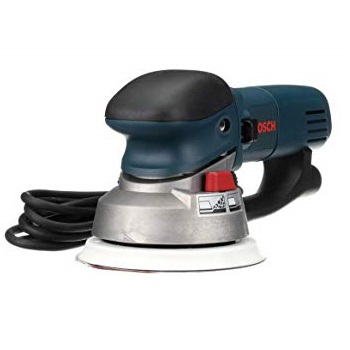 If you're looking for a model that you can use for both car maintenance and wood refining, this model made by the legendary Bosch may spark your interest. This random orbit buffer doubles as a sander, and as such, it has two distinct work modes. The random orbit polishing mode is there to help you get rid of light scratches and to bring your paintwork back to perfection. On the other hand, with a flip of a switch, you can use the sander to bring the shine back to that nice old table. The 6.5 amp motor can output as much as 6650 OPM, which makes this machine very powerful. The buffer comes with many accessories as well, including a soft backing pad, an ergonomic, ambidextrous handle, a sanding disc, a pad wrench, and a dampening ring and dust tube. You can even attach this model to a vacuum cleaner to set it up to pick up dust right as you work. The machine uses 6-inch pads, so you can get whichever hook-and-loop aftermarket accessories you want. It's powered by an 8-feet long cord.
Pros
A powerful machine that reaches 6650 OPM
Doubles as a sander
Cons
6. AutoSpa 94001AS Random Orbital 10″ 120V Automotive Polisher
If you're looking for an affordable back-up buffer or just something to apply car wax with occasionally, consider this model by AutoSpa. This random orbital comes for a very low price, but it will do the job. It can output as much as 3600 OPM. The buffer is easy to use, although it's somewhat difficult to hold when working on the sides of the car. The on/off switch is located at the top of the machine, so you won't accidentally press it. This orbital buffer is very large, and it uses 10-inch bonnet pads. These huge pads mean you cover more area in less time. In fact, you get one foam and one microfiber bonnet, though both are of rather poor quality, so you may want to look into aftermarket 10-inch models. Included with the model is a little pad brush, which can help you clean out any loose debris from your pads and avoid creating scratches. Sadly the built-in electrical cord is extremely short, so you will definitely need a long extension cord to work with the machine comfortably.
Pros
Large 10-inch pad surface for quick work
Very affordable
Cons
7. Griot's Garage 10813STDCRD 6″ Dual Action Random Orbital Polisher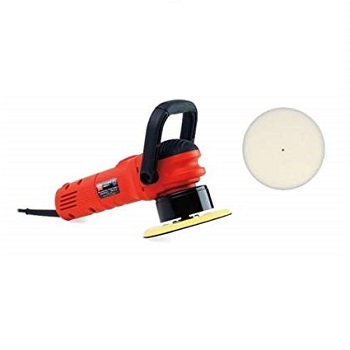 If you're looking for a powerful dual-action buffer, we recommend this reasonably-priced model by the famous USA-based auto detailing manufacturer Griot's Garage. This time we have a buffer that can take anywhere between 2500 and 6800 OPM, run by its powerful 850 Watt motor. The settings are labeled differently, with 6-speed options, but the sticker on the machine itself gives you guidance for perfect waxing and polishing settings. You won't need an extension cord with this model since it comes with a 10 feet long power cord. If that is not enough, you can even request to get your model with an optional 25-foot cord, which will surely reach to your front yard. The model comes with a 6-inch hook-and-loop backing plate, which you can use with Griot's Garage's recommended aftermarket pads. The most important disadvantage to this buffer is that the machine isn't very easy to hold, and it warms up quickly. It does come with a rubberized handle that can be set up in one of 6 positions for easier handling.
Pros
Up to 6800 OPM
10-feet or optional 25-feet long cord
Cons
What Is a Car Buffer?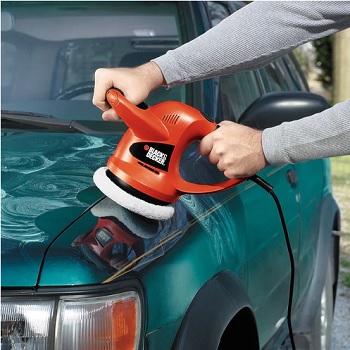 You know how your car always looks beyond amazing after professional detailing? They somehow get it perfectly shiny, and there are no swirl marks or hazing to see anywhere on the body, and the paint looks as fresh and shiny as new.
Truth be told, the professional detailers aren't using magic to make that happen. Instead, they're using a high-quality car buffer with a good selection of car care formulas. The reality is that you can have these things in your own garage and get professional-looking results whenever you have a couple of hours on your hands — all of that without any additional cost.
So, what exactly is a car buffer? It's a power tool used to polish or buff the surface of your car paint quickly and efficiently. Essentially, it does what a soft polishing paper would do, just without the hassle of manual grunt work.
Car buffers, also called car polishers, are devices that are used to smooth out your car paint if you have any scratches or to spread and shine up protective formulas like car wax or sealants. Paired up with a solid choice of car care products, a car buffer can get your car looking as shiny as new in less than half the time it takes to do it by hand.
Types of Car Buffers and Polishers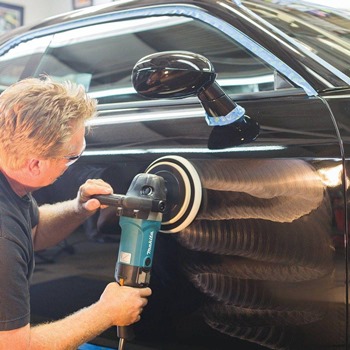 Not all car buffers are the same. In fact, these days there's a wide variety of buffing machines available on the market. We make the main distinction by the power source, and by the movement pattern that the machine makes when working. Let's take a look at the options that you can choose from.
1. Power Source
The two main ways that car buffers get their power from are pneumatic and electric energy. However, these days, you can also get battery-run models that you can use on the go, even if you don't have access to a power source.
1.1. Pneumatic
Pneumatic tools use the power of pressurized air to run power tools such as drills, jackhammers, riveting guns, wrenches, and among them, buffers. If you own an air compressor, you should be able to use it to run a suitable type of car buffer. This is very handy for especially powerful machines, or if for some reason you don't want to use an electrical tool or extension cords in your garage.
1.2. Electrical
Electrical car buffers are the most popular type among hobbyists and professionals alike. That's because electrical power is the most convenient to use in urban areas, and besides, most car buffers don't require a lot of power to run at their full potential. The main issue with electrical buffers is running the cords from your socket to where your car is parked. But considering that buffers aren't power-hungry, you can feel free to use a standard extension cord if necessary. We mainly focus on electrical buffers here.
1.3. Portable
Finally, some car buffers aren't attached to a cord at all. If you want to work under the clear sky in your front yard, have trouble getting a reliable source of power to your location, or you need to get rid of a scratch on the go, you can opt for the portable option. Some car buffers are created with customers like you in mind, and they run on a pair of batteries. Don't worry – the batteries are strong enough for you to do your entire car all at once. Once you're done, recharge the batteries, and the buffer is ready when you next need it.
2. Movement Pattern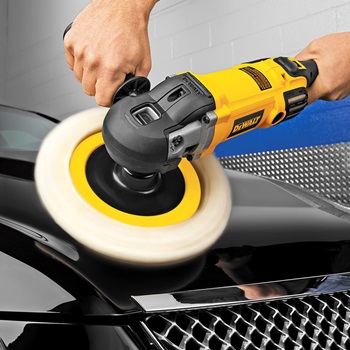 Along with the power source, the most important property of all the different car buffers on the market is the way they move when working on your car paint. While you may think that a buffer simply rotates, that's not necessarily true. In fact, only one type of buffers comes with that kind of movement pattern. Let's take a look at the different options you can choose from, and their pros and cons.
2.1. Orbit buffers
Orbit buffers are a common machine in homes but rarely found in professional workshops due to their lack of strength and speed. It's sufficient for applying wax, but it can't achieve great paint correction or polishing.
An orbit buffer mimics the movement of your hands when applying wax. Instead of rotating around a center axis, an orbital oscillates in a circular motion around the base of the machine. That way, it essentially moves the same way your hand would with a polishing pad – in large circles, but with the pad not rotating around its own axis.
The most important pros of orbit buffers is that they're easy to use, and it's not likely you will ever damage your vehicle with one of these models. But that's due to its largest con – the fact that they're too weak to use for anything besides waxing.
2.2. Rotary buffers
In contrast to orbital buffers, rotary buffers do spin around their own center axis, but they don't perform the oscillating movement. So, essentially, a rotary buffer moves the same way as if you attached a polishing pad to a drill.
Though the concept of a rotary buffer is simple, these machines are tougher to use than other types. That's because their consistent motion can cause plenty of friction, making a spot heat up very quickly. That's why you can damage a part of the vehicle with one of these if you work the same spot for too long. However, if your goal is to polish an area, a rotary buffer is the most effective tool to use.
In short, the pros of rotary buffers are their power and polishing capabilities, but the cons are that they're difficult and risky to use.
2.3. Random orbital and dual action buffers
Random orbitals and dual-action buffers are the most popular types of buffers to use – both in personal garages and professional workshops. These two types have the ideal balance of ease of use and power. Random orbitals are slightly easier to use, while dual-action buffers come with a bit more strength.
Both of these types use a combination of orbital and rotation movements. So, in both, the pad will mimic the movement of your hands (orbit), and spin around its center (rotate).
While some sources claim that the two are the same type of machine, this is not entirely true. The main difference between them is that dual action machines (often called DA buffers) have powered rotation of the pad, while random orbitals rely on momentum to create this type of rotation.
The practical difference between the two is that you can stop pad rotation on a random orbital if you press it too hard onto the surface of the car. On the other hand, a DA buffer would continue spinning in both axes no matter how hard you press. However, a DA still orbits, making it hard for a single spot to overheat due to rotation. Still, it's possible to damage your paint with a DA if you press too hard for too long. That is why random orbitals are safer to use for beginners. Before you gain experience in buffing, you may not know how hard to press. A random orbital will stop rotating around the pad's axis, and simply continue the orbital movement, which can't damage your paint.
So, let's recap the pros and cons of both.
Random orbitals are great for beginners since they're easy to handle. They're perfect for waxing, but they're not weak, and they can still be used for moderate polishing.
Dual-action (DA) buffers are somewhat riskier since they can damage your paint if you press too hard, but they're very powerful and an all-in-one machine for waxing and polishing.
Polishing vs. Waxing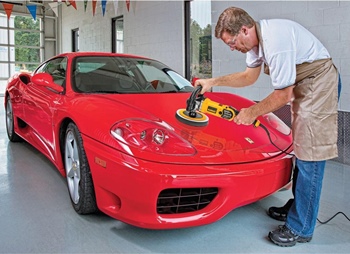 We already mentioned that you could do both waxing and polishing with a car buffer. You may notice that a buffer is also called a polisher, but not a waxer. Even though this is true, buffers most definitely are used for waxing as well. So, what exactly are polishing and waxing, and are there any differences between these two? Let's take a look.
1. Polishing
When you have a scratch, you need to get rid of it by polishing. On top of your car paint, there is a somewhat thick clear coat that takes most of the beating when your car gets scratched. If the scratch is especially deep, it may reach down to the actual pigmented layer of your paint, but most scratches only reach the surface clear coat. A scratch is visible because it has rough edges, which make the light bounce off them in a different manner than regular, smooth paint. Therefore, you need to smooth out those edges in order to make the scratch less visible. This is exactly what polishing does.
A polish formula is abrasive, and with the help of a buffer, it removes bits of the damaged clear coat while smoothing out the surface. This is similar to what sanding paper does to make a surface smoother.
The more abrasive compound formulas are used where polishing formulas aren't strong enough, but we don't recommend using a compound formula on your own if you're not a professional detailer.
The result of polishing is a shiny surface with a thinner clear coat. But polishing should only be done when you have a scratch that you want to get rid of. That's because every time you polish, you chip away from the clear coat on your paint. Over time, this adds up. You may do it one too many times, and leave your paint vulnerable to oxidation and scratches. To prevent this, you should use wax.
2. Waxing
So, you already learned that polishing takes away a bit of your paint's clear coat in order to get rid of scratches. Waxing is completely different, and in fact, it's a way to prevent scratches from ever happening.
Car wax is a protective formula that is added on top of your car paint. It's essentially a sacrificial layer for the inevitable scratching and marking that happens with regular car use. After a while, you remove the layer of wax that took the beating instead of your manufacturer applied car paint, and add another layer of wax to prevent future damage. So, while polishing is a cure for scratches, waxing is prevention.
However, car wax also helps make your car look shiny and beautiful, and it also helps smooth out existing scratches. As you apply a layer of wax with a car wax buffer, it fills out the microscopic crevices that exist on the surface of your paint clear coat. The light that hits the surface of a waxed car bounces off a sleek area even if there are scratches underneath the wax. This makes the paint appear smooth and glossy.
Car Buffer and Polisher Buying Guide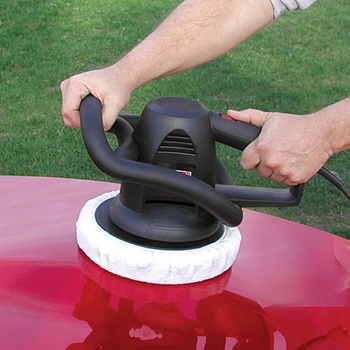 As you might have noticed, there are plenty of different types of car buffers. But the general type is not the only thing you need to decide on. In fact, there are several other factors that you should consider before you make your final pick. So, to make it easier for you, we made a list of the most important things to factor in when choosing an ideal car buffer for you.
1. Power
The jobs you plan to do on your car with a buffer really determine the type of buffer that you need. The main difference between the various buffers on the market is how powerful they are. This typically includes the speed of spinning. So, how do you know how fast the buffer is?
Back when we talked about the Types of Car Buffers and Polishers, we mentioned that some models rotate, others orbit, and some do both. Because of this, we need to talk about two-speed specifications: RPM – rotations per minute, for rotation of the pad around its own center; and OPM – orbits per minute, for the oscillation of the pad in the movement pattern that resembles hand buffing.
1.1. Speed
The speed at which your device rotates or orbits is important. That's because you need low settings to spread car paint sealant and wax, but you need a high number of rotations if you want to polish an area with scratched paint.
That's why most manufacturers make buffers with variable speed. Typically controlled with a dial, you get the chance to switch between different speed settings at will. We highly recommend getting a variable speed model.
So, which speeds should you look for? If you only want to use your buffer for waxing, you don't need a model with more OPM than 2500. However, if you want to remove mild scratches, you should go for a model that has around 4000 OPM. Finally, if you want to get rid of severe oxidation and scratches, you may want to get a powerful tool that can reach more than 6000 OPM.
1.2. Power source
We already discussed the different power options in detail in our section about the different types of Car Buffers and Polishers. Essentially, you have three options: pneumatic, electric, or battery-powered.
Most people opt for electrical devices since they can easily be used in any garage, and even in your front yard. Car buffers are not power-hungry machines, so they're completely safe to use with an extension cord.
The most important thing to consider if you're getting an electrical model is the length of the power cord. It'd be best to plug the machine directly into your socket, but using an extension cord is not a problem. Never use more than one extension cord. There are some quite lengthy cords on buffers these days, and some manufacturers even include the option to choose between several cord lengths.
2. Comfort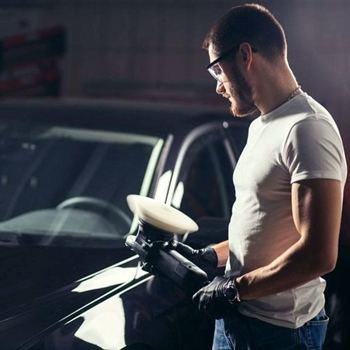 The chances are that you will need to use your car buffer for at least 20 minutes at the time. As you're working with the machine, you naturally want it to be comfortable and easy to use. Here are some factors that can make or break your buffing experience.
2.1. Vibrations
As your car buffer rotates, you will naturally feel the machine vibrating. This can get quite uncomfortable after a while, and your hands may feel numb afterward. That's why it's important to get a machine with minimal vibrations. Sadly, there's no definitive way for manufacturers to label the level of vibrations that the buffer creates, but we can rely on customers' personal experiences.
Furthermore, we can take a look at what causes vibrations. The maximum spinning speed affects the vibrations in the most direct way, so the faster your device spins, the heavier the vibration. The quality of the handle affects the ease of use too. So does the weight of the device, with lighter devices vibrating more and heavier buffers being able to absorb the energy and reduce vibration.
2.2. The Handle
Ease of use and comfort heavily depend on the quality and the position of the handle. Some buffers have a handle that is right above the spinning pad, while others have their handle protruding sideways. If you're left-handed, you may want to go for a top-positioned handle or look for models with handles on both sides. Whichever type of handle you choose, consider that you will need to hold the machine with both of your hands to maintain proper control of the device. Look for models that are ergonomic and comfortable to hold with both hands.
Furthermore, consider the material of the handle padding. Rubber is the most popular option, but some manufacturers include foam padding as well.
2.3. Weight
Finally, weight is an important issue when it comes to ease of use. Since you'll need to hold and control this machine for a while, and in different orientations, you want it to be easy to carry. Of course, what's considered light or heavy is different from person to person. Because of that, consider your personal physical strength and get a model that is reasonably easy to carry to you. In general, buffers are rarely heavier than 8 pounds, and you can find models that weigh as little as 4 pounds.
3. Pads
Pads are used to hold and spread the formula you're working on, and they're the contact point of the buffer and your car.
Buffing pads are an important factor to consider since they're considered consumable. You will need to get new buffing pads after the ones you get with the machine get worn out. When getting new pads, you will need to be careful to get a proper size. The size is typically the diameter of the pad measured in inches.
The pads can be made of foam, microfiber, wool, or a combination of these materials. You can find the recommended pad type on the label of your wax, sealant, or polishing formula.
You can find two types of pads – bonnets and pads that fit into a spindle. Bonnets are worn atop of the machine's fixed pad, while other pads come with a way to attach directly to the spindle of the machine. For the spindle, you can also get a backing plate. Typically, a backing plate has hook-and-loop Velcro, because it's easier to replace pads that simply cling to the Velcro.
Tips for Using Car Buffers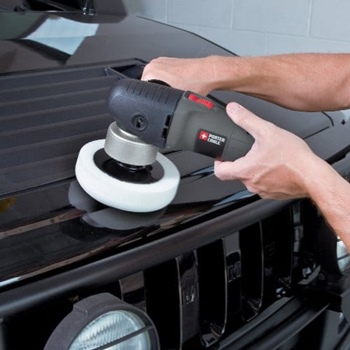 Maintaining your car will become so much easier once you have a high-quality car buffer on hand. But, like everything, machine buffers take some time to get used to. In order to help you go through the process as smoothly as possible, we have some tips to get you started.
Fling the electrical cord over your shoulder, so it doesn't get in the way as you work.
Always wash your car well before using a buffer. If you catch even a small piece of debris, especially a stone or a twig, and you drag it under your buffer, you may create scratches and swirl marks. If you want to avoid that, wash your car with high-quality car soap and a pressure washer. Pressure washing your vehicle will help you get rid of debris quick and easy. If you want to do a perfect job, use a clay bar on your car before buffing for flawless results.
That being said, you need to be able to notice if you created any scratches or swirl marks before the damage gets out of hand. To ensure that, always work in a well-lit room, or under sunlight. However, you don't want to use wax under direct sunlight, especially on hot days, so pick nice, mild weather for the job!
A word on pads: Wool pads are perfect for polishing, while foam pads perform best when applying wax. Never use two formulas on the same pad – wash it and let it dry before using it again.
Always check the label of your polish, sealant, tire shine, and waxing products for the manufacturer's recommendation about the ideal speed setting.
Don't forget about your headlights, windows, and tires! Car paint is not the only part of your car that will benefit from a good buffing. Find a good headlight restoration kit to bring shine and clarity back to your headlights, and gently buff out your tires for that complete, flawless look.
Avoid dry polishing – you should always work with a fitting formula. Apply the liquids and creams onto the buffing pad, rather than the surface of your car.
FAQ About Car Buffers and Polishers
1. Are car buffers, car polishers and car polisher buffers different?
No. Car buffer and polisher refer to the same type of a device used to spread wax, sealant, or polish over the surface of car paint. There is, however, some difference between a polisher and polish. A polisher is a machine, while the polish is a typically liquid formula used to smooth out the surface of scratched or oxidized car paint.
2. Should I polish and wax my car by hand or with a car buffer?
You can do both, and it really depends on your energy, time, and the results you want to achieve. Waxing by hand can be a joyful work, but it takes a lot of time and elbow grease. However, polishing with a car buffer, a specialized machine, is more efficient, and it gives you better results with less effort.
3. Can I use my car buffer to take care of my car windows and headlights?
Yes! You can get rid of haze and yellowing headlights with specialized formula and pads you get in headlight restoration kits. In fact, headlight restoration is usually done with a buffer. On the other hand, you can also get rid of stubborn water spots with the best car wash soaps and a car buffer on a low setting.
4. What's the right way to take care of my buffing pads?
It's important to take good care of your pads unless you want to replace them after every use. You should never re-use a pad without washing it beforehand. Soak your pads in warm soapy water, and rinse them well until you get all of the residues out. Let them air dry. Never wash your pads in a washing machine unless the manufacturer specifically permits it.
Wrap Up
Having a good-looking, shiny car is such a joy. But it can be very tough to maintain that beautiful sheen of your paint when you have to apply wax and polish your car by hand. That's why every car owner who cares about the appearance of their vehicle should have their own buffer. Once you get the best car buffer, you will wonder why you ever did the job by hand. It's much more efficient and requires far less elbow grease to achieve an even better and shinier finish.
Hopefully, our car buffer reviews helped you find that ideal model you've been wanting. If you still aren't sure which one to get, see if you can find the answer in our buying guide, and feel free to get in touch if you have any questions left.
See also: dent puller reviews