Did you know that sing the best tire shine will not only make your tires look amazing, but also protect them from environmental damage and make them last longer?
Once you're done with your regular car wash, waxing, glass conditioning, and other detailing, there's only one thing missing. Even professional detailers sometimes overlook the tires, and that leaves the car looking incomplete, with one piece of the puzzle missing. If you're eager to give your car a complete makeover, you shouldn't forget about your tires. To help you make the right choice, we made our honest tire shine reviews, along with a comprehensive buying guide. Let's jump straight into it!
See The Quick Comparison Chart
Should You Use Tire Shine?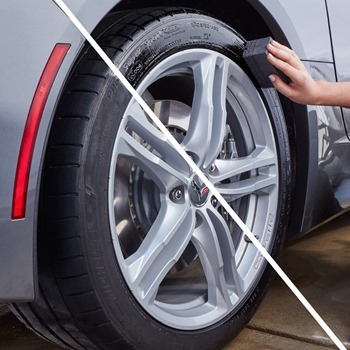 Everybody loves a good detailing job. However, between washing, polishing, sealing, and everything in between, taking care of tires is sometimes overlooked. This is entirely wrong – since tires are an essential part of the vehicle, unkempt tires can ruin the overall look of the car, no matter how good the wax job.
However, the purpose of tire shine or tire dressing as it's often called is not only to make your tires look amazing. Tire shine is an important part of regular tire maintenance, and many products available on the market today can help your tires resist the adverse effects of the weather. If you've decided to have your tires go through the 5-year mark without looking the part, a good choice of tire dressing should become a part of your regular routine.
Of course, the market is overflowing with different options. You can take almost any of the products and get your tires looking glossy. But not all of them can truly help you keep your tires conditioned and preserved, along with keeping them looking great. In fact, some of the lower quality products can even damage the material of your tires, making them age and deteriorate faster. Making the right choice of product is key, especially when it comes to tire dressing.
Benefits of Tire Shine
As you can see, tire shine is an important part of your regular car maintenance. But what exactly does it do for your car? Let's go over the benefits that regular tire shine treatments bring to the table.
1. Makes (and Keeps) Tires Shiny
It's in the name – tire shine makes your tires shiny. Nothing beats the sweet, glossy finish that enhances the way your entire car looks. But if you're not a fan of the super-glossy look, you don't need to worry, as there are great options for you too. Whether you prefer a matte finish, just a tiny bit of shine, or the wet-like glossy look, many options can give you your preferred result. Whichever you choose, the tire shine will help seal the clean look and feel of your tires.
But the results are not only visible immediately after the treatment. Just like you can see in our car paint sealant reviews, you can expect the tire shine to keep your tires looking fresh longer. Typically, higher-quality products repel water and dust, helping your tires retain the amazing look. However, you will instantly know you've picked a bad product if it seems like it attracts dust, or even worse if it feels sticky and overly oily. A good quality tire shine will feel dry to the touch after the initial curing time.
2. Prevent Blooming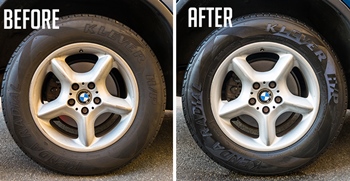 Blooming is a natural process that happens in a lifespan of any tire. If your tires are slowly turning brown, losing their initial dark black color, the process of blooming has started. Don't worry – this is entirely natural and it doesn't make your tires unsafe to use, but it is a sure sign that your tires are aging and reacting to the environment. Essentially, browning happens due to an organic ingredient called antiozonant reacting with the ozone in the air around the tire.
Thoroughly cleaning and applying tire dressing is the only way to get rid of existing and slow down future blooming. This process can't be stopped entirely, but it can be delayed. Tire shines, otherwise known as tire dressings, or even tire rejuvenators, are designed to lubricate the rubber of the tire, making it last longer. They also give a layer of protection to the material of the tires, helping you avert the process of blooming.
3. Prevent Sidewall Deterioration
Blooming is not the only form of tire rubber deteriorating over time. The sun's ultraviolet rays are another culprit, beside ozone, that causes damage to the rubber. While exposed to the sun's rays, all plastics and rubbers naturally lose their flexibility, and become brittle, cracked, and faded. This process is called UV degradation, and it's the reason why your dashboard can lose color and resilience if you don't use a windshield sun shade in the summer.
The most common type of UV ray protection that is ingrained in the rubber structure is carbon black. This component is the reason why tires aren't made in the colors of the rainbow, despite the potential profitability of the idea. The black pigment is simply necessary for tires to remain stable and safe for use even after prolonged exposure to the sun. However, even this UV stabilizer is only a sacrificial component, and over time, it's used up. That is the reason why the color of tires becomes lighter as they age. Additionally, something called tire dry rot appears, and the sidewalls of your tires become spotted, dry, and start to crack.
Most tire shines on the market today contain a UV blocking component. Effectively, with regular use of tire shine, you can prolong the lifespan of your tires for many years. The additional UV protection in these products helps your tires stay flexible, resilient, and deep black for a longer time.
Best Tire Shines Comparison Chart
PRODUCT
DETAILS

TriNova Tire Shine Spray No Wipe 18 Oz

Price: $$$
Customer Rating: 4.7
Volume: 18 fl. oz.
Type: Water based
Application: Spray bottle

View On Amazon

Armor All Extreme Tire Shine Gel

Price: $
Customer Rating: 4.4
Volume: 18 fl. oz.
Type: Water based
Application: Gel

View On Amazon

303 Products 30382 UV Protectant 16 Oz

Price: $$
Customer Rating: 4.5
Volume: 16 fl. oz.
Type: Water based
Application: Spray bottle

View On Amazon

Chemical Guys TVD_109_16 Silk Shine Sprayable Dressing

Price: $
Customer Rating: 4.5
Volume: 16 fl. oz.
Type: Water based
Application: Spray bottle

View On Amazon

Adam's Polishes Tire Shine 16oz

Price: $$
Customer Rating: 4.5
Volume: 16 fl. oz.
Type: Solvent based
Application: Spray bottle

View On Amazon

Aero Cosmetics Tire Dressing & Protectant 16 Oz

Price: $$
Customer Rating: 4.7
Volume: 16 fl. oz.
Type: Water based
Application: Spray bottle

View On Amazon

Car Guys Tire Shine Spray (18 Oz)

Price: $$$
Customer Rating: 4.7
Volume: 18 fl. oz.
Type: Water based
Application: Spray bottle

View On Amazon
Best Tire Shine Reviews
1. TriNova Tire Shine Spray No Wipe 18 Oz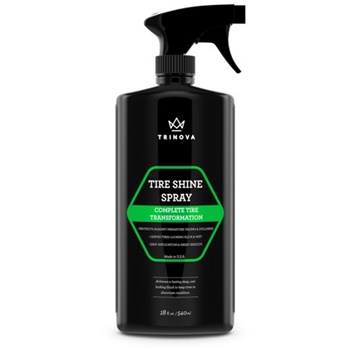 Trinova is a popular higher-end automotive accessory producer. They are well known for their good quality products, and the Trinova tire shine is no exception. This product is formulated to return the deep black color to your tires, along with an adjustable level of shine. Depending on how long you let the product settle on your tires after application, you can achieve different glossiness. If you leave the product for only a couple of minutes before wiping it off, you will get deeply black, but matte finish. On the other hand, letting them air dry completely without wiping whatsoever will result in outstanding levels of shine. This water-based formula doesn't only give your tires surface shine, but deeply conditions them. The effects are very long-lasting, and you can see the results even after 2 weeks. The formula is also quite resistant to car washes and rainwater. Apart from gloss, this product also gives your tires sufficient protection from the elements. It repels water and keeps ozone from the air at bay, prolonging the lifespan of your tires. However, this product does not provide additional UV protection. The application is quite simple, with the trigger spray bottle. Once you're done detailing your tires, make sure to rinse your driveway – the product can stain concrete if it dries.
Pros
Very durable – the results last up to 2 weeks
Adjustable level of glossiness
Cons
It can leave stains on concrete, so rinse after use
2. Armor All Extreme Tire Shine Gel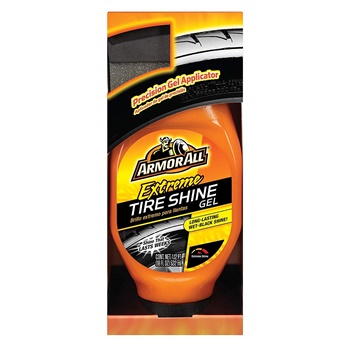 Our next pick is made by a company with the legendary Viking logo – Armor All. Though this company gained some bad reputation a couple of decades ago for producing products with the bad kinds of silicone in them, contemporary Armor All products are entirely water-based and not in the slightest harm to your vehicle. Our pick, their Extreme tire shine gel, is no exception. This water-based product is among the most affordable we came across, but its results are comparable to many pricier products. As a gel tire shine, Armor All comes packaged in a squirt bottle. Along with the bottle, you get a small foam applicator pad, which is useful, but not very durable. The gel itself is advertised as giving extreme shine, which may be true compared to other Armor All products. However, compared to other brands, the shine is quite average. It does leave a nice, wet look. The product contains high molecular weight silicones which return the black color to your tires, making them look like new. While this shine can't withstand a soapy car wash, it can last for a very long time despite the weather. In fact, you can get almost two weeks of good shine and sufficient protection from one application.
Pros
The gel product is easy to apply neatly and evenly
One of the longest lasting tire shines
Cons
Doesn't come with UV protection
3. 303 Products 30382 UV Protectant 16 Oz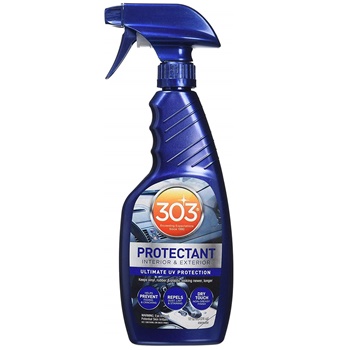 Our next pick is made by 303. Originally designed for aerospace and aviation, this protectant offers heavy-duty protection to any vinyl, rubber, plastic, or finished leather surface. With such a large range of applications, you can use this on almost any surface of your car. The main focus of the formula of this product is the protection. It leaves a nice-looking finish, but it definitely doesn't make your plastics look glossy and super shiny like some specialized tire shines do. While the company calls the finish matte, it's still a tad bit shiny. The main focus of the formula is UV protection. The 303 offers unmatched protection from the harmful sun rays, keeping your tires and other plastics safe from drying, cracking, and fading. That is especially important if you live in very sunny areas. This product is packaged in a trigger spray bottle for easy application, but you can also apply it to a rag or sponge first if you prefer more control and even distribution. The product leaves a dry finish, and it doesn't feel oily or greasy. As a result, it doesn't attract any dust or soil, helping your tires stay clean for longer. It's quite long-lasting, so you should re-apply it after a couple of weeks, or after every car wash. This product is made in the USA.
Pros
Strong UV protection
Can be used on any plastic, vinyl, and rubber
Cons
It isn't particularly shiny
4. Chemical Guys TVD_109_16 Silk Shine Sprayable Dressing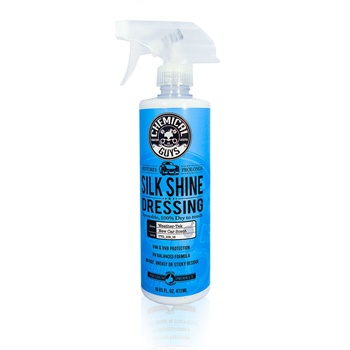 Chemical Guys are definitely the way to go if you're looking for affordable name-brand products. Any car owner will find that their Silk Shine dressing is a great multi-purpose product to have on hand. This product was designed for any plastic, vinyl, or rubber part. It works on both the interior or the exterior of your car. However, we found that it works best as tire dressing, giving only mediocre results when it comes to trims, the dashboard, and other components. This trigger spray product brings good UV protection to the table. This water-based tire shine doesn't leave an aggressive, oily gloss behind. Instead, it gives your tires a natural, silky shine that looks great on any car. It's also dry to the touch, so it doesn't attract dirt and dust. The bad side of this product is that it doesn't withstand water very well. As a result, you may get water streaks on your exterior hard plastics after rain. This doesn't happen on tires, though, even though the shine greatly diminishes after a rainy day. Considering this fact, and the UV protectants the product contains, we recommend the Chemical Guys Silk Shine dressing to anyone who lives in sunny, arid areas. You can get a 16 fl. oz. bottle, or an entire gallon of the product.
Pros
Contains UV protectants
Leaves a gentle, silky shine
Cons
Can't withstand rain very well
5. Adam's Polishes Tire Shine 16oz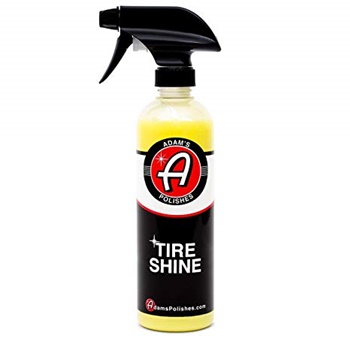 If you're looking to make your tires extra shiny, we recommend Tire Shine made by Adam's Polishes. This product will give your tires the lustrous shine that you've been searching for. Unlike other super glossy products, Adam's Tire Shine doesn't sling onto your rims and car paint. The solvent base of this product is geared towards maximum gloss, but it doesn't damage your tires in the long run. This product doesn't give you a layer of protection, so if you're looking for a solution that will keep your tires safe from the effects of UV rays and ozone, this is not a good choice. However, the glossiness that you can get with this product is outstanding. You can expect about a week of top-notch shine with every application, with the results waning over time. Adam's Tire Shine won't only make your tires look amazing, but smell yummy as well. Though this may not seem important, you want to feel joy while you're working on detailing your vehicle, and the banana scent of this product will definitely help make the work a pleasant experience. Finally, this product is made in the USA.
Pros
Very shiny finish
Yummy banana scent
Cons
Doesn't offer UV or ozone protection
6. Aero Cosmetics Tire Dressing & Protectant 16 Oz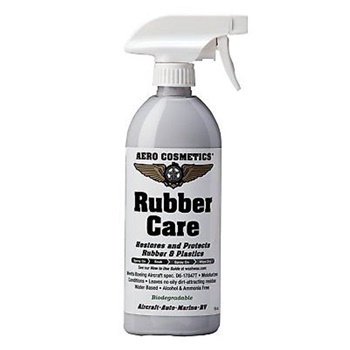 Aero Cosmetics makes our next pick. As the name of the company suggests, their products are formulated for use on aircraft, but the company does mention that you can feel free to use it on any car or RV tire as well. If you're looking for a subtle, beautiful silky finish that isn't too glossy or oily, we recommend this product. The formula leaves you with a dark black, satin-like look that isn't aggressively glossy or oily, but instead very subtle yet looking more beautiful than new tires do. Not only is the shine subtle, but the product itself doesn't feel greasy or oily at all. Because of that, it's also very good at repelling dirt, dust, and grime from your tires. This water-based tire shine has very long effects. If you don't use strong car wash liquids, you can get away without re-applying even longer than a month. But this product doesn't only make your tires look nice – it gives them a deep treatment. The conditioning effect of this tire dressing is that it restores the flexibility of the rubber material, giving additional protection to keep your tires safe from the adverse effects of the environment. You can get this fairly-priced product in trigger spray bottles of 16 and 31 ounces or a 64-ounce lidded bottle.
Pros
Very long-lasting results
Comes in many bottle sizes
Cons
Doesn't have a glossy finish
7. Car Guys Tire Shine Spray (18 Oz)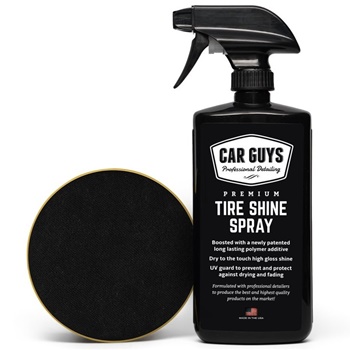 You've probably heard about Car Guys – they are a popular automotive accessory manufacturer. They make our next pick which is a rather elegant looking tire shine spray. First of all, you might want to get this product, especially if you're a beginner at detailing your tires because it comes along with a rather high-quality applicator. The oval-shaped, black applicator is made out of microfiber, and it has thick mesh backing with a hand sleeve. This makes the pad very easy to use, but also very handy for different buffing needs. Using this applicator, you can control how much shine you get from this product, as you can buff and polish your tires more or less. However, this product can only give you medium-level gloss, as the formula wasn't intended for the intensely glossy, wet look that some tire shines have. Instead, you get a subtle and soft looking sheen using this product. The formula doesn't attract dirt and dust since it's dry to the touch. It doesn't sling or leaves any oily residue after you're done detailing. It's quite easy to use as it comes packaged in a trigger spray bottle. The water-based formula also comes enriched with UV protectants, so you don't have to worry about your tires aging prematurely.
Pros
Adjustable gloss intensity
Comes with a high-quality applicator
Cons
Doesn't have a very glossy finish
Tire Shine Types
When you first search for tire shine, you may be surprised by the sheer number of options there are on the market these days. There are many types, and each product claims to be better than the others. But there are a couple of things you should know about this sort of automotive liquid in order to truly make the best choice. Here, we categorized tire shines by two criteria: their chemical formula, and the way you apply them to your tires.
1. The Chemical Formula
The most important difference between the chemical makeup of products available on the market today is in the carrier of the solution. We make a difference between those products based on water and those based on solvents, specifically hydrocarbon silicone. Both types have their own advantages and disadvantages, so each user will prefer one over the other. Let's take a look at the differences between the two types.
1.1. Water Base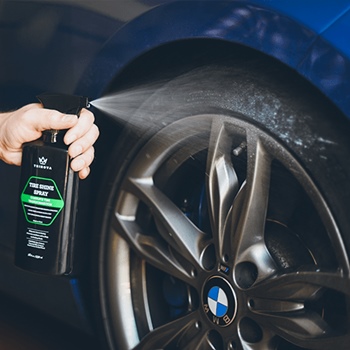 Tire shines have a combination of synthetic polymers and natural oils mixed in a water base, and they are rather popular these days for various reasons. First of all, this is the environmentally friendly option among tire shines, and it's completely safe to have the liquid running through your backyard and into the water drain.
The water-based chemical formulas are generally milder, and since they aren't as abrasive, they don't damage the surface of your tires at all. However, you do make a bit of a compromise when it comes to the intensity of the gloss on your tires, and also the durability of the effect. Don't get us wrong – water-based tire shines can make your tires look amazing. However, you will need to re-apply the product every couple of days or so if you're looking for lasting shine.
More often than not, water-based products include UV protecting agents, which are perfect for keeping your tires from cracking, hardening, and fading. Similar to car waxes, water-based tire shines are geared towards protection along with their aesthetic effect, so they're a good choice if your main goal is to condition your tires and keep them in great shape for a longer time.
1.2. Solvent Base
The glossy liquid of solvent-based tire shines is preferred by people who love long-lasting results.
The base ingredient of this type of tire shines is silicone. But let's address something straight away – silicone does not, and never has, caused sidewall deterioration. This is an urban myth. However, you should avoid products that contain petroleum distillates. This harsher solvent-based tire shines, can be abrasive to the rubber of the tires. If overused, this can leave your tires vulnerable to the effects of the environment, mainly the ozone from the air and the sun's UV rays, which then, in turn, activate the process of sidewall deterioration. So, silicone-based products are completely safe unless they contain petroleum distillates.
Solvent-based tire shine is exceptionally good at giving your tires the rich, very glossy look. Generally, these rarely have more matte versions and tend to be best at making your tires shiny for high visual impact. Additionally, solvent-based products last much longer than their water-based counterparts do. Some can even go through several car washes without the need to re-apply.
2. Application Type
We can also make a distinction among types of tire shines based on the method of their application. Mainly, we separate them into the gel and spray liquid types.
2.1. Gel
Gel-based tire shines generally come packaged in squeeze bottles. Because of that, you need to use an applicator pad and apply the product onto the tire by hand. This can be a lot of work, but this application type comes with benefits. Firstly, applying too much is virtually impossible, and so is accidentally messing up your car paint with the product. Furthermore, you additionally buff the product into the tire during the application, making your tires even more shiny and clean. Finally, this type of product is generally cheaper than spray bottle ones. If you're willing to commit to the regular application, you'll have amazing looking tires for less money.
2.2. Spray Bottle and Aerosol
Spray bottle tire shine is much easier to use than gel type. That's mainly because the application doesn't require anything more than simply spraying on the product, waiting for it to settle, and sometimes removing some excess. However, you should be careful when using spray type of tire shine, since you may get some product on your car's paintwork, which can be difficult to clean up.
The difference between aerosol and non-pressurized spray bottles is pretty much the same with tire shine as it is with any other product. Aerosol bottles have a longer shelf life and more even spraying compared to trigger spray bottles, but you need to be careful how you store them. Keep any aerosol bottle out of direct sunlight or any heat source.
Tire Shine Buying Guide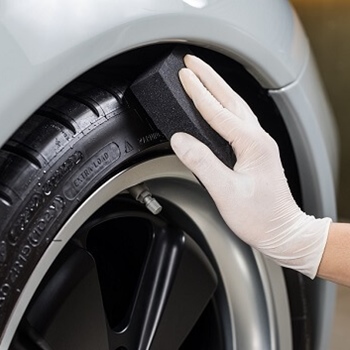 Apart from choosing the ideal type of tire shine, there are some additional factors you should consider when making your pick of tire shine. Let's go through some of the most important factors that you should look out for before you make a final pick.
1. Glossiness
Even though the name of the product is "tire shine," that doesn't mean you will inevitably end up with highly glossy tires. In fact, if you dislike this type of a look, you can go the other way and get a matte finish tire shine, which is just as functional and protective as the glossy ones are. How shiny you go purely depends on your own preference. However, you will need to be mindful of the product descriptions.
Sadly, there's no universal way in which manufacturers label the glossiness of their product. In most cases, you need to rely on the verbal description of the shine. On the market, you can find "wet look" high gloss products, "new" look products that have a natural, medium gloss, and matte, non-glossy finishes. It's entirely up to you which you prefer.
2. UV Protection
Just like with most rubbers and polymers, the sun's UV rays easily damage the material. Tire manufacturers know this, and they use sacrificial layers of carbon which protects the tire. However, this protection only lasts up to a point, as this sacrificial layer suffers wear and tear, and finally completely disappears. If that happens, your tire is no longer safe to dry, as it quickly loses all flexibility, and even the tiniest cracks can cause air leaks.
Tire shine plays a big role in keeping your tires healthy for a longer time. Look for products that offer UV protection, and you will prolong the life expectancy of your tires for years at a time.
3. Chemical Components
When it comes to tire shine, it's hard to find an ideal product. Among the two main chemical makeups of tire shine, both have big advantages, but disadvantages as well. However, there's no middle ground, so you have to choose one over the other. Because of that, you will need to figure out your priorities and make compromises according to them. Let's make an overview:
Ecology: Water-based shine is more environmentally friendly.
Tire-friendly: Water-based shine is mild. Avoid solvent-based products with petroleum distillates because they can be very abrasive to tires.
Gloss: Solvent-based products often have a more intensive shine.
Durability: Solvent-based products are much more durable, while water-based ones require frequent re-applying.
How to Apply Tire Shine Properly?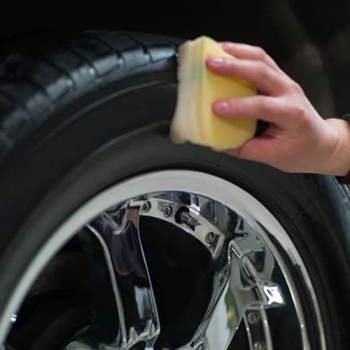 Applying tire shine is quite simple, and it doesn't require a lot of detailing experience. Pretty much anybody can do it by themselves in less than 20 minutes, especially if you opted for a spray bottle product. Let's go through everything you need to do to have amazing looking tires.
1. Equipment
To wash your tires, you will need:
A tough bristle brush
A pressure washer or a garden hose
A mixture of 1 gallon of water and 1 tbsp of dish soap or car wash soap
A clean absorbent cloth or towel
To apply tire shine, you will need:
If you opted for a gel product packaged in a squeeze bottle, you would also need an
Applicator pad (you can use a kitchen sponge)
If you opted for a solvent-based product, you would need
2. Prepare Your Tires
The first thing you need to do before you can jump into making your tires looking amazing is thoroughly clean them.
To do this, you should first prepare a bucket of soap. Get a gallon bucket, pour around one tablespoon of dish soap or any car wash soap, and fill it with clean water.
Use a garden hose or a pressure washer to rinse your tires as thoroughly as possible with water alone. After the large pieces of debris are loose, target smaller nooks and crannies of the tire, to get rid of the dirt and soil stuck in between.
Get a brush with tough bristles. We recommend using a brush with somewhat rigid but plastic bristles, as a brush with metal teeth may pierce the tire, causing air leaks. You need the brush to set smaller pieces of dirt loose. Pour soapy water directly onto the tire, or soak your brush in the bucket. The soap will help you get rid of stuck, caked-on pieces of dirt and debris.
Rinse the tires with clean water, getting rid of all dirt.
Make sure to let your tires dry completely before applying any tire shine product. If you don't have the time to wait, use a clean towel or absorbent brush to pat the tire dry. Don't use a hairdryer, as it will get the tires hot. You should never use tire shine on warm or hot tires.
3. Apply Shine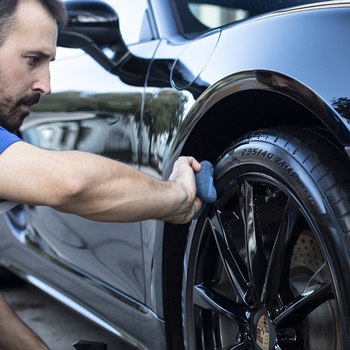 Once you have clean, dry, and cool tires, you're ready to apply shine. We will give you a broad overview of the process, but you should always follow the specific instructions given by the manufacturer of your product by the letter.
3.1. Gel tire shine and applicator
If you have gel tire shine, you should get your applicator. You can get a professional-grade foam applicator, or you can simply use a kitchen sponge. It may not do as good of a job or last as many uses, but it should be good enough. Try to find a firm, dense sponge for best results. Put on latex gloves, especially if you're using a solvent-based product.
When you pour the product, use a small blob instead of a lot of product. It's easier to work with a smaller area at the time, and you don't want to have the product make a mess all over your wheel and the floor. Furthermore, you will get better results if you apply several thin layers, rather than one thick layer.
Once you have a bit of the gel product on your applicator, work it into the tire. There isn't the right or wrong technique – you can use swirls or zig-zag motions, whichever feels more comfortable. Work on a smaller area, for example, one-quarter of the area, don't try to cover the entire tire all at once.
Now, you need to wait a bit before you put the finishing touches and wipe off the excess. The label of your product probably gives you the exact time, but typically, you should wait up to 20 minutes for the product to settle.
3.2. Spray tire shine
If you're using a spray tire shine, the application is quite simple. Essentially, you have two options.
You can use a clean rag, spray a bit of the product on it, and work the product onto the tire.
Alternatively, you can spray directly onto the tire. When doing this, try to make your application as uniform as possible throughout the tire. This is much easier to do with an aerosol, than a standard trigger spray bottle.
The instructions on your product will give you the exact numbers, but in any case, you need to leave the product settle for a little while. Most commonly, you should wait between 10 and 20 minutes.
4. Wipe Off Excess
Once the waiting time is over, you should get a clean rag or sponge and wipe the tires. This is done to remove any excess product – the bits that won't dry. You don't need to apply a lot of pressure; you simply need to go over the area of the tire lightly. This step is important because dirt, brake dust, and soil easily stick to the excess product.
How to Make Homemade Tire Shine?
You can also make a fairly effective tire shine from the ingredients you have at home. This mixture will be a great solution if you're only looking to add a bit of gloss to your tires, but it isn't a good substitute for professionally formulated products. The professional solutions come with formulas tweaked to offer optimum UV and ozone protection, along with conditioning the tire and giving it some shine.
That being said, you can take 1/3 cup of water, two or three drops of dish soap, and one cup of any oil such as baby oil, or edible oils like castor or olive. This concoction should be effective enough at returning your tires the gloss they naturally lose over time.
FAQ About Tire Shine
1. Is there a difference between tire shine and tire dressing?
No. Tire shines and tire dressings, along with tire conditioner, or simply, tire liquid is all different names for the same type of product. There are no functional differences between these. However, there is a tendency to use the term tire dressing for those that focus on protection, while tire shine tends to be used for the liquids that are primarily made for shine. On our website, we make no such distinction.
2. Can tire shine damage my tires?
It's possible, but not likely that tire shine will damage your tires. This mostly goes for solvent-based tire shine, particularly the kinds that contain petroleum distillates. These shines are slightly abrasive to the tires, and over time, you can inflict damage to the rubber if you overuse this kind of shine. However, even this type of shine won't damage your tires if you follow the manufacturer's application instructions and advice.
3. How can I remove tire shine off car paint?
Sometimes, tire shine just gets onto the rims of our cars. The most important thing to remember is not to panic – you can clean the mess, but don't rub it with anything since you may damage the paint. The best approach is to get a bit of car wash soap mixed with water in a spray bottle, spray it onto the affected surface, and use a clay bar to rub off the stain. Apply mild pressure, and keep lubricating the area as it dries. Once you've removed the stain, rinse your car with water, let it dry, and apply protective car paint sealant or wax.
4. How can I care for my browning tires?
If you notice that your tires are losing their black color, and especially if they're becoming brown, the process of blooming has started. It's essential to clean the affected area and protect your tires with a tire shine in order to prevent further damage and to prolong the lifespan of your tires.
You can use a mixture of water and car wash soap, or even dish soap, to clean up the area. Use a medium or tough bristled brush to remove the brown layer. Don't be too rough on the tire, as you don't want to damage it – removing its protective layers will not help. It's better to spend some more time lightly brushing than make matters worse if you're too harsh on the rubber. Rinse the tire, let it dry, and then apply tire shine. You should use tire shine with UV and ozone protection if your tires started blooming.
Wrap Up
Getting your car all spruced up is so satisfying. But no detailing job is done if your tires are dirty, brown, or looking dull. That's why you should find and apply the best tire shine for your tires whenever you get your car detailed. This line of products won't only make your car looking entirely and thoroughly amazing, but it will also condition the tires, and protect them from the harmful effects of the sun's UV rays, and the ozone from the air.
We hope our unbiased tire shine reviews helped you find an ideal product that suits all your needs. Hopefully, you found everything you wanted to know in our buying guide. If you still have some questions left, don't hesitate to send us a message, and we'll try to get back to you as soon as possible!