With one of the best dent pullers, home ding correction is cheap, simple, and it doesn't take a lot of time. Sometimes it's that parking space which is just one inch too tight. Other times, some fool hits and runs. Whichever it is, getting a dent or a ding in your vehicle is a bummer, but sadly, it's often unavoidable. To make matters worse, imperfections are very expensive to fix at a shop. Luckily, you can DIY it without the fear that you'll somehow damage your vehicle.
In order to fix a dent in your car, you need to get a home repair device or kit. But choosing the right one is not necessarily easy. That's why we prepared dent puller reviews – a list of our favorite models on the market.
See The Quick Comparison Chart
Benefits of Paintless Dent Removal
Now that you know what a dent puller is, you may be wondering what the actual benefits of using one are. Let's take a brief look at what a good quality dent puller brings to the table.
1. Looking Good
First and foremost, a result of using a dent puller is getting your car to look good once again. In most cases, dents and dings don't really affect the performance of your vehicle, but they do make even a new, shiny car look old, dull, and worn-out. You can easily fix this with a couple of bucks' worth of equipment, and a couple of hours to spare.
Not to mention that the looks of your vehicle have a decisive role in the resale value. The amount you can get for your car if you ever choose to sell it will significantly rise if you devote yourself to bringing it back to the pristine look it had before the bump.
2. Money Saver
It's clear that you don't want dents on the body of your vehicle. But the question is – how do you approach the problem? Essentially, you have to options to get rid of the unsightly blemishes: go to a professional, or do it yourself. If you choose to go to a repair shop, you will save yourself some time and trouble, but you will need to set aside upwards of $200. On the other hand, you can get a couple of tools or a kit for as little as a few bucks, and spend around two or three hours (depending on the severity of damage) repairing the car yourself.
3. Simple to Use
You may be thinking that dents are hard to fix, especially since repair shops have such high fees. However, the reality is that it's just a physical bend. It only needs to be flattened out, but you need to pull the dent out. Luckily, there are specialized tools for the job, and they're very simple to use. Most of them also come with well-written instructions. You can also find instructional videos, or simply read our section on how to use dent pullers. So, if you're worried whether you'll be able to do the job yourself, there's no need to stress over it. It's a piece of cake!
Types and Uses of Dent Pullers
Dent pullers come in a variety of shapes and modes of use. Even though they all essentially do the same job, the different types of dent pullers don't look remotely alike. They also all use different methods of grasping the surface of the vehicle body. Let's go through the different types of dent pullers, so you can figure out which suits you best.
1. Suction Cup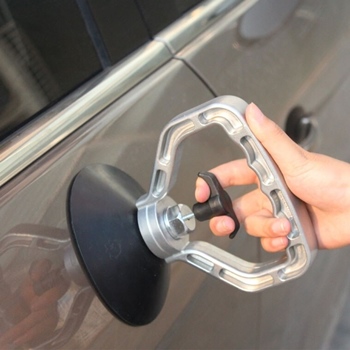 You're surely familiar with the concept of a suction cup. Give it handles for firm grip, and you have a dent puller. This device may seem overly simplistic, but it surely is effective. They are made out of rubber and plastic, so a suction cup is the most affordable way to fix your dents. Additionally, it's also extremely simple to use, and you don't need any additional equipment or preparation to get to work. You only need to get a good grip and pull with all your might. However, for a suction cup to work, it needs to get a strong, air-tight grip all around. That simple fact renders suction cups useless if your dent is on a corner or edge of a panel. Luckily, you can get these in various sizes, so you can adjust to the size and location of your dent.
2. Glue Dent Puller
The glue variety of dent pullers works by getting attached to the surface of the car body with a bit of glue, usually polymer-based hot glue gun sticks. While hot glue may instinctively seem like a substance you don't want in your car, the glue does no harm at all to the car or the paint. Additionally, you can get rid of the glue fairly easily with a scraper, which is more often than not included in the glue dent puller kit. Once you apply a bit of glue, the adhesive binds to a small plastic piece. The piece is attached to the bigger metal construction, which uses the advantages of the lever principle to pull on the bonded plastic piece, and the car body together with it.
Glue dent pullers are generally easier to use, and they don't require as much brute force on your end. Typically, these are sold as part of a kit, including various sizes of plastic pieces for different dents, a hot glue gun with some sticks, and scrapers to remove the glue afterward. However, since you get all this, these kits are a little bit more expensive than suction cups. The different mechanism varieties include squeeze pullers, slide hammers, T-bars, and bridge pullers, but they all work more or less on the same principle.
3. Removal Rods
Removal rods are not necessarily the same as dent pullers, but they're definitely a way to fix dents. Instead of pulling, these help you push the dents from the inside of the vehicle. That gives them the obvious limitations that you must be able to reach the part of the body where the dent is from behind. These are typically steel rods with different ends. We won't be dealing with this type of dent fixing tool here, but you should know that they're a feasible solution if you can reach behind the dent.
Best Dent Pullers Comparison Chart
PRODUCT
DETAILS

GLISTON Dent Puller Tools, 31pcs Paintless Dent Repair Tools Kit

Price: $
Customer Rating: 4.0
Type: Glue Based
Warranty: 2 years

View On Amazon

Manelord Auto Body Repair Tool Kit, Car Dent Puller

Price: $
Customer Rating: 4.0
Type: Glue Based
Warranty: 30 days

View On Amazon

King PDR Auto Body Paintless Dent Repair Tool Kit

Price: $
Customer Rating: 4.4
Type: Glue Based
Warranty: N/A

View On Amazon

BBKANG Paintless Dent Repair Tool Kit 60pcs

Price: $$
Customer Rating: 4.3
Type: Glue Based & Tap Down
Warranty: N/A

View On Amazon

Super PDR Dent Puller Kit 52 Pcs

Price: $$
Customer Rating: 3.8
Type: Glue Based & Tap Down
Warranty: Lifetime

View On Amazon

Anyyion 92pcs Car Body Paintless Dent Repair Removal Tools

Price: $$$
Customer Rating: 4.5
Type: Glue Based & Tap Down
Warranty: N/A

View On Amazon

YOOHE Black Aluminum Suction Cup Dent Puller Handle Lifter

Price: $
Customer Rating: 3.7
Type: Suction Cup
Warranty: N/A

View On Amazon
Best Dent Puller Reviews
1. GLISTON Dent Puller Tools, 31pcs Paintless Dent Repair Tools Kit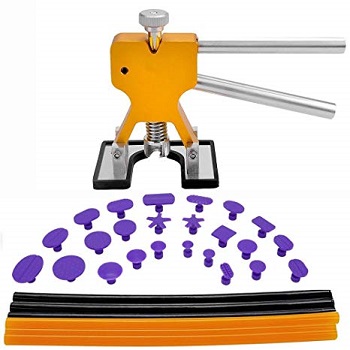 The manufacturer of our first paintless dent repair kit is Gliston. This kit comes chock-full of parts at a rather low price. With as many as 31 individual pieces, this glue-based dent puller kit is a good deal. The main piece of this kit is a hand squeeze puller, made out of powder-coated aluminum. It comes with padded feet, so no need to worry about damaging your paint. The space between the feet is about 1 inch, so you can tackle any dent that is narrower than that. Along with the hand squeeze tool, you can find 24 pieces of glue tabs in the kit. The pieces are all different sized, so you can pick the ideal one for your particular dent. Included in the kit are also 6 glue sticks, each of them just over 10 inches long. However, a glue gun is not included in this kit. Another piece of equipment you may need that doesn't come included in this kit is a rubber glue scraper. If you don't own these tools, we recommend getting a somewhat more expensive kit by the same manufacturer, which comes with a total of 42 pieces. Sadly, another problem with this kit is that the tabs aren't of amazing quality, but luckily you get a lot of them to use as a replacement if some of them break.
Pros
Very affordable
Covered with a 2-year warranty
Cons
Doesn't come with a glue gun or a scraper
The tabs are of poor quality
2. Manelord Auto Body Repair Tool Kit, Car Dent Puller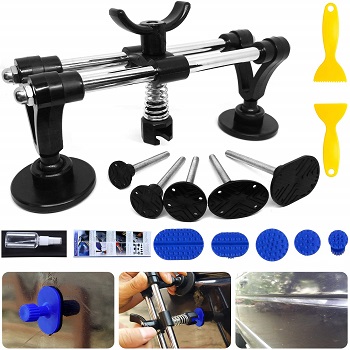 Our next pick is a great deal, and it's a dent puller made by Manelord. This time we have a bridge dent puller kit with most of what you need for a successful dent reparation. The bridge dent puller is made out of stainless steel, and it comes with rubber feet, so you don't damage your car paint. This bridge model is a good pick if you have a wide dent since it can be used on a dent as big as 5.5 inches. The main reason why you can use this type of auto dent puller on such large dents is that it has very widely set feet. Operating the dent puller is quite simple, and you only need to turn the handle little by little until you're satisfied with the results. Along with the bridge puller, you get 10 different puller tabs and two rubber scrapers that you can use to remove excess glue off your car. The tabs come in a variety of sizes and two distinct types: black ones for deep-set dents, and blue ones for smaller dents. Along with this, you get a small cloth and an empty spray bottle for easy use of rubbing alcohol. However, this kit doesn't come with a glue gun or sticks of glue, so it's a great way to save money on excess parts if you already own a glue gun.
Pros
Very affordable
Suitable for wide dents
Cons
Doesn't come with a glue gun or glue
3. King PDR Auto Body Paintless Dent Repair Tool Kit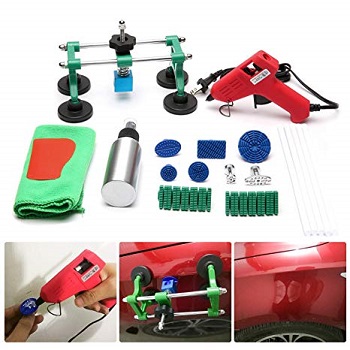 Our next pick, distributed by King PDR, is unique compared to other glue-based dent pullers. This puller gives you extraordinary stability and ease of use thanks to the construction, which features four feet, instead of the usual two. And that's not even the end of it since this design is rather special on the market. The wide-set feet are quite flexible, so you don't necessarily need a flat surface for all of them. The puller mechanism itself is also adjustable, so you can place it anywhere on the 7.6-inch construction. This pretty green model comes with all of the essentials and then some for a rather low price. Apart from the main puller piece, you also get a good quality microfiber towel, a rubber glue scraper, an empty aluminum spray bottle for rubbing alcohol, a 25W glue gun, 5 pieces of almost 8-inch glue sticks, and 9 different puller tabs. The puller tabs are quite special in this kit since there are many types of them. In particular, you get 5 pieces of standard plastic tabs, two long green pieces for super-wide dents, and two aluminum tabs, which are nearly unbreakable. The two aluminum tabs are very special in this kit because you can rest assured you'll always have a glue tab to use, even if all of the plastic tabs break.
Pros
Very adjustable design
Comes with everything you need
Cons
Not covered with a warranty
4. BBKANG Paintless Dent Repair Tool Kit 60pcs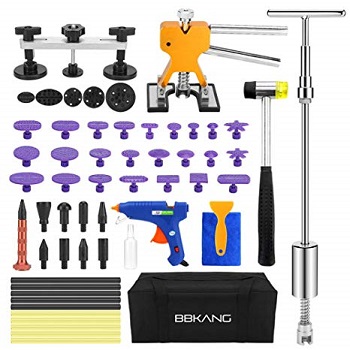 If you're looking for a kit that truly includes everything you need to fix any dent on your car, BBKang has got you covered. This 60 piece set isn't cheap, but it has everything for a DIY project. First of all, in this kit, you get 3 kinds of dent pullers: a hand-squeeze one, a bridge puller, and a slide hammer puller. All of these are designed to do the same job but are more or less successful on different kinds of dents. But you don't only get all the equipment to pull the dents. If you accidentally pull too hard and create a bulge, you can easily fix it with a variety of tap down tools you get in the set. The copper-colored tap down nail comes with 9 heads and a hammer. Furthermore, a 100W hot glue gun is included, with 10 long glue sticks – the 5 black pieces being ideal for heavy-duty adhesion, and the 5 yellow ones as standard glue. When it comes to glue tabs, you get 24 plastic pieces for the hand-squeeze and slide hammer puller, and 5 pieces for the bridge puller. The plastic tabs aren't of great quality, and they break easily, but there are enough of them for that not to be a problem. Finally, you also get an empty spray bottle for rubbing alcohol, a cloth, and a rubber glue scraper. All of this packed in a nice, convenient black bag.
Pros
A large variety of tools
Includes tap down equipment
Cons
The tabs are of poor quality
5. Super PDR Dent Puller Kit 52 Pcs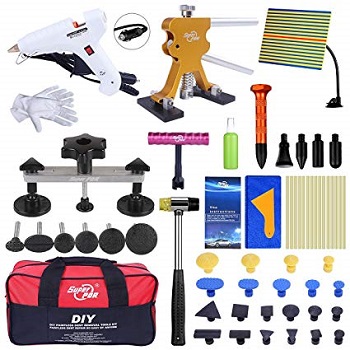 Our next pick is distributed by Super PDR, and it's exactly the kit you want to have on hand when you get a dent on your vehicle. This 52 piece dent repair kit has everything you need for a reasonable price. Packaged in a large, handy bag, this kit comes with different dent removal tools. First of all, there are three main pieces of equipment, including a hand squeeze puller for small dings, a bridge puller for medium-sized dents, and a T-bar for large indentations on any kind of surface, even corners. The hand squeeze tool and the T bar can be used with one of the 21 plastic tabs in various shapes and sizes, and you can use the bridge puller with one of the 6 included tabs. This kit includes an interesting addition, which is a line tool. This board with printed straight lines can help you find the exact borders of the dent by looking at the reflection of the lines on the surface of the car. Apart from that, you also get a glue gun, 10 glue sticks, a cloth, a pair of gloves, an alcohol bottle, a rubber scraper, and a tap down tool with 4 tips and a hammer. The glue sticks are admittedly not great, so we'd recommend getting them separately.
Pros
Includes tap down tools
Comes with everything you need for dent repair
Cons
The glue sticks aren't great
6. Anyyion 92pcs Car Body Paintless Dent Repair Removal Tools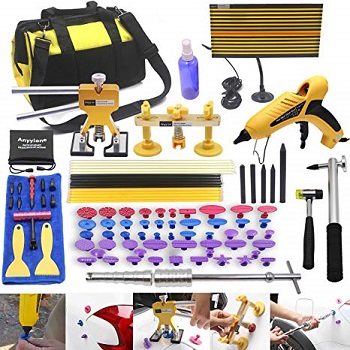 Our next pick is by far the most comprehensive toolkit for dent repair. Made by Anyyion, this kit has anything you may need to repair any kind of dent on your vehicle, fridge, or another metal appliance. It does come at a hefty price, though. This kit is a combination of a variety of glue-based dent pullers and taps down tools for bulges. There are 4 main methods of dent pulling in this kit, including a hand squeeze tool for small, narrow dings, a bridge tool for somewhat wider dents, and a small T-bar and a slide hammer puller for large dents. All of these can work with one of the 52 included plastic tabs. That number may seem ridiculously high, but it's a good thing you get so many since they're sadly easily breakable. You can find the dent easier with a straight line tool which comes with LED lights for easier use. The kit also includes 10 glue sticks and a rather nice glue gun. The leftover glue is easy to remove afterward with one of the two scrapers, a rubbing alcohol bottle, and the buffing cloth. If you accidentally pull too hard, don't fret, because you also get a large variety of tap down tools as well, along with many tips for precision tapping. All of this is packaged in a stylish black and yellow bag.
Pros
Includes a total of 92 pieces
4 different dent pullers included
Cons
Poor quality plastic tabs
7. YOOHE Black Aluminum Suction Cup Dent Puller Handle Lifter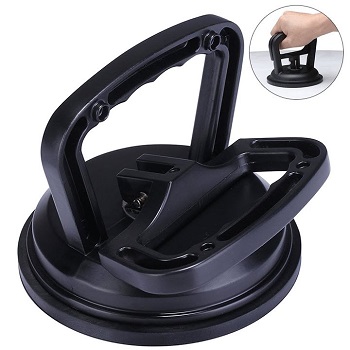 Our next pick is somewhat unorthodox as the manufacturer Yoohe doesn't advertise it as a dent puller, but we found it works great on fixing car panels. This suction cup has a body made of aluminum, making it so much stronger than typical plastic commercial dent puller cups. For a rather low price, you get a very high-quality suction cup with aluminum body and handle, and a thick rubber base. The handle is ergonomic and well-designed, so it isn't uncomfortable to hold, even though it's made of aluminum. The diameter of the suction cup is 4.7 inches, so we only recommend this suction dent puller if you have at least 5 inches around the center of the dent for it to grab onto the surface properly, and the dent should be on a flat surface. If your dent is on your roof, trunk, or car hood, this suction cup is a great way to get rid of it, even if it's a very large indentation. Overall, it's a very good suction cup with strong, sturdy suction – the manufacturer assesses it to be able to lift as much as 176 pounds, so its grasping power is great.
Pros
Great for large dents on flat surfaces
The body and the handle are made of aluminum
Cons
Can't be used on corners and uneven surfaces
What is a Dent Puller?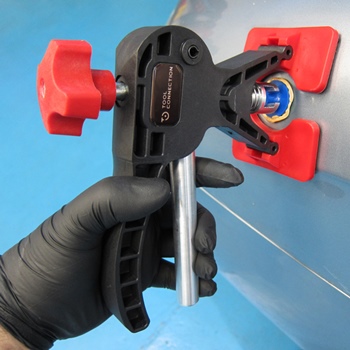 Have you ever finished your day at the office, only to come back to the parking lot and see that someone had bumped into your vehicle, and now you're left with this big, ugly, nasty dent? That is one of those experiences that everybody goes through, no matter how careful a driver they are. Dents and dings are simply unavoidable on your daily drive. Sadly, it can happen to any car, old, new, cheap, or luxurious. So, you go to a repair shop, and they give you an estimate of several hundreds of dollars, despite the ding not being bigger than a couple of inches. What do you do now?
You take matters into your own hands and fix the dent for a fraction of the price it takes to do it at a shop.
Dent pullers are small, inexpensive devices created to help you get rid of dimples on your vehicle. The name itself is quite descriptive – these small dent puller devices grasp the surface of the car body and pull on it until the dent is drawn out. You can also find these devices filed under paintless dent repair kits (PDR). While the method of grasping the surface differs among the types of pullers, they all physically pull (or push) the metal to even out the surface.
Dent Puller Buying Guide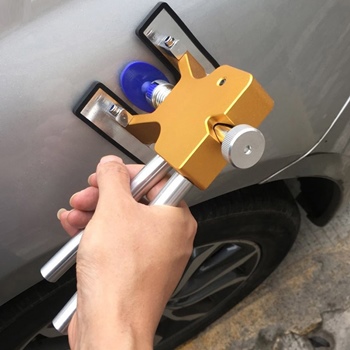 Since these devices can be found for rather low prices, especially compared to the prices of professional service, getting a dent puller is not a big investment. However, you still want to get the best deal for your money. Because of that, you should know exactly what you need, what you don't want, and what to look for when getting a dent puller. Let's go through what makes a dent puller stand out from the rest.
1. Dent Size
The most important thing you need to do before you make your pick of dent puller is to determine how large the area of your dent is. This should impact your decision on both the type and the size of the puller. While you can find big and small versions of both suction cups and glue pullers, bigger is not always better.
1.1. Suction cups
Suction pullers generally work better on larger dents, but you can also get small suction cups. When it comes to this type of puller, it's essential that the dent is bigger than the actual suction cup, or you won't be able to target the dent itself. Additionally, you should avoid suction cups if your dent is on a corner or a border since they need to grasp the surface fully in order to create enough suction. The diameters of suction cups generally range from 2 inches to as much as 7 inches.
1.2. Glue dent pullers
On the other hand, glue pullers are an efficient treatment for any small ding or dent, regardless of the depth of the cavity. They help you get a great grip, but they're not as efficient in large areas since they have limited extraction width. The distance between the "legs" of the puller is very important in this case. It will only pull the area between the legs, which should be placed on a level area of the car bodywork.
2. Seal Quality
If you're getting a suction cup model, you should definitely consider the quality of the seal. Most suction cups come with a rubber seal, but not all of them are created equally. The quality of the materials matters, since the rubber needs to create air-tight contact with the surface of your car.
Alternatively, glue dent pullers need to have a range of high-quality tabs. The tabs are generally made of plastic, and they need to be able to withstand the force of the pull without snapping. The tabs with deep textures are the best since the texture allows the glue to bond with the tab well.
3. The Handle
When it comes to suction cups, a good handle is half the job done. Although most suction cups come with plastic handles, you should make sure that the material used is sturdy. That's because you need to put your back into it when pulling a dent, and a handle that's easily breakable is not going to help you. The handle should also be ergonomic or comfortable to hold and use.
4. The Glue Sticks
When it comes to glue-based dent pullers, these typically come in a rather large kit with many individual items. Some of these items are the plastic tabs, a glue gun, glue sticks, and glue scrapers. Unless you already have your own glue gun and sticks, you should pay attention to detail with these kits. You want to get as many glue sticks as possible, but also have your kit come with at least two scrapers. The scrapers are used to remove the patches of dry glue after you're done pulling, and most kits include one scraper with a straight edge and another with a zig-zag texture for easier scraping. You can also use a bit of rubbing alcohol to remove the glue easier. Because of that, some kits even include a small bottle of diluted rubbing alcohol.
5. Warranty
Even though many dent puller kits come at a rather reasonable price, you still want to have some assurance that you're getting your money's worth. That is especially important for glue-based dent puller kits since they come with many different parts. We recommend getting a model which is covered with warranty, in case your kit comes with some parts missing or the components don't meet the quality requirements.
How to Use a Dent Puller?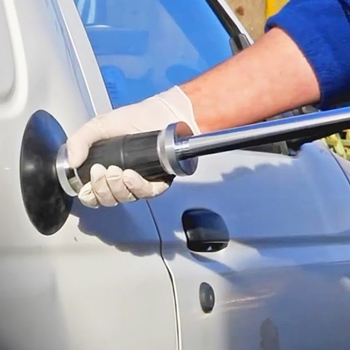 Even though having a dent on the body of your vehicle seems like a big problem, you can fix most small dents and dings at home with one of the many dent puller kits. Pulling a dent is easier than you may think. Let's go through the whole ordeal, step by step.
1. Surface Preparation
The very first thing you need to do, no matter which kind of dent puller you're using, is to prepare the surface of your car. The piece of car body you'll be working on should be clean, so that the puller can get a proper grip of the surface, making your job easier.
Ideally, you should wash your vehicle with any car wash soap, but don't apply sealant or car wax. For best results, we recommend washing your vehicle with a pressure washer, since that will allow you to get rid of all debris and gunk from hard-to-reach places with ease.
After your car is overall clean, you should get a bit of rubbing alcohol on a soft cloth such as a microfiber cloth or a cotton pad. Clean the area immediately around and in the dent itself. Make sure that there is no grease or residue on the area you'll be working on.
2. Pulling with a Suction Cup
Using suction cup pullers is rather easy if your cup is the right size, and the dent is not on the edge or border.
When attaching the suction cup, you need to make sure that it covers the area of the dent completely. Push the suction cup in until you feel it grasped the surface firmly.
It's time to pull. Tug on the suction cup many times, rather than doing a single, strong pull. Tugs will help get the dent out little by little. Once your suction cup pops off, reattach it and continue to pull the dent if it's not already out.
3. Glue Based Dent Pulling
Using a glue-based dent puller is somewhat more complex compared to the suction cup, simply because there are more pieces of the puzzle. Still, once you go through the drill for the first time, you will quickly realize that it's not that complicated at all.
3.1. Set up
First of all, you need to choose the right plastic tab. They come in various sizes and with different textures.
Pick a tab that is the right size for the dent. Unlike suction cups, you don't want your tab larger than the dent itself. The tab should fit into the dent, but still, be large enough to pull in the area.
The deeper the texture, the stronger it bonds with the glue, so use deeper textured tabs for deep dents. As you pull the dent out, change the tabs to one with a shallower texture.
You can, but don't have to install the tab into the metal puller right away.
3.2. Glue
Prepare the glue. You should insert one glue stick into the gun, and plug the gun in. Prepare a piece of cardboard to put the glue gun on, because these can be somewhat messy, and you don't want to end up with glue all over your garage floor. The glue gun will need a couple of minutes to warm up and melt the glue.
Once your glue is liquid, it's time to apply. Put a dab of glue onto either the plastic tab of the puller or the dent itself. Don't put too much glue since that can weaken the grip. You need somewhere around a pea-sized drop of glue for every 0.5 inches of the tab.
Once your glue is applied, place the puller tab on the center of the dent. Leave it for a couple of minutes to cure. You'll know the glue is ready when it cools down and hardens.
If you didn't install the tab into the puller during the previous step, do it now, when your tab is firmly glued to the dent.
3.3. Pull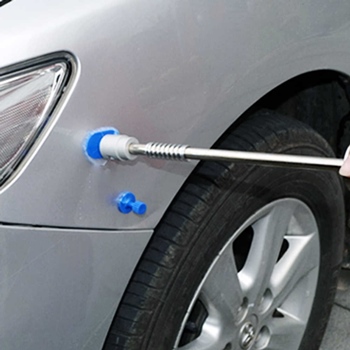 It's time to use the construction of the puller to pull the dent. Typically, glue-based dent pullers have some sort of legs that should be placed on the surface of the car. Place them firmly, so they don't bob, and start pulling according to the instructions on your puller.
Don't try to yank the dent. Instead, work your way around the dent slowly.
At one point, the tab of your puller will pop off the glue, with the glue most likely staying in your car. Now, you should take the provided scraper, and get the glue off the surface of the vehicle. Be gentle, since you don't want to scrape on the paint.
Once you've removed the excess glue, it's time to reapply glue and start again.
3.4. After treatment
Once you're happy with how the dent looks, it's time to remove the glue one last time. If you can't remove everything with a scraper, use a bit of rubbing alcohol to treat the glue. Soak it in, let it cure for a little while, and then have another go at it with the scraper.
Now, you should take care of the surface of your car. You can get a bit of a car paint polish and a soft cloth to buff out the area. After that, apply a bit of car wax or car paint sealant to make sure your paint is protected and conditioned.
In case you tugged a bit too much, you may have created a bulge. This is especially common in cases when the dent appears in a panel crease. In this case, you need one of the numerous tap down tools to put the panel back in shape.
Remember also to clean your pulling tabs. You can soak them in rubbing alcohol to remove the glue easily.
FAQ About Dent Pullers
1. Can I damage my car with a auto dent puller?
If you use the dent pullers in accordance with the user manual, there's hardly any chance you'll damage the vehicle. If you are much stronger than an average person, pay attention not to put all your might into pulling, since you may pull too hard and create a bulge. The only thing we'd recommend, especially if you're working with a glue-based dent puller, is to have a bit of car paint polish to fix any scratches that may appear after scraping away the glue. After polishing, always apply top-rated car paint sealants, and afterward, a top-rated car wax.
If you want to take care of your car with only the best, check out all of our favorite automotive care guides.
2. What do I do if I accidentally pull the dent too hard, and create a bulge?
While this is not at all likely to happen, it's possible to pull a bit too hard. If this happens, you should look at first try to fix the damage by pushing the bodywork in with your hands. If this doesn't work out, try to use a blow dryer to heat up the metal, and then push the spot in with a dull object. You can also find a variety of tap down tools designed to tackle this problem.
3. Can I use boiling water or a blow dryer to pull dents?
While using hot water or blow dryer won't do much alone, it can definitely be of assistance when dealing with dents. Warming up your car's body will make it easier to give shape and mold the bodywork. If you can't seem to pull a dent out, try blow-drying the area or spraying it with warm water. We recommend blow drying because you would need a large amount of hot water to warm the car enough. Never use an open flame on your vehicle.
4. Can I fix the dent myself, or do I need to get professional service?
There are a couple of things you should consider before giving up on DIY fixing and going to a professional. Remember that professional service can be quite expensive, so you're only better off going to a repair shop if one of the following is true:
The dent is very large in area (significantly over 10 inches across) or very deep (deeper than 1.5 inches)
If the paint around the dent is damaged and needs fixing, or very careful handling.
In such cases, you're better off going to the professional right away. In other cases, we recommend trying to fix the damage yourself first, with a professional set aside as a backup plan if you don't manage to pull the dent yourself.
5. Is it possible to get a perfect finish with a dent puller?
This mostly depends on the particular dent you're dealing with. In many cases, large dents can be very hard to fix to perfection, and you'll always see a tiny bit of a wave when looking at your vehicle from different angles. In many cases, DIY kits don't leave you with a flawless finish, but they do offer a dramatic improvement and a final look with slight imperfections that rarely anyone will notice. However, if you only have a small ding to fix, and you devote enough time and care to treat it, you can definitely end up with your car's body looking as good as new.
Wrap Up
Now that we've gone through everything you need to know about choosing the best dent puller for your car, you can get to work and get rid of that ugly ding on your vehicle. As you can see, there's absolutely no reason to drive around with a dent in your car, when getting rid of it is both simple to do at home, and very affordable. Doing it at home can potentially save you hundreds, if not thousands of dollars on professional repair.
We hope you found exactly what you wanted to know in our dent puller reviews and buying guide. If you still have any questions left, feel free to get in touch, and we'll try to help you as soon as possible. Now, let's go fix that dent!
See also: best floor jacks