Investing into the best LED headlights for your car is not only investing in lighting but safety as well.
The technology of today found its way into every life sphere, from medicine and IT to something as simple as lighting. One of the technologies that have taken the world by storm is the Light Emitting Diode (aka LED) system. People have quickly realized the value of LED, so why skip on all the important knowledge that can increase the quality of your ride. Use our guide, and our LED headlight bulb reviews to make the most valuable decision and upgrade your car, improving its performance and overall looks. We are going to go through a lot, so, let's see what this new tech has to offer.
See The Quick Comparison Chart
Advantages of LED Headlights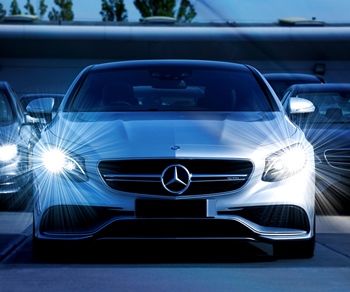 The LED technology has been around for some time, but its commercial utility is relatively young. This type of lighting is used in almost every aspect of living, from homes to vehicles and outdoor illumination. There are many reasons why LED managed to rise above other types of light, so we would like to go through some of the most essential.
1. Longevity and Endurance
When LED hit the mainstream, the main selling point was its sole longevity, and the ability to outlast other types of bulbs. Halogen lightbulbs made around 90% of car headlights until recently, with a steady decline, just because of this feature. An average LED headlight set will last somewhere between 30,000 and 50,000 hours, depending on the class and the car it is installed in. The key to their durability is in the light source. For starters, LED bulbs "burn" much colder than traditional halogen. To furtherly enhance this feature, manufacturers build in some sort of heat dissipation mechanism or system, so they can operate on even lower heat.
Now, even though LED might seem expensive at the beginning, which they undoubtedly are, in the long run, your wallet is bound to feel the benefits of LED convenience, because less heat directly transfers to fewer breaks. Which brings us to our next point.
2. Extreme Energy Efficiency
If you have bought a fridge in the last few years, you certainly noticed that even fridges nowadays have LED lights inside. Even mobile phone cameras use led flashbulbs instead of older traditional flashes. All of this is thanks to the low power consumption of LED systems. How does that apply to your car, you ask? Well, if you ever mistakenly left the headlights of your car on, you know the hassle an empty car battery can bring.
With LED, this is rarely the case. Not only will you be safer with situations like forgetting to turn off the lights, but the overall gas consumption will drop due to the high energy efficiency LED car headlights bring to the table (more about that in detail later).
The low power consumption is eco-friendlier. It has also become a popular choice for hybrid owners, because, believe it or not, using LED can sometimes prolong a single battery charge by up to 20%.
3. Installation and Replacement is Easy
Most types of LED headlights are pretty easy to install, and you will not need any professional help. On average people take up to 30 minutes to entirely replace their current headlights with LED. Even the most inexperienced people will not need much more time than half an hour, if they stick to the instruction manual, of course.
This feature, however, should not be taken for granted because there are some finesses you should check before you start driving with your new LED headlight set. For example, the light must be focused, so it doesn't obstruct other drivers during the night. LED lights are potent despite their low energy consumption, so caution is advised, especially for the people new to the system.
4. The Power of Illumination
Last, but certainly not least, is the high illumination capacity of LED lights. An average traditional headlight bulb can provide visibility for 50 to about 80 yards, while LED can go over a 100-yard mark with ease. Believe it or not, the power of this lighting system is what makes it legally tricky to install, because if it isn't done properly, it can pose a great threat to other drivers, due to glare and potent illumination overall.
Best LED Headlights Comparison Chart
PRODUCT
DETAILS

Cougar Motor LED Headlight Bulbs All-in-One Conversion Kit

Price: $$
Customer Rating: 4.3
Color: 6000 kelvin
Lumen Rating: 7200 lm

View On Amazon

JDM ASTAR G4 8000 LED Headlight Bulbs Conversion Kit

Price: $$
Customer Rating: 3.9
Color: 6500 kelvin
Lumen Rating: 8000 lm

View On Amazon

Glowteck LED Headlight Bulbs Conversion Kit

Price: $$$
Customer Rating: 4.2
Color: 6500 kelvin
Lumen Rating: 12000 lm

View On Amazon

OPT7 FluxBeam H11 LED Headlight Kit

Price: $$$
Customer Rating: 3.9
Color: 6000 kelvin
Lumen Rating: 7000 lm

View On Amazon

Auxbeam H11 LED Headlight Bulbs F-16 Series

Price: $$
Customer Rating: 4.1
Color: 6000 kelvin
Lumen Rating: 6000 lm

View On Amazon

VoRock8 R2 9006XS 8000LM LED Headlight Conversion Kit

Price: $
Customer Rating: 4.0
Color: 6500 kelvin
Lumen Rating: 8000 lm

View On Amazon

BEAMTECH H11 LED Headlight Bulb Conversion Kit

Price: $
Customer Rating: 4.3
Color: 6500 kelvin
Lumen Rating: 8000 lm

View On Amazon
Best LED Headlight Bulb Reviews
1. Cougar Motor LED Headlight Bulbs All-in-One Conversion Kit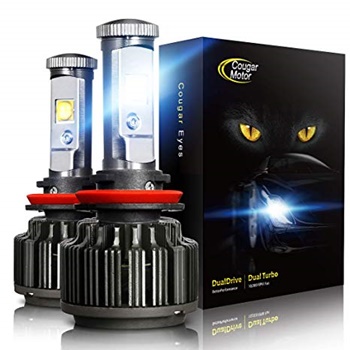 This particular Cougar LED set of headlights is there to provide an excellent replacement for your standard halogen headlights. The features that these LED headlights set pack are everything you need for a quick swap, plus a few additional pros that will make you glad you opted-in for a pair.
Now, when it comes to the core build quality, we are talking about whole aluminum housing. This type of housing, combined with the onboard 10,000 RPM TurboCool fan, will make sure that these LEDs last for a long, long time. Speaking of durability, the rated life expectancy of this set is over 50,000 hours, which is a remarkable improvement for cars that had halogens installed inside.
The color of this set is rated at 6000 K, which makes it a cool light white light, suitable both for urban and countryside conditions. Each of the bulbs provides 3,600 Lumen, making the total light provided clock at 7,200 Lumen.
Pros
Long life expectancy with expected operating time ranging over 50,000 hrs.
Plug and play installation process takes about 20 minutes to install the set
Aluminum housing makes it easier for the bulbs to dissipate heat
Cons
The 6000 Kelvin color is considered too bright in some states
Users report that the bulb housing of your car can change the overall color of the LED set
2. JDM ASTAR G4 8000 LED Headlight Bulbs Conversion Kit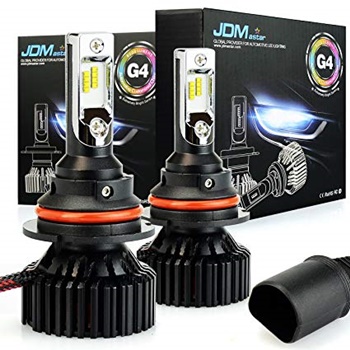 The G4 from GDM ASTAR is one of the more popular choices on our list, due to several features the set provides. They are made both for newcomers and experienced LED tech users, so if you are a first-timer, you will be more than satisfied.
When it comes to building quality, this LED contains both plastic and aluminum parts, made in such a combination that is optimized for quicker cooling. The onboard blade-style fan can reach multiple directions with its airflow, making the bulbs cool down faster.
The color of this LED headlights set is clocked at 6500 Kelvin, which falls into the group of xenon white. This color is considered to be on the border of being too bright for urban conditions, but with careful installation and a correct angle setting, you will not have to worry about bothering other traffic participants.
Pros
Ultra-potent 8000 Lumen LED headlight set, with 4000 Lumen for each side
The cooling fan blows in multiple directions, enhancing the cool down system
Plug and play installation process
Cons
6500 Kelvin color takes some time to get used to, especially for long time halogen bulb users
Some users report LED flickering, so make sure you install the set properly
3. Glowteck LED Headlight Bulbs Conversion Kit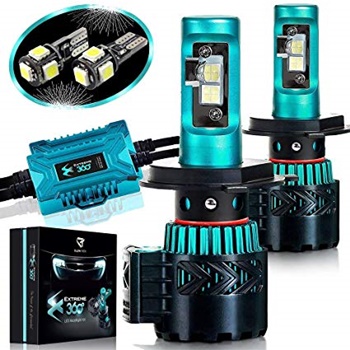 Here we have an LED set from Glowtech designed for severe weather conditions and for safe night car rides. No matter the experience you have with LED tech, this particular set will surely be an upgrade, due to its versatility and raw power.
The bulb bodies have a copper and aluminum body, meaning that heat dissipation is taken to the maximum level. Besides the intelligent combination of materials, there is a 12,000 RPM blade fan which prolongs the LED set's life even more.
The performance and light-emitting power of this set are above average, with 12000 Lumen of potent lighting and 6500 Kelvin color warmth. The set is rated to work for at least 40,000 hours, which is considered 10,000 hours above average for LEDs.
Pros
The 12,000 Lumen light potential will make dark roads light up as if it's daytime
The copper-aluminum combination of materials helps prevent overheating
This particular set is available for a wide range of cars and SUVs
Cons
The Lumen potential may be too intense for casual drivers.
This set is on the pricier side, which it makes up in performance
4. OPT7 FluxBeam H11 LED Headlight Kit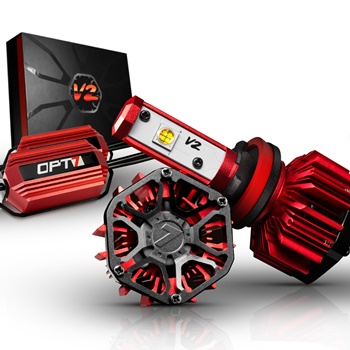 This FluxBeam LED headlight kit became popular due to its power to replace almost every old halogen kit out there, and fit inside a large number of vehicles. Besides providing reliable performance, it also has a great anti-fog system, which helps drivers in foggy and low-visibility conditions.
Most of the body build is made of red aluminum, which provides enhanced heat dissipation. The new Roden LED Driver is designed inside and out to take advantage of the ARC-LENZ LED bulb chipset. These bulbs are well-suited for foggy weather, and you can install them as both low and high beam lights.
When it comes to performance, we are talking about 7,000 Lumen, which is slightly above average. You can also choose between two color warmth ratings, 5,000 and 6,000 Kelvin, with the first one being warmer than the second set.
Pros
These LED headlights can fit almost every vehicle out there
You can choose between warmer 5,000 and colder 6,000 Kelvin color
The beam pattern can be customized
Cons
Due to their versatility and quality, these LED headlights are a bit pricier within their class
Installations may take a few minutes more, according to some users.
5. Auxbeam H11 LED Headlight Bulbs F-16 Series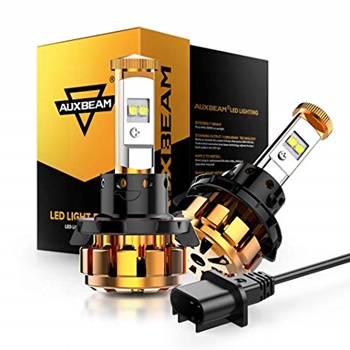 A popular choice among nighttime drivers, this Auxbeam LED headlight set certainly has a lot to offer. It is a trustworthy option both for first-timers, and long-time LED users. They also thrive in rough weather conditions and low-visibility scenarios.
The main parts are made of copper for faster cooling purposes, and the aluminum heat dissipation system works perfectly in sync with the rest. You will find this particular LED headlight system pretty easy to install, with a plug and play system anyone can follow through. It even has an IP68 rating, meaning it is completely dust and waterproof.
The illuminating power this set provides clock at 6,000 Lumens, at the color temperature of 6,000 Kelvin, which is a great combination for both day and night light conditions.
Pros
The IP68 rating makes this LED set extra-durable
The combination of 6,000 Kelvin and 6,000 Lumen makes this set pretty versatile for various conditions.
These LED bulbs are great for foggy conditions.
Cons
Some might consider the 6,000 Lumen rating a bit too low, but if set up correctly the LED set will provide trustworthy service
Some users report that the cooling fan can be too loud at times
6. VoRock8 R2 9006XS 8000LM LED Headlight Conversion Kit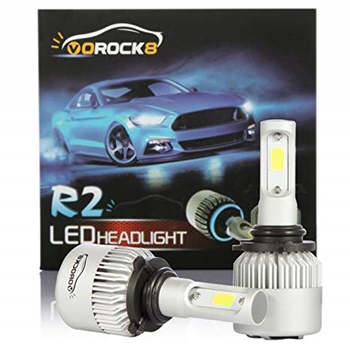 This particular VoRock LED set gained in popularity as one of the most affordable out there, with the best price-to-performance ration. This feature makes them an excellent choice for people that want to swap their halogen headlights for fresh new LEDs.
The set is made of a cold-pressed, aviation-grade aluminum heat sink with built-in 2-ball fan for optimal heat dissipation. Thanks to a well-designed cooling system, these LED headlights will last you for more than 30,000 hours.
When it comes to the performance this set brings to the table, we are talking about 2 x 4,000 Lumen or 8,000 total Lumen of light capacity. Lumen rating this strong goes great hand-in-hand with the 6,500 Kelvin bright light color.
Pros
Excellent for people that want to swap halogens for LEDs
Great price-to-power ratio
One of the most affordable LED sets on the market
Cons
You will have to watch the polarity of the set during the installation process
Some users reported that these bulbs are too strong for urban conditions
7. BEAMTECH H11 LED Headlight Bulb Conversion Kit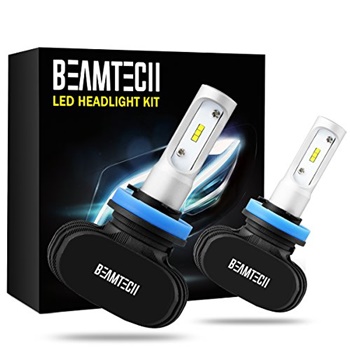 This BEAMTECH LED headlight set is beginner-friendly, yet it provides professional performance. It should be a great swap for halogens, especially due to the fact that it is really easy to install it. Besides, they are one of the best LEDs out there when it comes to power consumption.
One somewhat unique characteristic of this headlight set is the absence of a cooling fan. The bulbs are compactly designed for more passive heat dissipation, and the manufacturer guarantees over 30,000 hours of working time. Additionally, they are on the more affordable side of LED sets, so if you are thinking of removing the old halogens, this set would be a good starting point.
Despite the compact design, this LED set provides a total of 8,000 Lumen of lights (4,000 for each bulb), with a color temperature of 6,500 Kelvin. This combination makes them a good choice for day and night car rides.
Pros
Affordable and a good price-to-performance ratio
Compact and slim design, making the bulbs easy to install
The light focuses similar to halogen bulbs, making the swap easier to handle
Cons
The lack of a cooling fan can shorten the life of the bulbs is used for more than a few hours every day
Some users reported that the screws get a bit clunky and that you may have to tighten them up after a while
LED Light Types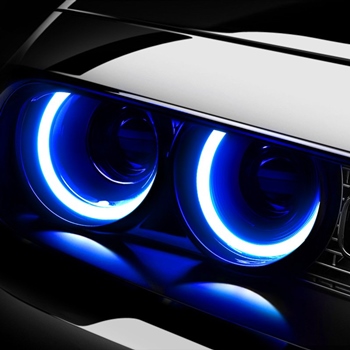 Due to LED light's efficiency, drivers all around the world have decided to opt to form this type of lighting, not only when we are talking about headlights, but car interiors as well. Overhead lights with a LED system will consume less energy and provide stronger and longer-lasting performance.
The more and more popular choice of many drivers around the world, both commercial and not, are LED backlights. This sort of lighting system is more potent, which makes your car more visible during both night and day. According to traffic police, clear visibility is the number one safety measure a car driver should invest in. If the cars behind you see you clearly, every traffic interaction, no matter if it's on city or country roads, will be smoother, and most importantly safer.
Finally, when it comes to LED headlight types, we can talk about two widely spread groups. Being that every car needs to have a high and a low light beam option, the main two groups of LED headlights are single and dual-beam bulbs.
Single beam bulbs are there to provide only a low or a high beam per bulb. They are made in sets of two per car side and tend to consume a bit more energy dan dual beam. It is true that, because we are talking about four total LEDs, single beam headlights are a bit harder to install. It all depends on your previous experience, but if you follow the instructions properly, there should be no problem connecting them to the car electronics.
Dual-beam LED bulbs, on the other hand, take the role of both high and low headlights. They consume less energy overall because there is a single bulb in each car side. The dual bulb LED system is easier to install, but it takes some time to get the hang of it because both low and high light beams will be coming from the exact same spot.
So, when it comes to LED lights inside and outside your car, the rule is simple: if there's a halogen bulb, and the law of your state allows it, it can be replaced with an LED counterpart. Drivers that replaced every possible lighting system of their car with LEDs reported a huge decrease in energy consumption.
LED vs. HID vs. Halogen Headlights – Which is the best?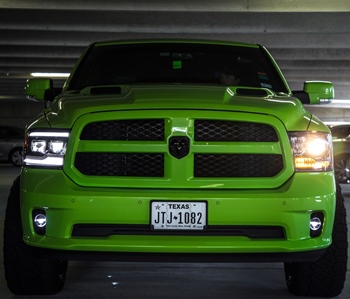 What kind of light is the best? Which light source will bring the best ratio between price and performance? Are LED lights the right choice for my car? These questions are a part of the ongoing debate among drivers worldwide. No matter what verdict you bring, one thing is for certain: there is no right answer in this trilemma. It all boils down to weighing the pros and the cons, so we encourage you to find out as much as you can, because the technology behind some of these lighting systems is evolving fast, and the data about them is getting bigger by the day.
So, before we go into the raw info about the main three types of headlights, let's see what LEDs, HIDs, and halogens essentially are.
LED, or light-emitting diode system, is by far the most peculiar, and a somewhat unique light-emitting method. Essentially, electricity passes through a semi-conductor at a high frequency, enabling the electrodes to release a photon. This happens at a frequency that emits strong visible light, which we harnessed and decided to utilize.
The high-intensity discharge, or HID for short, is a lighting system unknown to many, despite the fact that it is older than mainstream LED. The basics of HID light (which you might know as xenon bulbs) lies in the two electrodes that connect via a high voltage spark, provided by the car's electronics. But the whole process happens in an inert environment, the xenon noble gas. Combined with the halide salts, we get a strong bright light.
Lastly, we have the halogen bulb. Despite them being regarded as one of the oldest modern lighting systems, and the most renowned, halogens are still in use, mostly due to their accessibility. The core functioning system of these bulbs is based on a tungsten filament that "lights up" once we let electricity to it. This process is known as incandescence and is sustained in a glass bulb around the filament, usually filled with argon or nitrogen gases.
1. Pros and Cons of LED Car Headlights
Weighing the pros and cons of any type of light depends on many factors. However, when it comes to LED systems, there are some definite advantages that make this lighting type stand out. As we mentioned before, there is no definite answer to all drivers' needs, so it would be best to mention both sides of the coin when it comes to the three main lighting modes, enabling you to see for yourself. Some specs may vary from model to model, but the key guidelines are always the same.
1.1 Pros of LED Headlights
Energy efficiency – The ace in the hole, and often the key point of any LED system. You may or may not agree that low energy consumption is important in the case of car power, but in the long run, the amount of electricity you save accumulates and amasses into significant numbers. LED headlights, on average, need about 30 Watts of power to operate, which is significantly lower than both halogens and HID counterparts.
Higher lux output – Even though they need minimal power to operate, LED headlights provide the highest amount of lux (also known as light spread over an area) among the three systems. This makes them even more energy-efficient, especially if you drive in poorly lit areas a lot. On average, LEDs produce about 420 lux with a single set of headlight bulbs.
Full brightness in an instant – One of the most desirable features of LED headlights is their instantaneous turn-on process. It takes an LED bulb less than half a second to go from complete darkness to full brightness, as opposed to HIDs which need a warm-up period.
1.2 Cons of LED Headlight
The setup – If you are not tech-savvy, and you decided to transfer from halogen headlights to LEDs, you may find the setup process to be a bit complicated. Halogens only need a good twist and turn, while LEDs have a separate cooling system or heat dissipation, depending on the model. We will talk about the setup process in the following section in order to show you that, if you take it easy, it is not that big of an issue. It is just a bit different than usual, that's all.
The price – If you are used to cheap expandable bulbs, you may find car or jeep LED headlights to be kind of pricey. It is true that they are an investment at first, but the money quickly returns, due to their extremely low energy consumption.
2. Pros and Cons of HID Headlights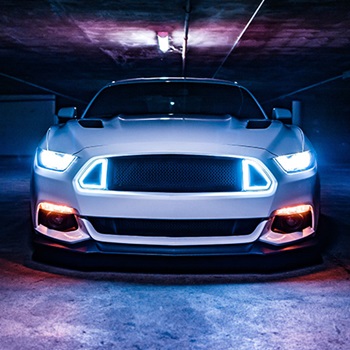 Now that we have seen what kind of features are usually compared between the lighting types let's see what HID headlight reviews have to offer, and what are their strongest and weakest points. Some say that comparing the best HID kit with the best LED kit could be a tie, so let's dive into the pros and cons of HID headlights.
2.1 Pros of HID Headlights
The brightest headlights – Out of the three systems we are talking about, HID lights produce the highest number of Kelvins on the CCT scale. This means that the color of light is the strongest, or warmest (depends whom you ask) and that it will be the most potent during the night. However, this feature can have its bad sides, like glare and too much brightness.
Best light spreading – HID's ability to produce the whitest and brightest light makes them great due to the ability to spread the beams evenly. In low-light situations, a lot of brightness can be disturbing, so an even spread is all that matters.
2.2 Cons of HID Headlights
Long warm-up period – The worst thing about xenon lights is the time they take to reach full operating brightness. Most of the models on the market take a few seconds, or sometimes more, to warm-up and give you the famous daylight brightness on the road. If you drive through a lot of low-light areas, this is a spec you will have to get used to.
Glare amount – Due to their strength and light color, HID headlights can sometimes illuminate too much. Traffic signs can appear way too bright because of the strong reflection, and if you do not utilize the power of HID properly, you may even bother other drivers, which can sometimes be dangerous.
3. Pros and Cons of Halogen Headlights
Being that they are the oldest light source on the market, halogens still have a lot to offer, despite the fact that they are soon to be outdated and replaced by other light sources. Some would say that even the best halogen headlight bulbs cannot match an average LED set.
3.1 Pros of Halogen Headlights
Affordability – The biggest selling point of tungsten filament bulbs is their affordability. Out of the three categories we are analyzing in this section, halogen headlights are the most affordable, and can be bought anywhere in the world. However, their price is starting to grow, due to the lower production since LEDs and HIDs are gaining in popularity.
Ease of access – Nowadays, a lot of car models come with a halogen headlight system as default. Familiarity makes halogens still a viable choice. That and the fact that changing a halogen bulb is one of the easiest things in the world. Just twist and turn, nothing else.
3.2 Cons of Halogen Headlights
Short lifespan – If you drive a lot during the night, halogen headlights will not prove as a powerful ally, due to their lifespan of up to 1000 hours on average, as opposed to some LED headlight models that offer up to 50,000 operating hours.
Lower light potency – in comparison to HIDs and LEDs, halogen headlights offer the lest potent illumination, both during the night and during the day. While some drivers prefer the yellow-colored light of halogen bulbs, the fact remains that they are not that bright as the other two categories.
Should I swap my headlight bulbs for LEDs?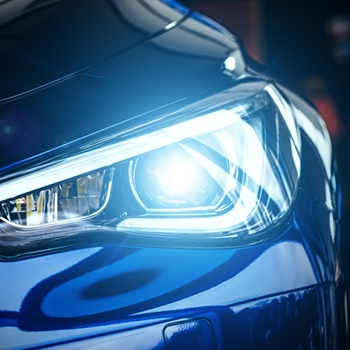 If you decided to make the swap, and you are not sure if it is worth it, it would be best to compare the statistics and the characteristics of both lighting systems. If we assume that you are swapping halogens for LEDs, there are a few things to consider before doing the act.
The very first thing you will notice is the improvement in the quality of light itself. LED headlights are much more powerful and offer a whiter type of light in general. If you are a fan of traditional yellow light that halogens provide, there are more "yellowish" options within the LED group as well.
While you may have to pay a little extra in the beginning, LED headlights will definitely stay for longer. By directly comparing the statistical longevity, you will immediately notice the enormous difference. Halogens bring around 1000 hours of lights, while LED lasts for at least 30000 hours of regular use.
Another budget thing to consider is the overall power consumption. The average halogen bulb needs at least 56 Watts of power to operate (at a lower light intensity), while LED headlights need only about 30 Watts to provide stronger lighting. So, in the end, the longevity and low power needs negate the higher initial cost of LED.
So, all things considered, a switch from halogens to LEDs is a great thing to do. But, before you go all the way, there's a couple of things we should talk about.
Things to consider before you swap to LEDs
In case you decided to go for the swap, there are two things you need to know beforehand. The first would be the legality of LEDs in the state you live in. Some countries or states banned retrofitting LEDs inside cars that originally use halogens. Ask around and find out about regulations before you make the final decision.
The second thing you need to consider is the sudden change from halogens to LED headlights. LEDs are much stronger, so it would be best to not go on 8-hour night drives right away. Your eyes need to adapt to this kind of power, and the glare it may produce. Until then, do a few test drives and see for yourself.
LED Headlight Buying Guide
Now that we have seen the main advantages (and some disadvantages) of LED headlights, it is time to see what features you should pay the most attention to before getting a pair for your car. In essence, LED headlights come in different shapes and sizes, but the way they operate does not differ that much from model to model. However, if you want to make a valuable purchase, the more you know, the better.
Let's dive into it!
1. LED Headlight Lumen Rating
In order to avoid getting too scientific, we can define a lumen as a unit of measuring light brightness. Essentially, more lumens mean brighter and stronger light. When it comes to LED headlights, there are three groups of different lumen ratings:
1.1 Small intensity LED headlights
This group includes LED systems that provide light brightness between 6000 and 6500 lumens. Even though they are called small intensity, they can still produce more powerful light than halogens. The amount of light a small intensity LED bulb makes is visible from a distance of about 550 yards, which is an ideal setting for people that drive through cities and urban areas a lot. The majority of drivers choose bright LED colors in combination with low-intensity LEDs, for most natural results.
1.2 Medium Intensity LED headlights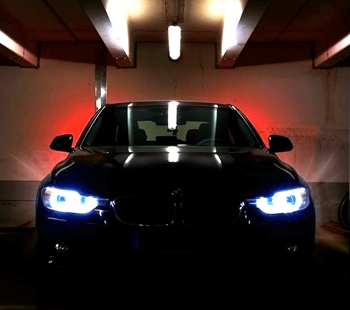 Most of the time, the safest bet is to follow the middle ground. If that is the case with you, then getting these headlights is a viable option, because they produce around 800 lumens, which is enough to light up about 700 yards in front of you. This option is great for people that drive around urban environments, but like to take an occasional off-road trip.
The best thing about middle intensity LED headlights is that they can be paired both with whit and warm color shades and still look natural.
1.3 High intensity LED headlights
Lastly, we have a super-strong type of LEDs. With the power of 10000+ lumens, these headlights are able to provide daylight type of illumination. They are made primarily for nighttime drivers, and people that go off-road a lot. These ultra-potent LED headlights are best combined with warmer bulb colors for the most natural results. Just remember that these lights can be a little too potent when driving through the city, and can potentially bother other drivers.
2. LED Headlight Life Expectancy
As you probably already noticed, LED headlights have one of the most durable bulbs on the market. Generally speaking, we can divide LED bulbs into two durability groups, even though this spec may vary from model to model.
2.1 Normal lasting LEDs
The norm within the LED headlight scene is around 30000 hours of work time. When compared to an average of 1000 hours that halogens endure before wearing off, we can clearly see that LEDs are a game-changer. The main problem with bulb durability, no matter the type, is damage caused by heat. With halogens, this heat cannot be lowered, but LED lights come with cooling systems that allow them to last significantly longer. All in all, an average LED headlight set will last for about three years.
2.2 Long-lasting LEDs
Some models out there, though rare, have a special heat dissipation system. In such cases, the life expectancy of the bulb is prolonged by a large margin. Usually, bulbs with additional heat sinks last for 50000 hours, or sometimes even longer. However, these 6-year lasting LED headlights come with a heftier price.
3. LED Headlight Bulb Color Warmth
One of the lesser-known factors that play a role in the final result of LED performance is the color warmth. The color warmth is measured on a Kelvin scale, but in order to avoid getting too technical, there is a rule of thumb to make things easier: more Kelvins means colder light. Warm lights look more like yellow, while cold lights go towards bright white and blue.
Warm bulbs – These go from 2500 to 3500 Kelvin. The problem with LEDs of this Kelvin rating is that they are usually low-intensity. Sometimes too low. However, some people choose bulbs this warm to get used LEDs, right after they switched from halogens.
Bright white bulbs – Ranging from 3500 to 6000 Kelvin in warmth, bright lights are the most popular LED choice. They are white, but not too bright, which is suitable both for day and night time driving.
Daylight blue bulbs – Every LED headlight with a color warmth of over 6000 Kelvin is considered super bright, and is to be taken seriously. This kind of bulb can illuminate the night road as if it were daylight, which is excellent for night rides on the highway, but not that great inside the city. If you decide to opt for a bulb this strong, keep in mind that it can blind other drivers if you are not cautious.
4. Legal Factors
Some states/countries do not allow manual transitions from halogen to LED headlights. As you might have already concluded, LED bulbs are much more potent than any halogen system out there. This kind of power attracted legal legislation, so we advise you to check your local police station, ask a road officer or a local mechanic if the LED headlights you want to install are legal or not.
How to Install LED Headlights?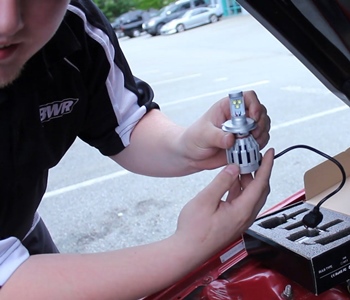 So, you have decided to go through the process and swap your regular factory headlights for LED. All in all, you should be able to do it in under an hour, but it wouldn't hurt if we go through the process in a step-by-step fashion, thus removing any potential confusing situation that may occur during the swapping maneuver. Without further ado, here is how to install LED headlights in a few simple steps.
1. Compatibility
Before you even go through the buying process, make sure to double-check if the headlights you want are compatible with the vehicle you have. The socket slots come ion various shapes and sizes, but it should not be hard to spot the written sign somewhere inside the hood, near the headlight. If you are having trouble finding the type of socket, remember that Google is your friend.
2. Lens removal
The whole installation process begins by removing the old bulbs from the headlight slot. To do that, first, you need to remove the lens covers that protect the bulbs inside. The majority of car models have some sort of safety that requires you to open the hood and detach them manually. This system is there so no one but you can access the lens protectors.
3. Mark the position
If you have gained access to the old bulbs, there is one more thing to do before you remove them permanently. You should mark their positioning for later because the LEDs you are about to install need to match that exact bulb location and positioning. If there are no indicators on the socket, the safest bet would be to take a photo with your phone or simply mark the position with a pencil, whichever way suits you best.
4. Old bulb removal
Now you can finally remove the old bulbs. If they are halogen (which is usually the case), The most typical removal is to unscrew them from the socket. There should be no extra wiring that needs to be removed, so simply untwist and unplug the old bulbs. Dispose of them adequately, because we are talking about sharp glass bulbs after all.
5. New LED bulb installation
It is time to install the new, freshly unpacked, LED bulbs. The general rule is to position the headlights is such a way that the low beam lights face up and shine down, and the high beam lights face down and shine up. If you are not sure how to position them, it is time to take a look at the markings we talk about before, or just see the photo you took before the removal of the old bulbs.
If you got the LEDs position correctly, it is time to tighten them with screws, and secure their place inside the headlight socket. In the process, be careful not to damage the wiring or the socket itself. Being gentle will do the trick. Keep in mind that during the screwing process, the LEDs can change position. If that's the case, you need to reposition them back and repeat the process. Easy does it.
After the LED bulbs have been placed into their respective sockets, and their position is set, it is time to install the heat dissipation system. In the vast majority of cases, the cooling system will be a simple yet powerful, rotating fan. Tighten the fan with a screw, but be careful not to damage the wiring again.
After the cooling system is installed, you should connect the main connector to the car's electronics and the onboard CPU. This will validate the whole process, so after you connect the right wire (they are conveniently color-coded), you should give the lights a test run.
If the lights work correctly, place everything into the designated place, while being careful not to damage anything, or change the position of the bulbs.
Put the lens protector back and attach the security lock from the inside of the hood. If you happen to see any extra wires, look for a designated wire holder on the side of the headlight and store them there.
Using our headlight restoration kit reviews during the installment can create a helpful side benefit.
FAQ About LED Headlights
1. My LED headlights are overheating. What should I do?
If you are using the lights for longer than an hour, it is natural for them to exert extra heat, and heat up the whole headlight slot. However, if you think that the temperature is way too high, or the headlights get too hot too fast, there might be a problem with the heat dissipation system.
If this is the case, turn the vehicle off, and wait for the headlights to cool down. Now, what you want to do is check on the wiring inside the headlights, and see if the cooler connector fell off. To reach the wiring, you will need to remove the lens protector. The usual practice when a heating problem occurs is to reconnect everything from scratch. If you are not sure how to do this, make sure to check our "How to Install LED Headlights" section. If that doesn't work, we're afraid that the fan has broken, and a replacement is due.
2. What color temperature should I choose for my LED headlight set?
Due to legal problems with some LED headlights in certain states, the safest bet would be to take the middle path and get an LED set in the 4000 to 6000 Kelvin set. Bright blue and white lights, typically emitted by LEDs of over 6000 Kelvin, can be too intense for urban street and can cause traffic interference.
If you insist on getting the whitest or the bluest headlights, there are film filters you can install on your car's lenses, and change the overall color warmth of the LED headlight set. We strongly advise you to check the legal aspect with a police officer, or a town mechanic.
3. How do I know if it's time to replace my old LEDs for new ones?
As with every piece of technology, you will undoubtedly notice a significant drop in the performance of the LEDs as well. The usual sign is that the headlights start getting dimmer as they get closer towards the end of their lifespan. This will start happening after they reach about 30000 operating hours, depending on the model.
The safest bet is to replace them as soon as they stop providing sufficient light for nighttime car rides. After all, you do not want to risk being left in the dark in the middle of the road.
Wrap Up
There you go, everything there is to know about LED headlights and the benefits they bring. This type of tech is on the rise, and what else it can enhance remains to be seen. But, one thing is for sure, you should consult our guide in order to get the best LED headlights for your vehicle, no matter if it is a car, a pickup, or something bigger. There is plenty of choices out there, and maybe the best start would be to see what kind of lights does your car support and to check the laws regarding LED headlights in your state.
After that, all you have to do is go through our LED headlight bulb reviews and pick the model that would fit inside your car in the best possible way. If you have any questions, feel free to contact us, and we will gladly provide an answer.
Bonus guide: best OBD2 scanners