If you are looking for a budget-friendly headlight option, make sure you pick the best halogen headlight bulbs your car can use. All cars have a default headlight type, halogen being the most commonly used. This sort of a headlight option is inexpensive but very reliable and there is a reason why some drivers prefer halogen over other headlight types.
The market is overflowing with different options, cheaper, expensive, high, and low quality. Because of that, we created halogen headlight bulb reviews of our favorites you can get for yourself today. Let's get to it!
See The Quick Comparison Chart
How Do Halogen Headlights Work?
Halogen headlights are rather simple bulbs, so it's not hard to understand how they work. These little bulbs were invented in the 1960s, and they remain the top choice for headlight bulbs across the world because of their compact size and low production cost.
1. Wattage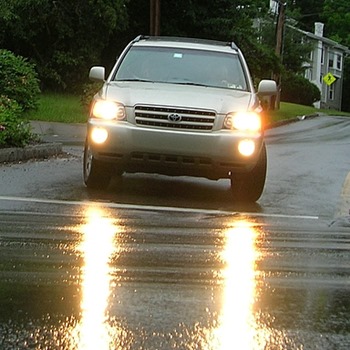 If you're familiar with traditional incandescent light bulbs, you know that they're not very energy-efficient, spending 60 watts and upwards, with some stronger household-use bulbs using 100 watts. A lot of this energy is wasted, which is why the incandescent light bulbs banned in many parts of the world. Unlike the traditional light bulbs, halogen bulbs spend far less energy – anywhere from 20 to 80% less. They typically use around 50 watts. While this number doesn't make halogen bulbs the most eco-friendly option on the market, which is a title that goes to LED, it's a big step up from the traditional bulbs.
2. The Materials
Just like the good, old bulb, halogen light bulbs emit light as electrical power goes through a tungsten wire. The wire heats up and glows, slowly evaporating as the bulb shines away. As traditional light bulbs work, the tungsten wire wears off and leaves black metal deposits inside the glass chamber. However, because the gas that fills halogen bulbs typically reaches higher temperatures compared to the traditional bulbs, the tungsten wire in halogen bulbs vaporizes entirely, leaving no residue. In fact, even if some of the metal doesn't evaporate, it settles back onto the filament, making the filament stronger and helping the bulb last longer. Because of this difference, whereas the traditional bulbs can last up to 800 hours, halogen lights are able to work up to 1200 hours.
There are many differences between the materials used to create traditional and halogen bulbs. The most notable difference is in the gas that fills the glass chamber. While traditional bulbs are usually filled with nitrogen-argon, halogen light bulbs typically utilize bromine, and in the case of some older models, iodine. The gas is contained inside a quartz chamber in the case of halogen bulbs because this material can easily withstand the very high temperatures that the halogen technology reaches. The little bulb does reach impressive temperatures because the gas within heats up easily. Halogen light bulbs can reach up to 500 degrees Fahrenheit. This high temperature allows the tungsten filament to burn very brightly, reaching more than 700 lumens of pleasant warm white light, unlike the cold-color light of a typical LED which is repulsive to look at, even headache-inducing to many people.
Details
However, not all of the energy that the halogen light bulb uses is translated into light. While the temperatures do let the tungsten filament glow brightly, most of the electricity used to reach that temperature only translates to warmth. This means that there's a large amount of energy that doesn't provide light but is wasted away on creating heat. This is the reason why more and more car manufacturers started making new models of their vehicles with another choice of headlights, in most cases LED. However, if you own a car that uses a halogen light, many states judged it illegal to change the type of the light bulb in your vehicle, so it's mandatory for you to keep on using halogen bulbs. The main reason for this is the infrastructure of the headlights and the position of the bulb inside of it.
If a different type of a bulb is installed, the light reflects in unexpected and uncoordinated ways, blinding other drivers coming towards you or not directing the light properly ahead of you. The good news for car owners is that halogen light bulbs are the cheapest option on the market, with a pair of LED bulbs costing even ten times the price of a pair of halogens.
How to know which halogen headlights are compatible with my car?
Once you take a look at any given model of halogen headlights, you'll notice that they all have a list of different connector types they come with. These codes refer to the particular style of a connector that links the bulbs with your car's headlight assembly. All bulbs come with a plastic piece that suits a specific connector style. If you're interested in all the different types of connectors, you can check out the list on this Wikipedia article. If you need to find out which connector is compatible with your car, you should search for this information in your car's user manual, or consult the website of the manufacturer of your vehicle.
Best Halogen Headlight Bulbs Comparison Chart
PRODUCT
DETAILS

SYLVANIA SilverStar Ultra-High-Performance Halogen Headlight Bulb

Price: $$$
Customer Rating: 3.8
Wattage: 65
Dimensions: 1.9 x 6.5 x 5.9 inches
Voltage: 12.8

View On Amazon

Philips X-tremeVision Upgrade Halogen Headlight Bulb

Price: $
Customer Rating: 3.4
Wattage: 65
Dimensions: 4.7 x 4.5 x 1.3 inches
Voltage: 12

View On Amazon

SYLVANIA XtraVision – High-Performance Halogen Headlight Bulb

Price: $$
Customer Rating: 3.8
Wattage: 65
Dimensions: 1.7 x 6.5 x 5.9 inches
Voltage: 12

View On Amazon

GE Lighting Nighthawk Platinum Halogen Replacement Bulb

Price: $$
Customer Rating: 3.7
Wattage: 45
Dimensions: 5.5 x 4.8 x 2 inches
Voltage: 12

View On Amazon

PIAA 15224 Xtreme White Plus High-Performance Halogen Bulb

Price: $$$
Customer Rating: 3.3
Wattage: 55
Dimensions: 2.4 x 1.2 x 1.2 inches
Voltage: 12

View On Amazon

Philips X-treme Power Replacement Halogen Bulb

Price: $$
Customer Rating: 3.7
Wattage: 65
Dimensions: 4.2 x 4.1 x 2.4 inches
Voltage: 12.8

View On Amazon

SYLVANIA XtraVision – High-Performance Halogen Headlight Bulb

Price: $
Customer Rating: 3.4
Wattage: 55
Dimensions: 1.48 x 6.5 x 5.87 inches
Voltage: 12

View On Amazon
Best Halogen Headlight Bulb Reviews
1. SYLVANIA SilverStar Ultra-High-Performance Halogen Headlight Bulb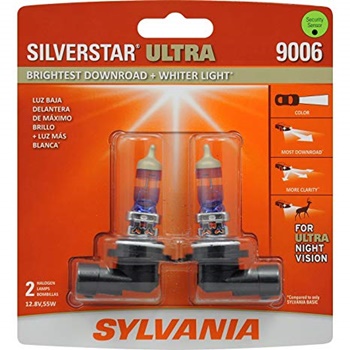 Sylvania automotive is by far the most popular halogen bulb manufacturer on the market, and for a good reason. They produce high-quality products and offer good customer service. One of our favorite products comes from this company, and it's their SilverStar Ultra halogen headlight bulbs. The color of these headlights is remarkably white, although not blue-tinted like HID bulbs.
The color rating is at around 4100 Kelvin which makes them warm white. You can surely find this model with the right connector for your vehicle, as they come in 11 different versions, including H1, H7, H11, H11B, H13 (sometimes labeled as 900
8), 9003, 9004, 9005, 9006, 9007, and 9012, which makes them compatible with a variety of different cars and trucks. This headlight model flaunts above-average brightness, and at 65 watts, there's a reason for that.
The bulbs are very bright and they let out a clear, white light that reaches far and wide. However, the increased brightness comes at a cost, so these bulbs are not very long-lasting, with the manufacturer estimating the work-life at 145 hours. Their higher price makes and low life expectancy makes them an expensive pick, but they make up for it with high light brightness and lovely white color uncommon for halogen bulbs.
Pros
Very bright and clear light that reaches far down the road and widely to the sides
Their color is very close to white for improved clarity, rating at 4100 Kelvin
Cons
The low life expectancy of only 145 hours
2. Philips X-tremeVision Upgrade Halogen Headlight Bulb
One of the largest electronics manufacturers in the world, Philips, also has a great offering of headlight bulbs that you should check out. One of the best value choices is their X-tremeVision line. With very good beam performance of these lights, you'll be able to see farther than ever before. You'll be able to do that without wasting electricity, as you can get above-average brightness for an average wattage of 55 watts. However, even though the beam reaches far, some users feel they aren't bright enough, so we recommend these headlights to drivers who don't drive on badly lit roads often.
These headlight bulbs have a pleasant warm white color that ranks around 3400 Kelvin, which is warm, but not as yellow as standard halogen bulbs. Remember – the whiter the light, the better visibility of road signs so this is an important factor to consider. When it comes to durability, the manufacturer promises good performance for these bulbs, estimating around 400 hours of work life.
However, one of the best things about these headlights is their low price, which combined with their high quality leaves us with great quality to price ratio. These bulbs come with somewhat lower compatibility, covering nine types of connectors, among which are 9003, 9004, 9005, 9006, 9007, H13 (sometimes named 9008), H1, H7, and H11.
Pros
Good durability at an estimated 400 hours of work time (longest lasting halogen headlight bulbs)
Very affordable with great quality to price ratio
Cons
The far-reaching beam light might not be bright enough for very dark roads
3. SYLVANIA XtraVision – High-Performance Halogen Headlight Bulb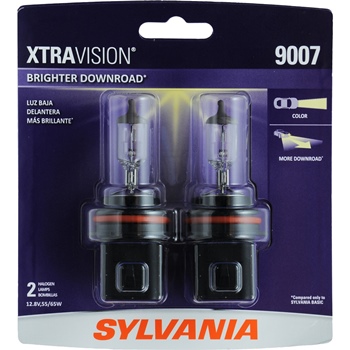 Sylvania is by far the most well-known manufacturer on our list, and our next pick comes from this famous company. XtraVision is one of their most popular models because it's a good pick for very little money. In fact, this is one of the cheapest models on our list, and it still provides good quality. The main selling point of this model is its enhanced visibility that can reach far down the road. Additionally, even reaching longer distances, these bulbs don't have any extra glare, helping both you and incoming traffic stay safe. Their color is pleasant, warm white running at 4100 Kelvin.
However, the additional brightness does come with a bit higher electricity usage, as these bulbs take 65 watts to run, slightly above average for halogen headlights. Another downside of these bulbs is their low durability, as their life expectancy is only 125 hours as stated by the manufacturer. Luckily, they come at a very low cost, so they even cost less than average if you replace them more often.
You don't need to worry about compatibility either, as you can get a pair of these ready for 9003, 9004, 9005, 9005XS, 9006, 9006XS, 9007, H1, H11, H13 (sometimes referred to as 9008), and H7 connectors.
Pros
A very affordable set of bulbs that have good performance
Good light clarity and brightness, reaching far down the road
Cons
Very low durability, as the estimated work life of these bulbs, is 125 hours
4. GE Lighting Nighthawk Platinum Halogen Replacement Bulb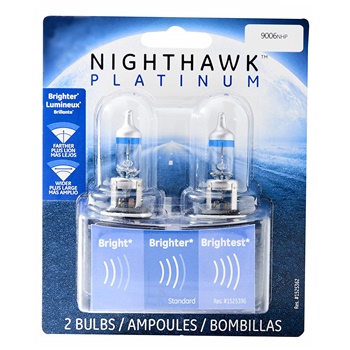 Our next pick comes from perhaps the most famous American electric company, General Electric. For our list, we chose one of their popular Nighthawk models, a set of very good halogen headlight bulbs. This set is a great choice for anyone looking for fairly bright headlights that reach far and wide – with improved brightness, these bulbs light the road in front of you quite well.
However, doing so, they are still the most eco-friendly pick on our list, running at only 45 watts, which is considerably lower than average. Though quite bright, the light these provide is a shade of yellowish-white that's quite common for halogen bulbs, running at around 3600 Kelvins.
When it comes to compatibility of this model, they're a safe pick for anyone who owns a car with one of these seven connector types – H4, H7, 9003, 9004, 9005, 9006, and 9007. Sadly, they don't have a very long life, and they're only expected to last 125 hours. Overall, these bulbs provide a solid balance of quality, brightness, eco-friendliness, and price, so we recommend them as a good pick for anyone.
Pros
Eco-friendly halogen bulb that only uses 45 watts of power
Great for those who enjoy warm, yellowish light
Cons
Low life expectancy at only 125 hours
5. PIAA 15224 Xtreme White Plus High-Performance Halogen Bulb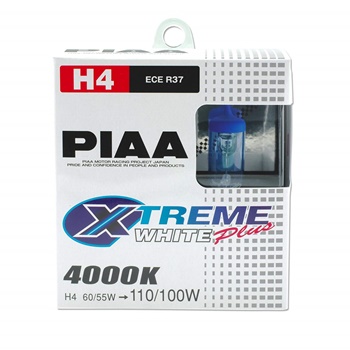 Even though the Japanese PIAA is not a very widely known company, we decided to include one of their products because of its great performance. Even though this product has a rather high price tag, we recommend it for its good specifications.
First of all, these bulbs are made for maximum energy efficiency, and they use an average of 55 watts of power to output an equivalent of 110 watts of light. This gives you great visibility, a light that helps you see far down the road and keeps you safe even in misty and rainy weather. The light these bulbs emit is rated at 4100 Kelvin, which is whiter than standard halogen bulbs and gives a warm white light. However, the quartz glass of the bulbs is painted blue, so the resulting light has a nice, cool hue.
You can find these bulbs with a plethora of different connectors, including 9004, 9005, 9006, 9007, H1, H10, H11, H11B, H13 (also referred to as 9008), H3, H4, H7, H8, and H9. As you can see, this product can be used on almost any halogen headlight base. You can expect to get around 500 hours of work time from these bulbs, so they're a good choice if you don't want to worry about replacing lights every couple of months.
Pros
Very high-quality product that is compatible with many different vehicles
Extreme brightness that matches a 110-watt bulb
Cons
This product is quite expensive, but you do get high-quality and reliability for the price
6. Philips X-treme Power Replacement Halogen Bulb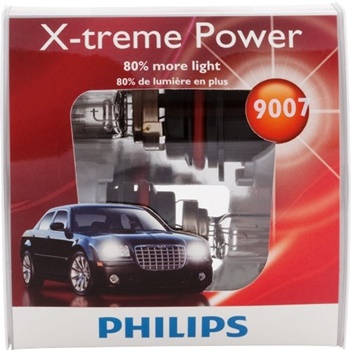 Our next pick is another model made by the legendary Philips. Their X-treme Power halogen headlight bulbs are one of the mid-range products on our list price-wise. They are currently only available for 9007 and H7 connector styles. If these bulbs suit your vehicle, we recommend them as a great choice if you're looking for a good price to quality balance.
These bulbs are expected to last around 250 hours, which is much more than some other bulbs on our list which are even more expensive. On the other hand, this model by Philips is a rather bright halogen bulb, which can illuminate the road ahead with almost 80% more light than generic halogen light.
The illuminating power they have comes from slightly above-average power consumption, which is at 65 watts and 12.8 volts. These halogen bulbs have a pleasant warm white color, and they shine at 4100 Kelvin.  Overall, they are a great choice for anybody looking for a solid product that's worth its price.
Pros
A well-made bulb that shines bright and illuminates far down the road
Lasts longer than most models with a life expectancy of over 200 hours
Cons
Only available for two connector styles – 9007 and H7
7. SYLVANIA XtraVision – High-Performance Halogen Headlight Bulb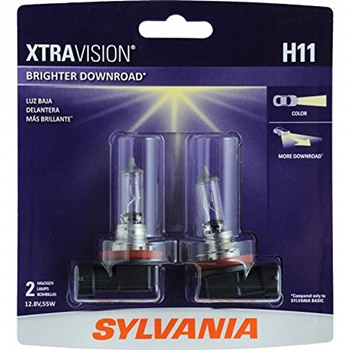 Our next pick is yet another Sylvania product – this time a nice, affordable pair of headlight bulbs. In fact, this is the most cost-effective pair in our reviews.
XtraVision bulbs offer good performance in terms of illumination. They have a solid range that reaches far off into the distance. However, we'd prefer a bit more coverage side-to-side. At 55 watts, these bulbs offer good performance in terms of illumination. They also have a pleasant warm white color that tops at 4100 Kelvin. You will also be able to use these bulbs for a longer time, even compared to the more expensive Sylvania models.
While brighter models by this company last about 140 hours, the manufacturer estimates the work-life of XtraVision to about 240 hours of work time. This makes them very durable, which is a great deal when you consider that they're the least expensive model on our list. These bulbs are available for many different connectors, including 9003, 9004, 9005, 9006, 9007, 9012, H11, H11B, H13 (sometimes referred to as 9008), H1, and H7.
Pros
Good durability of around 240 work hours
The most affordable model on our list
Cons
Not very bright, especially on the sides
Types of Car Headlights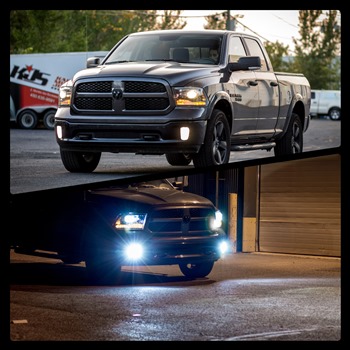 Headlights make our lives so much easier – just like indoor lights, they allow humanity to break out of our natural limitations. Driving in the evening shouldn't be dangerous, so headlights are arguably one of the most essential parts of your vehicle. The type of headlights your vehicle uses is also a big part of your overall driving experience, mainly because there are such large differences between the different kinds of lighting for cars.
However, it's important to remember that even if you'd prefer to use a different type of a headlight in your car, in many states, it's illegal to use the light bulbs which were not intended for use in your vehicle. Using the wrong kind of light bulbs in your headlights can cause dangerous blind spots ahead of you, or create unplanned reflections and glare that can daze and blind drivers coming towards you.
With that said, let's take a look at all the different types of bulbs that car manufacturers install into their models, their advantages and disadvantages, and see how the type your car utilizes compares against the others.
1. The Three Famous Types
The three most commonly used types of headlight bulbs are halogen, LED and HID bulbs. There are many differences between the three – to the point that the only similarity is that they all produce light which is bright enough for use on the road.
The three types of headlight bulbs work on fundamentally different levels, and, as you can imagine, also give out light of different quality, brightness, and strength.
Halogen bulbs are the oldest of the three, and they are the most widely used, to a large extent thanks to their low price point. Even though they waste a lot of electricity, halogen bulbs are in fact the industry standard to this day. However, manufacturers have slowly begun shifting towards LED in recent years, because of their power efficiency.
However, the best LED headlights are still too expensive to make, so many manufacturers and drivers shy away from making such an investment.
Finally, HID – short for high-intensity discharge, are the second most popular choice because they provide a good balance of price and quality, even though they come with some issues of their own.
2. Durability and Price
The three types of headlight bulbs have vastly different durability, which is reflected in their price points as well.
Halogen headlights typically last the shortest time, and they're able to provide you with around 1000 hours of reliable lighting. They are also the cheapest to replace, so they are the go-to choice for most people and manufacturers.
On the other hand, the mid-priced HIDs last somewhat longer compared to the basic halogen bulb. In general, HIDs have durability of about 2000 hours. They are moderately priced, and a popular alternative for halogen lights.
Finally, LED, short for light-emitting diode, are the most promising choice of headlights because they can last an incredible 25000 hours of work time. This is more than ten times longer than any headlight technology we ever had. However, this durability comes at a price – in this case literally, LEDs are still somewhat expensive to make because they require their own cooling system.
3. Light Intensity and Color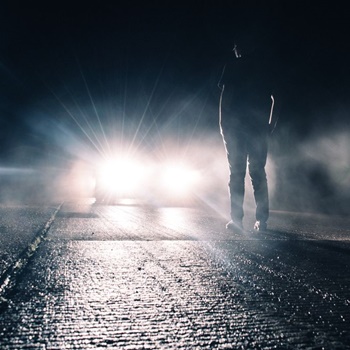 Another factor that separates the three different types of headlight bulbs is their intensity and color. When it comes to headlights, it's important for them to emit light that's consistently intense into the distance – it's not a good thing if headlights shine too brightly right in front of the vehicle and too dimly far away. On the other hand, headlights are made in such a way to glow both straight ahead and to the sides of the car as well. The light doesn't only need to be intense and consistently bright, but it must never be too unpleasant to look at. Your headlights do, after all, shine very clearly towards the oncoming drivers, so it's important to have courtesy towards others and stay on the safe side with a light that's easy to look at. When it comes to light intensity and color, the three types of headlight bulbs also have great differences.
Halogen lights generally give off the most beautiful, soft glow which is of warm yellowish color. The resulting light is fairly evenly cast across the field of view, and this type of bulb rarely causes blinding glare. Halogen lights cast around 1400 lumens, and at the distance of 7 feet, they emit somewhat lower light at 180 lux, offering sufficient but not amazing visibility.
3.1. How other light types compare
The best HID lights are loved for their extraordinarily even coverage of the field of view and good side illumination, but they're notorious for their very harsh blinding glare. These bulbs shine at 3000 lumens, and when it comes to illuminating elements in the distance, they perform fairly well at 230 lux. The color of HID bulbs is cooler than halogen, but not painfully blue.
LED lights are notorious for their very cool, bluish light, but they're still a very popular choice for their illuminating power at low electricity, generating 100 lumens per every watt they spend. Their side coverage rivals HIDs, and they throw light far away, resulting in above-average lux reading of 420 measured at 7 feet away. LED is a very useful type of light to use because it offers above-average road sign illumination, and it rarely causes road blindness in oncoming drivers unless it's improperly installed, or installed into the domed headlights that are intended for halogen bulbs.
How to Install and Adjust Halogen Headlights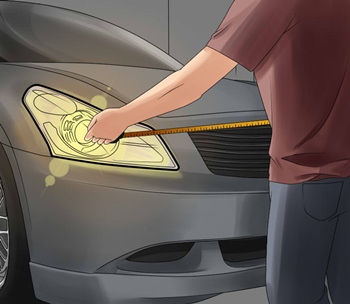 Halogen headlights are inexpensive and quite durable. However, to get the most out of a pair you get, you need to install it properly. Incorrect installation may cut the life of your bulbs dramatically or cost you a lot of time and frustration. Still, the installation of halogen headlights is rather simple and very easy to figure out once you pop your hood open and see the system for yourself. To make the process even simpler, you can read our installation directions beforehand.
We recommend also taking a look at your car model's user manual. If you don't have a hard copy at home, you can easily find one by searching the car model manual online. Consulting the user manual will give you more precise information for your specific car, and we recommend that because we can only give general information here. Still, replacing headlight bulbs is one of the easiest maintenance tasks you can do on a car, so it's not a big deal if you can't find your car's user manual.
What You'll Need
Replacing headlights is quite simple. However, you must have latex gloves, or a clean microfiber or paper towel to do the job properly. Halogen bulbs should never be handled with your bare hands, because the grease that naturally appears on your hands can easily damage the sensitive quartz glass, cutting the life of your lightbulb dramatically. Always handle the bulb with your hands covered, and if possible, try to only touch the plastic base of the bulb, avoiding the glass itself.
Other than the gloves or a towel, you may need to prepare a screwdriver or another straight, long stick that can help you remove the metal clip that may hold your headlight system in place. Not all cars utilize this system, so there may not be a need for this. Still, it's handy to have a screwdriver nearby if you find out you need it.
1. Locating the Components
Always turn off your car completely before replacing your headlights.
Once your car is off, pop the hood open and locate the wiring which leads to the electrical socket plugged into the bulb assembly.
2. Unplug the Connector
Some connectors are secured by rings that unlock by twisting – usually counterclockwise. On the other hand, the connector may be secured by a small catch you should press down while pulling the plug. Finally, it may be held in place by a small metal clip that pulls off. It might be easier to reach and unfasten the metal clip with a screwdriver.
3. Pull Out the Bulb Assembly
Pull out the entire assembly that comes out. You can then easily unscrew and remove the old bulb, and replace it with a new one. It's a good idea to have the replacement bulbs ready before you pull out the assembly. We recommend opening the bulb box beforehand as well. That's advised because you don't want to have moisture and dirt building up inside your headlights while you're struggling with the box.
At this point, you may get help from the best headlight restoration kits before you go on with the process.
4. Replace the Bulb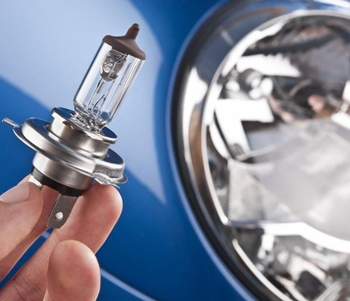 Remove the old headlight bulb. Before you grab a replacement bulb, put on latex gloves or use a towel to handle the new bulb. The glass of halogen bulbs is very sensitive, and simply getting in touch with some of the grease that human fingers naturally secrete can damage them. Make sure you avoid any contamination by wearing gloves and handling the bulb at its plastic base.
Before you install the bulbs, take a good look at the replacement bulbs to ensure that its filaments are in place. You can do an immaculate job and still end up frustrated if the bulb itself doesn't work.
Always replace halogen bulbs in pairs. Lightbulbs typically dim over time, and it's not a good idea to have mismatching headlights with one brighter than another. It's not only distracting to you and the incoming traffic, but it can also cause optical illusions, and skew your perception of distance.
5. Reassemble
Once the new bulb is secured into the base, put it into the headlight assembly, and reattach the connector. Make sure everything is sealed tight and back in place. Test your headlights, and if necessary, adjust them. You should adjust your headlights while they're on, 25 feet away from a wall onto which you're projecting the halogen projector headlights. Adjust them by rotating the adjusting bolts or screws, which are located at the top of the headlight assembly. You may need to remove the headlight trim ring to access them.
FAQ About Brightest Halogen Headlight Bulbs
1. Which type of headlights should I choose for my car?
The answer to this question in the most part depends on the specific model of your vehicle. The most important thing you need to figure out before you can buy a good pair of headlights is the type of bulbs you need – halogen, HID or LED. It's possible to install a different type of bulbs that aren't intended for your headlights, but we highly discourage that because even the slightest mistake in conversion can cause serious consequences. In fact, some states forbid this type of conversion by law. It's best to stick to the type of bulb that your manufacturer intended. The easiest way to find out which type of headlight bulbs you should choose for your vehicle is to look in your user manual or to search for this information on the website of the car manufacturer.
2. What should I do if I accidentally touch the bulb during installation?
While installing halogen bulbs, it's of utmost importance to avoid touching the bulb glass with your bare fingers. We strongly advise you to wear rubber gloves or use a paper towel while handling the bulb itself, as this will ensure proper function and longevity of your headlights. However, accidents do happen, and if you've touched the glass there's no turning back. The best course of action in this situation is to gently put down the bulb, grab some rubbing alcohol and a microfiber or a paper towel, and clean the bulb thoroughly with alcohol. Continue handling the bulb with rubber gloves on. Don't turn on the bulb until it's completely dry.
Wrap Up
Headlights help you navigate the roads without fear of colliding. In fact, headlights are one of the most important parts of the car, and a failure in this part of your vehicle can have dire consequences. Because of that, it's essential to choose a solid, reliable pair of lights that won't let you down when you need them the most. Choosing the best halogen headlight bulbs is not an easy task, yet it's crucial to find a good pair for all of your driving needs. That's why we're here! To help you find a perfect pair, we bring you unbiased and honest halogen headlight bulbs reviews that you can trust.
If you have any questions that we didn't cover in our buying guide and reviews, please feel free to leave us a comment below! We'll make sure to respond as soon as possible. Safe travels!