This article's purpose is to help you choose the best HID kit for your vehicle. If you have stock headlights installed inside your car, the chances are that those are halogens and that their performance is average at best. Upgrading your headlight set will bring more than just aesthetics to your car. It will raise the overall illumination power of the headlights while giving the car a fresh and new look.
After all, the more you know, the better. We will guide you through everything you need to know about HID light, and we will provide HID conversion kit reviews for you to consider before making the final decision. Without further ado, let's dive into the subject!
See The Quick Comparison Chart
Advantages of HID Kits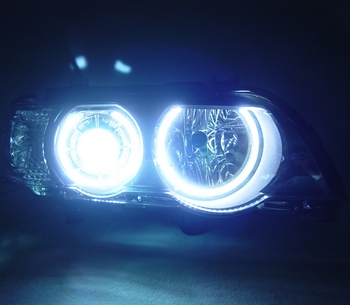 As you have seen, the competition between HID and LED headlights is fierce, with both bringing something else to the table. Generally speaking, you will be satisfied with both HID and LED, but the devil is in the details, as always.
Xenon headlights were the first ones to stand up to the traditional halogen lighting systems, and they opened the gate for every other system out there, like LED and laser, with reliability and a bunch f features. People that decide to make the swap, and turn to HID instead of halogen, start seeing differences right away.
Now, let's see what kind of advantages and functionalities do HID headlights have to offer.
1. Higher Lumen Rating
The very first thing you are going to notice when you turn your new HID lights on is the giant jump in performance. As we mentioned before, HID headlights are renown for the light they produce. An average set of halogen lightbulbs in a car can reach about 1400 lumens, while a regular HID set provides over 3000 lumens, using a 35 W standard. Right off the bat, the xenon bulb will provide double, if not more (depending on the model).
2. Longer Lifespan
People used to think that halogen headlights last for a long time. We do agree that a maximum of 1000 work hours is great, but we do not agree that it is good enough. HID headlights will for at least 2000 hours, with some models going up to 10000 working hours.
The longevity of a bulb, no matter what type it is, depends mostly on the filament and the cooling system. HID bulbs tend to heat up, yes, but they do not have a solid burning filament inside, as opposed to the tungsten-halogen case. The xenon tube proved to last multiple times longer than the traditional headlight bulb.
3. Efficient Power Consumption
In the last section, we mentioned that HID headlights consume electricity in an unusual way, and now it's time to shed some light on the mystery. This feature is actually connected to their prolonged start-up time of a few seconds.
Halogens and LED headlights are consistent with their power consumption from the moment you turn them on to the moment you no longer need them. Halogens waste a lot of energy, while LEDs are energy efficient. But, the story with xenon bulbs is a bit different, because they require a power surge to heat up. This surge is controlled by the ballast modules, for both safety and power consumption reasons.
The feature lies in the period after the initial heat-up surge. After they reach the operating temperature, HID headlights go into a low-consumption mode and do not need a lot of juice at all. In the long run, this kind of operation has proved to be more energy-efficient than a constant power leech.
4. Better Light Coverage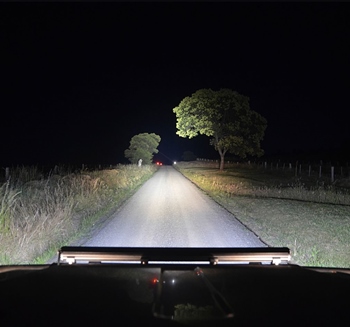 One of the best advantages of HID headlights is their ability to provide broad and evenly-spread illumination, both during the day and nighttime rides. This feature provides comfort to inexperienced drivers while driving through the night, no matter the weather and visibility conditions.
This kind of light coverage provides extra comfort during cloudy days. If installed correctly, HIDs will be the brightest and the whitest headlights you have ever seen. Due to their dominant characteristics of xenon bulbs, in urban conditions, you will not even have to turn on high beams at all.
5. Highest Color Temperature
When it comes to light sources, especially when we are talking about headlights, the light intensity and color warmth can also be measured in Kelvin. Roughly speaking (and avoiding boring terminology), the higher the Kelvin rating, the "whiter" the headlight color.
On this scale, HIDs are known for taking the first spot, with a wide range of color temperatures, from 3000 to 10000 Kelvin. This gives you a wide variety of choices, with the lowest Kelvin option being the "anti-fog," warm and yellow lights, and the highest option being sky blue 10000 Kelvin models.
Due to their extra-strong kick, manufacturers also make filter lenses, to help with light diffusion and glare elimination. After all, you do not want to blind the oncoming traffic, right?
6. The Ability to Combine
In the "Types of HID kits" section, we talked about a combo consisted of both halogen and xenon bulbs. This is considered a welcome bonus, considering that LED cannot be combined with other light sources. If you so wish, you can install HIDs as a high beam or low beam headlights only, which is a common choice of novice drivers, giving them time to adapt to a much powerful light source xenon provides.
If convenience and ease of transition are what you are looking for, HID might just be the best solution for you.
Best HID Kits Comparison Chart
PRODUCT
DETAILS

HID-Warehouse HID Xenon Replacement Bulbs

Price: $
Customer Rating: 3.6
Color Warmth: 6000 kelvin
Wattage Support: 35 and 55 watts
Warranty: 2 years

View On Amazon

RCP – D1S6 6000K Xenon HID Replacement Bulb

Price: $
Customer Rating: 4.3
Color Warmth: 6000 kelvin
Wattage Support: 35 watts
Warranty: 2 years

View On Amazon

Innovited Premium AC Canbus HID Kit

Price: $$
Customer Rating: 4.0
Color Warmth: 6000 kelvin
Wattage Support: 35 watts
Warranty: 2 years

View On Amazon

OPT7 Bullet-R H11 H8 H9 HID Kit

Price: $$
Customer Rating: 3.7
Color Warmth: 5000 kelvin
Wattage Support: 35 watts
Warranty: 2 years

View On Amazon

Sinoparcel D1S Xenon HID Headlights Bulb

Price: $$
Customer Rating: 4.1
Color Warmth: 6000 kelvin
Wattage Support: 35 watts
Warranty: 2 years

View On Amazon

Innovited 55W AC Xenon HID Lights

Price: $$
Customer Rating: 3.6
Color Warmth: 6000 kelvin
Wattage Support: 55 watts
Warranty: 2 years

View On Amazon

OPT7 Boltzen AC CANbus 9012 HID Kit

Price: $$
Customer Rating: 3.6
Color Warmth: 6000 kelvin
Wattage Support: 35 watts
Warranty: 2 years

View On Amazon
7 Best HID (XENON) Kit Reviews
1. HID-Warehouse HID Xenon Replacement Bulbs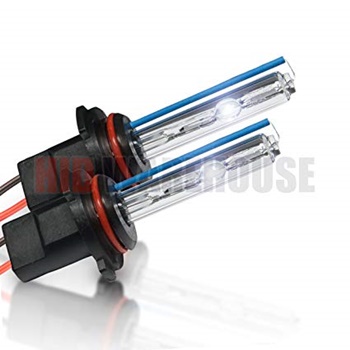 This HID set is one of the most affordable sets out there, and it is made for both new users and experienced drivers. The manufacturer made a broad spectrum of colors you can choose from, though light white/blue are most popular by far.
Keep in mind that this is only a set of replacement bulbs, which doesn't come with ballasts nor additional gear. However, they are compatible with both 35-Watt and 55-Watt systems, so it should be relatively easy to connect them to your car.
The primary model color is rated at 6000 K, which is optimal for versatile drivers, but not so good in foggy road conditions.
Pros
Affordable HID bulb replacement kit
Has the most natural 6000 K light temperature, made for both night and day car rides
The system supports both 35 W and 55 W ballasts
Cons
Doesn't come with the ballasts, but can be used on standard, preinstalled ones
If you plan on having fog blubs, you will have to install an additional pair with a lower Kelvin rating.
2. RCP – D1S6 6000K Xenon HID Replacement Bulb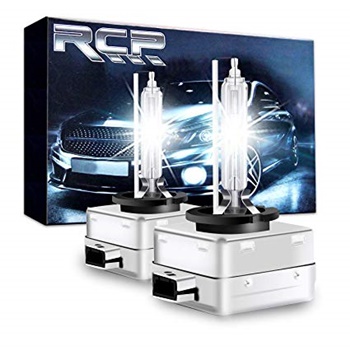 The RCP xenon replacement bulbs are made for people that spend some time driving through rough weather conditions because they made the bulbs extra-resilient, shockproof and waterproof. These bulbs are pretty easy to install, so anyone can just get them, and the rest is just "plug and play."
Even though we are talking just about a set of HID replacement bulbs, the manufacturer had convenience in mind and made them compatible with a 35 W system only (both for AC and DC). This essentially means that the bulbs consume less energy and that they will last longer on a lower wattage.
The color of this HID headlight set is diamond white, rated at 6000 Kelvin.
Pros
Heavy-duty housing, making the bulbs shockproof and waterproof, which is ideal for people that drive in rough weather conditions.
The diamond white color is neutral and can be adequately focused, so it doesn't bother oncoming drivers
The system works on a lower wattage rating (35 W) and consumes less energy
Cons
The bulb set doesn't come with its own ballasts, so you will have to provide them
If you prefer having a 55- Watt set inside your car's headlights, this might not be the model for you.
3. Innovited Premium AC Canbus HID Kit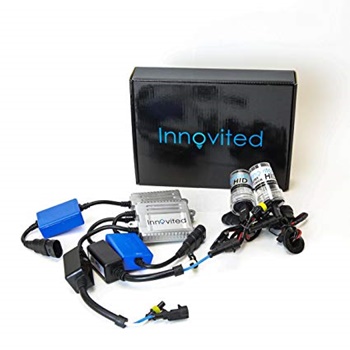 Here we have an HID conversion set made for those first-timers, or simply people who want to replace their old xenon system completely. They are also famous for lasting longer than the similar models from the same class, with a 5500 hours life expectancy.
This HID conversion kit operates on a lower wattage rating of 35 Watts, making it consume less energy than the 55 W counterpart. It also comes with all the necessary wiring and a set of 2 Canbus ballasts to help the set warm-up.
When it comes to color temperature, we are talking about a bright white color, rated at 6000 Kelvin. The system can operate on both AC and DC.
Pros
The set comes with all the wires and cables necessary to perform the switch from halogens, and other sets as well
This particular xenon set is made to last longer than average, with a minimum of 5500 hours of operating time
Even though it works on 35-Watt current only, it supports both AC and DC inputs
Cons
There is no option to attach the HID set to a 55-Watt system.
Some users report that this bulb set goes a bit over 6000 Kelvin, so beware of the extra glare.
4. OPT7 Bullet-R H11 H8 H9 HID Kit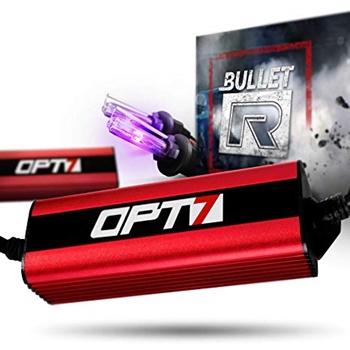 This particular OPT7 HID conversion set is a little different when it comes to the overall design and light approach. The housing is smaller than the average set has, and it is built of heavy-duty materials. This makes them suitable for various situations, especially for drivers that drive through rough weather.
Being that this is a complete set of bulbs, ballasts, and cables, all you need to do is unhook the old system. This one will be ready in ten to twenty minutes because the installation process is minimal and "plug and play."
The color of the default set clocks at 5000 Kelvin, making it less bright white, and more similar to natural sunlight. This feature makes the HID set great for urban drivers because the natural color does not bother people around you.
Pros
Modern and compact design combined with heavy-duty materials
The whole set is a high transitional point if you are switching from halogens
The primary model is rated at 5000 Kelvin which is considered more natural and more comfortable on the eye
Cons
Supports only a 35-Watt circuitry, but comes together with necessary ballasts
The smaller frame of the bulbs' housing can make them somewhat more complicated to install
5. Sinoparcel D1S Xenon HID Headlights Bulb
Sinoparcel made a replacement xenon bulb set to help you refresh the look of your car's headlights in no time. Keep in mind that we are talking about just an HID headlight bulb set, not the whole package with the wiring and the ballasts. Nevertheless, if you are looking to transition from your old HID, this xenon set is an excellent choice.
The housing for the bulbs is shockproof and waterproof, which makes them the right choice for people that are afraid of overheating. Additionally, the bulb has an extra layer of protection and a UV resistant blue tube that reduces ultraviolet radiation, making the bulbs safer and prolonging their life span.
The color temperature of the standard set is rated at 6000 Kelvin, which is a bright white color located on the natural spectrum. The bulbs work on a 35 Watts of wattage rating.
Pros
Affordable replacement HID bulbs that best fit into an already existing xenon system
UV protection makes the bulbs safer to use and prolongs their life span
The housing is heavy-duty, built to endure shock and water.
Cons
The set provides the bulbs only, and it is not a complete HID fitting set
Some users reported that the attaching mechanism is a bit clunky, so be extra careful during the installation, and make sure to tighten everything.
6. Innovited 55W AC Xenon HID Lights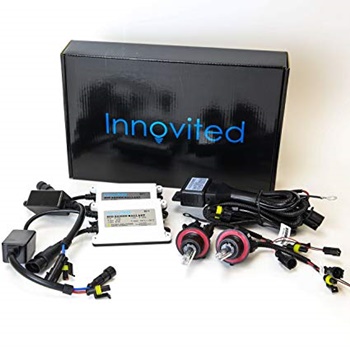 Innovited makes popular xenon sets, both for beginners and experienced drivers. The set includes everything you need to make the swap from halogen bulbs to a fresh new pair of HIDs. The installation process is "plug and "play, and if you read through the instruction manual, you could install both headlights in under 30 minutes.
The bulbs are shockproof, dustproof and waterproof, making them an excellent choice for cars that go through rough weather often. The whole system works at 55 Watts, which is not that common. This kind of arrangement can provide more lighting and stronger performance at the cost of consuming a bot more electricity.
Inside the package, you will find a couple of 6000 Kelvin xenon bulbs, a couple of 55-Watt ballasts, and all the necessary wiring needed to perform the swap.
Pros
A more potent 55-watt system that delivers better performance at the cost of more electricity
Works both with AC and DC
The ballasts are very well made, which is essential especially for 55-Watt kits
Cons
Even though it is stronger than most of the sets, it will consume more energy
Due to the size, some vehicles need professional assistance during the installation process.
7. OPT7 Boltzen AC CANbus 9012 HID Kit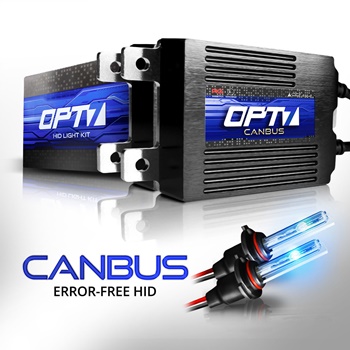 The OPT7 crew has a lot to offer in the field of xenon lighting, covering a wide range of sizes and car model headlights. Their HID fitting sets are famous for the ease of installation and for the compact design.
The housing of the bulbs is made of aluminum, which prolongs their life span by allowing faster cooling. Additionally, the casing is waterproof and shockproof, making them a convenient choice for people that ride through bad weather and on nasty roads.
When it comes to color warmth, these white-blue xenon bulbs are rated at 6000 Kelvin, and they work on all 35-Watt systems. The OPT7 system has 35% more efficient bulbs, which will last you longer without draining the car battery.
Pros
The set has HID bulbs that consume less electricity on average
OPT7 has one of the most convenient "plug and play" sets, and this one is particularly easy to install
The ballasts will fit into most models due to their smaller frames.
Cons
The color that these headlights project is blue-ish, which is illegal in some states
The set is considered to be a bit pricier, compared to other HID sets in the same class.
Types of HID Kits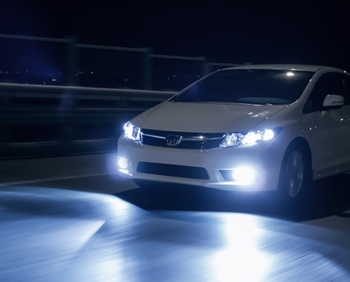 Before we go into the various features HID headlights bring to the table, maybe it would be a good thing to go through the basics of how these lights work. Without getting too technical, of course.
At its core, an HID (or xenon) headlights works as a combination of halogen and neon lighting systems. It has a glass bulb just as a halogen does, but instead of a metal filament inside, an HID bulb has a tube filled with metal salts and xenon. When the electric current starts running through this system, the metal halide salts become excited and create a discharge, which in return gives off light.
This type of illumination gives you the best of both worlds, in a compact form, designed to fit inside your car. But, what kind of HIDs should you expect to stumble upon during this journey? Virtually, we can divide the group into four major types, depending on their position and versatility.
1. The High-Low Light Beam Combination
This is the most common default situation in most cars. We are talking about a combination of a halogen bulb for high beam light, and an HID bulb designated for low beam light. Sometimes, car manufacturers build in this combination due to the potency of HID low beam headlights. If this is the case, you will need a single HID set, with a ballast for each bulb. This particular combination is mostly made for urban drivers, and people who do not have the need to use high beam headlights often.
2. Single Beam Kit
Another fairly common situation is double-up, one kit per beam, system. This can come off as the least affordable version of transitioning to HIDs, but it surely is the most powerful scenario. If you want to have high and low beams singled out, you will need two HID kits, with four ballasts, one for each bulb. The advantage of this HID type is that you can adjust the light, and always have potent xenon lighting, connected separately, thus controlled independently by the car's CPU.
One more advantage of this system is that if a high beam bulb gives up or breaks, the low beam underneath it can take on its role until you fix it.
3. The Bi-Xenon Kit
Bi-xenon bulbs are a sort of a 2-in-1 solution. These headlights are the most versatile and give you the option to switch between low and high beams at any time. In the long run, a bi-xenon kit can be the most affordable, but if one of them breaks, your car is stuck in winking mode until you get to a repair station.
Many drivers think of the bi-xenon system as a perfect entry-point for people that haven't used HID headlights before. However, when it comes to the performance of bi-xenon headlights, there is no significant difference, compared to other xenon bulbs. This set uses four ballasts to work, 2 for each side.
4. The Telescopic HID kit
Lastly, we have the least telescope kit. Similar to the bi-xenon, a telescopic kit can change between low and high beams with a single HID bulb. It uses only two ballasts, but it comes with a downside. Telescopic kits are larger in size, and will not fit in a lot of cars. These HID kits can also have issues with heat dissipation, so they remained popular with experienced users only.
Which Bulbs Are Better, HID, or LED?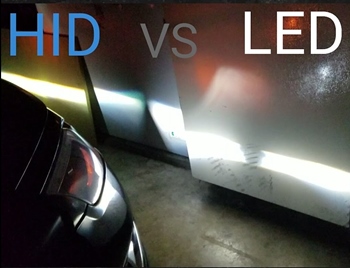 This question can be kind of tricky to answer. The short truth is that there is no unilateral decision when it comes to a superior source of light. We can say with certainty that both HID and LED headlights outperform halogen bulbs in almost every aspect (except price, of course). But if we are to compare illumination performance, we need to go into the details and see what each side has to offer.
1. Brightness
The very first thing we should get out of the way is the fact that HID headlights are the brightest light source out there. LEDs have an excellent illumination range, but xenon lights outperform them easily. Several tests have shown that from a distance of 33 feet, HID bulbs can offer up to 20% better lux rating, compared to an LED set from a matching class.
There isn't a more straightforward way to put it, HIDs will provide more light than both LED and halogen headlights.
2. Wattage
Next, we should talk about power consumption. We all know how halogen bulbs are notorious for their electricity appetite, but that is not the case with HID headlights. If you take that the average energy expenditure of a halogen bulb is around 60 W and that LEDs need 30w or less, the 40 W rating of a xenon set seems fair and generally well-balanced. HIDs do come with a twist when it comes to energy consumption, but more about that later.
3. Working Temperature
The downside of xenon headlights is the heat these bulbs exert. Being the brightest headlights goes hand-in-hand with being the hottest. HID systems can heat up to 520 °Fahrenheit, which is far higher than the average working temperature of LED headlights. But we can also say that people that use halogen headlights very well know that a classic halogen bulb can heat up to 450° Fahrenheit, and that, if you install everything correctly, you do not need to worry about damages.
4. The Lighting Coverage
Another comparable feature between a standard LED set and an HID is a reach produced light can achieve, or light coverage. We didn't even mention halogens in this comparison, because these traditional bulbs cannot even enter the competition. When we are talking about distance, HID takes the cake. Xenon lights are stronger, so they can reach further. But this is also a double-edged sword because HID headlights can sometimes be too strong.
With the most potent HID kits, you need to be careful with high beams, because they can seriously impair the visibility of the cars you are encountering in traffic, especially during night rides.
5. Start-Up Time
One of the main things that bother people considering HID is their start up time. Xenon headlights need a short time period to heat up, using the ballasts which rectify the current. If you stumble upon low-visibility conditions on the road, this can be a problem. After the start period, HIDs will work until you turn them off, with lower consumption.
A vast number of engineers are working on this problem, and the truth is told, the start-up time HID headlights require is getting shorter and shorter.
HID Kit Buying Guide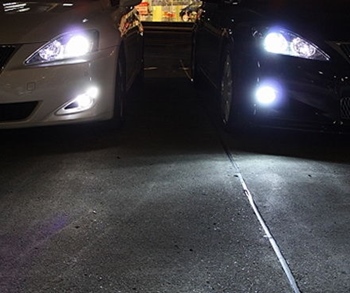 Now that we went through all the critical comparisons, some downsides and a lot of advantages, it is time to see what to expect and how to sort the features you would like to have in your new headlights. There is plenty to go through, yes, but this guide can serve you as sort of a checklist you can use while making the final decision. You will not change your car's headlights often, so why not make it as valuable as possible.
Here are the main characteristics and features you should factor into your decision-making process.
1. Kelvin Rating and Color Warmth
Believe it or not, the color of your headlight set can make all the difference in the world. People often hear about how HIDs are the most powerful when it comes to Kelvin rating, and they decide to buy a set with the highest possible K number. This thought process is wrong, and here's why.
When selecting how "warm" the color of headlights needs to be, firstly, you should think about the way (and time of day) you use your car. If you are a casual "around the town" driver, you should probably consider getting a universal set, which is rated around 6000 Kelvin. This type of rating will emulate daylight, and will not bother other traffic participants.
On the other hand, if you spend a lot of time driving through the nights, or often go on long trips by car, you could consider getting a combination of two sets. Foggy weather is usually defeated by a warm, yellowish 3000 K xenon bulb, usually installed in the low beam position. And to counter the complete darkness of country roads and highways, you can get a high beam HID set, rated between 6000 and 8000 Kelvin, or even higher. The point is, with HID headlights, you have a wide range of choices, from 3000 to a fantastic rating of 30000 Kelvin.
Here is a general list of Kelvin ratings, and how we perceive the color, even though it is mostly white light:
3000K = Yellow
4300K = Bright white/yellow
5000K = Purest white
6000K = Bright white/blue
8000K = Blue/White
10000K = Light blue
12000K = Medium blue
15000K = Dark Blue
20000K = Violet
30000K = Indigo
2. High and Low Wattage Rating
In the case of xenon bulbs, there are two standard wattage ratings: 35 W and 55 W. This usually means that you will need a 35 W or a 55 W ballast to successfully connect the bulbs, and help them start normally.
Now, a 35 W xenon bulb can illuminate the road about three times better than a traditional halogen headlight. If you up to the wattage to 55 W, the performance becomes even stronger. However, in the case of 55 W HIDs, there is a catch we would like to address before you reach for the most powerful option available.
HID headlights that require more wattage to operate have a shorter life span, not due to poor build, but due to the wiring and cables. Wires inside the headlights are usually not that strong and are not made to withstand a lot of loads. If you opt for a stronger, 55W HID set, please be cautious and replace wires that look even slightly damaged. Melting and wild sparks can happen to anyone. Additionally, 55 W xenon bulbs are known to consume more power, so plan ahead.
3. The Convenience of the Installation Process
No matter if you like to spend time around the garage or not, no one wants to waste their whole day on a set of wires and a couple of bulbs. When choosing an HID headlight set, you should always look for a plug and play option. Replacing the old bulbs for new, xenon ones should not be a hassle, and you can probably do it by yourself.
Most models on the market today have a simplified installation process, with color-coded wires, and simple schematic explanations. We will cover the basics of HID installation in the next segment, but for now, we just want to stress out the fact that there are some overly complicated HID sets out there, which brought more trouble than benefit.
4. Check your Vehicle's Model and Headlight Slot
We cannot emphasize this point enough! People make the common mistake of not checking if the new bulb will fit their car's system, and then go through a long hassle of returning their set and replacing it with the adequate one.
Every HID set out there comes in different variations, with each version representing a different car model. Check your lenses and double-check the car model. Sometimes even the year of manufacturing matters.
After you got the car's model correctly, check the wattage of your existing light system, no matter if its halogen or not. This will give you the idea of how strong a new bulb you can put inside. The most common choice is a 35W HID set, but if your car allows it, you can opt for a 55 W version. Just remember that you cannot install a high-wattage bulb on a low wattage system.
5. Ballast Choice
Also, the often-forgotten topics are the ballasts and their role in the HID set. In short, ballasts are the little modules, connected directly to the xenon bulb, which provides the initial high-burst voltage necessary to turn on the headlights. If you are switching between old HIDs and new ones, the chances are you do not need to change ballasts. However, if you are upgrading from halogens to HIDs, having ballasts is a must.
Generally speaking, the choice you will have to make is between AC (alternating current) and DC (direct current) ballasts, as long as you make sure you are getting the same type for the whole system. Both types will do the job, but AC ballasts will certainly prolong the life of your xenon bulbs. That is why AC ballasts come off as a little pricier. On the other hand, a DC ballast is still functional, but the direct electric current is known for being slightly "unstable," so expect your xenon bulbs to last a bit shorter.
How to Install and Adjust HIDs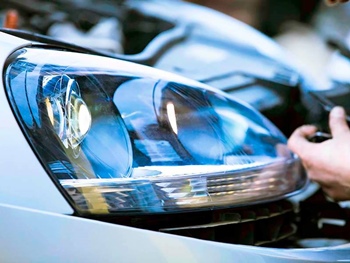 Different HID sets come with their own quirks and puzzles, and there is no one single formula for the entire process. However, what we can do for you is provide you with the general guidelines, tips, and tricks on how to do it in the safest possible way. This instruction is not a replacement for the manual you will get from the manufacturer of the set you chose, but it is rather a nice-to-have addition. We can also recommend using a headlight restoration kit before finishing the process.
Before you get down to business, you should make sure that you got the HID set for your car model. Having the wrong set can costs you a lot of time (and usually money) on waiting for replacements, or a professional car mechanic to do the job for you. As we said before, every HID set model has different sizes, designed to fit as many car models as possible. Do a bit of research and make sure to get the correct set.
Here is a general step-by-step helping guide on how to install your new HID headlight set:
If you got the correct set for your car model, now is the time to read the provided instruction manual. The instructions will usually have a simplified schematic and a list of parts you will need to perform the bulb swap. Do a quick inventory of all the parts, and put them somewhere you can easily reach them.
Get your toolbox, because it is time to get those old bulbs out of the lens socket. If you are switching from halogens, a simple unscrew and untwist will do the job. If you are just refreshing your xenon bulbs, disconnect the correct wires. Some car models require you to unlock the lens from inside the hood, so do not force your way under the lens covers.
Now that you have removed the old bulbs insert the new xenon bulb casing into the designated socket, which is almost always located in the rear end of the headlight box. Avoid excessively touching the glass parts of the bulb, because that can easily lead to damages. Use sensitive cotton gloves if you think that you can't handle the bulbs gently enough.
Get the schematics from the instruction manual out, and connect the ballasts and the wires accordingly. If you are switching from halogen bulbs, remember that ballasts always go between the car electronics and the HID bulbs. Make sure to follow the instructions carefully, because the wiring needs to be done precisely as the manual says.
Connects both headlights, and double-check the cables. Now it is time to test the newly-installed HID bulbs. Check for flickering and make sure that it takes both sides the same time to warm up. If everything goes well, all you need to do is to close the lens protector and make sure everything is in place inside of it.
While testing out the lights, you can also make the position adjustments. By changing the lenses' position inside the housing, you directly change the light spread angle. Make sure to focus the beams to shoot straight and not too wide. Having a wide light angle may feel great, but it can be dangerous for other traffic participants. Do not forget that xenon headlights are one of the strongest out there.
FAQ About HID Conversion Kits
1. What is the legal side of owning an HID headlight set?
You have probably heard stories about xenon lights being illegal in certain states or parts of the world. The truth is, some states took the legal measures against ultra-strong HID kits. The problem with HID is that they can be too strong, or that they can cause a lot of flares that blind the oncoming drivers you meet, especially during the night.
However, if installed correctly, and within a normal color temperature (preferably white or white/yellow combination), HID headlights will not cause any problems on the road. On the contrary, they will help you see better and react to traffic situations better and faster.
People around the world prefer to have fog lights in the HID form. Xenon bulbs that operate under 4000 Kelvin are a great help during foggy days. These are usually legal, even if retrofitted.
The point is: you should always look into picking the headlights within a normal range when it comes to the color strength, and you should also invest time into the fitting and focusing the bulbs correctly. If you have doubts about the legality of HIDs in your area, ask a local car mechanic or a car electrician for further advice.
2. Can I use the old ballasts from an existing HID headlight set?
If you have decided to freshen up and replace your old HIDs for new ones, you can maybe recycle a part of the old gear. The ballast. If the old ballast matches the wattage and the voltage of the new HID bulbs you got, and if they are the same type, there is no reason to go through the hassle of installing new ballasts over again. If there is no damage to the old ballasts, they will do the job of starting your xenon bulbs just the same.
Just pay extra attention to flickering while you test the new HID bulbs connected via the old ballasts. If they work correctly, you got yourself some spare parts.
3. My xenon headlights take a moment to turn on. Is everything installed correctly?
If we are talking about a few seconds of delay time, everything is fine, that is just the way HID bulbs work. It takes a moment for the bulbs to develop the high voltage needed to turn on, and it is nothing to worry about.
However, if the headlights need more than a few seconds to heat up, or they don't turn on at the same time (after a few second's delays), then there might be a wiring problem. The only thing you could do before replacing the headlights or calling a professional is to try and reconnect everything from scratch. Loose wires can sometimes cause the desynchronization of the bulbs (left and right).
Wrap Up
Here we go, everything there is to know about HID headlight kits. There is a lot of info to go through, but it will undoubtedly help you make a valuable decision and get the best HID kit for your 4-wheeled companion. As you probably noticed, HID headlights are powerful and reliable, but they come as slightly pricier. Make a checklist using the knowledge we provided you, and make sure to go through the most popular models in our HID conversion kit reviews section.
Changing the lights on your car is not something you often do, so it wouldn't hurt to learn something about it, and ultimately upgrade your vehicle. If you have any questions or want to add something, feel free to contact us, and we will gladly provide you with an answer as soon as possible.