Having the best jumper cables in your car's toolbox can literally be a life-saver. There is a set of things that every driver must keep somewhere in the trunk of their car. Most countries have a law that binds you to have a first aid kit or a complete set of traffic stop tools (depends on the state). However, there is a tool that we believe should be a must-have when it comes to emergencies. We are, of course, talking about jumper cables. No matter how cautious you are, leaving something on to drain your car's battery is a possibility.
Moreover, after you are done reading and learning how to use this mighty tool, jump over to our jumper cable reviews section, and pick a model that fits your requirements in the best possible way. Let's dive right in!
See The Quick Comparison Chart
How Do Jumper Cables Work and Dou You Need Them?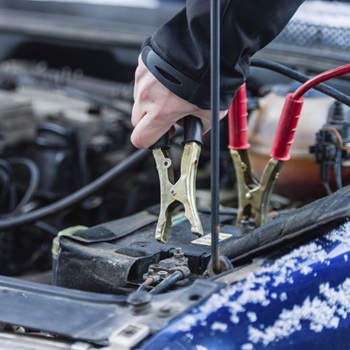 Jumper cables are all about transferring electricity and polarizing a dead battery. This whole process can be a bit too tedious to go through, so we will try to get into the heart of the matter without going full-on technical. To better understand why batteries fail to start your car, and why you need a set of jumper cables at all, we will go into the basics of car batteries.
1. Car Battery – The Basics
Standard cars, and vehicles in general move by burning fuel, which in return combusts with enough energy to start moving the engine, which furtherly moves the wheels, and so on, and so on. However, this process cannot start on its own, and it needs a sort of spark to start everything. This is a task done by spark plugs, and yes, you've guessed it – car batteries.
Now, when a car starts and gas is burned as a fuel source, the battery is not depleting. As a matter of fact, the battery recharges with the electricity made by the engines moving parts. So, a constant cycle keeps the battery alive and well. The end of its life cycle depends on the inner material wear off, but that is a story for another time. Jumper cables, as the name suggests, are there to help the battery do its initial action and start the car.
2. Jump-Starting a "Dead" Battery
Before we even talk about the process of using jumper cables, let us clear one thing – when a battery doesn't start, it doesn't mean that it is dead. It currently doesn't have enough charge to start the car, which is why we need jumper cables in the first place. So, we are actually helping the down battery jump-start the car so that the car can start charging the battery, thus making the cycle complete. The chances are, if the battery is healthy (but won't start), you will have to jump-start it only once.
Besides having a set of working jumper cables, you also need something called a donor. A donor battery is a healthy battery from an operating vehicle. This vehicle donates enough electricity to your battery so it can start the engine. However, keep in mind that the properties of the donor battery need to be similar to your car's dead battery. This includes size and electrical properties, like voltage and wattage. These specs do not have to be exactly the same, and they probably won't be, but they should not differ by a lot either.
So, the basics of jump-starting a dead battery using a donor are hidden in the connecting them. The bridge that connects these two units are jumper cables.
3. Most Common Reasons Why Car Batteries Go Out of Power
If we exclude battery wear and tear, and we assume that the car is working correctly, there might still be a reason for the battery to drain out quickly. The reason is, you've guessed it – human error. Believe it or not, human error is the number one reason why people need jumper cables in the first place. Knowing that we would like to suggest to you to not be so hard on yourself. Instead, let's take a different route and see what kind of mistakes people usually make. Keep in mind that anyone can slip and make an error when turning off their vehicle, no matter how long they've been driving. Novice, advanced, and even pro drivers sometimes make these mistakes.
Here is a list of the most common battery-draining mistakes that can be fixed by a solid pair of jumper cables:
Leaving the lights on – the most common of all causes are the headlights. For example, halogen headlights cause the most battery drain if you leave them on when the engine is turned off. The battery will take on the power source role and drain pretty quickly. On the other hand, we have LED headlight reviews that can show an option that doesn't drain the battery as fast but can drain it all out nevertheless.
Leaving the radio or stereo on – If you like listening to music while you drive, like most of us, you must make sure to turn the music system off once you turn off the vehicle. Generally speaking, car speakers and radio systems do not waste a lot of electricity, but you must remember that the battery is not that big to hold for long.
Internal electronics – Most vehicles are wired to turn on the light once you open the door or the trunk. Now, if you do not close the trunk properly, the inner light of your car will stay on until everything is shut. If you leave this small light overnight, it will most likely drain the car's battery, so you better be prepared to use the jumper cables in the morning.
3.1. Less common reasons
Parasitic drain – small electronics like radio and top-rated car alarms can damage the battery life if not wired properly
Extreme weather – cold and hot temperatures can affect the battery acid, making it conduct electricity slower.
Bad alternator – the alternator is the part of the car that has the role of keeping the battery recharge cycle active and healthy. If you need to use the jumper cables a lot, maybe it is time for a check-up. Take your vehicle to a professional car mechanic, and they will tell you what to do next. Meddling with car batteries is not an easy task unless it is a simple jump-start with a set of jumper cables.
Best Jumper Cables Comparison Chart
PRODUCT
DETAILS

Cartman Booster Cable 4 Gauge x 20Ft in Carry Bag (4AWG x 20Ft) UL-Listed

Price: $$
Customer Rating: 4.8
Length: 20 feet
Gauge: 4

View On Amazon

Energizer 1-Gauge 800A Heavy Duty Jumper Battery Cables 25 Ft Booster Jump Start

Price: $$$
Customer Rating: 4.8
Length: 25 feet
Gauge: 1

View On Amazon

TOPDC Jumper Cables 4 Gauge 20 Feet Heavy Duty Booster Cables with Carry Bag

Price: $$
Customer Rating: 4.8
Length: 20 feet
Gauge: 4

View On Amazon

OxGord Jumper Cables Heavy Duty – 4 Gauge x 25 Ft Long Booster Cable

Price: $
Customer Rating: 4.6
Length: 25 feet
Gauge: 4

View On Amazon

Performance Tool W1667 20′ 4-Gauge 500 AMP 100% Copper All Weather Jumper Cables

Price: $$$
Customer Rating: 4.4
Length: 20 feet
Gauge: 4

View On Amazon

Always Prepared 20 ft 4 Gauge Jumper Cables with Carry Bag

Price: $$
Customer Rating: 4.7
Length: 20 feet
Gauge: 4

View On Amazon

Amazonbasics Jumper Cable for Car Battery, 10 Gauge, 12 Foot

Price: $
Customer Rating: 4.6
Length: 12 feet
Gauge: 10

View On Amazon
Jumper Cable Reviews
1. Cartman Booster Cable 4 Gauge x 20Ft in Carry Bag (4AWG x 20Ft) UL-Listed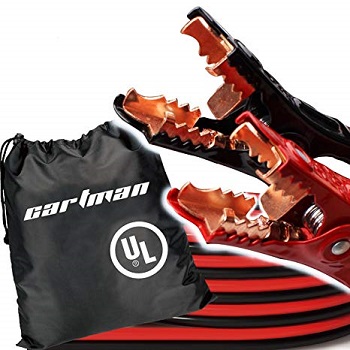 This set of jumper cables from Cartman is a solid pick for regular vehicle owners that like to be prepared for the emergency battery drain on the road. The cables are long enough to support face to face, face to the back and back to back connections. Additionally, this particular set of cables has a few quality of life features installed, both safety and practicality-wise.
The total length of this jumper cable set is 20 feet, which is enough to handle multiple scenarios. When it comes to the gauge, we are talking about 4-gauge wiring inside a thick insulation layer. This set of jumper cables has a patented design when it comes to the inner side of the clamps, which are alligator type. The clamps have a double grip, making the firm and steady for jump-starting.
Pros
The cable has a low-temperature resistance that can handle down to -13° F
Double-grip enables safer and quicker operation with no risk of falling off
The clamps are insulated as well, except for the contact surface
Cons
The cables can get tangled easily if not stored properly
This set is pricier in its class range, which it makes up in performance
2. Energizer 1-Gauge 800A Heavy Duty Jumper Battery Cables 25 Ft Booster Jump Start
You have probably had contact with Energizer before. They deal with all sorts of electronic-related devices and tools, and these jumper cables are proof that they know what they're doing. This set of cables is pricy but trustworthy. Let's see what kind of features do these jumper cables bring to the table.
The length of these jumper cables is above average – totaling at 25 feet. The inside wiring is one of the thickest in this class with the gauge rating of 1, which is considered fast and secure enough to handle a truck-to-truck connection. The clamps are designed in a way that can reach the battery nodes from different angles. The easiest way to connect would be from the top side, or following the sides of the battery. The clamps are also covered in vinyl for rust and corrosion protection.
Pros
Gauge 1 jumper cables that can handle extremely cold weather
The cables are longer than average, with a total length of 25 feet
These jumper cables come with an easy-transport bag for easier storage
Cons
Energizer is a household name, so the price might be a little higher just because of that
Gauge 1 cables are stiff and hard to handle, so a little bit of elbow grease is required
3. TOPDC Jumper Cables 4 Gauge 20 Feet Heavy Duty Booster Cables with Carry Bag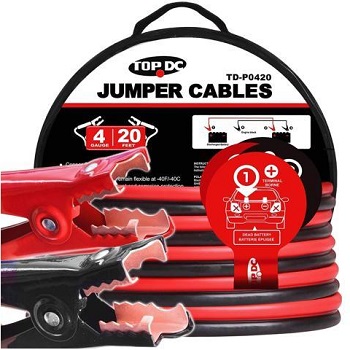 The TOPDC made a jumper cable that is somewhere in the middle when it comes to features. This set of jumper cables they made has a great focus on safety before everything else. The whole is completely insulated, except the contact surface on the clamps. Additionally, it can be used on motorcycles, cars, trucks, and SUVs.
The total length of the cable is around average – 20 feet. The wiring gauge is rated at a gauge 4, which is a versatile gauge. However, this particular set of jumper cables has additional insulation around each wire inside the cable. The clamps are super-strong, making this jumper cable even safer. Materials used for the active part of the jumper cable is copper-coated aluminum, and the outer jacket can operate under freezing temperatures of -40°F. Moreover, you get a convenient bag to store the cables in the trunk of your car properly.
Pros
A good all-around 4-gauge cable long enough to help you reach the donor battery (20 feet)
The whole cable is double-insulated making it beginner-friendly and generally safer
The clamps are super-strong and work in freezing conditions as well
Cons
The clamps take some time to get used to
The provided storage bag is a bit too large
4. OxGord Jumper Cables Heavy Duty – 4 Gauge x 25 Ft Long Booster Cable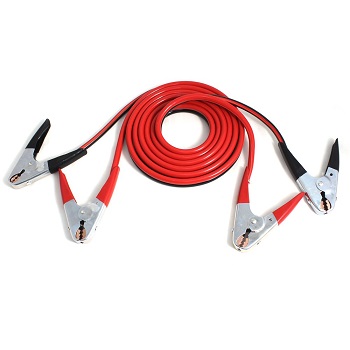 If you are looking for a reliable jumper cable set that has a little more reach than average, OxGord might be the one for you. This particular jumper cable is on the affordable side of things, but do not let that trick you into thinking that it is no good. A large number of SUV owners have this cable as a standard part of the vehicle emergency kit. So, what can you expect if you do decide to get a pair?
This is a pretty much regular pair of jumper cables, with a gauge rating of 4, which makes it great for regular drivers and an ok choice for truck owners. The total length is 25 feet. With a length that is over the average jumper cable, you can reach around the vehicles or do a front to back connection. The insulation is standard. However, there is no complete insulation when it comes to clamps. The clamps are super-strong, made of steel with the contact surface made of copper. You also get a bag to store the cables with ease.
Pros
A great price-to-performance ration at an affordable price
The cables are good to use in a lot of scenarios due to their length and gauge
The clamps are extra strong, and the cable is insulated well
Cons
The clamps are not insulated all the way to the pointy end, so be extra careful when jump-starting your vehicle
Due to their above-average length, these cables tend to tangle a lot
5. Performance Tool W1667 20′ 4-Gauge 500 AMP 100% Copper All Weather Jumper Cables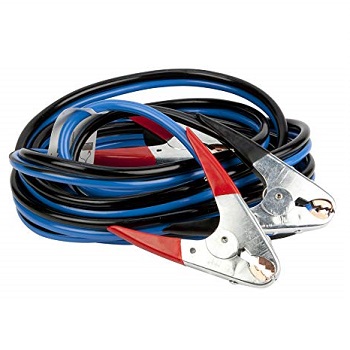 Here we have a well-known set of copper jumper cables. We have a heavy-duty cable model that can tackle any sort of situation with its resilience and versatility. These heavy-duty cables come at a heftier price, but they also bring solid performance along. There is an unconventional spec we found weird esthetically – the cables are black and blue, instead of the classic black and red combination.
At the total length of 20 feet, you will be able to reach the donor battery with ease (or vice-versa if your car is the donor. The 4-gauge cable inside will handle larger vehicles and SUVs while charging smaller car's batteries quickly. The clamps are made of steel, even though the contact surface on the clamp teeth are copper. Even though they are parrot-shaped, their grasp is ultra-strong, thus increasing the overall safety and stability of the clamp.
Pros
A solid set of jumper cables with a lot of insulation
Parrot-style clamps will hold on to the battery nodes tightly, no matter the angle
Strong 4-gauge jumper cable that can handle jump-starting larger vehicles
Cons
The coloring of the cable is somewhat weird – black and blue instead of black and red
These jumper cables are on the pricier side
6. Always Prepared 20 ft 4 Gauge Jumper Cables with Carry Bag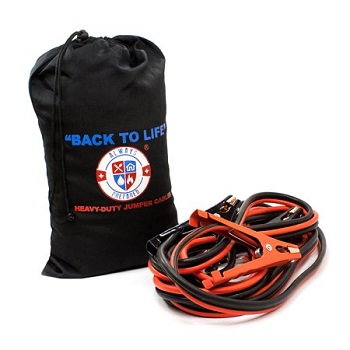 We have decided to put this interesting kit into our choices, thinking that some people like to take the extra safety steps. Jumper cables aside, in this kit, you get a lifesaving multitool and a nice large bag that can be used for storage in emergencies. So, if you are looking to upgrade your emergency gear, this might spark your interest.
Firstly, the jumper cables are 4-gauge, meaning that you will have the option to jump-start larger vehicles and SUVs. The total length of the jumper cables is 20 feet, which is considered standard, and allow you to jump-start in face to face and face to back position. Now, the multitool you get with the cables serves a couple of purposes. On one end, the tool has a small glass-breaking hammer that is used to break car windows or windshields in case of emergencies. On the tool's handle, there is a slot with a knife inside, specialized for cutting the seatbelt material, also for emergency situations.
Pros
A nice set of jumper cables with the gauge rating of 4, capable of handling larger amperage
Comes with a multitool that helps with breaking the glass or cutting out the seatbelt in emergency situations
You also get a larger bag that can be repurposed if needed
Cons
The alligator clamps are smaller than average, but they have full insulation for easier adjustment
Some people do not like the extra gear and multitools. If you are looking for jumper cables only, this set might not be for you.
7. Amazonbasics Jumper Cable for Car Battery, 10 Gauge, 12 Foot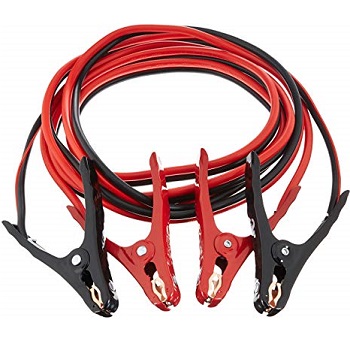 Amazon has its own off-brand line of tools for all purposes. Such is the case with these AmazonBasics jumper cables. They are one of the most affordable out there and are used as a quick fix mainly. That being said, you will not put a lot of strain on your wallet while getting a set of jumper cables to help you out. So, if you have the need to jump-start vehicles often, maybe invest in a stronger set of jumper cables.
With the incredibly affordable price, you get a 10-gauge jumper cable set. This means that they can handle smaller vehicles only. The clamps are fully-insulated for safety reasons, and the total length of this set is 12 feet, which is shorter than average. Being that they're made for smaller vehicles only, you might be able to do a face to back connection, with face to face being easy to connect. Additionally, you get a nice small bag to pack the cables and store them more easily.
Pros
Extremely affordable Amazon brand of jumper cables
Clamps are fully insulated for safety reasons, which is great for newbie users
Convenient storage and packaging bag
Cons
These jumper cables are shorter and thinner than average, so use them with smaller vehicles only
You will need some time to get the hang of the clamps and how to position them properly
Jumper Cables vs. Jumper Starters
Generally speaking, jumper cables and jump starters are both designed with the same goal in mind – starting a dead battery. However, the ways these tools achieve this goal are different. Jumper cables are there to transfer the electricity needed to start the bad battery strictly. On the other hand, we have a jump starter that is a set of one-sided jumper cables with a power source attached to the other side, replacing the healthy battery.
Let's take a moment and compare the main characteristics of these two similar yet different devices.
1. Effectiveness
Essentially, the results of both jumper cables and start jumpers are the same – a drained battery is brought back to life with the goal of starting the car and the alternator process. However, if you have a jump starter, you do not need another vehicle with a healthy battery to donate to the dead battery.
Another point of difference is the strength of the electric current. With jumper cables, the donor vehicle must have a somewhat similar battery to the one in your car. Jumpstarters usually have an adjustable gauge that helps adapt the jump-starting surge.
2. Price
Useful tools, especially ones used in emergencies, should not be expensive, and affordability is often paramount to drivers. When it comes to prices, the difference between jumper cables and jump starters is significant. In most cases, jump starters are several times more expensive than regular jumper cables.
One more thing to remember about jump starters – their built-in batteries also have a life span, while jumper cables have an endless value if you store them properly. So, if you want to get the best for your money, we vote for jumper cables.
3. Safety
Using jumper cables is pretty straightforward – you connect the cable properly (more about that below), and start the process. If you remember to connect the ground clamp, you are safe and sound throughout the whole thing. Jumpstarters are a different story. They have a heavy-duty battery, full of heavy metals and acid that you need to carry in your car all the time. Once they start closing in on that life span limit, these batteries pose a safety threat. The acid can leak out, which is something you definitely do not want, since its highly corrosive and poisonous.
Even though the technology behind jump starters is constantly evolving, small accidents still happen every now and again.
Jumper Cable Buying Guide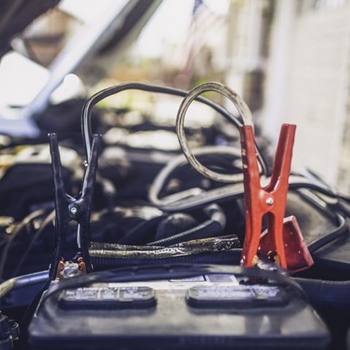 Ok, now that we have covered all of the basics about jumper cables, let's dive into some of the details and factors you need to consider before deciding on a specific set of jumper cables for your car. Even though this particular piece of car equipment is not that expensive, it is important to get a trustworthy set of cables that will not fail at a critical moment. If you want to learn more about car tools and equipment in general, feel free to hop on to our main page and see what kind of gear we tested.
If you really want to get into it, we suggest that you take our guide as a sort of a checklist, and see what kind of jumper cable you want exactly.
1. Gauge
This may be one of the most important points when it comes to the effectiveness of the jumper cables – the gauge. Jumper cables' core part is the wires inside. These wires are designed to conduct electricity from the donor battery to the drained battery without interruption and with minimal loss. Every type of wire has some sort of gauge which limits the conductivity to a degree. A thicker jumper cable gauge translates to a more stable connection, and ultimately a safer connection between the two batteries involved. It affects the speed and stability of the electric current, meaning that a better gauge jump-starts faster.
There is a little trick to it, especially if you are not dealing with wires often – the smaller the gauge number, the thicker the cable. So, ultimately, we have a rule:
Gauges 1 through 3 – these jumper cables are considered to be the best. Gauge 1 and 2 are used in heavy-duty conditions, including trucks and terrain vehicles.
Gauge 4 – this type of cable is slowly becoming a standard for causal drivers, even though they can be considered overkill for regular cars
Gauges 5 through 8 – in the thinner section, we have jumper cables made specifically for normal cars. These are easier to roll and store because they are not as thick and bulky as lower number gauges
Gauges 9 and 10 – while these exist on the market, they should be avoided when it comes to regular cars. Wires this thin tend to be too slow, but in an emergency, they will do the trick as long as you are cautious.
2. Length
There is nothing special about the length of the cable. There is a popular urban myth going around that states that longer cables do not conduct electricity well. This is true if we are talking about miles of wires and cables. In the case of jumper cables, one rule applies when it comes to length – the longer, the better.
Also, bear in mind not to sacrifice gauge for length. Longer cables will need more space in the trunk, so remember to factor that into the final decision before you buy.
3. Insulation
Now, we value safety over everything else, no matter what part of the car we are talking about. Insulation serves that purpose. Insulation is there to protect you and the environment, of course, from the electricity that runs through the jumper cable. It is also there to minimize the loss due to electron starveling a distance. Good insulation means a faster and safer utilization of jumper cables.
Additionally, some manufacturers put an extra layer of polymer protection that will prevent the insulation from breaking due to cable bends and twists.
4. Clamp Type
If you want to get the juice from the donor to the dead battery, all you essentially need is a metal medium. Just threading some wires on the battery + and – nodes is technically enough. Well, because we have the tech to make jumper cables, we have the tech to make the cables stick to the nodes by utilizing clamps. Reliable clamps directly increase the effectiveness and safety of the jumper cables because they make sure everything stays in place.
Always look for a jumper cable that has clamps with extra teeth on both sides. And if you value safety, get a pair of jumper cables with completely insulated clamps. These clamps only have the contact surface uncovered, making sure nothing (and no one) gets buzzed by the battery's current during the process.
5. Metal Material
As wiring goes, the materials used will be either copper or steel. The same goes for jumper cables. We could go into the subtle and not so subtle differences between steel and copper, but when it comes to the results, there just isn't that much difference. In jumper cables, the only thing to note is that copper wires tend to break more quickly, so the life span is a bit shorter. However, even this difference is too small to have a significant effect.
How to Use Jumper Cables?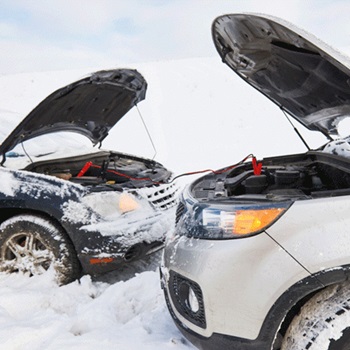 Finally, it is time to talk about the elephant in the room – how to hook up jumper cables? In this short instruction manual, we will talk about general rules that should apply for most vehicles. However, if you have any doubts or want to double-check, we encourage you to take the car's instruction manual or owners' book and double-check everything. The thing is, some car manufacturers have a different sequence order or have the battery weirdly positioned (e.g., under the driver's seat).
For simplicity reasons, we will call the drained battery "dead" and the healthy battery "donor." Also, red color is always associated with the positive + end, with the black color always being associated with the negative end, or -.
The correct jump-starting sequence
Get the cars into a hood-to-hood or face to face position, if possible. Try to get the cars into a position that will allow them the uninterrupted battery-to-battery contact.
Put both vehicles in Park or pull the handbrake up. Open the hoods of both cars and locate the batteries.
Now it is time to connect the cables. Before you do just make sure they are untangled and that the insulation is not penetrated.
So, with both cars turned off, you connect the cables in this order:

First, connect a RED clamp on the red + side of the DEAD battery
Connect the RED clamp on the + side of the DONOR battery
Connect the BLACK clamp on the – side of the DONOR battery
Now, this is extremely important. Take the remaining BLACK clamp and attach it firmly to an unpainted metal part around the hood of the DEAD car. This clamp will act as the grounding line.

With everything connected, start the DONOR vehicle and wait for about 3 minutes.
Now, start the DEAD vehicle.
Remove the cables in the reverse order and you are all set to go.
Once again, things to remember for safety's sake:
RED is always positive
BLACK is always negative
Remember the grounding line rule
After you connect everything, wait for a few minutes before starting the car with the DEAD battery
Disconnect the clamps in reverse order
There is one more safety note on utilizing jumper cables. If one battery is a 6 V and the other uses a 12 V system, they are not compatible to jump-start each other. In this case, you will have to find a matching donor with the correct voltage.
FAQ About Jumper Cables
1. Can the donor car battery be damaged by using jumper cables?
This is a common concern for vehicle owners all around the world. The truth is – it depends. However, in most cases, the donor battery is going to be fine. There can be some voltage surges occurring at the time you start the donor car. That is why it would be best to wait at least three minutes once you have connected all the clamps. Additionally, always check if the grounding clamp is steadily connected to a metal part located as far away as possible from the other clamp.
If you notice that the clamps are getting extremely hot, or that they start to spark, turn off the donor car and disconnect the jumper cables immediately. Most likely, the receiving car with the dead battery has some sort of electronics malfunction. If this happens, consult a professional and do not proceed on your own.
There are scenarios where a jumper cable start can damage the donor's car system. This usually includes some sort of aftermarket stereo equipment or excessive in-car lighting. Parts like these, if not installed properly, may not have surge protection and can damage the donor car battery.
2. Is my car battery dead if I have to jump start it using jumper cables?
While something certainly went wrong if you have to jump-start the battery with a pair of jumper cables, there is no need to panic right away. As we mentioned in our guide, there can be a lot of causes of sudden car battery drain. But, to be sure of the type of situation your battery is in, you can take notes of how often it happens, and try to figure out the reasons behind the drain.
If the reason is human in nature, i.e., leaving car lights or a radio on overnight, the chances are that the battery is still healthy. After the donor battery transfers enough starting power through the jumper cables, the car's alternator will fill it up again in no time. This battery will continue to work regularly as long as you remember to turn off the car's electronics once the engine shuts down.
On the other hand, if you have to use the jumper cables too often, maybe it is time to visit a car mechanic or a town electrician. If the battery inside your vehicle is older, you will probably have to replace it. Just make sure a professional checks the car out because there might be some bad connections or faulty wiring under the hood.
3. Does jumper cable length matter?
Of course, it does. But you should keep in mind that it can be a feature and a hindrance, depending on your situation and car's available storage space. In case you have limited storage space in the trunk, both jumper cable gauge and length represent a nuisance. If the cables are higher-gauge, they require more space because they cannot be tightly rolled up, so a larger box or a bag is what you need.
Additionally, longer cables that are of the thinner gauge are dangerous, especially when you use them with more powerful batteries. If the protective layer is not thick enough, some parts of the jumper cable can melt. So, if you are planning to get a long cable, go as thick as you can afford.
Longer cables have a great side that allows you to jump-start another car with no need to place the cars in a hood to the hood position. So, you sacrifice a bit of storage space to get a greater range.
Wrap Up
And there you have it – everything you need to know about jumper cables, from the basic specs to how to use them. This may be a bit to take in if you are a novice driver, but believe us, having the best jumper cable set at the right time can be a literal lifesaver. Jumper cables do not take a lot of room, they are relatively easy to use, and all in all, a must-have for any car that utilizes a battery to start. Additionally, not only that, you can get a jump start for your battery, but you can help another driver with a battery problem as well. It is a win-win situation.
M make a checklist and decide what kind of jumper cables you want to get. To help you out, we have compiled a list of good picks, over at our jumper cable reviews section.
See also: spark plug reviews