You've probably already heard that having the best spark plugs for your car is paramount! The majority of drivers nowadays are familiar with spar plugs only through the "if it fails, the car doesn't start" types of situations. Car maintenance is essential, and a lot of people are undermining how vital healthy spark glugs are.
As soon as you finish reading our guide, we encourage you to take a look at our picks in the spark plug reviews section. Take matters into your own hand by learning about vehicle maintenance – you'll be surprised by the number of issues you thought were unsolvable. Let's dive into it!
See The Quick Comparison Chart
When to Change Spark Plugs?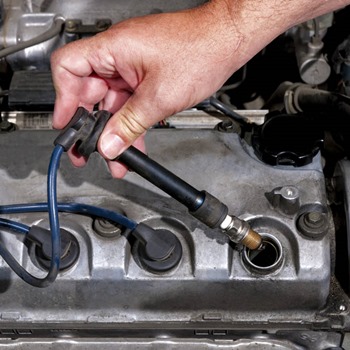 Because the role of spark plugs is one of the most important things inside an engine, there can be a lot of signs of faulty plugs. While they will last you from 15,000 to 60,000 miles (depending on the type), spark plugs deteriorate over time. Let's see how to spot a spark plug (or several) misbehaving. Now, a little disclaimer before we go into this – the following indicators might originate from a separate problem due to the complexity of an engine. If the problems persist even after the plug change, maybe it's time to visit a professional for a check-up.
1. Engine Misfires
We have all had experienced engine misfires. This, mostly, happens with a spark plug that doesn't ignite the air-fuel mixture every time, or not intensive enough. If this occurs, the mixture doesn't burn completely, and the piston is forcing it out unburnt. So, not only that the exhaust gases become worse, but the engine misfires risk hurting the catalytic converter. These parts are not so easy to repair, and come at a high cost, so if you feel the engine misfiring, check the spark plugs as soon as possible.
2. Unpleasant Idling
Car, and gasoline-guzzling engines, in general, have a distinctive sound when they are idling, or as some drivers call it – purring. If this sound becomes rougher and starts resembling a hiccup, the spark plugs may not be doing their job adequately. Rough idling also has a side effect, which is our next point.
3. Poor Fuel Economy
Ah yes, the topic we are all worried about – will my car get better fuel efficiency if I replace and renew my spark plugs. The answer is – absolutely yes!  Spark plugs that are nearing their end are technically wasting gasoline by not completely igniting it. For example, the best fuel injector cleaners will get you some gas mileage, but a new set of spark plugs will make that difference clearly visible. As a matter of fact, low fuel economy is mostly caused by old spark plugs.
4. Bad Acceleration
You remember the days when you stomped that gas pedal and got your whole body glued to the car seat. If there weren't some larger, more significant changes on the engine, the reason for bad acceleration might be worn-out spark plugs or a bad connection to the terminal. Some cars, mostly sports cars, produce a lot of vibrations inside the piston, and this can make spark plugs misfire during high acceleration.
5. Hard Time Starting the Engine
Lastly, we have the most recognizable symptom of faulty spark plugs – difficulty starting the car. Whether it is during the cold days or any other normal day, the biggest tell of old, worn-out spark plugs is the failure to start. This is especially evident when you attempt to start a car after it was cold and parked for more than 8 hours.
Benefits of Changing Spark Plugs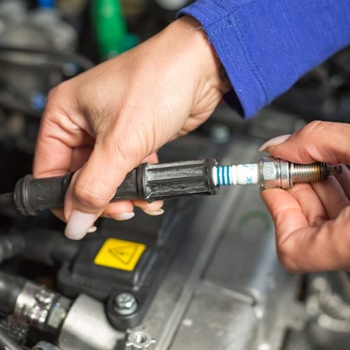 If you read the previous section, some benefits of changing spark plugs are instantaneously visible. When it comes to the fuel-burning process, new spark plugs have the most impactful effect by far. Even a bigger effect than top-rated fuel stabilizers. There are three main benefits from renewing the spark plugs in your car's engine:
Smoother drives and better engine purr – these are the very first things you will notice as soon as you turn the key after the new plugs are inside the engine. The car will start quicker, and as soon as it starts moving, you will feel the more even engine power distribution, resulting in a smoother ride.
Engine maintenance and overall wellbeing – because spark plugs are the ones setting the engine in motion, and by extension moving the car, a lot of engines depends on them. If you keep the plugs in a decent state, the engine will surely last longer between repairs/servicing.
Gas mileage boost – finally, the benefits that everyone feels the most is the fuel economy. By having spark plugs that ignite the engine properly, you can save up to 20% on gasoline, depending on the type of engine, of course.
The benefits of replacing spark plugs on time are much more than these three we mentioned. However, even these three off-the-top features are enough t make anyone reconsider their car maintenance habits.
Best Spark Plugs Comparison Chart
PRODUCT
DETAILS

NGK 5464 BKR5EIX-11 Iridium IX Spark Plug, Pack of 4

Price: $$$
Customer Rating: 4.5
Type: Iridium

View On Amazon

ACDelco 41-993 Professional Iridium Spark Plug (Pack of 1)

Price: $$
Customer Rating: 4.6
Type: Iridium

View On Amazon

NGK 7090 BKR5EGP G-Power Spark Plug, Pack of 4

Price: $$
Customer Rating: 4.6
Type: Platinum

View On Amazon

Champion RE14MCC4 (570) Copper Plus Replacement Spark Plug, (Pack of 1)

Price: $
Customer Rating: 4.4
Type: Copper

View On Amazon

NGK 6619 Iridium Spark Plugs LFR6AIX-11 – 6 PCS *NEW*

Price: $$
Customer Rating: 4.1
Type: Iridium

View On Amazon

Denso (5304) IK20 Iridium Power Spark Plug, (Pack of 1)

Price: $$
Customer Rating: 4.3
Type: Iridium

View On Amazon

NGK (3657) IZFR5K-11 Laser Iridium Spark Plug, Pack of 1

Customer Rating: 4.4
Type: Iridium

View On Amazon
Spark Plug Reviews
1. NGK 5464 BKR5EIX-11 Iridium IX Spark Plug, Pack of 4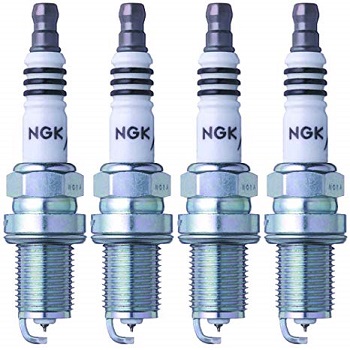 If you ever stumbled upon a car part dealership, you have undoubtedly seen the name NGK. It is a world-renown manufacturer that makes all kinds of spark plugs. Here we have a pack of four iridium spark plugs with some exciting technology inside. While they do make all sorts of spark plugs, using all of the popular materials, this particular set of plugs is aimed towards high-performing vehicles.
As mentioned, the most critical part of the plug is made of iridium. Now, on this spark plug, NGK used a .6 mm laser technology to weld the highly-resilient iridium tip to its place. Iridium can handle a lot of harsh temperatures. Most importantly, it can manage ignition in freezing temperatures together with a high-power engine during the summer. The spark's middle body is enhanced with a triple gasket that prevents gasses from leaking after the gasoline combusts. All in all, this is a highly-durable, trustworthy set of spark plugs.
Pros
A set of highly-durable iridium spark plugs with a laser-welded tip
The plugs have a triple-gasket system that enables a more efficient gas removal from the piston while keeping the plugs in a good condition
Designed to handle high-performance vehicles and their powerful engines
Cons
Being that these are iridium spark plugs, they are on the expensive side
The spark plugs come in a pack of four, meaning that you will have to buy at least another package for a complete change
2. ACDelco 41-993 Professional Iridium Spark Plug (Pack of 1)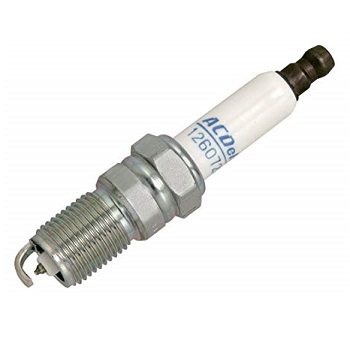 ACDelco is a company known for making car parts for GM vehicles. As you might already know, General Motors covers a lot of vehicles worldwide. This fact is important because ACDelco decided to make these spark plugs to match the exact specifications of the vehicle. So, even though they technically count as aftermarket, they will bring the steady performance that the car manufacturer intended in the first place.
So, this particular spark plug has iridium as its primary material for the most important part – the tip. The strong suit of this iridium spark plug is its one-piece suppressor seal that plays two roles. The first one is combustion gas leakage prevention. The other feature, however, is a bit odd. The suppressor seal helps with blocking out radio signals that can interfere with car electronics. Overall, this iridium spark plug will prove as a trustworthy ally, at a price, of course.
Pros
A spark plug that is built to last. Iridium finely-wired electrodes enable a long-life expectancy and operation hours
Special suppressor gasket system that blocks out excess radio waves and protects the cylinder and the plug from combustion gases
Has a matching model for almost all GM vehicles out there
Cons
These iridium spark plugs come only in packs of 1 or pack of 4, meaning that you will need more packs for a complete change
Lower coverage when it comes to Asian cars
3. NGK 7090 BKR5EGP G-Power Spark Plug, Pack of 4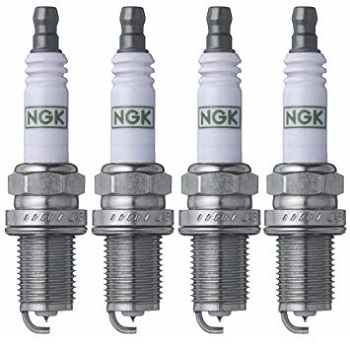 The NGK has all sorts of spark plugs, meeting the requirements of both older and newer vehicles. This particular set of plugs is made with platinum as the central tip material. Platinum is, as you might know, more durable than copper, and similarly durable as iridium, without its extreme heat resilience. So, what does this spark plug set have to bring to the table, or rather the engine block?
Well, to be completely honest, the first thing you will notice is a much lower price compared to the iridium plugs. This does not necessarily mean lower performance. It's just that some vehicles operate better with platinum plugs. Finally, it is a matter of habit for some drivers. As many NGK plugs do, this one also has a triple-gasket system to keep the excess combustion gases from damaging the spark plug or the piston. The central electrode tip is welded with a high-precision .6 mm laser. The spark plugs also have flashover prevention on the insulator.
Pros
Great price to performance ratio
A triple-gasket system that improves the safety of the spark plugs and the engine block
The platinum electrode tip is welded with a high-precision laser
Cons
You might find this spark plugs a bit pricier than the copper ones
The biggest pack you can get is a 4-pack, so more packs might be needed for a complete replacement
4. Champion RE14MCC4 (570) Copper Plus Replacement Spark Plug, (Pack of 1)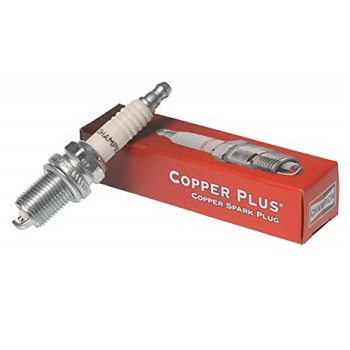 If you are looking for a more affordable option when it comes to spark plugs, consider going down the copper road. People tend to dismiss copper spark plugs because of their price, and those people would be wrong. Regardless of their price, copper spark plugs have some amazing features of their own.
Now, when it comes to the Champion Copper Plus series, there is rarely a copper spark plug that can outrank it. This particular spark plug has several protection systems, like the corrosion resistance layer provided by the seal coated shell. The plugs are up to ISO and SAE standards as well. Moreover, the copper electrodeposition allows for some heat ranging, which is held high in the eyes of DIYers. The life span is shorter compared to platinum and iridium, but some older vehicles accept copper only.
Pros
Ultra-affordable, no matter if you are buying in packs or singles
Electrodeposition allows for some heat ranging, making the spark plug customizable to a degree
This particular spark plug has a corrosion resistance layer which is more than needed on copper
Cons
Generally, copper has lower durability, so you may want to have a few of these as backup
5. NGK 6619 Iridium Spark Plugs LFR6AIX-11 – 6 PCS *NEW*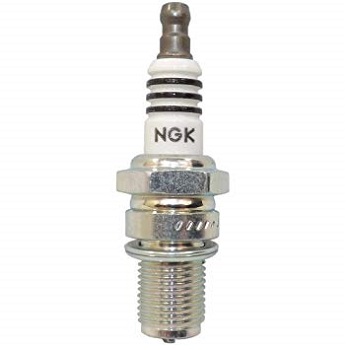 Here we have a large 6-pack of iridium spark plugs from, and you've guessed it, NGK. Since they are making all kinds of spark plugs, this set made into our choice due to its performance and affordability (for iridium plugs that is). Even though the spark plugs are iridium-made, they are low on the price list, which is great if you like to store a few extra spark plugs in your garage.
When it comes to performance and build of these spark plugs, the very first thing you can notice is the triple line of protection on the ceramics. This protection prevents filth, excess heat, and corrosion from gathering on the upper part of the spark plug. The gasket is also reinforced, meaning that it will protect both the plug and the engine block from the excessive gas leakage during combustion. This set of spark plugs is mainly aimed towards high-performance vehicles, but if your car can fit them, why not give it a try (as long as it is ok with the owner's manual).
Pros
Comes in an affordable 6-pack that can be enough for a replacement (depending on the valve number of your vehicle's engine)
Triple protection that prevents all sorts of damage from happening to the plugs and to the engine
A large number of vehicles can fit these into the engine (double-check before you order)
Cons
Even though the pack is affordable, it is still more expensive than copper or Platinum
Some older vehicles may not be able to use this spark plugs at all
6. Denso (5304) IK20 Iridium Power Spark Plug, (Pack of 1)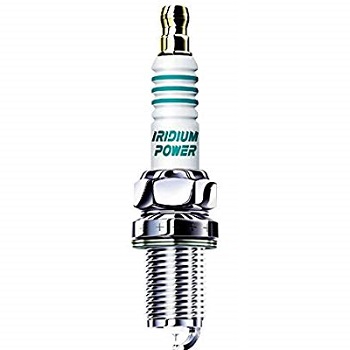 This specific spark plug is known for its incredible durability. Now, we know that iridium is durable on its own, yes, but this spark plug can get over 100,000 miles, as some drivers report. Besides that, knowing that Denso is a leader in welding process innovation, their spark plugs must have something special to bring to this race.
And that is exactly what's happening here. This particular spark plug is welded with a .4 mm laser welder. This is an incredibly tight and accurate gap for a spark plug, no matter the material. This narrow of a gap on an iridium electrode optimizes the firing potential of an engine. This translates to a smoother ride and better fuel efficiency overall.
Pros
A super-precise procedure of .4 mm laser welding is used on this plug, making it accurate when firing
To prevent heat quenching, the ground electrode is cut with a taper and U-groove
This spark plug is exceptionally durable, with a possibility to support over 100,000 miles of driving
Cons
Only comes in a pack of singles
Can be a bit expensive, but it makes it up with durability and performance
7. NGK (3657) IZFR5K-11 Laser Iridium Spark Plug, Pack of 1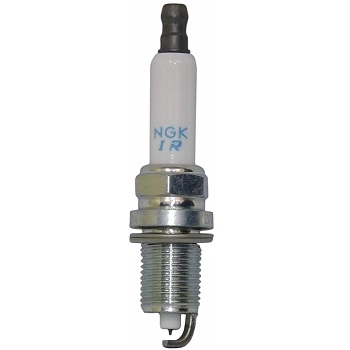 Some spark plugs are more resilient, some are more durable, and some are made for high-performance. This NGK model combines all three in a single spark plug. Even though the gasp is not pushed to the lower limits, this iridium spark plug will last you for years. This is possible thanks to the combination of iridium electrodes and platinum discs welded on the backside of the ground electrode. Technically, you get the best of both worlds.
The iridium part is laser-welded with surgical precision, making sure that it stays there for a long time. The insulation layer is longer for safety and longevity reasons, and the corrugated insulator ribs prevent flashover. The metal plating is trivalent, meaning that it protects from all sorts of damages, like corrosion and seizing.
Pros
Best of both worlds: a central iridium electrode, and a platinum ground electrode
All sorts of protections on the body of the spark plug, like anti-corrosive layers and anti-seizing
Triple gasket enables the gases from the combustion to leave the engine block better
Cons
One of the most expensive spark plugs per unit
Comes only in a single pack, so stocking up is not an option
What Are Spark Plugs?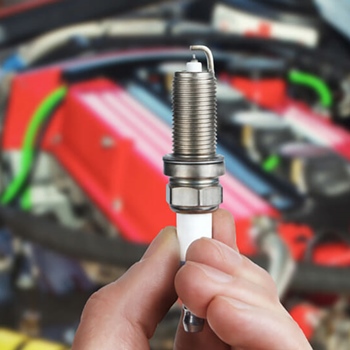 In essence, they are, just as the name suggests, plugs that can spark. Not helpful, right? In the next couple of sections, we will talk about the engine and the importance of healthy spark plugs in them. One thing we will try to avoid is getting too technical, because, as awesome this topic is, it is very broad and quite technical. So, what are spark plugs?
At least once, you have probably heard that gasoline engines move the car because something called "internal combustion." This combustion is happening thanks to the explosive nature of gasoline. How potent gasoline is, and how its octane level can affect your driving, hop on over to our octane booster reviews for a quick recap.
Spark Plug Essential Parts
So, the gasoline mixes with the air, creating a combustible and explosive mixture. This mixture gets pressurized inside the cylinder block, but it does not ignite by itself. This is where our spark plug jumps in. It is contained of a few essential parts it needs to work and ignite properly:
The terminal – also known as the spark plug bottom side. It is the part that is gets connected to the car electronics system. Through the terminal, which is heavily insulated, the electricity flows into the spark plug.
The shell – this is the spark plug's middle part, and it is also the widest part. It has the bolt part for stabilizing it and fixating it into the cylinder block top.
The gap – this is the top of the spark plug. It goes directly into the slot and has a positive central electrode (+) and a side electrode (-). Between these remains a gap. This gap is at the core of the process, which brings us to the next point.
How Do Spark Plugs Work?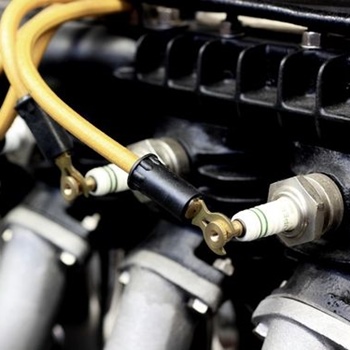 As we mentioned, for an engine to work, the gas-air mixture needs to explode. But how does it happen? The third and the most important part of a spark plug is the gap. While it technically is not a part, but rather a lack of one, the gap is where the magic (or spark) happens.
Once you run the key, the battery sends an electrical signal to the engine to start compressing, but more importantly, it sends a signal to the spark plug. This electric jolt goes through the terminal, reaching the tip of the positive electrode. Once the voltage is there, it tries to pass through and reach the other electrode. In this process, the current jumps the gap, leaving a spark in between the electrodes. This jump spark is the actual starting moment of the engine process.
The spark ignites the air-gas mixture, setting it for an instant explosion. The intake valve pushes the piston back, making it move the crankshaft, and ultimately move the car. After the crankshaft is moved, the piston goes up again, pushing all the exhaust gases from the explosion out. In the third stroke, it refills the intake valve with the air-gas mixture. The fourth and final stroke is compressing the mixture again and making the spark plug ignite it again. This process repeats as long as your vehicle is turned on.
4-Stroke Process
That is the 4-stroke process that happens inside an engine cylinder. Of course, different engines have a different number of cylinders, starting at six upwards. Each cylinder block needs its own spark plug to operate properly, though there are some engines that require two spark plugs per cylinder. If you are interested in car equipment, both essential and peripheral, we invite you to visit our main page and see how you can improve your car right away.
Difference Between the Types of Spark Plugs
When people talk about spark plug types, the chances are that they are talking about the main metal material used in the build. If we were to separate all spark plugs into a group following the material criteria, we could do it in four groups total. Each metal brings something to the table and has its own downsides. Let's see what their pros and cons are.
1. Copper Spark Plugs
As the old geezer of the group, copper spark plugs are the oldest in the group when it comes to active technology. Usually, copper core spark plugs are used by older vehicles, and the number of newer vehicles that can use them is getting smaller by the day. Not saying that they are inherently bad, but the truth is that copper plugs are not as durable as other spark plugs are. Their life expectancy is between 15,000 and 40,000 miles of drive time. Their performance in extreme weather is more or less on average. On the other hand, the conductors on cooper plugs are longer than average, which enables great performance.
Lastly, copper spark plugs are the cheapest option in the group, resulting in them not putting a strain on your wallet.
2. Iridium Spark Plugs
Iridium is a highly endurable material, to begin with. It is known for its specific, low conductivity, which in practical terms means less wear and tear. High material resilience enables the spark plugs to work in extreme temperature environments, including both freezing and scorching hot weather. Another great feature of iridium spark plugs is that they last double, or sometimes triple, the lifespan of a copper spark plug, up to 40,000 miles of drive time.
However, this does make them the most expensive in the group, among the other three types. But, for the extra buck, you get longer-lasting spark plugs.
3. Platinum Spark Plugs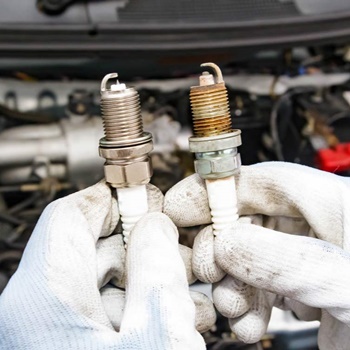 Platinum spark plugs play the middle ground between copper and iridium. When put in perspective, platinum spark plugs perform way better than copper, including fuel economy and the sole process of ignition. On the other hand, platinum is not as expensive as iridium, so the purchase will not hurt a lot.
One great thing about platinum spark plugs is the fact that they will work up until the very end. They will start underperforming, but you will get your money's worth to the last moment.
4. Double Platinum Spark Plugs
If you like the idea and the performance of platinum spark plugs, maybe going double platinum is the next natural option. Double platinum essentially means that the manufacturer put platinum wiring both on the center and the side electrode. This provides a more reliable spark, and it also prolongs the life span of a spark plug by a large margin.
Double platinum spark plugs potentially last the longest among the other three members of this group, but they also come at a heftier price.
Hot vs. Cold Spark Plugs
Ok, now it is time to put some myths to rest. A lot of drivers who are trying to find the best-performing parts for their car usually go by the "the faster, the better" rule. Well, we would like to propose an alternative to this mindset. If you ever met someone with a race car or a car with some kind of turbo mode, you have probably heard that cold spark plugs are the best to achieve top speeds. While there is some truth to this, it is not a good logic to follow word for word because every car model is different and needs different settings.
While we do think that you probably shouldn't bother yourself with this, here's a quick explanation of the heat ranges of a spark plug.
The heat range is measured on a 1 – 10 scale, with 1 being the hottest and 10 being the coldest. In short, the heat referred to here is the heat of the porcelain solation every spark plug has (it is the white part resembling a protective shell over the plug). This heat increases with the uncovered surface on the active part of the plug near the gap. More material uncovered, less heat is dissipated, resulting in a hotter plug.
The rule of thumb is, the bigger the engine compression, the colder the plugs the engine needs. Colder plugs tend to dissipate more towards the terminal end of the spark. This roughly translates to a longer life span of a plug, no matter the material used.
However, it is always best to check with the car owner's manual and find the right heat range for the engine at hand. If you have done any aftermarket work, make sure to consult a professional car mechanic and ask for advice regarding spark plug change.
Spark Plug Buying Guide
Ok, we've seen what spark plugs are all about, what is their role, and how they are built. Now is the time to get around the practical tips and tricks on what to look for when getting new spark plugs for your vehicle. The choices are plenty, so we hope to cut the search time by at least half with this guide. There is not much to spark plug differences because they are all quite similar. Instead, what makes the biggest difference are the habits of the driver, whether its spark plug purchase or simple maintenance.
1. Know Your Vehicle!
We cannot emphasize this enough – knowing your vehicle and its little things is often the biggest part of car maintenance. In this case, what we want from you is to find out what kind of spark plugs your car is running, what kind did the manufacturer put in, and some more minor details. A lot of searches on the internet will give you a valid result if you know your car's essential info like:
Engine type
Car production year
Engine size/displacement
Fuel injection type
Number of pistons/cylinders
Potential aftermarket work
Knowing these things, you will certainly cut search time by half. This info can be found in the car's owner manual, or on the car manufacturer's website in some cases. You can also ask your mechanic to help you determine these things for the first time.
2. Do Not Downgrade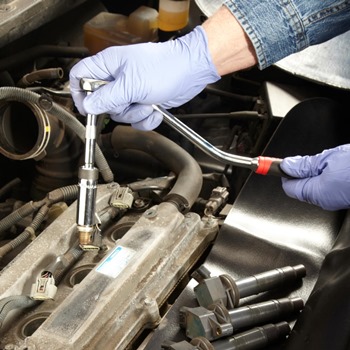 A vast majority of people want to save some money on smaller parts of their vehicles. Spark plugs, though small and relatively cheap, are extremely important, both for safety and performance reasons. So, whatever you do, do not buy just for the price's sake. At least try to match the specifications of the original spark plugs that the manufacturer put in originally.
Also, if you have a car that uses spark plugs on the colder side of the heat range (larger number), never install plugs that are hotter than the originals. Going colder for a single step can be an improvement, especially to the life expectancy of the plug, but going hotter can cause all sorts of engine trouble.
Also, do not forget to count down the cylinders, so you know how many spark plugs you need exactly.
3. Think About Your Driving Habits and Environment
People rarely think about how much they are driving, and for how long. Try to estimate how much time do you spend driving. An approximate value is fine as well, and you do not need to measure exactly how long. So, according to your driving habits, if you are spending at least an hour on the road daily, you want to aim for the durable spark plugs. That means copper is out of the picture unless your car's engine asks for them strictly.
Moreover, try to think about the climate all year long. Some spark plugs do not perform that well in colder climates, so maybe consider an upgrade based on the weather. All in all, because spark plugs shouldn't be changed all that often, we are suggesting looking head.
4. Ask for Help
Lastly, do not be afraid to ask for help, especially if you are new to the concept of fixing your own car. Getting to know these details can sometimes be a gruesome and tedious job. Any mechanic will be happy to show you how to properly install new spark plugs, or at least show you how to locate them properly.
Speaking of spark plug installation, let's go through the basics and the general rules of the process.
How to Change Spark Plugs?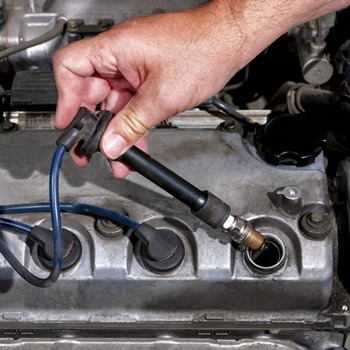 If you are doing this for the first time, do not be afraid. The spark plug replacement process can seem a bit too raw or too technical, but in practice, it is similar to changing a light bulb (with a few extra steps).
Here are some general tips and advice on how to approach this task:
It is best to change spark plugs on a cold engine. Plugs get really hot due to the role they play, and some ceramic or aluminum parts can stay hot for some time. No to mention that you can graze a hot clip if you do not let everything cool down.
Locate all the plugs. Remember, there should be at least six spark plugs on your engine. To help you recount, the number of plugs is always even.
Remove the electric cord connectors. This often looks like a highly insulated wire with a wide cap in the end. This is the communication line between the spark plug and the car electronics system.
Get a spark plug remover and insert it in the hole uncovered after you removed the electric connectors. These plug removers have a hollow chamber designed to fit the slot and get the plug out without damaging anything around.
Get the new plug and put it in the slot. Make sure it drops evenly, with the whole tip part inside.
Connect the spark tool with a wrench and screw in the spark plug. It is preferred to use a torque wrench if you have one. Consult the owner's manual or the back of the spark plug box for the exact torque you need.
Once the plug is firmly bolted in its place, reconnect the electric cord.
Repeat for every spark plug your vehicle's engine has.
FAQ About Spark Plugs
1. Will new spark plugs make my car start better in the winter?
This is one of the most asked questions due to the relevancy spark plugs have when it comes to the ignition process. The answer may not be as simple as you think. The short answer is – Yes, your car will definitely start better with a set of new spark plugs, no matter the season. However, the only way spark plugs can change car ignition during winter is by you getting iridium, or at least double platinum plugs.
Iridium plugs are more expensive, that is correct, but they have a nice lower threshold when it comes to freezing winter temperatures. If you put a new, fresh pair of iridium spark plugs, and your car still has some issues during the winter, there must be another problem. The best way to start would be to check the car's antifreeze levels.
2. Can I adjust, or affect in any way, the gap on the spark plug?
Absolutely you can, and in some cases, you should. So, we talked about the spark gap that the spark jumps, igniting the fuel along the way. Both vehicles and spark plugs have a predetermined value when it comes to the size of that gap. However, some plugs come pre-gaped, some come with a non-gaped, and some come with an electrode gaped too much or too little. In these cases, you can take a gap meter, and narrow or broaden the electrode gap length.
Check the owner's manual or the spark plug instruction manual on the box to see how big of a gap is recommended. A gap too wide will cause the spark plug not to fire at all, while a gap too narrow will make the plug misfire, or lose the rhythm entirely.
3. What happens if I don't change the spark plugs on my car?
If you are in an emergency, and a spark plug starts to fail, you can drive until you fix the issue. Even with misfiring or faulty spark plugs, the car will still run, though not in a normal way. Your car will start to consume more and more gasoline for the same performance until the performance starts failing too. Troubles starting the car and engine misfires will become more frequent as time passes. However, the biggest risk is car safety and engine health.
By ignoring the signs of faulty spark plugs, you risk an accident by driving a car that is misbehaving. And, on the engine side, there is a large probability of piston block damage the longer you drive on bad spark plugs. This investment is not that big, and the long-term results pay off tenfold or even more.
Wrap Up
One thing is for sure – you are now more familiar with the engine of your car then before you started reading our guide. A lot of vehicle-related problems are simpler than the majority of drivers seem to think. Getting to the best spark plug set is easy if you know what kind of questions to ask, and we certainly hope that we managed to convey some useful info on the topic. Moreover, getting that independency of fixing problems by yourself is an invaluable feeling. Now there is one less thing to go to the car mechanic for (unless some major problems occur).
Lastly, get around the spark plug reviews section and see if you can get what you were looking for. If you have any questions or want to add something, feel free to contact us, and we will get back to you shortly. Have a nice and comfy ride! 
See also: best car power inverter