If you want to save yourself a lot of time and money that would go into floor repairs, we suggest you take a moment and learn about the best garage floor paint solutions. Whether you spend a lot of time in your garage fixing things or you just like to keep your car safe and sound, the chances are that you are not thinking about the garage floor. Worry not, you are among the majority of people. However, we all tend to notice the damages on the floor as they are almost beyond repair.
This guide is made both for experienced homeowners and beginners, so make sure to stick around and soak up all the knowledge we have prepared for you. Once you figure it out, make sure to check our picks in the garage floor paint reviews section, and find a solution that fits your garage's requirements. Let's dive into it!
See The Quick Comparison Chart
Benefits of Painting the Garage Floor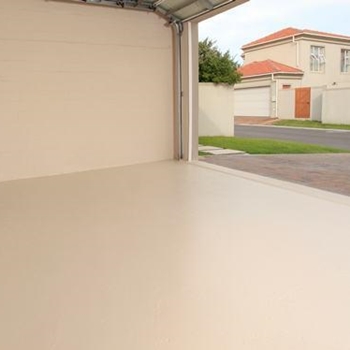 While everyone has their own reasons for putting a layer or two of paint on the garage floor, we would like to suggest a number of practical reasons why garage floor paint is a must. No matter the type of paint you decide to use, you will notice the immediate difference, not only with hygiene but with the overall look and feel of your garage. After all, when the time to rejuvenate your garage comes, it is best to arm yourself with knowledge. So, here are the biggest benefits new floor paint has to offer
1. Better Lighting
As soon as the new garage floor paint dries out, you will notice that the whole room looks brighter. Now, having a brighter space does not only mean better visibility because it can enhance your indoor experience by a large margin. "How," you ask? For those of you that like to spend a lot of time in the garage, fixing stuff and tinkering around, the very first thing you will notice is the lower electricity consumption. If you spend a lot of time inside the garage, that can mean a lot.
Epoxy mixes tend to reflect the light better, meaning that you won't have to turn additional support light bulbs all the time. Besides, poor lighting conditions can lead to eyesight damages, which is often an overlooked problem. Generally speaking, better indoor lighting will enable you to stay around longer without eye strains.
2. Hygiene and Cleanliness Improvements
Ah yes, a dirty garage can be a huge hassle to clean. How many times have you tried to replace the old batch of antifreeze with a new one, and you spill it all over the floor? Chemicals like these are toxic, and any traces left inside the porous floor surface is potentially dangerous. The strong suit of epoxy garage floor paint is that it allows you to clean the mess quickly. This is achieved thanks to the smoothness of the floor surface, and thanks to the epoxy's resilience as a material. Paints like these do not allow rust to gather, and they prevent corrosive chemicals from penetrating into the lower levels.
All you have to do is get a mop and a bucket of water and wipe the floor clean. The number of agents and reagents that can harm an epoxy garage floor paint layer is limited to the most dangerous ones, which you are not likely to find inside a garage.  By enveloping the garage floor with a fresh new epoxy layer, you will cut cleaning time in half.
3. Aesthetics
Lastly, the biggest immediate benefit of refreshing the garage floor paint is the fresh new looks. Believe it or not, a lot of homeowners avoid spending time inside the garage solely due to nasty looks. Garages get dirty and dusty quickly, and the new feel wears off quickly. Well, if you are one of those people, and value aesthetics as much as you value practicality, it is time to paint the garage floor anew.
Combined with better light reflection and the overall better hygiene factors, new looks of the garage floor will definitely make you want to use the room like any other. We see no reason to ignore all that space simply because it is not eye-pleasing.
Best Garage Floor Paints Comparison Chart
PRODUCT
DETAILS

Rust-Oleum 261845 EpoxyShield Garage Floor Coating

Price: $$
Customer Rating: 4.1
Color: Gray
Container Size: 2 gallons

View On Amazon

Liquid Rubber Foundation Sealant/Basement Coating

Price: $$
Customer Rating: 4.5
Color: Black
Container Size: 5 gallons

View On Amazon

Rust-Oleum 299744 RockSolid Metallic Garage Floor Coating

Price: $$
Customer Rating: 5.0
Color: Burnished Gold
Container Size: 70 fl. oz.

View On Amazon

KILZ Over Armor Textured Wood/Concrete Coating, 1 gallon, Redwood

Price: $
Customer Rating: 3.8
Color: Redwood
Container Size: 1 gallon

View On Amazon

Rust-Oleum 251965 Garage Floor Kit, Gray

Price: $
Customer Rating: 4.2
Color: Gray
Container Size: 1 gallon

View On Amazon

SUPERCOAT Waterborne Urethane Glaze Coat

Price: $$
Customer Rating: 3.9
Color: Clear
Container Size: 1 gallon

View On Amazon

UTN60 Clear High Gloss Aliphatic Urethane Concrete Garage Floor Paint

Price: $$$
Customer Rating: 4.0
Color: Clear
Container Size: 3 gallons

View On Amazon
Best Garage Floor Paint Reviews
1. Rust-Oleum 261845 EpoxyShield Garage Floor Coating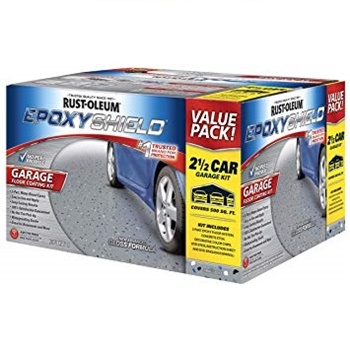 If you tied doing garage floor paint research on your own, the chances are that you came across the name Rust-Oleum a lot. This manufacturer is popular all around the globe, and it makes several well-known garage floor paint formulas.
This particular formula is an epoxy that comes in 2 parts, all locked in a nice 2-gallon container which will enable you to cover up to 500 sq. ft. of the floor surface. The gray color is neutral, and the half-gloss finish will reflect just enough light to make the garage fell brighter.
When it comes to the setup, you can use the garage 24 h after application, on foot, and you can park your car 72 days after the initial coating.
Pros
The total amount can cover an area of up to 500 sq. ft.
The reflective capabilities of the epoxy make the room brighter
The gray color is neutral and easy on the eye
Cons
This particular epoxy formula takes 72 hours to dry out fully
If you want the classical epoxy look, you will need to buy the decorative chips separately
2. Liquid Rubber Foundation Sealant/Basement Coating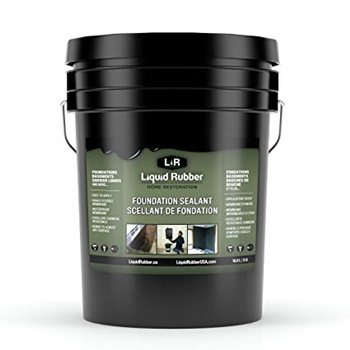 Here we have a somewhat unique, originally Canadian, liquid Rubber formula. Rubberized floorings went out of style some time ago due to their environmental flaws, but this particular formula is made to be eco-friendly and way more resilient. This product comes in a huge container of a total of 5 gallons, with the manufacturer's recommendation to go 50 sq. ft. per gallon, which is more than enough to cover an average garage.
The color of this liquid rubber solution is pure black. If you are a fan of an industrial look, this is the stuff for your garage floor. However, the strong suit of this 1-part formula is its versatility. This paint is used to cover and protect various outdoor surfaces, including metal, wood, plastic, concrete, etc. So, if you are left with extra liquid rubber, you can use it to protect things in your backyard.
The total time needed for this formula to dry out clocks on 48 hours, which can be shorter, depending on the drying conditions.
Pros
The ultra-versatile formula that can be used on a wide range of outdoor and indoor surfaces
Water-based and environmentally friendly, odor-free
Comes in a large 5-gallon container
Cons
Industrial black color might not fit your garage's style
The surface preparation process needs to be rigorous
3. Rust-Oleum 299744 RockSolid Metallic Garage Floor Coating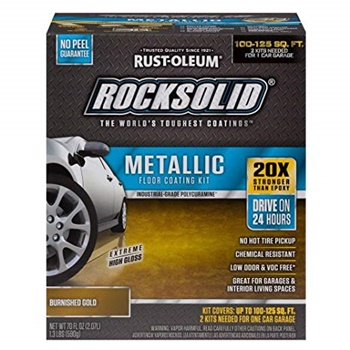 This RockSolid formula is engineered from three different chemicals, taking the best out of each. Part epoxy, part polyurea, and part polyurethane, this garage floor paint is there to last. And, if you are a fan of gold color, this might be the right choice for your garage.
The formula comes in a 70 fl. oz. container, which should be enough to cover about 120 sq. ft. of the garage floor. This, however, depends on the state of the concrete in your garage. If it's porous, you will need more paint to finish the job. This paint dries out quicker than average, with only 8 to 10 hours needed for it to be ready for walking, and 24 h for it to be ready for cars.
The golden color has a glossy finish which is almost metallic, and the manufacturer claims that you only need one coat of paint for it to last a long, long time.
Pros
The high-gloss golden finish will brighten up the garage space
The formula is made of three different types of paint: part epoxy, part polyurea, and part polyurethane
You will not have to paint more than one layer
Cons
This paint is on the pricier side
The preparation process required needs to be perfect, and, if the floor is damaged, you will need more paint to get the job done
4. KILZ Over Armor Textured Wood/Concrete Coating, 1 gallon, Redwood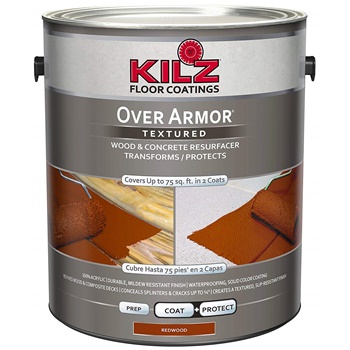 Here we have a formula that is not made for supporting your car's weight, but for rejuvenating your garage's wooden or concrete floor. The acrylic formula is there to cover cracks and damages by filling them and sealing the, all the while leveling the bigger holes and tears.
In the container, you will find a gallon of this redwood colored acrylic paint, which is enough to cover 75 sq. ft. including crack and damages up to ¼ inch in depth. The paint is water-based, and it is slightly weaker than the average epoxy when it comes to protective capabilities. However, the manufacturer suggests that two coats of this paint will do a great job in revitalizing the damaged floors you have at your workshop or garage.
The total curing and drying time are about 72 hours, but you can apply the second coat of paint after 8 to 10 hours.
Pros
A strong acrylic formula that helps with fixing and leveling floor damages
Works both on concrete and wood
The color is natural and easy on the eye
Cons
This particular formula is not made to endure car tires, but to reinvigorate workshop floors
You will need to paint two coats of this garage floor paint, no matter the level of damages
5. Rust-Oleum 251965 Garage Floor Kit, Gray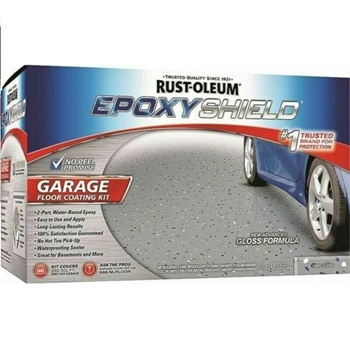 The Rust-Oleum is a serious player when it comes to floor protection and garage floor paints in general. The formula is epoxy-based, so you can expect a thicker layer of paint once you are done. The total amount of paint you get is about a gallon, which is enough for an average-sized garage floor.
When the application is done, and the epoxy dries out, this formula leaves a half-gloss half-matte look, meaning that it will increase brightness without causing eye strain. The neutral gray color can be sprinkled with the provided chips to give it a granite look.
This affordable garage floor paint formula can endure car tires, both heat, and pressure, but it should not be applied outside because direct, prolonged sunlight can damage it. After applying, leave the coat to dry for at least 48 hours before using the floor, though we recommend 72h.
Pros
Excellent endurance and floor protection
Binds with concrete tightly, creating a seal that protects from moisture and chemical damage
Really easy to clean. Use soap and water only
Cons
Designed for interior use only
The resin chips made to change the looks from gray to granite are not that effective. You might need to buy an additional pack of chips.
6. SUPERCOAT Waterborne Urethane Glaze Coat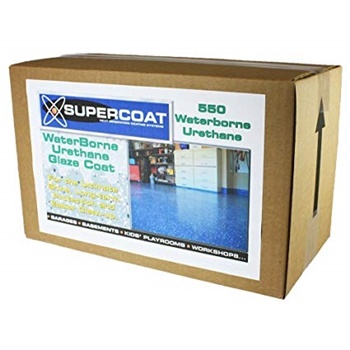 Urethane, aka polyurethane, is known for its longevity and quick-hardening capabilities. It is toxic-free, and people use it for all kinds of living spaces, not only garage and workshop floors. This particular formula works on its own, but the manufacturer recommends to use it with an epoxy layer underneath, which may come of as expensive, but it is super-effective.
The total amount you will get is one gallon, divided into a 2-part you need to mix beforehand. Because of the formula's protective capability that combines with epoxy, the manufacturer decided not to add paint pigment, so it is transparent. However, it will give your floor a glossy and shiny look.
The formula has excellent chemical resilience and enhances the epoxy coating's physical protection features.
Pros
Transparent color enables you to pick your own finish through the epoxy bellow
The high-gloss finish will brighten up your garage/workshop
The formula protects from chemical damages, including various car fluids
Cons
Comes in a 2-part package that needs to be mixed
To reach the full potential of this formula, you should combine it with an epoxy coating bellow, which is not that budget-friendly but works wonders
7. UTN60 Clear High Gloss Aliphatic Urethane Concrete Garage Floor Paint
As powerful urethane goes, it can protect a broad arrange of surfaces, protecting from both strong chemicals and physical damages. The UTN60 formula comes in a 1-part form, making its application easier, and in this set, there are 3 gallons of it.
The area you can cover with this 3-gallon set goes up to 850 sq. ft. depending on the state of the floor you have. The finish is transparent, allowing the paint to bring up the natural color of your garage floor, or the color of epoxy resin if you decide to go with the combo. After the coat dries out, it gives a high-gloss effect, illuminating the room even more.
This urethane formula protects from hot tire pickups, battery acid, gasoline spills, motor oil spill, etc.
Pros
The set covers a large area of up to 850 sq. ft.
Urethane dries quickly
The transparent, high-gloss finish will help illuminate the garage
Cons
This particular formula is on the pricier side
The recommended usage is to combine it with an already existing epoxy underneath, which ups the price even more
What Are Garage Floor Paint Types?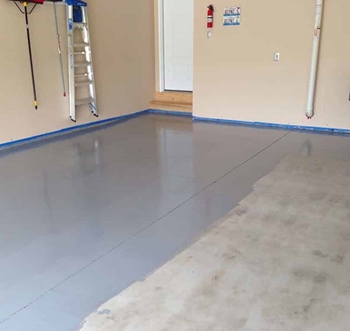 Technology has advanced enough to give us diversity in every aspect, and garage floor paints are no exception. If you truly want to invest in your garage, knowing what the options are is paramount! While some garage floor paint types have a clear advantage over the other, it is best to have everything laid out in a simple explanation form. We will not talk about the paints in any particular order based on performance. The order we put them in can be loosely understood through the prism of rarity, from least to most rare.
1. Acrylic Garage Floor Paint
Acrylic garage floor paint is somewhat of a basic package. Until recently it was the most popular pick, no matter where it was applied. However, the popularity of acrylic became a thing simply due to its low price and general availability. The chances are that you already have a surface covered in acrylics in your house, most likely in your bathroom. Acrylics, similar to latex, are very successful in stopping water and moisture penetration, but that's about it.
Most acrylic garage floor paints come in a 1-pack form, though there are 2-in-1 packs available. If you use your garage often, and your garage has high foot traffic, acrylic garage floor paint might not be the best way to go. It is extremely sensitive to heat. This may cause quite a problem during the hot summer days.
Pros
Affordable and cheap
Easy to apply
Comes in various colors
Cons
Sensitive to temperature changes
Less resilient to physical pressure and damage than other garage floor paint types
Prone to flaking
2. Latex Garage Floor Paint
Similar to acrylic paint, latex garage floor paints are also one of the most common out there. It has great sealing capabilities and will stop moisture and humidity from penetrating your floor. Latex garage floor paint is also on the affordable side due to the lower price ranges. The biggest advantage that latex paint brings to the table (or rather a floor) is the possibility of outdoor use. If your garage has an open part under the sky, latex garage floor paint will allow you to go over both indoor and outdoor surfaces just the same.
But you should probably keep in mind the biggest disadvantage of latex garage floor paints. We are talking about the level of preparation your garage floor needs before the paint is applied. If the floor isn't absolutely cleaned and cured, the latex paint you use will not last for long.
Pros
Easy application
Dries faster relative to other paint types
Can also cover outdoor surfaces
Cons
Requires a long floor preparation process before the application
Latex has the least durable structure
The price-to-performance ratio can be a bit steep
3. Epoxy Garage Floor Paint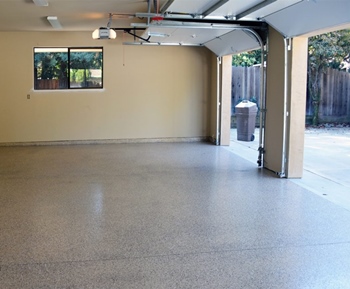 Here we have an uprising star when it comes to garage floor paint types. The reason for its popularity is its feature versatility which doesn't leave you bankrupt. An average epoxy-based garage floor paint will protect the floors for a longer time than acrylic or latex, which makes it great for garages with a lot of traffic, foot, and car tires. The application is somewhat more complex due to the fact that epoxy paints come in 2-state packages. The whole process requires little mixing, which is not that complicated. One drawback of epoxy garage floor paints is the drying time. It certainly takes a lot longer for the epoxy to dry out, sometimes even two or three times longer than acrylic or latex.
Epoxy solutions are affordable and practical. They will protect your garage floor for longer, without any special treatment after the applications. These garage floor paints seal well because these epoxy chemicals are actually a type of glue. Another downside, however, is the fact that epoxy tends to change color if exposed to a lot of sunlight. The properties do not change, the floor takes on a yellowish color.
Pros
Affordable and accessible, with even the more expensive epoxies being on the budget-friendly
Excellent power of sealing and protecting
Longer lasting than acrylic and latex
Cons
Takes a while to dry out
The floor takes on a yellowish tint if exposed to sunlight
4. Polyurethane Garage Floor Paint
The polyurethane, also known as urethane, garage floor paint is a popular choice for garage floors that are not made of concrete. This paint type is as powerful as epoxy, without the downside of turning yellow when exposed to a lot of sunlight. The flexibility of the paint layer is extraordinary. Moreover, the protection polyurethane provides against chemicals, and excess water is one of the strongest out there. Your garage floors will get a wider temperature tolerance level on both ends, hot and cold.
The downside of polyurethane is its inability to bond well with concrete, which is the most common material used for garage floors. If not layered perfectly, the polyurethane floor paint starts flaking pretty fast, and it can even come off in patches. People usually combine it with epoxy, by laying a layer of polyurethane floor paint on top of a dried-out epoxy floor paint layer.
Pros
Excellent protective capability, both thermally and physically
Easy application, with the possibility of combining with epoxy garage floor paint
The color does not fade nor turn yellow like epoxy paint tends to do
Cons
It can be a bit on the pricier side
The polyurethane paint layer is thin, leaving the leveling possibility out of the picture
This type of paint does not bond well with concrete
5. Urea/Polyurea Garage Floor Paint
This type of garage floor paint is similar to the polyurethane. The chemical compounds found inside both are similar, with polyurea solutions having one distinct feature. Polyurea dries out almost instantly. While this sounds like a feature, it is potentially adding to its already high price, because you will need a professional to apply it precisely. The mechanical protection properties of polyurea garage floor paints are excellent. On the other hand, its chemical resilience is not that great, especially when it comes to battery acids and motor oils.
This type of garage floor paint binds better with concrete when compared to polyurethane, but it does that in a flash. On this list of garage floor paint types, this type is the most expensive.
Pros
The mechanical protection properties of this garage floor paint are superb
The material bonds with concrete well, as opposed to polyurethane
Dries quickly, which can be seen as a downside by new users
Cons
One of the most expensive garage floor paint solutions
Short drying time requires ultimate precision
The paint does not handle battery acid and motor oil well
Epoxy Flooring vs. Floor Painting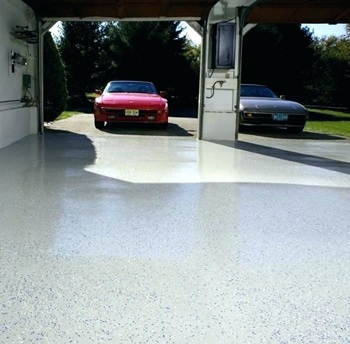 As we mentioned in the section above, epoxy is not technically a paint. It is a type of glue. So, naturally, the question arises: is putting a thick layer of glue on the garage floor better than a layer of paint? Since it is not that easy imagining a layer of actual hardened glue, we would like to go through the advantages and disadvantages of epoxy flooring, compared to standard paint.
1. Durability
The very best thing about epoxy flooring is that it is durable. In fact, it will prove more durable than an average paint job. This goes double if we are talking about concrete floors that you want to cover. In simple terms, epoxy will act not only as paint but as flooring as well, due to its thickness and glue-like nature. The epoxy layer will adhere to the concrete underneath, providing protection and stability.
Standard paints can have a wide durability range, but the thing is, they will start wearing out much faster.
2. Protection
Due to its glue-like nature, epoxy flooring will protect the original garage floor from multiple hazards and damages. It has great mechanical and chemical resilience, which makes it suitable both for high traffic areas and for workshops. You will be able to spill all kinds of chemicals and to park thousands of times, without the epoxy starting to wear off.
Regular paint can have some protective features, like acrylic and latex, but not as much as epoxy flooring can. If you intend to work on your car often, like changing the brake fluid, you want to secure the floor from accidental spills.
3. Application
Now, the application of epoxy layers is considered a downside. The concrete must be squeaky clean before you even start with the application. Not to mention that a lot of epoxy garage floor paint brands come in a 2-phase format. So, you will have to clean the floor and to mix the 2-in-1 chemical set.
Another thing considered a downside is the longer drying period, compared to regular paint. While this is generally considered bad, we think that this extra time can be used for smaller fixes in case you missed a spot.
4. Cost
When we compare the prices of paints and epoxy flooring, the epoxy easily takes the cake. The epoxy flooring sets are the most affordable out there, and the functionality-to-price ration is extremely favorable, both to first-timers and experienced users. Another cost-effective feature is the possibility of combining epoxy with other paints, like polyurethane and making a super-strong and durable flooring combo. The combination cost depends on the cost of the upper layer, of course.
5. Adhesion
Now, a word of caution. One larger downside of epoxy flooring, compared to regular paint at least, is the lack of adhesion. Oil-based epoxy floors tend to get slippery when they are wet, making it harder to walk on. So, if you happen to spill something, the best course of action would be not to leave it be, but to soak it up right away. This can be avoided to a degree by "texturizing" the epoxy while still wet, right after you spread it over the garage floor. However, we advise you to hire a professional to do this due to the glue-like nature of epoxy garage floor paints.
Garage Floor Paint Buying Guide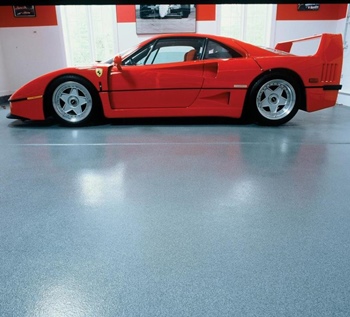 We talked about the main types of garage floor paints, and all the ups and downs they bring. Besides deciding upon which paint or flooring to get, there are things to consider at home, and there are some things to think about when it comes to your garage's future. Because this can be such a complex and somewhat scientific subject, we would like to suggest a more practical way of thinking. Having an adequate layer of garage floor paint can be a game-changer, since fixing damaged concrete or ceramic is expensive and it takes days.
So, in this section, we would like to talk about all the practical things you should factor in before deciding on which type and brand of garage floor paint to apply.
1. Floor Material
First of all, before you even begin looking for paint to protect your garage floor, you need to make sure that you know the material it's made of. While most of the garage floors out there are made of concrete, making the assessment is still crucial. Concrete flooring is easy to work with, and it only needs to be cleaned properly.
In the of polymer or wooden floors, you should double-check the label of the garage floor paint you wanted to get. Rubberized paints are usually a good choice for wooden floors. However, wooden garage floors are not known for their sturdiness, so double-check for damages before application. Damaged floors will reject the garage floor paint quickly if not fixed beforehand.
2. The Total Surface Area
Knowing how much you need to cover is important because it directly correlates with the amount of floor paint or resin you need to get. This is extremely important if you decide to go with a two-part flooring set that needs to be done in phases. Additionally, before you factor the area in, it would be a good thing to clean the garage floor and see what kind of challenges you might face down the road.
Another thing to look out for is the number of layers the paint manufacturer instructs you to apply. Some paints require double layers done in separate stages, and some might go as far as three. Double-check the label. It's better to be safe than sorry, especially if the paint dries out quickly.
3. Resin or Paint?
This is one of the most common questions out there. When people say "resin" what they usually mean is epoxy flooring since it is technically not a paint. To resolve this dilemma, you should factor in the foot traffic inside the garage, as well as the weakly average number of car parking. If you are spending a lot of time inside your garage (usually if it doubles as a workshop), you should probably go with an epoxy resin. Paint is recommended to people that do not spend that much time in their garages.
However, there are other solutions like polyurethane that can help protect the floor from high foot traffic. Just keep in mind that, if you use the garage as a workshop, you will need a chemically resilient flooring, and resin is great that, while polyurethane is not that good.
4. Color and Aesthetics
People do not want to admit that the way their garage looks matters as well. We confess that the looks are as important as the other factors, especially if you are spending a lot of time in the garage. The color and designs may vary, and the choices are plenty. But what you need to think about is whether you want a glossy or a matte finish on your garage floor. Both are equally efficient, although in slightly different scenarios.
A glossy paint finish will reflect more light, thus making your garage brighter using a limited light source. On the other hand, if you have too much light inside, a matte finish might absorb and diffuse some of it. One good example of a useful color finish is epoxy garage floor paint because it is known to reflect more light and brighten up the garage by a large margin.
5. Physical and Chemical Resilience
One of the most important factors is the resilience of your new garage floor paint. To make the best estimation of how protective the paint should be, think about the activity that goes on inside the garage. If you work on your car often, including fuel injector cleaning, motor oil changes, and similar actions, you should definitely get paint that is chemically resilient. Epoxy and latex are known to endure acids and strong caustics, while polyurethane does not handle battery acid and oil that well.
The other factor is physical resistance. Parking a car inside the garage requires the floor to be resistant both to higher temperatures (inside hot climate areas) and the pressure that the car's weight exerts on the floor surface. If you use the garage a lot, it is best to look for thick garage floor paint, often including several layers.
6. Possibility of Combination
Speaking of several layers, there is also the option to combine different paint types, one on top of the other. One such popular combination is the epoxy-polyurethane paint combo. Because polyurethane does not bond with a concrete well, people usually apply a layer of epoxy, wait for it to dry out, and after that, they go with a layer of polyurethane.
Even though these combinations go extremely well, keep in mind that not all paints can be combines. Additionally, one huge downside of combining different garage floor paints is that the price of the whole project is quite high.
7. Installation Process and Drying Time
Lastly, having everything in mind, it is also important to factor in the installation difficulty and the overall drying period of the garage floor paint. The easiest to install and apply are one-layer, single-phase formulas. They usually dry out in less than a day and provide solid protection.
But, like everything in life, perfection takes time. Do not be turned down by the fact that a layer of resin or paint needs to be mixed or that it needs more time to dry out. The longer the paint needs to bond with the concrete, the longer it will stay bonded, and will generally last longer.
Just be careful when it comes to polyurea garage floor paint because it can dry in under a minute.
What Tools Do You Need for Painting the Garage Floor?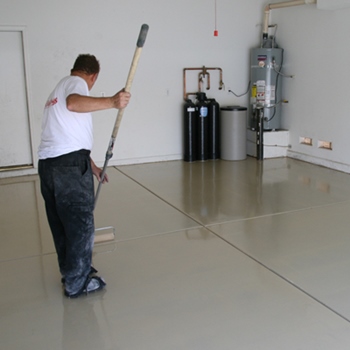 The sole process of painting the garage floor is as important as the preparation of the surface area you are about to cover. Some professional contractors would even argue that cleaning and preparing the floor is the most important part. Do not be afraid, there aren't any special instructions and maneuvers, but the prep must be done as best as you can.
Firstly, you need to deal with the remnants of the old layer/layers of paint from before. In order to get reach every corner and secluded place, it would be best to clean the garage floor entirely. By doing this, you will also have a better perspective of the whole project, and a better overview of the tricky parts on the floor.
After the entire floor is clearly visible, it is time to start the cleaning process. The first thing you need to do is remove the bigger chunks of dirt, grease, and grime left behind. The best way to do it would be by utilizing the power of a car pressure washer to attack the dirt as aggressively as possible. A garden hose will also do the trick, though it will take a lot longer.
Next up is the removal of chemicals and micro-dirt from the concrete. One common way to tackle this issue is to use grease removers and strong concrete-cleaning acids, one after the other with plenty of water. Upon finishing these two stages, use the pressure washer again and rinse everything to the best of your abilities. Leave everything to dry out. It shouldn't take long since it is only water that's left.
A piece of safety advice: while you are cleaning the garage concrete floor, please use safety goggles, rubber boots, and protective gloves. Strong cleaning acids and grease removers contain dangerous chemicals, and you should avoid direct contact with them.
How to Paint Garage Floor?
Now that the floor is squeaky clean and dry, it is time to commence the painting. The very first thing to do is to lay out all the tools like paint trays, brushes, and rollers on a safe and dry spot. After you have everything in sight, start mixing the paint formula if there is more than one ingredient that is. If you decided to go with epoxy garage floor paint, it will probably come within a two-part formula. Mix everything according to the instructions on the back, and pour a smaller amount into the paint tray.
Use brushes to cover angles and corners. The strokes should be unilateral and parallel, without much angle deviation. And after the corners are done, take the rollers and start covering the larger areas. Remember, if a part of the floor is not dry from the cleaning, skip it, and let it dry first.
The most recommended way to cover the larger surfaces is to paint in 2' by 6' partitions, so if something goes wrong, you do not need to cover a large area again. Use wider rollers to spread the paint over bigger areas evenly.
After everything is covered, and the first coat of floor paint is applied, leave everything to dry out. The time it takes for the garage floor paint to dry out varies from type to type, so it's the safest bet to read the label again. Leaving it for a bit longer is also ok. After the original coat dries out, repeat the process for the second coat of paint.
Pro tip: if you are afraid that your new garage floor paint is going to be slippery, before you put the final coat of paint, use perpendicular movements with the roughest, widest brush you have. This will put a small layer of texturized paint on, which will help mitigate slipping.
How to Keep Garage Floor Paint Clean?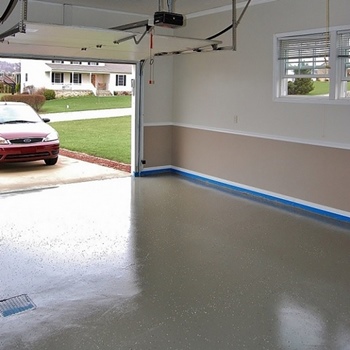 There is no special regimen in keeping the fresh look of your garage floor paint. Clean the floor with a damp cloth every once in a while, and remove chemical spills as soon as they occur. If you are unsure what type of cleaning agent to use, you can always check the label of the garage floor paint you used for more info. The rule of thumb is that epoxy is the most resilient to chemicals, but it's always safer to double-check.
When the paint gets a bit older, keep an eye on the amount of water you use. If you over-hydrate the floor, you risk flaking and more serious damages to the garage floor paint. And, in the case of a lot of flaking, it is time to repeat the whole process, clean the old, and apply some new garage floor paint. However, this shouldn't happen that often.
FAQ About Garage Floor Paints
1. Can I mix different epoxy formulas together?
The answer to this is short and simple. You should absolutely never mix different garage floor paint formulas, for a large number of reasons. Firstly, different formulas might have chemical compounds that spark aggressive reactions when mixed. People have reported acidic melting, and even fire, just from mixing two unrelated garage floor paint formulas.
If you have some leftover paint from before, either you throw it out according to the law in your area, or you buy the exact same formula to mix it with. The safest way is to start anew, and not even mix the old and the new batch of the same formula.
2. How can I speed up the drying time of the fresh garage floor paint coat?
There are several measures you can undertake to speed up the drying process of your garage floor paint. The first and most intuitive one is to open every door and window there is. Making a draught is a reliable way to get fresh air circulating, thus drying the paint faster.
However, if it's humid outside, or even raining, you might want to skip the draught making, because you risk letting more moisture in. In this case, you might want to consider a couple of strong fans to help you out. Place the fans strategically around the garage, and leave them overnight.
If you are really in a hurry to apply the second coat of paint, or you simply need to use your garage as soon as possible, we recommend using both fans and making a draught as well. If the weather allows it, of course.
3. Is it a good idea to buy more paint, to begin with, in case I run out of the current formula during the painting process?
Well, as much as it seems like an additional expense, we strongly recommend you get an extra package of the garage paint formula you have chosen. Believe it or not, people often underestimate the size of their own garage, due to the fact that they rarely see the garage empty.
If you get another pack, you will be grateful to your past self, because there is nothing more frustrating than running out of garage paint mid-way. And, because you cannot mix formulas, you are limited to using the exact same type, so why not be secure with another pack?
Wrap Up
And there we are. Everything you need to know about the best garage floor paint summed up. There is a lot of info to go through, yes, but it is a small price to pay for a sparkling clean and resilient garage floor. No matter if you use the garage solely to park your car, or you also have a workshop inside, the floors endure a lot of stress over time. Take some time to see which paint type suits your garage's requirements best, and use our guide as a checklist. There certainly are a lot of things to factor in.
After all, you can also take a look at the garage floor paint reviews, and pick the ideal paint for the garage floor you have. We often underestimate the importance of floor surfaces around us, so make a smart decision and protect yours ASAP!