In order to ward the smell off and keep your car smelling ever fresh and pleasant, you need the best car air freshener you can get your hands (and nose) on. People spend a considerable amount of time in their vehicles. From running errands, driving your children to school, to carpooling to work with your colleagues, you want to keep your car comfortable for everyone. One of the biggest problems with car maintenance is that the small area can easily pick up and contain smells and odors from a variety of sources.
Today, you can find a great variety of deodorizers for vehicles on the market. That's why we compiled a comprehensive buying guide and our car air freshener reviews of our favorite products. Let's jump straight into it!
See The Quick Comparison Chart
Benefits of Car Air Fresheners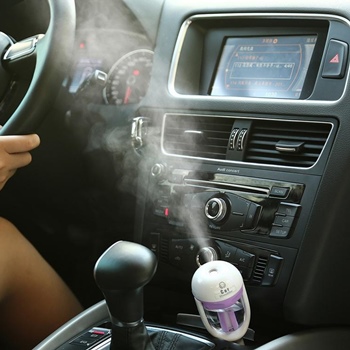 The primary purpose of a car air freshener is, simply said, to make your vehicle smell amazing. It's one of the things that can turn a boring daily drive into an enjoyable activity. But a fresh, nice-smelling car is not the only advantage of using this type of devices.
A car air freshener brings many advantages, and here are only some of them.
1. Get Rid of Lingering Odors
The inside of your vehicle can be a fertile ground for various scents. In between washes, your car upholstery collects smells from many sources. Mold and mildew, cigarette smoke, mud, pet messes, and spilled food – all can cause a heavy lingering odor. While most people get their roofs, windows, and hoods sparkling clean regularly, upholstery washes can be a bit complicated.
However, spending time in your vehicle should be a great, comfy experience. Car air fresheners can make your daily rides a joy. Keep in mind that an air freshener can't replace regular upholstery maintenance with a top-rated car upholstery cleaner. Still, car air fresheners successfully cover up those pesky odors, and there are some that can even eliminate them.
In fact, a high-quality air freshener can cover lingering odors like mold, cigarette smoke, and pet messes. All of these are notoriously hard to get rid of, especially after years of exposure. With the right choice of freshener, you can forget these smells ever existed.
2. Improve Your Mood
Essentially, there are two ways in which car air fresheners help improve your mood:
Get rid of pesky odors,
Give out a scent of your choice.
You can get a simple block of bamboo charcoal, which will get the car's interior rid of moisture and stop mildew from spreading. You can go a step further and introduce a new smell. Now, you can begin to experiment and search for the most beautiful smell.
In today's market, you can find air fresheners with the most diverse scents. Because of that, you have the possibility to add a bit of aromatherapy to your regular ride. There are many options – anti-stress lavender, the sweet vanilla, energizing orange, or anything in between – the choice is yours. Let your car ride be the little bit me-time everybody needs and deserves.
3. Get a Better Price
Finally, a car air freshener can be a small investment with a high return. If you decide to re-sell your car, you want to get the best price you can. But you may have a hard time getting a good price for your car if it comes with a lingering smell of mold, cigarettes, or pets. A good upholstery wash is a big part of, but not everything you need to get rid of these smells. Pair it up with a scented freshener for smoke and pet odor, or a piece of bamboo charcoal for mold. This way, the buyers won't even notice the smell of the car's history.
Best Car Air Fresheners Comparison Chart
PRODUCT
DETAILS

MOSO NATURAL Air Purifying Bag

Price: $
Customer Rating: 4.1
Type: Bamboo Charcoal
Volume: 0.4 lbs
Scent: None

View On Amazon

PURGGO Car Air Freshener – Lasts 365+ Days – No Chemicals

Price: $$$
Customer Rating: 4.2
Type: Bamboo Charcoal
Volume: 1.1 lbs
Scent: None

View On Amazon

RoyAroma 2PCS Tree of Life Diffuser Aromatherapy Essential Oil

Price: $$
Customer Rating: 4.4
Type: Vent Diffuser
Volume: 2 pcs 12 pads
Scent: Optional

View On Amazon

Air Spencer CS-X3 Car Air Freshener and Refill Combo

Price: $$
Customer Rating: 4.2
Type: Gel
Volume: 2 catriges
Scent: Squash

View On Amazon

Meguiar's G16602 2 oz Air Refresher Summer Breeze

Price: $
Customer Rating: 3.9
Type: Spray
Volume: 2 oz
Scent: Optional

View On Amazon

Ozium 806326 Large Gel 8Oz Smoke & Odors Eliminator

Price: $$
Customer Rating: 3.9
Type: Gel
Volume: 8 oz
Scent: Original

View On Amazon

Chemical Guys AIR_101_16 New Car Smell Premium

Price: $
Customer Rating: 3.3
Type: Spray
Volume: 16 fl. oz
Scent: New Car

View On Amazon
Best Car Air Freshener Reviews
1. MOSO NATURAL Air Purifying Bag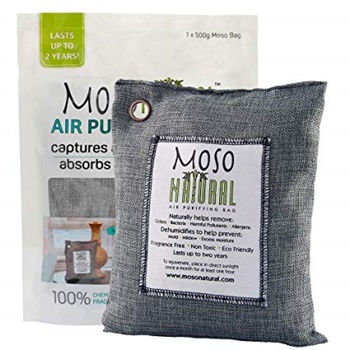 One of our favorites is a 0.4-pound bag of bamboo charcoal by Moso Natural. This product isn't technically an air freshener since it doesn't let out a scent, but it definitely keeps your car cabin smelling good by cleaning the air around you. Bamboo charcoal is a great choice if you have trouble with cigarette smoke or moisture, especially mold, and mildew. The structure of the charcoal traps the particles of moisture and smoke, keeping them inside the linen bag and out of the air you breathe. This highly porous charcoal is a result of a controlled burning process at 1380 Fahrenheit. The process creates millions of tiny holes that trap and collect moisture from the air. The result is a durable product that can keep your space smelling fresh for two years. The only thing you need to do is take it out into the sun for an hour or two every two months. This will rejuvenate your charcoal. As the trapped moisture evaporates, your bamboo charcoal is ready for reuse. If you're looking for something to keep your car safe from excess humidity without adding perfume, this is a great choice.
Pros
Controls moisture in your car cabin
Can last for up to two years
Cons
Doesn't give off any scent
2. PURGGO Car Air Freshener – Lasts 365+ Days – No Chemicals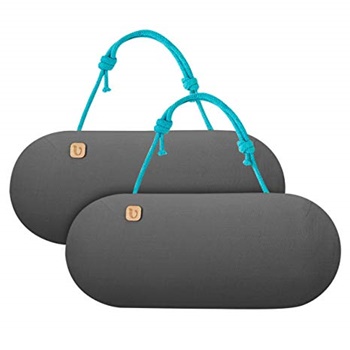 Our next pick is a bamboo charcoal bag by Purggo. Bamboo charcoal is a natural and eco-friendly way to get rid of odors, especially cigarette smoke and moisture caused issues like bacteria, mold, and mildew. The charcoal attracts and traps the particles of these pollutants in the structure of charcoal, which has millions of tiny holes. The product comes in the form of a bag filled with approximately 1.1 pounds of bamboo charcoal. This bag has a handy design, so you can hang it over your back seat. This can be very handy, especially if you have children or pets in your back seat, and you want to provide them with clean air, but also remove the smells they can create as soon as possible. Bamboo charcoal air fresheners don't let out a scent of their own, but instead, they purify and clean the air around you, helping you get rid of odors in a natural and non-intrusive way. This is great for people who are worried about allergies, irritations, and general bad sides of scented products.
Pros
Natural, eco-friendly product that doesn't irritate
The 1.1-pound bag of bamboo charcoal is quite large
Cons
It doesn't let off any scent of its own
3. RoyAroma 2PCS Tree of Life Diffuser Aromatherapy Essential Oil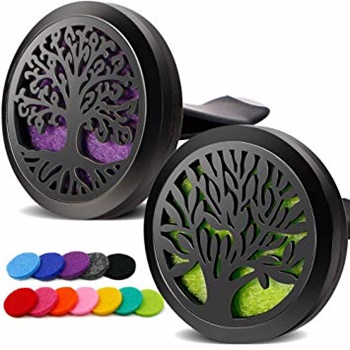 Our next pick is a set of beautiful vent essential oil diffusers by RoyAroma. This is a set of stainless-steel diffusers that come in two different tree designs. You can attach them to your car's ventilation system via a rubber-coated metal clip. Essentially, once you attach your diffusers with a scented pad installed, whenever you turn on your air ventilation, your car will start smelling amazing throughout. Helped by the circulating air, the scent of your favorite essential oil can help you enjoy your ride more, cover-up odors, and bring a gentle touch of aromatherapy into your life. In fact, a vent diffuser results in very even scent distribution, which is a common issue with air fresheners. With the diameter of 1.2 inches, the two diffusers can fit any vent you have available. The set comes with a 12 pack of felt pads. You only need to add a dab of your favorite essential oil, install the pad and clip your diffuser to the vent, turn on your air ventilation, and your car will start smelling great in no time.
Pros
A set of two diffusers and twelve felt pads
The vent-mounted construction ensures even scent distribution
Cons
Doesn't come with essential oils
4. Air Spencer CS-X3 Car Air Freshener and Refill Combo
Our next product is a gel air freshener by Air Spencer. In the form of a cassette and refill cartridges, this freshener looks like a complex gadget at first. However, you simply need to pop the cassette open and insert your scented cartridge, close the cassette and put it wherever you want it. The product comes in a black and grey case with a bit of blue. It comes equipped with double-sided sticky tape, which you can put on the bottom of your freshener to stick it to your dashboard (or wherever else you want it). The sticky tape will help you keep the cassette in place. Even without the sticky tape, this product will not create a mess in your car as the gel is very viscous, so it isn't likely to spill. The company advertises the smell as squash, but we'd rather say it smells like candy citrus – fresh but sweet. When it comes to durability, you can expect to get about a month out of each cartridge. You can use the sliding lid to control the intensity and durability of the cartridges. The quality is quite good as it's made in Japan.
Pros
Two pieces of wonderfully smelling squash cartridges
Popular, high-quality product
Cons
Each cartridge lasts up to a month
5. Meguiar's G16602 2 oz Air Refresher Summer Breeze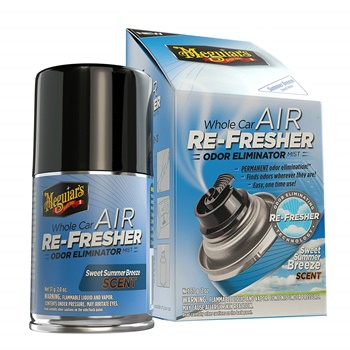 Our next pick comes from Meguiar's, a well-known and loved brand of specialized automotive products. This time, we present their Whole Car Air Re-Fresher odor eliminator mist. This is a one-time-use air freshener spray. It's packed in an aerosol bottle with a spray nozzle that gets the product through your car evenly. This product is not like other fresheners since you don't simply leave it in your car to work. Instead, you should pick a nice day to refresh the smell of your vehicle. You will need approximately 30 minutes before you can ride your car again. You only need to park your vehicle. Start it, and set your fan on high to circulate air. Use the spray inside your car by activating the locking trigger, and placing it on the floor between your front and back seats. Close the door and all the windows, and let the spray do its magic for 15 minutes. Then open all doors, turn your vehicle off, and let the air circulate for another 15 minutes. After this treatment, your car will smell as good as new. You get 2 oz of the spray in one bottle, enough for one use.
Pros
One-time use is easy and convenient
Thorough deodorization of your car cabin and vent system
Cons
Doesn't provide scent continuously
6. Ozium 806326 Large Gel 8Oz Smoke & Odors Eliminator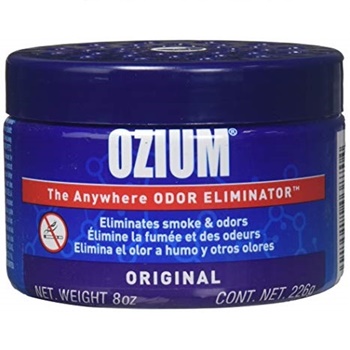 Ozium makes our next pick, a gel air freshener, and odor eliminator. This product is uniquely formulated to help you get rid of cigarette smoke and smell from your vehicle. This gel freshener comes in two sizes – 4.5 oz and 8 oz. They both come in small, dark blue, lidded cans. Even though it's the same product, we'd recommend getting the smaller version of the product. That's because the 8 oz can doesn't come with an adjustable lid, while the 4.5 oz one does. When it comes to using gel air fresheners, an adjustable lid will help you open or close the product packaging more or less. As you control the exposure of the product, you control both the intensity of the smell, and the durability of your product. As this product targets cigarette smoke and similar odors, it has a somewhat harsh formula. Make sure you place it securely in your car. You shouldn't let it spill on a plastic or a varnished surface, as it may cause staining. You can expect this product to last about two months.
Pros
Formulated to target cigarette smoke and odor
Simply open it and leave it in your car
Cons
The 8-oz can doesn't have an adjustable lid
7. Chemical Guys AIR_101_16 New Car Smell Premium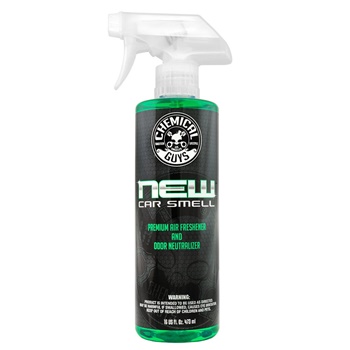 The popular Chemical Guys make the next product on our list, so it's a must-try. This air freshener spray has a unique smell – Chemical guys aimed at that special scent of a new car, and we think that they got it right. You can get this product in a 4, a 16, or a 128 fl. oz bottle. Furthermore, the concentrated product can be diluted in distilled water, so the price is very low. This freshener will return the new car smell with only one or two sprays in the right places. First, vacuum and remove any debris, dirt, or trash from your upholstery. Then, shake the product and spray a bit around your carpets, and on and under your textile car seats. Don't spray plastic or glass surfaces as the product may leave some residue. This freshener doesn't only deodorize but prevents odors from forming as well. You will be able to feel the effects of the spray for a week or so. Repeat the process once a week, and your car will smell fresh and smooth just like a new car bought yesterday.
Pros
Concentrated formula can be diluted in distilled water
Makes your smell like new
Cons
Be careful – it can leave residue on plastic and glass
Types of Car Air Fresheners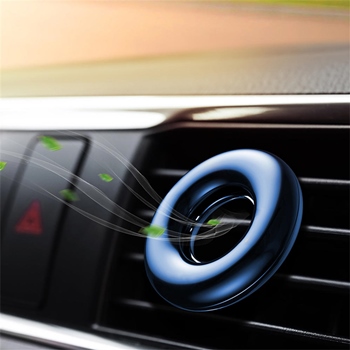 Car air fresheners come in many entirely different forms. From the traditional scented cards, over gel beads, to a piece of charcoal, the variety is huge. Even though you may need to spend a bit more time making your pick, you can find the perfect solution for your vehicle. The different air fresheners all have different advantages and drawbacks. Let's take a look.
1. Cardboard
The cardboard air freshener is a traditional choice. These pieces of cardboard hanging on the rearview mirror are the most popular type of air freshener. Cardboard fresheners are inexpensive, and they come soaked in scent. You can choose among thousands of different scent combinations, and most people have their personal favorites. However, the scent contained in the cardboard dissipates quickly, so this type of air freshener isn't the most durable.
2. Bamboo Charcoal
Also known as activated charcoal, the black lump of bamboo charcoal is the only 100% natural and eco-friendly kind of air freshener. Typically packaged in burlap or linen bags, the product is a charming addition to your car interior.
Bamboo charcoal is there to keep your air pure. It doesn't have a particular scent, but instead, it makes your car interior smell good by eliminating particles of bad odor. The absorptive, natural material traps the particles of moisture, mold, and mildew from the air in your vehicle. You may know that charcoal can be used as a water purifier, but it can do the same to air. Bamboo charcoal is very durable, but once it does get too old, it has wonderful use as well. When it's time to get rid of your old bamboo charcoal, you can simply crumble it up and fertilize the soil with it. The bacteria removed from your car can make your flowers and bushes grow stronger and healthier.
3. Scented Gel
This is a popular choice of air fresheners in many enclosed spaces. You can spot a jar or two of scented gel beads in many offices, restaurants, and homes across the world. These pleasant-smelling beads or chunks of gel are left in a corner to do their job – let out a delightful scent. The interesting point of these intensely aromatic gels is that you can control and adjust how much scent they let out. Turn the resealable lid wide open for a scent boom, or keep it half-closed to prolong the lifespan of your freshener.
4. Spray
Perhaps you don't like the idea of holding an air freshener inside your car for a prolonged period. Well, a spray can be the right choice for you. You can use a spray air freshener whenever you need it, and only when you need it. These aren't passive devices that steadily keep your car deodorized. If you start detecting an odor, you can park your car, turn your ventilation on, and spray the inside of your car thoroughly. This way, you don't only refresh the sitting area, but also the inner ventilation system of your vehicle. These formulas are great at providing extraordinarily good air freshness that wanes over time
5. Vent Diffusers
Vent diffusers are a good choice if you want to ensure that your rich aromatherapy scent reaches all corners of your car. When it comes to even distribution, an air vent diffuser is the most reliable pick. As you can imagine, this type of diffuser comes with a clip that lets you mount the diffuser to your air vents. You can place a scented pad inside the box, and let the air blowing from your vent take it throughout your car. This type of air freshener offers the most scent variety, as you can get clean pads and dab them with your own selection of essential oils.
Car Air Freshener Buying Guide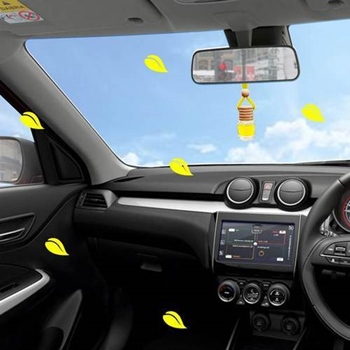 As you might have noticed, the car air freshener market is saturated with different types and kinds of products. For most uses and purposes, you can find better or worse kinds of fresheners. Whether a freshener works amazing or it barely does anything at all mostly depends on whether you've bought the right kind of device. But navigating the market isn't easy, so we compiled a guide for features you should consider before making your purchase.
1. Type of Air Freshener
Different types of fresheners get different results and tackle different problems that create car odor. The first thing you need to decide is whether you need something to eliminate existing odors or something to add a pleasant scent to your neutral or a bit smelly car interior. There are different options for both jobs, but air fresheners rarely do both. The good thing is – you can combine the two!
1.1. Get rid of moisture, mold, and mildew
If moisture, mold, and mildew are giving you trouble, the best way to target this particular cause of the odor is to get a bamboo charcoal air freshener. These get rid of moisture odors by trapping the particles within the structure of the charcoal. Furthermore, they're very eco-friendly.
1.2. Get a new scent into a bland or mildly unpleasant-smelling car
Scented gels, vent diffusers, and cardboard fresheners are mainly used for introducing a new smell into your vehicle. These differ in intensity and location where you can feel their effects best.
The traditional cardboard fresheners are designed to dangle off of your rearview mirror, and they let out a scent that is unobtrusive and mild.
Gels let out a rather strong scent, and you can put them anywhere in your vehicle. However, you should find a way to secure them upright, as spillage from this type of freshener can cause damage to your upholstery.
Vent diffusers are made to be attached directly to your air vents. These let out an intense scent that can be felt throughout your entire vehicle. That's possible because the air from your ventilation brings the scent flowing throughout the car.
1.3. Occasionally refresh your car odors
Finally, if you don't like the idea of having a source of scent in your car at all times, you can opt for a spray air freshener. These are used when your car needs a strong scent treatment that will also get into your ventilation system. The result is an intense freshness that's quite long-lasting but wanes over time.
2. The Container
The next thing you should consider is the container of your car air freshener. Of course, different types of fresheners come in containers unique to them. Still, there are a couple of important factors to remember when checking out the container of your car air freshener.
2.1. Container security
The most important thing is security. Many air fresheners, especially gel ones, have a formula that's a bit too strong. This formula has to stay inside the container at all times, so you want to get one packaged into a neat container that won't fall over during your ride. Of course, the spot where you set your freshener up is just as important. For example, pay attention not to store your aerosol spray near one of your car's heat spots.
2.2. Container ease of use
Furthermore, your air freshener should be easy to use. There are different mounting and securing methods, and your freshener should be easy enough to adjust and control while in position. The mounting options are diverse – you can stick it to your dashboard, leave it in a cup holder, fix it on the vent with a clip, hang it on your rearview mirror, or in the case of a bamboo charcoal baggie, simply put it anywhere you have some free room. Figure out the place you want your air freshener to be, and that will make the choosing process so much easier!
3. The Ingredients
It's hard to find out the exact ingredients of any air freshener out there. It's even harder to analyze and understand that ingredient list properly. That's why the only really relevant thing to check is whether the freshener can harm you, your pets and children, or the environment.
While many air fresheners come with the inevitable amount of environmental hazard, make sure the amounts are negligible. For example, essential oil scents are far more environmentally friendly than other types of perfume. Some air fresheners are also entirely eco-friendly. For example, a piece of bamboo charcoal can keep your car free of smelly moisture with no repercussions for the environment at all. In fact, this type of freshener is even eco-friendly, as you can return it to nature after use – it's a great soil fertilizer.
Before buying a product, you should make sure that the manufacturer states that it's nontoxic for you and your pets. While an air freshener is unlikely to be toxic, it's better to be safe than sorry!
How Long Do Car Air Fresheners Last?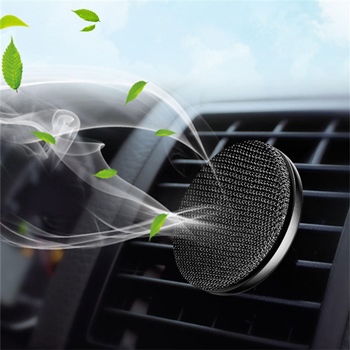 Car air fresheners are an expendable commodity. That means that they can't be fixed or reused, they have their life span and then they're off to a trash can. So, how much can you expect from an air freshener? Well, like in most cases, the answer is – it depends.
Generally speaking, an air freshener can last anywhere from a few weeks, and up to two years. The most important factors when it comes to durability are the type of freshener and the temperature of your vehicle.
For example, cardboard fresheners can dissipate all of their scents in as little as one week. They are the type of freshener that has the lowest durability. Gel fresheners last on an average of one month, and if you use it sparingly or adjusted for durability, they can even last up to three months. On the other hand, bamboo charcoal fresheners don't really have a set expiry date – they're done once they're filled with moisture to the brim. In fact, if your car interior isn't super moldy, a piece of bamboo charcoal can last as long as two years. When it comes to fresheners that use pads dipped in essential oils, their durability highly depends on the season as essential oils evaporate very quickly in higher temperatures. Luckily, you can add your own essential oils onto clean pads and use them instead of the manufacturer-made ones. That's why vent essential oil diffusers last as long as you refill them, or the plastic cases break.
What can I do to make my car air freshener last longer?
There are some strategies you can use if you want to prolong the lifespan of your car air freshener. Let's take a look.
There is one trick that can make your cardboard fresheners last longer. The product lets out its scent from the piece of cardboard exposed to the air. That's why you can use saran wrap to cover a part of your cardboard freshener. Once the open part of the product uses up its scent, you can simply uncover the wrapped part, and have an entire half of your cardboard freshener completely fresh.
Charcoal fresheners trap and collect odor molecules inside of them. Typically, this is moisture from the air around it. Every month or two, leave the bag with your charcoal outside in the sun. The UV rays and the heat will release, evaporate, and eliminate the amassed moisture molecules, basically freeing up space for more. You can leave your charcoal out in the sun despite the temperature – the winter sun works just as well. However, it must be outdoors, since window glass typically blocks UV rays from reaching the bag on a window sill.
Gel fresheners work as the scents dissolved in the gel evaporate together with it. This type of freshener can last longer if you simply restrict the amount which can evaporate at any given time. In fact, most gel freshener containers are designed in a way that lets you adjust how widely open the lid is. The less the gel is exposed to the air, the longer it lasts, but the smell it lets out is also less intense. At first, open your lid only 1/3 of the way, and test to see whether that's enough for you. As the gel dries, open the lid wider.
If your gel freshener comes in the form of beads, you can shuffle them to release the trapped scent. In fact, make sure to shake up the contents of your gel freshener before throwing it out. The chances are that only the top layer is dry.
FAQ About Car Air Fresheners
1. What if I spill some liquid or gel car air freshener in my car?
Sadly, liquid and gel air fresheners can leave a mark on your upholstery. Before you purchase a car air freshener, make sure to read its warning labels. This way, you will know what damage the product can do. Once you know whether the product has the potential to leave a mark on your upholstery or plastic, choose an appropriate place for it that will secure it against tipping over and getting spillage on the vulnerable material. If an accident does happen, get a piece of absorbent material such as a microfiber cloth or a tissue. Blot the liquid with it, and don't scrub it. Blot up as much liquid as you can, and then go over the affected area with a cloth dipped in clean water.
2. Can a car air freshener trigger my allergies?
Yes. If you suffer from asthma or you have trouble with allergies, you may need to get rid of your car air freshener. Alcohols, esters, formaldehyde, limonene, and other similar substances are frequently used to make your air freshener work better and longer. However, these substances can irritate sensitive airways, making your skin and eyes itchy, or your breathing harder. If you feel any of these symptoms after introducing an air freshener into your car, you should immediately remove the freshener, and look for alternatives with different chemical make-up. If you use a formula that being allergic, air fresheners can be bad for you.
3. When is the time to change a car air freshener?
Most air fresheners have a varying life span that depends on a couple of different factors. In our section How Long Do Car Air Fresheners Last? you can find a detailed explanation of the different longevities of air fresheners and what you can do to make them last longer. However, once you take your air freshener and simply don't notice its scent, even if you sniff it up close, it's definitely the time to replace it.
4. What else can I do to get unpleasant odors out of my car?
If an air freshener doesn't solve your problem with odor, you might need to do some in-depth odor removal. The most important step is to figure out the source of your trouble. Most commonly, it's either the upholstery or the air vent system.
The best way to get rid of upholstery musk is to wash your seats. You need a good car upholstery soap and a bit of elbow grease to do this. We wrote detailed instructions on cleaning your seats the best way.
On the other hand, you may need to change your cabin air filter. This filter is responsible for keeping the particles from the outside air away from the inside of your car. Because of that, it may have a lot of collected debris that began to smell.
Wrap Up
A lot happens to your beloved car as you use your vehicle on a daily basis. You may eat, drink, or smoke in your car, transport food, construction material, and chemicals, or drive your pets and children. It's inevitable that from time to time, the cabin becomes a little bit stinky. But there's not much you can do apart from washing your upholstery to get rid of the smell and add a bit of nice scent. That's why most people need to find the best car air freshener for their vehicles. These products will make any car interior smell amazing.
We hope that you managed to do just that with our unbiased car air freshener reviews and comprehensive buying guide. We tried to include everything you may want to know, but if there's still something you're not sure about – don't hesitate to ask us in the comment box below!