If you think that it's finally time to wash the inside of your car, you'll need the best car upholstery cleaner to help you keep those hygiene levels high! While most people regularly wash the exteriors of their vehicles, the inside is often forgotten or neglected. The truth is – you spend a lot of your time sitting inside of your vehicle, and you should enjoy it, not only for its looks but for the cleanliness as well.
You will see that there are many options available on the market, and their prices vary greatly. If you're not sure which product to get, you're at the right place. We compiled a comprehensive buying guide and made our unbiased car upholstery cleaner reviews to help you find the ideal option for your car. Let's get straight into it!
See The Quick Comparison Chart
Do You Actually Need a Car Upholstery Cleaner?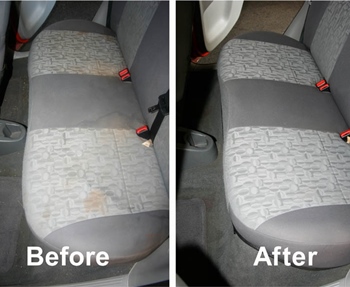 Most drivers spend a considerable amount of time inside their vehicles. Wherever you go – to work, the gym, or to run errands, you spend your time inside your vehicle. Along with you, you bring a lot of various contaminants. First of all, you always wear shoes inside, unlike your home. Furthermore, you eat and drink inside your car, bring groceries, various items, and machines, and perhaps have your pets as passengers.
If an accident happens, and you spill your coffee or even get some blood on your car interior, you have two options: vinegar, or an upholstery cleaner. While vinegar does remove stains and kill bacteria, it comes along with a legendarily harsh odor that will linger inside the car for weeks. On the other hand, you can get a bottle of a cleaning formula that makes your car smell like wild berries, or doesn't leave any scent at all. Furthermore, vinegar is only good for stain cleaning. It won't wash or condition the whole area of the material you and your children spend time on daily.
Car Upholstery Formula
Getting a specialized formula that was created to tackle the specific pollutants that are common in cars is the smartest way to go. Even standard furniture liquids don't do the job well because they aren't equipped for mud, soil, and other outdoor dirt that the inside of your car suffers on a regular basis.
Finally, you can choose among different types of products that were designed for use on specific upholstery materials. Using an all-purpose cleaner on a vinyl set of car seats may get the cleaning job done, but the harsh, unsuitable chemicals promote cracking and tearing. The same goes for other types of upholstery material. A specialized formula will not only clean your seats, but also nourish them, ensure longevity, and keep your car upholstery looking its best.
Types of Car Upholstery and Their Properties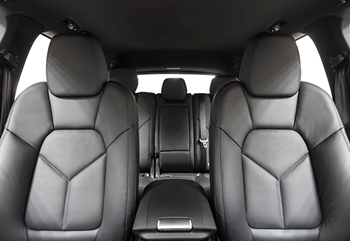 Once you start looking for the perfect upholstery cleaner for your car, you will notice that there are different products suitable for different types of upholstery. In fact, that's quite important, because leather, vinyl, and fabric all react differently to the various cleaning formulas. Furthermore, these materials have entirely distinct properties and require special maintenance. Let's take a look.
1. Leather Upholstery
Natural leather is the most luxurious, and the most desired type of car upholstery. When it's new and clean, it's extremely comfortable, it has a wonderful smell, and looks amazing for a long time. However, leather also requires the most detailed and specific maintenance. If leather is sprayed with a typical household use cleaning agent, it will quickly deteriorate and start to crack. Along with the need for special cleaning solutions, real leather needs to be maintained and conditioned with special kinds of products designed to nourish and maintain the leather.
2. Vinyl Upholstery
Vinyl aims to imitate the look and the feel of real leather, but it's, in fact, an entirely synthetic polymer. This material is a popular choice for car upholstery because it's quite easy and simple to maintain. However, it isn't particularly comfortable, especially in the summer. The main reason for both of these traits is that vinyl is almost entirely non-porous – it doesn't absorb any liquids. That means that all of your sweat stays right where it is – on your back. But it also means that whatever you spill on your seat – be it ketchup, coffee, or blood – will stay right where it is. Because of that, most of the time, it's enough to simply wipe down vinyl. Still, even though higher-quality vinyl is a durable material, it does crack and tear when treated with the standard alcohol-based general use household cleaners.
3. Nylon Upholstery
Nylon is another polymer popular among car manufacturers. Even though it's also a synthetic polymer, it is quite different than vinyl. The look of nylon is also somewhat similar to leather, with a shiny finish, but nylon comes in many different colors and designs. It's a rather durable material that can handle a lot of wear and tear. Nylon is much more comfortable than vinyl, especially in the summer. The main reason is that it's, in contrast to vinyl, very porous. It absorbs almost any liquid you pour onto it, including sweat, but also coffee. That means that nylon is easy to stain, and harder to clean, especially if you let the liquids and dust set in. It's essential to vacuum and wash nylon upholstery regularly if you want it to be beautiful and comfortable for a long time.
4. Fabric Upholstery
Fabric is one of the traditionally popular upholstery choices. Many family car models are made with textile seats because it's the most comfortable type of seating for both summer and wintertime. However, just like your furniture at home (and even more so), your fabric upholstery requires regular and thorough washing. Fabric seats are generally quite porous, so they absorb any liquid spilled on it. The problem with fabric is that stains start to smell bad very soon. Because of that, it's important to clean out spillage as soon as it happens if your car has textile lined seats.
Best Car Upholstery Cleaners Comparison Chart
PRODUCT
DETAILS

Chemical Guys CWS_103_16 Fabric Clean Upholstery Shampoo

Price: $$
Customer Rating: 4.3
Volume: 16 ounces
Type: Fabric

View On Amazon

CarGuys Super Cleaner – Effective All-Purpose Cleaner

Price: $$$
Customer Rating: 4.6
Volume: 18 ounces
Type: Multi-purpose

View On Amazon

Chemical Guys SPI_191_16 Lightning Fast Upholstery Stain Extractor

Price: $$
Customer Rating: 4.2
Volume: 16 ounces
Type: Fabric, Rubber

View On Amazon

Tuff Stuff 350 0 1 Pack Multi-Purpose Foam Cleaner

Price: $
Customer Rating: 4.3
Volume: 22 ounces
Type: Multi-purpose

View On Amazon

Blue Coral DC22 Upholstery Cleaner

Price: $$
Customer Rating: 4.1
Volume: 22.8 ounces
Type: Fabric, Nylon,Vinyl

View On Amazon

Meguiar's G9719 Carpet & Upholstery Cleaner

Price: $
Customer Rating: 4.3
Volume: 19 ounces
Type: Fabric

View On Amazon

Chem-Dry Stain Extinguisher

Price: $$$
Customer Rating: 4.0
Volume: 18 ounces
Type: Fabric

View On Amazon
Best Car Upholstery Cleaner Reviews
1. Chemical Guys CWS_103_16 Fabric Clean Upholstery Shampoo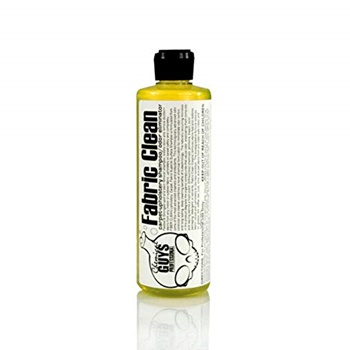 Chemical Guys have a popular brand, and for a reason – their products are high-quality, and uniquely formulated especially for cars. However, their Fabric Clean carpet and upholstery shampoo is a liquid you can use for your car or your house furniture. If it's textile – Fabric Clean can wash it. The price of this product falls in the lower middle range compared to competitors. If you're just trying it out, you can get a 16 fl. oz. bottle, but if you're a return customer, we recommend getting a full gallon of the product since it comes at an incredible price. In fact, this product is very concentrated, so it should be diluted in water, at a ratio of at least 1-part product to 20 parts water, depending on the severity of the staining. Because of this high concertation, even the 16 fl. oz. bottle will last for a long time. Fabric Clean is a safe formula that contains no toxic ingredients, nor ammonia, bleach, or other color damaging components. Nevertheless, the formula is quite potent, and it removes oils, smells, bacteria, and color, but it won't remove deeply set-in stains. It has a faint citrus smell that isn't overpowering and disappears after a day or two.
Pros
Nice citrus smell that dissipates quickly
Very concentrated formula can last for a long time
Cons
Not the most effective against old, set-in stains
2. CarGuys Super Cleaner – Effective All-Purpose Cleaner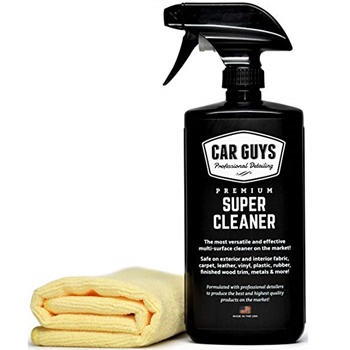 Our next pick comes from CarGuys, a brand loved in professional detailing. Their Super Cleaner is a multi-purpose liquid that can tackle any stain, on almost any surface. Their water-based polymer formula is among the stronger ones, but it's also on a more expensive side. It comes in either a gallon bottle or in a spray bottle of 18 fl. oz. along with a microfiber towel. This USA made product is very versatile, and you can use it on almost any surface apart from glass and screens. That includes textile, leather, vinyl and nylon, rubber, plastics, wood, and metals – so, pretty much anything around the house. A word of advice – make sure to test this product on an inconspicuous area before cleaning. Because it's such a strong cleaner and stain remover, it can also affect some dyes. So, if you're not careful, you may end up with a discolored car seat or panel.  While the manufacturer doesn't mention dilution, you can dilute this formula in a little bit of water if you find it too strong for your surface. This product removes odors easily, and it has a very mild smell itself, somewhat similar to coconut oil.
Pros
Very strong stain remover
Works on almost any surface
Cons
Can be too strong for some dyed surfaces
3. Chemical Guys SPI_191_16 Lightning Fast Upholstery Stain Extractor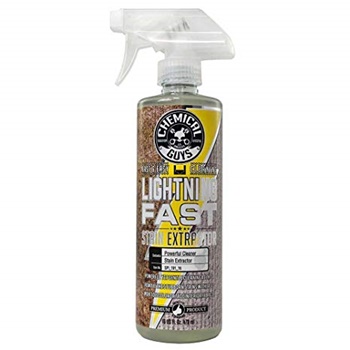 Our next pick comes from Chemical Guys, a popular brand among car detailers. Their Lightning Fast carpet and upholstery stain extractor come in three different sizes – from the mere 4 fl. oz. spray bottle, through the standard 16 fl. oz. one, to a bottle with a full gallon of the product. Even if you choose the smaller bottles, you won't use up all of the products as soon as you think. That's because this product is highly concentrated, and you can dilute it even to a 20:1 ratio with plain water. The dilution ratio really depends on your needs – use a lot of water for a general wash, or use the concentrated product straight out of the bottle for tough stains. After you're done cleaning, the product conditions your textile fibers, protecting them. While this product is mainly designed for use on any type of textile (including your seatbelts), it can also be used on rubber. You may also use the product on your headliners and walls unless they are dyed dark. If you'd still like to try washing your black or brown car walls, test on an inconspicuous area.
Pros
Also comes in a handy travel-size bottle
Cleans textile but also rubber
Cons
It can't clean tough, set-in stains
4. Tuff Stuff 350 0 1 Pack Multi-Purpose Foam Cleaner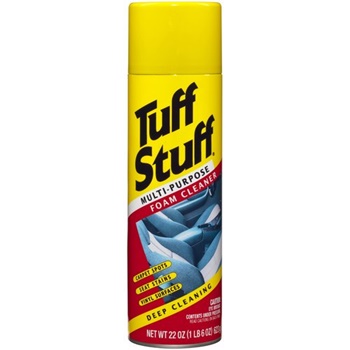 Tuff Stuff is a household favorite. This multi-purpose foaming cleaner can be used on anything from vinyl and fabric upholstery and flooring, over chrome, bathroom fixtures, tiles, and even painted walls, to wood, and metal. In other words, if it's washable, Tuff Stuff can do it. Another advantage of this product is that it's incredibly affordable. We believe it's one of the most inexpensive products on the market that actually does what it claims it does. This product is a great stain remover. However, we wouldn't recommend it for a general car wash, as it's not shampoo. Tuff Stuff comes in a 22 fl. oz. spray can, and you can get a single, or a pack of two, six, or twelve cans for very reasonable prices. Given that you can use this product for virtually anything you need to clean, we recommend getting several cans. Tuff Stuff has a very mild smell, and it isn't scented as anything particular. It simply smells like cleaning chemicals. Its smell doesn't linger, and it dissipates as soon as your surface is dry.
Pros
Good stain remover
Very affordable product
Cons
Not useful for general upholstery washing
5. Blue Coral DC22 Upholstery Cleaner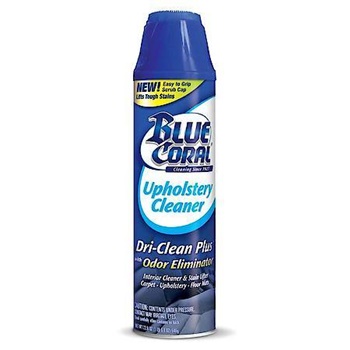 Our next pick is a Blue Coral Upholstery cleaner Dri-Clean Plus. This product comes in a 22.8 oz. aerosol can. An interesting feature of this product is the scrubbing brush integrated to the top of the lid. We have to say that the brush works just fine, but it's somewhat flimsy and won't be useful for heavy scrubbing. This cleaner can be used on fabric upholstery, but also synthetic materials such as nylon and vinyl. This product is water-based, so it's eco-friendly. However, you should always spray this product on a larger area, and not only directly onto a stain. With direct spraying, it may leave a watermark around the area. It's good at removing stains that aren't tough or deeply set-in, and we generally recommend it for your yearly upholstery and furniture cleanup. Dri-Clean Plus has a mild fresh scent and doesn't leave a strong chemical smell behind. Combined with a pretty good price, this product offers good value.
Pros
Good for general washing of fabric, nylon, and vinyl
Leaves a mild, fresh smell
Cons
Not great for stain removal
6. Meguiar's G9719 Carpet & Upholstery Cleaner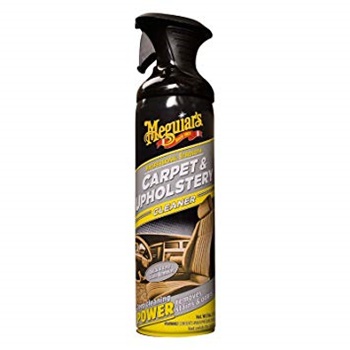 Anyone who loves detailing and taking care of their car will recognize the brand name Meguiar's. This superstar manufacturer offers a good Carpet & Upholstery Cleaner that we think deserves a place on our list. This product is a good choice for either spot removal or general washing. The bottle was designed for both, as well, and their spray nozzle can be set up to direct stream for tackling stains, or a wide mist spray for large area washes. The foaming formula will help you clean any mess. You can use this product on fabric seats, carpets, and mats. However, it's not a multi-purpose spray, so it shouldn't be used on surfaces like vinyl or plastic. Meguiar's cleaner comes in a 19 oz. aerosol bottle for a fairly low price. When it comes to its stain-removing power, this product is quite good, but not a miracle worker. It will remove almost any fresh stain, but you may need several tries and a lot of elbow grease to remove an old, set-in stain. The cleaner has a neutral smell, but you may need to leave your car windows open for a few hours to let it dissipate.
Pros
Dual-use nozzle for wide or stream spraying
Perfect for both stain removal and general washing
Cons
The smell dissipates relatively slowly
7. Chem-Dry Stain Extinguisher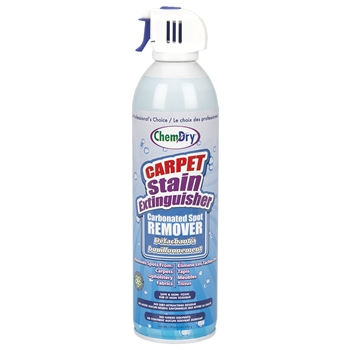 Our next pick is a popular Carpet Stain Extinguisher made by the manufacturer Chem-Dry. This product comes in an 18 oz. aerosol bottle with a spray nozzle. Carpet Stain Extinguisher is on the more expensive side when it comes to fabric cleaners, but you can get a two-pack for a good deal. The carbonated spot remover is completely safe and non-toxic, so you don't have to worry if you have your pets around when you use it. This product can remove many types of stains, but it doesn't work well on greasy and oily stains. However, if you mostly struggle with spilled food and drinks, or even pet messes, this product will do just fine removing the odor, the color, and the stickiness out of your carpets and upholstery. The formula is designed for textile materials, so you shouldn't use it on vinyl or leather upholstery. You can use this product for both spot removal and general washing. You don't need to worry about water spots if you only need to clean a small area. Overall, it's a solid stain remover and fabric shampoo.
Pros
Removes any water-based stain
Eco-friendly and non-toxic
Cons
Car Upholstery Cleaner Buying Guide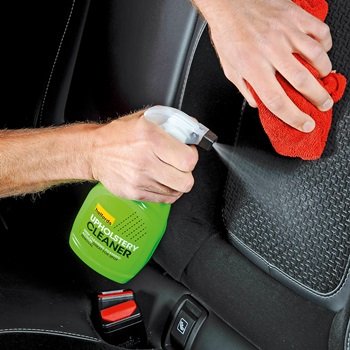 When you first search for car upholstery cleaners, you may feel overwhelmed by the sheer amount of different options and varieties. Even though it sounds like a simple job, choosing the right car upholstery cleaner is more complicated than you'd think at first. We'll walk you through the most important factors to consider when making your pick. Once you think about the following criteria, it will be much easier for you to choose among the numerous options on the market.
1. Specialized or Multi-purpose
The very first thing you should consider is whether you'd prefer to have a car-particular product, or you'd rather go with a multi-purpose liquid.
Multi-purpose liquids can be used for a variety of household jobs, like cleaning your indoor furniture, carpets, countertops, and even removing stains out of clothes. However, they are generally only moderately good at cleaning the various issues that regularly come up with car upholstery, such as mud stains.
On the other hand, specialized car upholstery cleaners are formulated in a way that truly best suits car upholstery. Furthermore, they are frequently made to match one specific type of upholstery, such as fabric, vinyl, nylon, or leather. Considering the differences among these materials, and the types of dirt accumulation they're most susceptible to, a specialized car upholstery cleaner will truly bring out the best in your car seats. They won't only remove stains, but also nourish and condition the particular material it was made for.
2. The Ingredients
Whether you choose a multi-purpose or a specialized cleaner, you should take a look at its ingredient list. Some ingredients frequently used, especially in multi-purpose cleaners, can cause horrible damage to your car upholstery.
The ingredients you should watch out for are alcohol, VOCs, and harsh solvents. Products containing ammonia and bleach can weaken and discolor your fabrics. Make sure your product doesn't have any of these.
However, some ingredients are desirable in cleaning products. Those are mostly vegetable glycerin and natural surfactants.
3. Foaming or spray
Your next choice will be among a foaming formula and a simple spray-bottle liquid. In general, both of these formulas can do regular washing.
In general, the foaming formula pierces more deeply into the fabric, so it's more effective for particular stains. On the other hand, you need to use more of the foaming formula for regular washing.
When it comes to spray-bottle liquids, giving a regular wash to your upholstery is a breeze, but cleaning stains take a bit more patience and effort.
4. The Smell
Apart from leaving your car looking pristine, washing has another important role – getting rid of the unpleasant smells, like dampness, rotten food, or old mud. Apart from removing the unpleasant smells, many cleaners leave a scent of their own, helping you enjoy the time you spend in your car even more. You can find such a large variety of car upholstery cleaner smells out there, that it would be a shame to introduce the overpowering odor of vinegar to your vehicle. From wild berry, over lemon, to no smell at all, there are a variety of scents to choose from.
5. Packaging Size
When it comes to determining whether a can of upholstery cleaner is worth your buck, you should consider two things – the volume in ounces, but also the dilution capabilities of the product. While this is not always the case, many cleaners can be used in different concentrations. They come in spray bottle cans, and they can be used as-is for tough stains but should be diluted for general washing. So, even though a product may seem expensive at first glance, it may just be dilutable, and very well worth the price.
How to Clean Car Upholstery Properly?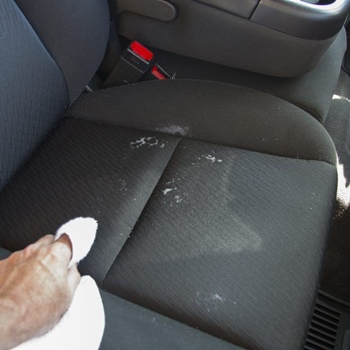 In order to help you get the most out of your car upholstery cleaner, we compiled a walk-through for the most effective upholstery wash procedure. Follow these steps for a quick and practical upholstery wash with fantastic results.
1. Before You Start
We have a couple of tips for your upholstery wash that you should consider before you start.
1.1. Plan Ahead. You won't be able to drive your car with fabric upholstery for at least 10 hours after your seats receive a full-blown wash. At least not without getting your clothes wet. For quickest drying, pick a sunny day for upholstery cleaning. If you can, do the washing in the morning, so you can take advantage of the warmest hours of the day to speed up drying.
1.2. Try Out Your Product on an Inconspicuous Area. Sometimes, cleaning products can be too strong for the material you want to use it on, causing discoloration or damage to the fabric structure. Test any new product you get or a familiar one that you want to use on a new surface, on an area that's hard to see. Take the usual steps you'd do when actually cleaning – especially brushing and rinsing. If nothing goes wrong, you're good to go, and you can use your product without fearing it will damage your upholstery.
1.3. Read the Directions. Cleaner formulas differ greatly, and because of that, the methods of use and cleaning techniques may vary as well. Read the label of your new product to check if what you intend to do really is how you should use the product.
1.4. Clean As Soon As Possible. If you spill something, get your seats dirty, or an accident involving your children or pets happens, the best way to prevent permanent stains is to clean the area as soon as possible. Tackle the stain directly with your upholstery cleaner before it sets in. However, fresh and set-in stains should be handled differently. Instead of scrubbing, you should blot the fresh stain. Scrubbing can result in spreading, making the stain even worse.
2. What You Need
A vacuum cleaner – ideally with a brush attachment for furniture
1 bucket of clean water
A hard bristle scrubbing brush, or a tough sponge
An absorbent cloth – ideally microfiber
Your preferred upholstery cleaner
Optional – a car upholstery cleaner machine
3. Cleaning Fabric Upholstery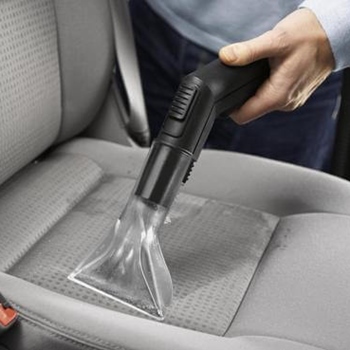 The first step to any successful upholstery wash is a thorough vacuuming. Get rid of any crumbs, dirt, and debris that sits on the top of your seats. You may have trouble getting ingrained pet hair or crumbs out of the material. In this case, use your brush to tease it out, and then get rid of the clumps with a vacuum. Always vacuum thoroughly before using any liquid on your seats.
If you have any old stains that you would like to get rid of, spray your upholstery cleaner directly on it. Let it soak in while you clean other parts.
Prepare your bucket, brush, cloth, and cleaner. You may dilute the cleaner for general washing. If you do that, pour the solution into another spray bottle.
If you have a carpet cleaner, you can employ it to do the following steps for you.
Spray the cleaner onto a portion of the seat. Generally, you can do half a panel at the time. Take your brush and scrub. If you have a foaming formula cleaner, scrub until you create a strong foam, and don't be reluctant to put in pressure. Otherwise, lightly scrub until you feel your brush is getting too dirty. Rinse your brush in the water bucket, and continue scrubbing if necessary.
Take your absorbent cloth and pat the formula off of your seat. Rinse the cloth in water, and squeeze out as much water as you can. Repeat the process on the next part of the seat, until your entire car interior is sparkling clean.
4. Cleaning Vinyl Upholstery
Cleaning vinyl upholstery is as simple as wiping it off. It's also much faster and requires less elbow grease than cleaning fabric upholstery. You shouldn't use any water in the process, except for diluting your product.
Spray your cleaner onto your brush, and not onto the seat. Gently scrub the entire area of your seat. Repeat if necessary, especially if you feel you need more product somewhere along the way.
Take a dry microfiber (or another absorbent material) cloth, and fold it in four. With one side, pat the product off of your seat. Examine your cloth, and turn it to a clean side once it looks dirty. Don't rinse your cloth in water, but instead, use clean, dry sides of the cloth to clean your vinyl upholstery.
5. Drying
If you can, pick a sunny, dry day to wash your upholstery. That way, your fabric seats will dry much quicker. If that's not possible, park your car inside a garage with good ventilation.
Open all doors and set up a fan to blow through your car. If you washed your vehicle interior during a cold season, set up some form of heating inside the garage, but beware of fire hazard. Let your car air dry.
Tips for a Perfectly Clean Car Interior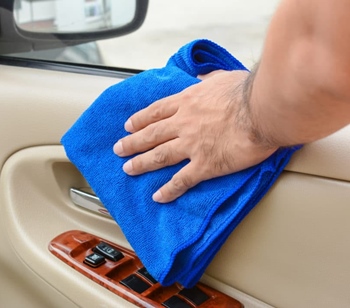 Here are some additional tips for making your car interior sparkling clean.
1. Washing Buckles and Straps
You can also wash your safety belts. An important thing to keep in mind is to never throw the straps into a washing or a drying machine. Tumbling in water, soap, and heat will weaken the straps, making them brittle. If you do that, it's likely that the fabric will lose its flexibility, potentially putting your life in danger.
Instead, simply spray a bit of your upholstery cleaner onto a sponge or a cloth. Run it over the length of the strap. Then, use a clean, dry cloth to remove the dirt along with the excess liquid.
2. Washing the Carpets and Mats
You can also clean your carpets and mats with any fabric upholstery cleaner. The procedure is quite similar to washing your fabric upholstery. Cleaning mats are a bit easier on your back because you can take them out and clean them standing up.
First of all, vacuum your carpets and mats as much as possible. If you're eager to do a thorough cleaning, take your seats out. A vacuum cleaner nozzle can never reach everything while your seats are inside your vehicle.
Then, wash your carpet and mats just like you clean your seats. Spray one part with your product, scrub with a brush, and then pat it dry with a microfiber cloth. Rinse your brush and your cloth, and repeat until you have a clean mat in your hands.
You can hang your mats outside to dry.
FAQ About Car Upholstery Cleaners
1. Can I use dish soap, baking soda, or vinegar instead of a car upholstery cleaner?
If you need a quick fix that will prevent a stain from setting in, you can use a couple of drops of white vinegar to remove the smell and the bacteria. Never use grape or apple cider vinegar, because these may leave stains on your upholstery. However, you shouldn't use the kitchen remedies if you have more than 3 square inches of area to clean. Using vinegar on any larger area will result in a foul smell that you won't be able to get rid of for months.
A car upholstery cleaner is always the safest bet for cleaning your car seats, especially if you need to wash a large area or your entire car interior. They disinfect and restore color better than vinegar, and leave your car smelling amazing. Furthermore, they require less elbow grease for better results. Saving the tiny amount that is the cost of one of these products simply isn't worth it.
2. Can I also clean the flooring of my car with an upholstery cleaner?
If you chose an upholstery cleaner that's suitable for fabric upholstery (especially in contrast to leather), then the answer to this question is a definitive Yes. However, if your product is not made for textile, then you shouldn't risk washing your carpets and mats with it.
3. Should I get my car upholstery professionally cleaned, or can I do it myself?
When it comes to dirt that accumulates during everyday use, and some light stains, most people can give a proper wash to their vehicles without much trouble. If you don't feel confident in your skills, or you find the work overly taxing on your body, refer to our next Q&A. On the other hand, if you have a heavily soiled car seat with deeply set-in stains, professional cleaning may be in order. However, keep in mind that professional cleaning can be quite pricy, so call your local auto detailer to check their prices.
4. What is the most comfortable position for washing upholstery?
Cleaning upholstery, especially the lower panels of the seats, can be quite uncomfortable. To avoid excessive strain on your back, you should avoid standing and bending down while doing it. The most natural way to position your body while doing this type of work is kneeling. Get a soft surface, like a thick mat, or a big pillow to put under your knees while you work. If you think your knees can't take the pressure, get a small stool to sit on while you work. Make sure you keep your back straight. Sitting on a stool, you will have less power and mobility in your arms and back for scrubbing. However, this is the most comfortable way to work.
Wrap Up
Having a clean car doesn't only mean washing and waxing the outside of the vehicle. If you want to enjoy spending time in your car truly, you should ensure you have a sparkling clean, pleasantly smelling interior as well. That's why you need the best car upholstery cleaner for your car. Even though these products are quite affordable, they can make all the difference when it comes to the look and the feel of your car seats, carpets, and mats.
We hope that our car upholstery cleaner reviews helped you find the right product for your vehicle. Feel free to refer to our buying guide if you're still not sure which product is ideal for you. We explained everything you need to know about upholstery cleaners and answered some of the most frequently asked questions. However, if you still have something to ask, don't hesitate to shoot us a message!
Bonus article: top-rated car air fresheners