If you ride a lot, and you own a mightier vehicle such as a diesel truck, the chances are that you are going to need the best jump starter for diesel sooner or later. A jump starter is something you can live without until it's the only thing that can save you out there on the road. Investing in safety on the road is something we all should do.
When the battery gets depleted suddenly (which can happen due to all sorts of reasons), a jump starter will get you home. Larger vehicles need more power, but there are nuances to different jump starters, even for diesel engines. That's why I prepared this guide for you, to help you get a hold of the whole topic and make a valuable decision in the end. A little knowledge can go a long way, not only safety, but also money-wise. Let's dig in!
See The Quick Comparison Chart
What Size Jump Starter Do I Need?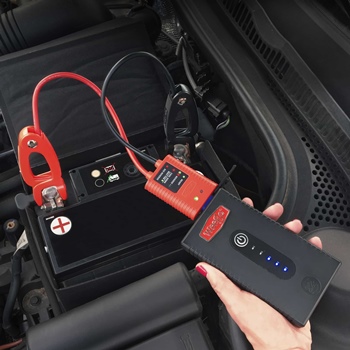 There is no straight answer to this question because no two vehicle models are the same, and every other engine has different specs. However, we can safely say that there are some specs that can tell us how big of a vehicle a certain jump starter can start. The main three power ratings you can find on a jump starter are:
Peak amps
Cranking amps
Cold cranking amps
The consensus among truck drivers is – the more amps the better (we will get to it in a moment). But you should keep in mind that a jump starter with more amps usually comes with a bigger housing as well. So, the bigger the better stands as correct here, but there is also overkill on the other side.
1. Peak amps
This is the amperage (or Amps for short) that gets advertised the most. If we were to avoid tech speak, we could say that the peak Amp rating represents the highest amperage that the jump starter can achieve. Most typically, this "burst" of current is at the very beginning of the process.
The peak Amp rating varies from model to model, and, depending on the size of the engine, a jump starter for diesel engines can fluctuate from 400 amps to more than 2000 amps. This may look like overkill, but there is a reason for such a strong peak amp rating, even though fewer amps may get the job done in the first place. The amperage also depends on the temperature around your battery.
2. Cranking amps
Cranking or working amperage comes as a lesser important spec, for the most part. Cranking amp rating tells us about the sustainable power that a jump starter discharges while you are using it. In most cases, this cranking amp period lasts about 30 seconds.
Even though peak amps get the job done when it comes to jump starting your diesel vehicle, cranking amp rating is important as well. Again, we are talking about temperature.
3. Cold cranking amps
As the name suggests, cold cranking amps give us the real perspective of how the jump starter would behave in freezing temperatures. To be exact, in most cases the cold cranking amp rating is done at the temperature of 0° F (or -18° C).
Due to the nature of batteries and the materials they are made of, lower temperatures negatively affect jump starters as well. That is why, if you live and drive in areas that get harsh, icy-cold winters, you should definitely have this stat in mind.
4. Physical Size
Last, but not least, when it comes to the "how big…" topics, we should mention that jump starters for diesel vehicles (generally) come in two types and designs:
Old battery system jump starters – bulkier and more reliant in freezing temperatures
Newer battery system jump starters – small devices that usually come with a lot of extra features
Be aware of one fact, though – the size of the jump starter does not always correlate to the peak amperage. Simply decide how much storage space you can spare for the new jump starter and start from there.
5. Battery Type
This is less and less of a concern since the tech is rushing towards a lithium battery system standard. But we must touch on the issue because batteries are essentially chemical reactors, and jump starters for diesel may come in two main forms of batteries:
Lithium-ion batteries – lightweight and generally safer for the user
Lead-acid batteries – stronger and arguably more durable, but are also more toxic than Li-ion ones
When deciding on a jump starter you want to get for your diesel vehicle, you should probably check your state's laws regarding batteries. Some states like California are working towards eliminating the usage of lead-acid batteries due to their harmful effect on the environment. However, the jump starters do not pose a threat if handled properly. It is the disposal of the battery after years of use that is the issue there.
Gasoline vs. Diesel Jump Starters
The real difference between gasoline and diesel jump starters is their overall strength.
Let me rephrase, the differences come from peak amperage ratings and such specs, but a lot of jump starter models come with the quality of life features that benefit a certain niche of people. People that ride powerful diesel weapons usually spend a lot of time off the road. This is why you can see a lot of powerful jump starters for diesel engines with features like LED lights or even USB charging ports.
So, to round all the differences up, we could say that the main differences between gasoline and diesel jump starters are:
Raw power, calculated in amperage. Jump starters for diesel engines are typically stronger and often offer a 2-battery 24V support
Jump starters made for diesel vehicles come with larger casings and a more industrial overall design.
Extra features are also more likely to be found in more powerful jump starters thanks to the outdoor-ish habits of drivers.
Best Jump Starter For Diesel Comparison Chart
PRODUCT
DETAILS

Jump-N-Carry JNC1224 Peak Amp Jump Starter

Price: $$$
Customer Rating: 4.6
Peak Amps: 3400/1700
LED Light: No
USB Chargers: No

View On Amazon

NOCO Boost HD GB150 3000 Amp Jump Starter

Price: $$$
Customer Rating: 4.6
Peak Amps: 3000
LED Light: No
USB Chargers: Yes

View On Amazon

DBPOWER Jump Starter 2500A 21800mAh

Price: $$
Customer Rating: 4.5
Peak Amps: 2500
LED Light: Yes
USB Chargers: Yes

View On Amazon

GOOLOO GP37 Plus Car Jump Starter

Price: $
Customer Rating: 4.5
Peak Amps: 1200
LED Light: Yes
USB Chargers: Yes

View On Amazon

NEXPOW 2000A 18000mAh Car Jump Starter with USB

Price: $
Customer Rating: 4.7
Peak Amps: 2000
LED Light: Yes
USB Chargers: Yes

View On Amazon

BEATIT QDSP 2200Amp Peak 12V car Jump Starter

Price: $$
Customer Rating: 4.3
Peak Amps: 2200
LED Light: Yes
USB Chargers: Yes

View On Amazon

AUTOGEN 3000A Car Jump Starter

Price: $$
Customer Rating: 4.5
Peak Amps: 3000
LED Light: Yes
USB Chargers: Yes

View On Amazon
Best Jump Starters for Diesel Reviews
1. Jump-N-Carry JNC1224 Peak Amp Jump Starter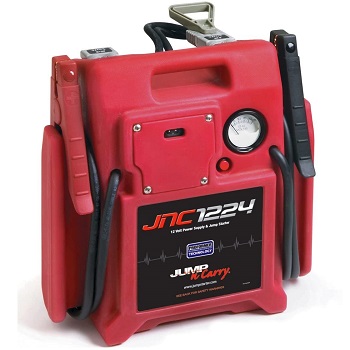 The Jump-n-Carry lives up to its name, thanks to the industrial design and the engineering approach when it comes to current delivery. The older design comes with a robust and strong casing that supports all sorts of transports with ease. However, keep in mind that it weighs around 40 pounds, but the housing is drop resistant.
The lead-acid battery system inside gives you the commodity of connecting both 12V and 24V vehicle batteries and jump start them. You also get to chose the voltage on the side of the jump starter. Now, you also get a pair of integrated, 46'' long, #2-gauge cables with clamps on the end. The clamps have a super-tight grip that can help you connect them even if the terminals are corroded.
Pros
A heavy-duty jump starter that can work in harsher environments without any issues
The cables are #2 gauge and they come with tight-grip clamps to help you connect them
This jump starter model comes with 2 different modes, 12V and 24V
Cons
The battery is lead-acid which may be a problem if you live in areas with strict environmental codes
2. NOCO Boost HD GB150 3000 Amp Jump Starter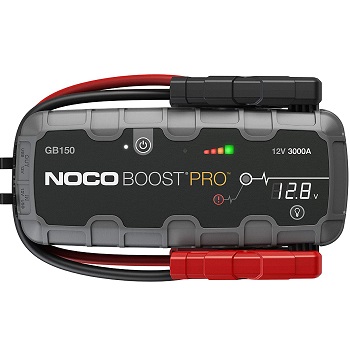 If you are tight on storage space, this particular jump starter model for diesel vehicles may be the solution. It is one of the most compact jump starters out there that can offer its features to bigger and more powerful vehicles. And, don't let the size fool you, the manufacturer guarantees a total of 40 jump starts on a single charge of the battery.
The housing is made of rubberized plastic, with a metal casing under it which adds a lot to the jump starter's durability. It also comes with a safety system that prevents misconnections and gives you a spark-proof way to safely connect the jump starter to the battery. This NOCO also provides you with the ability to charge devices that support USB charging.
Pros
3,000 peak amps to help you jump start your vehicle with little to no effort
A 500 lumen LED flashlight with SOS modes and a strobe for emergency situations
The housing of the jump starter is super-portable and easy to store
Cons
The jumper cables and clamps are a little shorter than average, but the portability will help you reach the battery easily
3. DBPOWER Jump Starter 2500A 21800mAh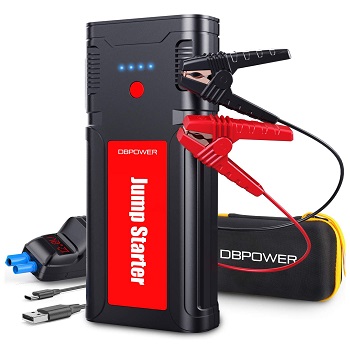 Some people like to keep everything nice and tidy, with enough resources if an emergency situation breaks up. This jump starter can get you out of trouble while keeping your devices charged as well. Another upside of this particular jump starter model is that it is one of the most affordable out there, coming with a great price-to-performance ratio.
Now, performance-wise, we are talking about a peak amp rating of 2,500, meaning that any diesel engine up to 6.5 liters is fair game for jump starting. You also get a set of potentially lifesaving features with this unit. There is a USB charging feature, a headlight, and three different emergency modes for the light (strobe, flashlight, and SOS). The potential downside is the cables connected to the clamps. These jumper cables are reliable, but they can heat up if you are not careful due to the high gauge number.
Pros
A super-affordable multipurpose gadget with the main purpose of jump starting a vehicle
This model has 2500 peak amp rating which is quite high if we account for the size of the jump starter
The extra features you get along the device are great in emergencies
Cons
The jumping cable gauge on this model is not that impressive, and the cables are thinner than average
4. GOOLOO GP37 Plus Car Jump Starter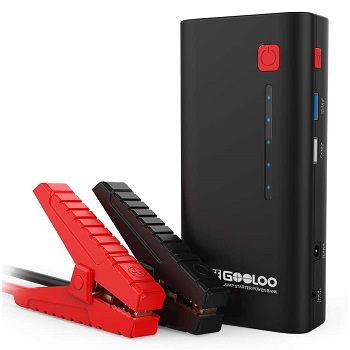 This particular GOOLOO unit may not be the most powerful out there, but the compact design pays off, in case you don't have an extra-large truck. The total peak amp rate may be locked at 1200 A, but that can be enough to service and jump start a diesel engine of up to 5.5 liters. The design of the unit is based on portability and easy storage.
When it comes to other features this jump starter delivers, we are talking about the usual on a Li-ion unit. You can see the two USB ports ready to charge your portable and handheld devices, and an LED light with 3 modes (strobe, SOS, and flashlight). The jump starter also comes with overload and over-voltage protection, meaning that you don't need to have any kind of previous experience with jump starting to use it.
Pros
One of the most portable units on the market that offers the same set of features
Comes with all the connectors you may need, even including a USB to type-C, and a nag to pack it all in
The jump starter comes with all sorts of electric protections, including overload and over-voltage protection
Cons
The peak amp rating of this jump starter isn't exactly great, since it's rated at 1200 A, supporting diesel engines of up to 5.5 liters
5. NEXPOW 2000A 18000mAh Car Jump Starter with USB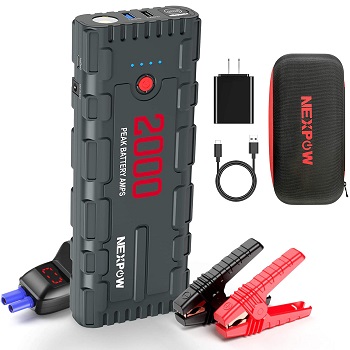 This NEXPOW is an industrial take on the modern Li-ion jump starter. You can notice that all the standard features for a starter are there, but they are all packed in a sturdier, more secure casing. The jump starter itself is not heavy nor bulky to store and carry around. It even comes with a special bag that can carry the jump starter and all the necessary cables and connectors.
You will need these connectors to utilize the full potential of the jump starter, including the USB charging ports (two of them). Additionally, this unit has an emergency flashlight that doubles down as a strobe, as well as an SOS light for emergencies. The peak amps are rated for 2000 A, meaning that you can jump start a diesel vehicle with an engine of up to 6.5 liters.
Pros
A compact, yet sturdy jump starter for diesel vehicle (up to 6.5 liters)
Next to the two USB ports, you can see a USB-C port that can act both as in and out
The whole set comes with a semi-hard case to pack everything for easy carrying and easy storage
Cons
The gauges of the jumper cables are quite short, so be careful while working under the hood
6. BEATIT QDSP 2200Amp Peak 12V car Jump Starter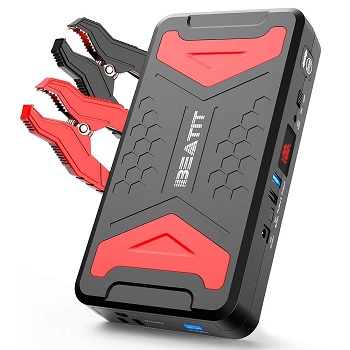 The BEATIT QDSP with the 2,200 peak amp rating is a great starting point for anyone that needs a simple, yet powerful jump starter. Its Li-ion battery is tightly fitted inside the modern-looking casing. On the sides, there are rubberized patches that prevent slipping, but still don't add a lot of weight. On top of that, you also get a cushioned case to pack the jump starter in, along with the cables.
The peak amp rating of 2,200 A is enough to jump start all sorts and sizes of diesel vehicles. Additional features include a couple of USB charging ports that can be lifesaving in an emergency. There is also an LCD screen that can tell you the state of the battery inside the jump starter. Lastly, you get a pair of jumping cables with clamps, and a cable to help you charge your USB devices.
Pros
A compact jump starter with a powerful kick of 2200 peak amps
The set involves a semi-solid case that can you can use to store all the cables in, with the jump starter
100W 110V converter included in the set as well
Cons
The clamp cable gauge is high, meaning the cables are thinner than usual, so be careful if you have to start the vehicle more than two times in a row
7. AUTOGEN 3000A Car Jump Starter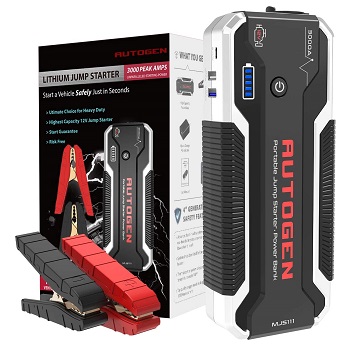 This particular AUTOGEN jump starter is one of the most potent when it comes to size-to-power ratio. It is extremely compact for a jump starter that can achieve 3000 peak amps. The whole casing is designed to prevent slipping and to enable you a firm grasp around the starter. You can also see a monitoring screen that tells you the state of the battery inside the jump starter.
The battery is needed not only to initiate jump starting through the cable and clamps (provided with the set), but to power the USB charging ports as well. On top of that, you can also use the LED light with three modes – strobe, flashlight, and SOS. This can all be packed in the hard case you get with the set. The connector cable (from the jump starter to the car battery) has indicators on it so you can be sure you connected everything properly.
Pros
A compact jump starter with the power of 3,000 peak amps, which is above average for this type of jump starters
The whole set of cables comes with a hard case to fit everything in
The device has a whole line of safety systems that prevent damage and injuries in case of a misconnection
Cons
If you deplete the built-in battery, the jump-starting ability becomes weaker for larger diesel vehicles, so you have to recharge first
Jump Starters for Diesel Buying Guide
As you can see, there are all these nuances when it comes to jump starters for diesel vehicles. The technology of today allowed for jumps starters with different features to arise. However, the jump-starting feature is what they all have in common, so we will start this guide with the most important thing – amperage, or peak amperage to be exact. If you are into vehicles and are looking to renew your tools or equipment, feel free to browse the car library I prepared. Let's see what else is there.
1. Amp Ratings
A high peak amp rating is something you should be looking for, especially if you want to jump start a diesel truck. So, without going through the whole concept again, let's recap:
Peak amps – the most important feature with jump starting. Aim for the highest one you can get, especially if you drive a truck with a 24 V battery system.
Cranking amps – the current amperage for the next 30 or so seconds. The cranking amp rating is more important if you live in a cold area.
Cold cranking amps – a rating that tells us how the jump starter behaves under a freezing temperature of 0° F or -18° C. Cold temperatures negatively affect amperage from a jump starter.
The more the better, that is the deal here. You can't exactly damage your battery by jump starting it. Not unless the battery had a pre-existing flaw. Speaking of currents and batteries.
2. Voltage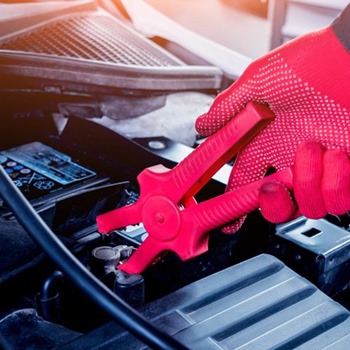 This might not be an important spec if we talked about cars only. Larger vehicles like trucks and SUVs can have a 2 x 12V battery system. If this is the case, you should keep in mind that the peak amp gets halved if you connect the jump starter to a 24V system. So, double-check under the hood and find out what type of battery your truck is using.
Luckily, manufacturers that deal with jump starters for diesel and other, more powerful, vehicles had that in mind. Most manufacturers will emphasize whether or not their jump starter is suitable to jump start a vehicle that uses a 24V battery.
3. Weight and Size
Factoring in the actual weight of the jump starter may not seem like an essential point, but experience shows otherwise. The weight of the jump starter, as well as its size, will determine the way you use it, once the time comes that is.
There are two main types to look out for:
Old-school analog jump starters that are generally bulkier and require some space
Digital jump starter for diesel vehicles that are significantly smaller and lighter
So, if you can afford enough storage on-board, and want to have a more robust (some might argue more trustworthy) jump starter, going with analog may be a valid choice. On the other hand, if you are a fan of modern tech, a digital jump starter will do just fine. Digital units almost always have some bonus features built-in as well. Which brings us to our next topic…
4. Extra features
For starters, the extra features you can expect from a jump starter are not game-changing, per se. At most, these extra features come as the quality of life additions, and at worst, they won't even bother you. So, what gives?
4.1. LCD display
Newer tech brought all sorts of monitoring to devices worldwide. That is the case with LCD displays. Digital jump starters usually have an LCD display to help you monitor the current charge inside. Besides the power levels, some screens enable you to measure voltage and/or amperage.
A display is not crucial in the world of jump starters for diesel vehicles, but it is always a welcome bonus that should not be considered a deal-breaker.
4.2. A Light
Because a lot of people with diesel vehicles are driven by adventurous drivers, some more advanced jump starter models come with a built-in light. For an off-road driver, having a light in the middle of nowhere can be a life-saver.
Usually, the light feature comes with jump starters that also have a charger on-board. If you do opt for such a model, please keep in mind that a simple light can drain a lot if left turned on. Only a full jump starter is a good jump starter.
4.3. Thermometer
Because cranking amps depends on the temperature around, some models come with a thermometer of some sort. Analog or digital, no matter which one you get, a thermometer helps you decide whether it's worth it to try again or not when the first jump-starting attempt fails.
The whole reason behind a thermometer finding its place on a jump starter are the cold cranking amps. Remember, the colder it gets the harder it gets for a jump starter to do its job.
4.4. USB Charging
Lastly, we have a feature that gets integrated into jump starters more and more. Since we all started using gadgets and handheld devices like smartphones GPS devices, a USB charging port is more than necessary.
This feature gets attached to jump starters that are usually the models that have their own source (typically in the form of a separate battery). Again, be careful not to drain the battery while charging your phone, thus disabling it from helping you with the jump starting.
5. Cable Gauge
Some people might argue that – in the right conditions, any cable gauge will do. Cable gauge refers to the thickness of the metal cables that push the current to jump start the car. Similar to jumper cables, jump starter cables come in several gauges. The thicker the better is the safest path to take.
Lead-acid jump starters (old-school type) typically come with a thicker cable gauge. On the other hand, digital jump starters usually have thinner cables of the lower gauge.
*Don't get fooled by the gauge numbering. The rule is – the lower the number, the thicker the cables, even though the logic may seem reversed at first.
How to Jump Start a Diesel?
Compared to jump starting using another car's healthy battery, starting using a jump starter is relatively easy. Just follow these simple steps:
Make sure that the jump starter is full and turned off.
Connect the red cable to the positive battery terminal
Connect the black cable to the negative battery terminal
Turn on the jump starter as described by the manufacturer
Turn the key and turn the engine on and leave it for 30 sec at most
Disconnect the cables, going with the red cable first, unless the manual says otherwise
Remember to recharge the jump starter
*If you own a vehicle with a 24V battery (2 x 12V), connect the jump starter to the battery with thicker cables.
Jump Starter Safety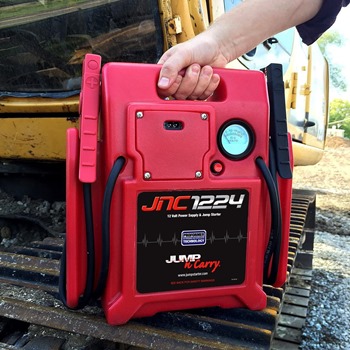 When it comes to safety around jump starters, most of the job is done already, through reverse polarity prevention. Some older models may not have this feature, but even they give you the option to adjust the voltage and adapt it to your engine's requirements.
Another thing to keep in mind is that the electricity that comes out of the jump starter isn't safe. If you are inexperienced with devices like this, I recommend using anti-shock gear. You will get the hang of it eventually. Also, remember to keep the gloves and the rest of the gear with the jump starter, safely stashed in your car's storage compartments.
If you must use the jump starter on the road, in rainy weather, practice extra caution, because the current can both harm you and damage the car's battery.
FAQ About Jump Starters for Diesel
1. What is the difference between battery chargers and jump starters?
The name says it all. Well, almost all. While some jump starters come with an integrated battery charger, we can safely say that these two devices come with a key difference. A battery charger is designed to recharge an empty car battery over the course of several hours. Some larger batteries even take a few days to recharge.
On the other hand, we have jump starters. They deliver a high amp current that is needed to start the car immediately. So, you technically shouldn't be able to jump start a vehicle with a battery charger. At least not if the charger comes with a jump starter.
2. What is the difference between cranking Amp and peak Amp?
We already touched upon this subject in the guide above. But a little repetition can get us a long way. After all, the peak amp rating is what you need to have in mind if when buying a jump starter for diesel vehicles.
In layman's terms, peak amps represent the amperage needed to jump start an engine. This burst of amps can go over the needed limit, and the "the higher the better" rule applies here.
Running, or cranking amps represent a constant current that usually lasts up to 30 seconds. This is the so-called cranking time when the engine starts. All in all, this stat is more important if you live in cold climate areas, because cranking amps then get a different rating – cold cranking amps, i.e. amps with low temperatures (0° F or -18° C) accounted for.
3. How many Amps does it take to jumpstart a diesel truck?
It depends. Different trucks come with different diesel engines. Let's say that you could technically start a smaller diesel engine with 400 amps from a jump starter. However, thanks to the "the more the better" principle, you should be liberal with this number and get a mightier jump starter.
When it comes to larger diesel trucks, we could be talking about 1000 amps or even more. This amperage is actually lower after the engine starts, but during the initial turn, it's the peak amps that matter, because the needed amperage then at its highest.
Wrap Up
And there we go – all the essential info about the best jump starters for diesel vehicles wrapped up in a single article. This topic is wide enough, but you don't need to be a mechanic to choose the best tool for your vehicle. On the other hand, I always insist on the good old saying – An ounce of prevention is worth a pound of cure. A starter can get you out of a hairy situation on the road, and above all, it gives you a chance to quickly resolve an issue on the go.
And, as you could see above, the is a wide range of choices to go through, so take your time and add a new utility tool to your toolbox. Stay safe on the road!