If you live in areas that get hit by heavy snow and cold winters, having the best tire chains for your car is considered essential. Driving during the winter can be quite stressful. The roads are slippery as it is, but dirt and country roads are the worst. When covered with snow and ice, these roads are not only dangerous but quite hard to drive on. Between skidding, and being in a standstill with your wheels still rolling in place, winter brings many inconveniences to drivers across the country.
Before you're ready to venture out on a snowy road, you should make sure you have everything you need for a safe drive. We will go through everything you need to know before you make your pick in our buying guide and present some of our favorite models in our tire chain reviews. Let's get right into it!
See The Quick Comparison Chart
Advantages and Disadvantages of Tire Chains
Tire chains are only one of the options you get when it comes to winter driving gear. As such, they have their own benefits and drawbacks. Some are obvious, some less so. Let's take a look.
1. Advantages of Tire Chains
1.1. Higher traction
This is the very purpose of tire chains – improving your traction on substandard road conditions. While a set of tire chains can't help you on an asphalt road wet from rain, it can be a complete lifesaver on snow, mud, ice, and even mulch and gravel. The chains that wrap around your tires provide additional texture, engineered for maximum traction on the squeaky snow and slippery ice. Driving on a snowy surface with tire chains, your car feels more stable, secure, and easier to control.
1.2. Barely any maintenance
Chains are chains – a long collection of linked metal hoops. As such, the simple piece of gear is very easy to take care of. It takes almost no time to clean them up and dry them after use, and they're all ready to tackle the next chunk of a snowy road.
1.3. Avoid buying snow tires
Many states require you to have some type of snow traction device, whether those are special, studded tires, or simple tire chains. Snow tires are great for the winter, and they're somewhat easier to use, but they're also very expensive. If you're looking to avoid the high cost of snow tires, we recommend always having a set of snow tire chains in your trunk.
2. Disadvantages of Tire Chains
2.1. Limits your speed
Tire chains are amazing for road traction in conditions when only your normal tire doesn't get good stability or grasp on the road. Whether this is due to snow, ice, mud, or rain, tire chains can help you avoid skidding and slipping. However, even though you'll feel safer driving with tire chains, you will also be forced to slow down. The legal limit to driving with tire chains is 30 mph since anything faster than that can result in damage to the road, the chains, or your tires.
2.2. Higher fuel consumption
If you have a pickup truck, the chances are that you are already upset at the high fuel consumption. You should know that your fuel consumption will go up when driving with tire chains. Not only are they a bit heavy, but the additional traction requires a bit of extra fuel to be burned. This is both expensive, and the opposite of eco-friendly.
Best Tire Chains Comparison Chart
PRODUCT
DETAILS

Security Chain Company SZ143 Super Z6 Cable Tire Chain

Price: $$
Customer Rating: 3.9
Size: Various
Type: Cable

View On Amazon

KONIG CB-12 090 Snow chains, set of 2

Price: $
Customer Rating: 3.8
Size: Various
Type: Chain

View On Amazon

Peerless 0231905 Auto-Trac Light Truck/SUV Tire Traction Chain – Set of 2

Price: $$
Customer Rating: 4.0
Size: Various
Type: Chain

View On Amazon

TerraKing TerraGrips Tire Chains 20×8-8 [ST90001]+

Price: $$
Customer Rating: 4.1
Size: 20 x 8-8
Type: Rubber

View On Amazon

Security Chain Company ZT729 Super Z LT Light Truck and SUV Tire Traction Chain – Set of 2

Price: $$
Customer Rating: 4.4
Size: Various
Type: Cable

View On Amazon

AUTOLOVER Car Security Chains 8pcs Anti Snow Chains of Car, SUV, Truck

Price: $
Customer Rating: 3.8
Size: 6.5 – 10 inches wide
Type: Rubber

View On Amazon

Security Chain Company QG3829 Quik Grip

Price: $$$
Customer Rating: 4.4
Size: Various
Type: Chain

View On Amazon
Best Tire Chain Reviews
1. Security Chain Company SZ143 Super Z6 Cable Tire Chain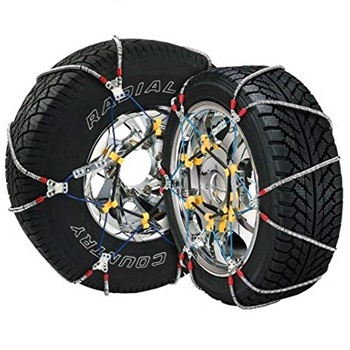 The name Security Chain Company may not be the most creative in the world, but what matters is that the tire chains they make do the trick!  This time, we picked a pair of cable chains from their Z series. If your car has very limited clearance – the space between the tire and the body of the car, the Z series is the right choice for you. This particular cable set is only 0.25 inches thick, so it can fit practically any vehicle. If you're sick of hopping in and out of your car to simply install one tire chain, don't fret.
The zig-zag design of the chain combined with the modular construction makes it possible to install the tire chain without having to drive at all. In fact, the rubber tightener placed in the middle doesn't only make installation easier, but it helps the chain stay tightly fastened throughout the drive. The Super Z6 cable tire chain comes in a variety of sizes. You can get one for your passenger car, SUV, or even truck. Along with the chains, you get a fair-quality nylon bag for storage, a pair of plastic gloves (though we still recommend packing up a pair of winter gloves), and illustrated instructions.
Pros
At 0.25 inches thick, these can fit even the smallest clearance
No need to drive to install them
Cons
The zig-zag design tends to tangle
2. KONIG CB-12 090 Snow chains, set of 2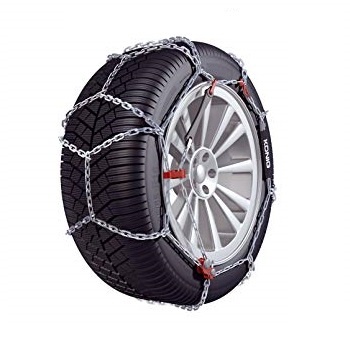 Our next pick comes from the legendary auto accessory manufacturer Konig. Coming from the Alps, this company knows its snow. This time, we recommend their CB-12 snow chain. This model comes in a large variety of sizes, so it can fit practically any tire. This reasonably priced model comes with a set of standard links webbed into a diamond-shape chain.
The chain is fastened easily and quickly, in only a couple of minutes. The bad thing about this chain is that it's fastened with a few plastic pieces, which can be a liability in blizzards and storms. Make sure to remove the tire chains off your tires once you're done using them, as you want to avoid the plastic becoming brittle due to moisture and UV rays. However, the tensioning chain itself is quite good, and very easy to set up. When it comes to clearance, you can get away with using these chains on most passenger vehicles. The thickness of this chain is just under 0.5 inches, which is the industry standard for sedan vehicles. In any case, if you're looking for a great quality to price ratio, this chain is a great pick.
Pros
Only 0.5 inches of clearance needed
Easy to set up
Cons
Comes with several plastic fasteners which can be a liability
3. Peerless 0231905 Auto-Trac Light Truck/SUV Tire Traction Chain – Set of 2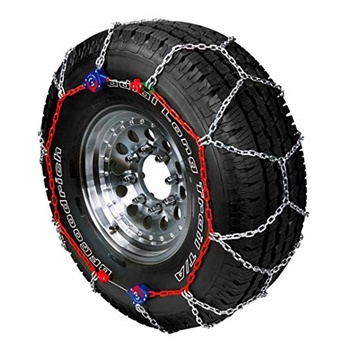 Next up, we have a versatile model made by Peerless.  The tire chain we chose meets the S clearance requirements, so you can even use this chain on SUVs and pickup trucks. The product also comes in a plethora of sizes, so you can fit one of these on virtually any car model. The manganese alloy steel links make sure you don't need to worry about the thinner chain – it's strong enough to hold up. This model comes with a patented self-tightening ratchet system.
The two ratchets automatically keep your chain tightly grasping your tire. The two also let you install the chain without having to drive over it, making installation simpler and quicker. The design of the ratchets also gives you a bigger margin of error when it comes to picking the right size because they leave some leeway for the maximum size of the sidewall. However, we aren't completely confident in the durability of the tightening mechanism, as it seems a bit flimsy and easy to tangle or snap. Overall, this is a great product for the price.
Pros
No need to move the car during setup
Very little clearance required
Cons
The tightening mechanism seems flimsy
4. TerraKing TerraGrips Tire Chains 20×8-8 [ST90001]+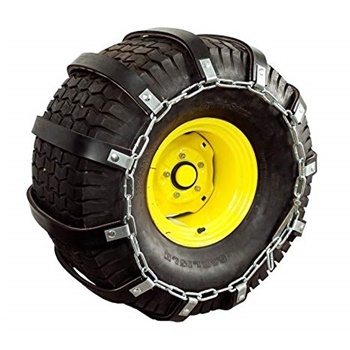 If chain rattling bothers you, or you want to contribute to keeping the paths and roads in good condition, TerraKing has got a treat for you. Now let us be clear straight away – this product is not suitable for cars. While it would probably give great performances on your highway, the company makes the product for large tractor wheels with plenty of clearance. The recommended clearance is over 2 inches. Their rubber design can make using your lawn tractor and other lawn equipment in any conditions and incline a breeze.
The rubber provides very good traction on mud, snow, ice, gravel, and grass. It doesn't matter if you need to go uphill or downhill, these tire chains (or rather, tire rubbers) will help your vehicle achieve outstanding stability without damaging the surfaces of the road or your tires. The plated steel parts are solid and rust-resistant. This particular model is made for 20×8-8 tractor tires, but you can find more sizes of the product available. Keep in mind that you shouldn't go over 10 mph with these tire chains on.
Pros
Rubber slats don't damage the surfaces
Great for any type of lawn tractor
Cons
Not made for passenger cars
5. Security Chain Company ZT729 Super Z LT Light Truck and SUV Tire Traction Chain – Set of 2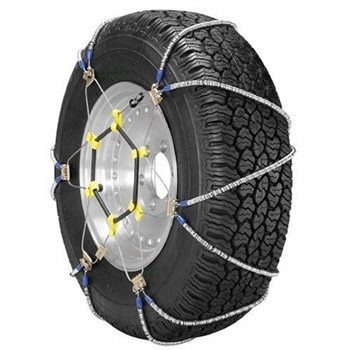 Security Chain Company is the manufacturer of the next cable tire chains we picked out for you. This time, we picked a cable chain from their Z product line for SUVs and light trucks. This cable fits any S rated clearance. In fact, these can even fit SUVs and pickup trucks which have very limited space between the tire and the body of the vehicle. This product is made out of heavy-duty cable in a zig-zag pattern, which is very easy to install. The fastening system includes a rubber hoop and several plastic latches.
While we aren't completely sold on the idea of plastic latches, the rubber hoop they provide with the product is very good and durable. The system is made to be easy to install, but also very durable. Along with this cable variety of tire chains, you also get an illustrated step-by-step installation guide, a pair of plastic gloves, and a storage bag. Even though the product comes with waterproof gloves, we highly recommend having a pair of warm winter gloves on you when installing the product on the road.
Pros
Cable tire chain for low clearance vehicles
Rubber tensioner
Cons
The plastic latches don't seem durable
6. AUTOLOVER Car Security Chains 8pcs Anti Snow Chains of Car, SUV, Truck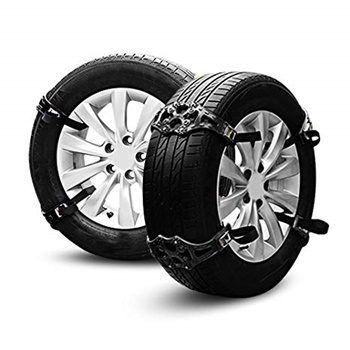 The next product we have for you is not exactly a tire chain, but a rather innovative design we didn't encounter otherwise. These are straps that you attach to your wheels, made by Autolover. First of all, these car security straps can only be used if your vehicle has rims with any shape or form of holes in them, apart from the inflating hole. Essentially, you need to pull the strap through the wheel. Unlike the typical chains that go around the circumference of the tire, you need to secure these around the radius of the wheel and tire. The total length of each device is 37 inches, so you can check whether these fit your tires before you make your pick.
Keep in mind that you need a couple of inches of the loose strap to fasten them with the buckle they come with. The traction part of the device is made of TPU, which is a bridge between plastics and rubber, so they are flexible and durable, but retain their shape. When it comes to skidding and slipping, these devices do a very good job, so you'll be set for the winter with these. Finally, these are very affordable.
Pros
Very affordable
Great low-noise, easy to install chain alternative
Cons
Make sure the 37-inch strap will be long enough
7. Security Chain Company QG3829 Quik Grip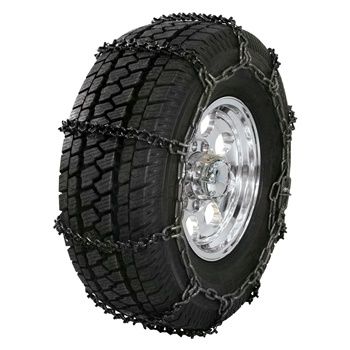 Our next pick is a classic model of ladder-style tire chain, made by Security Chain Company. This model is named Quik Grip, and when it comes to Security Chain products, these are among the thickest that they offer. That means that it may not be suitable for SUVs or sports cars, so only get these if your vehicle has plenty of clearance between the tire and the body of the vehicle. The Quik Grip is a black steel chain. The links are standard twisted links, and they are reinforced with V-bars for extra traction. You don't have to worry about snow or ice when you have these in your trunk.
Even though Quick grip chains are slightly more expensive than other models of tire chains, what you pay is what you get. These chains are very sturdy and heavy-duty, and you can expect to go through a couple of winters with them alone. However, this model only comes with a chain, so you will need to get tensioners separately. We recommend getting a bungee cord with a couple of latches and attaching them to keep your chain in place while you're on the snow-covered road.
Pros
Very heavy-duty steel chain
Reinforced with V-bars for better traction
Cons
You need to get tensioners separately
How Do Tire Chains Work?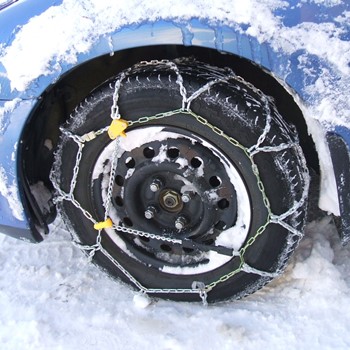 Tire chains are a simple invention – they are a web of chain or cable that you put on over the tires of your drive wheels. When fixed in place, a tire chain provides additional bumpy texture to your tires, allowing higher traction when driving on snow and ice.
If you mainly drive within a city, you may not feel the need to have tire chains on hand whenever you go out to drive during the winter. Clean roads, especially with the addition of salt, don't really freeze that much, so they don't get slippery. After as much as a light drizzle or a bit of fresh snow, the road needs cleaning and salting again. But if you try to drive on a road that doesn't get such regular maintenance, winter driving can be a pain. We're talking about all the dirt roads, country roads, snowy mountain passes, and hill paths.
Once the winter comes, these get covered in thick snow, ice, frosty mulch, and mud. These surfaces can be a nightmare to deal with, and you may get stuck in place, even though your wheels are rolling and engine roaring to get going. In a situation like this, a set of tire chains can be a lifesaver.
Winter Tire Traction Aids
As we previously mentioned, many states will require you to have some type of winter gear on you when October comes. The most common types of snow traction aid are snow tires, tire chains, and snow socks. So, what's the difference between the three? Let's take a look and both the good and the bad of each type of winter gear.
1. Snow tires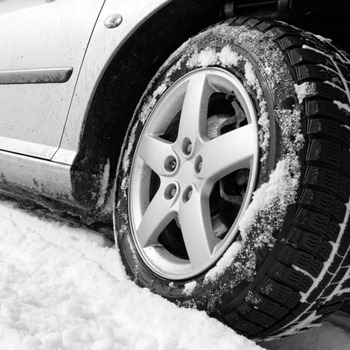 Snow tires are a classic choice, and they are the easiest to use. That's because you only need to swap your regular all-season tires for a set of winter tires in fall, and swap back when spring comes. With other types of winter gear, you need to manually install them once you come across a snowy chunk of the road, and remove them once you're back to the salted asphalt.
You can choose between two types of winter tires: studded and studless. Studded tires come with small metal pieces embedded in the fabric of the tire. These help with tread and traction on snow and ice in a similar way that tire chains do. On the other hand, studless tires don't have metal studs, but instead, use a somewhat different chemical composition of rubber and special traction-enhancing tread patterns. Whether your tires are studded or not, you can take care of them like you would any all-season tire, with regular cleaning and a bit of protective tire shine.
Whether studded or studless, snow tires can be quite expensive. We're talking much over $200 for a set of mediocre tires. You should also count on additional costs for swapping the tires, once in fall and once when winter ends.
When it comes to actual performances on winter roads, snow tires provide somewhat less traction than snow chains for tires and socks do. This is especially true for studless tires. On the other hand, unlike with tire chains and snow socks, you are allowed to drive as fast as the speed limit on the road, while the other winter gear options limit your driving speed to 30 mph.
2. Tire Chains
Tire chains are a popular choice of winter gear because they're easy to store, they're cheap, and not too difficult to use.
The metal links of the chains are ideal for gaining traction on a snowy path. That's why tire chains are the piece of equipment that offers the most security during the winter. Some people even add a set of chains to their winter tires when they're on the road in order to get that extra bit of traction and avoid skidding even on the worst of road conditions.
However, tire chains and snow socks require installation and removal on the spot. What that means is that you need to pull over, get your tire chains, gloves, and a kneeling mat, and install the chains on the spot — all of this in freezing winter weather.
Another drawback of tire chains and snow socks is that these limit the speed at which you can drive. You shouldn't cross 30 mph with these pieces of gear installed because you risk damage to the road, your vehicle, or vehicles around you.
A large benefit of tire chains is that they are the cheapest form of winter gear, yet they consistently have the best results when it comes to traction on snow. An average set of tire chains costs less than $100, and it's enough for any two-wheel-drive vehicle.
3. Snow Socks
Snow socks are the newest invention on the market. They work in a similar way to tire chains, but they are smaller and somewhat easier to install.
The fabric covering simply slips onto the tire, and it helps your car gain traction with the well-chosen, textured material. However, because your wheel is entirely covered, your tires do not take part in the traction, making the overall stability of the tread somewhat lower.
Snow socks are usually seen as an alternative to tire chains, especially for cars that have smaller clearance – the space between the tire and the car body. In some cars, the clearance can be too thin for safe use of chains, so the manufacturers of these cars strongly advise against the usage of tire chains. Snow socks are typically recommended in such cases.
Just like with tire chains, your speed is limited when using snow socks. The maximum safe speed with some of this winter gear is 30 mph.
Snow socks are somewhat more expensive than tire chains but cheaper than an entire set of snow tires.
Tire Chain Buying Guide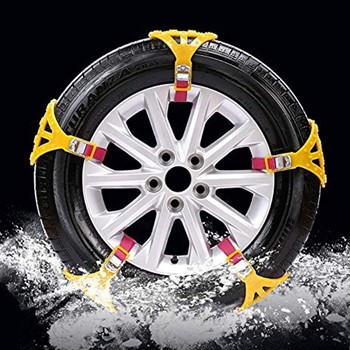 Like with the most automotive gear we covered on our website, there is quite a bit of nuisance around tire chains that you should pay attention to when making your pick. Even though you can't really go wrong with a standard-quality tire chain (unless you purchase the wrong size), if you make an informed decision, you can make a perfect pick that will serve you well for seasons to come. Let's go through some of the most important factors to consider when choosing the ideal tire chain.
1. Tire Size
First things first, you want your tire chain to fit your wheels well. Obviously, you don't want the chain to fit your tire too loosely or too tightly. Luckily, tires are made in standard sizes, so you shouldn't have trouble finding the right one.
The most important step to take before you purchase your first tire chain is to find out exactly how big your tires are. To do this, you only need to take a quick look at the numbers imprinted on the tires themselves.
You can head here to read more details about all the different markings on your tires, but for the current purpose, you need to write down the first seven digits.
The first three digits represent the width of the tire (the tread) in millimeters. The following two digits represent the ratio of width to height of the sidewall in millimeters, and the last two digits are the rim diameter in inches.
Typically, tire chain manufacturers will create a chart with the available chain models and tire dimensions. Ensure the size of the chain is right before making your final pick.
2. Tire Clearance
Tire clearance is, in simple words, the space between the wheel and the body of your car. This is very important because the chain needs to sit atop your tire. You don't want it to damage your tire, or even worse, your car's body if space is too tight for the tire chain to spin unobstructed.
A typical tire chain is anywhere between 0.25 to 2.50 inch thick, so you need to check how much clearance you have for the chain. Typically, sedan vehicles have a lot of clearance, while minivans, SUVs, and trucks have somewhat less space between the tire and the body. Sports cars with lowered suspension have the lowest amount of clearance, so snow socks are generally the best pick for these vehicles.
3. Ratchet Type
One of the features that distinguish high-quality tire chains from their cheap counterparts is self-tightening ratchets. These devices tighten the chains using the rotation of the wheel, helping to keep the chain tight around the tire. This is very important when you're driving because a loose chain can't help you gain traction; it can only be a nuisance. Furthermore, a loose chain is more likely to be damaged during the ride. The worst-case scenario with a loose chain is it wrapping around the drive axle of the car. Finally, without self-tightening ratchets, the installation takes a lot more time and effort, as you have to tighten the chain manually – which is hard enough even without the freezing weather.
4. Chain Type
You will encounter different chain types during your search. First of all, the two main types of tire chains not actually both chains: here, we can divide them into actual chains and tire cables (also called traction cables). The tire cables are a newer invention, but they do a rather good job creating traction, their main advantage being that they don't have the tendency to snap due to lower quality or more worn out links. However, the old-fashioned tire chains are a tried and true tool for getting the tread you need on a snowy road. Chains come in different designs, and they mostly differ in link shapes. You can find standard, square, twisted, and reinforced links, all of which come with their own pros and cons. The general rule is that the more complex the shape of each individual link, the traction is better, but the links are also weaker.
Laws Concerning Tire Chains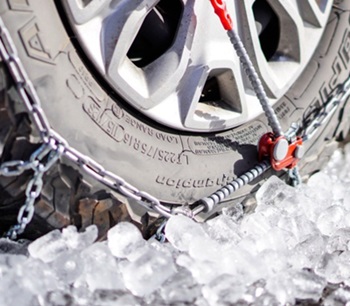 Laws concerning tire chains differ from state to state. Most states have vague and broad tire chain laws, typically stating that chains are permitted when road conditions aren't safe due to snow, ice, or rain.
Many of these laws don't go into the specifics about how much snow or ice is necessary for the road conditions to be considered unsafe. However, Kentucky is quite specific, saying that chains are permitted when car wheels sit on an ice-shoe at least 6 inches wide.
Some states, like Arizona, Connecticut, and Utah, allow the use of tire chains only within a certain time span during the year, typically starting in October.
Michigan specifies that the chain you use mustn't come in touch with the surface of the road.
Colorado doesn't allow tire cables on single drive axle combination commercial vehicles, but it seems to be the only state that specifies anything about tire cables at all.
As you can see, while some states have simple, unrestrictive laws, the others have very nuanced rules concerning the use of tire chains. It's important to check your local tire chain laws before you hit the road.
How to Install Tire Chains?
Even though it can seem complex the first time you do it, putting on tire chains is very simple. Remember to check your tire chain manufacturer's guide for setting up the product. Here, we only give a brief and general outline for regular tire chains.
Furthermore, we recommend trying to install and remove the chains in the safety of your garage the first time. You don't want to find yourself figuring out how to put them on for the first time when you're on the shoulder of the road, freezing while kneeling in the snow.
That being said, there's one more common issue to discuss – when should you put the tire chains on? Contrary to popular belief, it's NOT before you set off and hit the road. In fact, if there's no snow or ice on the road, you're not doing yourself any favors by driving with tire chains. You should only stop your vehicle and put on tire chains before you set off onto a snow-covered part of the road. Simply pull over, install the tire chains, pass the difficult chunk of the road, pull over to get the chains off, and continue driving as usual.
1. What You Need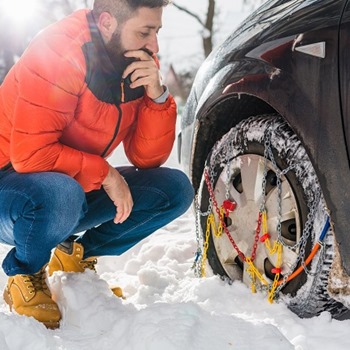 Because you should only put up the chains when you need them, you should know that you'll have to kneel in the snow to set up your wheels. To make that job easier, we recommend carrying a small waterproof mat to kneel on, along with your set of chains. Some people use a tarp or a car cover since these are waterproof and soft when folded. Additionally, we recommend a pair of winter gloves, since the metal of the chain and the wheel rim can get painfully cold during the season.
2. Installation
You only need to install the chains on your drive wheels. If you know you have a two-drive-system but aren't sure whether your front or your back wheels make the car run, you can refer to this front or rear wheel guide.
Lay the chain flat on the ground, getting rid of twists. Make sure the sides of the chains are flat and straight. If the links on your chains have spikes, studs, or v-bars, lay the chain with them facing upwards. Once you install the chain on the tire, you want them facing the road, and not the tire. If your chain has cam tighteners or other tightening ratchets and devices, you want them laid facing you – or facing the outside facing sidewall of the tire, where you can reach them.
Once you have your tire properly laid out in front of you, you can go on to put it on your tires. You should set it up from the back of the wheel, making sure it grasps the entire treading surface of the tire, and a bit further back.
You will notice you have two ends falling to the ground now. Center them and position them neatly on the ground. You can try to tuck them in a bit under the wheel. Then, you should hop back into your car, and very slowly drive straight. You only need to move a few inches in order to get your wheel over the chain.
Now that your chain can go around the entire wheel, you have access to the fastening mechanism. Tighten the chain on both sides of the tire.
Before you're ready to hit the road, you need to check whether your chains are tight enough. If your chain doesn't have any built-in tightening mechanism, you can use a bungee cord with a couple of hooks to fix the chain in place around your wheel.
FAQ About Tire Chains
1. When do I need to use tire chains?
Tire chains should be right in your trunk when you need them. Generally, the most common use for them is during winter, on the road covered with at least 1 inch of snow or ice. If you come across a slippery patch of road, or you're driving off-road, or on side paths, skidding can be a big issue during the winter. Tire chains can stabilize your tread and help your car move and maneuver with ease on snow, ice, or mud. So, contrary to popular belief, you don't need to put the chains on before you set off for the day. In fact, that can damage the road, your tires, and the chain itself, and furthermore, you may get fined for driving with chains on the clean road. Instead, you only need to put on tire chains once you reach a portion of the road where you can't get proper traction with your tires alone.
2. How many tire chains do I need?
The answer to this question mainly depends on the type of car you drive. The most important factor is the number of drive wheels. If your vehicle has two drive wheels, you only need two tire chains. Since the majority of models on the market are sold in pairs, you only need to purchase one set. On the other hand, if you're driving a 4×4 vehicle, chances are you don't need and aren't required to have tire chains with you in most states. But if you live in or are going to a mountainous area, it's a good idea to have 4 chains (or two sets) on you.
3. What do I do if the manufacturer of my car advises against using tire chains?
If your car's manufacturer says you shouldn't use tire chains – you don't use tire chains. The first order of business should be finding out why exactly the manufacturer discourages the use of tire chains. In many cases, this is due to limited clearance between the tire and the car body. In these cases, you can get a pair of snow socks which are a great alternative to chains. If not, your only option may be winter tires.
4. How fast can I drive with tire chains on?
While tire chains help you get good traction and increased control on slippery roads, that does not mean it's safe to drive like in normal conditions. Remember you still have a set of chains on your wheels, and drive accordingly.
Most tire chains can only be used with speeds not exceeding 30, or even 20 mph.
There are other important winter driving tips you should bear in mind. First of all, you should avoid using brakes and acceleration harshly. When driving during winter, keep in mind that it takes longer to stop on a slippery road. Finally, turn off your cruise control when driving on snow and ice.
5. What is the right way to take care of my tire chains?
Tire chains are just that – chains, and as such, they're rather easy to maintain. The most important thing you need to do after you're back from a snowy road is to rinse them with water. You should try to remove all of the debris and dirt they caught along the road. A "pressure washer" is ideal if you want to avoid scrubbing. Once your chains are clean, hang them up until they're dry. After they look and feel dry, spray them with WD-40 or a similar metal maintenance product. Remember to pack them up neatly and get them back into your trunk. That's it!
Wrap Up
Even experienced winter drivers can get stuck in the snow if they don't get enough traction. If you can't avoid driving on snow-covered dirt roads, especially in a mountainous area, you need to brace yourself and get geared up because the winter is coming. Getting stuck in the snow, with your wheels rotating but your car standing in place is a thing of the past with the best tire chain for your vehicle.
We compiled our tire chain reviews by picking the very best models on the market. You no longer need to worry about getting stuck on a snowy road in the middle of nowhere. Put one of these in your trunk before the first snow falls, and you'll be able to go through the winter carefree.