While they are generally designed with bulkier vehicles in mind, only the best all terrain tires will help you brought road difficulties. If you like to go on an off-road ride every now and again, or just want to have a secure pair of tires resilient to bad weather, you might want to consider switching to all-terrain tires. In the following article, we are going to talk about all the necessary info you need on all-terrain tires.
After you are done with reading our guide, we have prepared our best picks, in the all terrain tire reviews section. So, fasten your seatbelts, because we are going on a ride through everything you need to know about all-terrain tires.
See The Quick Comparison Chart
Benefits and Drawbacks of All-Terrain Tires?
The benefits and drawbacks of using all-terrain tires may vary on how you use your vehicle. How often do you go off-road, and how often do you traverse the highway or motorway? These are the unique factors that you need to input into the equation before you decide which set of all-terrain tires to get.
However, there are some general benefits and some lesser-thought-of drawbacks that we would like to emphasize. We are aware of the fact that not all of these factors are beneficial for every type of driver out there, but we are also sure that you will find at least one or two new pieces of data.
1. Benefits of All-Terrain Tires
No matter how wide your knowledge on the subject is, you surely know that the benefits of all-terrain tires outweigh the drawbacks by a large margin. So, what are the benefits?
1.1. Excellent Traction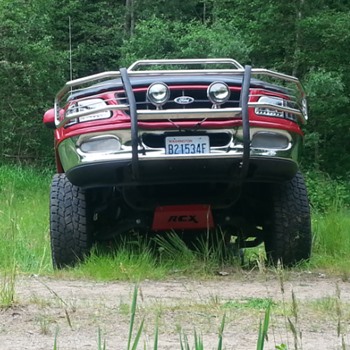 As soon as you look at an all-terrain tire up close, you will notice that the tire width has all sorts of deep grooves and treads. By having a larger contact surface, these tires are able to grasp the ground better, no matter if its asphalt or dirt and rocks. This is one of the biggest reasons why people decide to go with all-terrain tires. For example, if you use off-road tires, you surely know that they are not that great on urban driving surfaces, while all-terrain handles both smoothly.
1.2. Bigger Load Capacity
While this is not necessarily a rule, due to the bigger and improved sidewalls, all-terrain tires have a larger load capacity than the average tire. Load capacity comes from each of the four tires. The total weight of your vehicle, including luggage, passengers, and the vehicle itself, needs to be evenly distributed between the tires. If that doesn't happen, something is wrong with the suspension, and a visit to the town mechanic is in order.
The average load index is higher than that of winter, all-season, or summer tires. If you want to know more about the load index, and check the table with the codes, feel free to jump to our all-season tire reviews.
1.3. Weather and Element Resilience
In contrast to other tire types, all-terrain tires are able to tackle any weather, including both high and low temperatures. The rubber used to make a tire like this is sturdy enough to provide traction on snow and soft enough to tackle hot roads during the summer.
Besides the rubber make, all-terrain tires have specially designed tread patterns that deflect water and help you maneuver through the rain and mud. As we mentioned already, the bigger the contact surface, the better the tire's grip, and all-terrain tires are all about that. It is safe to say that you can use all-terrain tires throughout the whole year.
1.4. Self-sustain
One lesser-known feature that all-terrain tires bring to the table is their ability to clean themselves. Now, we are not saying that they make up for top-rated tire shines with the way they're built, we are referencing a different type of self-maintenance.
A large number of all-terrain tires out there has a special design that removes rocks and dirt accumulation on the tire itself, and on the wheels. If you ever went on a ride through a rural area, you surely know how big of a deal this can be.
2. Drawbacks of All-Terrain Tires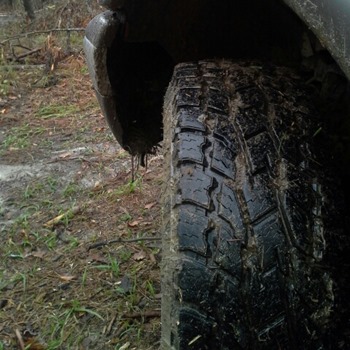 While you are doing your research, getting the right picture about the benefits of all-terrain tires is crucial. However, we think that knowing both sides of a coin is essential to making a valuable choice. All-terrain tires have a lot of benefits, but they also come with some drawbacks. The drawbacks are essentially nothing compared to what you get, but there is no reason not to address them.
2.1. Durability
This may come off as a controversial topic, and here's why. All in all, all-terrain tires do not last any shorter than other tire types. But, compared to the amount of material built into them, they should last much, much longer, which is not the case. The real reason why they are not five times more durable than other tires is the material that wears off faster. Softer rubber must be used in order for the all-terrain tire to get accommodated to various terrains and weather conditions.
So, the average lifespan of an all-terrain tire is still about 40,000 miles per tire, and there is no reason to worry about them wearing out too fast.
2.2. Noise levels
ATVs and SUVs are, on average, louder than smaller vehicles. They pack bigger and more powerful engines that contribute to a higher decibel rating. When it comes to the noise levels of all-terrain tires, they are not as quiet as the other type. Now, this doesn't mean that they are ultra-loud or hard to get used to, but it simply means that they are noticeable.
The higher noise levels of all-terrain tires are there because of the bulkier tread pattern, and overall larger quantities of rubber used. Naturally, you can go with some less tacky options. However, they will have less potent gripping power. Balance is key.
2.3. Gas mileage
This may be the largest surprise people experience once they start using all-terrain tires. There is no beating around the subject, so we might as well just pop that bubble – all-terrain and off-road tires negatively affect fuel usage of a vehicle. This occurs thanks to larger tire mass and larger tread blocks in the pattern. While you will be able to go through all types of terrain and defeat any weather out there, you will have to pour a bit more into the gas tank.
2.4. Cupping and asymmetrical damage
To be completely honest, cupping happens on every type of tire out there. It just so happens that all-terrain tires tend to suffer the worst road conditions, so, naturally, they tend to cup more often. However, the extra build material used for making all-terrain tires is extra helpful. If you want to get the max out of your tire set, remember to rotate them properly.
Another thing you can check if the tires start wearing unevenly too fast is the shock absorbers. Though the issue can be resolved in a DIY fashion, we strongly recommend that you take your vehicle to a professional.
Best All Terrain Tires Comparison Chart
PRODUCT
DETAILS

Goodyear Wrangler Radial Tire – 235/75R15 105S

Price: $
Customer Rating: 4.6
Tire Specifications: 235/75R15 105S

View On Amazon

Falken Wildpeak AT3W All-Terrain Radial Tire – 275/60R20 115T

Price: $$
Customer Rating: 4.6
Tire Specifications: 275/60R20 115T

View On Amazon

Federal Couragia M/T Mud-Terrain Radial Tire-33×12.5R20 114Q

Price: $$
Customer Rating: 4.3
Tire Specifications: 33×12.5R20 114Q

View On Amazon

Hankook DynaPro ATM RF10 Off-Road Tire – P265/70R17" 113T

Price: $$
Customer Rating: 4.5
Tire Specifications: P265/70R17" 113T

View On Amazon

Dick Cepek Fun Country All-Terrain Radial Tire – 31X10.50R15LT 109Q

Price: $$
Customer Rating: 5.0
Tire Specifications: 31X10.50R15LT 109Q

View On Amazon

Nankang N889 Traction Radial Tire – 265/75R16 123N

Price: $$
Customer Rating: 4.3
Tire Specifications: 265/75R16 123N

View On Amazon

BFGoodrich All-Terrain T/A KO2 Radial Tire – 275/60R20 119S

Price: $$$
Customer Rating: 4.6
Tire Specifications: 275/60R20 119S

View On Amazon
Best All-Terrain Tire Reviews
1. Goodyear Wrangler Radial Tire – 235/75R15 105S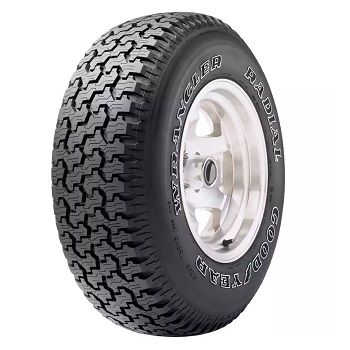 No matter which type of tires you prefer, we are sure that you have heard of Goodyear and its reputation in the tire world. They make tires to fulfill all sorts of requirements with precision and top performance, and this all-terrain tire is no exception to that rule. The best part of this tire is that it is one of the most budget-friendly tires out there, without sacrificing performance.
The very first thing you can notice is the blocky design with larger than average tread block on the pattern. The wrangler is designed to tackle all sorts of weathers and terrains, but it also has a pattern that helps with vehicle handling. The rubber is reinforced for bumpier rides and heavier loads. Designed for pickup trucks primarily, these tires prevent hydroplaning and last throughout any weather condition, including heavy snowfall.
Pros
This all-terrain tire fits a wide range of vehicles, narrowing on pickup trucks
Anti-hydroplaning system prevents loss of control during moist weather
One of the most budget-friendly all-terrain tires on the market
Cons
Due to the complex tread pattern, these tires wear out quickly if driven on pavement only
Even though they can support a lot of vehicles, smaller trucks are the main group these tires are compatible with
2. Falken Wildpeak AT3W All-Terrain Radial Tire – 275/60R20 115T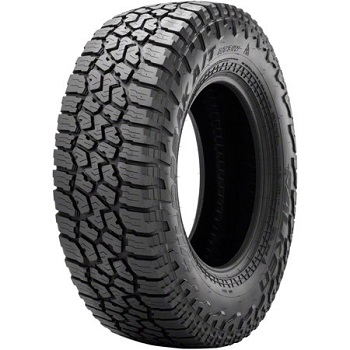 Falken Tires is an original Japanese brand that started manufacturing nearly four decades ago. Their global presence is solidified with this highly-versatile all-terrain tire. The AT3W provides support for your vehicle, no matter how harsh the weather and terrain conditions you live in. The main targets of these tires are rural roads and colder climate factors.
This particular model they made tends to handle larger loads, meaning that it is suitable for bigger vehicles, or transport vehicles that go off-road. The unique pattern is exceptionally good for snowy conditions, utilizing snow for better friction.  Moreover, the tire prevents hydroplaning, so its overall handling is increased. Besides having great specs, the strong suit of these all-terrain tires is their quiet operation style. No noise always translates to a more comfortable ride.
Pros
A tire great for campers, RVs and ATVs, with a higher than average top speed rating
Hydroplaning prevention for better handling
Quiet operation makes the ride more comfortable, especially in rougher terrains
Cons
Slightly pricier than an average all-terrain tire
Although it fits a lot of models, please double-check the owner's manual and verify that the size fits.
3. Federal Couragia M/T Mud-Terrain Radial Tire-33×12.5R20 114Q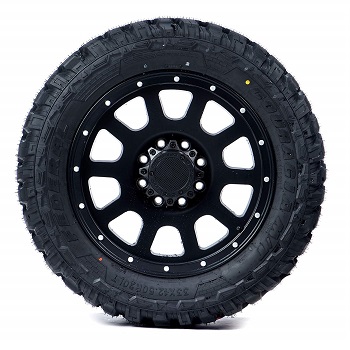 The Couragia all-terrain tire is designed for those drivers that really like going off-road. This particular model looks and feels super strong thanks to the reinforced, doubled layers of rubber that enhance the tire's grip. The tire's aggressive tread blocks will challenge any surface or weather. This particular model has been pretty popular with people living in rural areas due to its resilience.
Now, the strong suit of the Couragia is how it handles mud. The unique Sloped Radius Gradient, or SRG, is a special way of angling the tread blocks. It is made to reduce tire wear and tear, as well as to increase friction between the tire and the surface you are riding on. When it comes to the size of the tire, it can fit a lot of vehicle models, but it is mainly made to match Jeep vehicles and lifted trucks.
Pros
Extra stable on mud and other low-friction environments
Handles all sorts of terrains and weathers with ease, including heavy snowfall
Sloped Radius Gradient prolongs the tires life, and helps with better grip during bumpy off-road rides
Cons
This particular tire suits lifted trucks best, so double-check for compatibility
Even though the tires won't make a lot of noise on the highway, they tend to wear faster on asphalt
4. Hankook DynaPro ATM RF10 Off-Road Tire – P265/70R17" 113T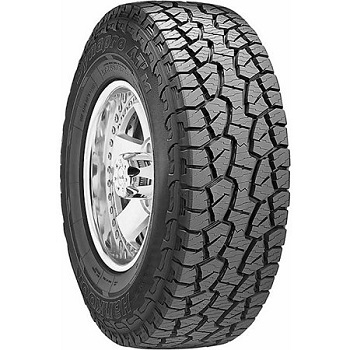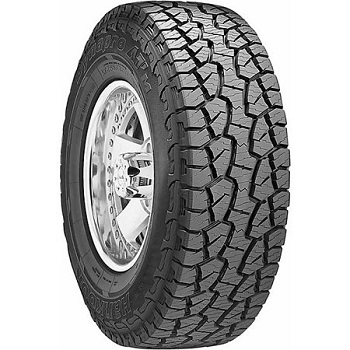 If you are looking for a wider all-terrain tire that can also handle a little bit of extra load, this DynPro might just be the one for you. Even though the main type of supported vehicles are light trucks, this particular tire can match SUVs, ATVs, and even extreme sports off-road vehicles.
The manufacturer invested extra material in making this tire 7-8% wider than the average all-terrain tire, which increases the grip and the life span while keeping the performance intact. Even though usually heavier tires badly affect gas mileage, in this case, the material is utilized to prevent quick wear and tear. Additionally, the tire has side grooves that make cornering more comfortable and predictable.
Pros
A tire that can fit both smaller and larger vehicles, including sports off-road cars
The price-to-performance ratio is extremely budget-friendly
Special design, combined with the 7-8% wider tread, makes this particular all-terrain tire comfortable both on and off-road.
Cons
Because of its wider design, the tire may come off than the average all-terrain tire
Some users report that, if driven mostly on the pavement, the lifespan of the tire drops faster
5. Dick Cepek Fun Country All-Terrain Radial Tire – 31X10.50R15LT 109Q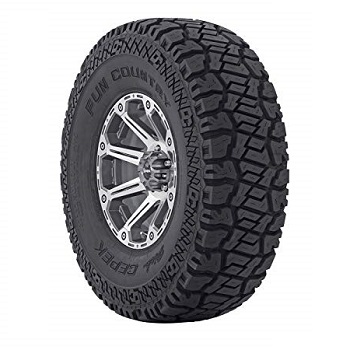 Here we have an all-terrain tire that is designed to support 4 x 4 trucks. On the first look, you will notice that it has sips and grooves that are narrower than those on the average all-terrain tire. Another noticeable feature in the tread design is the sides – they are one of the most complexed when it comes to blocking treads and the complexity of the pattern. Thanks to this feature, cornering on harsh and bumpy surfaces is smoother and more predictable.
Now, to prevent excess chipping and tear, the manufacturer put a compound that can endure wild rides for a longer period of time. One of the upsides of this particular tire is the pitch sequence, engineered to make the tire noise level lower than average. The downside is that it comes in not so many sizes, but it does fit 4 x 4 vehicles perfectly.
Pros
Ultra-complex design on the sides of this all-terrain truck tire make it great for cornering on rough surfaces
The tire handles snow, mud, and water with ease while cleaning itself of rocks and bigger road debris
Computer-optimized pitch sequence makes the tire quieter than average
Cons
This particular all-terrain tire does not come in a lot of sizes, so make sure to check your vehicle's owner's manual
The tire is on the pricier side but makes it up in performance and quiet operation
6. Nankang N889 Traction Radial Tire – 265/75R16 123N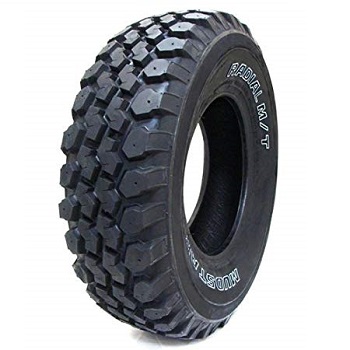 Here we have an ultra-affordable, high-performance traction all-terrain tire from Nankang. The design of the tire has a kind of an old-school feel with the white markings on the side. But, when it comes to the tire block tread design, you will hardly find a more aggressive tire. The aggressive tread block pattern makes this tire great for rural roads and bumpy off-road rides. However, with such a design comes less comfort while riding.
When it comes to this particular tire's performance on regular roads, the variable pitch tread blocks stand in the way of excessive noise. Once the blocks start wearing off, you can avoid higher noise levels by rotating the tires. The tire has a way of eliminating hydroplaning and mud accumulation, with an extra auto-cleaning feature when it comes to debris and rocks.
Pros
Affordable tire than can match a wide variety of vehicles
Old-school design with the white markings on the side
Ultra-aggressive block tread pattern makes the tire grip the road with extra strength
Cons
Even though the tire has stabilization treads, it might feel a little stiff for the first 500 or so miles
These particular all-terrain tires are heavier than average, so the gas mileage of your vehicle may suffer a bit
7. BFGoodrich All-Terrain T/A KO2 Radial Tire – 275/60R20 119S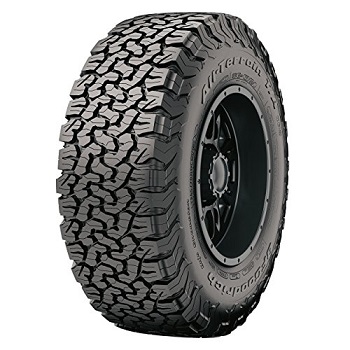 BFGoodrich is a world-renown tire manufacturer with excellent tires in all categories. This all-terrain tire model comes with a lot of pros, and some cons, of course. The very first thing you will notice is the extra high sidewall. The tire's sidewall is reinforced and made with thicker and tougher rubber. This means that the tire can handle heavier loads without losing mobility and handling.
The tire block tread pattern is quite complex with an enlarged contact surface, which means an extra-secure grip for rougher terrains and harsh weather. Tackling snow and mud is no challenge for this tire. Additionally, the shoulder pattern design is serrated, making cornering comfortable and predictable. The tire has a self-cleaning system that removes rocks and debris while the vehicle is in motion.
Pros
Serrated shoulder design makes driving comfortable during corners and rougher terrains
This particular tire handles all kinds of weather, including ultra-heavy snowfall and icy roads
The sides are reinforced with special rubber which enables heavier loads and longer lifespan of the tire
Cons
Thanks to all the features it packs, this all-terrain tire comes with a heftier price
The overall noise can be a bit higher on rough terrains due to the serrated shoulder design, which grips better.
What Are All-Terrain Tires?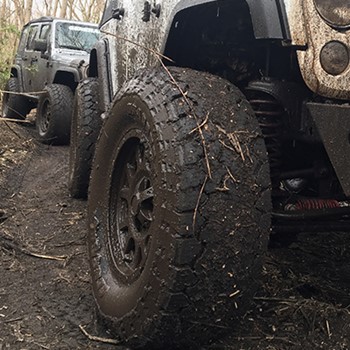 Unfortunately, not a lot of drivers know that all-terrain tires even exist. When it comes to tires, people think that there is only the choice between season and all-season tires. While weather conditions do play an important role in tire choice, sometimes we need to equip our car for a bumpy ride ahead.
Now, before we even go any further, it is important to stress out the difference between all-terrain and off-road tires. While the tech behind them is similar, all-terrain tires are a toned-down form of off-road tires. Off-road, also known as mud tires, are designed for rough terrain only, and they do not do well on the asphalt and other urban driving surfaces.
All-terrain tires, on the other hand, have a combined approach to both urban and off-road terrain. They have similar grooves and tread patterns, but off-road tires have excessive crevices that are designed for extreme conditions. All-terrain tires essentially look like a trimmed-down version of a mud tire.
If you like to drive around the town, but still have the option to go off-road on the weekends or holidays, all-terrain tires are the real deal. They also provide excellent support during rough weather conditions, being it scorching heat or snowstorms. Some people even opt for all-terrain tires because they do not want to bother with tire equipment. We all know that a set of the best tire chains is needed during extreme cold. But that doesn't count for all-terrain tires, because they handle larger amounts of snow on their own.
So, to put it simply, all-terrain tires are designed to handle rough terrain and urban driving surfaces, while having the option to go through all seasons, and the weather it brings.
Difference Between All-Season and All-Terrain Tires
If you are a practical driver, the chances are that you are going to take either all-season or all-terrain tires. Seasonal tires are rarely a good option if you want to get the best out of your tire budget. And, to be completely honest, both all-terrain and all-season tires come with their pros and cons. Let's go into the key differences, so we can help you decide which type will fit your requirements in the best possible way.
Let's see how they compare with each other:
1. Overall feel
If you are thinking about getting all-terrain tires, you probably want to drive your vehicle on more surfaces than just pavement. In that case, all-terrain tires will feel more comfortable and far safer than all-season tires. An all-terrain set will complement the car's anti-shock system, and it will give you an overall nice experience, with some bumps.
However, when it comes to driving on the street, all-season will feel more stable with less overall bumping. The rough feel on asphalt that all-terrain tires give off is due to the stronger and overall more massive tire block tread. Generally speaking, you sacrifice a bit of comfort for safety's sake.
2. Weather Resilience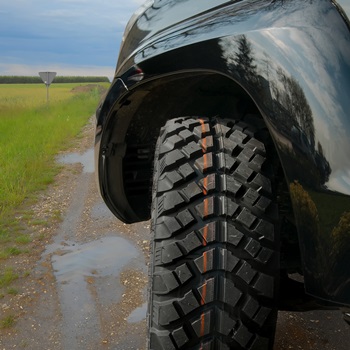 Now, this is where these two types of tires differ a lot. In fact, regardless of the all-season tires' ability to hold throughout the whole year, they are still inferior compared to all-terrain tires. We are not saying that all-season tires cannot handle rougher weather. Instead, we would like to emphasize all-terrain tires' ability to handle every type of rough weather.
They are designed to surpass hydroplaning and tackle mud accumulation with great efficiency. All-season tires come with different rating when it comes to extreme weather, but all all-terrain tires get through them easily.
Snow handling
This may be one of the most frequently asked questions when it comes to all-terrain tires – How good are they in the snow? Since they are designed to fight of mud and rain, winter snow will present to challenge to a solid set of all-terrain tires. They are designed to utilize snow-on-snow friction and enhance the grip even further.
On the other hand, all-season tires do not fair all that well if it snows longer than a day. There are exceptions, yes, but in the areas with heavy winter snowfall, people either get all-terrains or special winter tire.
3. Tackling Off-road Surfaces
This one comes as a no-brainer. Even though all-terrain tires are NOT the same as off-road tire, they provide similar features. With a nice set of all-terrain tires, you will be able to tackle any surface out there, including mud, sand, dirt, old roads, etc. These tires are designed to challenge every type of road or driving surface out there, as the name suggests.
On the other hand, all-season tires go well with the pavement and not much else. The tire tread pattern is more elegant, meaning that it cannot handle surfaces that do not provide enough friction. In the off-road category, between all-season and all-terrain tires, the results are clear as day – all-terrain tires win!
4. Noise Levels
A large number of drivers value silent operation when it comes to their vehicles. Of course, the low-noise operation of a car doesn't solely rely on tires. For example, investing in the maintenance of the brake system can lower the overall noise, so make sure to have the best brake pads and the brake fluid in check.
But it is no secret that bulkier tires bring some decibels along. If we were to compare all-terrain and all-season tires, the former would be voted for the noisemaker of the duo. Larger tread blocks are there to help with the grip, and they enlarge the contact surface of the tire. This makes them somewhat noisier than the all-season tires. If you rotate them adequately, the total noise should not exceed the average easily.
5. Budget
No matter which type you like better, knowing what kind of strain on the budget to expect is essential. The price of all-terrain tires will be slightly higher, yes, but if we want to factor everything in, we must not forget the additional equipment. For example, when winter snows hit, all-terrain tires do not require any special care. On the other hand, with all-season tires, you will ah veto invest in chains and other equipment. In the cases of heavy snowfall, you will have to replace all-seasons with winter tire completely, and that is significantly more expensive than a set of all-terrain ones.
All in all, we would like the emphasize the necessity of factoring everything in, from the climate you live to your driving habits.
All-Terrain Tire Buying Guide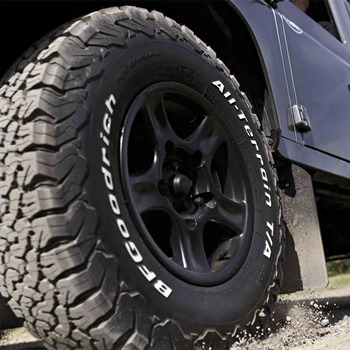 Ok, now that we have seen how all-terrain tires compare to their all-season counterpart, let us dive into the details. There are several things you should know before making the final decision on which all-terrain tire set to buy. Combining these practical tips with other specs will give you a clear picture of what you need, and how to get it.
1. Factor in your Driving Habits
We cannot stress this out enough – getting to know the surroundings and conditions you will be driving through the most is essential in determining what kind of tire you want. People usually get stuck on the season factor, or on the road features, but the thing is you need to know both. If you tend to drive off-road more, get chunkier all-terrain tires. If you want your car to handle snow better, get tires with deeper treads. The thing is, knowing the climate of your area, as well as the most common driving surface, will help you make the best out of your budget.
2. Compatibility
One of the special things that you need to watch out is making sure that the tires fit. As you might have already noticed, all-terrain tires tend to be larger and overall bulkier than other tire types. This feature translates to several different sizes that do not fit every vehicle out there. However, tire manufacturers made sure to cover a wide range, so all you have to do is check the wheel size of your vehicle.
If you are not sure how to find out, try looking in the vehicle's owner manual for info. If that fails, simply get a measuring tape and do it on your own. As long as you make sure to get a fitting all-terrain tire because the returning process can be a hassle due to their size.
3. Fuel Economy
We covered the ways how all-terrain tires affect fuel economy and gas mileage. Now, when getting a fresh new set of tires, it is important to know where they are on the scale. One side would be the option to tackle any terrain at the cost of more fuel spent, and the other side represents better gas mileage at the cost of not so great resilience. Again, this is all connected to the first point – think about when and how you are going to drive using these tires. There is no need to get ultra-strong robust all-terrain tires if you only drive on lighter sand or gravel. On the other hand, if you intend to go off-road a lot, factor in an extra dime or two for the gas.
4. Stronger Sidewalls
Speaking of off-road, if you are a driver that likes a bumpy ride over rougher terrains, you should probably look for tires with reinforced sidewalls. This feature will make the tire absorb more pressure accumulated on off-rad surfaces, thus making the tires last longer.
Generally speaking, vehicles that benefit from reinforced tire sidewalls are on the heavier side. Campers, SUVs, and ATVs – all can use some extra stability when it comes to handling the load.
5. Self-Maintenance
Lastly, we come to one of the best features that all-terrain tires have to offer. All-terrain tires have a unique pattern that pushes the dirt and mud away, making the tires clean themselves. Moreover, this feature is designed to get better with more miles traveled. So, the longer you drive, the better will the tire clean itself.
Now, if you plan on going off-road in rainy weather, this feature can be a lifesaver because accumulated mud can significantly reduce the tires' maneuverability and overall performance.
How Long Do All-Terrain Tires Last?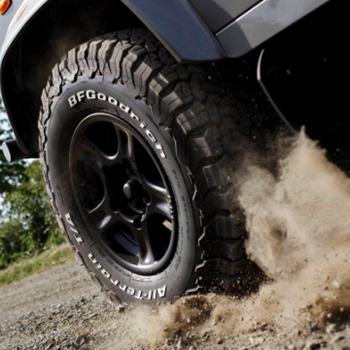 Unfortunately, there is no simple answer to this question because it all depends on your driving habits. It is easy to calculate an average life span of an all-season tire due to the fact that they are driven exclusively on pavement and asphalt roads. But, when it comes to all-terrain tires, the rule of thumb is – the harsher the terrain, the shorter the life span.
Let us not forget that all-terrain tires are generally softer, and their rubber wears off quicker. But, to counteract the wear and tear, the manufacturers put way more material to be used. So, it is safe to say that an average lifespan of an all-terrain tire is around 40,000 miles.
Of course, some more expensive models will offer more than that, totaling at 50,000+ miles per tire. This, however, comes with a risk if you go off-road a lot. As long as you remember to rotate your all-terrain tires, you should be fine for at least 40,000 miles.
However, the is a small hidden downside, revealed only after the wear starts, after 10,000 miles. Once the tires reach this mileage, they begin to produce higher noise levels. We think it is important to mention this because a lot of drivers start to worry when this happens, even though the tires are about a quarter into their life span.
When to Replace All-Terrain Tires?
If you are worried that your all-terrain tires are nearing their final point, there are a few signs and symbols that can help you out decide. Now, to best decide whether it is time to change the all-terrain tires you already have for new ones, try to spot some of these indicators:
Valve cap damages
The noise gets bigger quickly while you drive
The handling is getting stiffer than usual
The vehicle is vibrating more than usual, especially during hard turns
The tread pattern is worn out
The tread pattern appears to be uneven
Now, if you experience one of these sings while you drive, it doesn't necessarily mean that you need to replace the all-terrain tire set entirely. However, there might be some suspension problems, so it would be best to take your vehicle to a professional. Additionally, there can be some uneven wear and tear due to over or underinflation. If that is the case, make sure to rotate the tires, find out the right amount of tire pressure adjusted for the load (consult the owner's manual), and inflate them to proper values.
FAQ About All-Terrain Tires For Trucks and SUVs
1. What kind of terrains can all-terrain tires go over?
Even though the name suggests that these tires can go over ALL kinds of terrains, it is important to notice that not everything is fair game at the same intensity. There is a reason why there are special mud tires and dedicated off-road tires. So, if you want to be able to drive wherever you want, you probably need to know about different terrain tire pressure adjustments:
Road and pavement – Go through the manual and adjust as the manufacturer suggested
Gravel and rough sand – The pressure needs to be dropped by 5 to 7 PSI
Mud and muddy surfaces – The pressure needs to be dropped to 22 to 28 PSI. be careful if you go low
Smooth sand – The pressure is lowered to match the smoothens of the sand. Be careful not to underinflate
Rough rocks – Base the pressure drop on the size of the rocks. The rougher the surface, the lower the tire pressure.
2. Are all-terrain tires good on highway road?
While they are not as good as all-season tires, or low-profile summer tires, all-terrain tires support highway driving. But, keep in mind that all-terrain tires tend to wear out more quickly due to softer rubber used in the build. Soft rubber wears off the fastest on the pavement, but don't worry because there is enough rubber to go around.
If you do decide to go out on highways a lot, using the all-terrain tires, remember to regulate the pressure. Some all-terrain tires need more pressure inside in order to stay healthy on a highway.
3. Are all-terrain tires good for snow?
There is a lot of traction (no pun intended) when it comes to all-terrain vs. winter tires when it comes to snow handling. Let's get this straight, both tire types can handle snow pretty well, but they do it differently. Winter tire tackle snow by using the snow-on-snow friction to move in a stable manner, while all-terrain tires use their specific design to push the snow aside while keeping all the friction.
However, all-terrain tires have a little advantage over winter ones – they do not need to be replaced once the snow melts and the ice thaws. So, from the budget point of view, all-terrain tires provide longer and more stable support.
Wrap Up
We certainly hope that we've managed to shed some more light on this somewhat complicated topic. There is a lot of choices out there, and getting all the necessary info is what our best all terrain tires are all about. People in rural areas rely on all-terrain tires in day-to-day chores, whereas people in urban areas sometimes go off-road or drive in the harsher weather. Different drivers have different habits, and all-terrain tires will enable you to go navigate through all kinds of weather and terrain safely.
Once you've read our guide, hop on to the all terrain tire reviews section, and see the models that we found worthy of your time. You can take this guide and create your own priorities when it comes to tires. Moreover, if you happen to have any questions or suggestions, feel free to contact us, and we will answer as soon as possible. Safe driving!