If you think about tire maintenance it is important to get the best tire inflator for the tires your car's using? Statistically speaking, not a lot of drivers consider taking care of their car's tires at all, besides inflating them when they become flat. What if you found out that tire inflating has a more significant role to play when it comes to tire longevity and overall road safety?
We made this guide with beginners and experienced drivers in mind, so anyone can find useful info and start using their tires adequately. After you are done with reading, we invite you to go through our picks in the tire inflator reviews and pick an inflator that matches your requirements in the best possible way. Now, let's see what these devices actually are and how you can utilize their air compressing power.
See The Quick Comparison Chart
Benefits of Having a Tire Inflator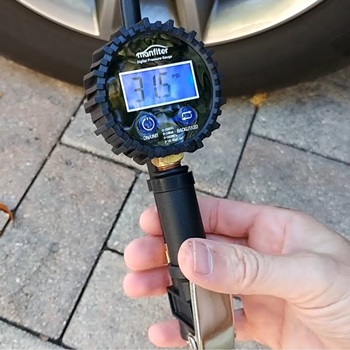 The benefits of having your vehicle's tires always inflated to the right pressure come from all sides. However, we could separate them into two main groups – safety and budget. We do not have to tell you how important maintenance is because every driver has their own preference. But, let us dive into the features that everyone can benefit from.
1. Gas Mileage
This would, without a doubt, fall under budget-saving. Believe it or not, incorrect tire pressure can affect the gas mileage by almost 20%, especially if you are using top rated all-season tires. So, to combat under and over inflation in the best possible way, you need a reliable tire inflator.
If the tires are underinflated, their contact surface gets wider. While you will get a better grip on the road like this, the engine power requirement also goes up. And this all leads to more gas spent, or wasted, depends how you look on it. If you mainly drive on paved roads and highways, there is no need for the tires to be underinflated.
2. Better Cornering
When it comes to cornering, the main part of a tire in charge of it is the tire side and shoulder. Tires that do not have enough air pressure inside tend to lose cornering grip and go too soft into curves and turns. This presents a safety risk because the feedback you get while driving becomes inconsistent. On the other hand, if the tires are over-inflated, you might find it hard to turn, and the overall ride will be uncomfortable.
3. Tire Longevity
Another downside of incorrectly inflated tires is faster tire wear and tear. Wrong PSI (pounds per square inch), whether under or over, makes the tires wear off in irregular, often random, patterns. On tires that lack PSIs, the tread wear and tear will be slightly more even, but the gas mileage will suffer greatly. In the case that the tires are way too inflated, the tire wear will shift to the middle, which is far more dangerous, and often results in damages. Every tire manufacturer will tell you that the key to a long-lasting set of tires is in keeping track of the inner pressure. Of course, to make sure that you are using the correct pressure with your tire inflator, try looking into the owner's manual for the referent values.
4. The Ability to Customize PSI
This feature comes in handy for people that have all-terrain tires installed on their vehicles. In the world of off-road driving, adjusting the tire pressure is crucial in order to adapt the car to different types of terrain. We have covered this topic in detail in our all-terrain tire reviews. In rural areas, to keep the tires healthy, drivers must often check and customize the inner tire pressure. A trustworthy tire inflator will help you get to the ideal PSI anytime.
Best Tire Inflators Comparison Chart
PRODUCT
DETAILS

EPAuto 12V DC Portable Air Compressor Digital Tire Inflator

Price: $$
Customer Rating: 4.4
Power: 12V DC
Gauge Type: Digital

View On Amazon

Astro 3018 Digital Tire Pressure Gauge and Inflator

Price: $$
Customer Rating: 4.0
Power: AAA battery
Gauge Type: Digital

View On Amazon

DBPOWER 12V DC Portable Electric Auto Tire Inflator with Gauge

Price: $
Customer Rating: 4.1
Power: 12V DC
Gauge Type: Analog

View On Amazon

P.I. AUTO STORE Premium Air Compressor Tire Inflator

Price: $$
Customer Rating: 4.0
Power: 12V DC
Gauge Type: Digital

View On Amazon

JACO SmartPro Digital Tire Inflator

Price: $$$
Customer Rating: 4.4
Power: 12V DC
Gauge Type: Digital

View On Amazon

Helteko Portable Air Compressor Pump Digital Tire Inflator

Price: $$
Customer Rating: 4.4
Power: 12V DC
Gauge Type: Digital

View On Amazon

Astro 3082 TPMS Dial Tire Inflator with Stainless Hose

Price: $$
Customer Rating: 4.1
Power: N/A
Gauge Type: Analog

View On Amazon
Best Tire Inflator Reviews
1. EPAuto 12V DC Portable Air Compressor Digital Tire Inflator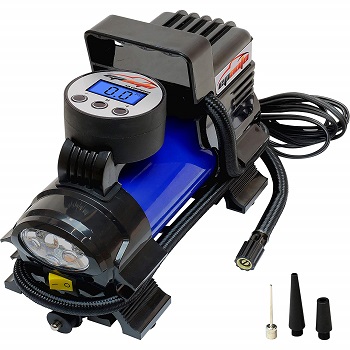 The EP auto made a portable tire inflator that has its own compressed air source. This makes it incredibly convenient in an abundance of situations – from being a stand-in garage tire inflator to carrying the device with you in the back of the trunk. It is smaller than the average in its class, and it comes with a universal tire valve connector.
When it comes to the power source of this particular tire inflator, we're talking about 12 V DC requirements, made for the cigarette lighter socket. This means that you do not need a wall outlet and that the inflator is ready to go whenever you need to up the PSI of your tires. Onboard, there is a digital pressure gauge that has a backlight for low light situations. Additionally, this gauge can show different units: PSI, KPA, BAR, and KG/CM – making it a nice feature for people that need a little more precision. One more quality of life feature is the LED flashlight on the front side, which can come in handy for night time on-road repairs. However, keep in mind that this inflator isn't strong enough to support truck tires.
Pros
Fully independent tire inflator that works only needs a 12 V DC cigarette lighter socket
Has an installed, backlit digital pressure gauge with different units and an LED flashlight
Comes with a convenient bag to pack the hose, valve extensions, and electric cord
Cons
It only supports tires for vehicles with engines under 3.5 liters. Trucks are not fair game
It takes some time to refill after prolonged use, but it does that automatically
2. Astro 3018 Digital Tire Pressure Gauge and Inflator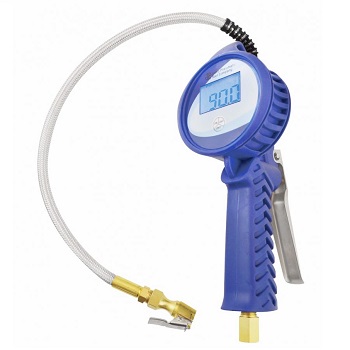 Here we have and Astro tire inflator that does not come with its own compressed air source but has a wide arrange of features to offer. The very first thing you can see is that it is compact and portable, with a modern design built to last. It comes with a durable high-pressure hose that is equipped with a universal tire valve.
Similar to the other tire inflators of this type from Astro, this one also has a AAA battery system. Thanks to the well-designed electronics inside, this tire inflator will work for a long time on a single batch of batteries, as long as you remember to turn it off once you are done with your tires. Additionally, the inflator works with CO2 and pressurized nitrogen, besides just regular air. The downside is the lack of its own compressor. On the front side, there is a digital pressure gauge that goes up to 65 PSI with minimal error margin.
Pros
Portable tire inflator that is the size of your palm
A durable and sustainable AAA power system that lasts for a long time
An onboard digital pressure gauge that has a backlight and a small errors margin
Cons
The tire inflator does not have its own pressurized air source
The high-pressure hose could be longer, but thanks to the device's portability it is rarely an issue
3. DBPOWER 12V DC Portable Electric Auto Tire Inflator with Gauge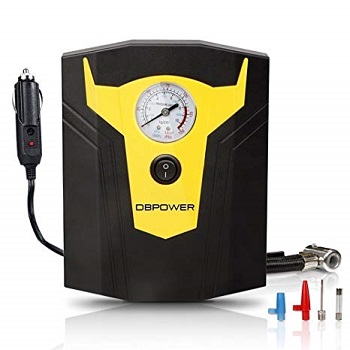 DB Power went all out to make an affordable, yet powerful tire inflator for all sorts of purposes. As soon as you unpack it, you will notice the black and yellow modern design with the body small enough to fit a larger pocket. However, do not let the portable size fool you – this device is able to inflate a tire from 0 to 35 PSI in just under 5 minutes. Ok, let's see what else you get with it.
Besides being modernly designed and portable, this device is made to help you inflate much more than just car tires. Within the package, you also get three high-airflow nozzles that can inflate beach equipment, pool gear, and sports balls. When it comes to the power source, this particular tire inflator uses 12 V DC sockets, made to fit the cigarette lighter socket. The cord is quite long (just under 10 ft.), and the pressure hose is 1.7 ft. in length. Moreover, the tire inflator has an analog pressure gauge installed in the middle.
Pros
Extremely portable for a standalone tire compressor. Fits the 6 by 7-inch dimensions can fit anywhere
Great price-to-performance ratio, with the ability to inflate 0 to 35 PSI in under 5 minutes
The package includes three interchangeable high-airflow extensions for different purposes like beach gear or sports balls
Cons
The bigger the tire and the PSI requirement, the slower this unit gets
Goes to a maximum of 50 PSI, which is not suitable for larger trucks or ATVs
4. P.I. AUTO STORE Premium Air Compressor Tire Inflator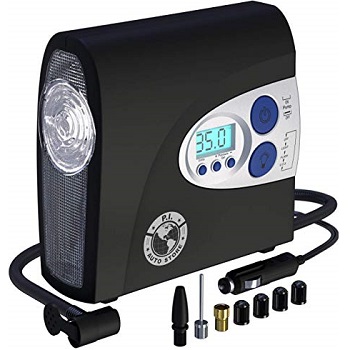 If you are looking for a modern tire inflator with multi-purpose lights and all sorts of pressure extensions, this P.I. model might just be the one for you. With its modern, almost futuristic design, it proved its worth as a valuable ally on the road and in the garage. The matte black finish looks great, and the total size of this particular tire inflator is portable enough that you won't even notice it inside the trunk of your car. It operates on 12 V DC power, fitting perfectly into the cigarette lighter socket, so you can use it anytime you want.
On the front panel, you can find a backlit digital pressure gauge that comes with unit customization and an auto-shutdown feature. Also, on the control panel, there are two buttons – one to control the pump and one to control the LED flashlight located on the side of the inflator. Nighttime operation is fair game with this device. Besides the main unit, you get a power cable, a high-pressure hose, three different valve adapters, and four spare dust caps.
Pros
Modern black design, easy on the eye. Portable and ergonomic – can fit anywhere
Digital customizable pressure gauge with a backlight and an auto-shutoff feature for timed inflation
Additional valve extensions and spare dust caps are provided, as well as a built-in LED flashlight
Cons
This particular tire inflator is not made to support inflation of truck tires or any bigger vehicles
If plugged into a 10 AMP socket (which is the case for some older cars) it may blow out the fuse
5. JACO SmartPro Digital Tire Inflator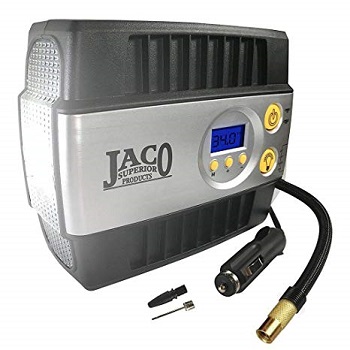 The SmartPro from JACO is manufactured to inflate the tires of all kinds of vehicles, with its powerful motor that goes up to 100 PSI. The device is a bit pricier than regular, but it offers the feature of inflating tires on bigger vehicles within a reasonable timeframe. The overall design is modern, with black and silver body parts. The power source used to run it is a 12 V DC socket, so you can plug it in the cigarette lighter slot.
This standalone tire inflator has a 24-inch long flexible air hose that will help you reach the tire's valve with ease. On the main panel, you can find five buttons total – measurement unit changer, two buttons to set the automated inflation, power button for the pump, and a button to control the LED on the side panel. The digital pressure gauge is backlit, making nighttime inflation a breeze. Considering that the max PSI of this particular tire inflator is clocked at 100 PSI, the device can do much more than the inflators from its class, at a slightly heftier price.
Pros
A powerful tire inflator that comes with its own pump that goes up to 100 PSI
Comes with a sturdy, yet flexible high-pressure air hose to help you reach the car tire's valves
Has a strong LED flashlight with a built-in SOS mode for emergencies
Cons
Comes with a slightly higher price compared to the inflators from its class which is common for heavy-duty inflators like this one
This tire inflator does not have the option to be plugged into a wall socket, meaning that it may draw a bit more power when inflating bigger tires.
6. Helteko Portable Air Compressor Pump Digital Tire Inflator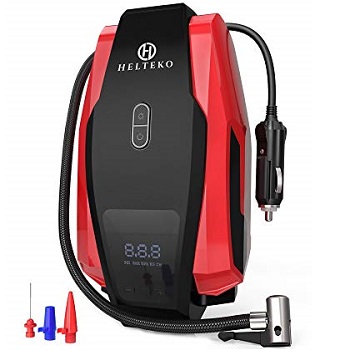 If you are looking for a powerful tire inflator model to help you with fast tire inflating, consider getting this Halteko model. With its futuristic red and black look, it certainly does pack a lot of punch. Its upper Psi limit is clocked at 150 PSI, which is considered heavy-duty. The power this device needs must come from a 12 V DC socket, although it supports converters to 115 V AC, just in case you want it as a stationary tire inflator.
Do not let the futuristic design confuse you. This particular tire inflator has all it takes to help you get your tires to a proper PSI. On the top panel, there is a backlit digital pressure gauge that can be set to automatically shut down the inflator once it reaches the desired PSI. On the side, there is an emergency LED flashlight to help you operate at night or in a low-visibility environment. The inflator comes with a high-pressure hose and four different extensions for different valves (beach gear, sports balls, etc.). You also get a convenient carrying bag to pack everything in and store the device easily.
Pros
One of the most powerful heavy-duty tire inflators on this budget, going to 150 PSI
Comes with several attachments and extensions, including a large bag to pack it all in
Supports a 12 V DC system, with the option to plug it into a 115 V AC converter with no loss of performance
Cons
The snap-on part of the hose can get a bit loose, so be extra careful when putting it on
Inflating larger tires may take a bit more time due to the device compatibility
7. Astro 3082 TPMS Dial Tire Inflator with Stainless Hose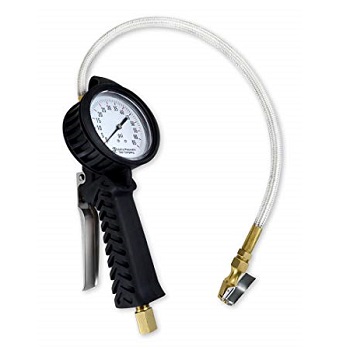 When it comes to Astro handheld tire inflators, this one is considered to be one of the longest-lasting. The body is made of aluminum, which significantly enhances the durability, and it allows for a few more PSIs to go through. This particular tire inflator requires a separate pressurized gas source and requires no electricity to operate.
No electricity required means that the pressure gauge is analog. This gauge has an error margin of about 1 PSI and caps at 200 PSI from the compressor. The aluminum body is covered with rubber for better comfort, and the high-pressure hose is covered in braided stainless steel. The inflator has a deflate mode for precise deflating, in case you need to adjust your tires for different terrain conditions. The inflator also supports CO2 and nitrogen gasses.
Pros
Built to last with the body made of aluminum and layer with rubber for comfort
Can take up to 200 PSI of pressure from an external compressor source
Has a precise analog pressure gauge that allows precise output measure up to 65 PSI
Cons
This particular tire inflator requires an external compressed gas source
The pressure hose is a bit shorter, but the device is ultra-portable
What is a Tire Inflator?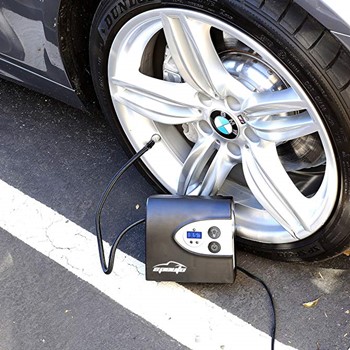 You will often hear people referring to tire inflators as portable air compressors. This is true in its entirety. However, there are some portable air compressors that are not completely oriented towards car and vehicle use. For example, to be actually useful, a tire inflator needs to have a gauge (digital or analog) that can tell you all about the current inflation status of your car's tires. So, every tire inflator is a portable air compressor, but not every portable air compressor is a tire inflator.
While it is true that you can inflate other stuff with a tire inflator, these devices are designed to fulfill the need for a healthy pressure inside a car tire. So, how does a tire inflator work? To better understand the topic, we've put together a small recap of air compressing for you, depending on their type. Without getting too technical, we will try to quickly explain the three main types of these portable compressors or tire inflators, whichever floats your boat (pun intended).
1. Standalone Portable Tire Inflator
This is by far the most common type. The biggest advantage portable tire inflators have over all other types is their independence. They do not need any additional equipment to fulfill their role of inflating tires. Also, they usually pack a pressure gauge, mostly digital, to help you measure the current state of your tires' pressure, and to track the inflation process safely. Also, they draw power from the car's battery, and most models do not require and an external power source.
2. Portable Air Compressor
Similar to the previous type, but with a larger body and an air tank. The way this type of compressor works is by pre-compressing air into a highly-resilient tank, which makes it ready for use upfront. This type is by far the most powerful, but it needs an external power source, and it has a downtime after prolonged use. The upside of these machines is that they have a much more versatile use than other tire compressors. So, if you want to have a reliable tire inflator in your garage, this is the way to go.
3. Tire Inflator Extension Tool
This type of compressor looks similar to a paint gun with a hose. It is a handheld device that relies on an external compressed air source to work. The strong suit of this tire inflator is that it often gives the fastest performance, and it can offer precise tire deflation as well. Handheld tire inflators come with a pressure gauge that can be digital or analog.
Tire Inflator Buying Guide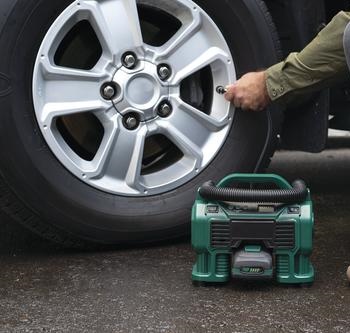 Now that we went through the essential and the benefits of owning a tire inflator, it is time to dig deep into the practical. If you want to learn about car equipment, feel free to hop onto our homepage and browse our knowledge library. Let's see what kind of features to expect, and what kind of stuff one should factor in before getting a tire inflator. Again, we will try to keep to stay away from using a lot of technical terminologies. Not everyone needs to be an engineer or a car mechanic to inflate tires, right?
1. Autonomy
We had covered this when we talked about the types of tire inflators. We have autonomous models with their own source of compressed air, and on the other hand, we have the inflators that need an external source. To make a decision on this, it would be best to ask yourself these three questions:
Do you need an external power source?
Does the compressor need to be fast?
Do you own a separate compressor at home?
The answers to these simple questions will bring you to the best type for your circumstances.
2. Power Source
A similarly related topic is the power source of the tire inflator. It's true that people buy these compressors for various reasons, and that greatly impacts the power source. For example – if you want to have a strong and fast truck tire inflator, you need a larger compressor that will usually go into a 115 V AC socket. This will affect how you use the inflator by a large margin. Cord length, hose length, portability, and overall PSI rating. All are codependent with the power source.
Some models are smaller and operate by utilizing the car's electric system. These tire inflators usually go into the 12 V DC outlet, also known as the cigarette lighter or aux power plug found inside the vehicle. Models that use the power this way are usually smaller and much more convenient, but at the price of inflating speed, such as cordless tire inflators.
There are tire inflators that utilize both systems and maximize the convenience when it comes to plugging in. They can switch between AC and DC, enabling you to use external power when possible for better performance and car's power system when on the road. However, keep in mind that dual-voltage tire inflators come with a heftier price, thanks to the more sensitive electronics inside.
3. Portability
Another feature related to both the type and the power source is the portability of a tire inflator. Portability is especially important to people that drive smaller cars or generally cannot afford a lot of extra storage space in the car's trunk. The direct current 12 V models are usually made to take a small amount of free space, so you can practically keep them in your car all the time.
On the other hand, as we mentioned in the section above, the AC models that require a regular socket take more space because they have an air tank on board. A lot of people that spend significant time on the road get one of each type. Because AC models tend to perform faster, they are used as main tire inflators, while the 12 DC compressors jump in when it comes to emergencies. Assess your driving routine and see which one you need.
4. Pressure Gauges and Screens
The only way we can determine whether a tire was over or under-inflated is when it is already too late. Incorrect inflation and inner pressure leave different marks and damages on the tire, which, frankly, you need to avoid. The best tire shines can prevent tire damage only up to a point, so the best way to combat tire damage is to have a tire inflator with a measuring device – the pressure gauge.
Generally speaking, a pressure gauge can come in one of two forms – analog and digital. Analog gauges have a dial that stops on the PSI rating once it measures it, no more, no less. However, analog technology of this sort is not as accurate as digital is, so the safest bet is to measure the pressure at least three times, taking the middle value as true.
Digital pressure gauges on tire inflators calculate the mistake beforehand and show the result on a small screen. This screen usually has a backlight option for low-light situations. Just keep in mind that neither of these is completely accurate. But they are accurate enough to help you determine the correct pressure of your car's tires. Only high-end sports drivers require ultimate precision, which is an extremely rare scenario.
5. Pressure Hose and Cable Length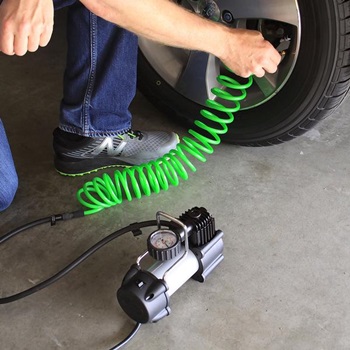 This feature is often overlooked regardless of the fact that it can be a lifesaver at times. Just try and remember how many times have you tried to inflate a tire, and the valve was in a tricky position. A longer pressure hose will allow you to maneuver better and do the job more quickly.
But, there's a catch – if the hose is much longer than needed, the pressure will start to weaken. So, when looking for an ideal tire inflator, do not overdo it when it comes to length.
On the other hand, the electric cord length will not affect the tire inflator's performance at all. Longer is always better, especially if you have a larger garage with multiple vehicles inside. Longer cord length is especially important to truck drivers because of the truck's length.
6. PSI Rating
Without getting too much into the technical part of PSI, also known as pressure per square inch, we could safely say that the PSI rating represents the raw power of the tire inflator. This number represents the maximum PSI the inflator can exert and blow into the car tire. All you have to make sure is that the max PSI number is higher than the PSI level your vehicle's tires need.
Some trucks require larger PSI ratings to operate normally and drive safely. If that is the case, consider getting a bigger air compressor that can support car tires.
7. Extra Accessories and Features
There is no certain way to tell what to expect when it comes to non-essential parts of a tire inflator. We mentioned digital pressure gauge backlight as a form of an additional feature to keep you out of the dark. Some models even offer an LED flashlight to make every step of inflation easier. A carry bag is always a welcome addition, especially if the tire inflator has multiple detachable parts. Another quality of life addition is an extension set. In this set, you can find all sorts of valve fittings that can help you inflate sports balls, beach equipment, and pool gear. These features are not essential, but they're always nice to have.
Calculating the PSI of Your Tires
Actually, calculating the exact PSI of your car's tires is a hard task. You would need substantial experience in car mechanics and pneumatics or a physics degree. But this doesn't mean that you can do nothing to find out the correct PSI and adjust it to the situation at hand.
First of all, it would be best if you could find out the "default" PSI rating for the tires you are using. This information is crucial for future use, and it can be found in the owner's manual. Some tire manufacturers leave the PSI rating on the side of the tire, and some car manufacturers leave the correct pressure on the door jamb, driver's side. Once you find out the PSI rating, you are ready to adapt it to the load and terrain you will be driving on.
For example – all-season tires, since they are mostly used on the pavement, should not deviate more than 10% of their default PSI rating. If you plan to go on a trip and load the car, inflate the tires just over the recommended, not passing the 10% gap. And, in the case, you just want to drive around town, under inflate the tires up to 10 % below the default PSI. This will leave some room for the tires to adapt to potential potholes and road irregularities.
When it comes to all-terrain tire, there is a different rule to implement. The rule of thumb is – the rougher the terrain, the more air you need to let out. This means less PSI for rocky and bumpy roads. We have covered this with examples in our all-terrain tire guide, so feel free to hop on and explore.
How to Inflate Car Tires?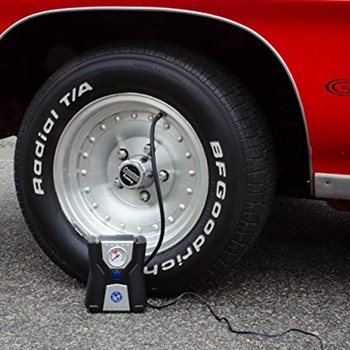 The best part about having your own tire inflator is that you do not have to do much, besides setting up and waiting for a while. These devices are equipped with auto-shutdown programs, and some even have timers and automatic switches. However, the basics are still the same. Here are some tips and tricks on how to properly fill the air in car tires.
Before you begin, it would be best to make sure that the tire is cold. Cold means that it was not on the road for at least 30 minutes, but everything longer than that is welcome. Tires that were recently on the road tend to have hotter air inside, which will negatively affect the PSI reading.
Additionally, make sure that everything is nice and dry before you start. Damp valves are prone to leaking, which will only prolong the inflation time, or sometimes even prevent it.
Set up the tire inflator, as suggested in the instruction manual. Make sure that the pressure hoses do not have leaks. If you have a tire chuck, now is the time to connect it to the pressure hose.
Use the onboard pressure gauge and measure the current state of the tire's inner pressure. Based on the info you got about the tire from the owner's manual, it is time to decide whether you need to deflate or inflate the tire. The chances are you need to inflate because tires get deflated on their own over time.
Connect the inflator and leave the tires to fill with pressurized gas. If you have a slower tire inflator, do not forget to check on the current pressure. Most gauges have a live feed that factors in changes within a second's time.
Once you are done, go around the car and repeat the process for each tire. It's nice to have a dry cloth near to clean and dry out the valves. Sometimes, the pressure hose accumulates moisture from air humidity. Get rid of it by using the cloth.
One great thing to do after you are done with all tire is to go around and check the pressure again. If one or two tires were extremely deflated before you started, you might need to do little tweaks and readjustments.
FAQ About Tire Inflators
1. What is tire inflator downtime?
Some tire inflators have smaller capacity when it comes to their air tanks. And, not only that tires contain a lot of space for air, but they also need more compressed air inside in order to reach the wanted PSI. Now, tire inflators with smaller tanks simply cannot support prolonged uninterrupted operation and need some time to re-pressurize the air tanks. So, if the air stops coming out form the inflator after a while, and you can still hear it working, do not be afraid. This procedure is called downtime, or recharging time, and it is normal, especially if the pressurized air demand is high.
2. Can I use the tire inflator with tire chains installed?
While it does sound strange, people who often drive in snowy conditions need to think about tire pressure more, because the tire's grip depends on it. Just as we use top-rated tire chains for safety reasons, the same goes for tire inflators. You can use tire inflators while the chains are on, just remember to leave the tires in a garage temperature to sit and normalize the temperature and pressure.
Also, keep in mind that the snow will melt, and humidity can hinder tire inflation. Be extra careful not to miss wet spots, especially near the valves.
3. Should I empty the compressor after use?
Not only that it will prolong the life of the valves on the inflator, but it will also play an important role in fighting off rust and corrosion damage. Air compressors, no matter the type, draw air from your surroundings. And, we all know that air has a lot of moisture in it. This moisture will slowly start to condensate inside the tank, ultimately forming a sort of a puddle. If this water stays inside for a while, it will start to react with the inside layers of the thank, ultimately ending in corrosion.
This accumulated rust can even get inside the tires in the form of microparticles, aggregate and damage the tires. Another mishap that can occur with rusty tanks is an explosion. Not fiery, but loud and dangerous nevertheless. Every tire inflator and air compressor has a dedicated valve that empties the tank, draining it from excess water and condensation. Use it every time you are done inflating the tires. Better to be safe than sorry.
Wrap Up
We hope that we've managed to broaden your knowledge on this simple, yet so wide topic. Getting useful car gear is crucial, especially if you want to maintenance by yourself. We went through some of the lesser-known things and talked about general stuff you should know in order to get the best tire inflator for your vehicle. You cannot have access to a gas station at all times, and having this sort of independence is a quality of life everyone should experience.
Moreover, make sure to check our favorites in the tire inflator reviews section, and see which model matches your needs. You will be surprised by the amount of comfort and control you can obtain by having your own tire inflator. If you have anything to ask us, feel free to contact us, and we will gladly provide an answer as soon as possible.
Bonus guide: best spark plugs